What Is Modern Farmhouse Style?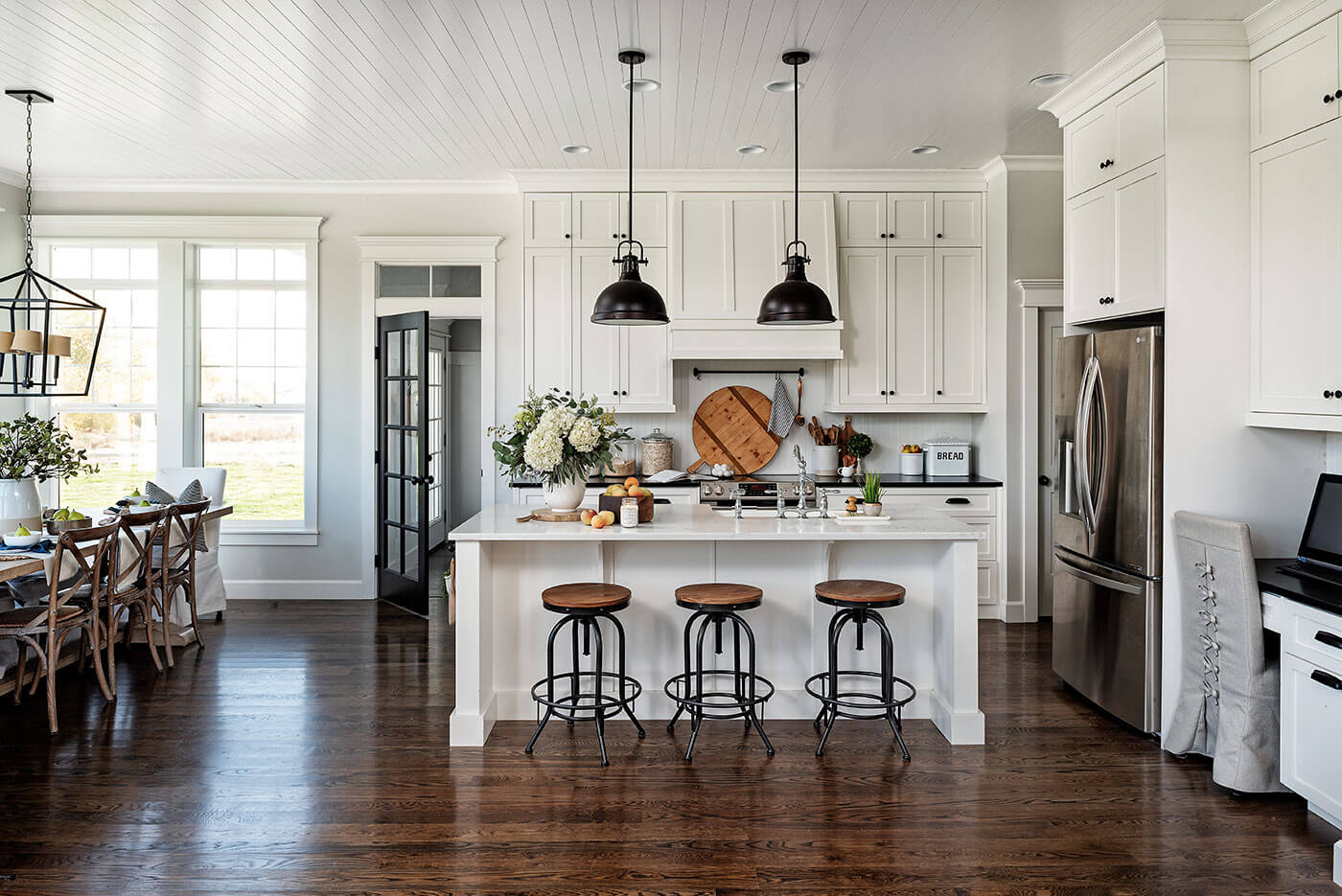 Image by David Fish; home of Fancy Farm Girls
This is part of our Design Glossary series! Catch the whole series to find out more about the different types of farmhouse style!
Modern farmhouse style is clean, simple and welcoming. It takes classic rustic farmhouse elements and combines them with the sleek and simple twist of modern decor. Like Scandinavian farmhouse style, less is more in this calming and classic twist on the American homestead.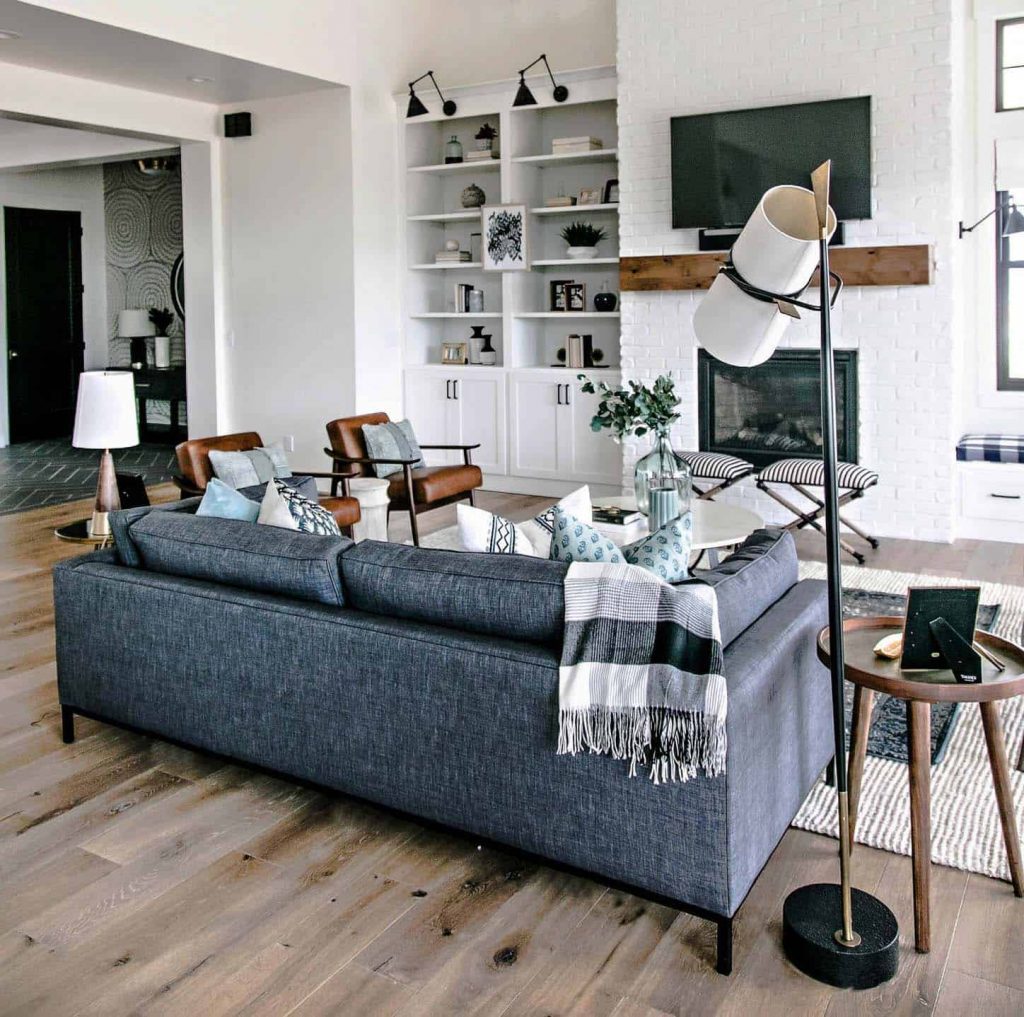 Like most farmhouse styles, modern farmhouse style uses lots of wood—the more rustic-looking, the better! But the wood stain is often the same in each room, as it creates a cohesive, uncluttered look. There's also plenty of white in this style. It creates a bright and airy feel that keeps the space from feeling too cramped. And a few strategically placed plants can go a long way in modern farmhouse style—eucalyptus or a fiddle-leaf fig work especially well.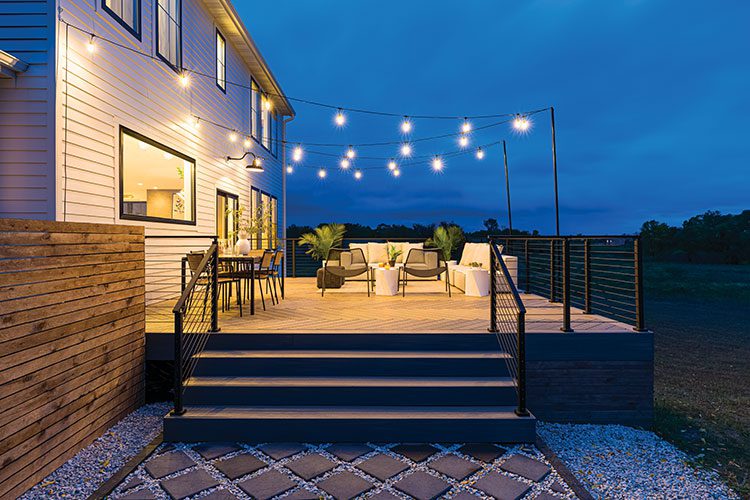 Modern farmhouse style gives you the down-to-earth feel of a farmhouse, but without the clutter or unnecessary decor that can sometimes accompany it. It's the 21st century take on a centuries-old tradition.
Room by Room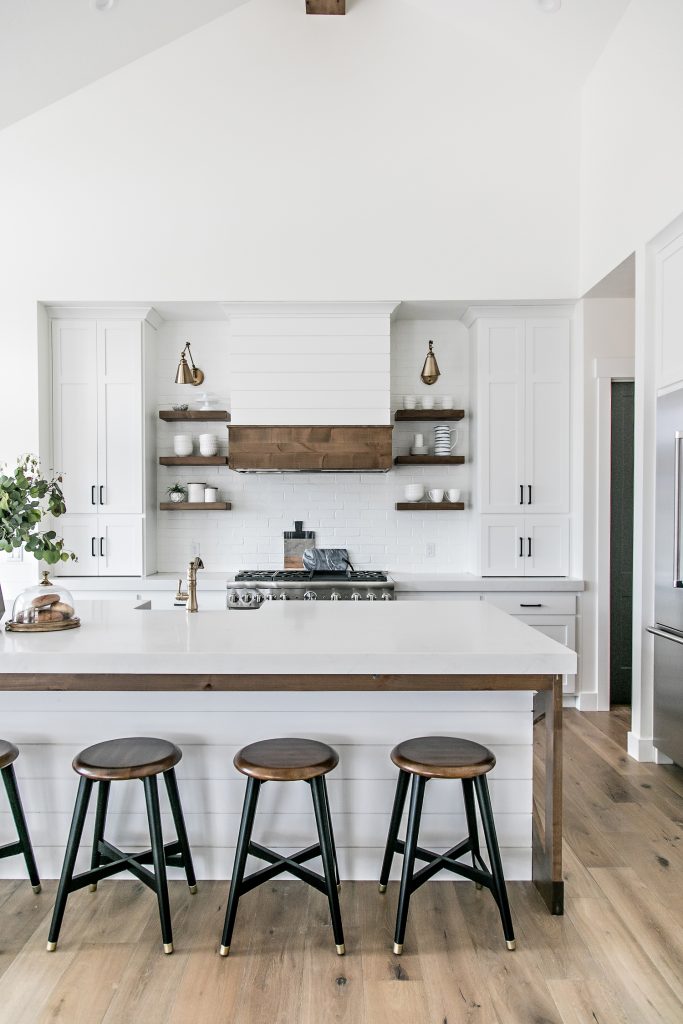 Kitchen
Modern farmhouse kitchens are both effortlessly sleek and incredibly practical. They use trendy elements like marble countertops, stainless steel appliances, and dark wood accents. These are combined with classic farmhouse motifs like open shelves, apron front sinks and rustic lighting. And it's important that modern farmhouse kitchens are also open and light, in order to create an airy and inviting feeling.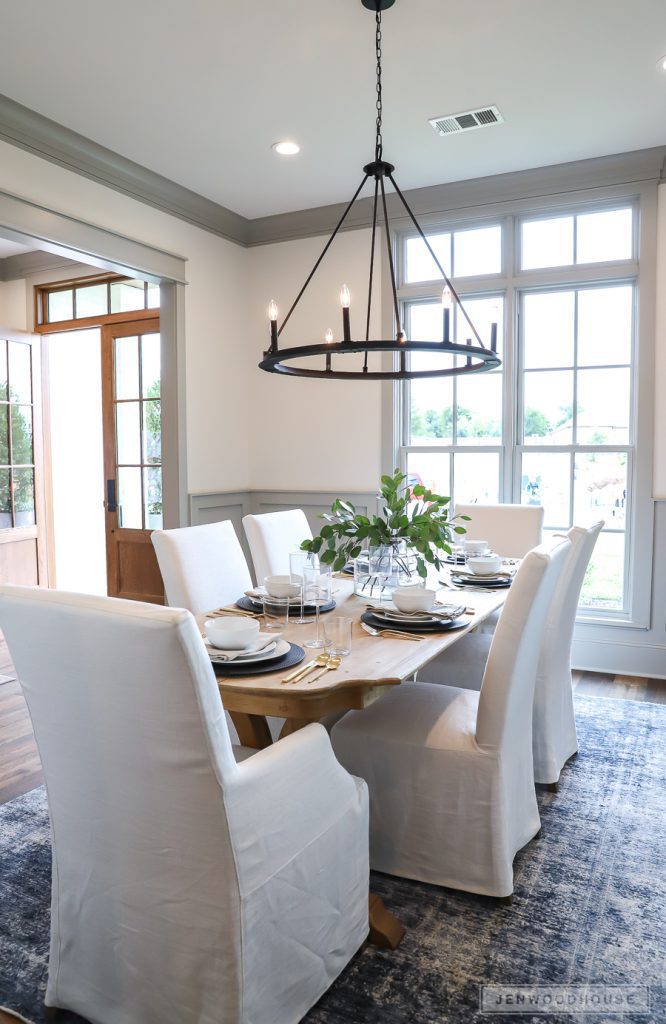 Dining Room
It's no surprise that the classic farmhouse dining table makes an appearance in almost any modern farmhouse dining room, given the rustic and down-to-earth feel it brings to the room. In addition to the table, these dining rooms often use simple yet dramatic light fixtures, eclectic or classic farmhouse chairs, wood paneling and a touch of something green to pull the room together.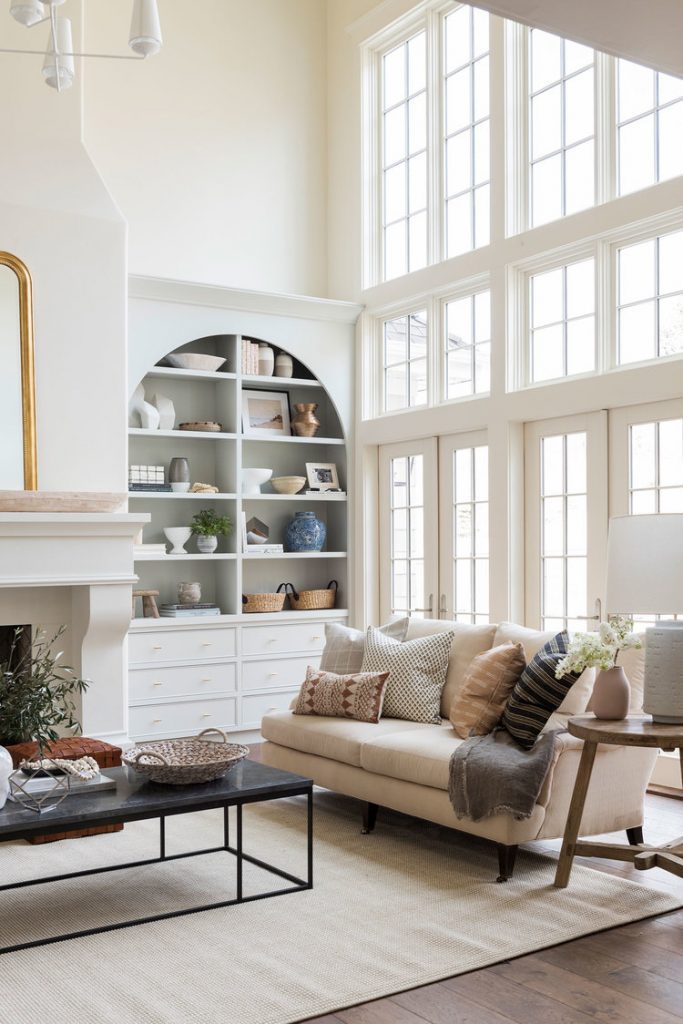 Living Room
Modern farmhouse living rooms use comfortable couches, practical seating and storage alongside contemporary touches like Mid Century Modern chairs, plants and oversized frames. The decor in these living rooms takes a minimalist approach, as visual interest is drawn to a few select pieces rather than a multitude of them. By doing this, these gathering spaces feel clean, cozy and open.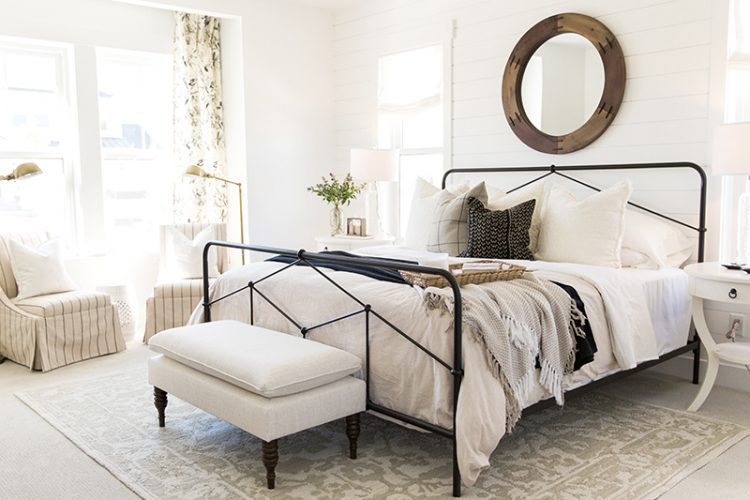 Bedroom
Just as metal is central to modern farmhouse style, an iron bed frame is key to the perfect modern farmhouse bedroom. Light colored bed lines, in white or beige, also help these rooms get that comfy modern look. Classic farmhouse accents, like linen pillows or traditional footstools, make sure these bedrooms stay connected to their roots. And consider using wood accents to make a statement, like a striking side table or dresser.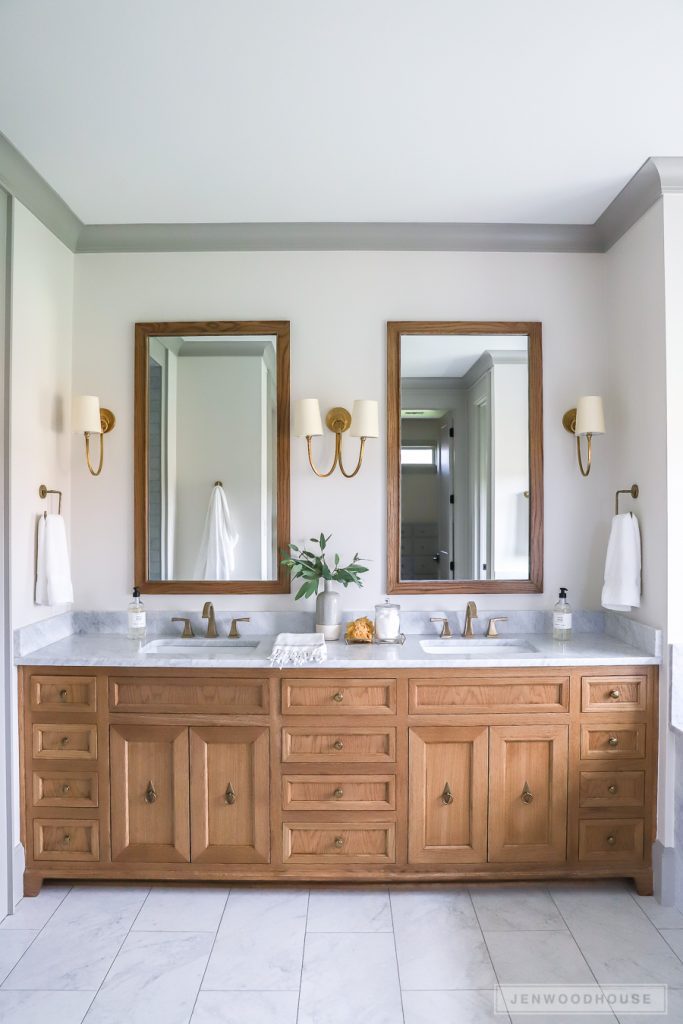 Bathroom
Modern farmhouse bathrooms take traditional farmhouse elements like rustic vanities or exposed wood and tone them down by giving them a 21st century twist. Cabinetry in the bathroom is simple and practical—its beauty is in the details, like copper hardware or a beautiful wood stain. Marble tiles or counters make the room feel modern and airy. These bathrooms also often contain a luxurious bathtub or a spacious shower.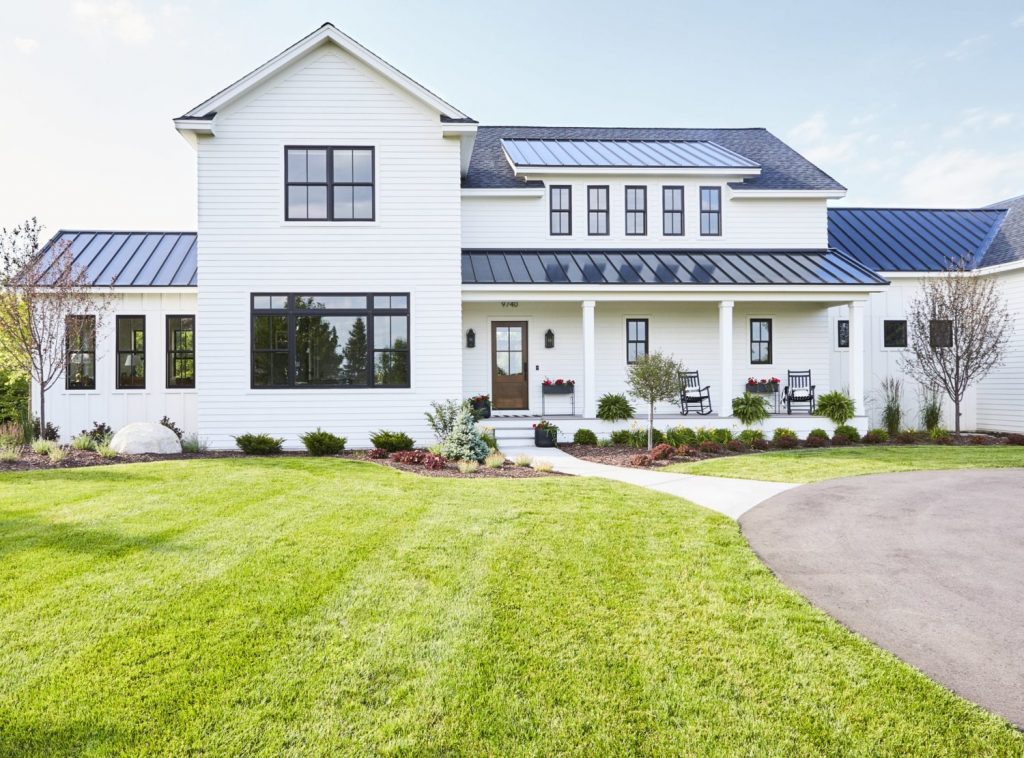 Exterior
The exterior of modern farmhouse often looks like the updated version of the ones that existed 100 years ago. White paneling along with metal roofing gives it a pleasing contrast. And these homes sometimes feature 'green' elements, like energy efficient windows or solar panels to give it an updated and conscientious look.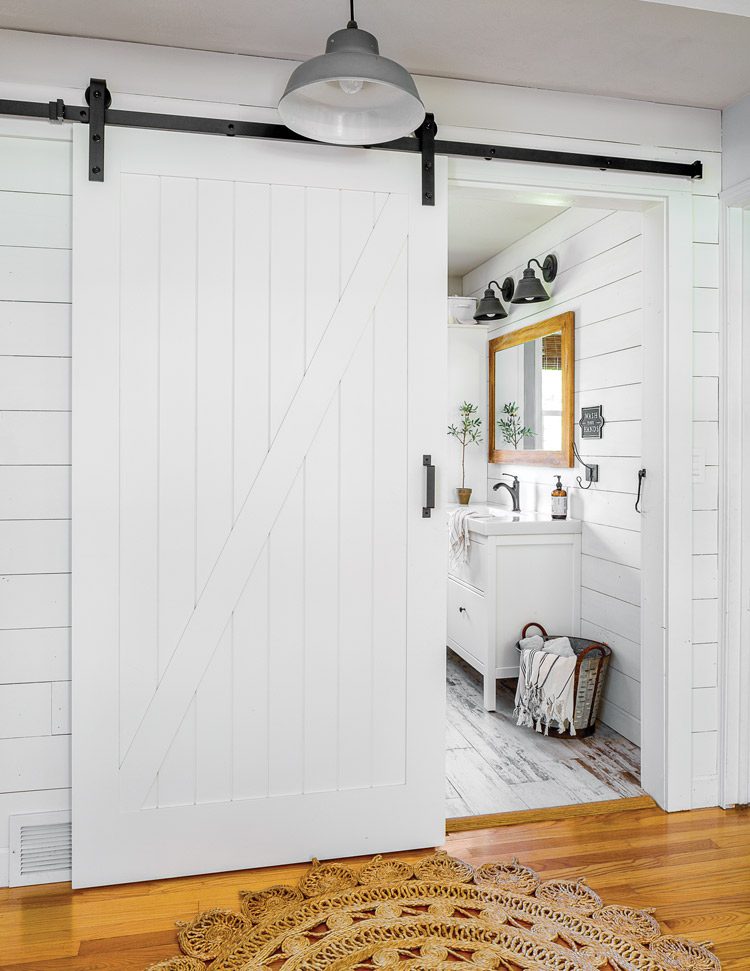 Get The Look
Ready to give your own home a modern farmhouse twist? Here's a few of our favorite products that will do the job nicely.
Here at American Farmhouse Style, we absolutely love to share our finds from around the web with you! That being said, you may notice that some of the links in this article are affiliate links. This means that if you click through and make a purchase, AFS receives a small commission at no extra cost to you! Truly a win-win!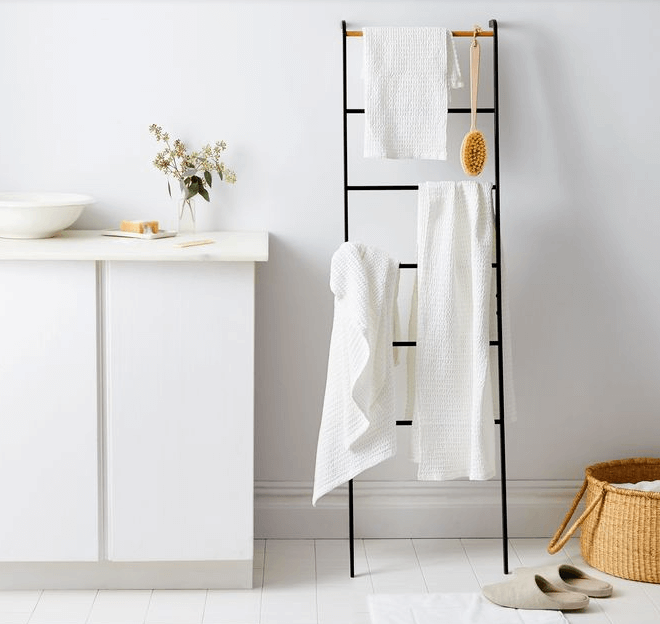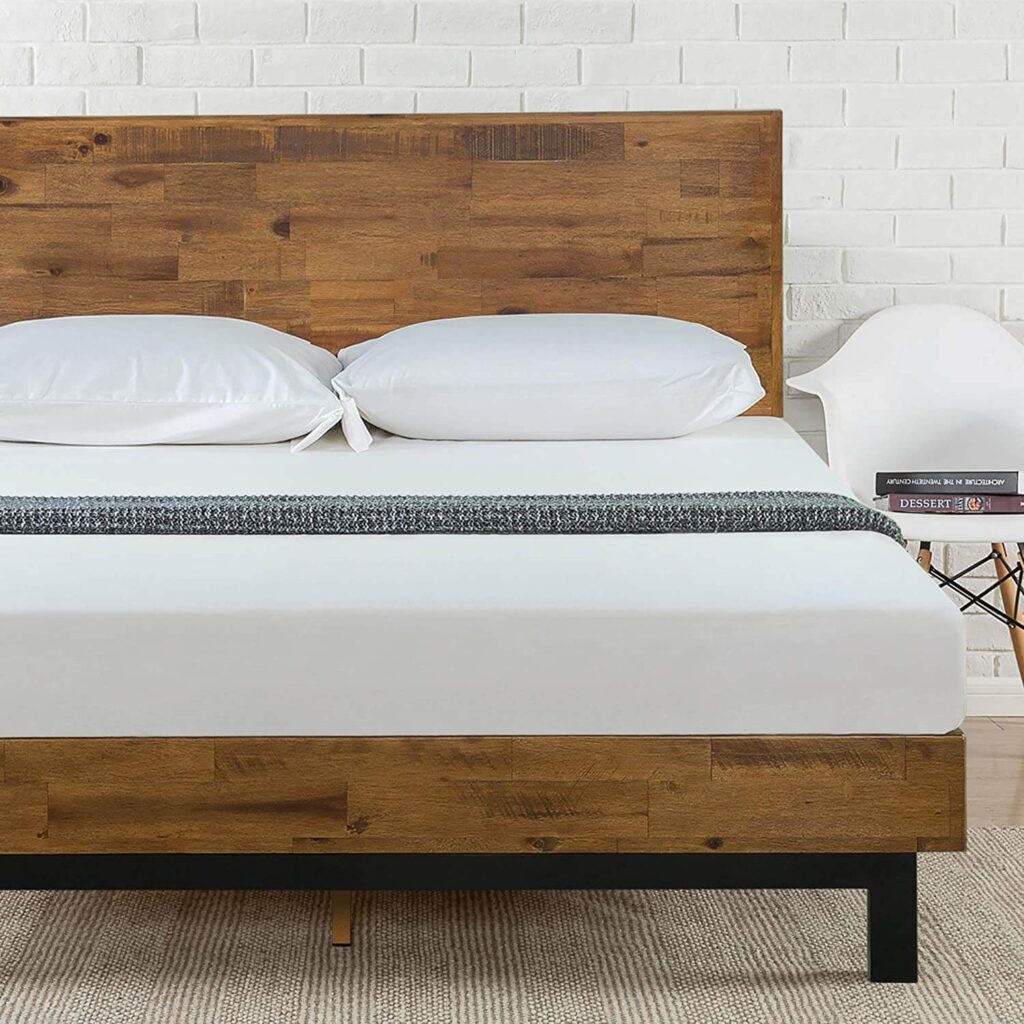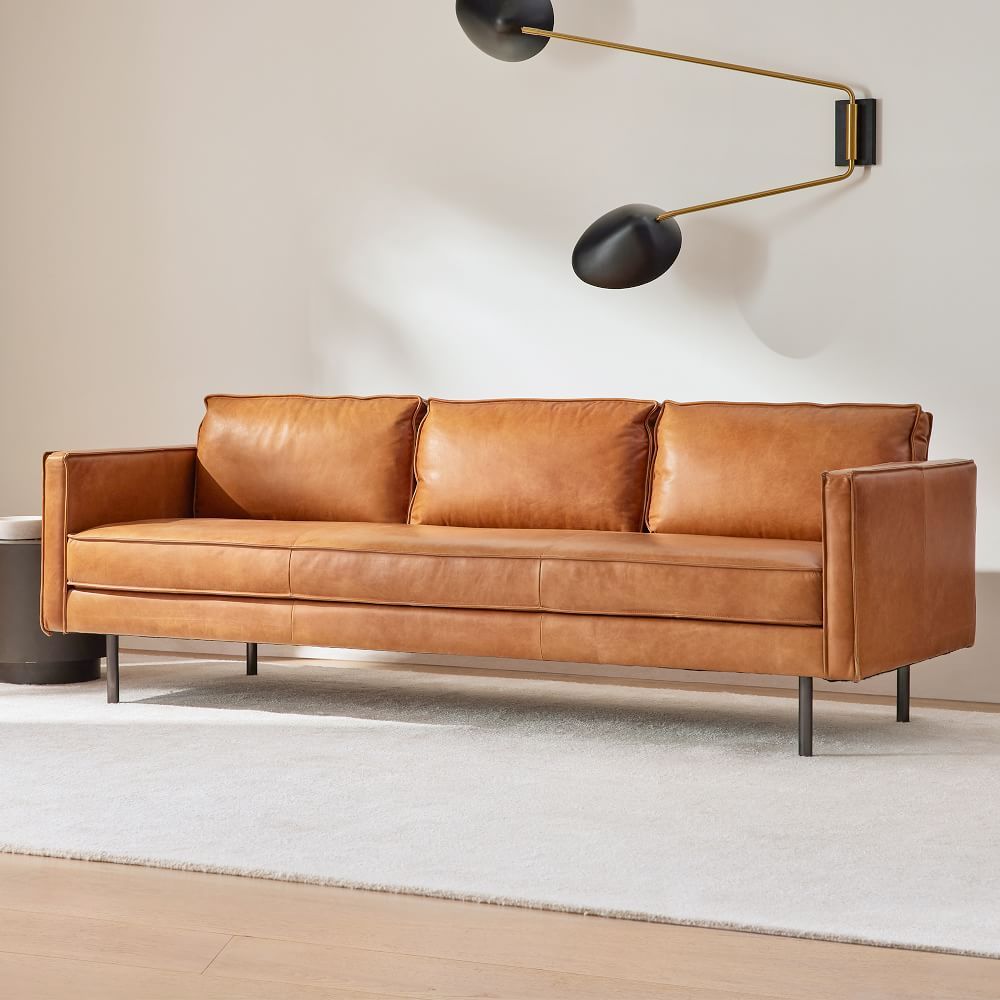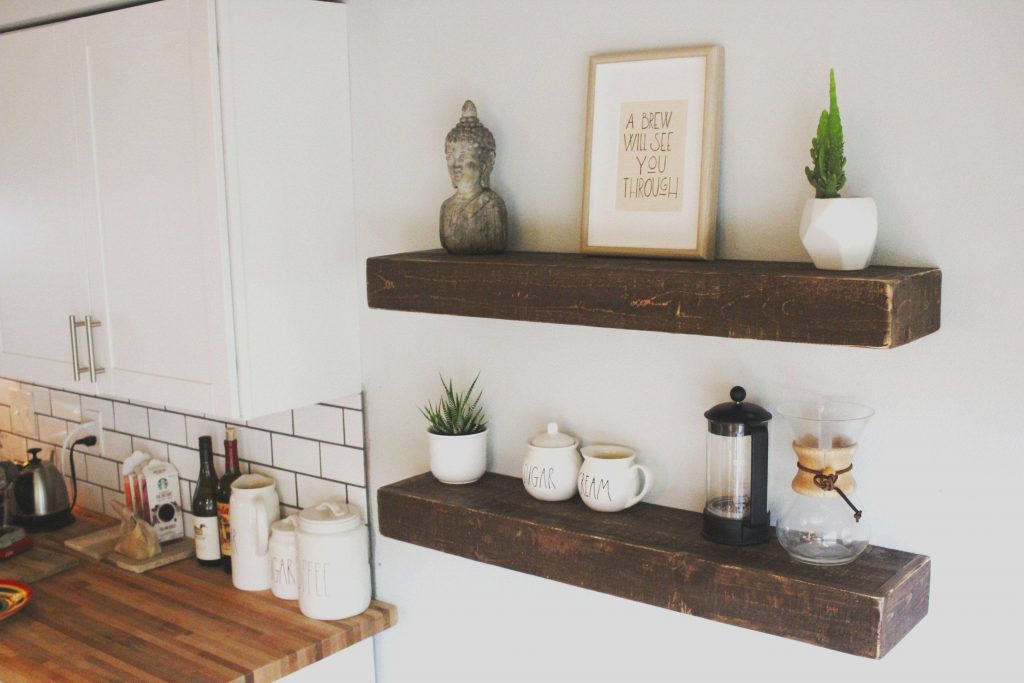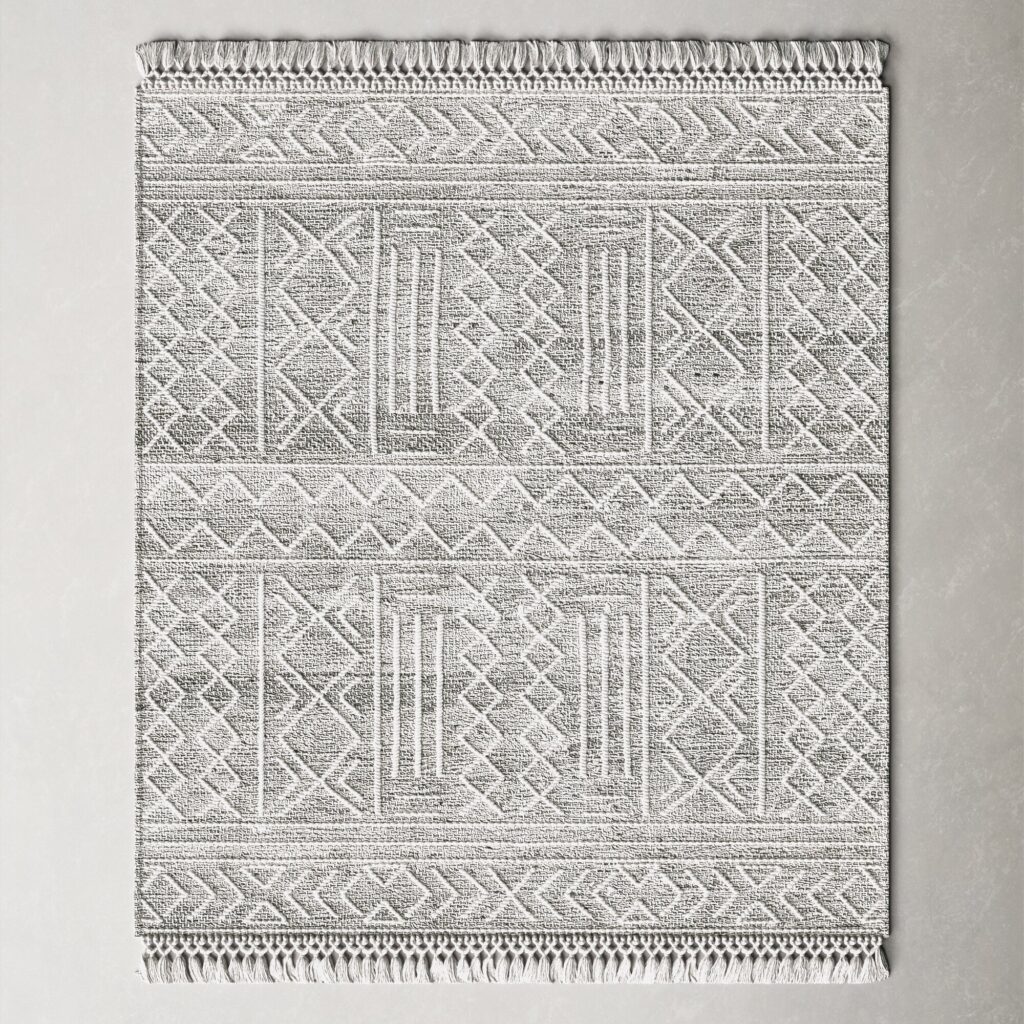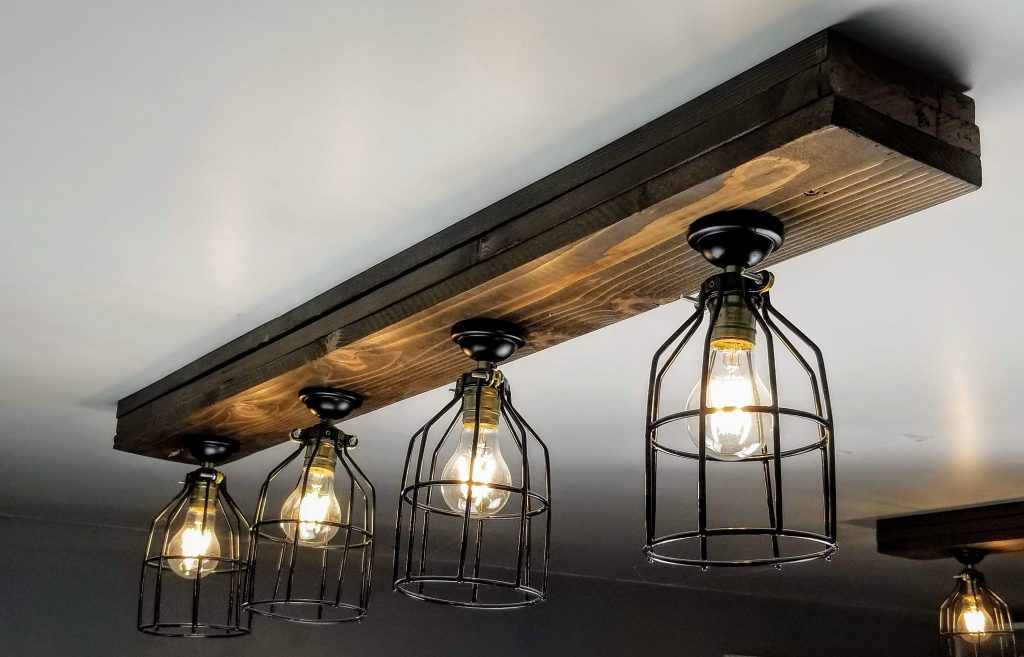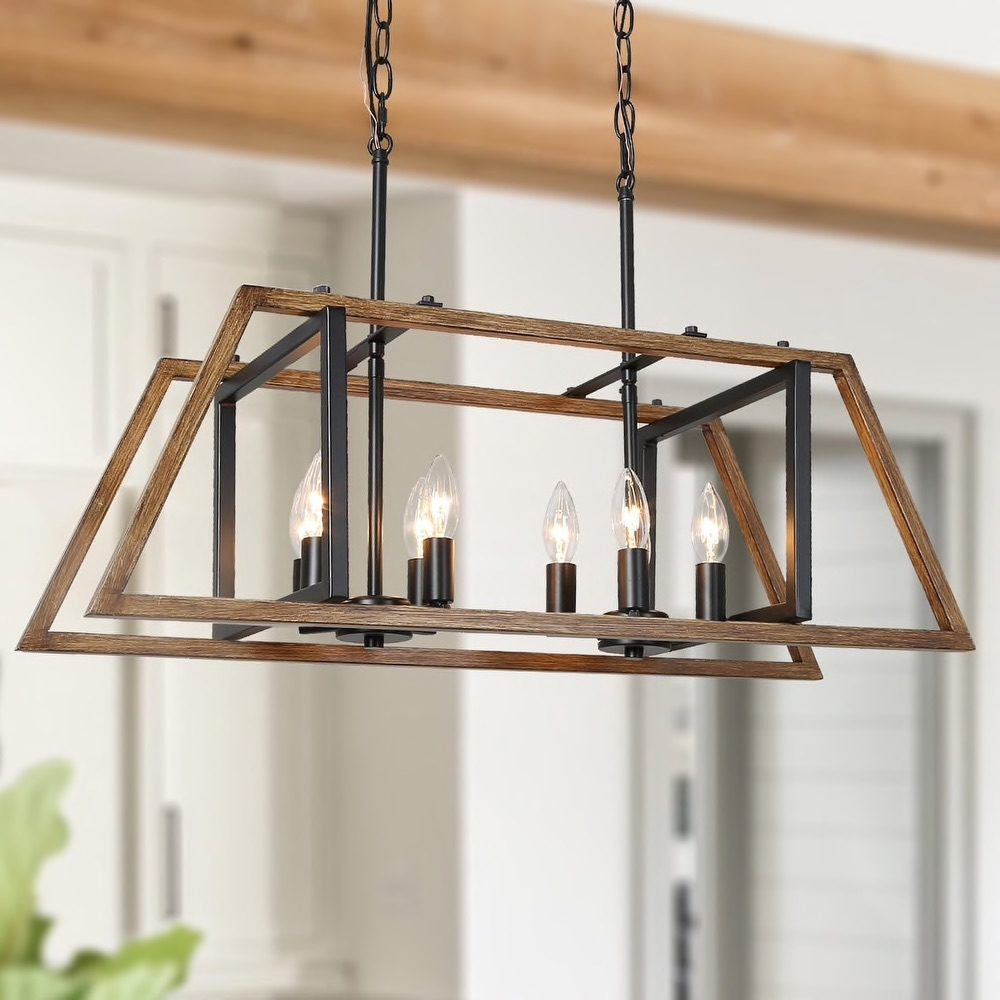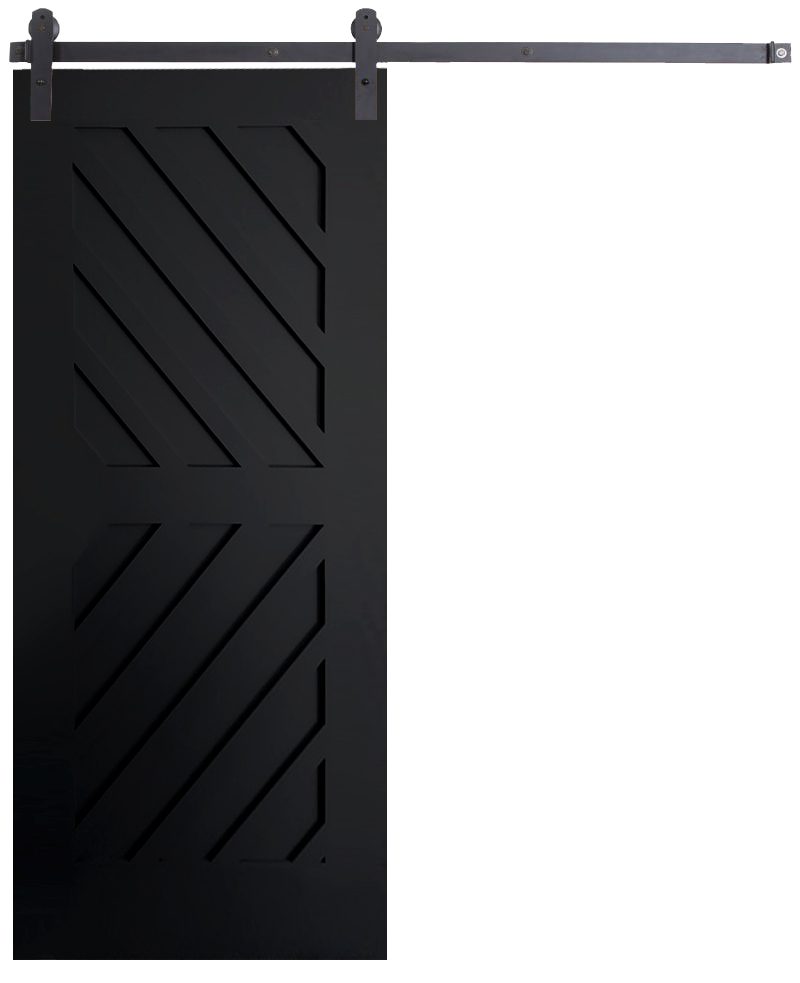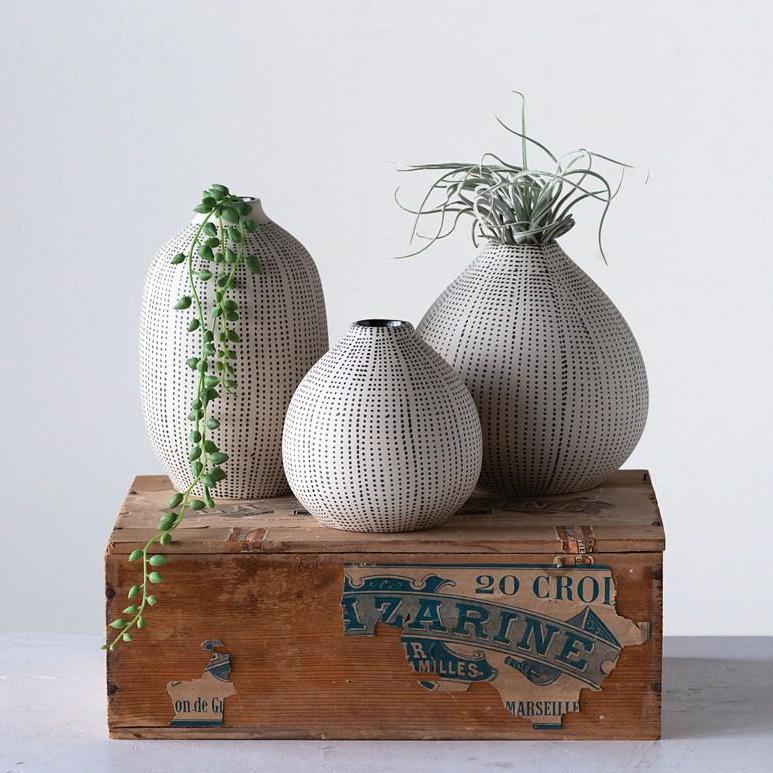 ---
Ready for a modern farmhouse makeover yet? Tour this beautiful modern farmhouse style ranch! And of course, don't forget to follow us on Instagram, Facebook and Pinterest to get your daily dose of farmhouse inspiration!