4th of July Farmhouse Décor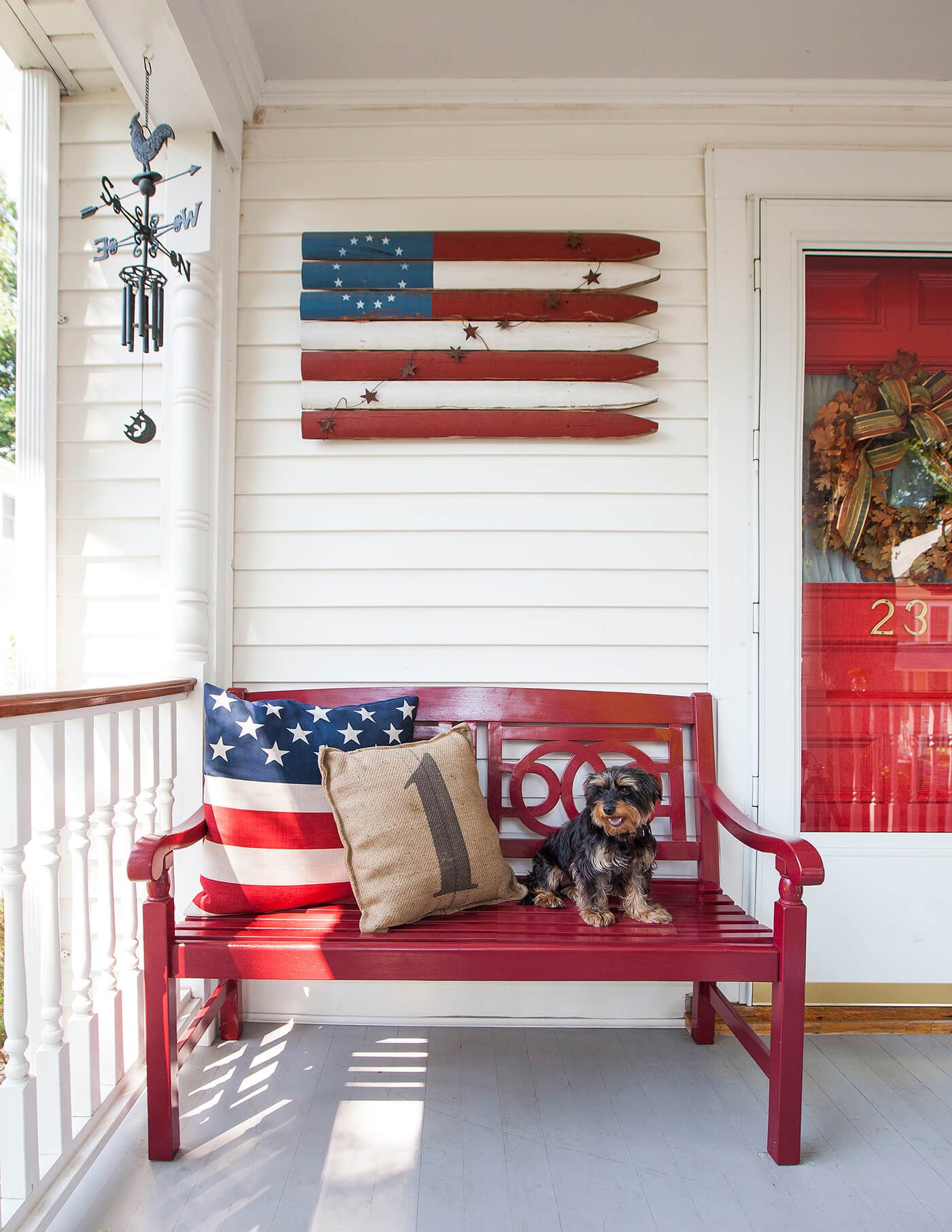 Photo by Chuck Baker
Embrace Independence Day with 4th of July farmhouse décor for your home! Keep it subtle and classy or embrace the fun and festive with these holiday décor ideas.
Tea Towels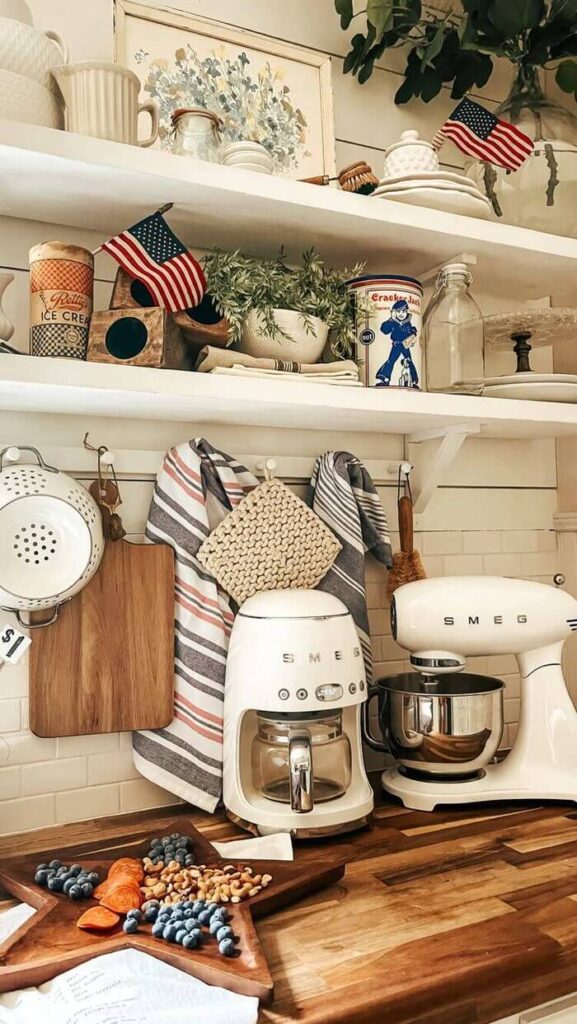 Incorporate the 4th of July holiday into your kitchen through red, white and blue tea towels or this star serving plate.
Blue Mason Jars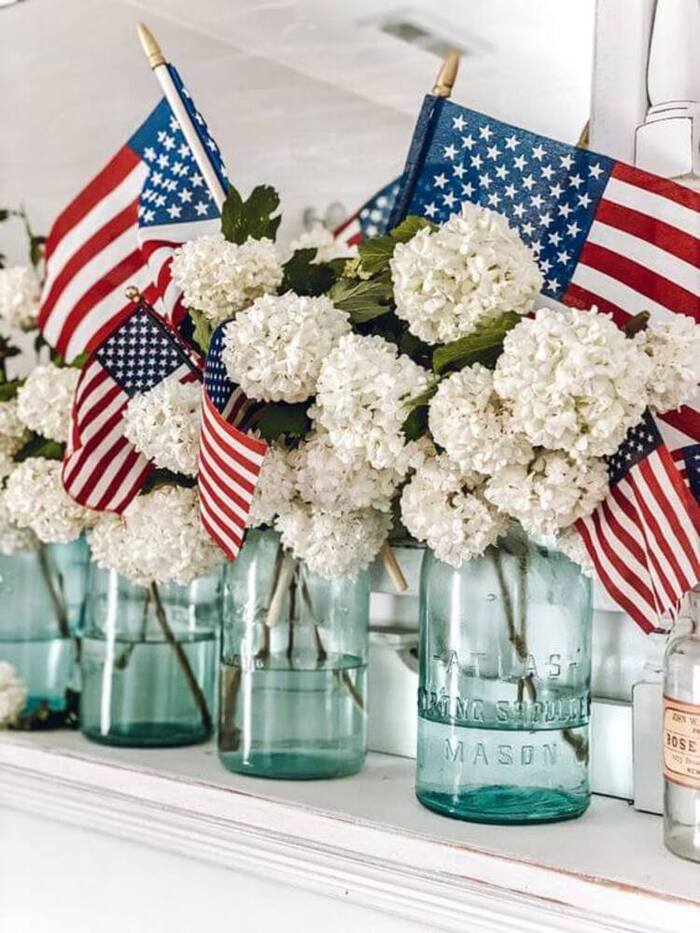 These vintage blue mason jars are a classy tribute to the 4th of July. The color fits in with the holiday and they are perfect for holding flowers, mini flags or shelf décor.
Patriotic Throw Pillows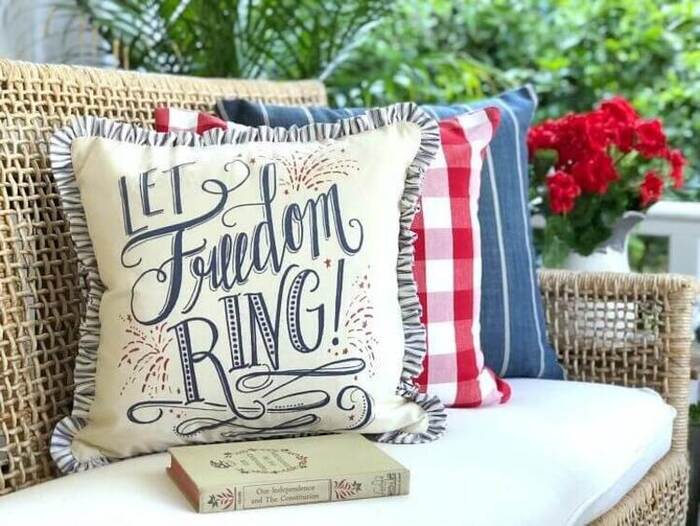 Throw pillows with a quote or pattern like these ones are perfect for showing your patriotism. Pillow covers are a cost-effective alternative to buying new pillows for every holiday.
Vintage Crate Centerpiece
A vintage red, white or blue crate is a more subtle nod to 4th of July farmhouse décor that adds a rustic feel. This vintage crate offers the colors of the holiday and reflects the traditional feel of the 4th.
Chalkboard Art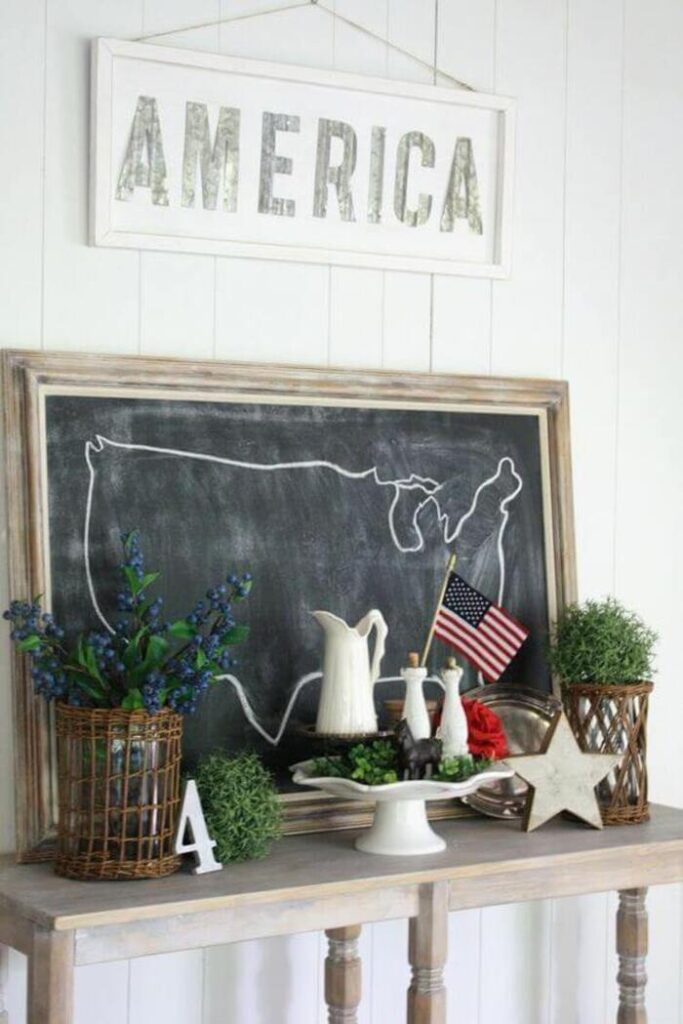 Chalkboard art is a versatile way to customize your décor to your own farmhouse style. Try making your own line drawing of the United States or create a simple drawing of the American flag. Write a quote to create one of a kind sign art. Use colored chalk for an added element to your 4th of July art.
DIY Bunting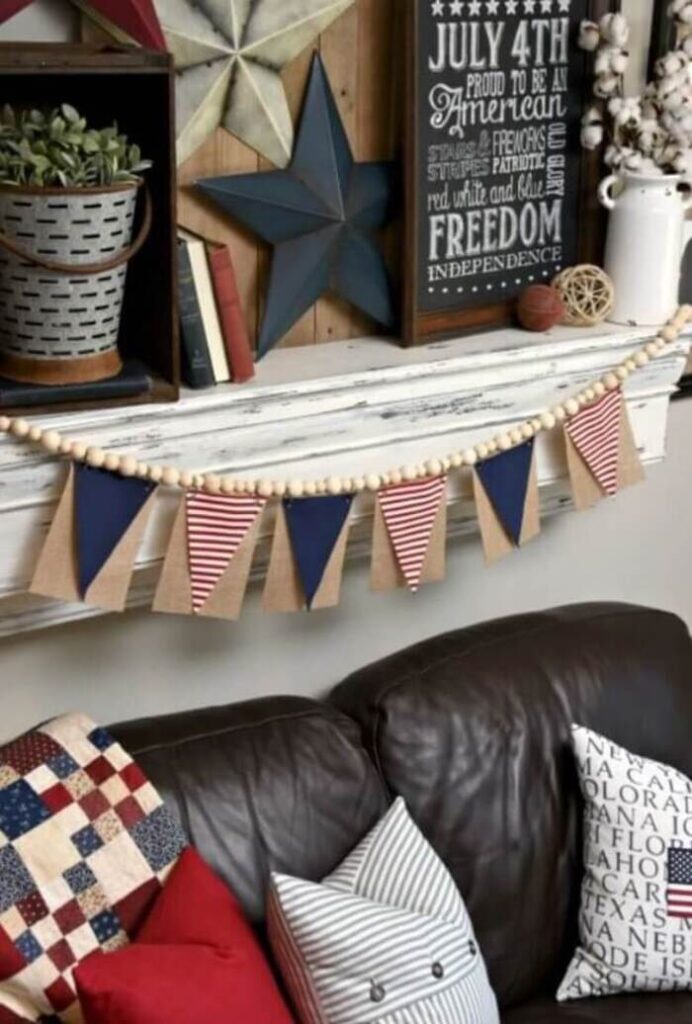 Bunting like this is the perfect 4th of July farmhouse décor for a mantel or shelf. Bunting is super easy to DIY for an added personal touch.
Red, White and Blue Flowers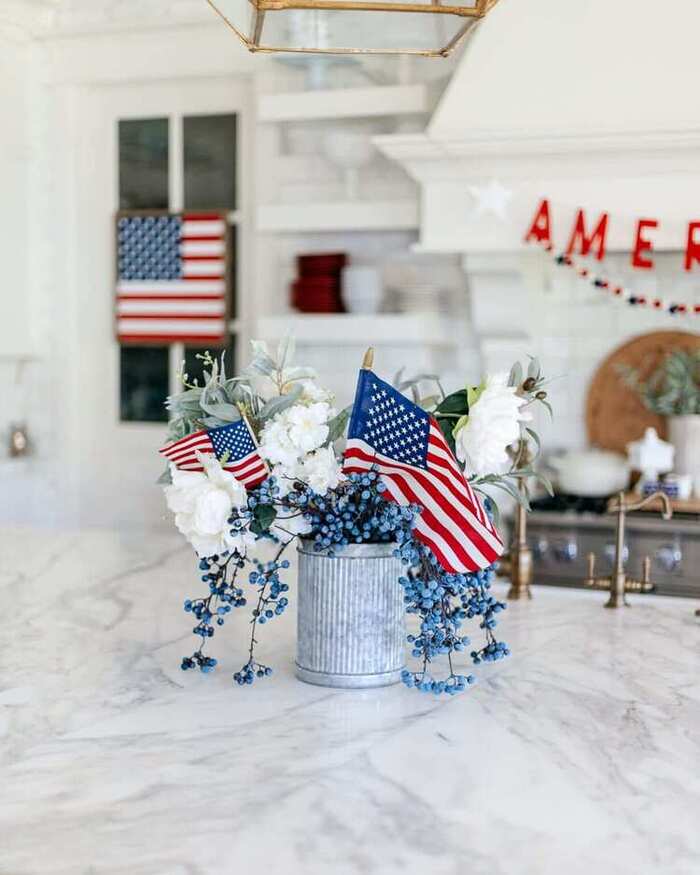 Flowers are a farmhouse décor staple. Embrace the red, white and blue and create a 4th of July bouquet with your favorite flowers. Don't be afraid to think outside the box to incorporate color, like using blueberry stems.
Mini Flags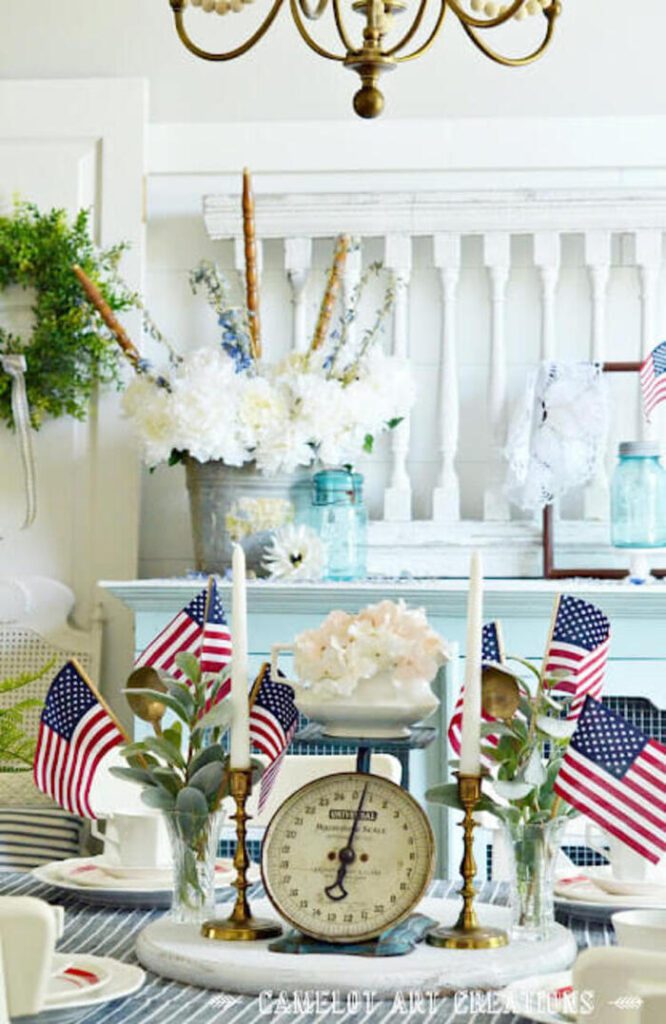 One of the most common 4th of July farmhouse décor elements is the flag. But you can be creative and make it your own. Use mini flags generously in centerpieces or spread them out around the house.
Festive Table Setting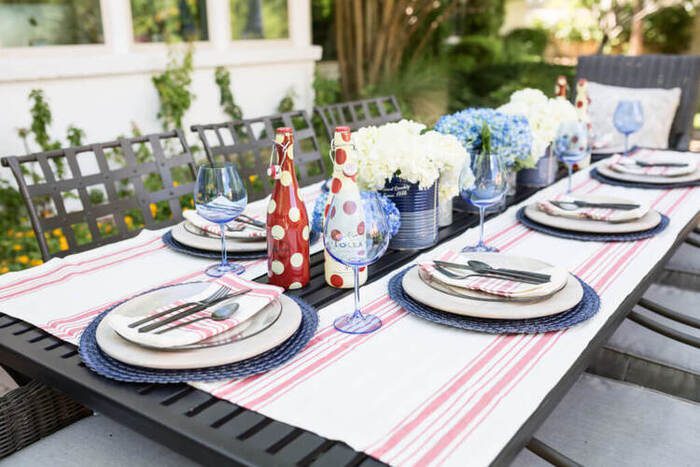 Your table setting can be part of your 4th of July farmhouse décor without including the stars and stripes. This dark blue charger pairs nicely with the red and white tablecloth and matching napkins.
Garland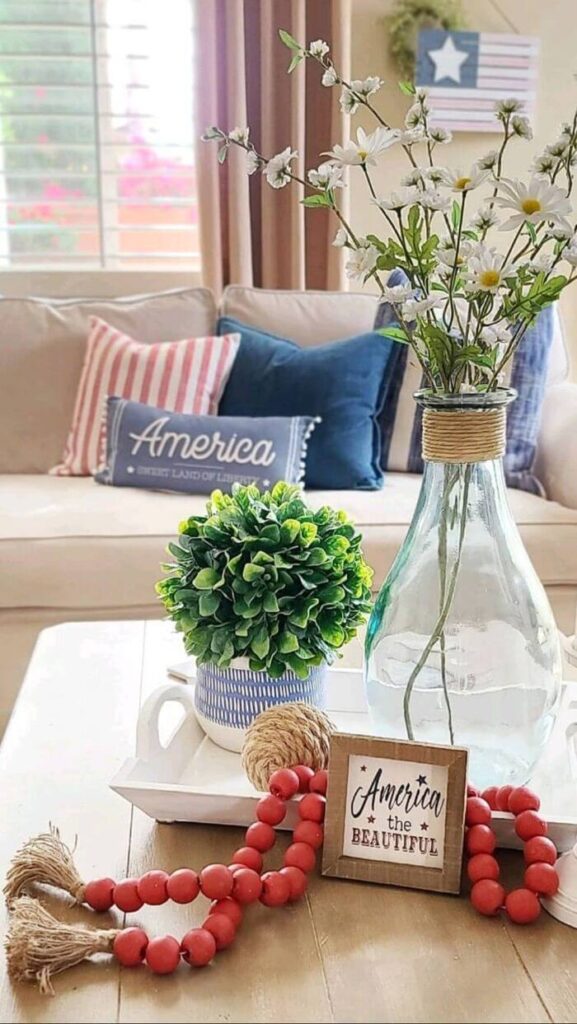 Garland is another 4th of July farmhouse décor option that can be used almost anywhere. Lay out a strand on a table or shelf or hang them on your mantle. Keep it neutral or go full on patriotic!
Books and Trinkets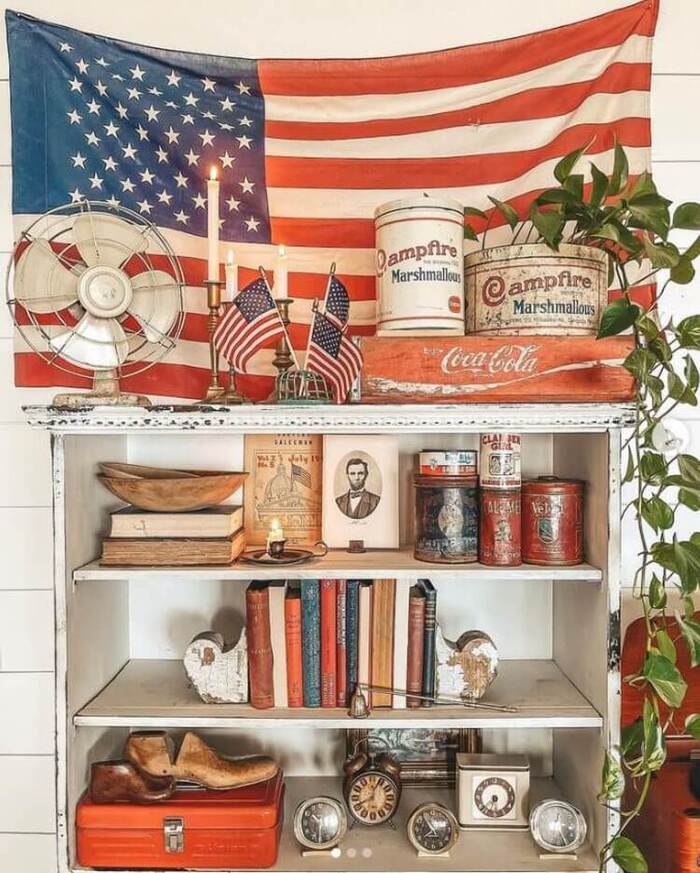 You can use almost anything red, white or blue as 4th of July décor with intentionality. This shelf features old books and antique tins and crates. The antiques add age and tradition to the décor style.
Star-Spangled Banner Ladder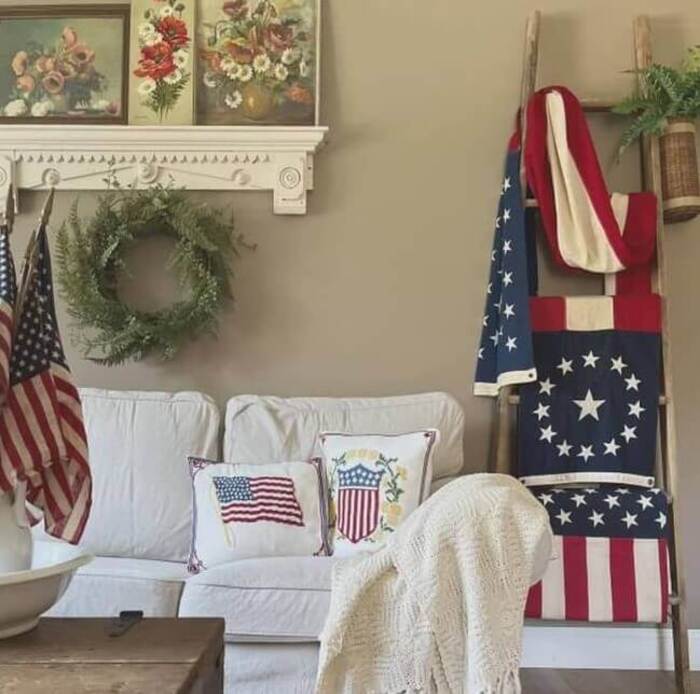 There's nothing wrong with incorporating the American flag into your 4th of July farmhouse décor. Display it proudly on the wall or use this blanket ladder to drape your Star-Spangled Banner on.
Cori Laastch
Cori Laatsch is a summer 2022 intern from Green Bay, WI. She is a Public & Professional Writing major attending Valparaiso University and is set to graduate in 2024.