A Modern Michigan Farmhouse Makeover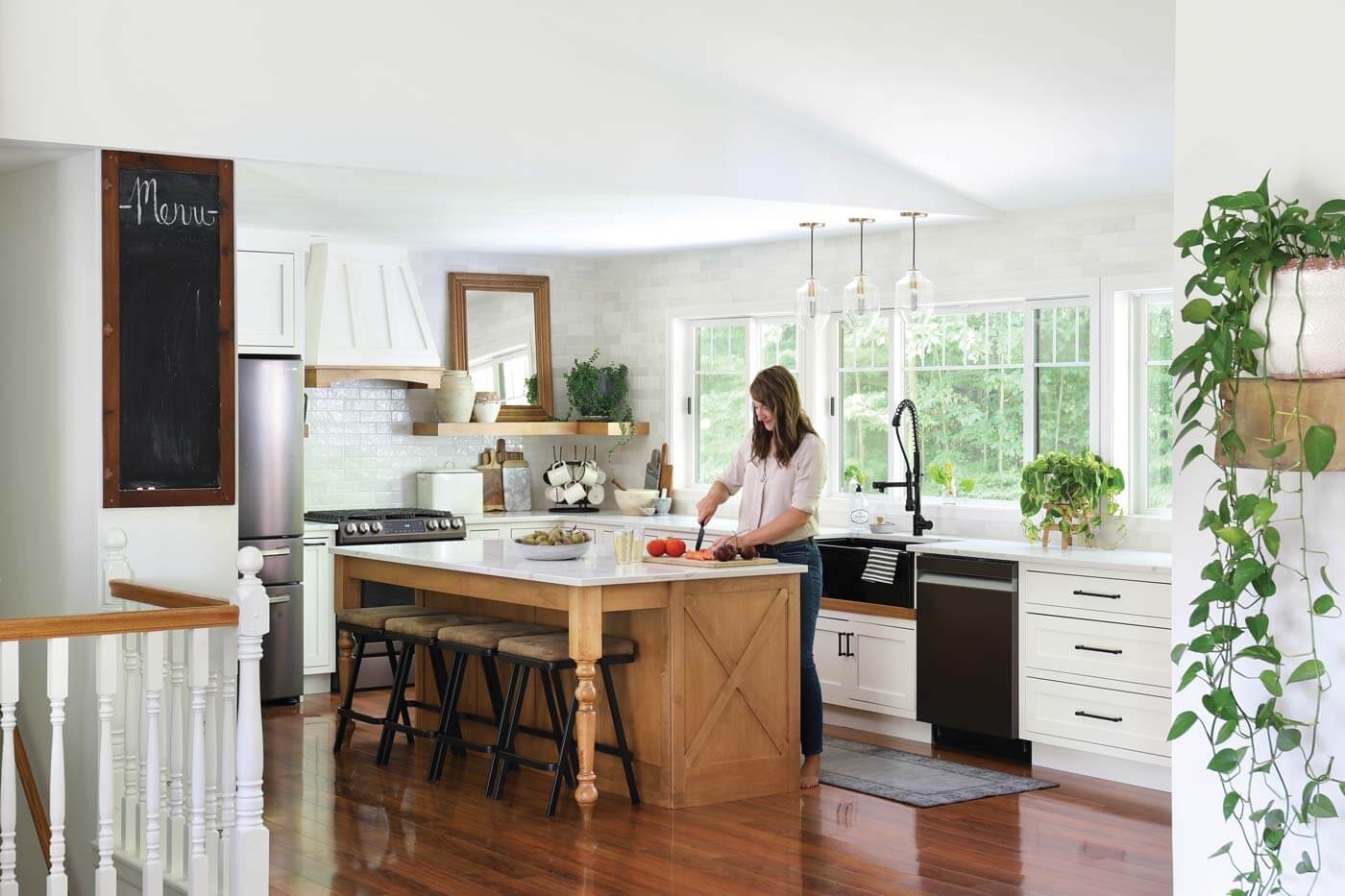 This modern Michigan farmhouse combines architectural elements with country design to create idyllic comfort.
There's no better backdrop for farmhouse style than a lush 38-acre property. Blogger Sarah Symonds of Grace in My Space lives with her family in a picturesque modern Michigan farmhouse that sits on sprawling land. Its classic shiplap walls, large storybook windows and seamless flow from room to room are all the fruits of Sarah's labor in transforming the house from its former dated 1990s aesthetic to a functional, stylish and personalized family home.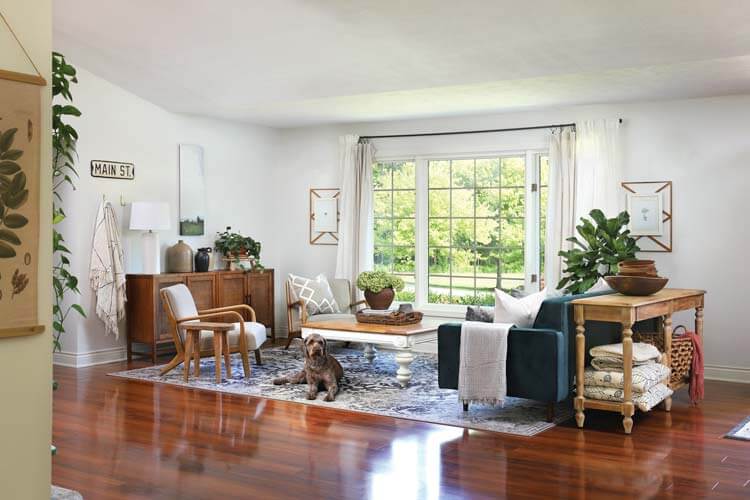 Big Changes in the Modern Michigan Farmhouse
"We basically changed everything," Sarah says, "if not just with paint, then with much more extensive renovations." One of the most transformed projects was the kitchen. When the dishwasher broke and Sarah and her husband learned they would have to remove the floors and countertops to replace it, they took the opportunity to gut the entire kitchen and build their vision from scratch.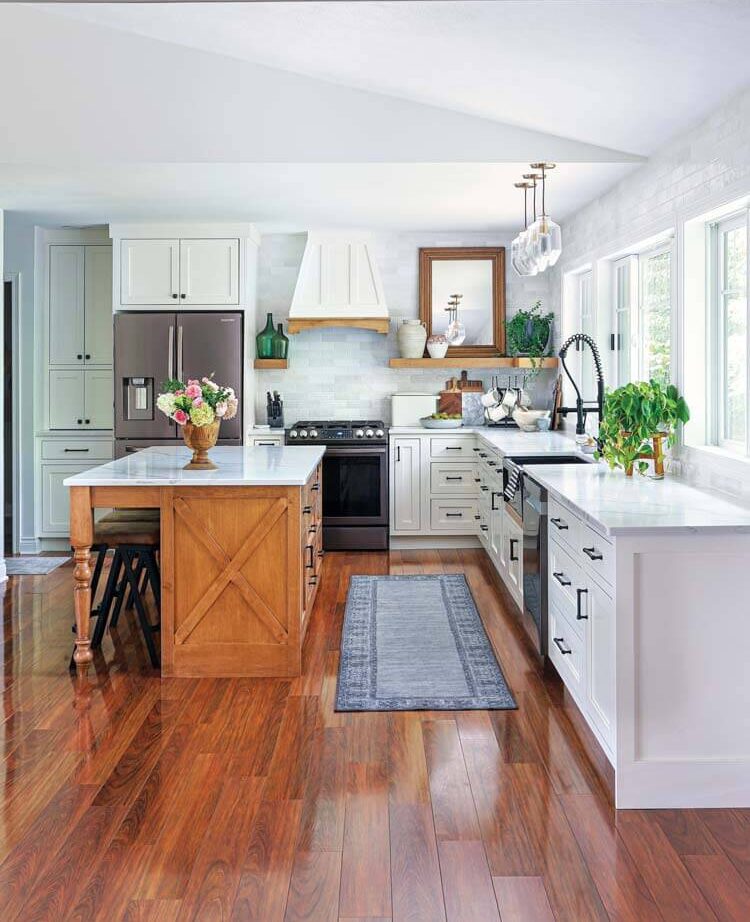 They sacrificed cabinet space to bring more natural light into the room, using a pantry and drawers to make up for the missing cupboard space, and installed a row of windows over the sink. Sarah keeps the décor simple here. "I wanted the design elements like the black sink and wood to shine and not get cluttered with too much décor," she says.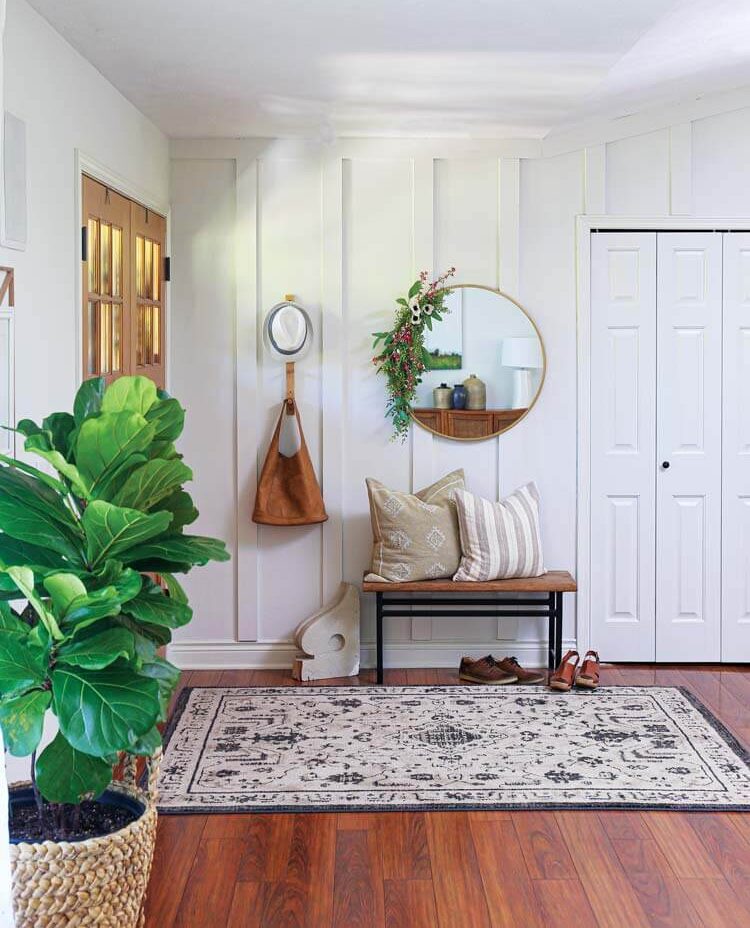 One of the major undertakings in creating their dream home was removing elements that were completely unsuited to the family's needs—like a giant built-in fish tank and an indoor hot tub/spa room adjacent to the primary bedroom.
Sarah and her husband smartly decided the old indoor spa room could be put to much better use as a dining room. The only ghost of the space's original purpose is the stunning cedar ceiling that Sarah opted to keep. The tall ceiling gives the room a grand feeling, but the playful hanging tulips, pop of blue and wood bowls and boards on display bring the room back to the effortless earthy vibe that matches the rest of the house.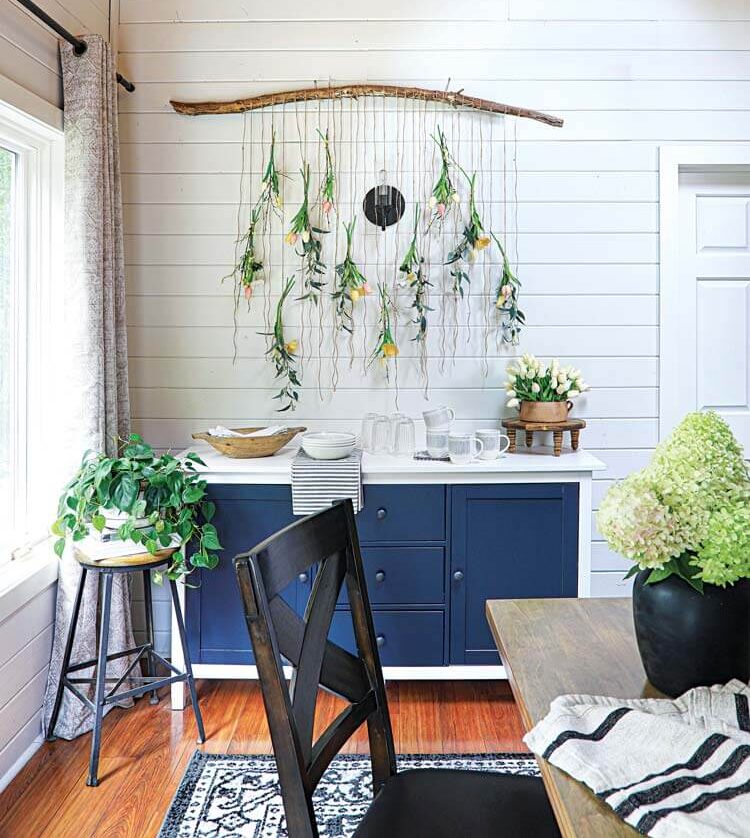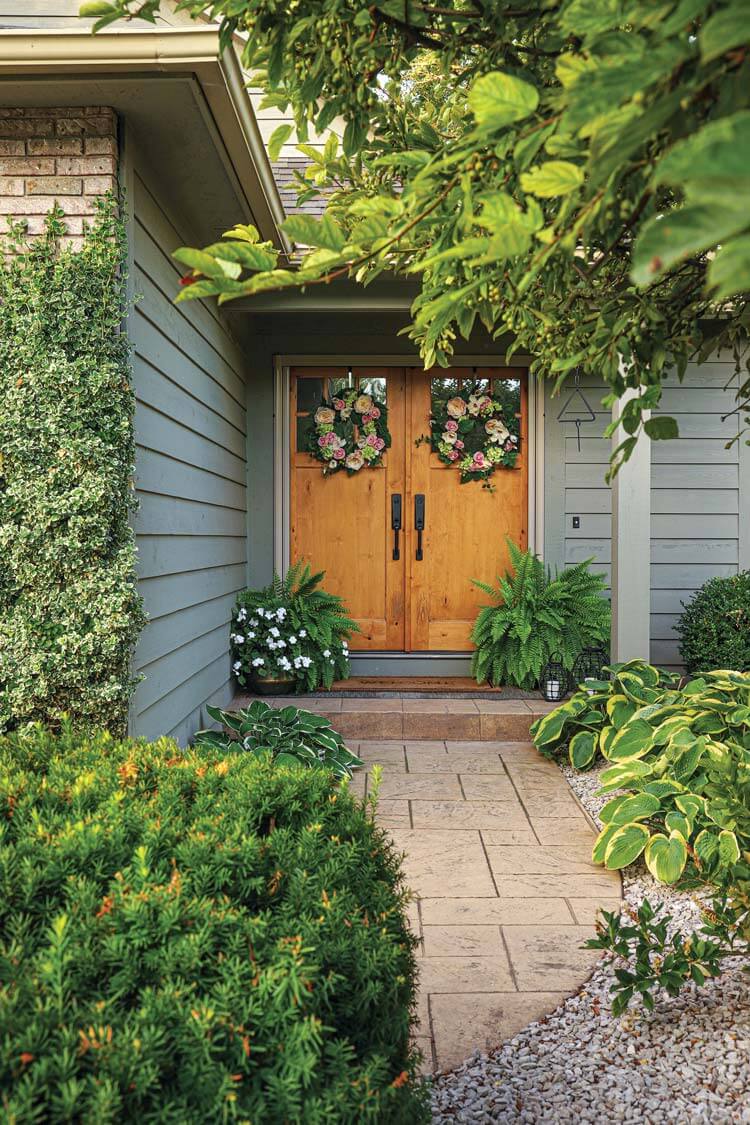 Lay of the Land
Sarah and her family get just as much enjoyment outside their house as they do inside their modern Michigan farmhouse. When it comes to designing her outdoor spaces, Sarah's focus is on how to make an area suited to kicking back and taking in the beauty of the surrounding great outdoors. "Most of the time when you have a large property, you're always working it, so it's all about taking a minute and resting and enjoying the land we have."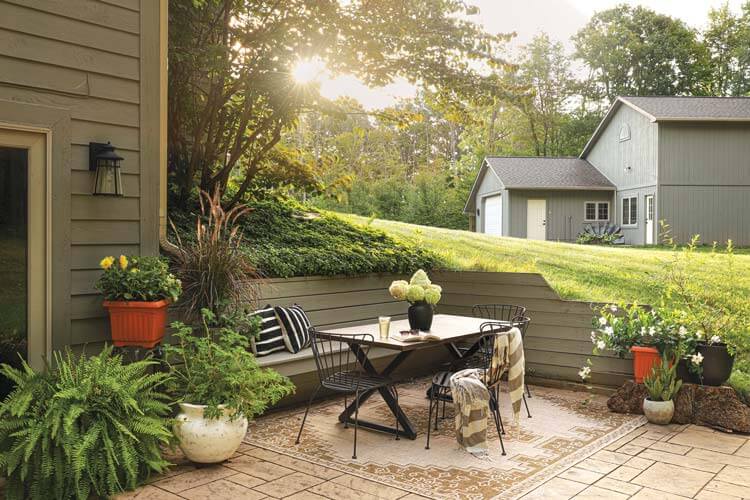 Sarah chooses seating that's comfortable for entertaining and keeps the décor fuss-free with plenty of plants and a few throw pillows. Her back patio is perfect for sitting and taking in the gentle sounds of the creek that runs through
the property of the modern Michigan farmhouse.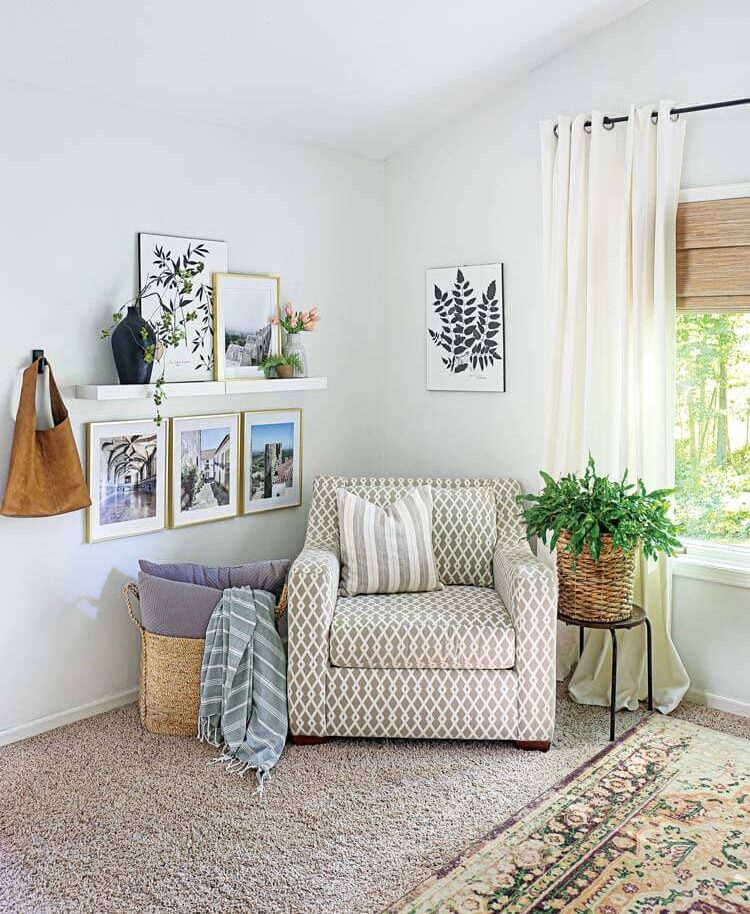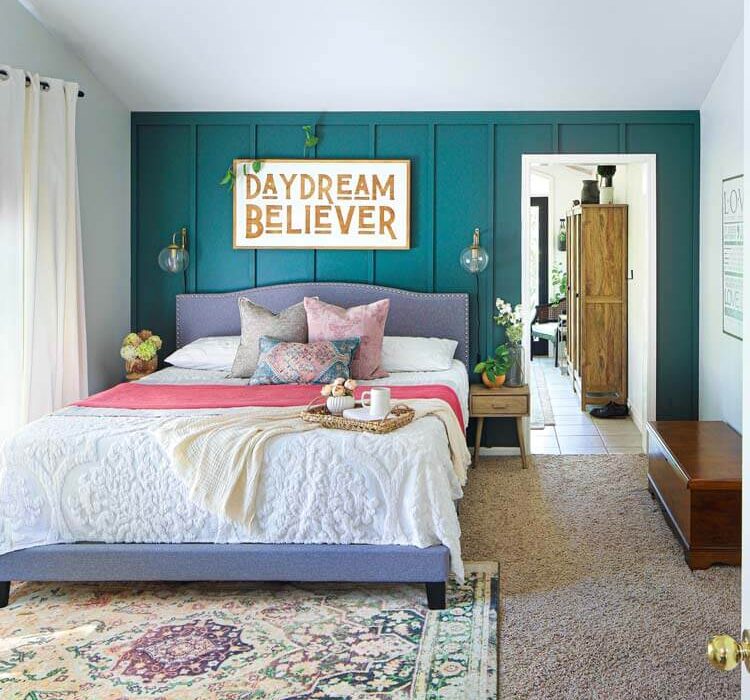 Rooms With Purpose in the Modern Michigan Farmhouse
Just off the dining room is the modern Michigan farmhouse's primary bedroom. Designing the space presented a bit of a problem to Sarah: It's an important room but also one that as a busy mom of two she doesn't get to spend much time in. "It's a room where people want to create an oasis, but it's often the least used room of a house," she says.
She focused on making it more than just a place to rest your head at the end of a long day and decided to create a reading nook to bring another dimension of function into the space. "Once you create it for a purpose, then people tend to go there," she says.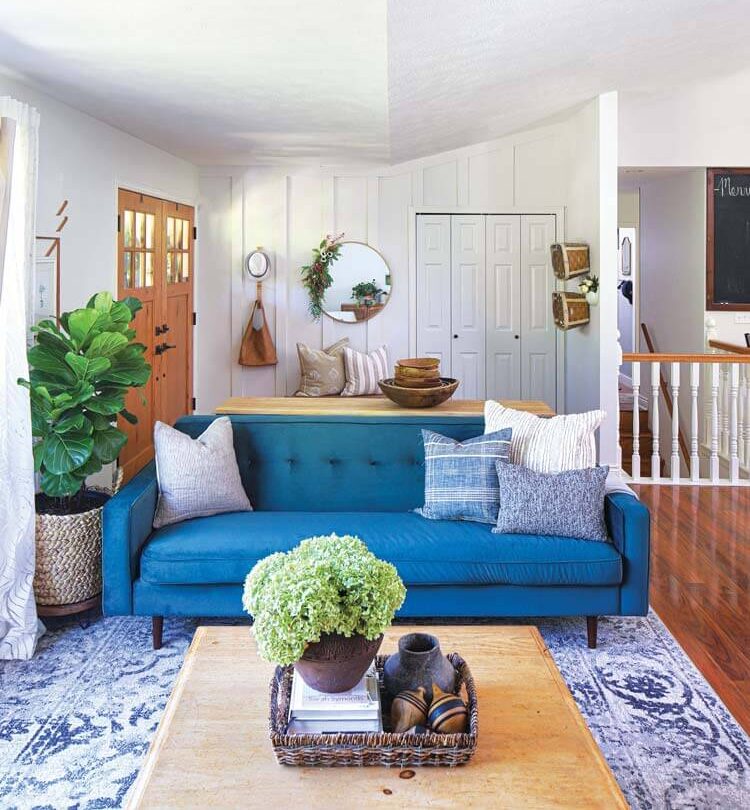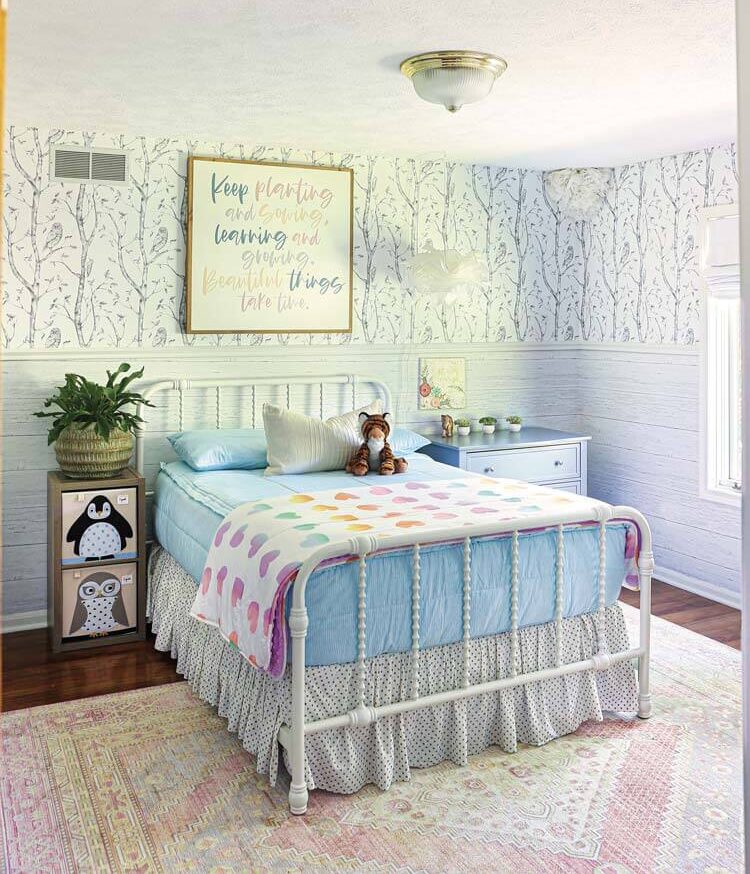 A room that Sarah certainly did not have to worry about being underutilized or unappreciated in her modern Michigan farmhouse was her children's playroom. However, its position in the home's layout presented a tricky problem, as there are no windows. Sarah's fix was to install wood slats on the wall and paint the ceiling sky blue to give the room a more outdoorsy and playful feel.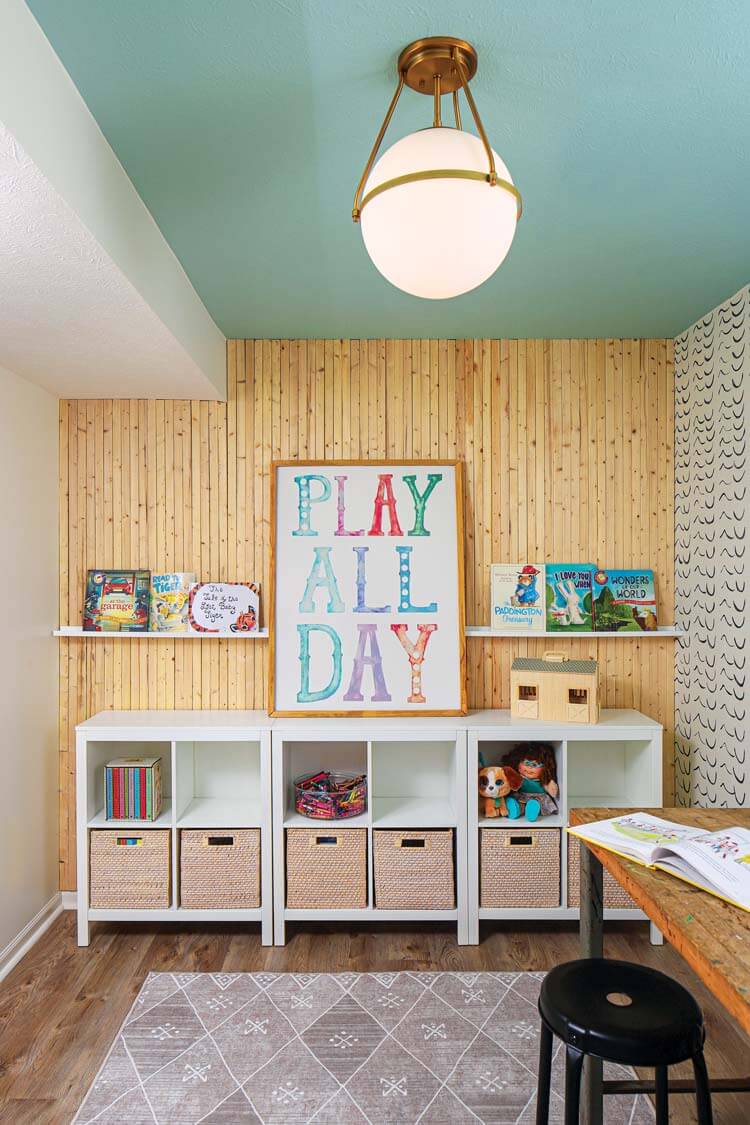 You might think the wall with quirky squiggles is wallpaper, but it's actually Sarah's own hand-painted design. "They can be whimsical in this space and be kids," she says. Ultimately, Sarah recognizes that "a playroom is meant for play."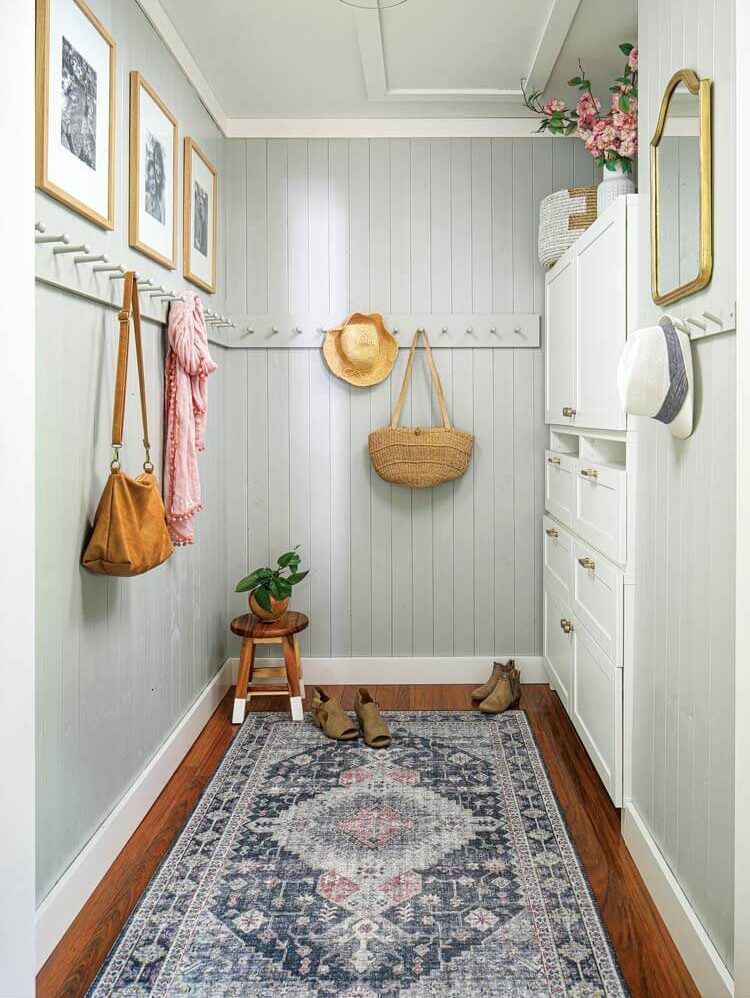 There's also a guest house attached to a pole barn. Sarah employed the same approach when designing the guest suite as she did when working on the main modern Michigan farmhouse — functionality and an inviting atmosphere are always top of mind.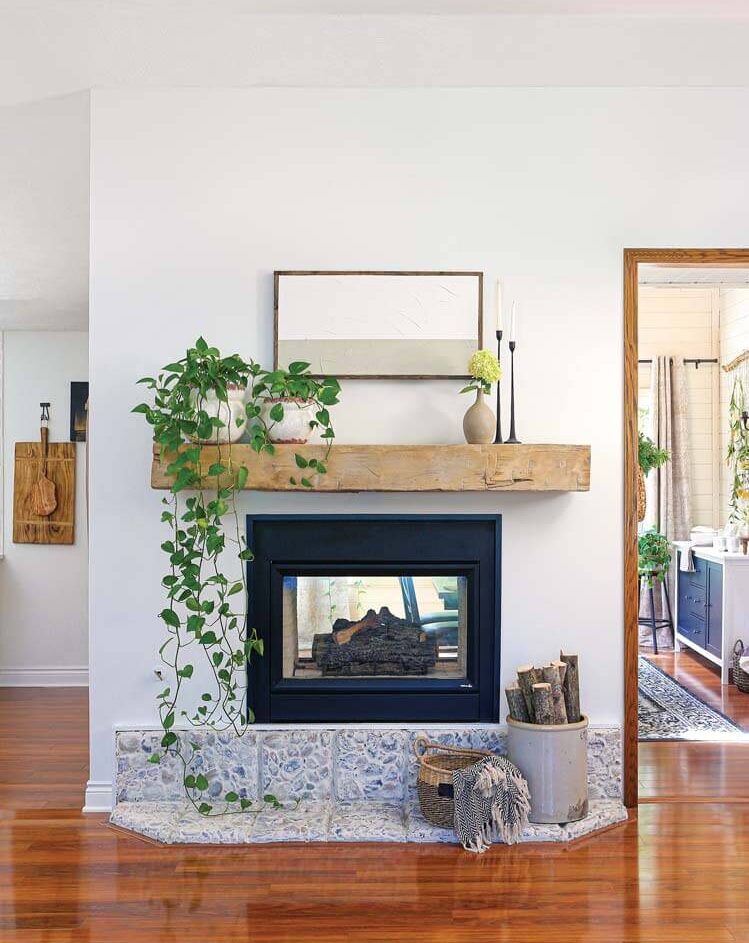 ---
Love Sarah's designs? Tour her guest house too! Of course, don't forget to follow us on Instagram, Facebook, and Pinterest to get your daily dose of farmhouse inspiration!