A Custom Farmhouse in the Suburbs
Photography by Chad Mellon
Photography by Chad Mellon
Styling by Jaclyn James
and Victoria Van Vlear
Custom design can be hard to come across in a large master-planned community, where homeowners can choose between only five different floor plans. So it made sense that shop owner and Instagrammer Jaclyn James of Jaclyn James Home chose to renovate her California home, turning her modern beige abode into a classic custom farmhouse.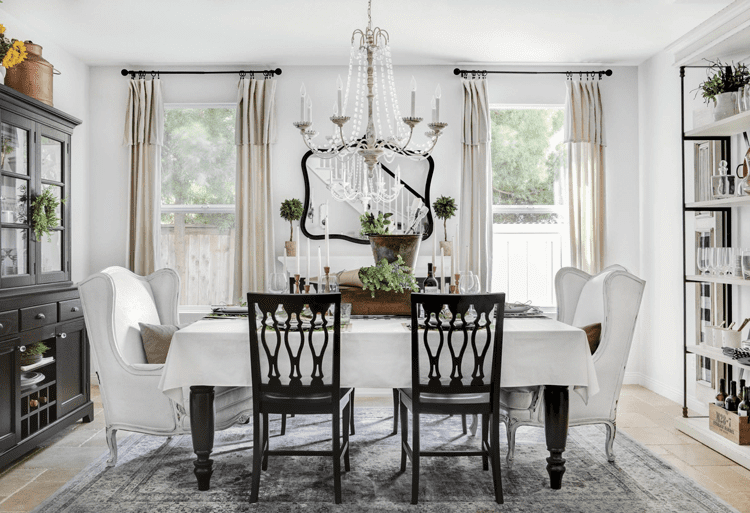 Flexible and Farmhouse-Friendly
Jaclyn's home is a new build, located in a suburban community at the highest point in north San Diego County. Throughout the renovation process, Jaclyn balanced her personal preferences against the home's placement in the master-planned neighborhood. "I wanted to keep with what a buyer would expect coming into the community so someone, in theory, could make it their own," Jaclyn says.
Keeping most of the architecture intact, Jaclyn approached the process with her color palette in hand. She implemented a black and white scheme, "making [the structural fixtures] a little more timeless."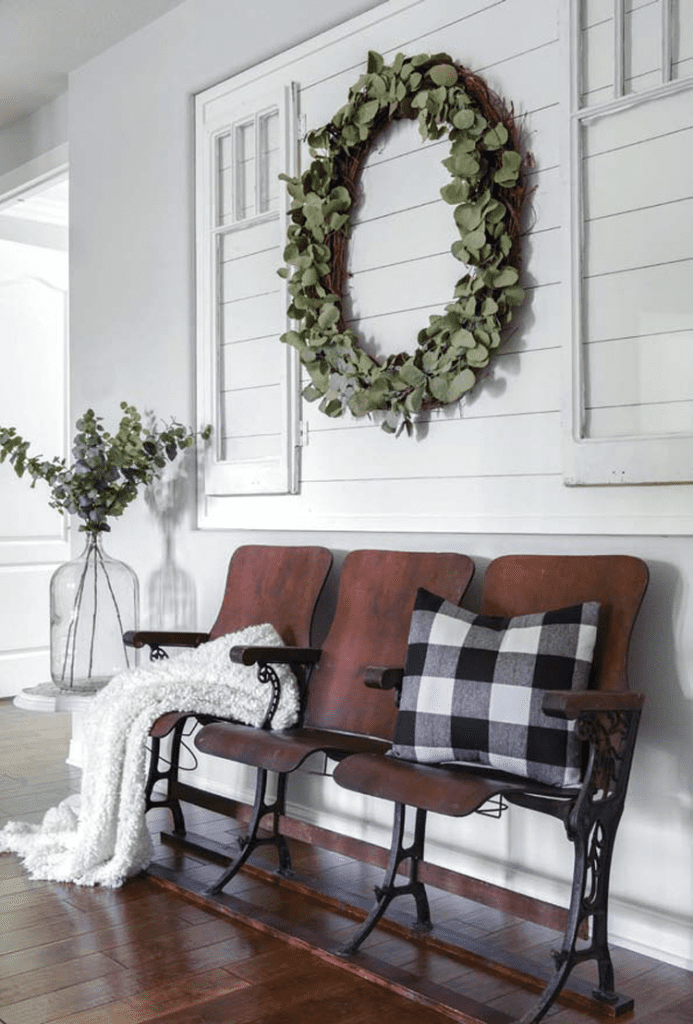 She then supplemented the new color scheme with movable décor and accents so the farmhouse style would shine through—subtly but certainly. Versatile and timeless, Jaclyn's home shows that the smallest changes can evoke a custom American farmhouse style. The key is consistency.
First Things First
Jaclyn, her husband and their son lived in the home during the renovation process, so they needed to be strategic about where they worked. "We began with the areas we'd use first: the master bedroom, the living room, and the foyer," Jaclyn says.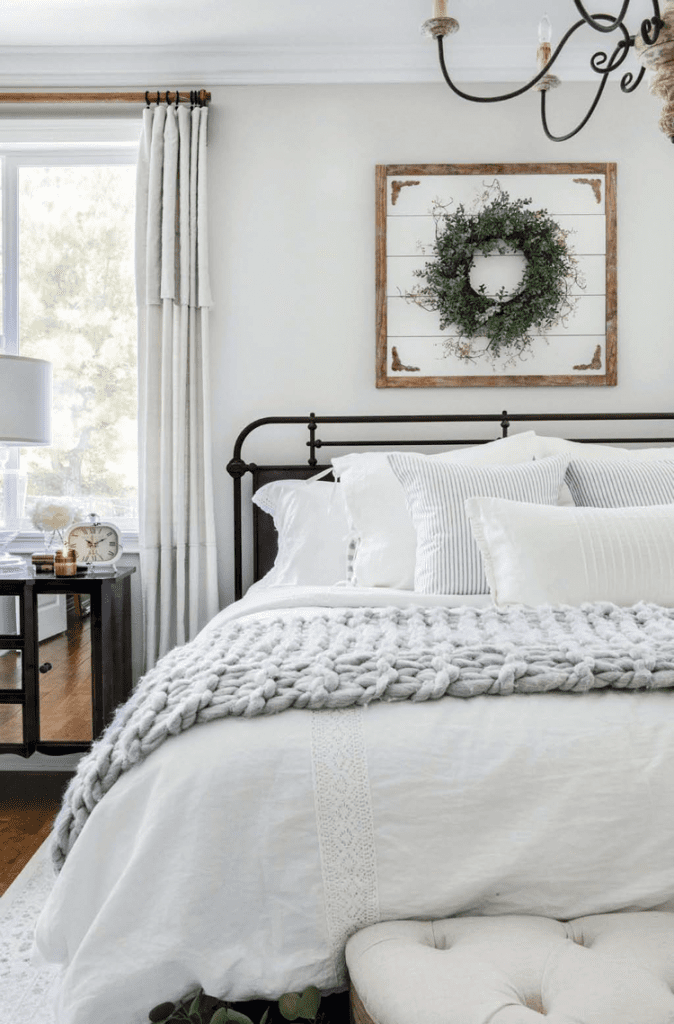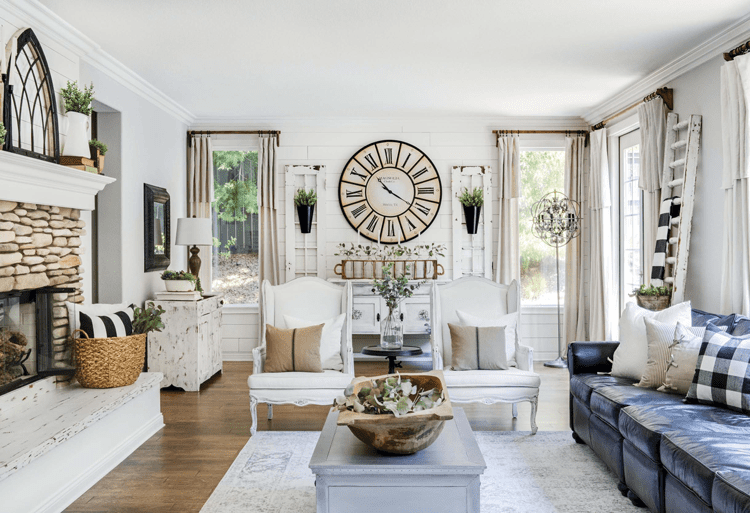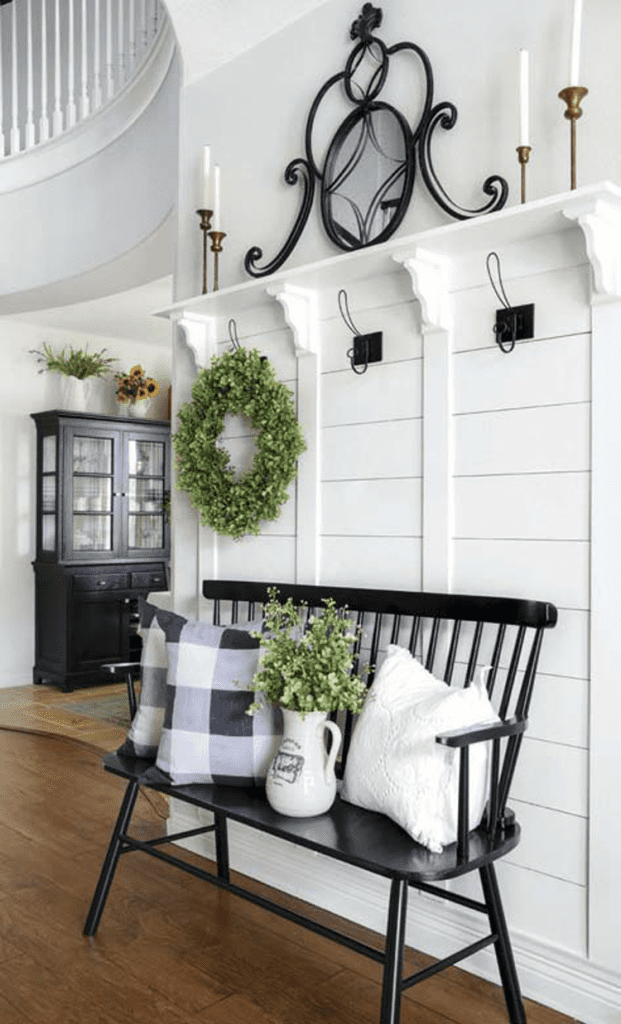 A Custom Farmhouse Kitchen
But the custom farmhouse really started coming together once the kitchen was finished. "The kitchen really changed the entire feel of the house," Jaclyn says. "It's the heart of the home for me. I love to entertain."
With a huge open floor plan overlooking the yard, the combination kitchen/breakfast nook took over two months to complete. "Every little bit of the kitchen is something that I planned, picked out or wanted," she says. "That really made a huge difference."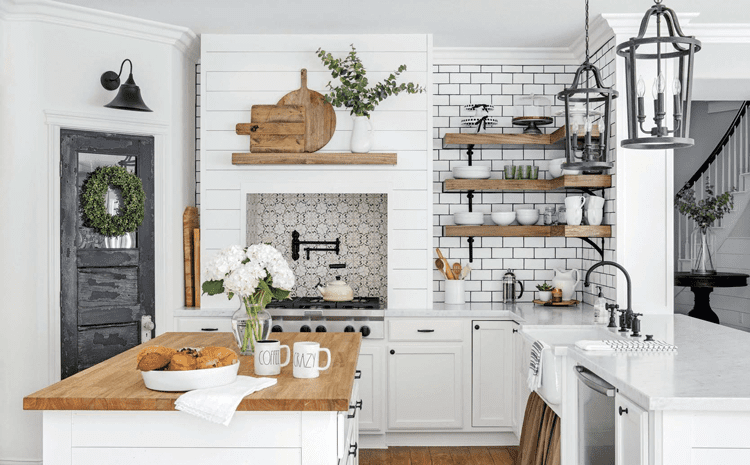 The kitchen underwent substantial structural changes. For instance, Jaclyn removed additional cabinet space and pushed back one of the posts as far as she could without hitting the plumbing. "I wrapped the room in shiplap so it would paint out beautifully," she says.
If you're adding shiplap, like Jaclyn did, try to use it throughout the home. "Pretty much any room that's been renovated has shiplap in it," she says. Another reason to use the material? "Adding wood anywhere adds warmth," Jaclyn says. And in a custom farmhouse, a little warmth goes a long way.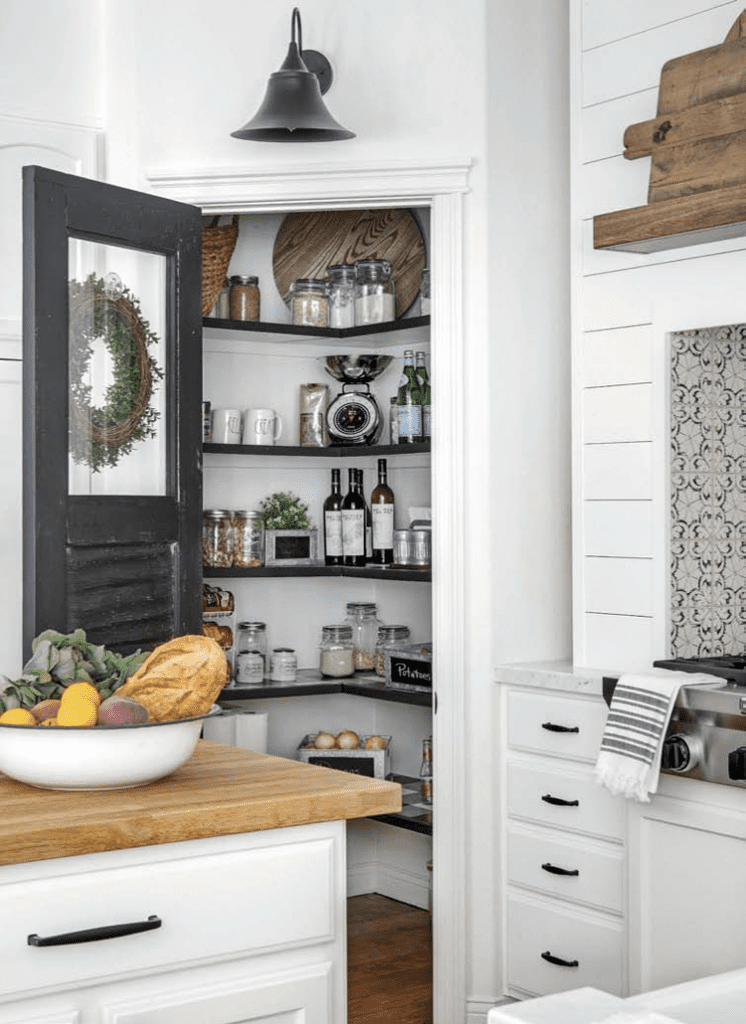 Dollar Saving DIY
Jaclyn sells home furniture online and is a master at all things DIY. On her second story, she personally retiled the bathroom floor, complete with an exquisite stencil job. "We renovated the entire master bathroom, but I still didn't like the floor," she says.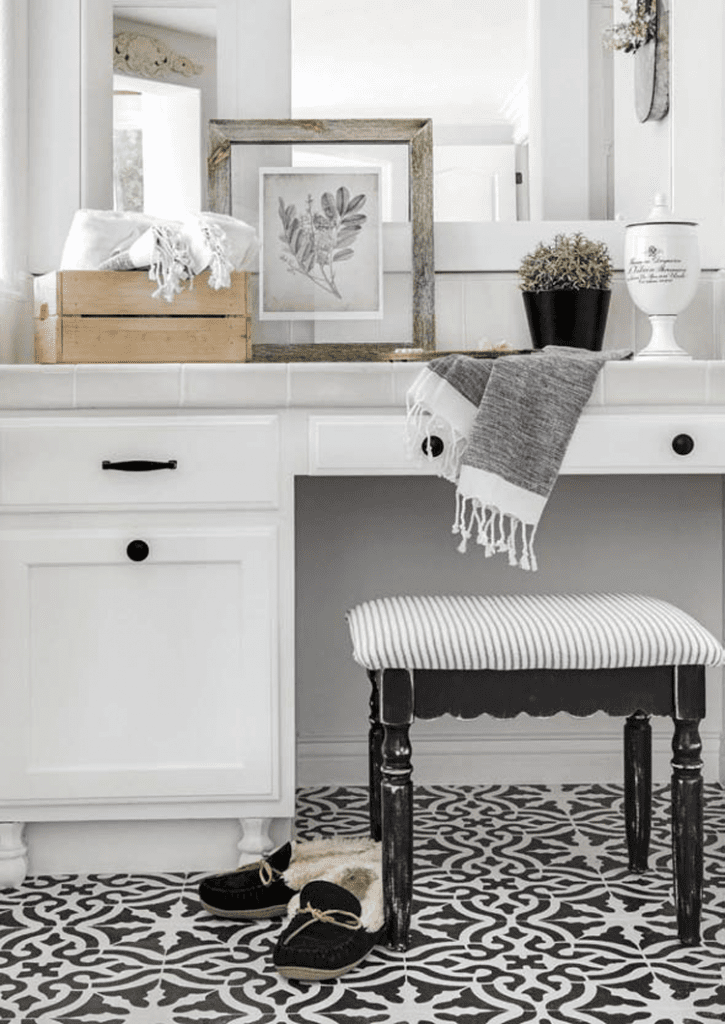 Unfortunately, she couldn't afford to hire a contractor to redo it, so she researched the process and painted it in eight painstaking days, saving her family thousands of dollars. "It was my most tedious project ever," she says. "But it's also probably my favorite DIY to date."
From the renovation touches to her DIY savvy, Jaclyn has created a farmhouse vibe that's custom after all.
Jaclyn's Kitchen Reno Tips
Renovating your kitchen? Jaclyn offers project advice from personal experience.
SAMPLE YOUR SPACE. "If possible, live in the space first," Jaclyn says. "Understand how the kitchen sits already before you make any decisions. Look at the functionality and try to put your money and higher ticket items on things you're really going to use."
BRAINSTORM WITH A BOARD. "I actually created a really simple style board [for textures] and laid them out together to see how they worked on paper," Jaclyn says. "Even if you're someone that doesn't have any designer experience, open a Word document. Take a screenshot and lay the items over each other. See if the color combinations and patterns work right."
ASK QUESTIONS. Don't get deterred from a project for fear of the cost. Do your research and ask for estimates, because you may learn that something isn't as expensive as you thought. "If you can't do it, at least you know you tried," Jaclyn says.
BREAK THE MOLD. Don't be afraid to go where no kitchen has gone before. "If you love it and want to do it, go for it," Jaclyn says. "It's your home and your space."
Now go get renovating! But don't forget to follow us on Instagram, Facebook and Pinterest for your daily dose of farmhouse inspiration!