Best Outdoor Grill For Your Home
Image courtesy of Traeger
Here are a dozen options for an outdoor grill—gas, pellet, and charcoal—to get you (and your husband, boyfriend, uncle, father or anyone else) cooking in your backyard.
The quality of the outdoor grills on the market is mind boggling, and more models are being introduced each year. We've chosen 12 to highlight and have included newer models along with some old reliable favorites.
Editor's Note: This article is part of a new special, Grill Guide! Head here to get the whole issue.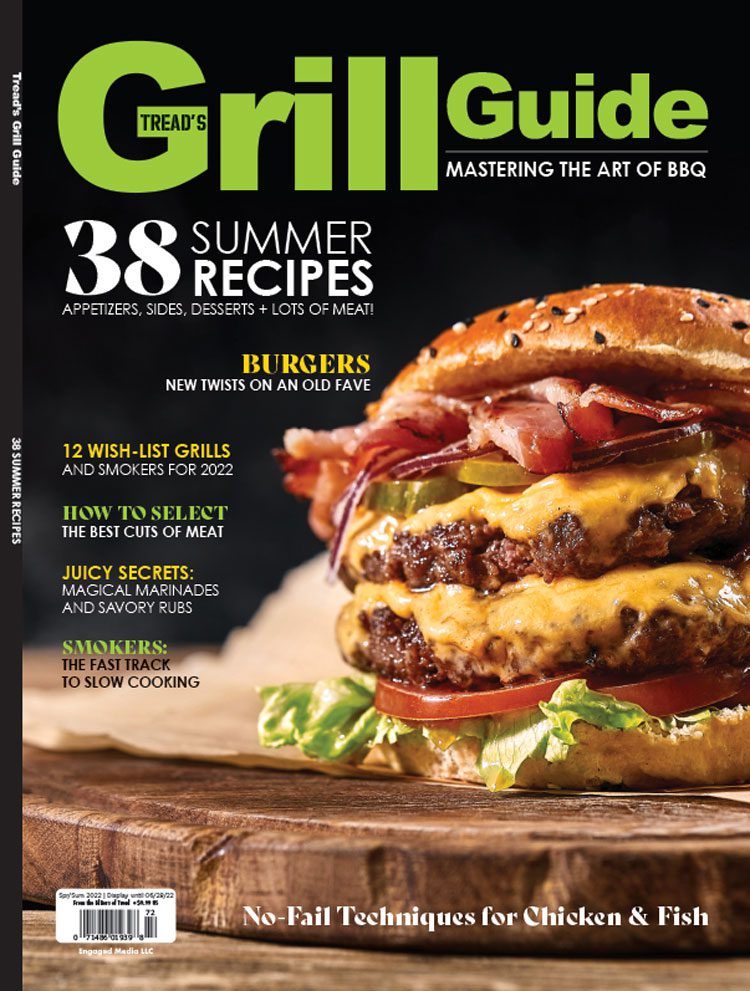 Propane Gas Grills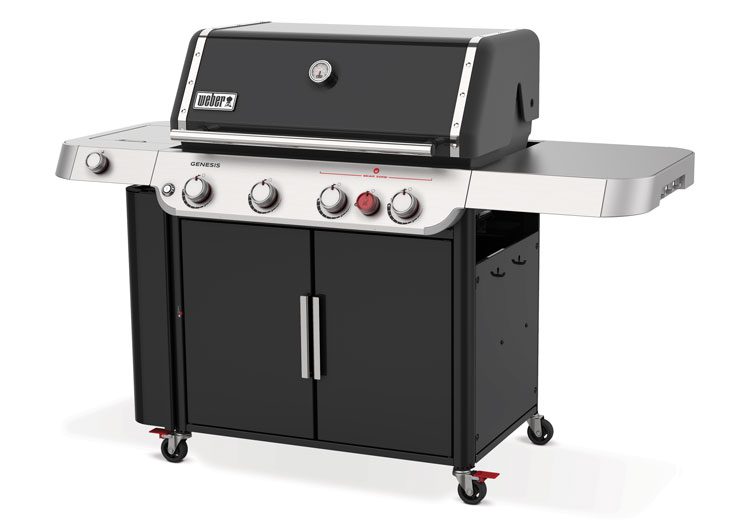 Weber has redesigned its line of Genesis gas grills. Its modular design allows you to replace the right side cooking grate with optional accessories from the Weber Crafted Outdoor Kitchen Collection. You can grill, bake, steam, roast, stir-fry, and more. You can add a glazed baking stone, roasting basket, wok, Dutch oven, sear grate, flat top, or rotisserie. The possibilities for this outdoor grill are endless.
The Genesis features Weber's largest and hottest sear zone so you're able to sear multiple steaks at once. The expandable top cooking grate creates a second level of grilling. The Genesis E-435 provides 994 square inches of cooking area. And you can sauté, boil water, or warm sauces on the side burner. There's also an extra-large prep and serve table.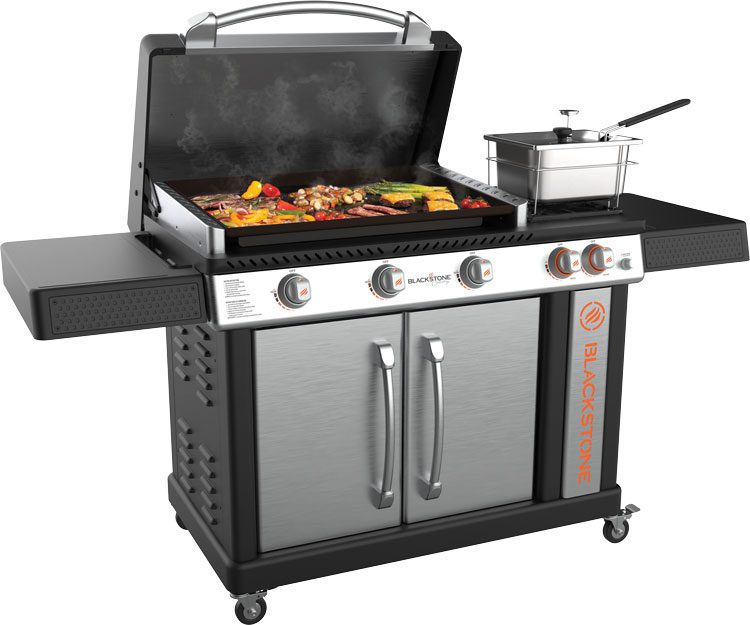 Flat-top griddles are becoming increasingly popular for the outdoor grill, so we included this Blackstone model on our list. Blackstone paired its Culinary 28" griddle top with the Rangetop burner to allow you to cook more than ever. You can cook all of your griddle favorites, such pancakes, burgers, stir fry, and more, but also have the option to boil water or use a frying pan. So you never have to feel limited when cooking outdoors. With a combined 48,000 BTUs between the three individually controlled burners, including 24,000 BTUs of additional performance on dual side burners, this griddle heats up quickly and effectively so you can get cooking in no time.
This unit also features 613 square inches of cooking space, a dual 12,000 BTU stainless side burner with cast iron grate, patented heat control baffle system, a cabinet with pull-out tank, dual side shelves, BLK Stainless and painted culinary styled hood, patented rear grease management system, and a magnetic zone on the side shelf for tool retention.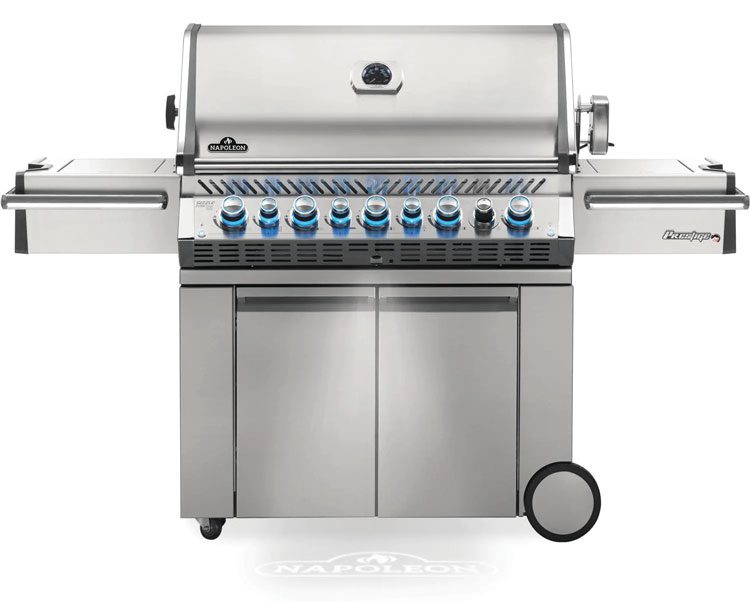 The Napoleon Prestige PRO 665 is a propane gas outdoor grill with infrared rear and side burners, giving you everything need for professional-grade backyard grilling. Superior heat retention provides oven-like performance and first-rate searing. Napoleon's trademark WAVE cooking grids give you distinctive sear marks and proximity lighting.
You can use the integrated smoker tray and dedicated burner to add smoke to all of your favorite grilled dishes. On the outside, a shining stainless steel body provides durability against the elements while chrome details add luxury. Under the lid is the same quality stainless steel used for the cooking grids, tube burners, and dual-level sear plates. The LED Spectrum NIGHT LIGHT Control Knobs have near limitless color options to make night-time entertaining a breeze. They also glow red when the gas is left on as a safety feature. Enjoy evenly cooked restaurant-style meals with the rear infrared burner and rotisserie.
Pellet Grills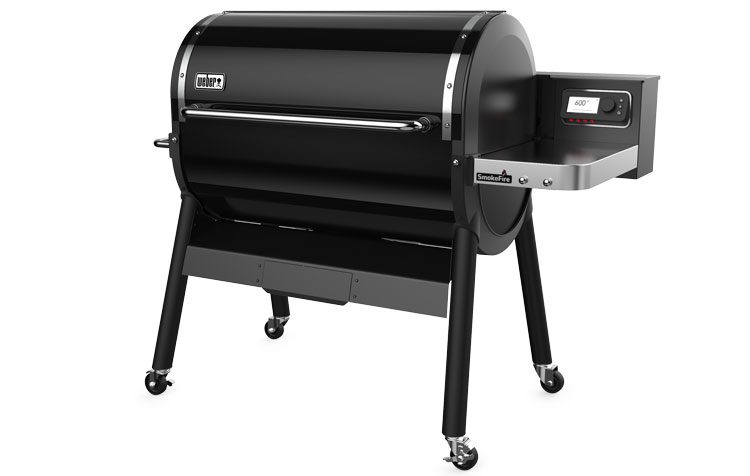 With its 200-600° temperature range, the Weber SmokeFire is a true all-in-one outdoor grill that has the versatility to sear steak as well as it smokes brisket, bakes pie, and everything in between. And with Weber Connect, perfecting any dish has never been easier. It's a step-by-step grilling assistant built into the grill, that sends notifications on everything from when it's time to flip and serve to a food readiness countdown.
The SmokeFire features a porcelain-enamel finish that retains heat, and helps prevent rusting and cracking. It provides 1,008 square inches of dual grilling space and the Weber signature Flavorizer Bars that help distribute heat across the full cooking grate.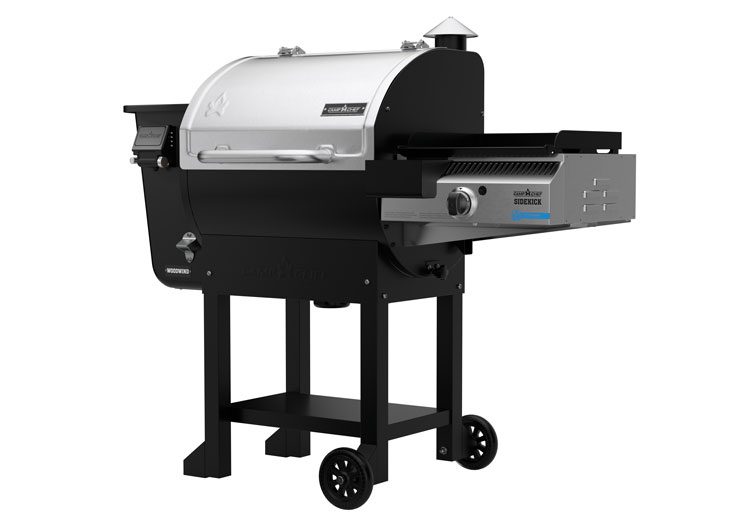 The Camp Chef Woodwind WIFI is designed to keep you in control. The Wi-Fi-enabled PID controller keeps cooking temperatures right where you want them and allows you to monitor the cook directly from your phone. Dial in the smokey flavor on a scale of 1-10 with Smoke Control. And, at the end of the cook, clean-up is quick and easy with the patented Ash Cleanout system.
The Woodwind is more than just a smoker. Quickly grill up burgers, brats, and hot dogs with the slide and grill feature, which gives you direct flame cooking at the pull of a lever. Expand your menu options on the Woodwind, with the included Sidekick Flat Top attachment. The 28,000-BTU burner is compatible with the included single-burner griddle, optional pizza oven, and grill box.
This particular outdoor grill bundle includes the Woodwind WIFI 24 with Sidekick burner, cover and wood pellets.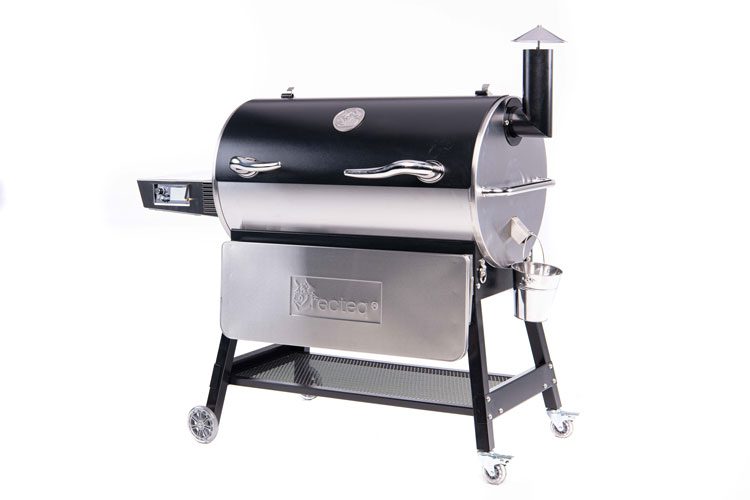 The recteq RT-1250 is built to last. It's made with high-quality stainless steel, including the grates, firepots, drip pans, and hardware. And with its 180° to 700° F range and 1,250 square inches of cooking space, it's up to handling anything you can throw on the menu.
The recteq RT-1250 features an integrated dual-band Wi-Fi-enabled controller, efficient and accurate PID controls, fully stainless steel barrel and hardware, integrated removable second rack, and redesigned front folding shelf.
The Traeger Ironwood 885, with its 885 square inches of cooking space is packed with features. Its WiFIRE Technology lets you monitor your cooks, adjust outdoor grill temp, and access more than 1,600 recipes through the Traeger App or select smart home devices.
Double sidewall insulation helps to maintain heat levels for even more consistent results. The D2 controller with digital display makes setting grill temps as easy as turning on an oven, and allows you to adjust it in 5-degree increments.
The TRU Convection System directs smoke through specially designed channels, creating a vortex of heat and smoke that cooks your food faster and more evenly without fear of flare-ups.The Downdraft Exhaust System keeps fresh smoke flowing over your food to ensure the best possible wood-fired flavor. And when you
want maximum smokey flavor, Super Smoke Mode lets you do it with the push
of a button.
The included meat probe lets you monitor food temps without lifting the lid. TurboTemp improves startup time and helps grill temperature recover more quickly after lifting the lid. The hopper cleanout features a trapdoor that empties the hopper for quick and easy pellet flavor swapping. The Traeger Pellet Sensor mounts in the hopper so you can monitor pellet levels and receive alerts when pellets are low. You also get an industry-first brushless motor that's powerful and built to last. All-terrain wheels make it easy to move your outdoor kitchen.
Charcoal Grills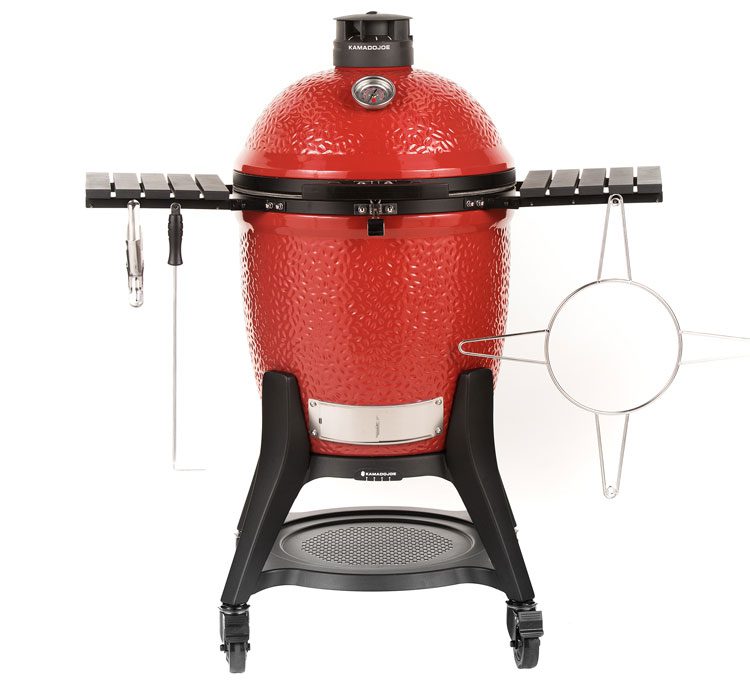 The Kamado Joe Classic Joe III is the company's most advanced ceramic charcoal outdoor grill yet. It includes the revolutionary SlōRoller Hyperbolic Smoke Chamber insert, which harnesses the power of cyclonic airflow technology to control heat and smoke while delivering the great taste and texture that only a ceramic barbecue grill can provide. The 3-Tier Divide and Conquer Cooking System doubles cooking space and allows you to cook foods at different temperatures. You won't find a better, more versatile kamado ceramic grill.
Want something that's easier to take along? The company's most portable ceramic charcoal outdoor grill, the Kamado Joe Jr., offers 13.5 square inches of cooking space. Weighing only 68 pounds, this kamado ceramic grill is the perfect sidekick for anyone on the go. It's great for tailgating, camping, hunting, and fishing.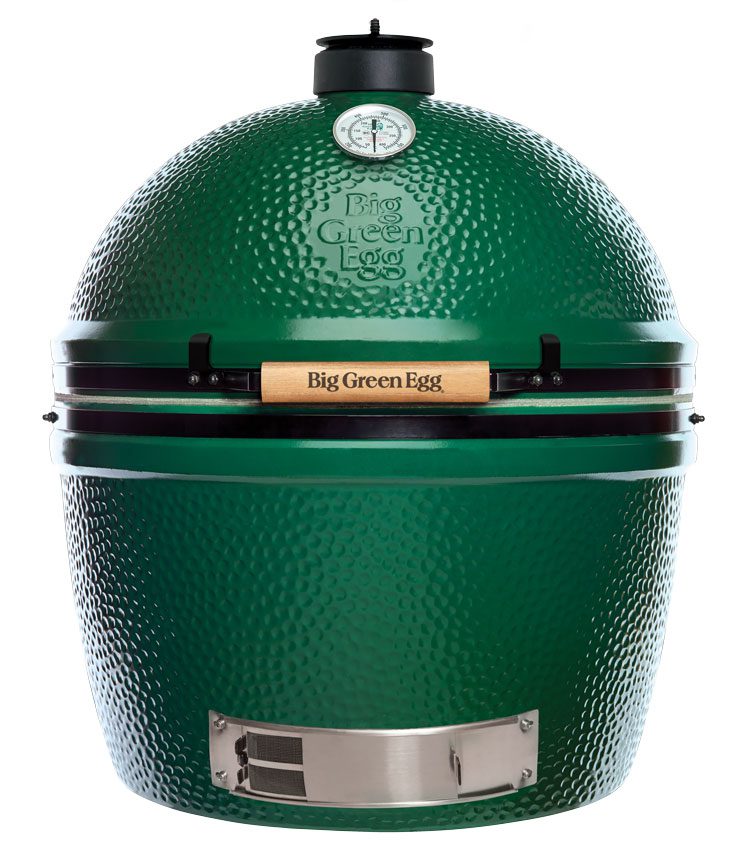 The Big Green Egg always seems to attract a crowd. And now with the 2XL Egg, you can feed that crowd. The 2XL is the biggest in the Green Egg family and it's suitable to handle family reunions or other large group occasions. The 2XL features a grid diameter of 29 inches, with 672 square inches of cooking space. That's big enough to cook 35-40 burgers, 14-16 whole chickens, 18-20 steaks, 20 mouth-watering racks of rib vertically, or one perfectly crisp suckling pig.
The Big Green Egg reaches perfect cooking temperature and is ready to use in just minutes. Lighting the charcoal is always quick and easy, as the design of the Big Green Egg allows air flow to circulate efficiently. You can grill, smoke and bake on the Egg at exact temperatures by easily adjusting the patented air flow systems. The USA-made temperature gauge provides precise readings to 750° F.
The Big Green Egg is extremely safe to use, as the ceramic surface doesn't get as hot as a metal outdoor grill, and the heat source is protected within a ceramic fire box inside the base. The elegant green exterior has a lifetime glaze that maintains its good looks and wipes clean easily without chemical cleaners. Inside, the Big Green Egg features a professional grade stainless steel cooking grid. Residual heat burns away any grease build-up—just like a self-cleaning oven—and ash build-up is minimal.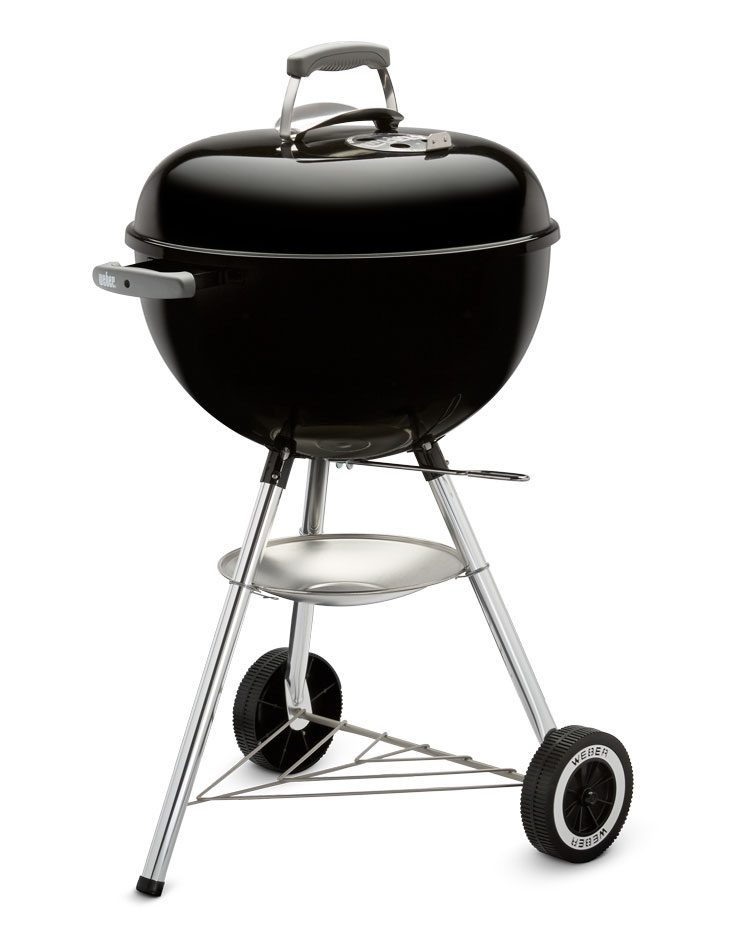 Happy birthday, old man. We included the Weber kettle outdoor grill in this lineup because it turns 70 years old this year. While expert and novice grillers alike most likely are familiar with this dome-topped kettle grill, it's important to recognize why it has such staying power. It's light enough to move anywhere. It's a simple design and there's little that can go wrong with it. It's reasonably priced and, when properly maintained, can last for many years. Most of all, however, it can grill with the best of them.
Its ultra-durable, porcelain-enameled lid and bowl retain heat, while the dampers easily adjust for precise temperature control. The One-Touch cleaning system provides for easy cleanup after a long day of grilling. The durable, plated steel cooking grate can hold up to 13 burgers made with a Weber burger press. There's a convenient lid hook also, so you don't have to place the lid on the ground while checking your food.
Built-In Grills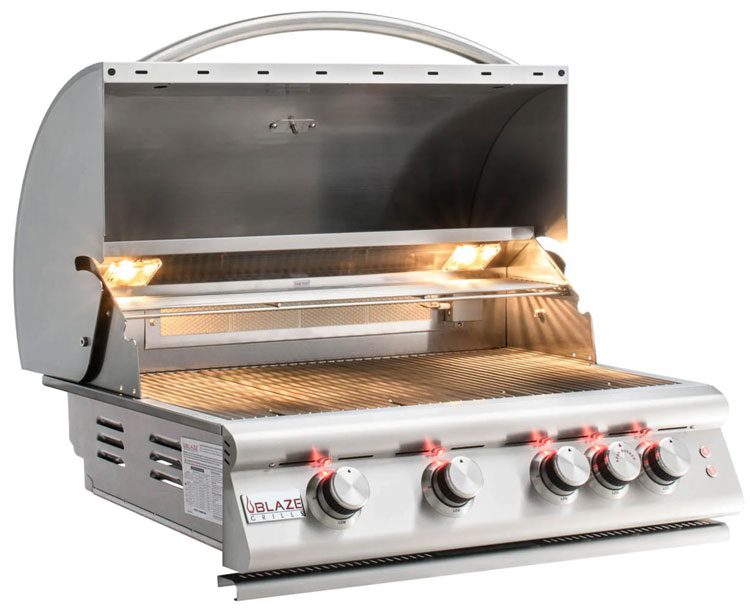 The Blaze gas outdoor grill features precision-cut, 304 stainless steel components for lasting durability. This model includes LED accent lights, integrated halogen hood lighting, and illuminated control knobs for evening gatherings. It features four commercial-quality 304 cast stainless steel burners with 14,000 BTUs of cooking power per burner, for a total of 56,000 BTUs. It also has a 10,000-BTU infrared rear rotisserie burner.
You get 740 square inches of cooking spaces with heavy 9mm triangular stainless steel cooking rods that produce distinguished sear marks. The push-and-turn flame-thrower primary ignition system delivers a fast start every time, while flash tube ignition and crossovers provide an alternate ignition option. Heat zone separators divide the cooking surface into individual temperature zones. Flame stabilizing grids minimize flare-ups and the double-lined grill hood protects the outer layer from heat discoloration and maintains more heat. The warming rack is removable and there's a full-width drip tray for quick cleanup. Blaze Grills offers an impressive lifetime warranty.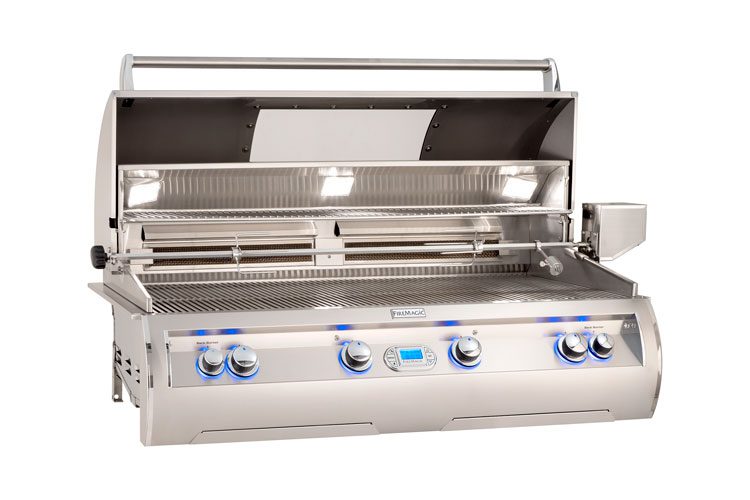 With this version of the Fire Magic Echelon E1060i, you can check on your food through the window instead of raising the hood. It features a built-in digital thermometer with front panel display and a meat probe. This outdoor grill features the patented Diamond Sear Cooking Grids that have a smooth flat top shaped to optimally transfer the heat from the burners to the cooking surface so food cooks faster and more evenly. Each individual bar measures more than .35 inches wide at the top and these cover more than half of the total cooking surface. That cooking surface measures 48 x 22 inches for 1,056 square inches. The 48 x 8 warming rack adds 384 square inches.
Flavor Grids allow heat to rise unobstructed from the burner to cooking grids. They disperse heat quickly and evenly flavor the food by vaporizing juices and minimizing flare ups and grease fires. They are also easy to clean and maintain. The burners are made of ¼-inch-thick cast 304 stainless steel with a protective lip above the ports to prevent clogging from grease. They come with a lifetime warranty.
This gas outdoor grill allows you to cook with charcoal, or smoke with wood chips by using the charcoal smoker basket, which sits on top of the burner, easily igniting the charcoal or wood chips. The recessed infrared Quantum Backburner uses 100 percent stainless steel foam which provides much more BTUs (22,000) for quicker, efficient rotisserie grilling. A stainless steel cover protects the back burner when not in use. Polished, backlit knobs allow you to stay in control of everything.
---
Loved this info on an outdoor grill? Get the full issue here!