What Does Your Kitchen Hardware Say About Your Farmhouse Style?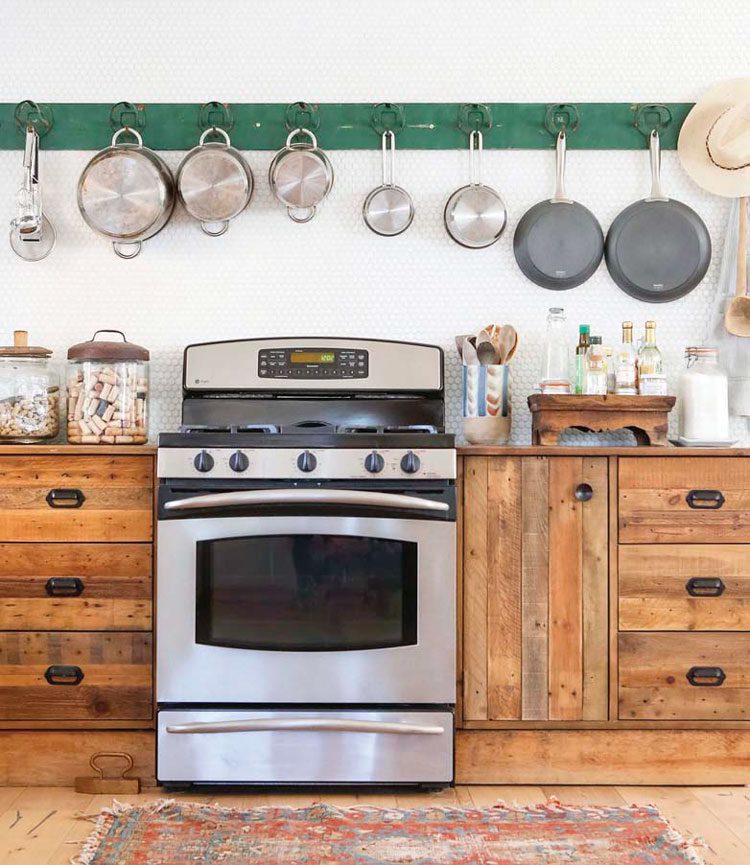 Photo by Lu Tapp
Do you love all the different looks of farmhouse style kitchens but aren't sure how to get the look? Try changing the cabinet hardware! Your kitchen hardware can determine your farmhouse kitchen style, and it's an easy and inexpensive change.

Take a look at pictures of kitchens you love that are different styles. Chances are, the cabinets are similar and it's the details that determine the style. Do you lean toward a classic farmhouse look or a modern one? Want rustic but still polished? Do you like chrome or leather? Polished brass or matte brass? What about a mix of styles? Whether you're starting with a style in mind or a finish you love, you can build a design around your kitchen hardware.

Here are three simple options for getting that perfect farmhouse kitchen style. The same cabinetry for the perimeter cabinets is used in each style (with one additional option for rustic), so you can see how the hardware can change the look. The island is a good place to choose contrasting cabinetry and even an additional kind of hardware that fits your intended kitchen style.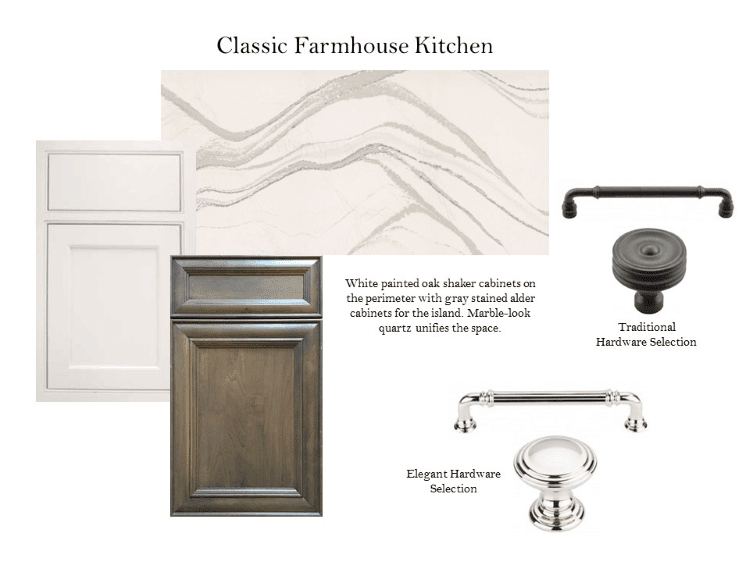 Classic Farmhouse Kitchen Hardware
For a classic farmhouse style kitchen, start with white shaker-style perimeter cabinets and add a stained alder island. From here, you can choose to go more classic or more elegant by choosing kitchen hardware to fit those styles. You could even choose classic hardware for the perimeter cabinets and elegant for the island. Top it off with a statement countertop, and you have yourself a beautiful, classic farmhouse kitchen.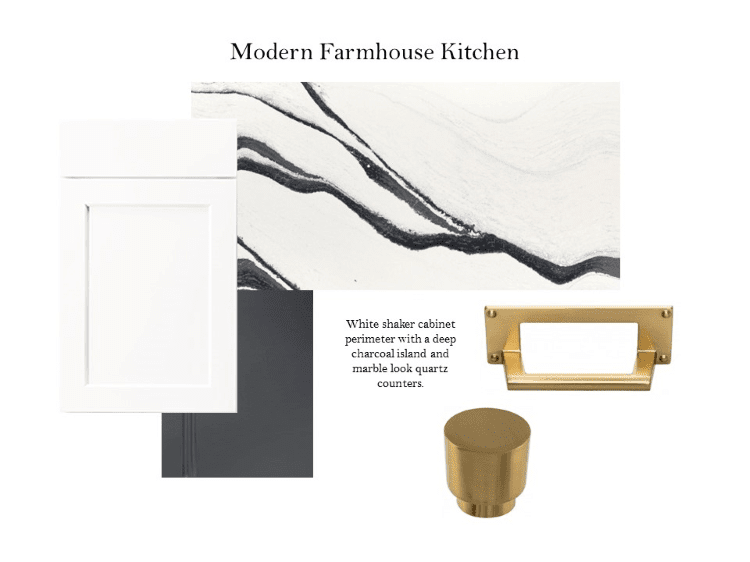 Modern Farmhouse Kitchen Hardware
For a modern farmhouse kitchen, start with the same white shaker perimeter cabinets but choose a painted island in a bold or dark color. This island color is Peppercorn, a charcoal color I love that has a hint of blue. Choose modern brass hardware with clean lines. I chose a pull that reminds me of vintage campaign furniture or a library card catalog and a chunky knob. For a modern countertop, choose a statement quartz with some boldness, with colors in it that coordinate with your cabinets.

Now you've gotten a completely different farmhouse style kitchen even though the finishes are similar. Even if you're painting your cabinets, you can change styles by painting your island a color that fits your style and adding coordinating hardware.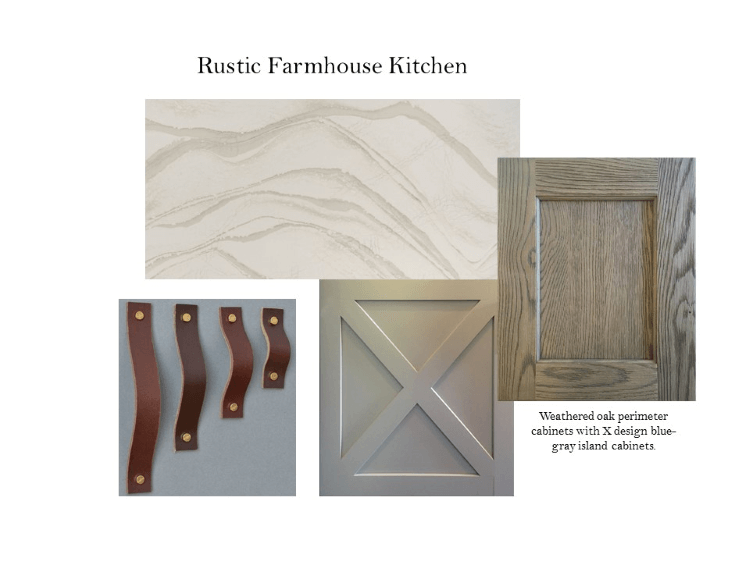 Rustic Farmhouse Kitchen Hardware

For a rustic farmhouse style kitchen, you can go polished-rustic or super-rustic just by changing the perimeter cabinet option. For polished-rustic, choose the same white shaker perimeter cabinets we've talked about in the first two kitchens. If you want to go super-rustic, choose a weathered wood option. For the island, choose a neutral painted color with an "x" to complement either your polished-rustic style or your super-rustic style. For the kitchen hardware, choose leather strap pulls. They're available in a few different colors and add the perfect amount of rustic style.

Where to Start

If you're redoing your kitchen, you can start with your style in mind and then build around it. At our kitchen showroom in the Nashville area, we offer a line of high-quality cabinetry, Starmark Cabinetry, that offers a discounted line called Crew. Crew offers several budget-friendly door styles, such as white shaker style. This makes it cost-effective to choose simple cabinetry around the perimeter, and then personalize your kitchen through your choice of cabinet hardware and with the addition of a contrasting island.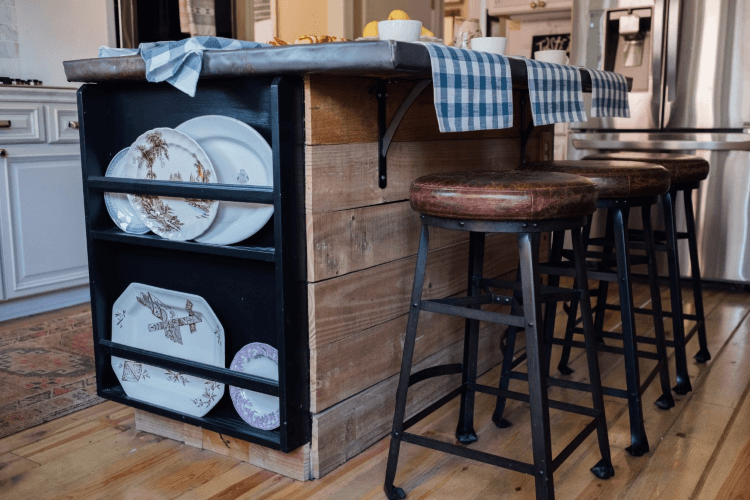 Want to try out a new style but don't have the budget to redo your whole kitchen? Update your hardware in your favorite farmhouse kitchen style and complete the look with paint and accessories. You could also try paneling to add rustic style to your walls or the back of your island.

The kitchen above is a mix of classic, elegant and rustic. We added weathered cedar planks to the back of the island while the white perimeter cabinets got classic chrome hardware. Feel free to mix styles for a personalized look.

---
New hardware is an inexpensive way to transform a blah kitchen into a stylish kitchen with painted cabinets. Of course, don't forget to follow us on Instagram, Facebook and Pinterest to get your daily dose of farmhouse inspiration!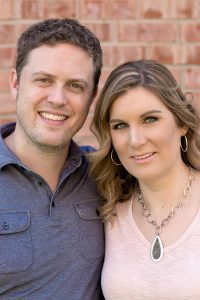 Holly Thompson is a designer in the Nashville area. She and her husband Dave own Holly Thompson Homes, a kitchen/bath showroom/interior design studio in a 200-year-old building in Historic downtown Franklin. They are a husband-and-wife design and renovation team, partnering with local contractors and builders to make Holly's designs come to life. Their home was featured in American Farmhouse Style in Fall 2017. They also have three kids and two kitties. Follow along with Holly and Dave on Instagram and Facebook and on their blog.