Santa's Workshop Christmas Home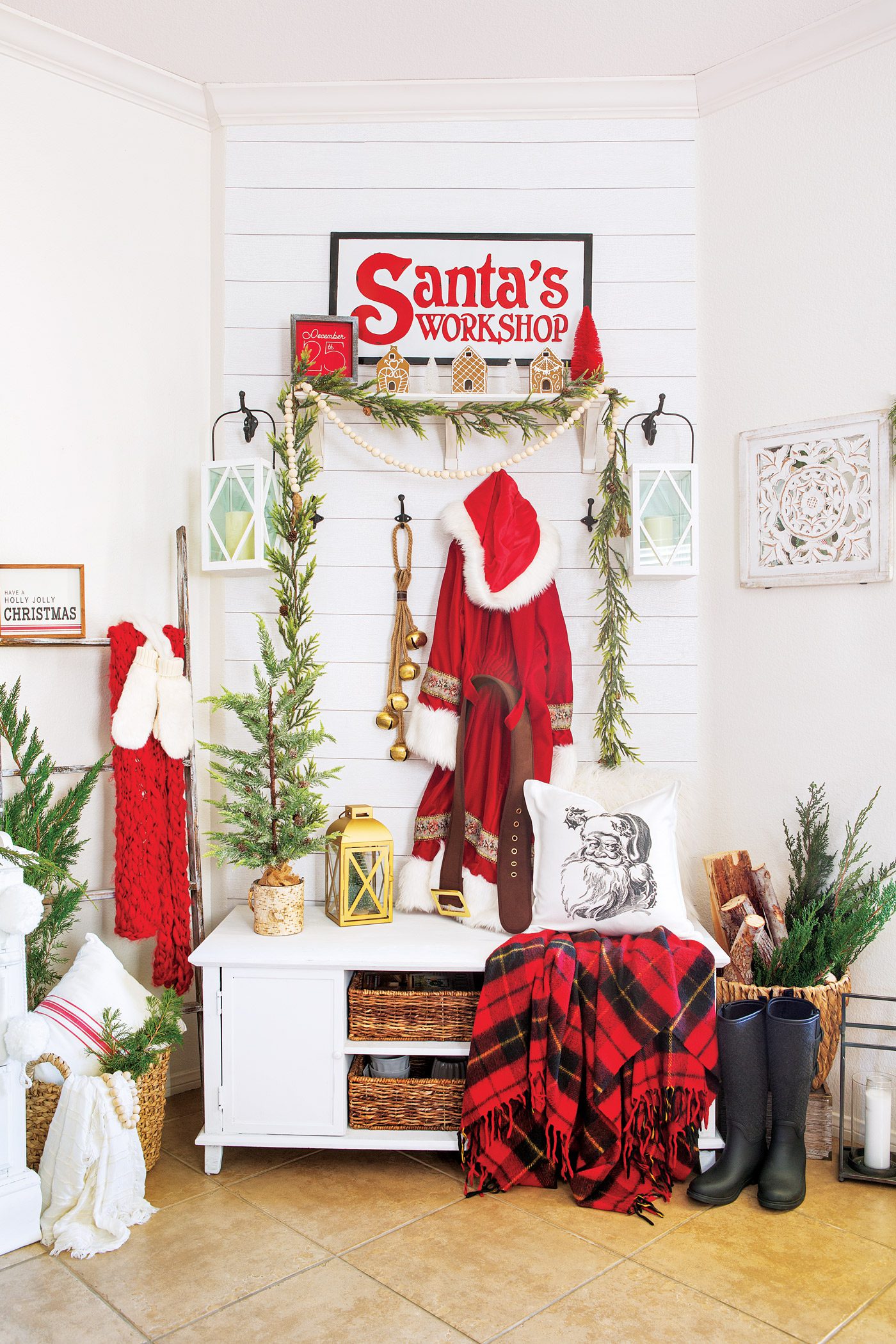 A Santa Claus-inspired theme and fun pops of color combine with touches of farmhouse charm to create a cozy and inviting Christmas home.
As Christmas approaches, creating a home full of festive cheer is a great way to bring the holidays to the forefront. For Instagrammer Annette Maldonado of Cherished Treasures, decorating her Christmas home in California is the perfect creative outlet.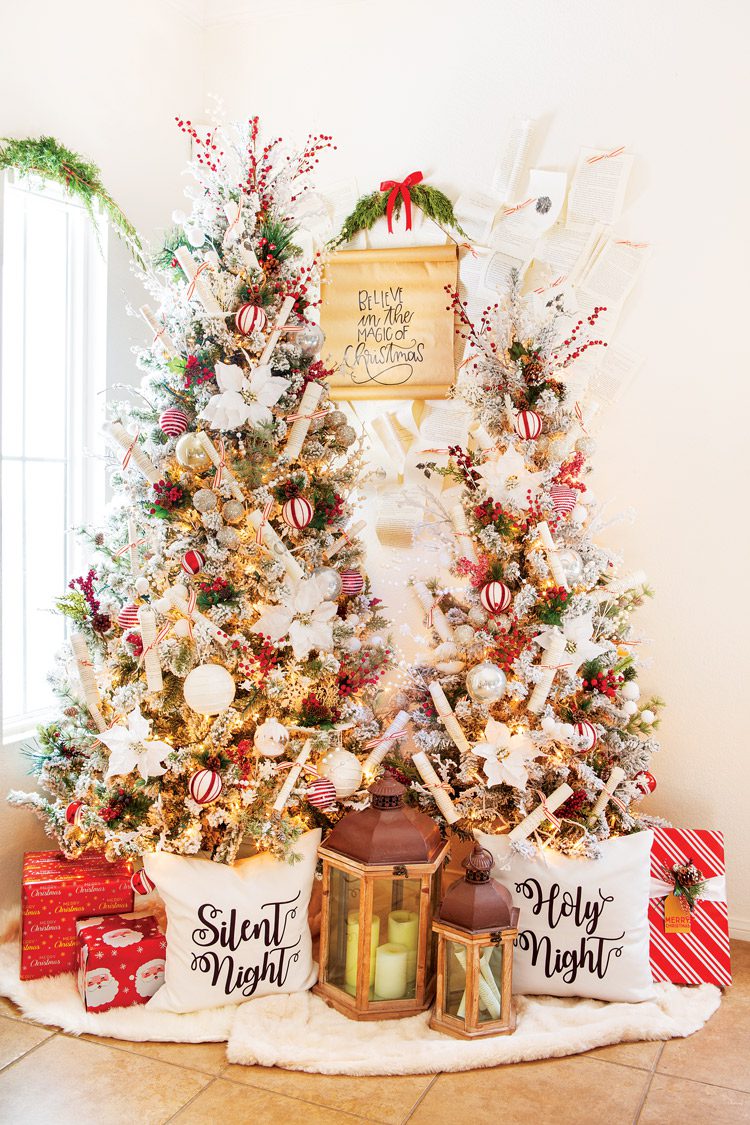 As the owner of a daycare center, her love for interior decorating began with celebrating her children. "I used to get really extravagant for my kids' birthday parties," she says. "I've always enjoyed the little details." It became a hobby for her, and she branched out to her entire home. "I enjoy gathering my décor and bringing it all together, and the end result makes it worth it," she says.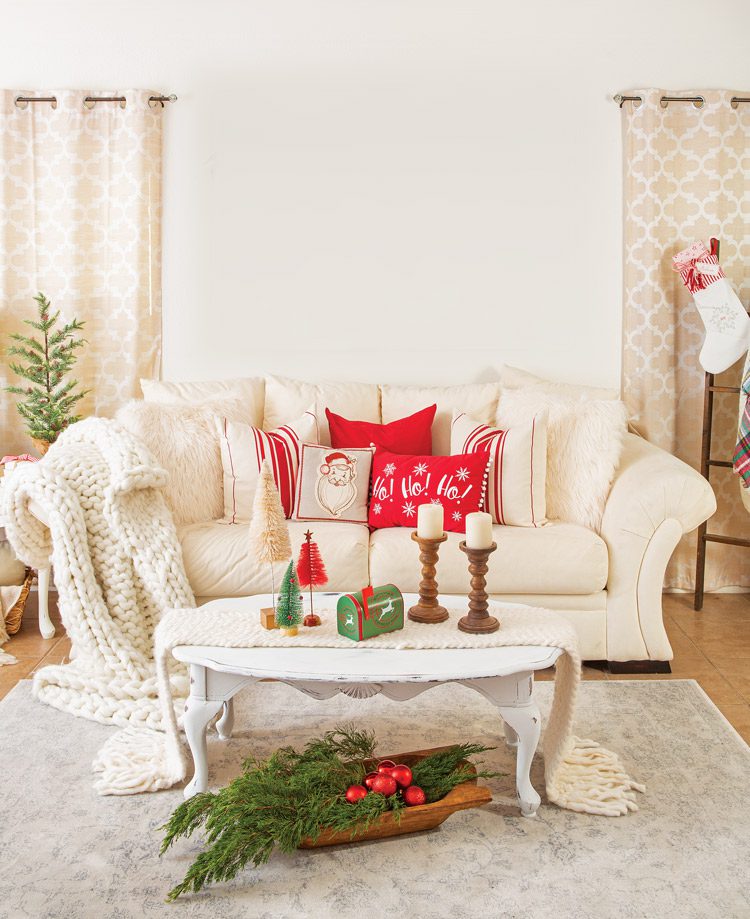 Combining classic and trendy Christmas colors, as well as bits of cozy farmhouse charm, she creates a warm, inviting and fun Christmas home brimming with holiday cheer.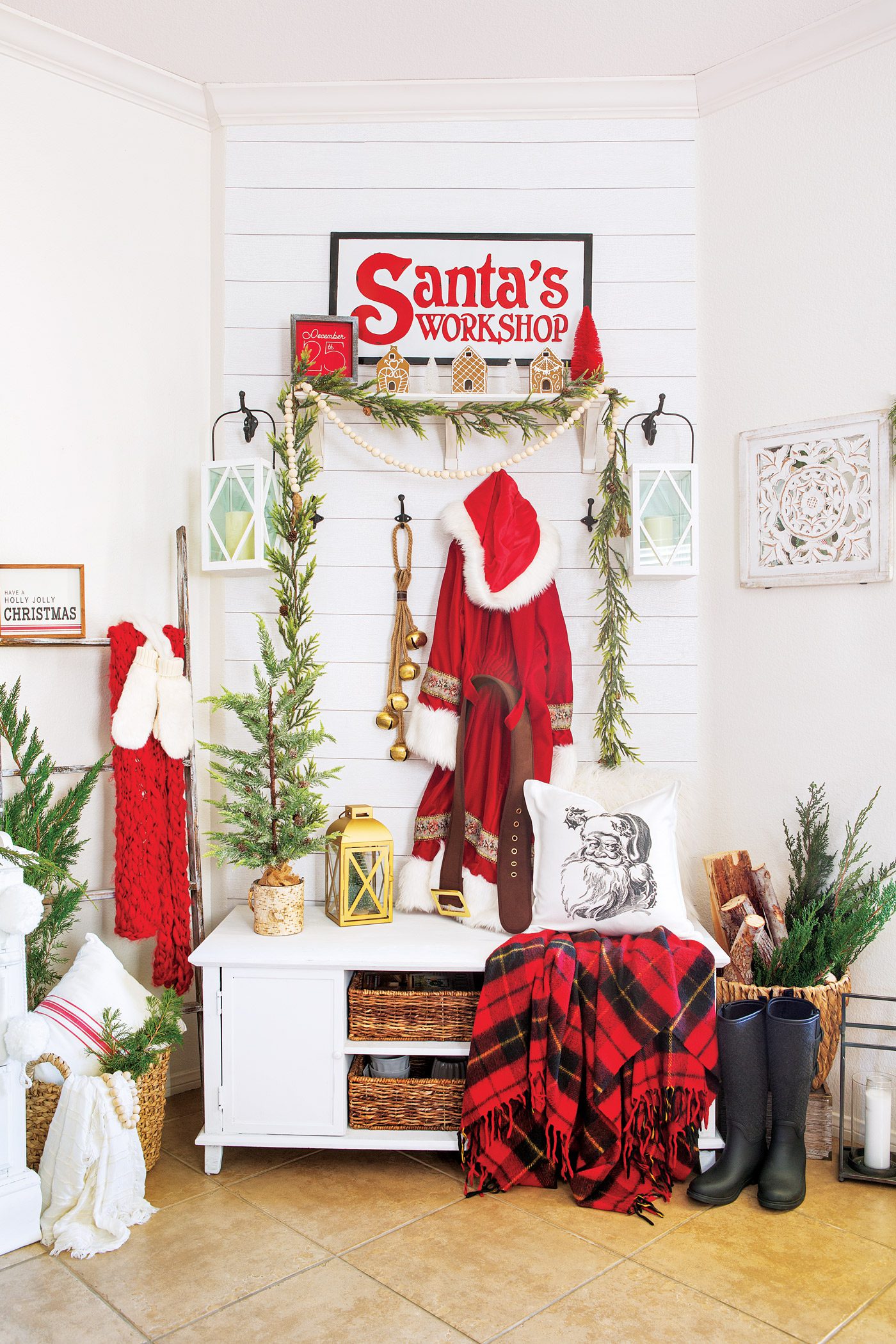 Choosing a Christmas Home Theme
Decking the halls can feel daunting, and Annette starts the process a full year in advance. "First, I like to scroll Pinterest and Instagram to get some inspiration," she says. From there, she comes up with ideas for a theme that will help her narrow her shopping. "I'm a budget shopper, so at the end of each holiday season, I go out to the local shops and stores and see what I can find on clearance," she says. This year, her theme in the front part of the home centers around Santa's workshop. After her shopping spree, she packs away her finds until the beginning of November, which is when she pulls all her Christmas décor out to begin again. "I have tubs and bins and trees in the attic and in the garage," she says.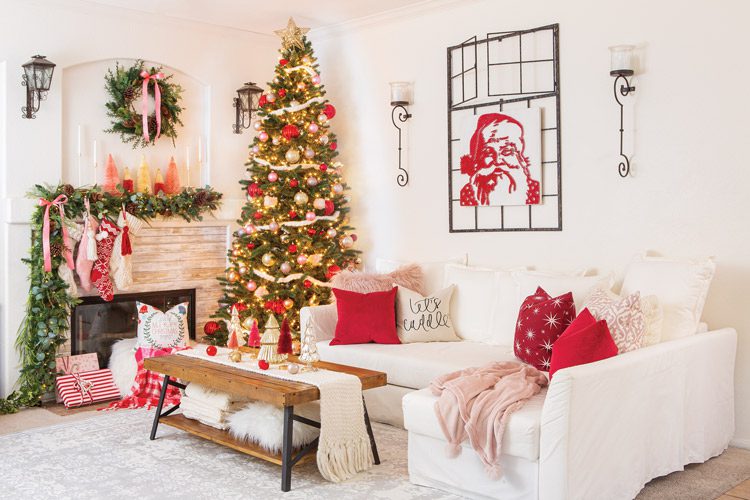 Basing your palette on your chosen theme can help narrow your options for décor while also allowing your creativity to shine through. Classic red and white is Annette's favorite color combination for Christmastime, and she incorporates it into her design every year. "It just feels like Christmas to me," she says.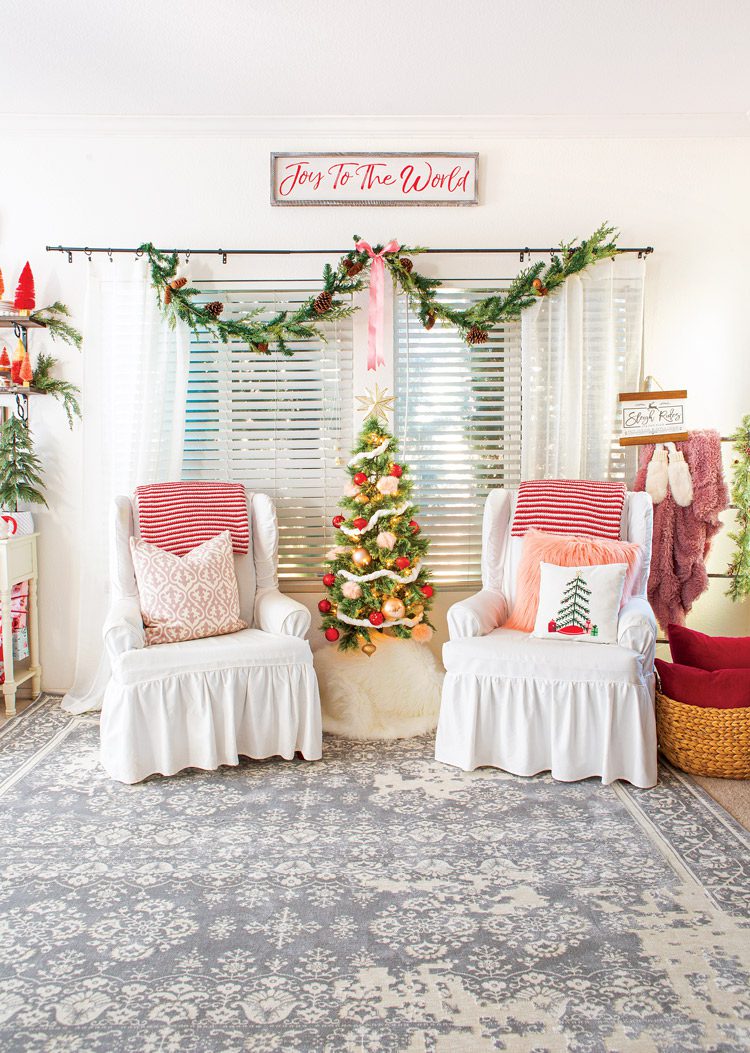 In the back part of her home, where the family spends most of their time, she continues her classic palette in her Christmas home, while bringing in other colors like blush pink and canary yellow. "I use similar colors throughout to keep things flowing and together, but I added the pink for a pop of color," she says.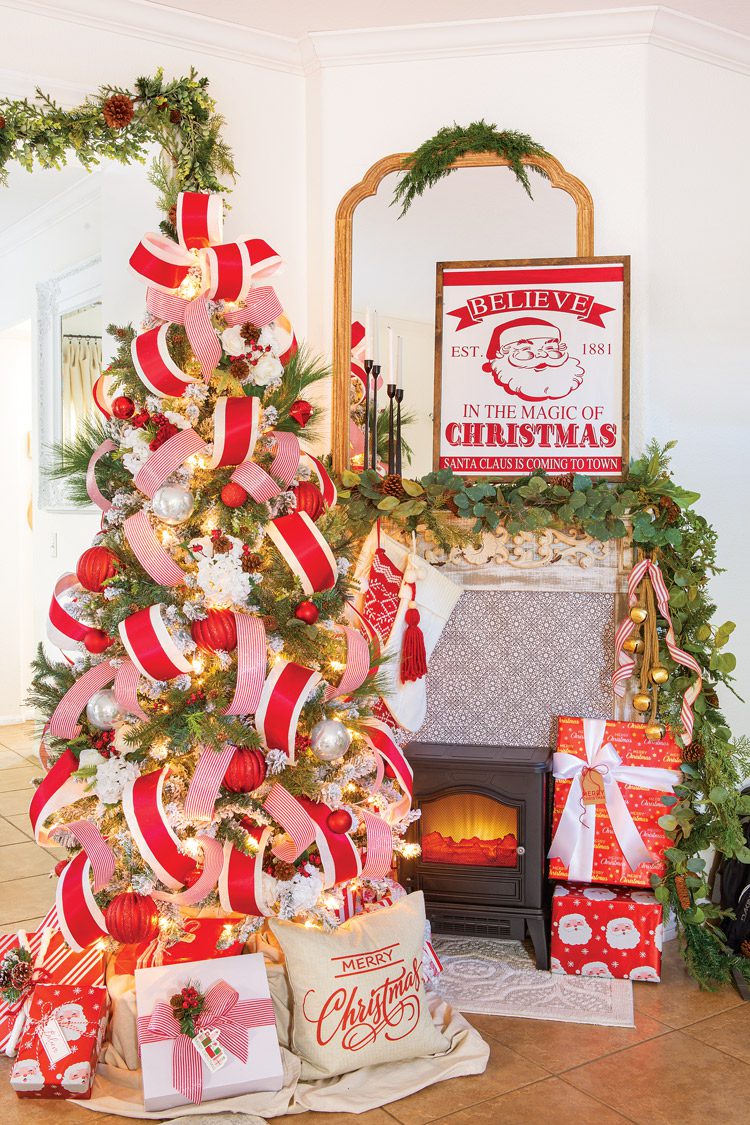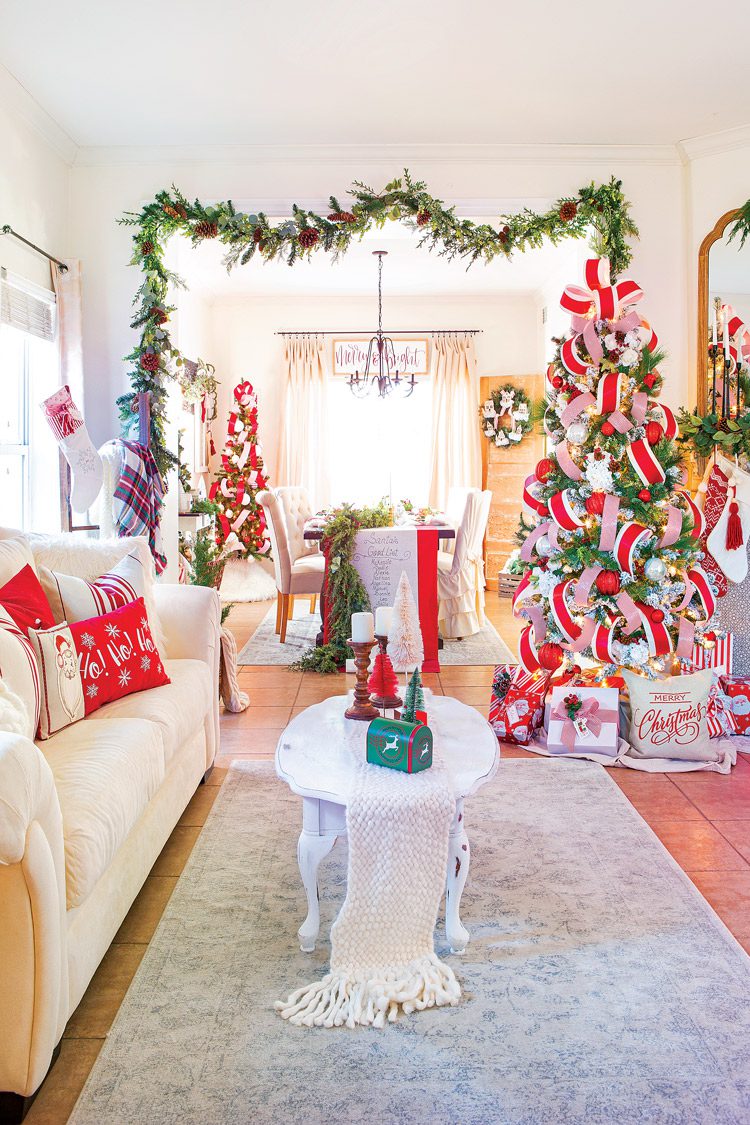 Creating a Christmas Home
Just as having a theme plays a central role in Annette's decorating, her use of textures and details brings a sense of warmth and welcome. "My big emphasis is on coziness and creating a place where you actually want to spend time," she says. Throw blankets and pillows in every room create an inviting feel, as well as adding festive color and fun to her Christmas home. Farmhouse elements such as shiplap wallpaper, signs and vintage pieces are simple features that add further texture and interest in each space.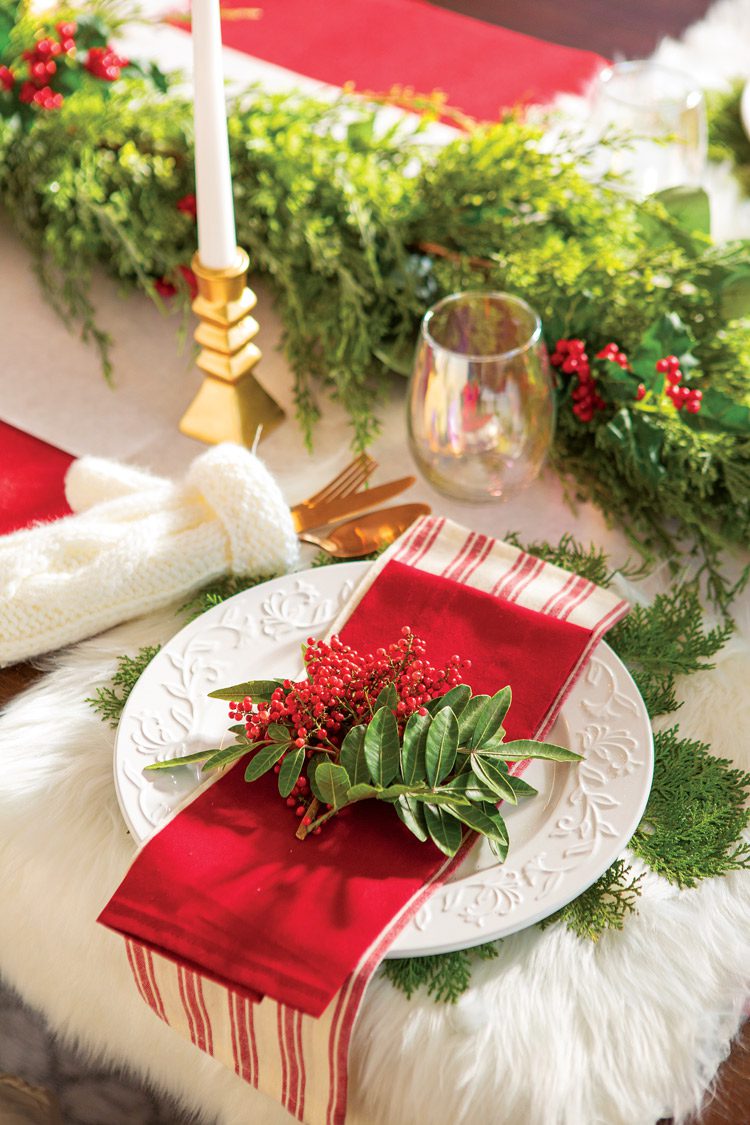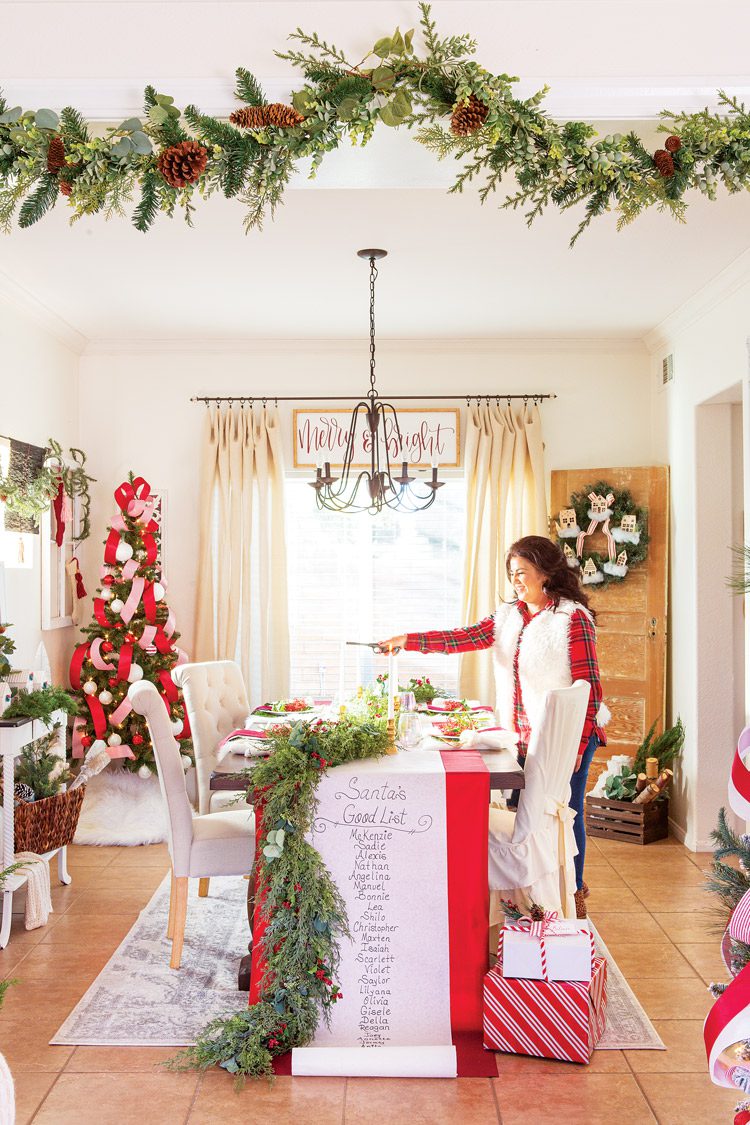 While the home is a rental, Annette does her best to make the space uniquely her own. "There isn't a lot I can change physically, but by adding décor I can make the house feel like home," she says. For her Christmas home, this translates into filling every space with bits of holiday fun. She uses greenery to create a fresh and festive feel, along with several decorated trees that serve as focal points in each room. "The more the merrier," she says. Altogether, the Santa's Workshop décor creates a sense of fullness that speaks to the special season of Christmas time.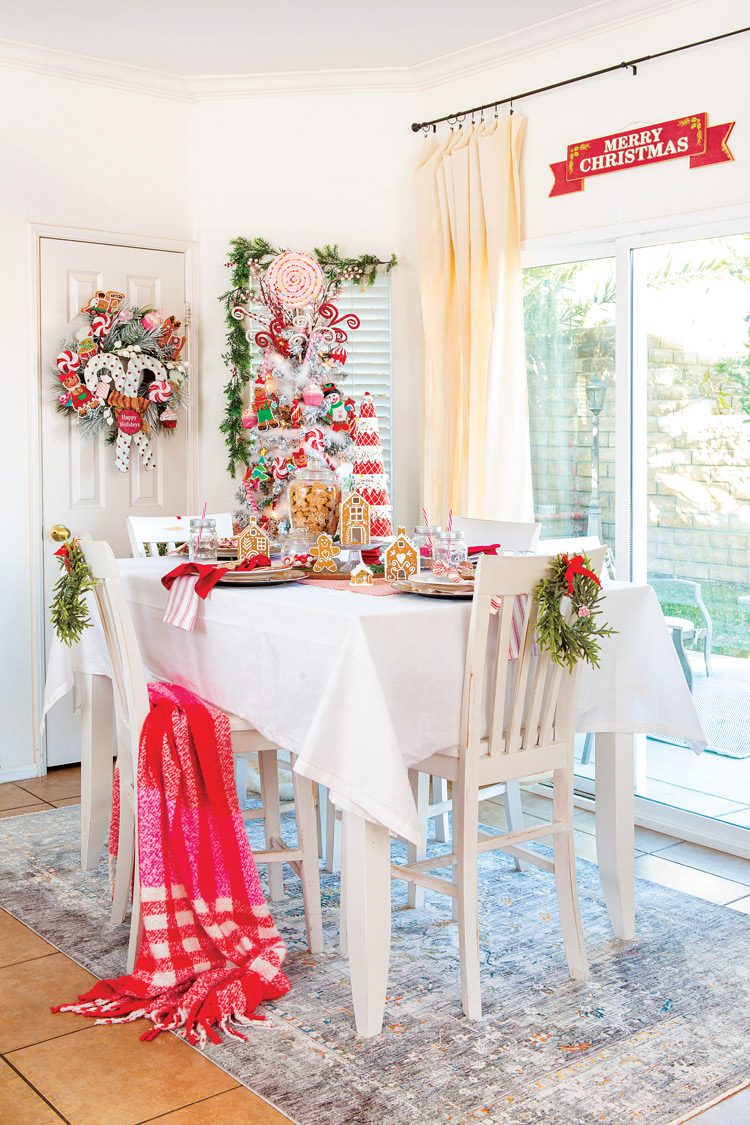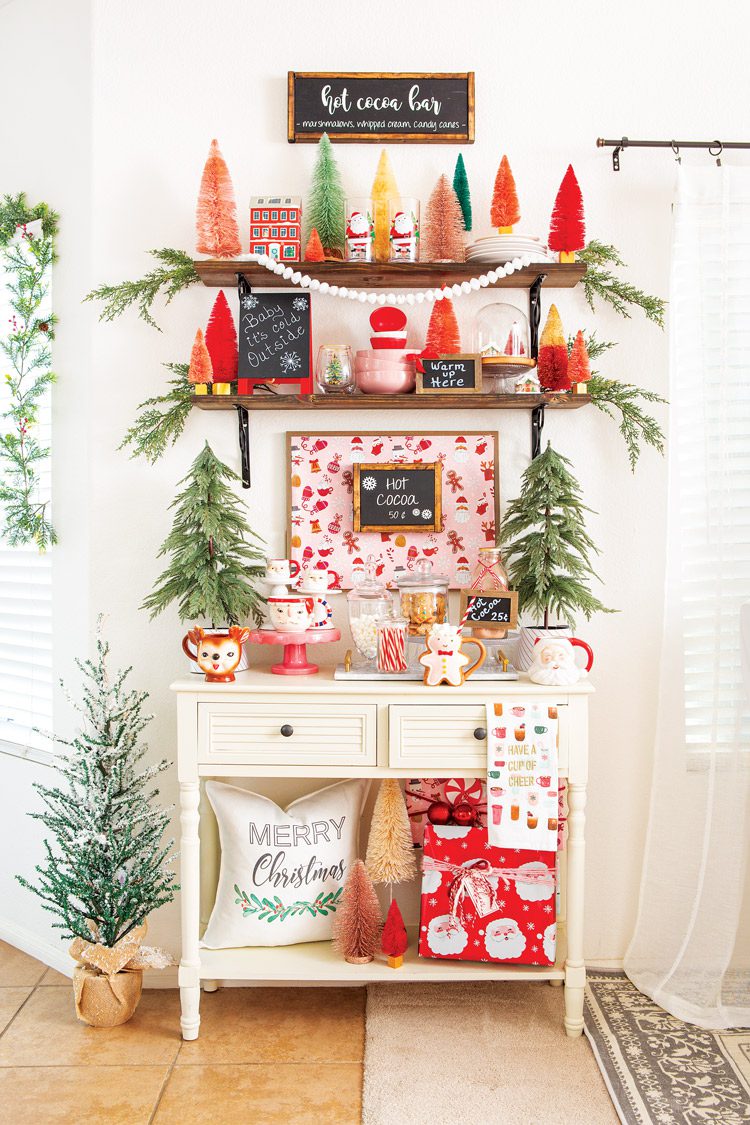 "The more the merrier."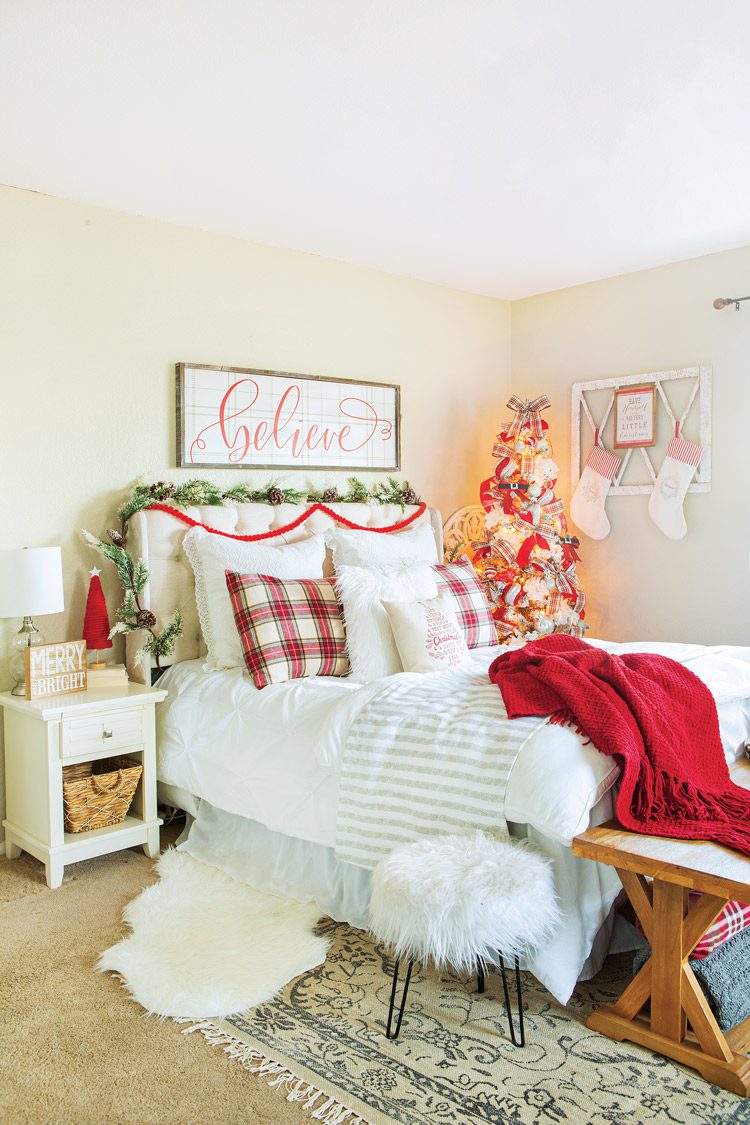 ---
DIY Scroll Garland
Add a touch of whimsy to your décor this Christmas with a
scroll garland.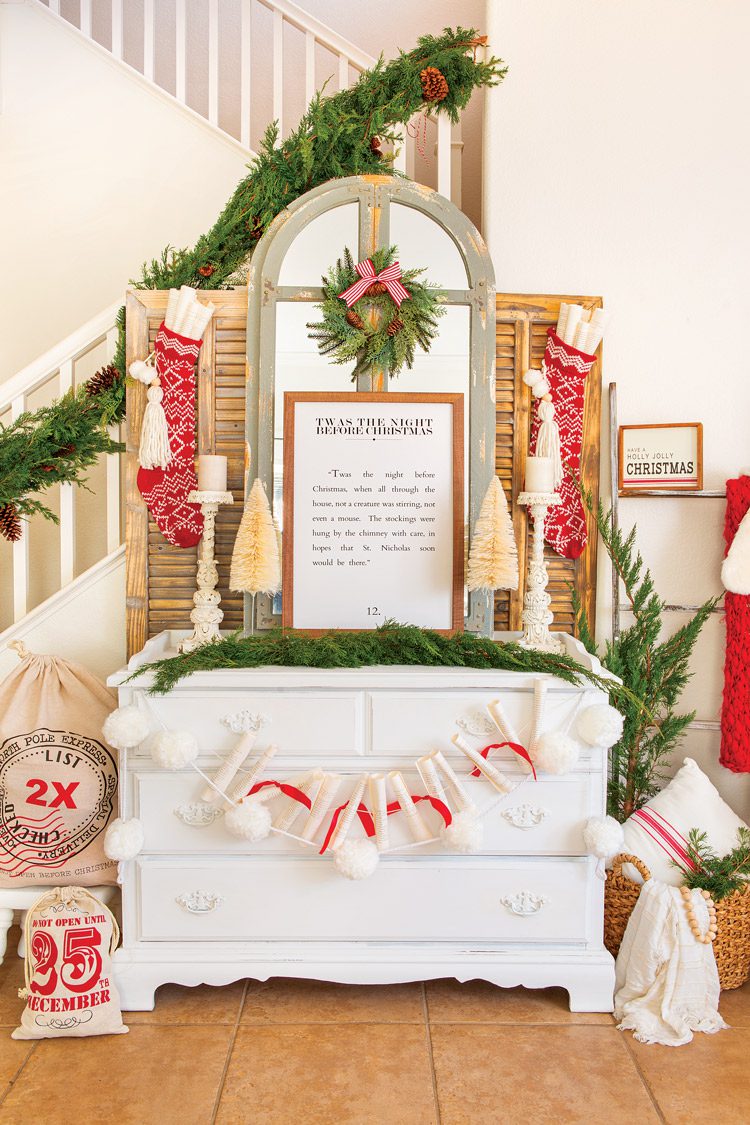 What You'll Need:
Book pages or 8 ½" x 11" paper
Tape
Ribbon of your choice (look for Christmas colors or patterns such as plaid or polka dot)
Hot glue gun
Scissors
Twine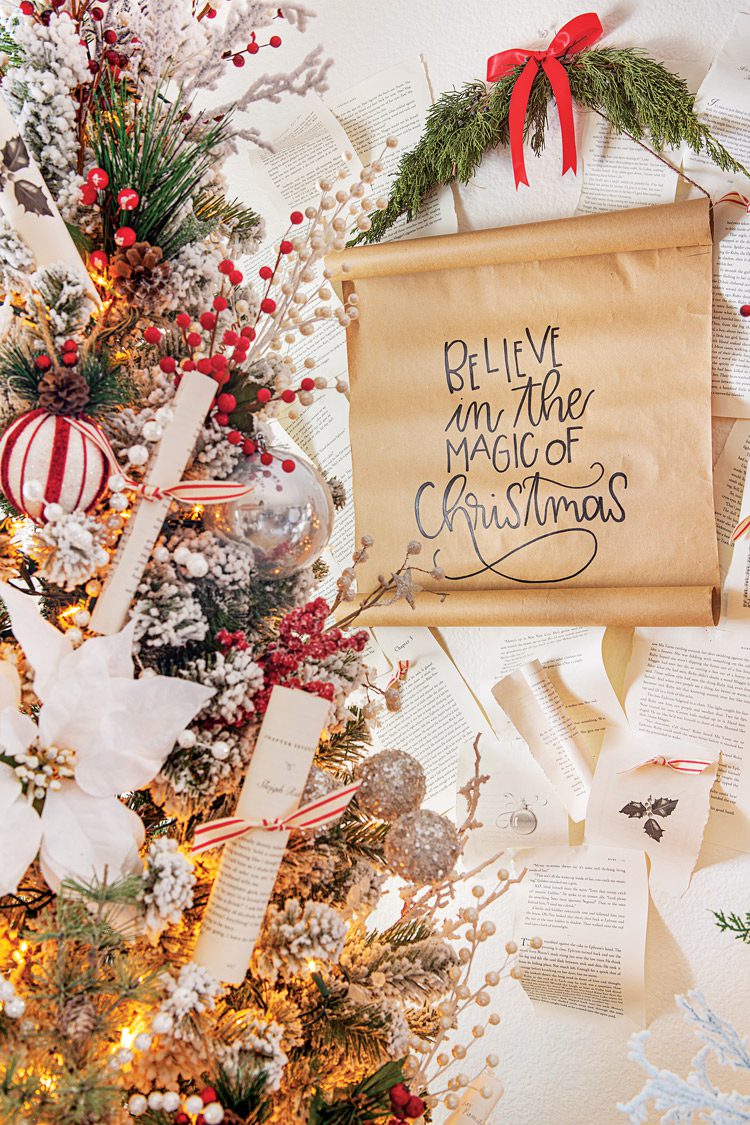 What You'll Do:
Gather your pages in one place. If you're using full-sized letter paper, cut the pages in half widthwise so they're about the size of a book page.
Roll up each page and tape or glue it so it stays rolled.
Cut a piece of ribbon and tie it around the sheet of paper (don't worry about getting a perfect bow). Use hot glue to keep it in place.
Cut another piece of ribbon and tie it into a bow; then glue the bow onto the front of the ribbon. This will give you the perfect bow look. You can leave some scrolls without a bow to vary the look.
Use the tip of one scissor blade to gently poke a hole through the scroll on each side.
Tie a large knot on one end of the twine; then thread it through the scrolls, alternating the scrolls with ribbon and those without.
Tie a knot in the other end of the twine, and hang the garland along with your other Christmas décor.
---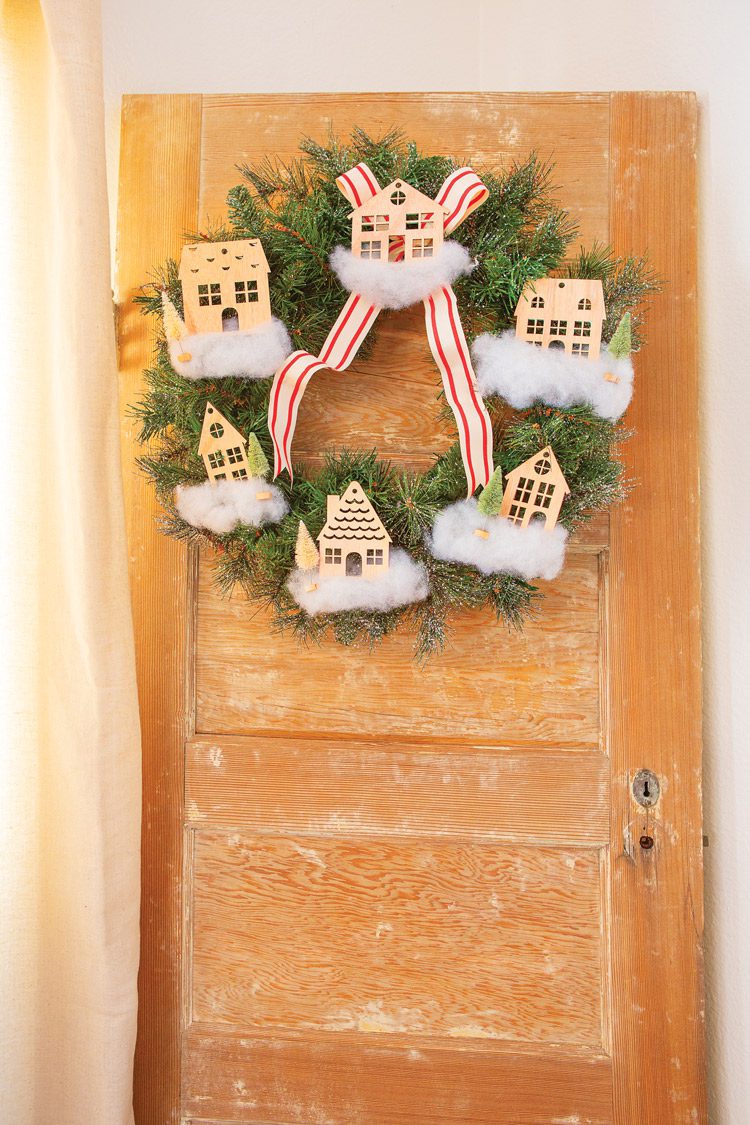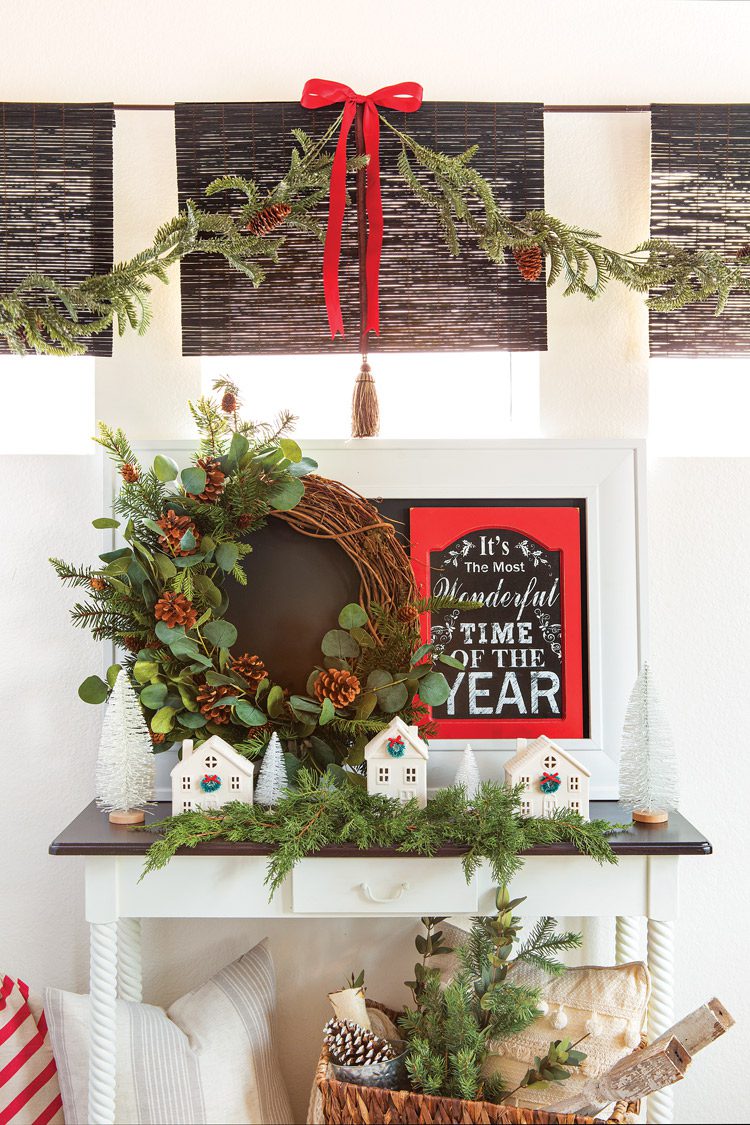 ---
Want more Christmas ideas like this Santa's Workshop? Tour this cozy Christmas cabin! Of course, don't forget to follow us on Instagram, Facebook and Pinterest to get your daily dose of farmhouse inspiration!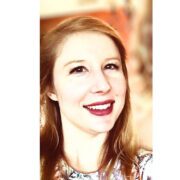 Laura Shimko
A lover of history, good stories and beautiful spaces, Laura finds that writing for American Farmhouse Style is a wonderful outlet. Residing in the rugged West, she enjoys watercolor sunsets and finding beauty in the unexpected. She is a wife to a wonderful husband and brand new boy mom. When not cuddling with baby or her two cats Tigger and Scout, she enjoys dabbling in fiction writing, attempting soap making, baking and DIY home projects.