A Metallic Christmas For This Idaho Home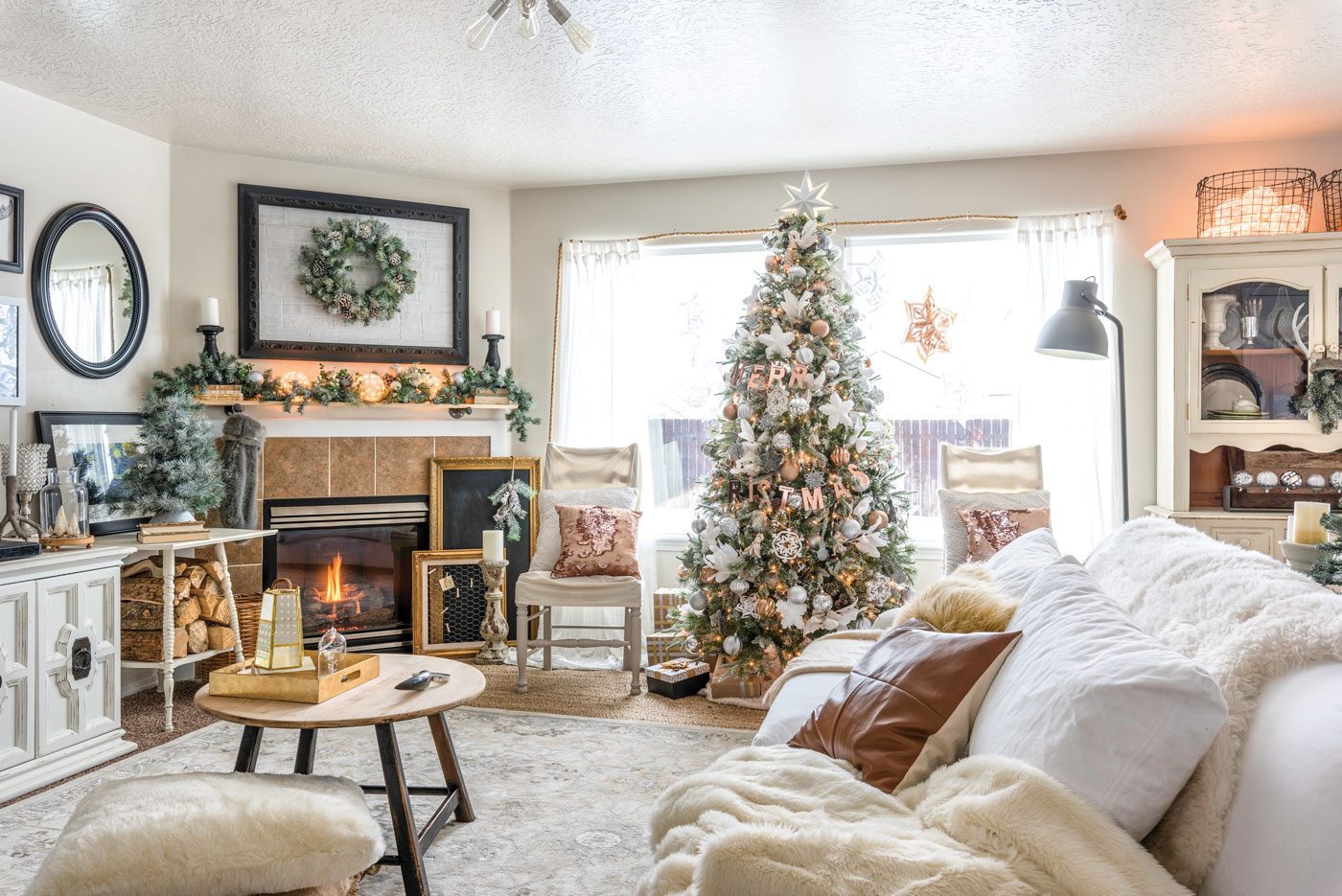 Christmas evokes images of evenings snuggling under blankets by a crackling fire, warm cups of hot chocolate and the tinsel trappings of the holiday season. Blogger Shannon Ingle of Coffee Paint Repeat presents a metallic Christmas vision of soft neutrals, vignettes from nature and subtle metallic glam to create a rustic farmhouse feel in her Idaho home.
A master of DIY, she has the remarkable ability to take an ordinary object and transform it into an elegant and unique piece. By blending natural elements, airy colors and copper tones, Shannon brings together farmhouse style and holiday sparkle to create a distinct and wonderful metallic Christmas feel.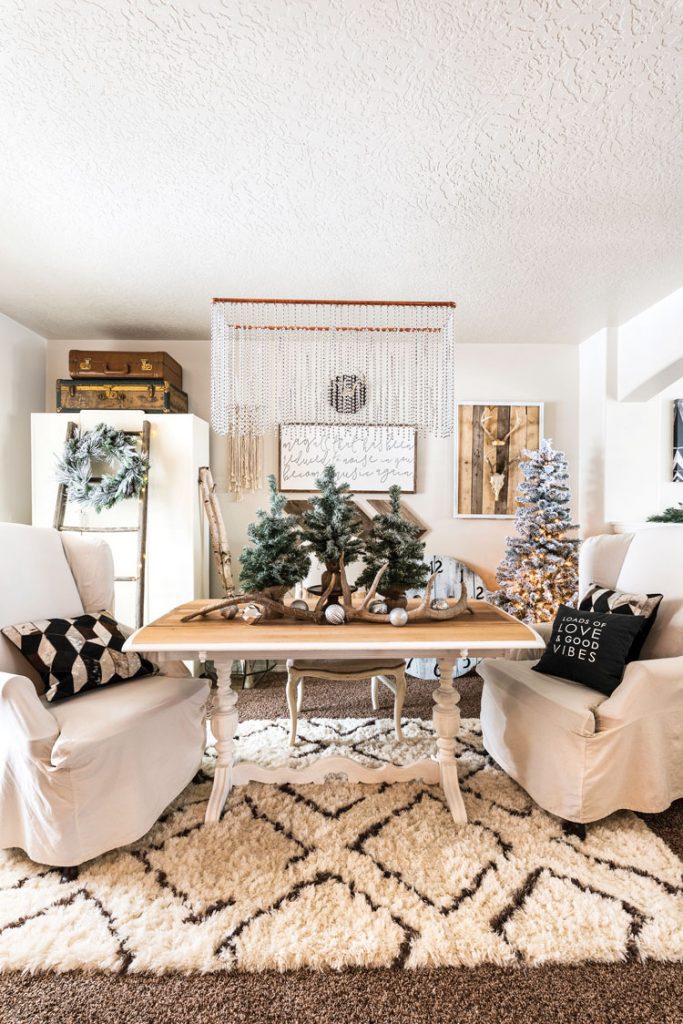 Country Cozy
Before she begins to decorate, Shannon spends a few days pulling together rustic items she already has around her home and then decides how to incorporate metallic Christmas
copper and silver elements. Describing her style as "cozy, gathered and evolving," Shannon doesn't shy away from experimenting with pieces until she's satisfied with the result. Her restyling of commonplace items is one of her hallmarks as a designer. "I get bored," she says. "Nothing ever stays the same for long." This is evident in her Christmas décor, as many pieces are simply recreations of previous projects.
"It's okay if your projects don't always work out. A lot of mine don't. But sometimes I have loved the mistakes that were made even more than the original idea I had in mind."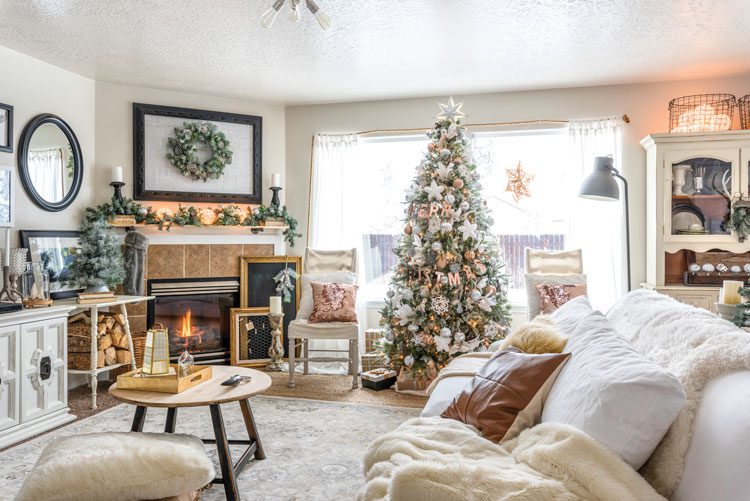 Color and texture are the major aspects of Shannon's rustic look, and they tie together the different elements of her design. Antlers, wood planks, greenery and small trees grace the living room and pull in a woodsy, natural feel. Her use of light neutrals such as beige, tan, taupe, white and ivory create an airy aura, while deeper browns and blacks balance out the light shades. Shannon adds in cozy textures with sheepskin, fluffy rugs and fuzzy stockings to combine wintery colors with cozy comfort. Copper wires and silver details add another layer of color and style. Traditional Christmas elements like ornaments, paper snowflakes and, most notably, the tree, bring it all together to complete the look.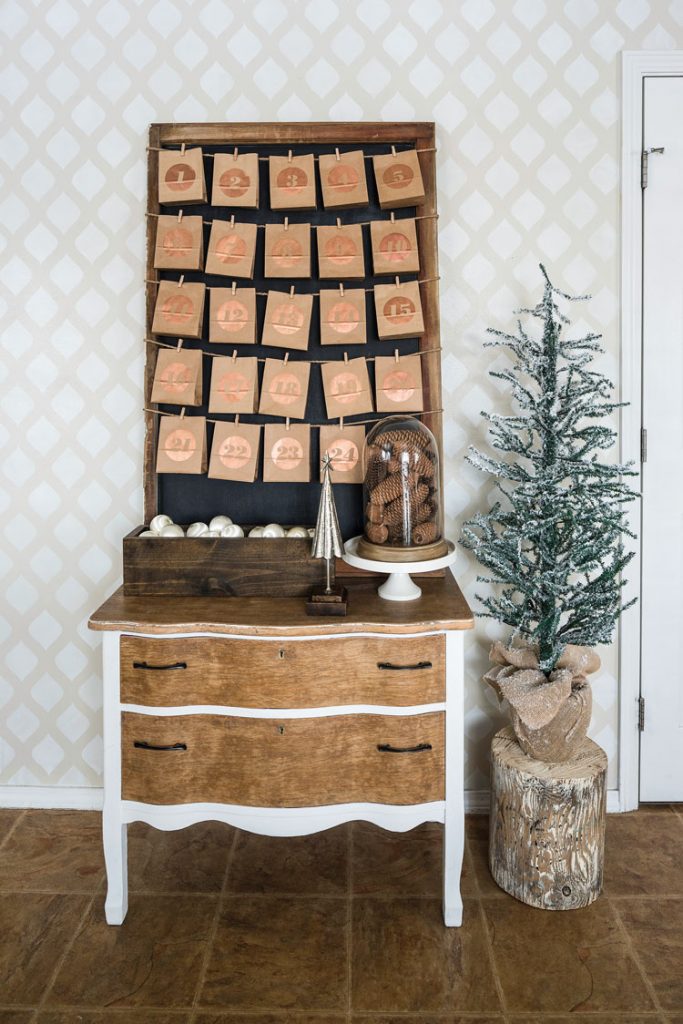 Tree Tactics
The most challenging aspect of Shannon's Christmas design is the tree. She and her family live in a small rental home, and the living room space is tight. Designing and redesigning her spaces is one of her biggest passions, and she posts updates regularly on her blog and Instagram. "The biggest compliment I get is that people can't believe I live in a rental," she says. Even being short on space doesn't stop Shannon from displaying a beautiful tree. The tree must be tall, but it must also have a small base that doesn't take up a lot of room. The copper ornaments that decorate the tree are a DIY project—Shannon spraypainted some of the silver ornaments with copper paint.
"Be fear less. If you have an idea, try it. If you can't find what you're looking for, make it."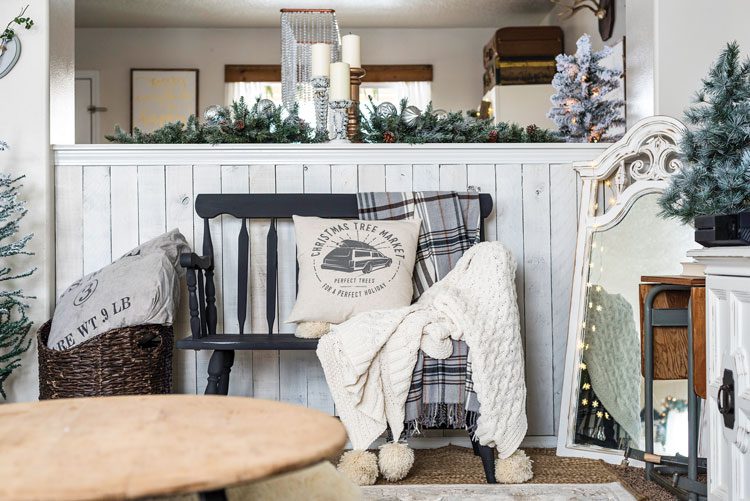 A Metallic Christmas
Shannon describes her Christmas home as representative of the "gathered" decorating style, which she derives from pulling together or making (often remaking) various pieces that have their own story and blending them into a cohesive whole. There are many examples of this around her home. She made her chandelier from a surplus of silver bead strands, the brick paneling behind the framed wreath was from a previous project and even the siding on her kitchen island is homemade. This reuse of leftover odds and ends, as well as her adept use of DIY, adds a unique quality and fulfills Shannon's desire to not "have the same décor everyone else does."
---
Love Christmas houses? Tour this neutral farmhouse in Utah! Of course, don't forget to follow us on Instagram, Facebook and Pinterest to get your daily dose of farmhouse inspiration!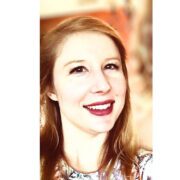 Laura Shimko
A lover of history, good stories and beautiful spaces, Laura finds that writing for American Farmhouse Style is a wonderful outlet. Residing in the rugged West, she enjoys watercolor sunsets and finding beauty in the unexpected. She is a wife to a wonderful husband and brand new boy mom. When not cuddling with baby or her two cats Tigger and Scout, she enjoys dabbling in fiction writing, attempting soap making, baking and DIY home projects.