A Scandinavian Inspired Home in Ontario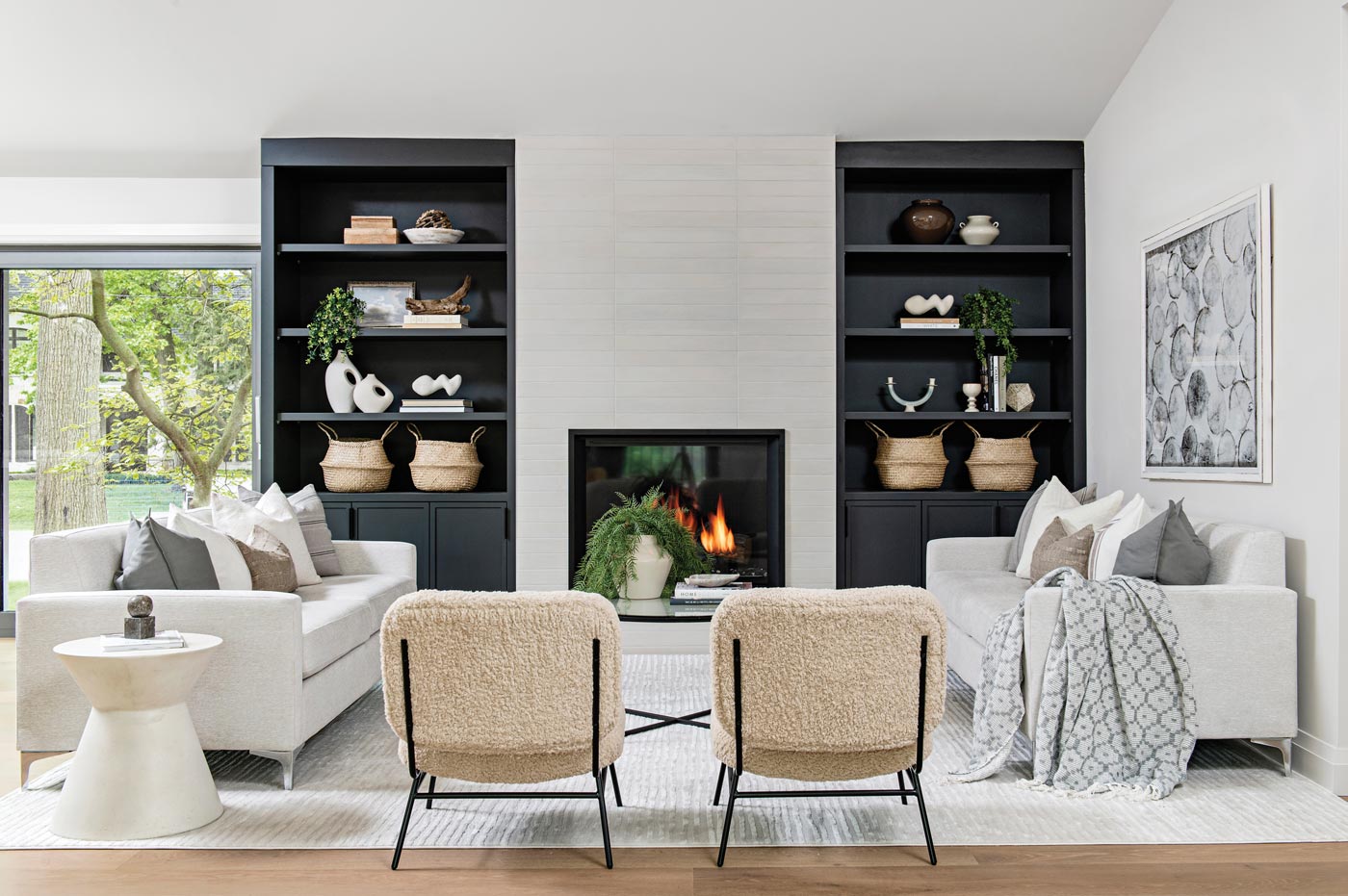 Intentional materials selection and a tranquil color palette cultivate an air of European simplicity in this Scandinavian inspired sanctuary of a home, elevated to support entertaining.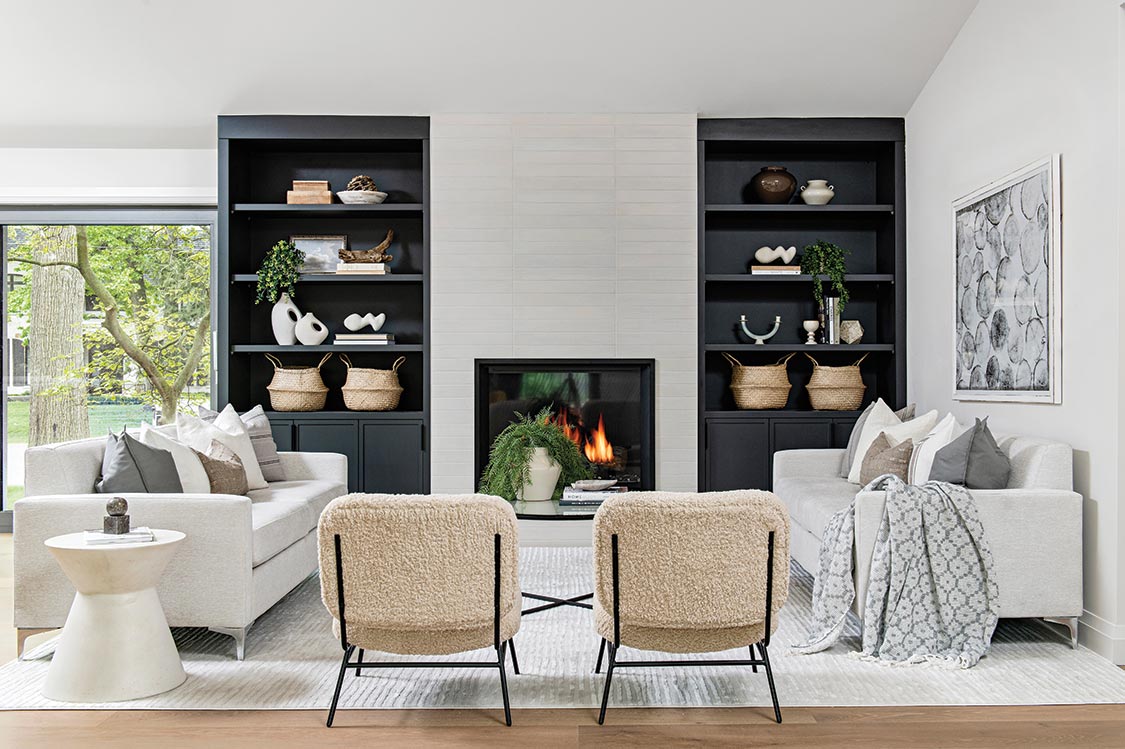 In Ontario, Canada, sits a Scandinavian-style home that simultaneously serves as a calming, health-conscious sanctuary and a preferred spot for dinner parties and movie nights.
Lisa introduced textures and patterns in blankets, pillows, rugs and artwork to soften the bright, clean-lined backdrop.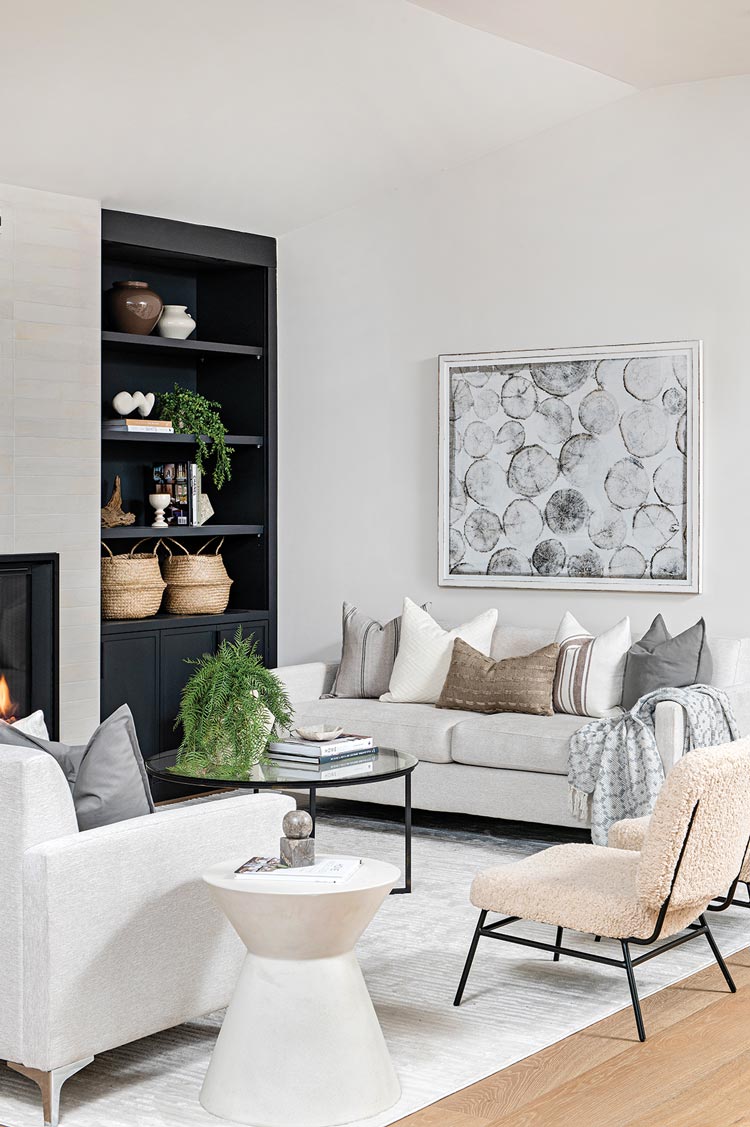 The family enlisted designer Lisa Kooistra with a mission to expand the home's space to 2,700 square feet; it already included a full basement, laundry room, mudroom, office, powder room, pantry, garage, three bathrooms and four bedrooms. Lisa's design team was tasked with packing in functional storage and crafting a timeless design that also reflected the family's desire for a more sustainable and healthier household.
Holistic Design
One of the homeowners "owns a naturopathic clinic," says Lisa. "She wanted a harmless open space with lots of open air, locally made furniture, materials with low volatile organic compound levels and specific insulation that didn't off-gas."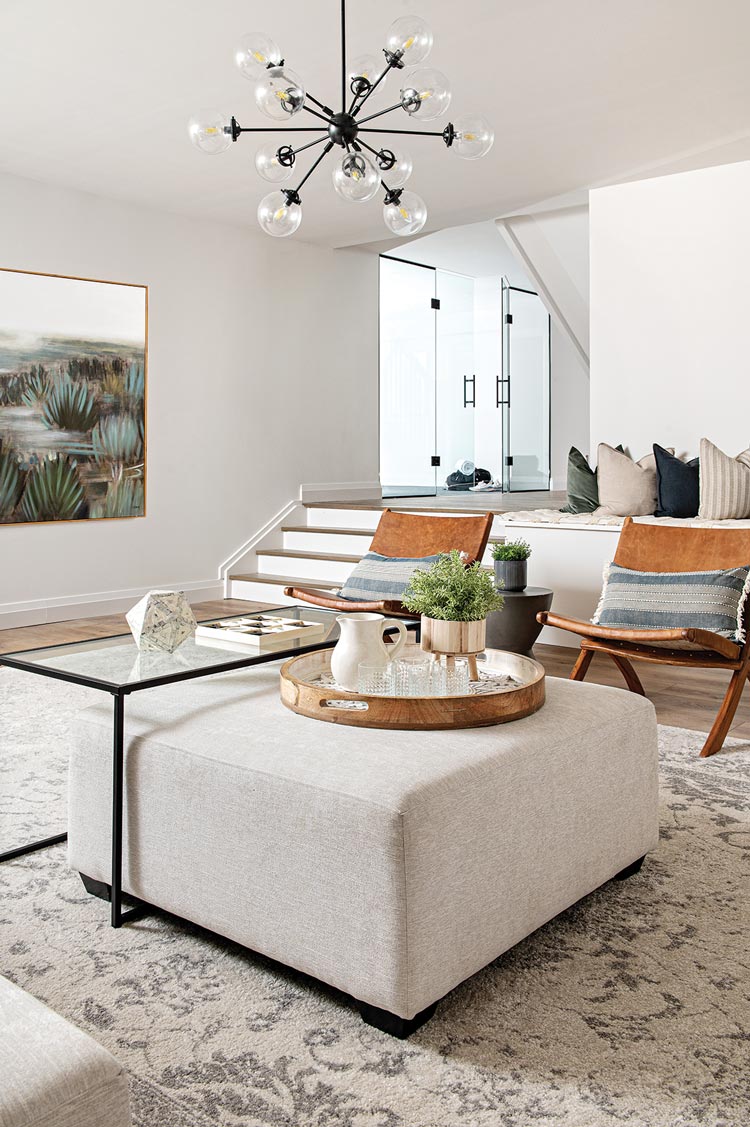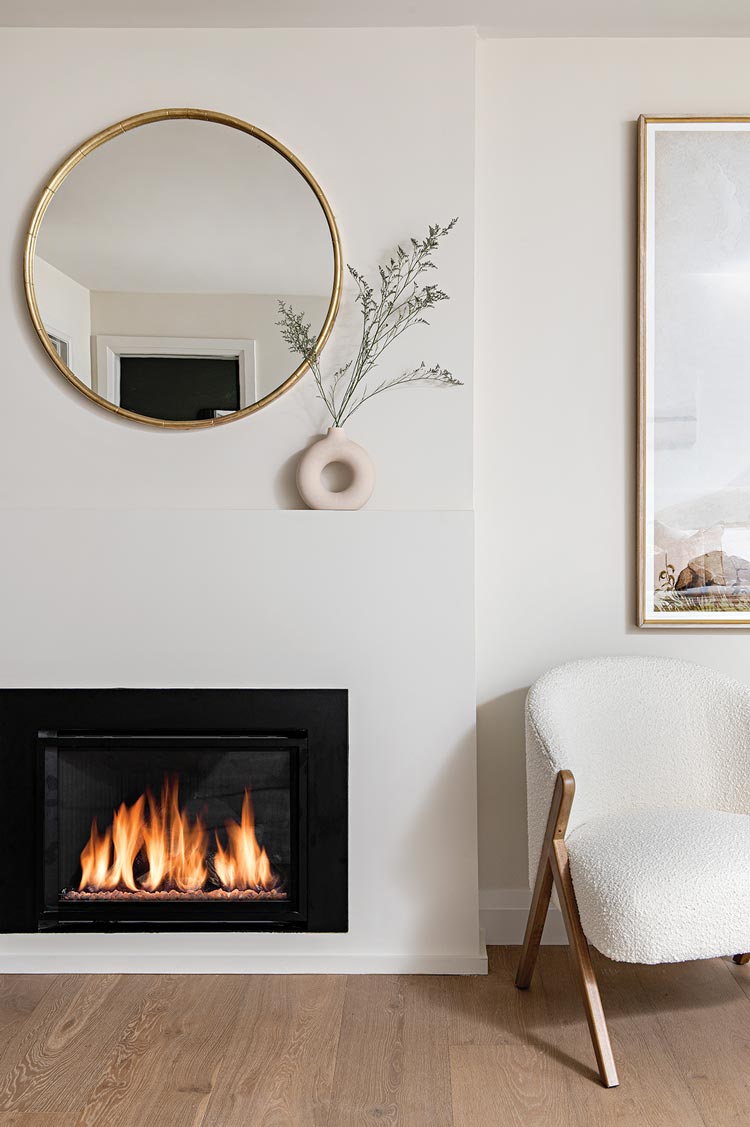 As a general practice, and especially after the COVID-19 pandemic, Lisa and her design team have prioritized purchasing from local vendors and educating clients about the materials used in their interiors. These practices cut down on greenhouse gas emissions and ensure a flourishing environment for the residents.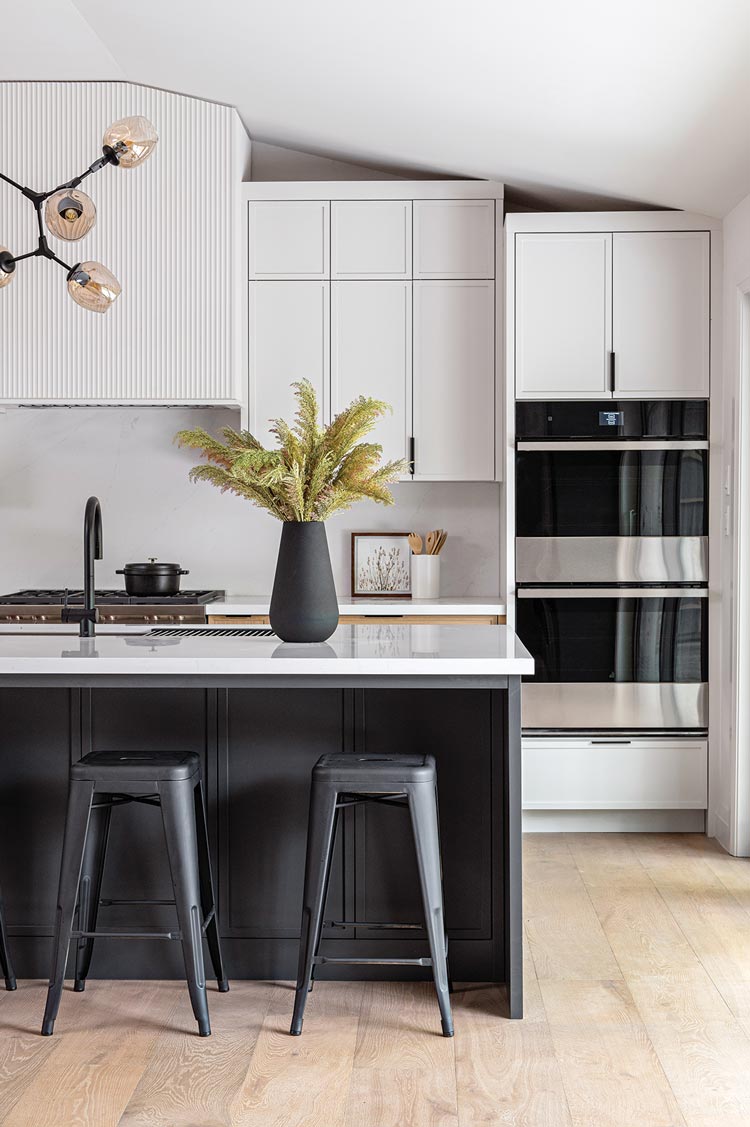 "We were able to be mindful of all of that and produce a beautiful, open-concept household that could hold up with their three children," Lisa says.
Scandinavian Elements
Scandinavian style favors a minimalist approach while still valuing comfort and a sense of belonging. Lisa started by incorporating a neutral color palette using lighter wood tones. She then added countertops, drapery and furnishings to complement the serenity of the space, fostered by high ceilings and wide windows. Finally, she introduced texture and pattern via blankets, pillows, rugs and artwork to soften the bright, clean-lined backdrop.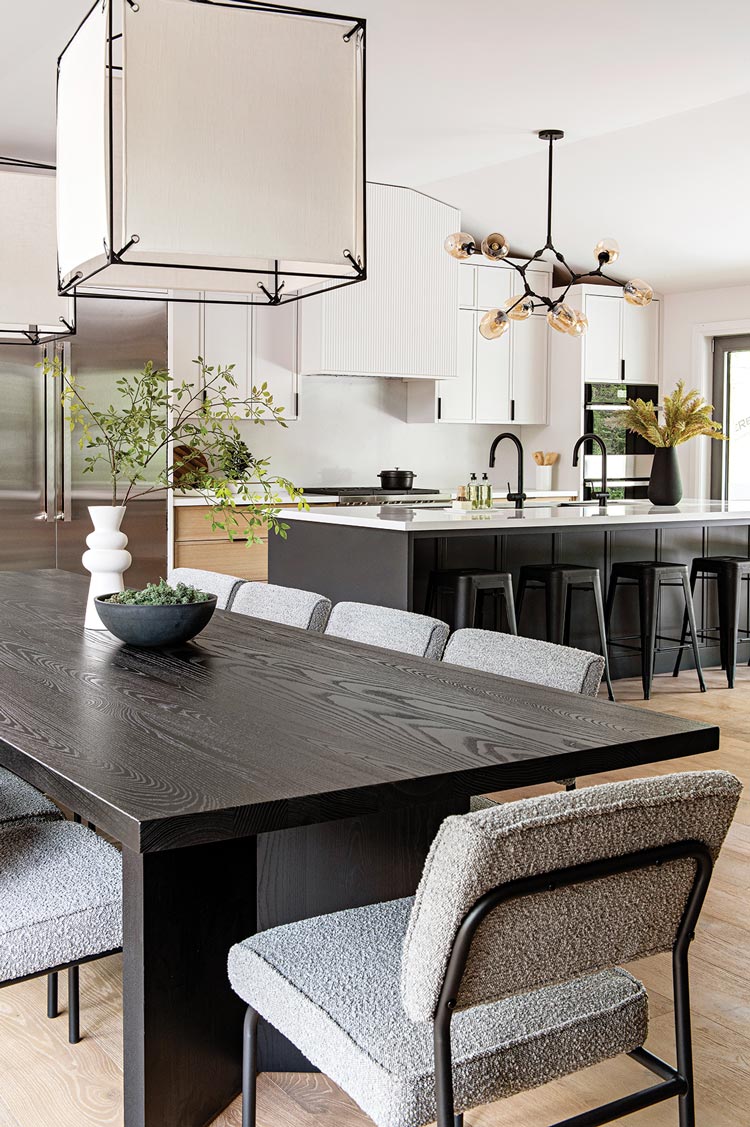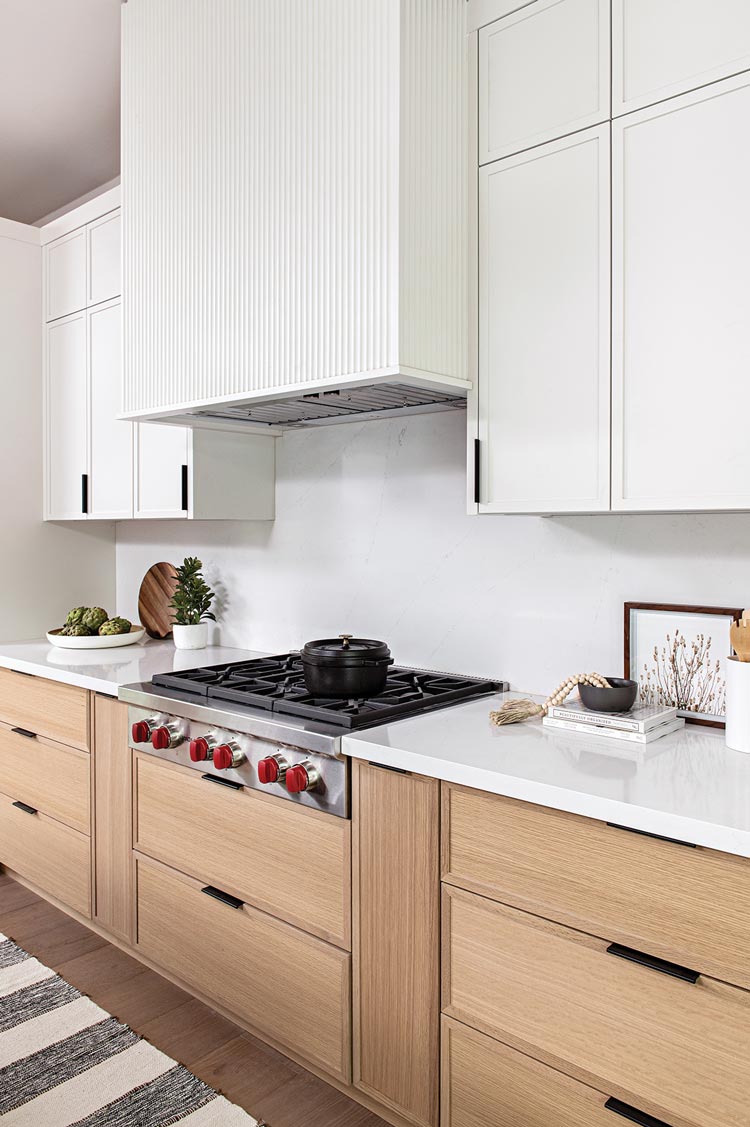 "We were able to … produce a beautiful, open-concept household that could hold up with their three children."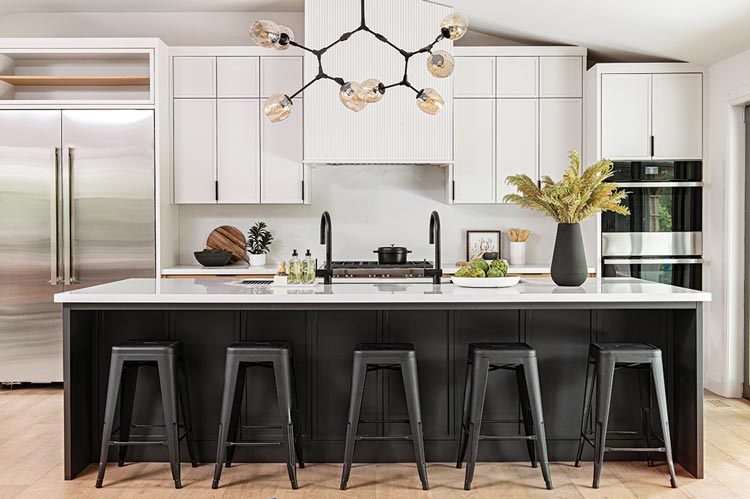 "We started with comfort-driven pieces like a sofa but then popped in a unique chair or unusual coffee table," says Lisa. "We always want to create calm and warmth with the main color palette and then piece together the furniture and statement pieces, like artwork, to represent the client."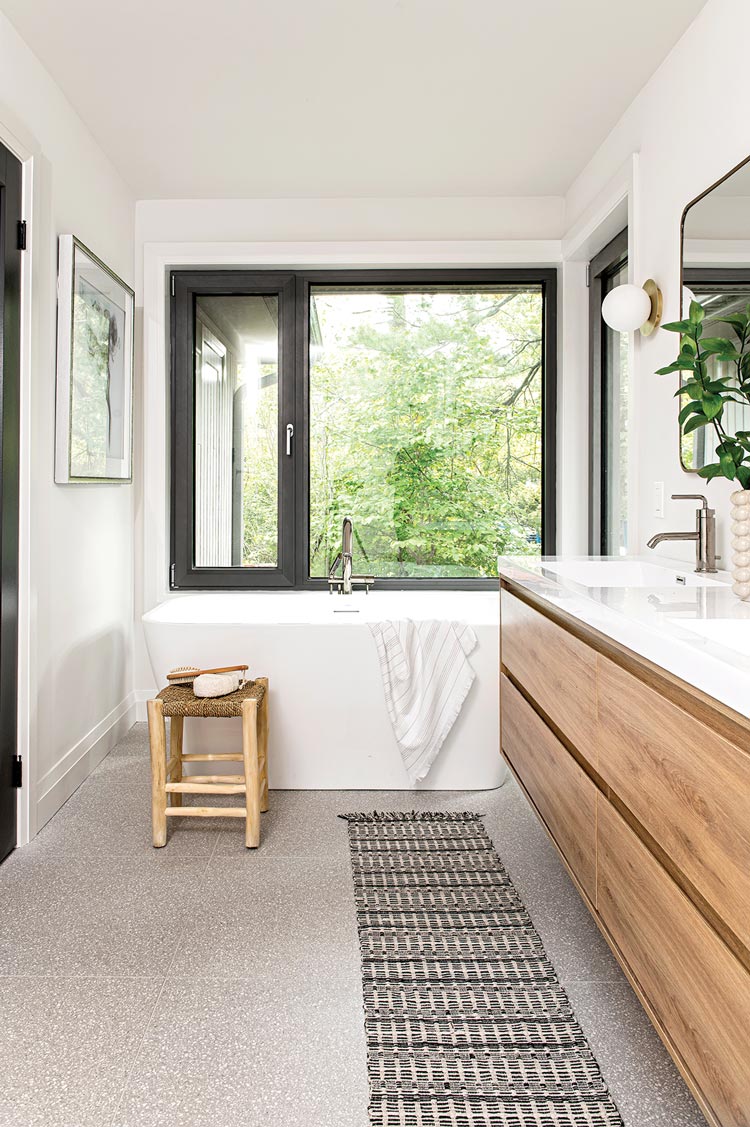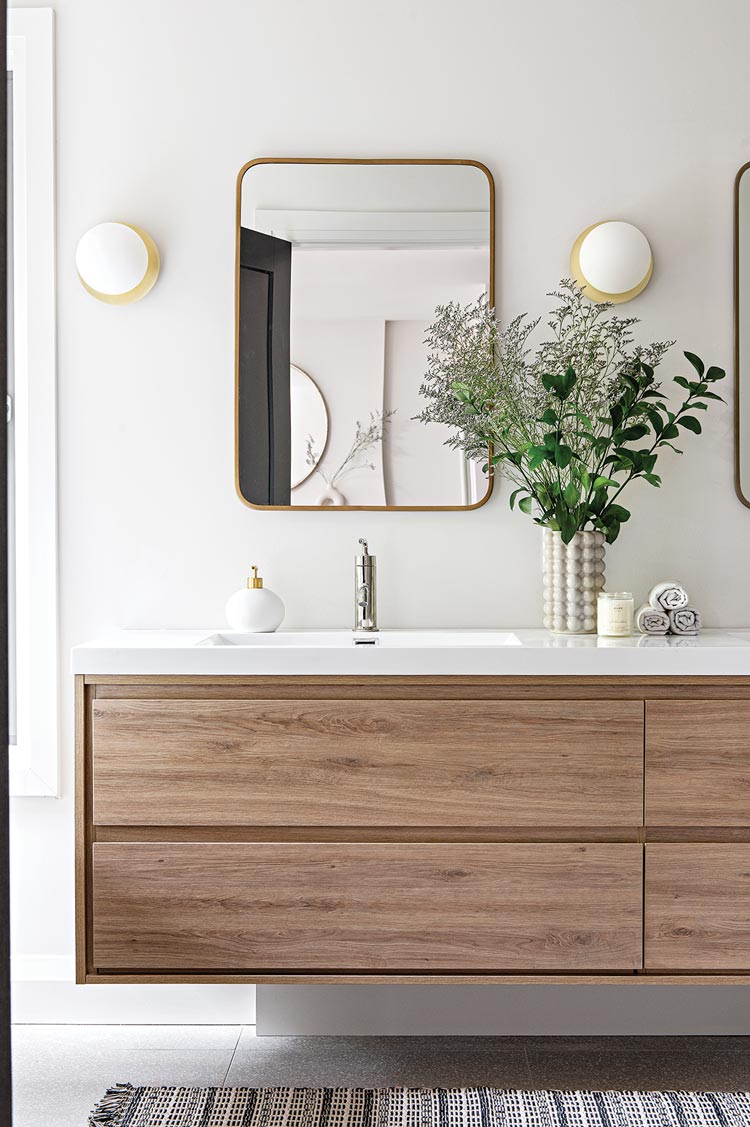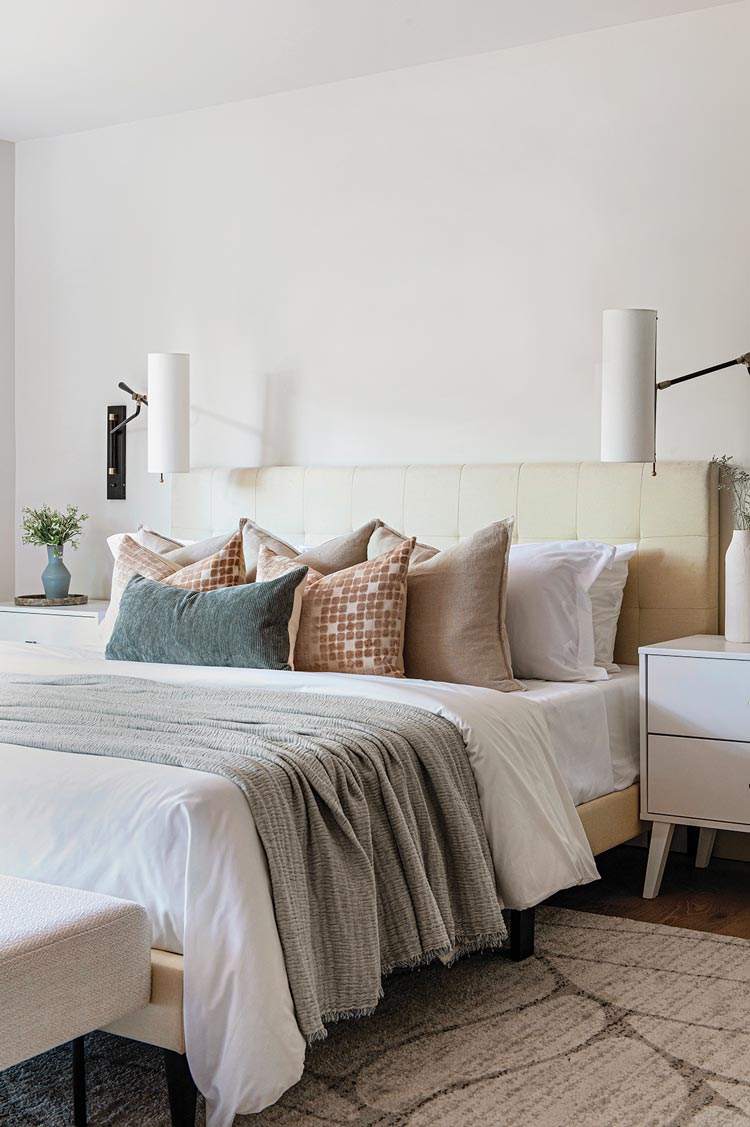 Scandinavian design is especially present in the light oak flooring, natural stone, terrazzo floor bathroom tile and stacked wall tile. But farmhouse style also peeks through in details like iron hardware, canvas chandeliers, rustic wood, milk glass sconces and shearling accent chairs.
"The homeowners were drawn to our style and brand aesthetic," Lisa says. "We were able to create a tranquil space for their kids and entertaining areas for them, and we settled on classic Scandinavian design with an eclectic approach."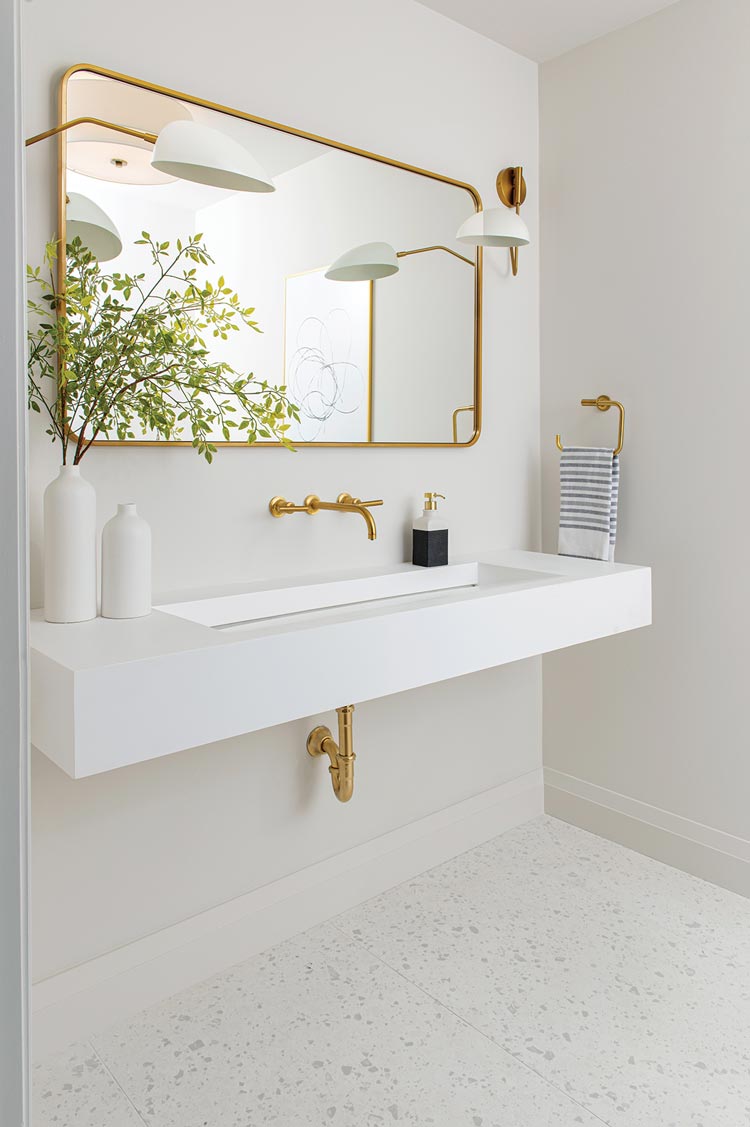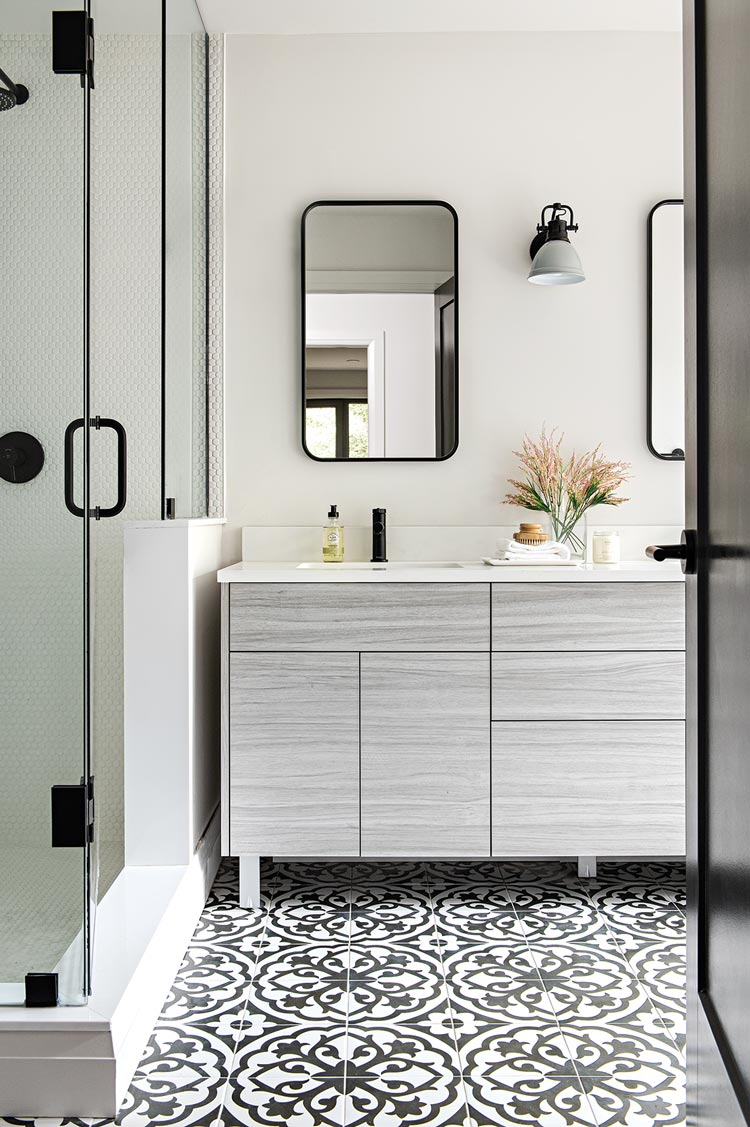 Farmhouse Meets Scandinavian
Scandinavian style is predicated on a minimalist design approach that prioritizes functionality; therefore, the Scandinavian theme shares its core with modern farmhouse design. Here are some top tips for how to blend these two styles.  
Palette. Use traditional colors, including white, black, blue, gray, and cream, which are ideal for a joint Scandinavian-farmhouse design. Layer in warm wood tones to complement the style and keep it from feeling sterile. 
Lighting. Incorporate accent lighting, such as lanterns or milk-glass sconces to accentuate the Scandinavian-farmhouse décor.
Details. Add in rustic elements. "We also did a wire-brush finish on the dining table, which is more rustic and can hold up with the children," Lisa says. "Plus, we get that farmhouse feel from the bent metal on the dining room chairs and the metal bar stools."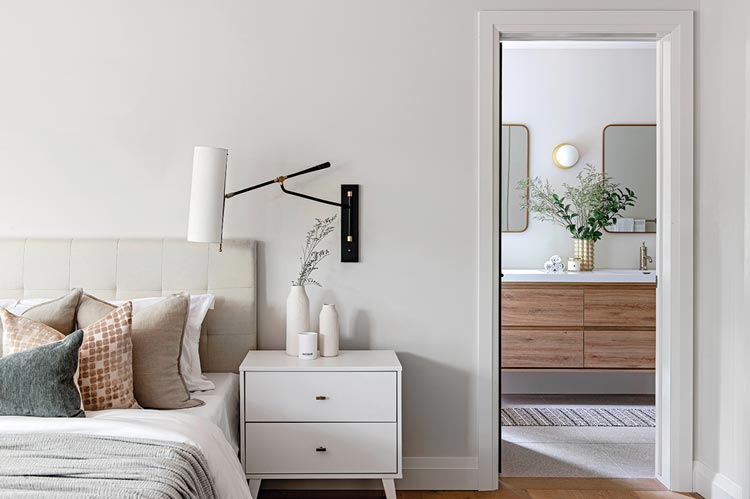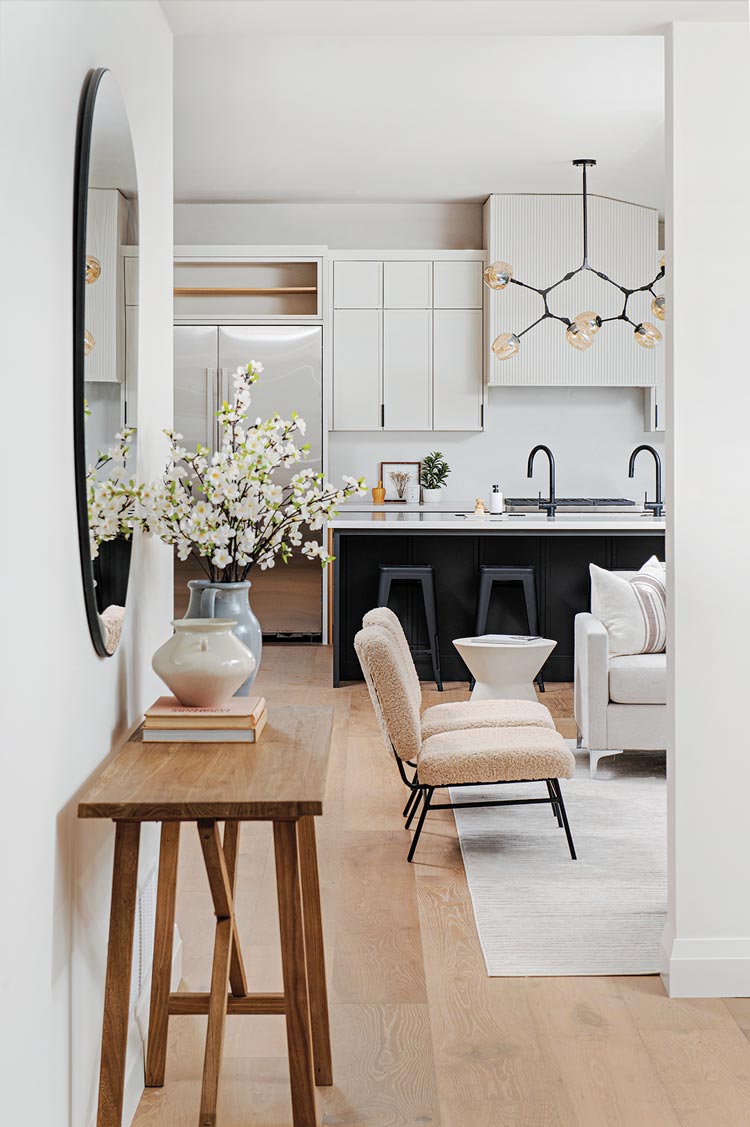 How to Blend Wood Tones
Mixing wood tones is one method for introducing warmth and contrast into your home. While paneling, cabinetry and flooring can create depth and intrigue, going overboard with colors or textures can produce a disorganized result. Here are Lisa's tips for creating just the right mix of wood tones in the home.
"We were able to create a tranquil space for their kids and entertaining areas for them, and we settled on classic Scandinavian design but with an eclectic approach."
Choose a primary finish. Lisa first selects what will serve as the main wood surface, or what will be seen the most throughout the paneling or flooring.
Choose a secondary finish. For a second wood color, stay in the same hue family, but go just a bit lighter or darker—or you can go full black for a dramatic pairing. "For this house, we started with a light oak, so a gray wash or tone wouldn't have worked," says Lisa. "Then we went from a warm tone to really dark with the black contrast and then a creamy white on other surfaces so as not to compete."
Repeat. Once you've settled on the base colors, look for areas where you can repeat those wood accents without overwhelming each room. "In the kitchen, we aimed to tie the bar area into the other side, as well as the interior door frames and the living room," Lisa says. "We kept that clean, consistent oak look to add the warmth to the white walls, as well."
---
Want to learn more about Scandinavian style? Read on if you're asking What is Scandinavian Farmhouse Style? or curious about how to get The Scandinavian Farmhouse Winter Look. Of course, don't forget to follow us on Instagram, Facebook, and Pinterest to get your daily dose of farmhouse inspiration!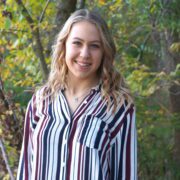 Dani Grace
Dani Grace first joined Engaged Media's staff as an intern in 2019 but has continued to contribute as a freelance writer ever since. With her background in journalism and right-brained functionality, Dani has thoroughly enjoyed filling the pages of Cottages & Bungalows and American Farmhouse Style magazines with homeowners' and designers' stories and tricks of the trade—though her passion for cooking induces a serotonin boost when she gets to sneak in a book review about the next cottagecore food craze! When she's not crafting narratives about interior design, Dani works in sustainability consulting for the built environment with VCA Green, specifically in green building certifications and energy efficiency (cutting down on greenhouse gas emissions!). As a certified TRUE Zero Waste advisor through the Green Business Certification Inc., Dani's true motivation in life is helping people, businesses and buildings cut down on waste and facilitate healthier, more sustainable lifestyles. In her spare time, Dani can be found munching on a home-cooked meal while watching hockey or at the beach to the music of Steely Dan or Jack Johnson (and everyone in between).