Leather + Farmhouse Style Ideas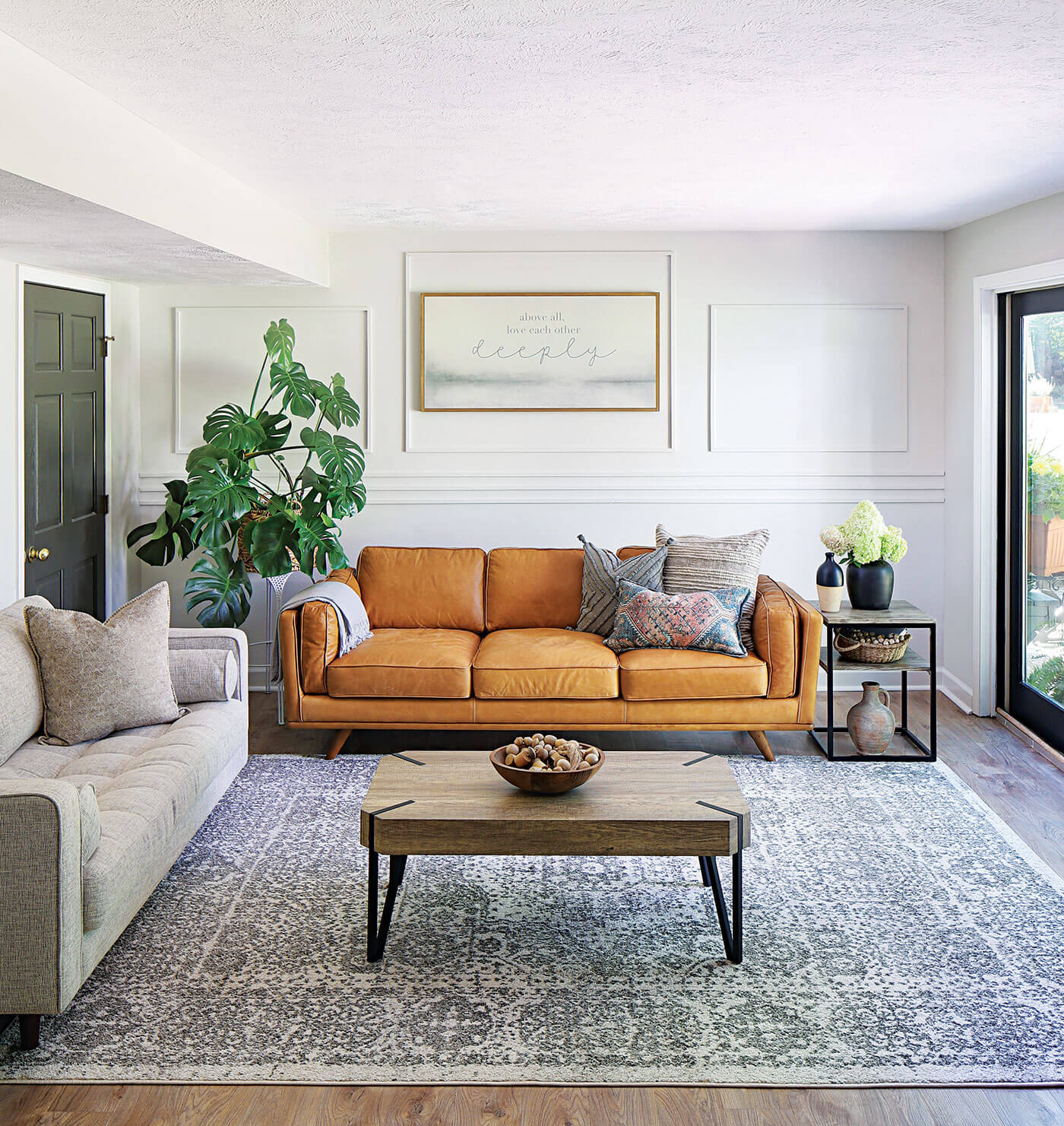 Photograph by David Sparks; home of Sarah Simmonds
Can leather be farmhouse style? Absolutely! From sofas and chairs to cabinet pulls, poufs and decor accessories, leather is a great addition to modern, boho, industrial or any other type of farmhouse style. Here are some of our top ideas for leather in farmhouse style.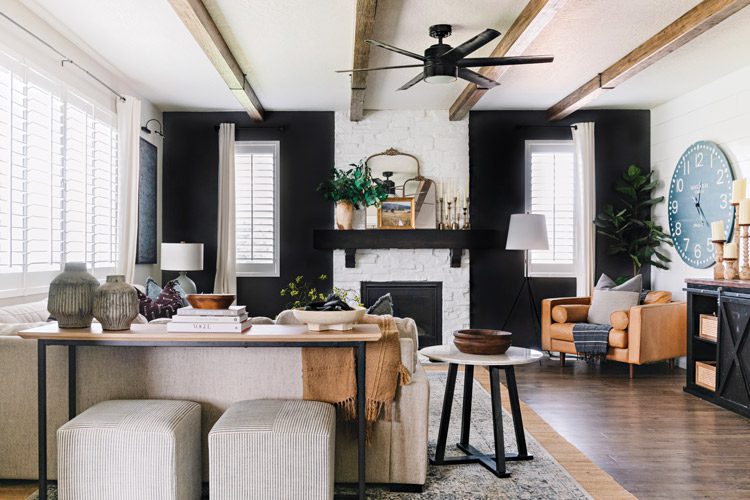 Leather Accent Chair
If you're not sure that you like leather farmhouse style, start small with one accent piece, such as a chair in the living room. In this living room, homeowner Kaycie Chiampi used a black accent wall to create a dramatic look, which makes the leather accent chair pop against the neutral backdrop.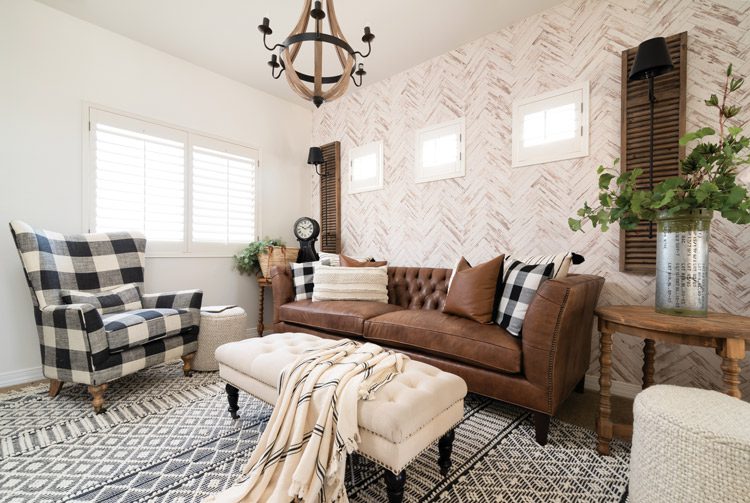 Leather Farmhouse Sofa
Go big or go home...or in your home? If you love the leather farmhouse look, a leather sofa is a great choice. This sofa in Liz Roth's home is an updated farmhouse take on a chesterfield sofa, with a tufted back and arms the same height as the back.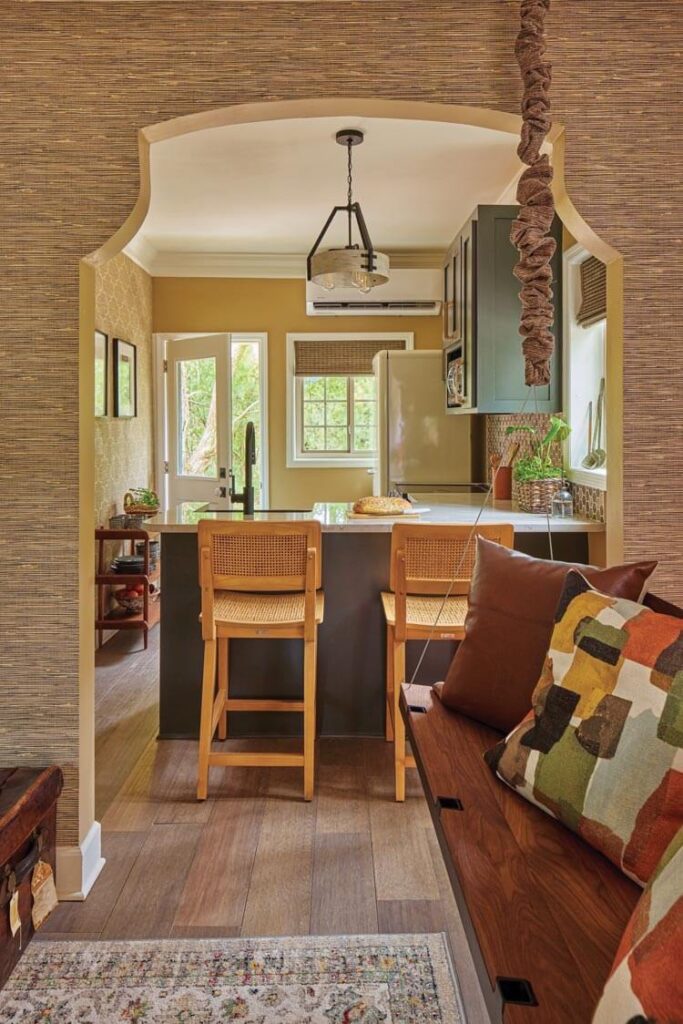 Leather Pillows
If you don't want leather furniture for your farmhouse, there are other accents you can choose, like throw pillows. This unit of the Villas at Spanish Court has cowboy vibes, and designer Sara McDaniel chose leather for some of the throw pillow covers to convey a great industrial farmhouse look.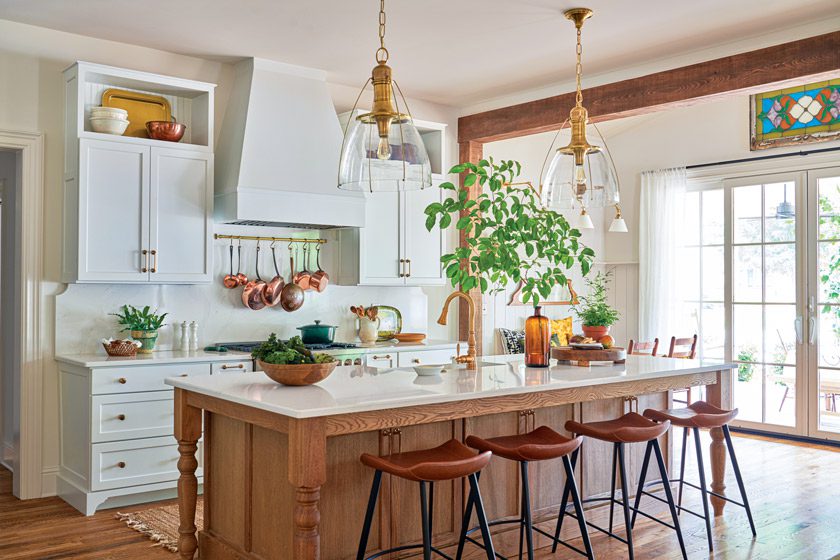 Leather Bar Stools
Another accent choice for leather in farmhouse style is kitchen or barstools. This choice by designer Kara of Garden Gate Homes in this farm cottage renovation works well alongside wood. If you like leather, also aim for lots of wood finishes.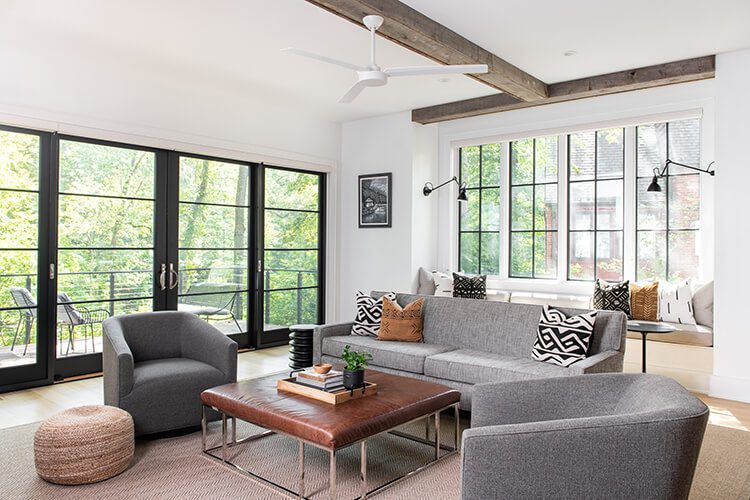 Leather Ottomans and Coffee Tables
There are lots of options in look and style when it comes to leather ottomans. This home by MV Architects showcases a large square ottoman with a leather finish. But you could also go for a round leather ottoman, or even a more traditional coffee table that has a tufted leather top.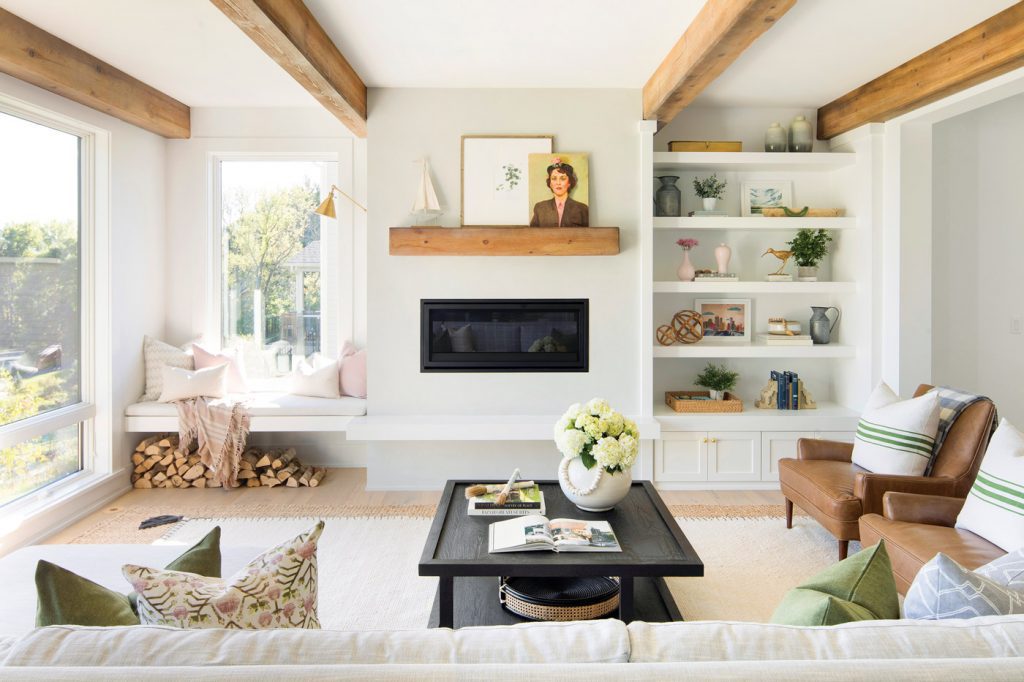 Multiple Accent Chairs
A good living room layout design often includes one or two accent chairs. If your space has enough room for two accent chairs, having leather upholstery on both will give the room more leather overall and increase the fun farmhouse vibe in your home, like it does for this home by David Charlez Designs.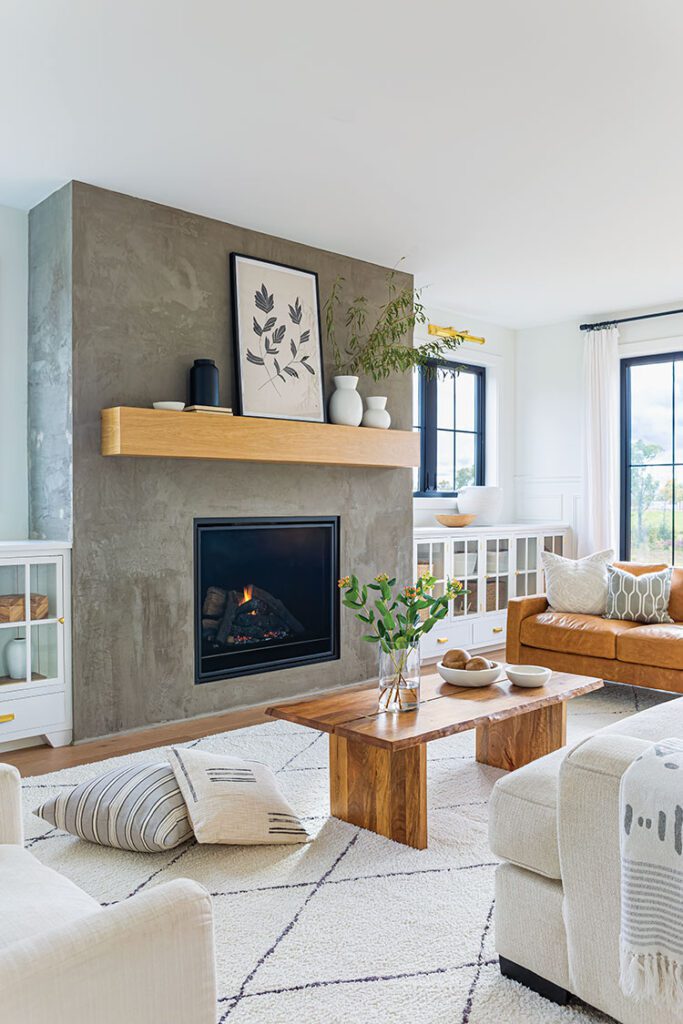 Wood + Leather Farmhouse Match
When choosing the exact shade of leather for your home, look around at the other colors and finishes in your space. That's true for the home of Sarah Pollio. In her living room, she matched the shade of the leather farmhouse sofa with the wood in the coffee table. The two combine to create a cohesive color scheme throughout the room.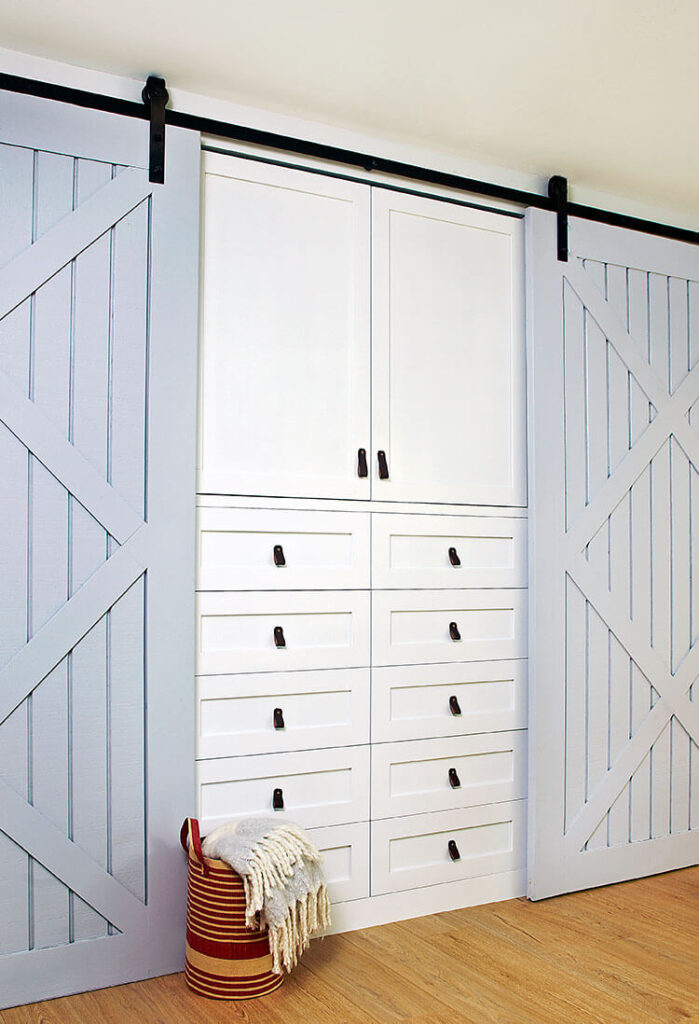 Leather Farmhouse Cabinet Pulls
Did you know that you can use leather for your cabinetry? The hidden storage cabinets in the home of designer Lindye Galloway show off leather farmhouse style with her cabinet pulls.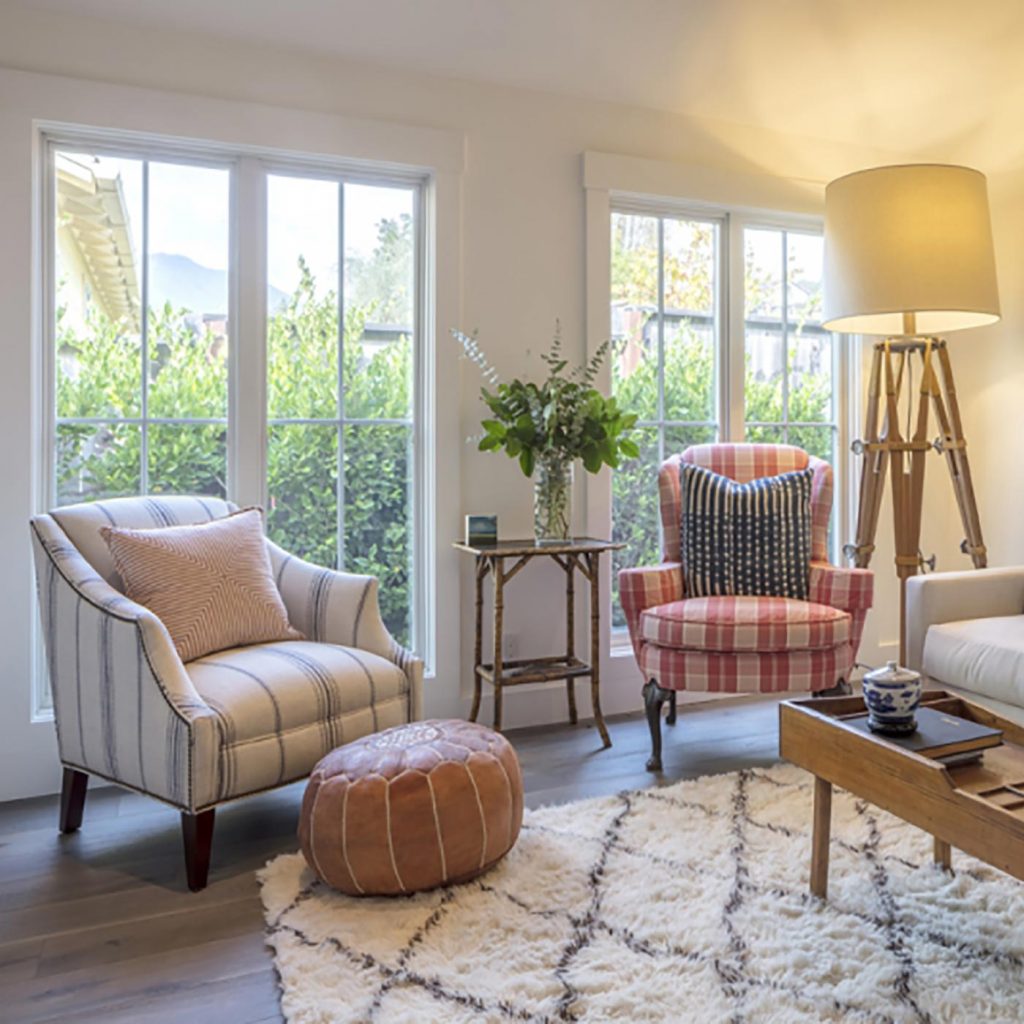 Photogrphy by Michael Hospelt; home by Richardson Architects.
Leather Poufs
Poufs are fun, small accent pieces that you can use as side tables, foot rests or even kids' stools. They're also very portable, and you can move them around from room to room, depending on which room you want to add a little leather farmhouse fun. This home by Richardson Architects showcases a leather pouf for the smaller living room. It doesn't take up too much space, but still adds a touch of leather.
---
Love this look? Don't forget to follow us on Instagram, Facebook and Pinterest to get your daily dose of farmhouse inspiration!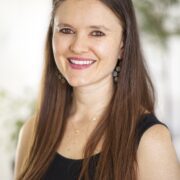 Victoria Van Vlear
Victoria is the editorial director of American Farmhouse Style. She shapes the editorial direction of the brand, both through the physical magazine and digitally on the brand's website and social media platforms. As a home décor enthusiast and DIYer herself, she knows what a little paint and patience can do for a room! Victoria is also a wife and mom to three little ones: two on earth and one in heaven. With any (not so spare) time, she devours book and dabbles in fiction writing. You can follow her on Instagram @victoriavanvlear