A DIY Farmhouse in Minnesota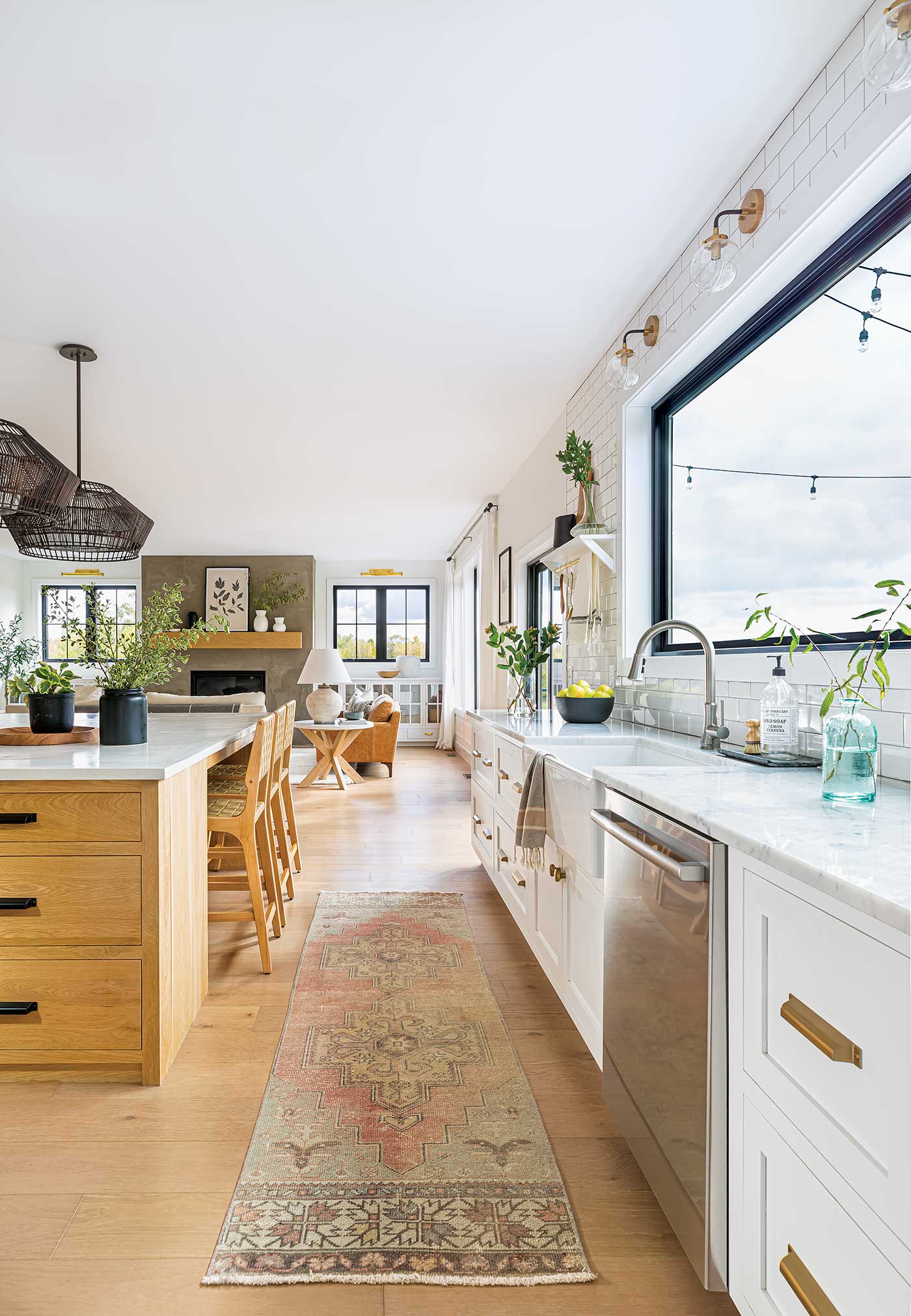 This Minnesota country home proves that DIY simplicity can be striking.
Blogger and designer Sarah Pollio of Joinery & Design Co. and her husband Dan's DIY farmhouse bears the stamp of their design and creativity. When Sarah and Dan designed their dream home west of the Twin Cities, they were the perfect team for the project. To bring their vision to life, they used their creative genius—Sarah's eye for design and Dan's woodworking skills. There's very little in the home that they didn't have a direct hand in. Their motto, "Creating inspiring spaces together," rings true throughout each room.
Earthy Adornments in the DIY Farmhouse
Although their home has modern elements, like the sleek black window frames and concrete fireplace, it never feels cold or too contemporary. In fact, it's the design's simplicity that allows for the natural, warm elements to shine through, like the recurring white oak and leafy greenery that often comes directly from the property. "I love going out and cutting branches," Sarah says. "I try to bring in as much real greenery as possible."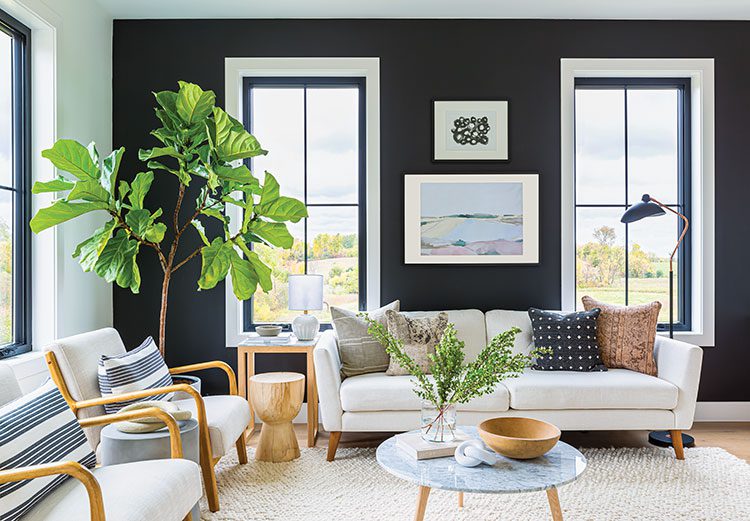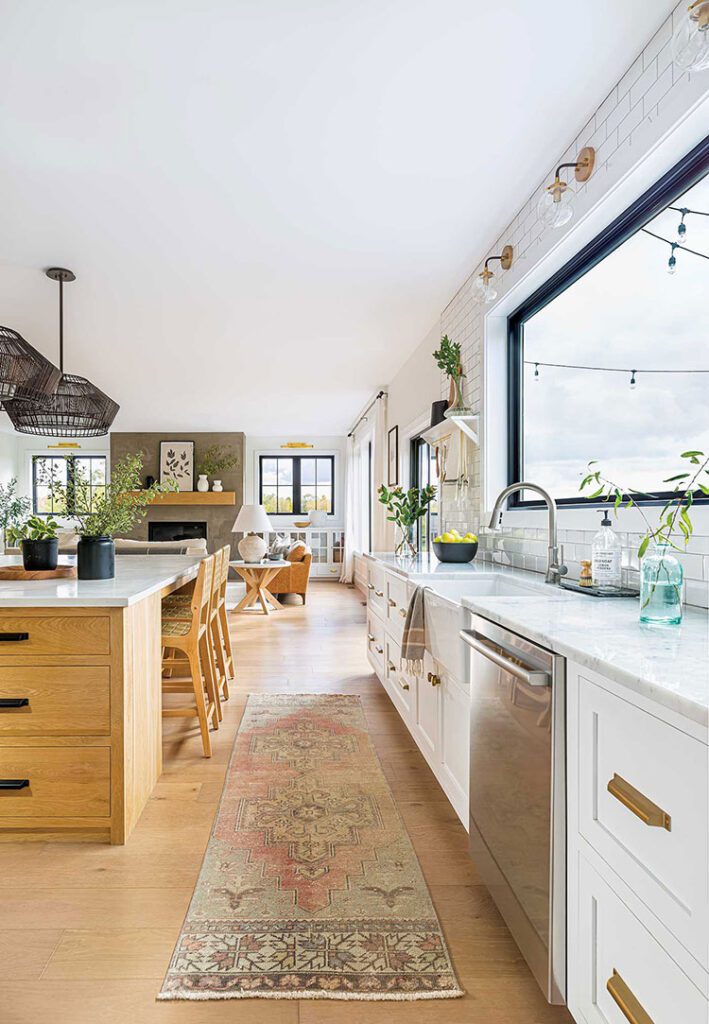 Reworking it in a DIY Farmhouse
In the dining room, a light oak table shows off a few ceramic jugs, and a single plant and cool-toned rug account for the entirety of the floor décor. The walls are simple, and Sarah goes with a neutral color scheme that plays with texture and dimension. The two twin paintings in the room are DIY artwork by Sarah herself. She repurposed two canvas paintings she no longer cared for and painted over them with white.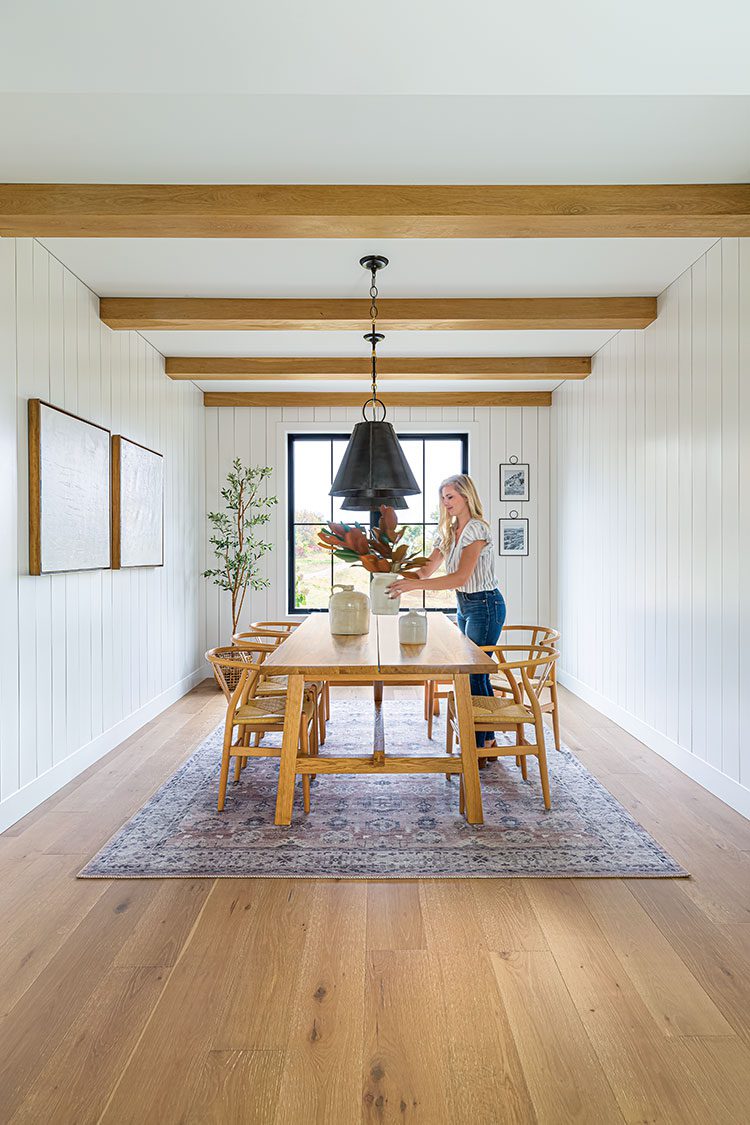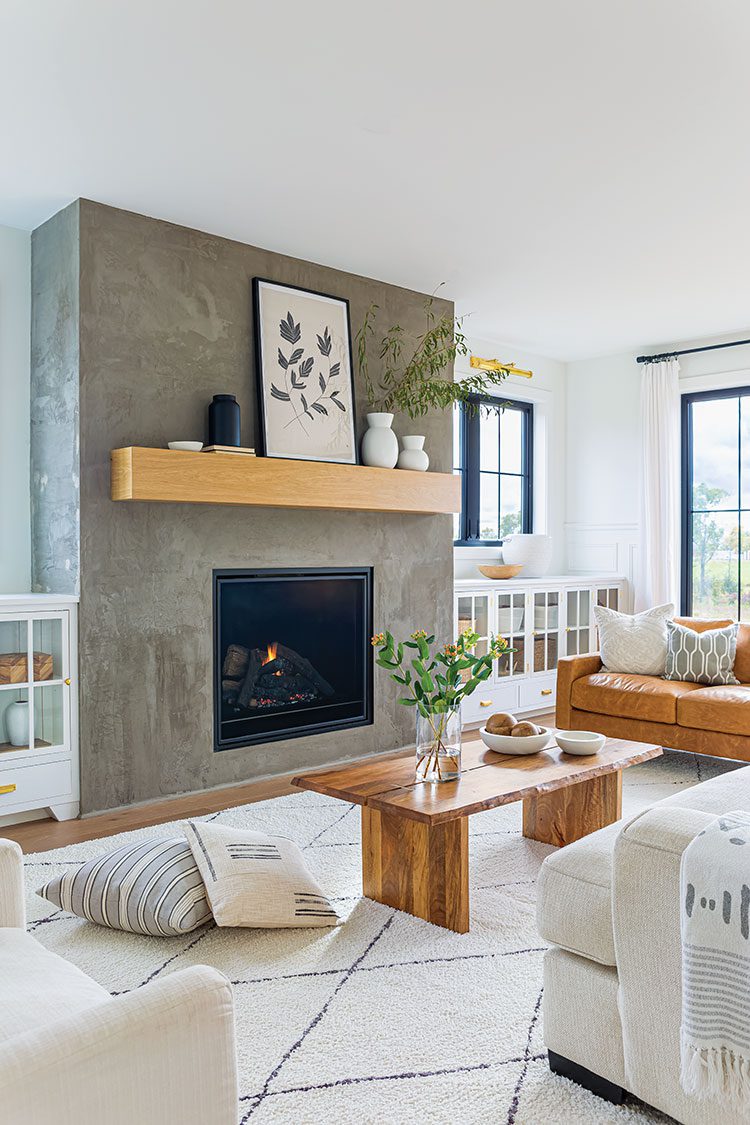 Her ingenuity for repurposing doesn't stop at artwork. In the kitchen, Sarah took an old metal console table and turned it into a shelf that now hangs on the wall and holds dishes. The dark metal accents in the home don't feel harsh because the rest of the details, like clay pots, light wood and perfectly worn vintage rugs, balance the cold with warmth.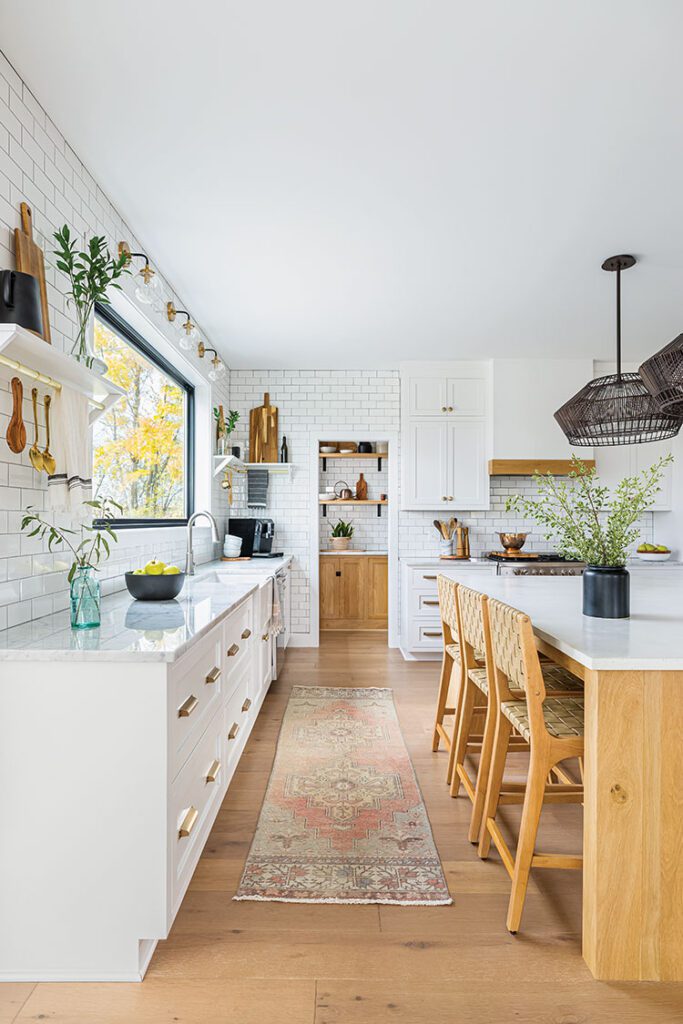 Of course, Sarah's choices aren't just for aesthetics. As a mother of four, she has to keep practicality in mind as well, which is why the kitchen island is not only eye-catching but large enough to seat the entire family and has handy drawers crucial for extra storage space.
Shaping Up
In the same way that Sarah blends cool with warm and light with dark, she also plays with a variety of shapes and patterns. The planks of the patio deck and the handmade tile backsplash in the primary bathroom couldn't be more different. Yet they're both herringbone, a pattern that Sarah considers "a staple in our home."
See Also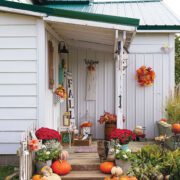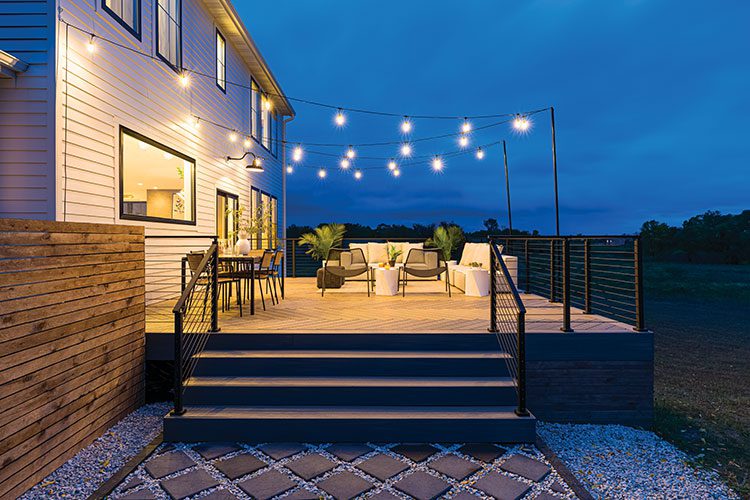 The black ceramic tile of the mudroom has very little resemblance to the white tiled floor of the bathroom, except that they both are made of hexagonal shapes, again showing Sarah's creative use of pattern. It's a subtle way to tie a home's design together while also mixing up the design in each room.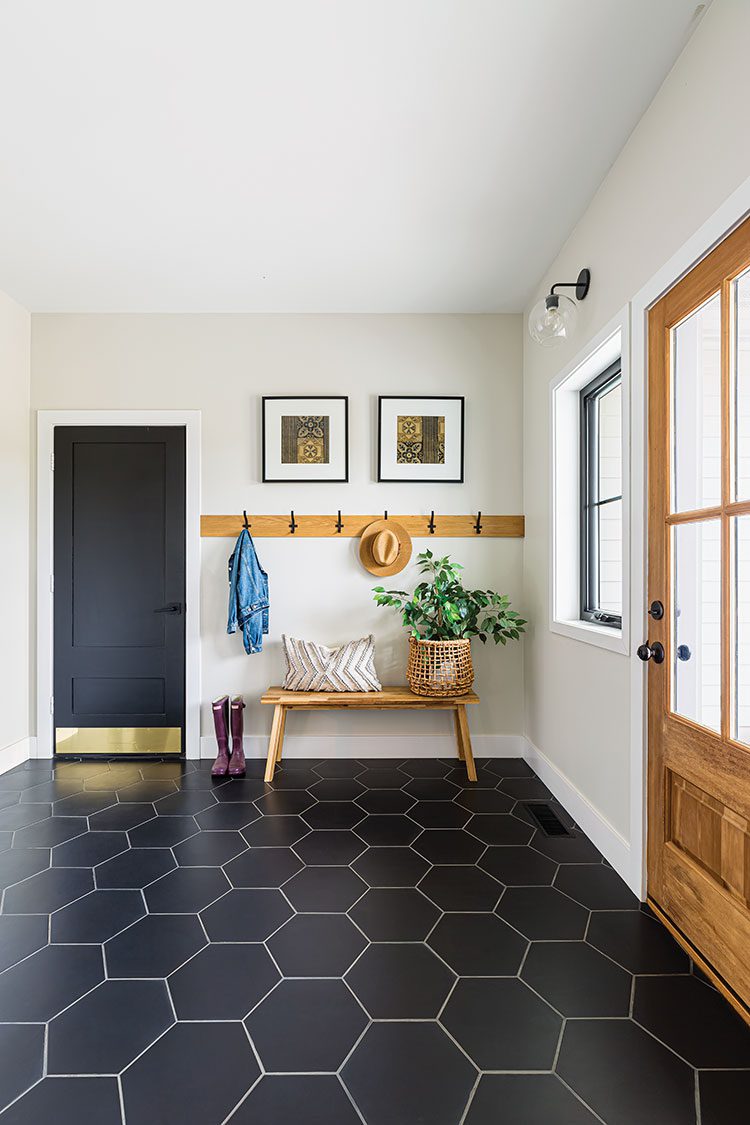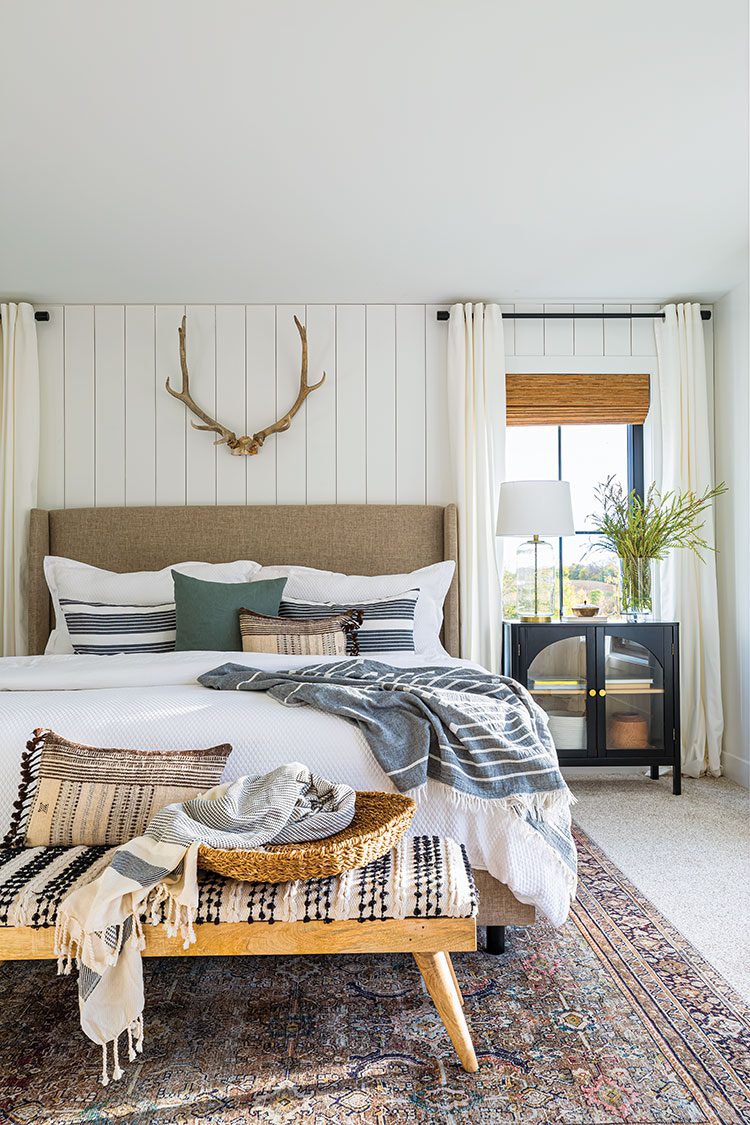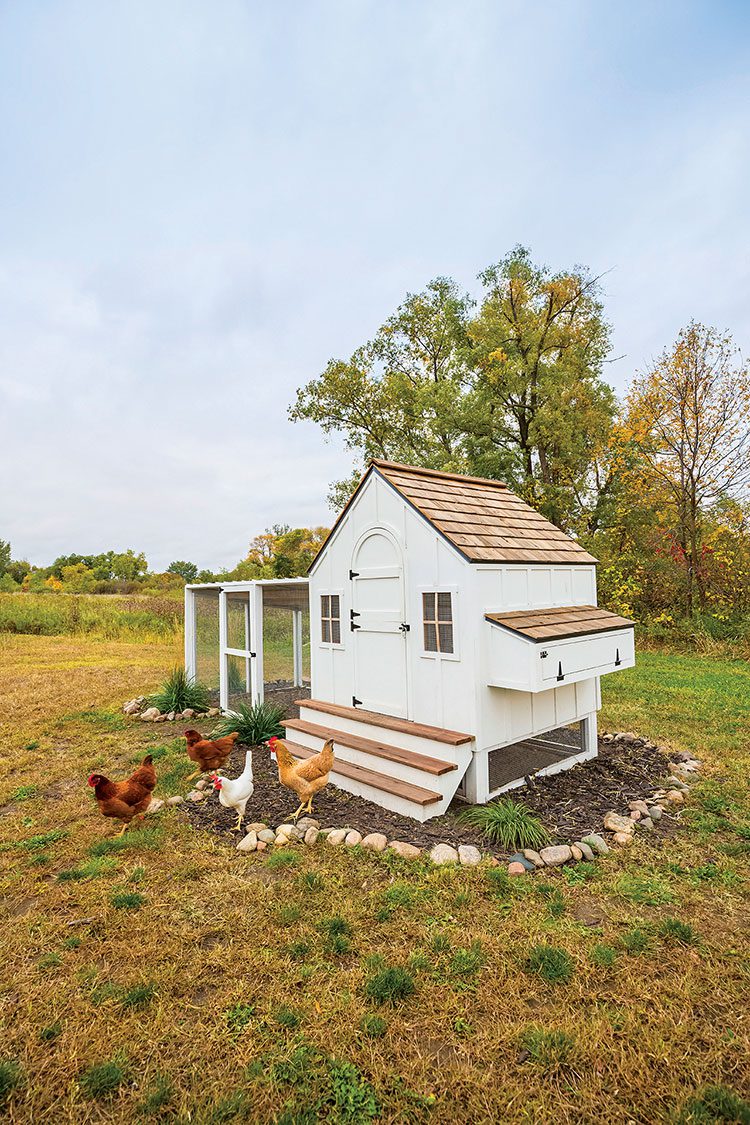 ---
Find more Minnesota farmhouse inspiration! Of course, don't forget to follow us on Instagram, Facebook and Pinterest to get your daily dose of farmhouse inspiration!