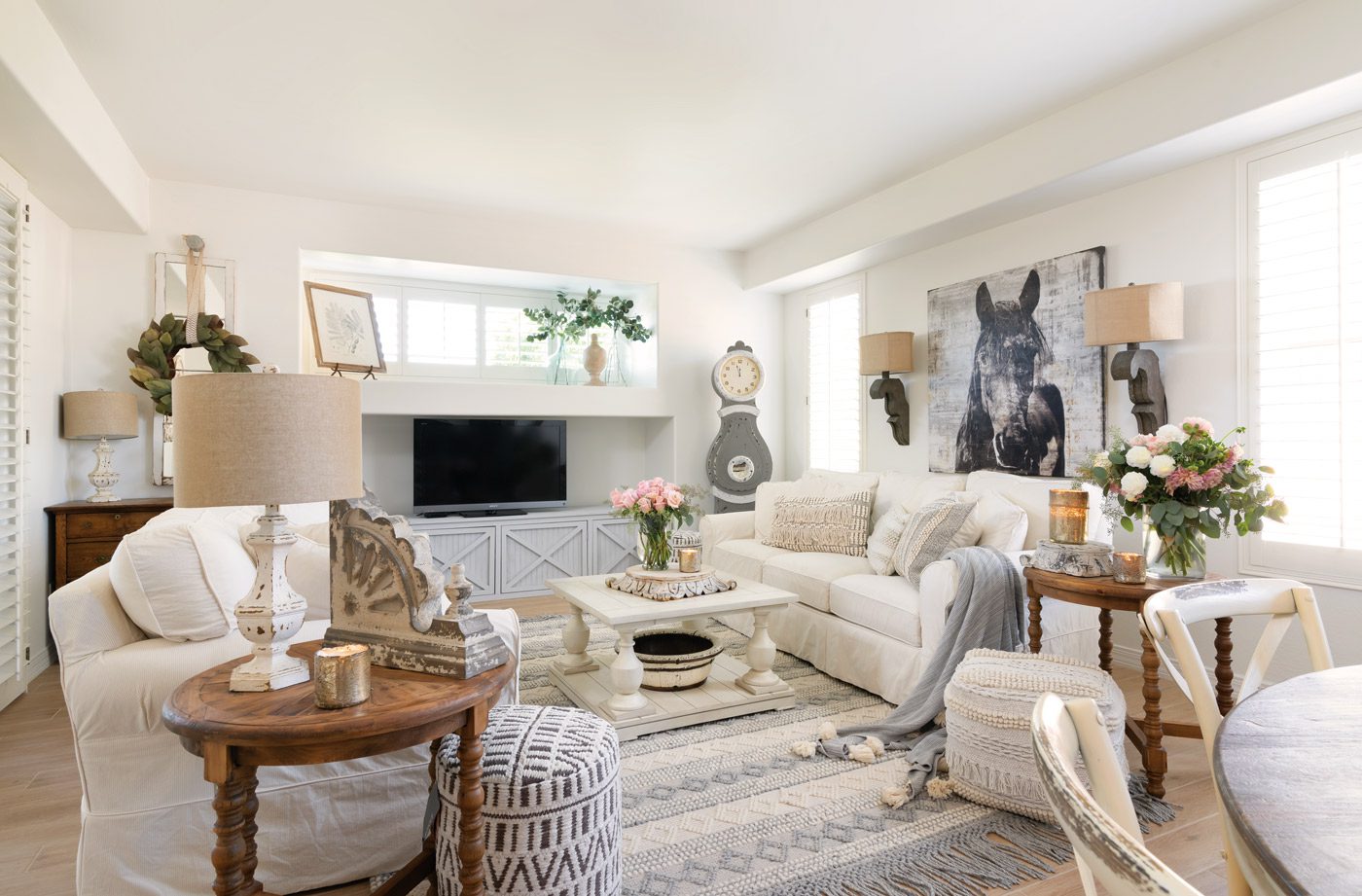 A self-trained stylist artfully mixes farmhouse warmth with touches of modern boho in her Phoenix, Arizona, home.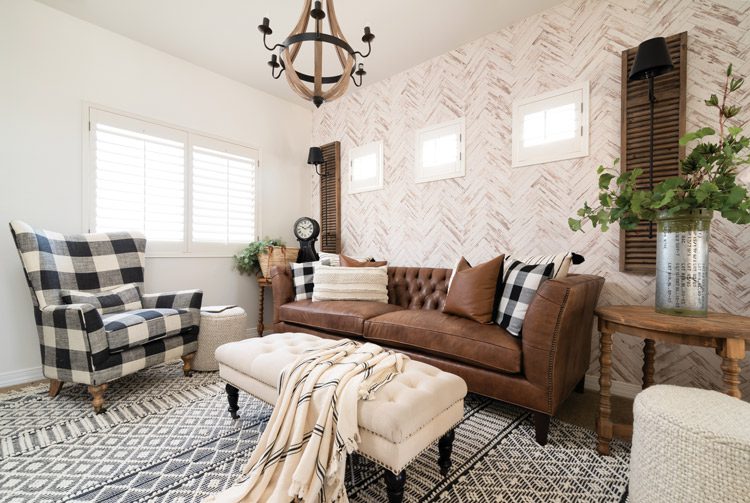 You can make your dream farmhouse anywhere—even in the desert. That's what Liz Roth, a self-trained stylist who documents her renovation projects on Instagram at @desertdecor, has proven time and time again. She's brought contemporary farmhouse charm to the Phoenix, Arizona home she shares with her husband and two children.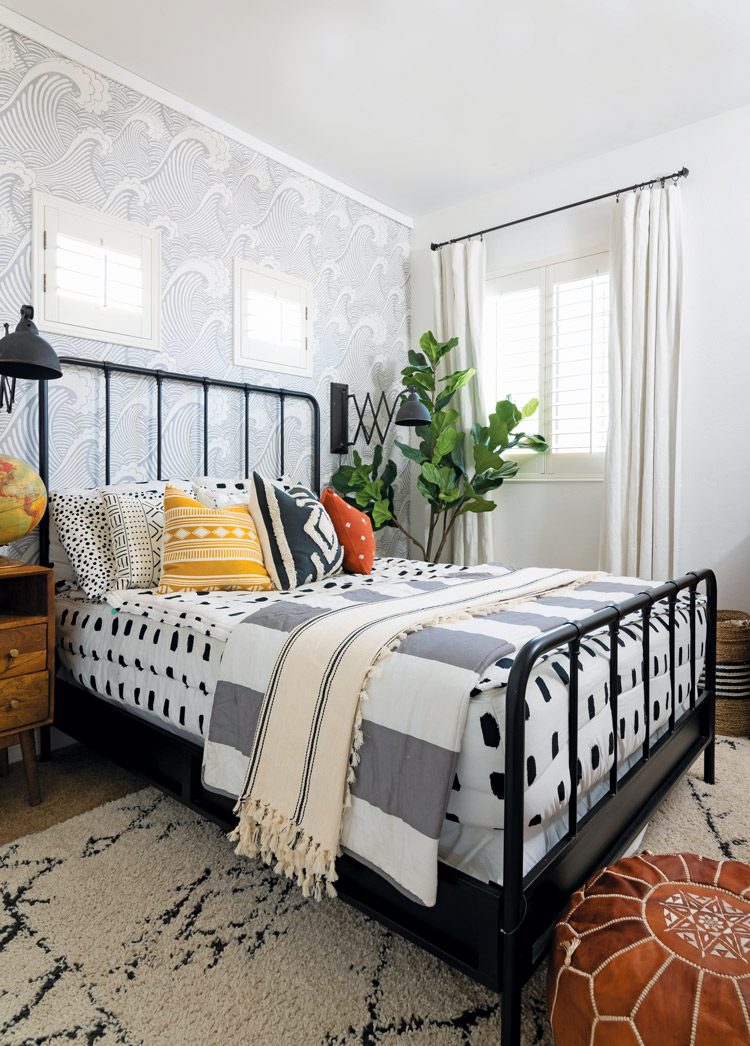 But she doesn't stop there. Local shops and homes clamor for her design vision, and she kindly extends her talents to them as well. "I recently expanded my business," Liz says. "In addition to my growing Instagram account, I style homes and home décor store fronts in our community." As is apparent from her home, Liz artfully mixes farmhouse--and desert--warmth with touches of modern boho. The result is a unique look that's as beautiful as a desert flower.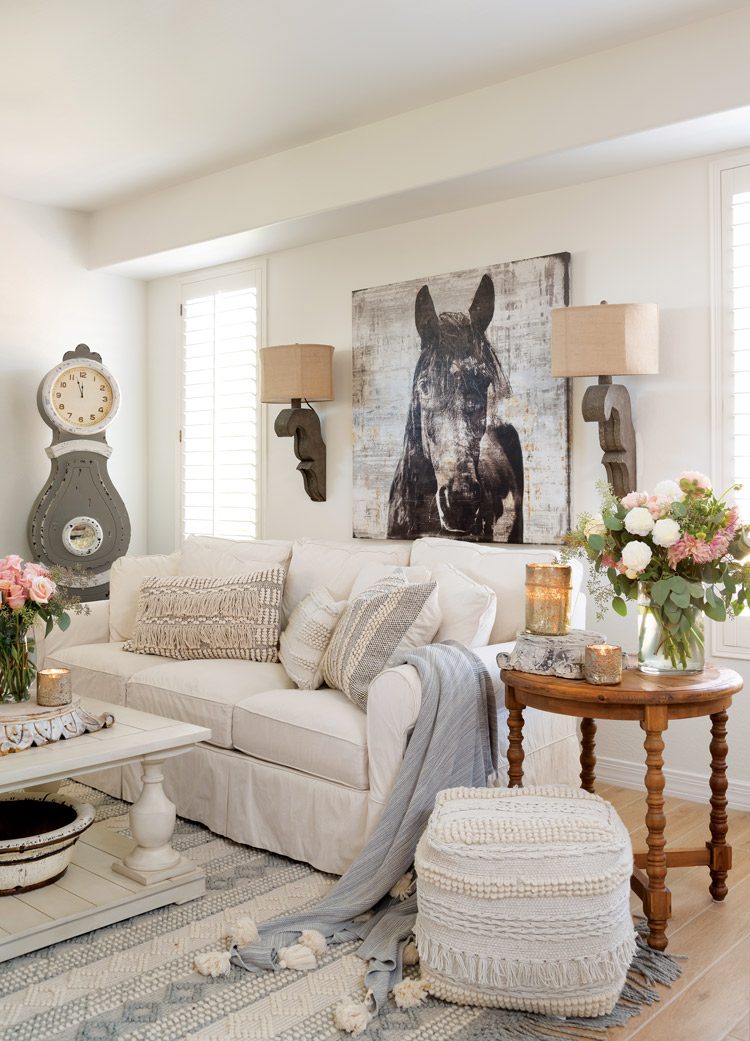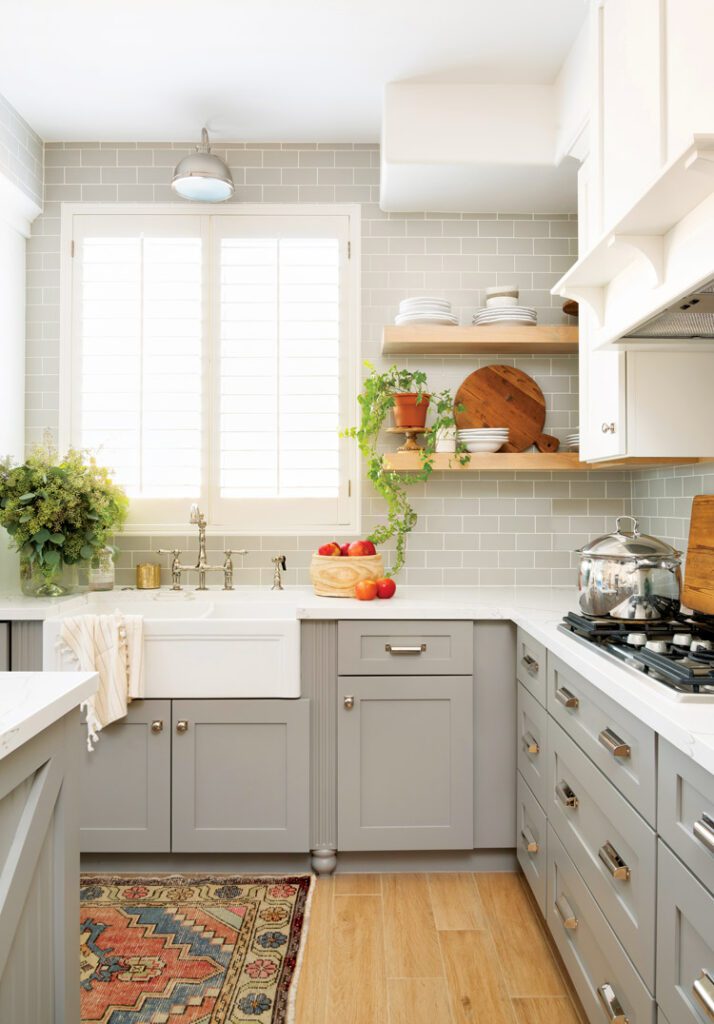 Quaint Kitchen
Originally the kitchen cabinetry was dark, making the kitchen feel cramped and heavy. "Lightening the space and renovating it in a family-friendly way were the main priorities," Liz says. With the help of designer Sandra Imig of Space Home Outfitters, she came up with a design that transformed the kitchen from a dark den to a light and bright chef's dream. "We chose a two-toned color scheme for the cabinets because it's more functional for kids," Liz says.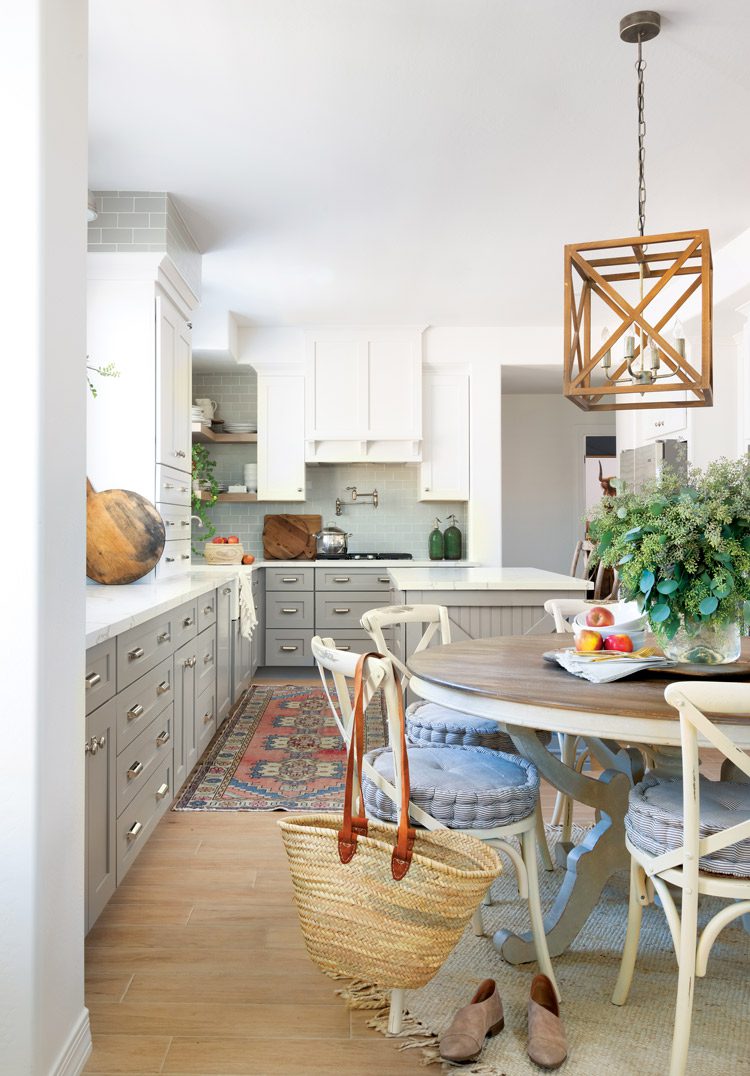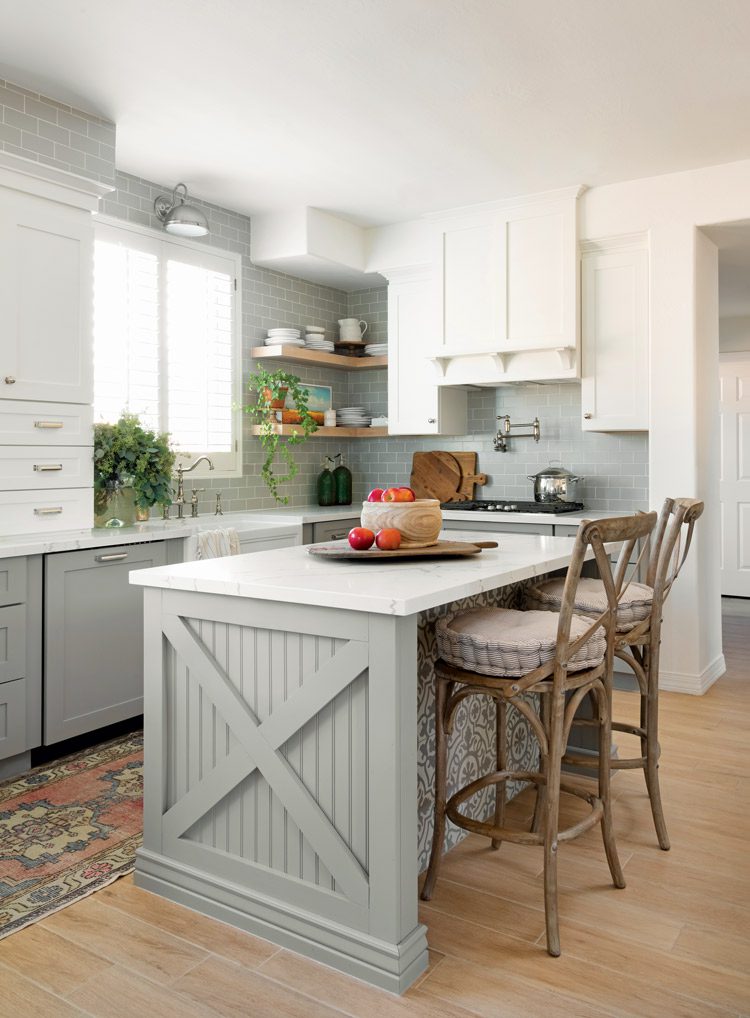 The upper cabinets are stark white, but the lower cabinets are gray, making fingerprints or smudges from little hands less visible until they can be wiped away. Partial open shelving adds a farmhouse sensibility, and modern touches are incorporated with silver hardware and counter-to-ceiling tile. Meanwhile, a patterned cement tile on the island is surprising and eye-catching. "I wanted to add some interest," Liz says. "The tile was a last minute design decision, and it brings just the right amount of visual intrigue."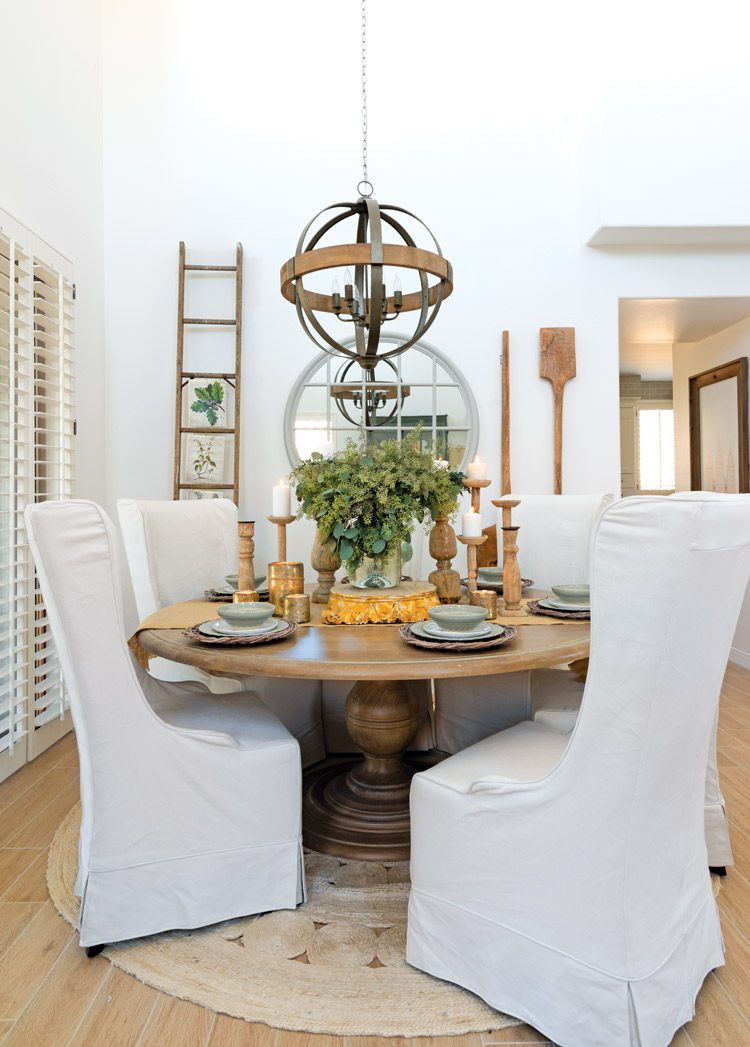 Desert Farmhouse Coziness through Character
With its 22-foot high ceilings and open floor plan, the formal living room has grand proportions that could easily make the room seem too austere. To make it warm and cozy instead, Liz filled it with weathered farmhouse pieces. Each item is full of vintage life and accessorized with organic, textured elements like supple throws. A cluster of tobacco baskets on the wall captures a snapshot of the 1800s tobacco industry.
A gorgeous deconstructed sofa has caster wheels, exposed texture and a lovely ticking stripe. "The sofa reflects what I love in a furniture piece," Liz says. "Every detail shines, and it draws your attention with thoughtful craftsmanship." Finding the right furnishings and placing them in an arrangement conducive to conversation brings a coziness created through farmhouse character to the formal living room.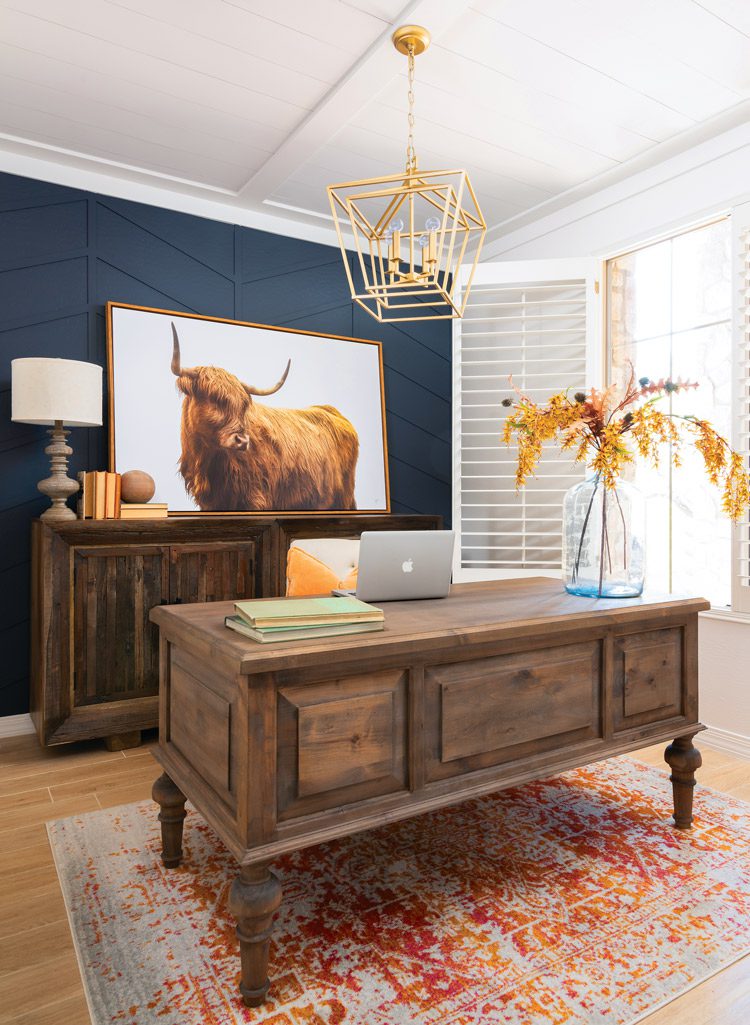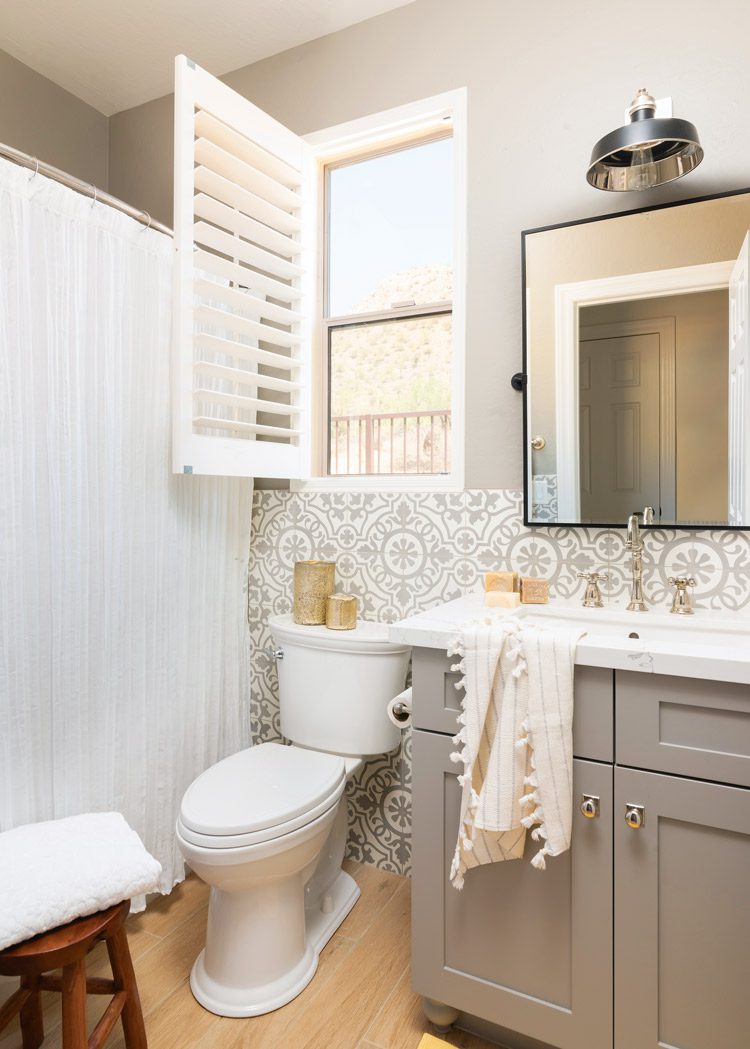 A Desert Farmhouse Where Style Meets Comfort
The informal living room is a place of comfort and connection for the entire family. "Without fail, after a long day, this where you can find us relaxing," Liz says. "My focus for this room was comfort and style." Before, the room was a basic, lifeless box, but Liz turned it into a cozy oasis with pillows and accessories that reflect her aesthetic. "I used lots of layers and textures," Liz says.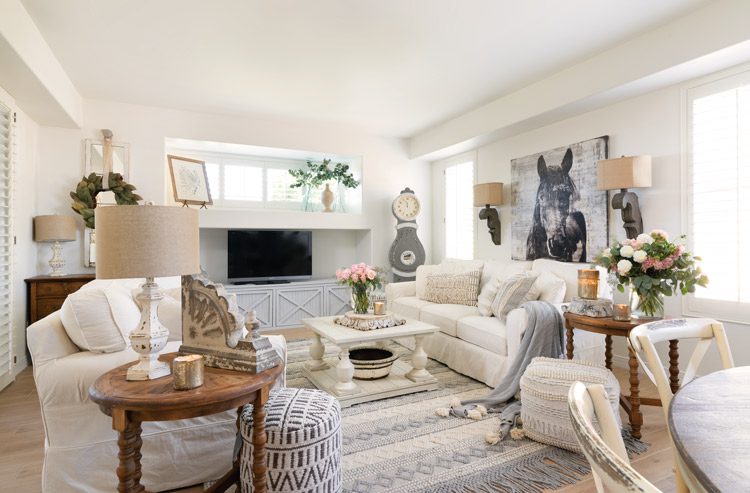 Ample decorative pillows and soft blankets encourage the family to cuddle up and converse long into the evening hours. A modern horse print from Z Gallerie brings an earthy twist to the farmhouse-chic space and artfully contrasts with vintage-inspired pieces, like a Mora clock and corbel sconces. Cushy ottomans with boho fringe and print detailing bring a dose of desert romance and also allow the family to lounge in comfort. The Arizona home now tells Liz's heart story, and it's one of (desert) farmhouse sophistication accented with free-spirited details.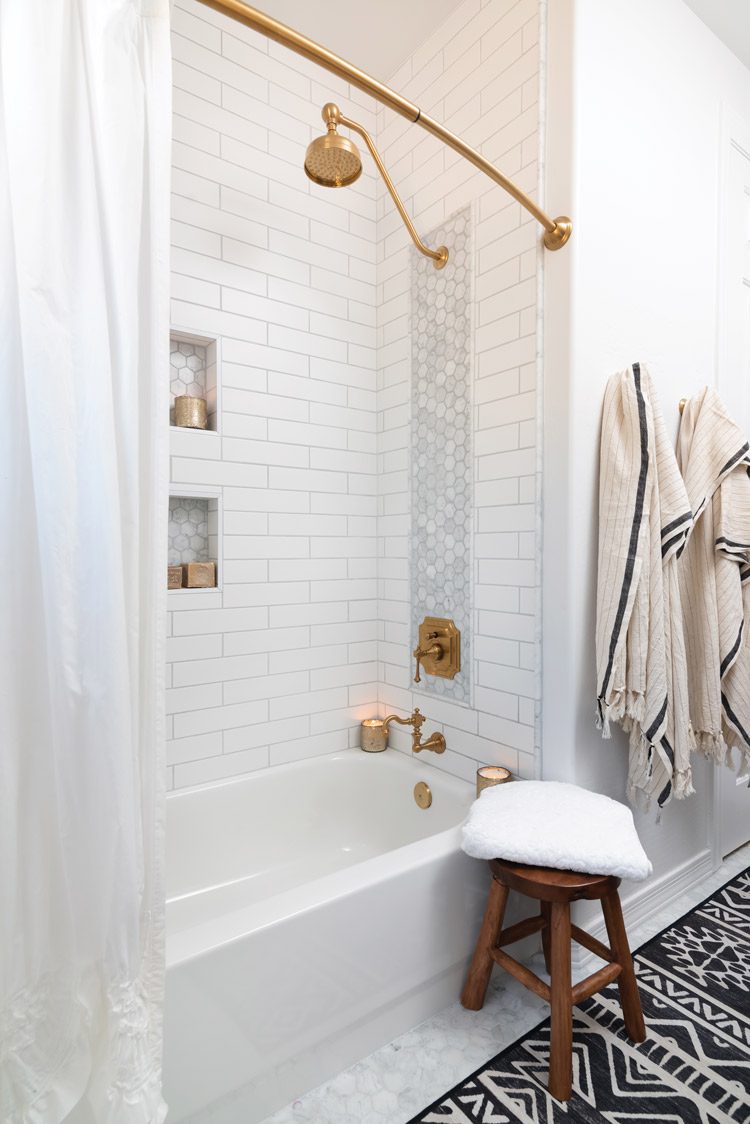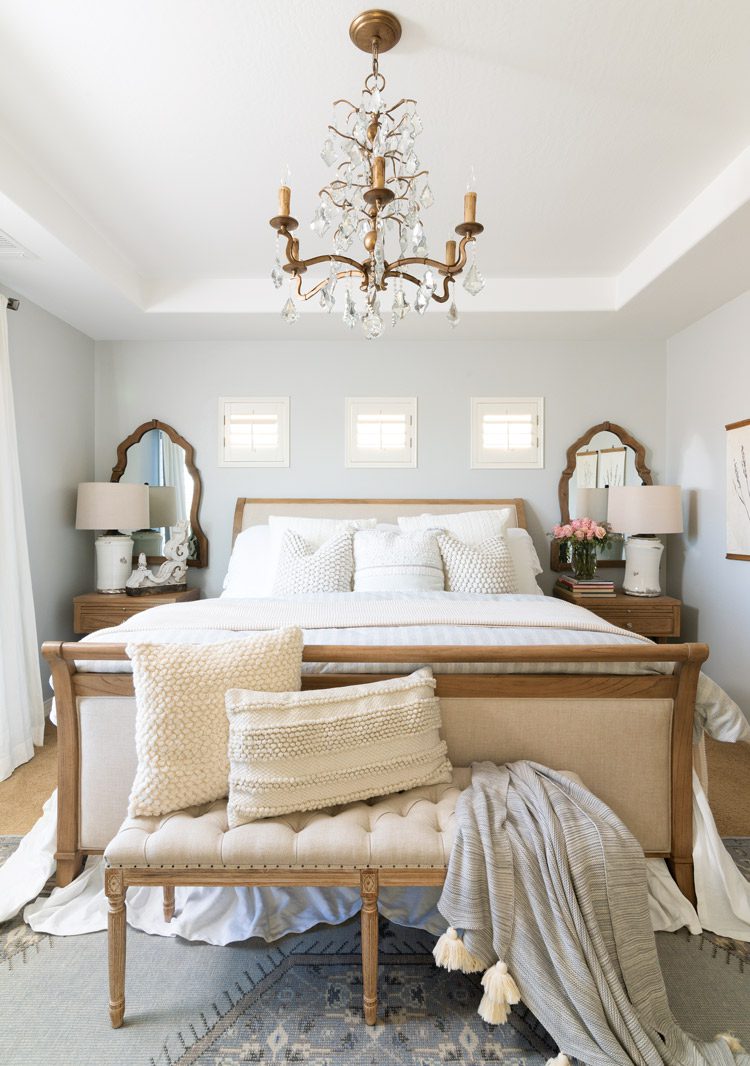 Want to know more about what boho style is and how to integrate it into farmhouse style? Read "What Is Boho Farmhouse Style?" Of course, don't forget to follow us on Instagram, Facebook and Pinterest to get your daily dose of farmhouse inspiration!