A Music Barn in Tennessee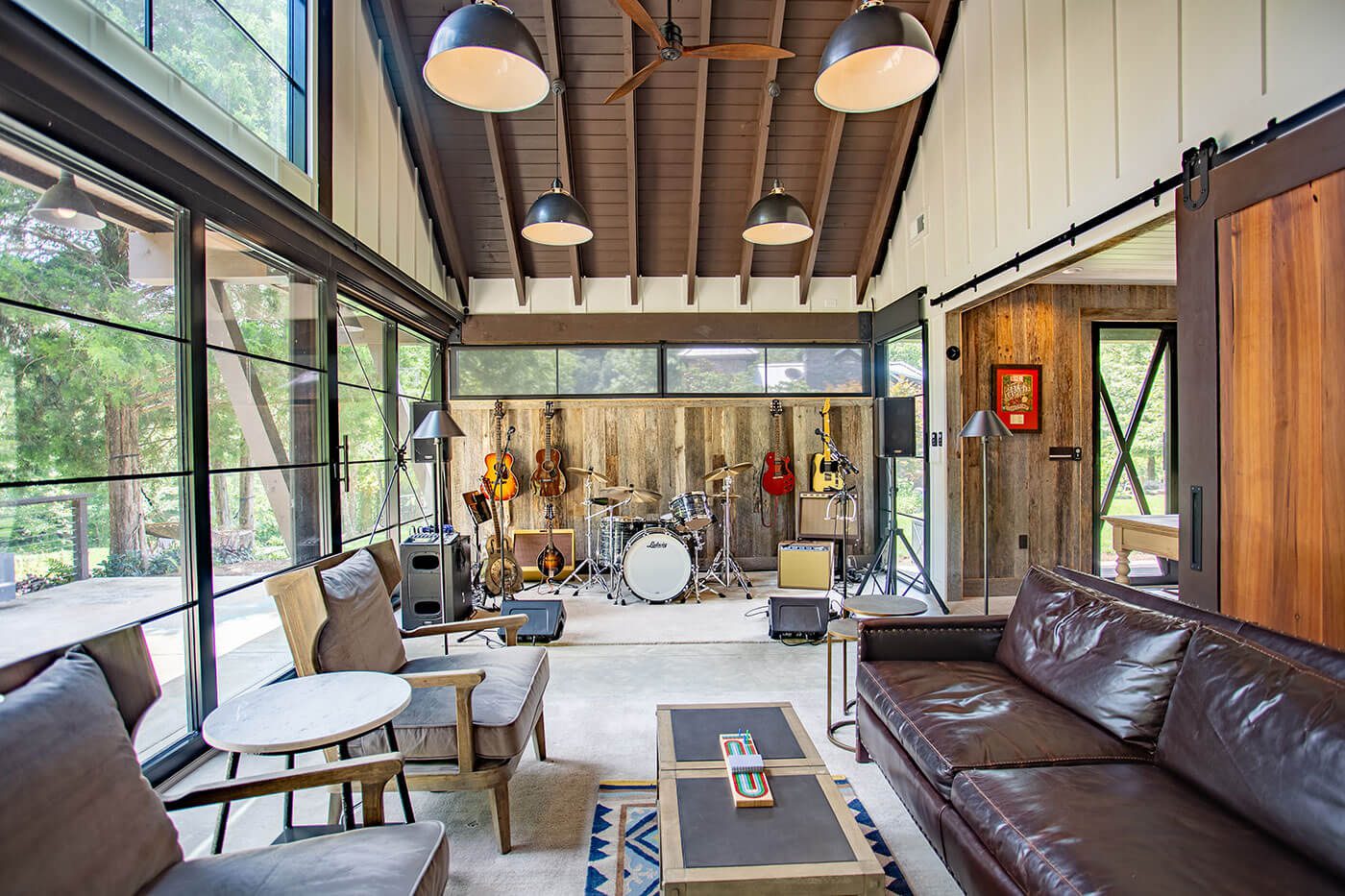 Where better place to build a barn home for entertaining and jam sessions than outside Nashville, Tennessee? When this couple decided they wanted a getaway from their Nashville lives, what resulted was this fun yet luxurious music barn.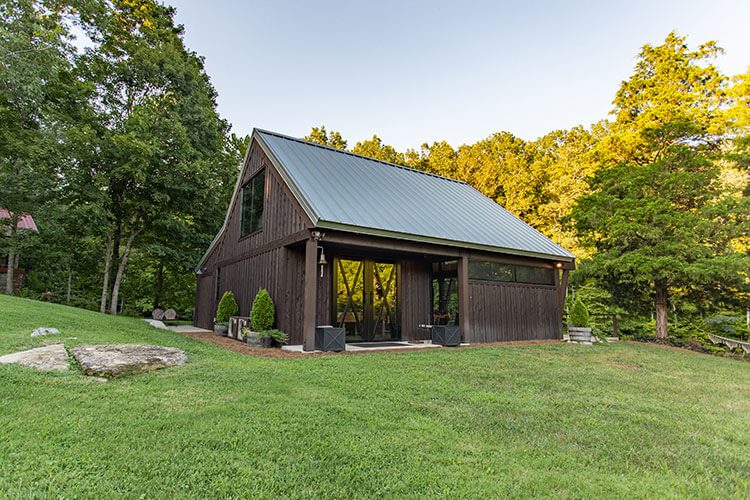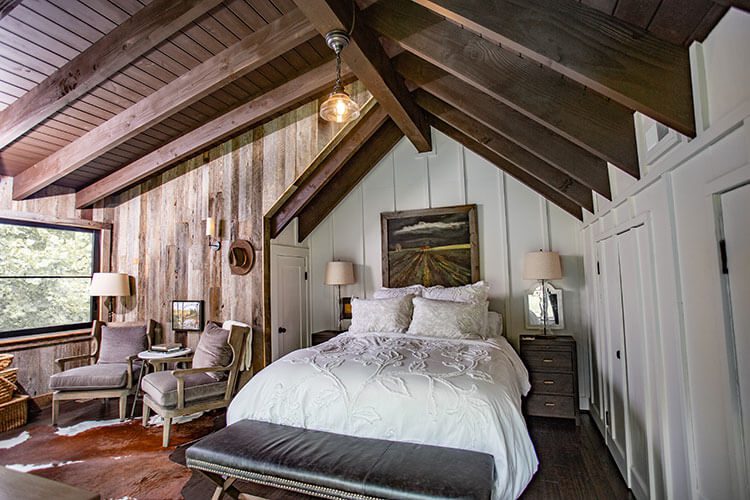 From PreFab to Fabulous
Originally, the building wasn't a music barn at all, but an "accessory structure," says architect Jim Rill of Rill Architects. "It was a prefab building I tore down to the foundation and started over again from scratch."
The land and plot were there, so now it was time to make some farmhouse magic. But why choose a barn? "Barns are both rustic and industrial," Jim says. "They are located in the countryside but are outfitted for industry work." The immense amount of space, the barn structure silhouette and high ceilings appealed to both Jim and his clients, which made it the perfect architectural choice for the music barn.
Timbers, barn wood and glass windows create a "modern barn look," Jim says. He added traditional X-shaped cross bracing to make an industrial and rustic look at the same time.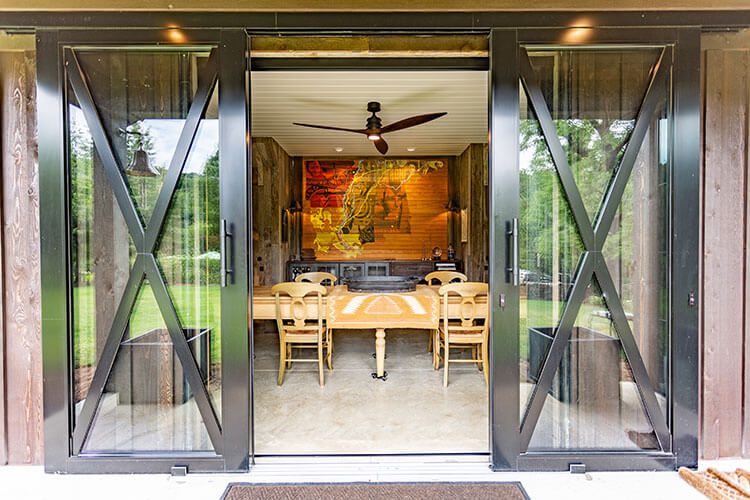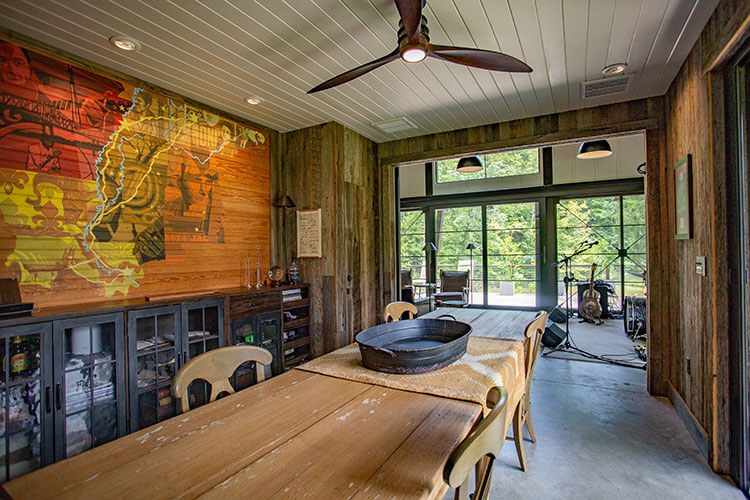 Indoor/Outdoor Connection
One of the important aspects for the homeowners was creating a home that was cohesive with the surrounding countryside, especially the pond near the music barn. They loved the building's "proximity and relationship to the existing pond," Jim says. The importance of the building and nature work together in this space.
"The building is all about the flow and connection to the environment, which is just as important as the interior rooms," Jim says. "A house isn't just a set of walls. It is how you experience the space. A home is not just something you sit in, the ownership comes with all the vistas, the experience of the views. We think about this when designing."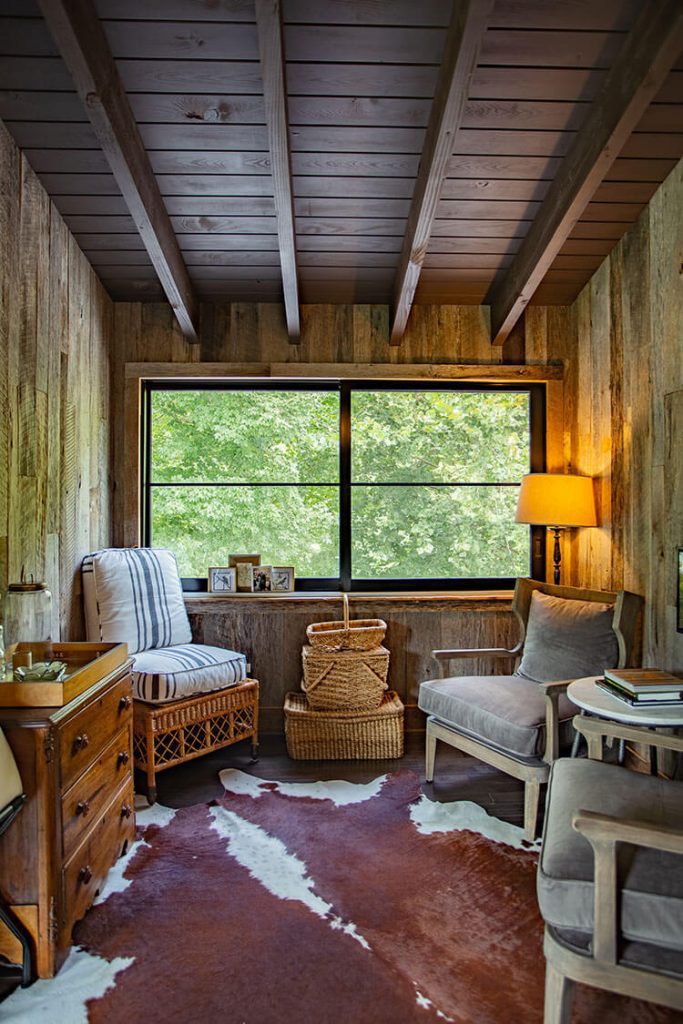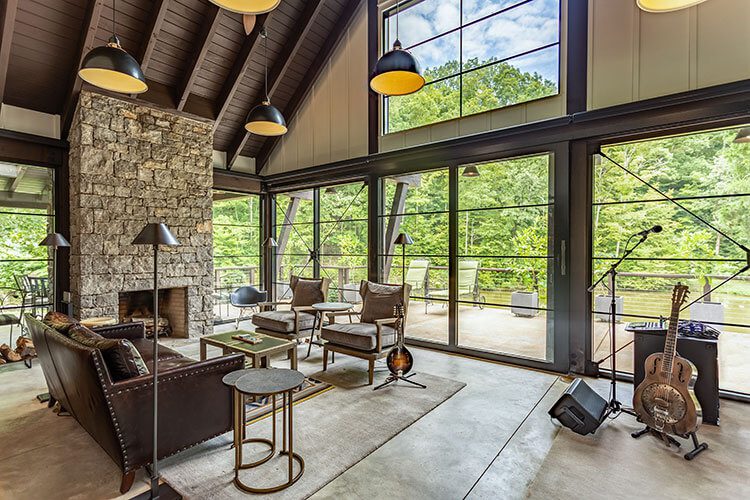 Music Jamming Session
Alongside the importance of the surrounding nature was the opportunity to entertain and hang out with other musician friends. The living room looks half like a traditional living room, and half like a band's music studio. Jim outfitted outlets so musicians could "plug in" with their instruments. "We hope to inspire them and get inspired back," Jim says. And that's just what they've done here with the music barn.
---
Love the country music barn look? Check out Dolly Parton's music-inspired art collection! Of course, don't forget to follow us on Instagram, Facebook and Pinterest for more daily inspiration and farmhouse style.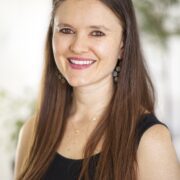 Victoria Van Vlear
Victoria is the brand leader and editor of American Farmhouse Style. She shapes the editorial direction of the brand, both through the physical magazine and digitally on the brand's website and social media platforms. As a home décor enthusiast and DIYer herself, she knows what a little paint and patience can do for a room! Victoria is also a wife and mom to two little ones: one on earth and one in heaven. With any (not so spare) time, she devours book and dabbles in fiction writing. You can follow her on Instagram @victoriavanvlear