A Custom Modern Farmhouse in Georgia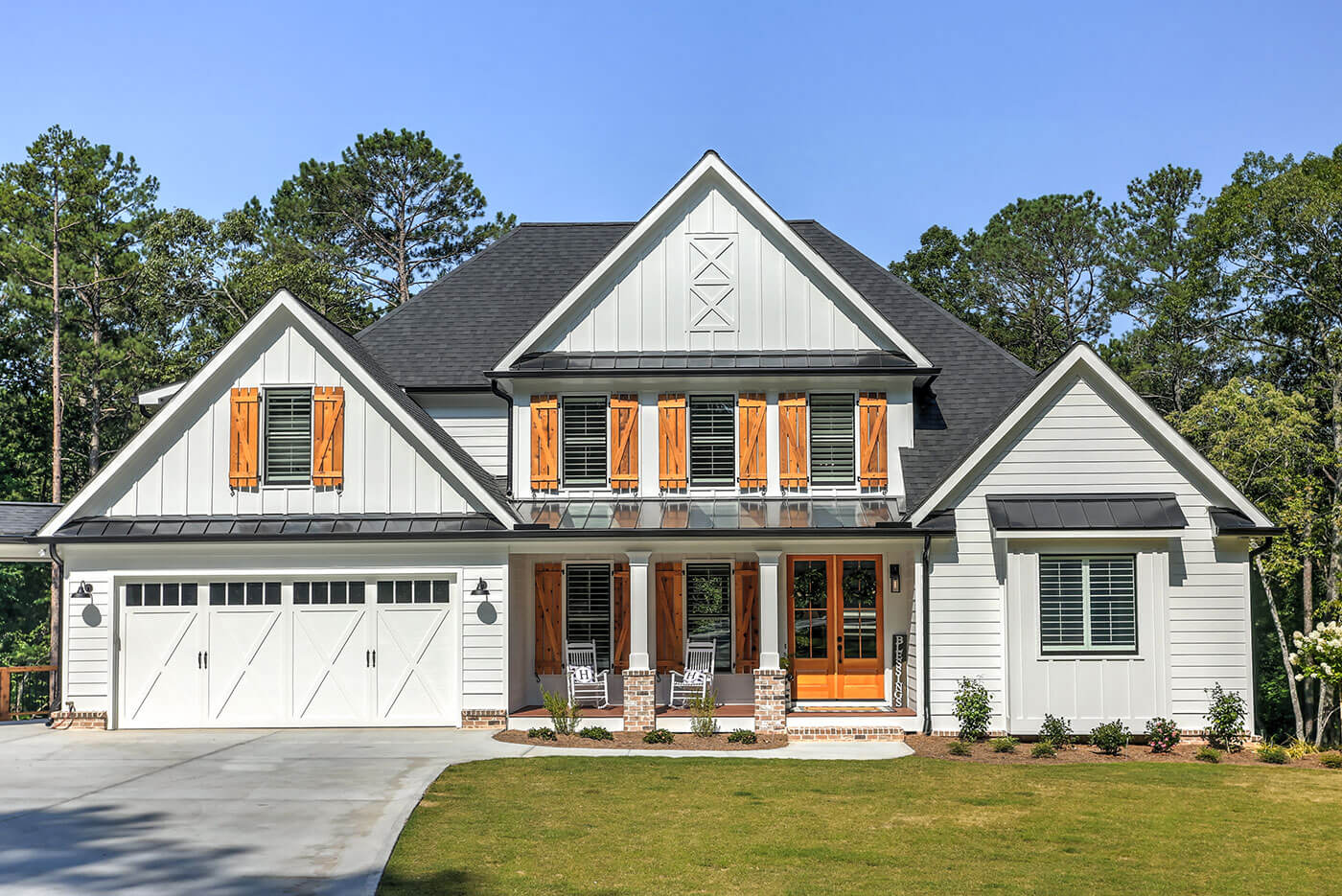 How do you get exactly what you want in a home? Build a custom home from scratch, of course! That's just what the Hogan family did on 15 acres of woodland in northwestern Georgia. Come tour this custom modern farmhouse and find out about it!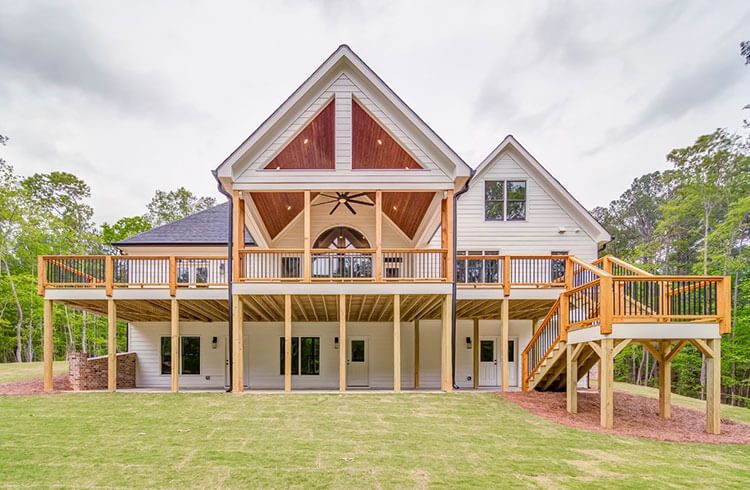 American Farmhouse Style: Tell us a little bit about the house.
Mandy: Our custom modern farmhouse sits on 15 acres of wooded land with a small creek. The main house is approximately 4,000 square feet with a finished basement. It has 5 bedrooms, 3.5 baths, a music room, media room, and 2 laundry rooms. We incorporated lots of brick and wood accents throughout the custom modern farmhouse.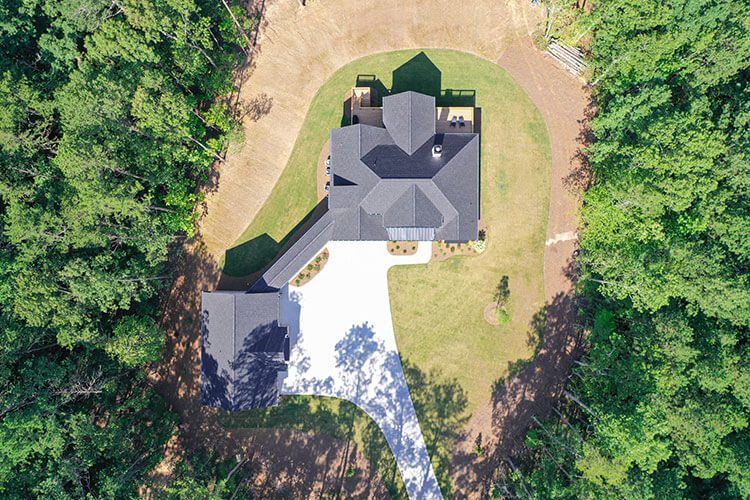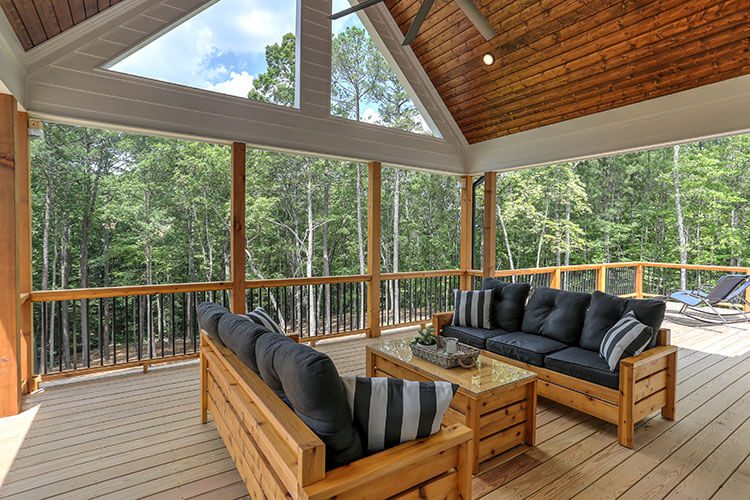 We also built a 1,500 square foot detached garage that is connected to the main house with a beautiful breezeway. The detached garage has three separate bays with 12 foot ceilings. The back deck on the house extends almost the entire length with the enter section covered with a vaulted, wood ceiling. The deck is trimmed with cedar railings and posts with matching cedar furniture.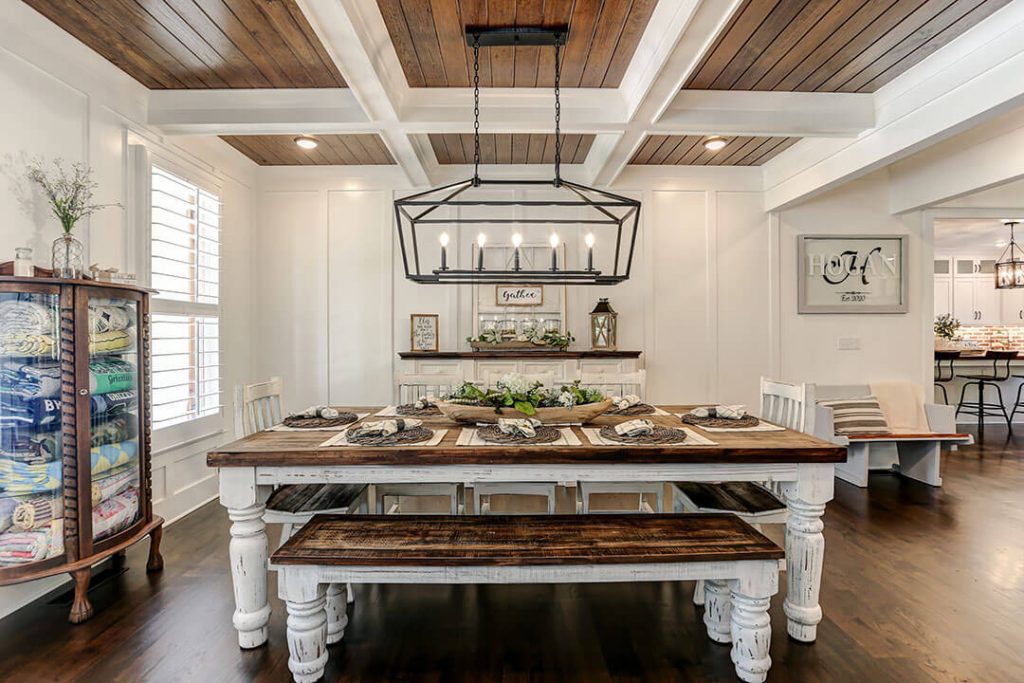 AFS: When was the custom modern farmhouse finished? How long did the build process take?
Mandy: Our home was finished in April 2020, and it took approximately 8 months from start to finish.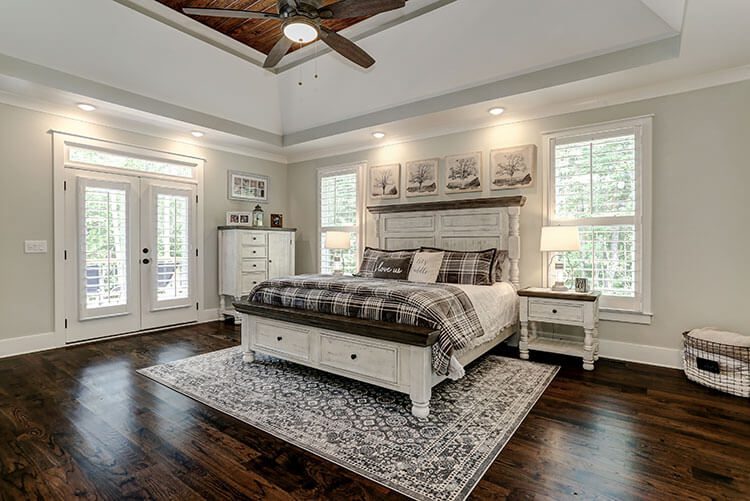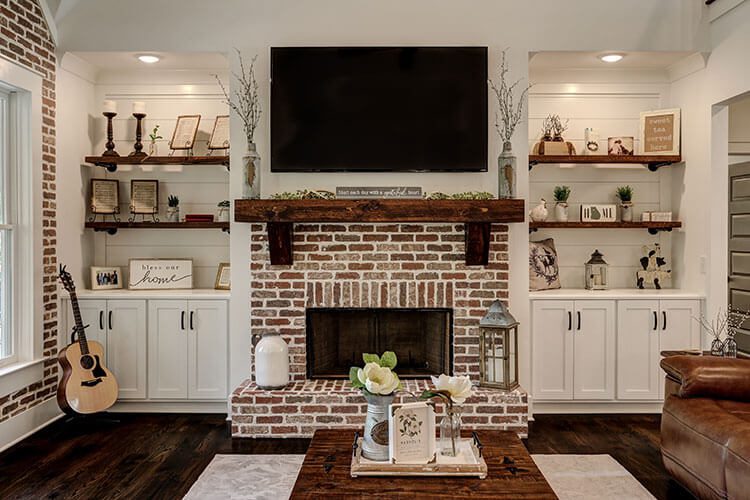 AFS: What was your vision for the home when you started?
Mandy: We worked closely with our builder Woodall Construction and built our version of a modern farmhouse. We wanted a custom modern farmhouse, but not too modern or not too rustic. We wanted a timeless, warm and inviting home.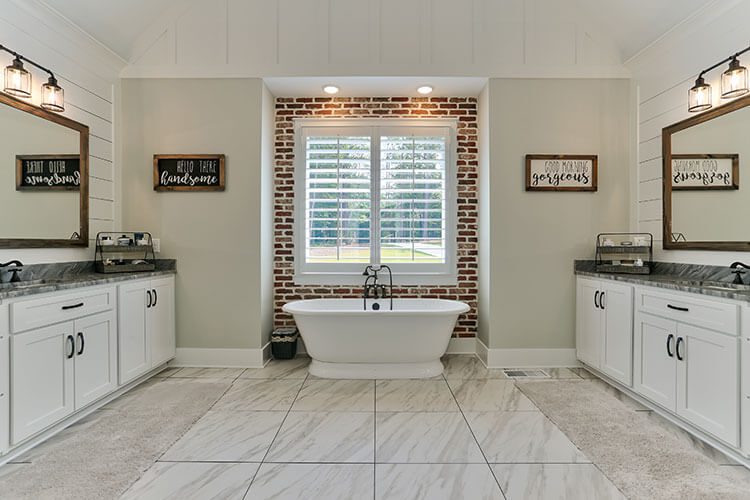 AFS: What was the hardest part of the build process?
Mandy: Picking out all of the fixtures, colors, tiles, brick and countertops…and making sure they all complemented each other!
See Also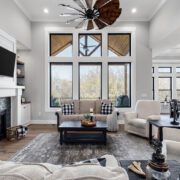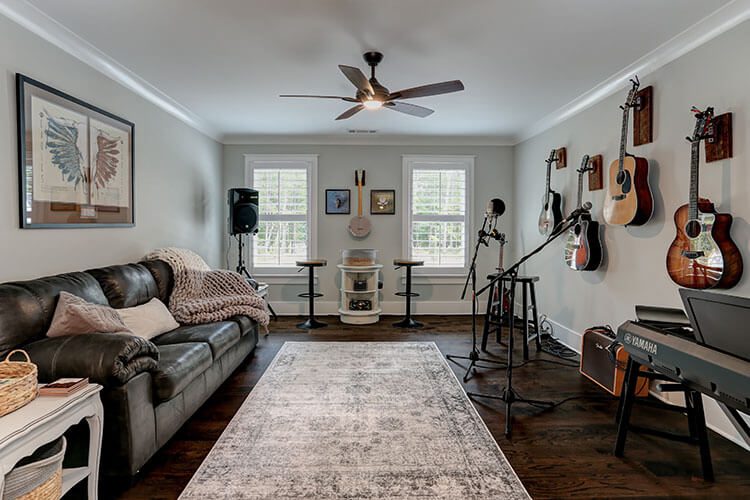 AFS: How would you describe your home's style?
Mandy: We would describe our home as a present-day farmhouse. We didn't really want this home to look modern, but just new and fresh, more like how a farmhouse would be built today. We tried to accomplish this by including several brick and wood accents throughout the house, inside and outside. For instance, the bright-white house with black window trim alone would have been too modern, so we added natural cedar shutters, a wooden front door, and barn-style "Xs" on the garage door, along with some metal roofing. We used a lot of stained wood accents throughout the inside of the home as well.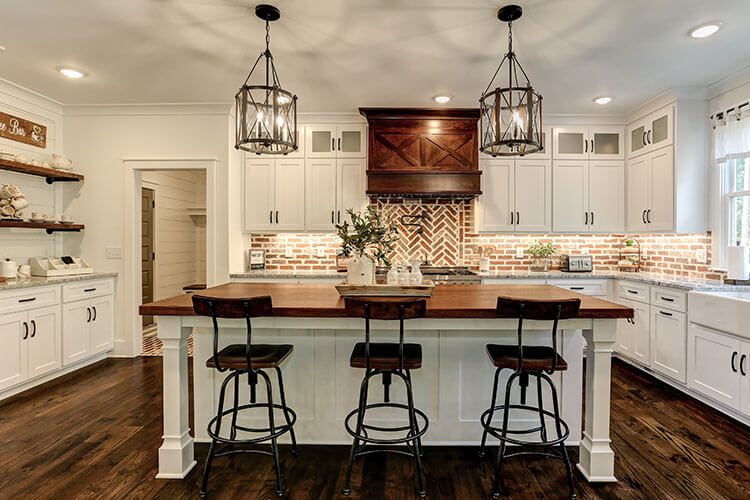 AFS: What's your favorite room in the house and why?
Mandy: The kitchen is our favorite room because it incorporates an old fashioned style of brick, shiplap, wood countertop, farmhouse sink and other warm features.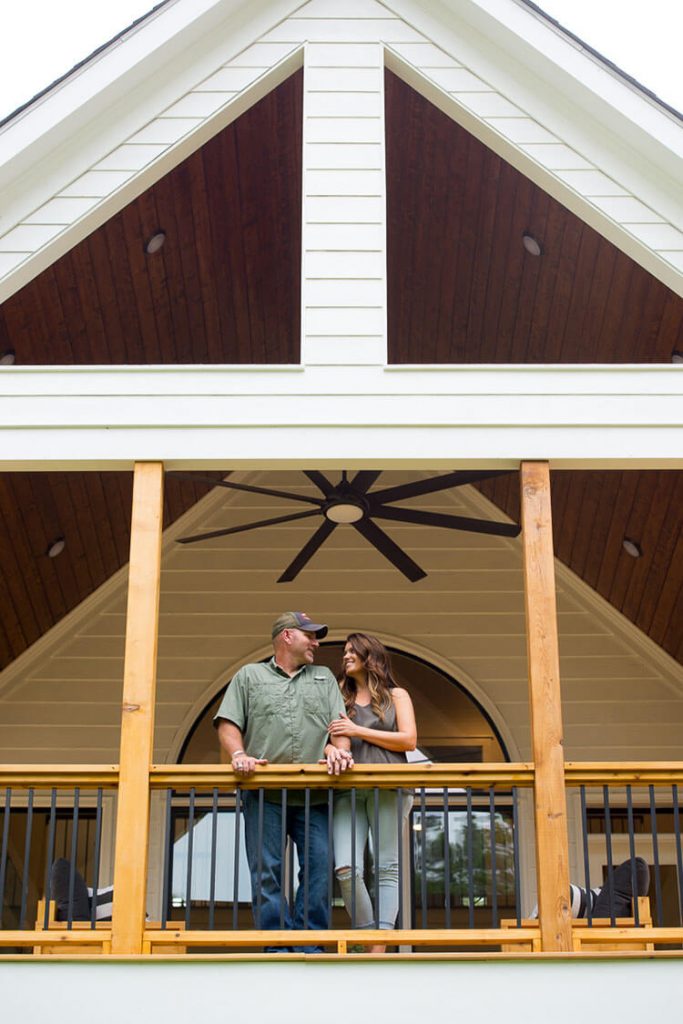 ---
You can follow Mandy on Instagram @ourmodernfarmhouse2020. Of course, don't forget to follow us on Instagram, Facebook and Pinterest for your daily dose of farmhouse inspiration!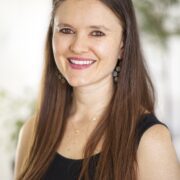 Victoria Van Vlear
Victoria is the brand leader and editor of American Farmhouse Style. She shapes the editorial direction of the brand, both through the physical magazine and digitally on the brand's website and social media platforms. As a home décor enthusiast and DIYer herself, she knows what a little paint and patience can do for a room! Victoria is also a wife and mom to two little ones: one on earth and one in heaven. With any (not so spare) time, she devours book and dabbles in fiction writing. You can follow her on Instagram @victoriavanvlear