Why is the Red Barn so Iconic?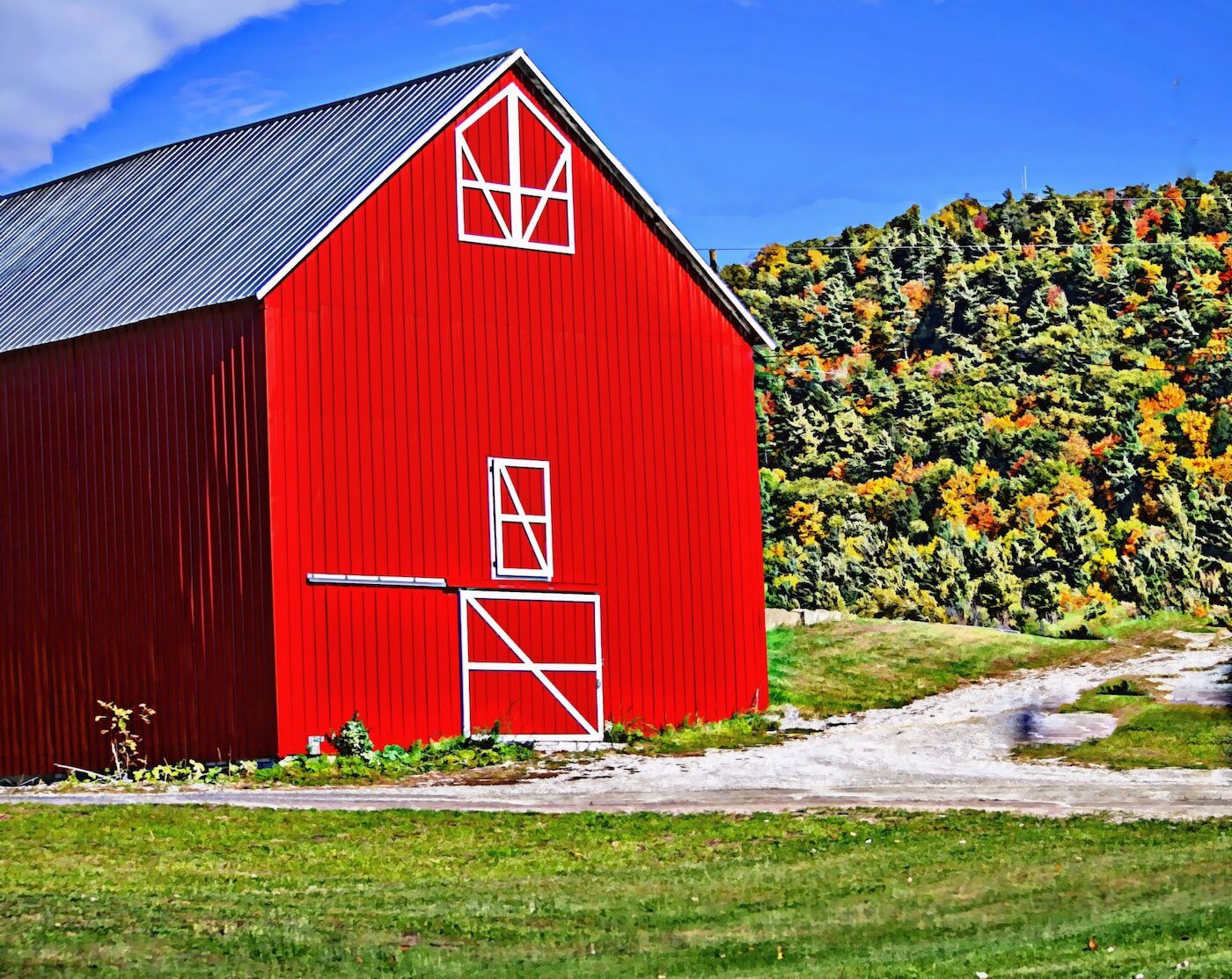 Image by Linnaea Mallette
Driving through rural areas of America, they're impossible to miss. The distinctive red barn can be seen highlighted against the green backdrop of rolling fields or silhouetted on a clear blue sky. But why is it so iconic to the American countryside?
Red Barn History
The red barn's history is more about protection than popularity. Hundreds of years ago in Sweden, farmers needed to protect their wood barns from fungi, moss and rot. After trial an error they developed a solution. The traditional milk paint ingredients of milk and lime were mixed with linseed oil to seal the barn's wood, protecting it from the elements and resulting in an orange-red shade. They then mixed the same milk paint with rust, otherwise known as ferric oxide, to inhibit the growth of organisms that attach to wood. The deeper red from the rust created a shade that is the precursor to the color most frequently seen today.
The cost-effective materials were easy for rural farmers to obtain. Yet the entire process was labor intensive, mixing the materials together in a cart similar to a wheelbarrow then applying with large brushes.
Even today, if you drive through the Swedish countryside, you'll see the iconic red barn that's so central to the American countryside too. They call this color falu red. The 1800s saw a large surge of Swedish immigrants to the US, and many settled to farm in the Mid West. They brought their red barn technique with them.
Necessity to Tradition
According to the Farmers' Almanac, red became an even more popular color of choice once paint was more readily available in the early 1900s. The dark shade also absorbs the sun's rays and keeps barns warmer during cold winter months.
The color is so distinctive that Sherwin Williams and Porter Paint have shades of red respectively named Red Barn and Barn Door. It's the shade of a Varathane stain, a calico fabric and a burlap. The iconic red barn is captured in art by Roy Lichtenstein, Ivan Albright and hundreds of others, and it's captured in children's play by Fisher Price and Melissa & Doug.
The red barn is an image that most people immediately recognize, and it's an image that has stood the test of time. The classic image celebrates America's the history of the farming community.
---
Want to learn about reclaimed wood? Head here! Of course, don't forget to follow us on Instagram, Facebook and Pinterest to get your daily dose of farmhouse inspiration!
Heather Lusk is a freelance writer who loves old houses, travel and history. Between dragging her family around the world, she's attempting to maintain a 120-year-old house in Zionsville, Indiana. She's written for Indy's Child, Tiny House Magazine and weekly newspaper the Current in Zionsville.