Down on the Georgia Farmhouse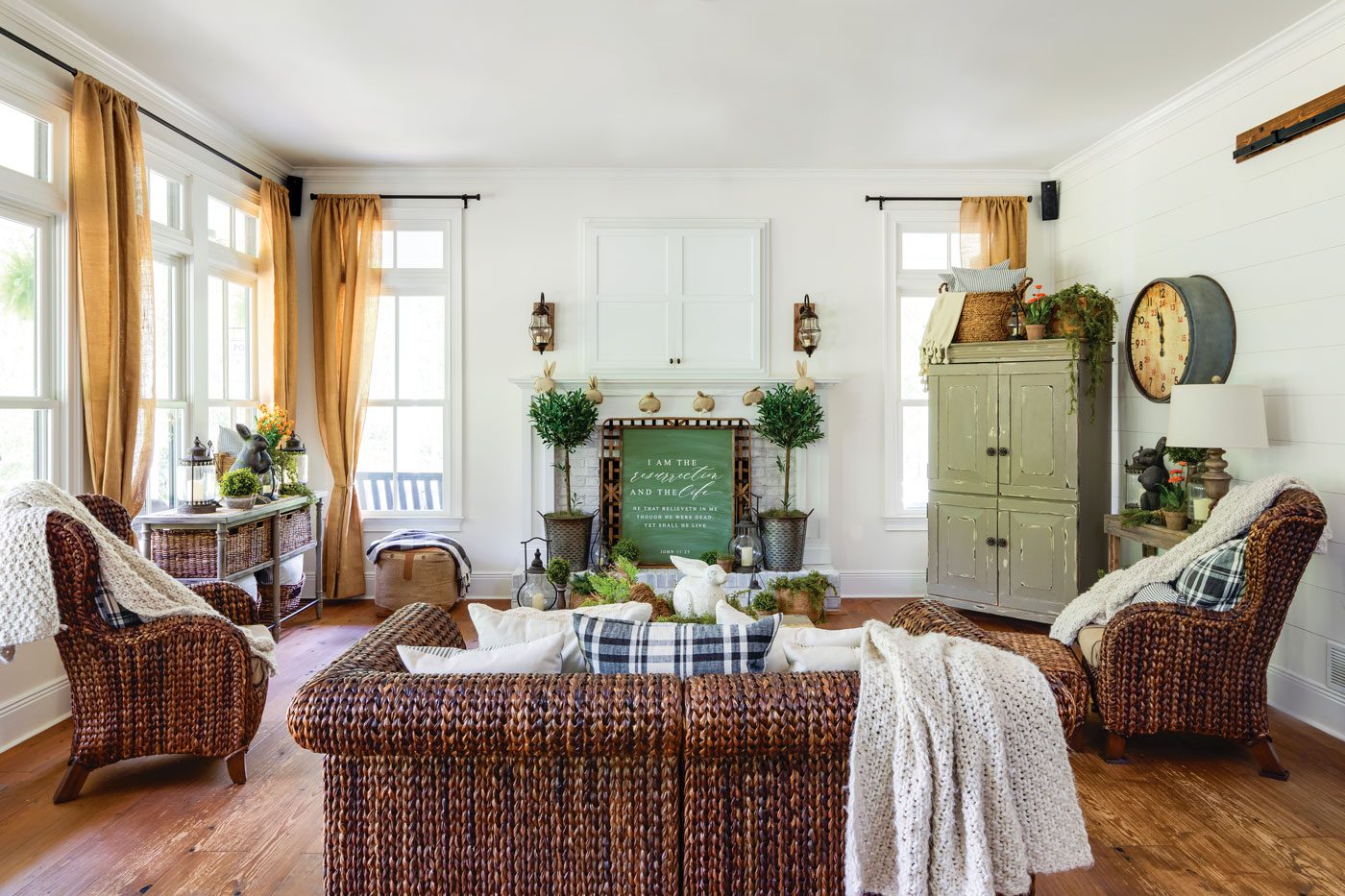 Jenny Zacharewicz is a force of nature. The homeschooling mother of eleven has spent the past seven years experiencing the ups and downs of life on Pumpkinvine Creek, a working goat Georgia farmhouse. (Since we first caught up with Jenny, she's moved down the road and now documents life at Brambleberry Acres Farm.) She documents it all on her interior décor and lifestyle blog and Instagram account. Her followers enjoy her posts, design style and vulnerability. "People are very drawn to the fact that I share my family, faith and struggles very openly in my stories," she says.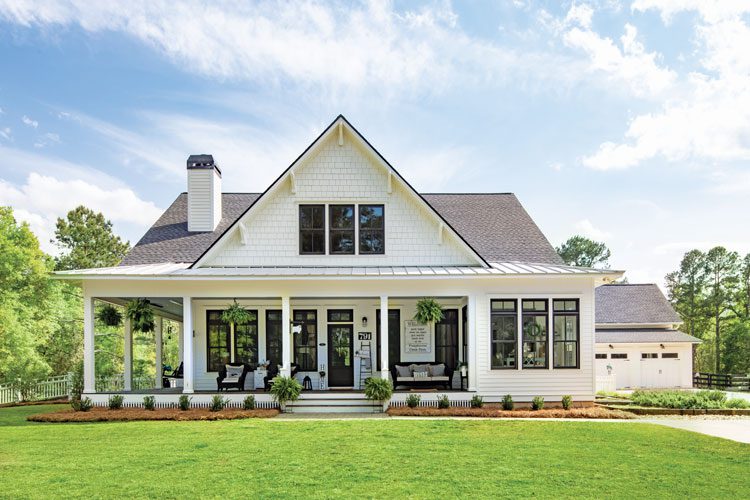 She is known for her rustic farmhouse designs and for using a signature shade of green paint throughout her home. "The shade is dubbed 'Jenny's Green' because it has no name and only I have a formula for the match," she says. While she never planned to have a career based on her interior décor, Jenny is happy to welcome everyone into her home, whether they physically cross the threshold or enjoy it on the Internet. Currently, spring has sprung in her Georgia farmhouse, and that means new life and new designs.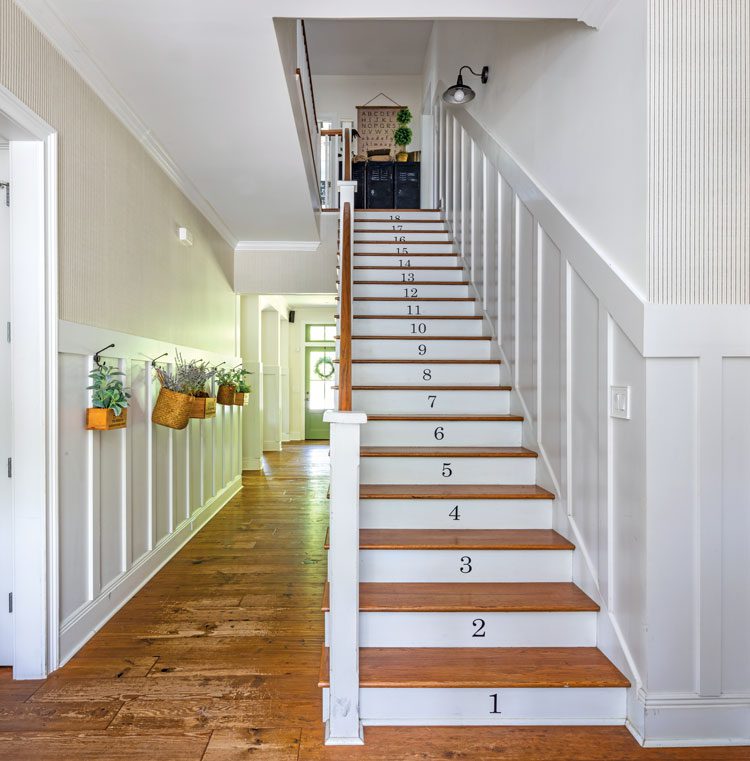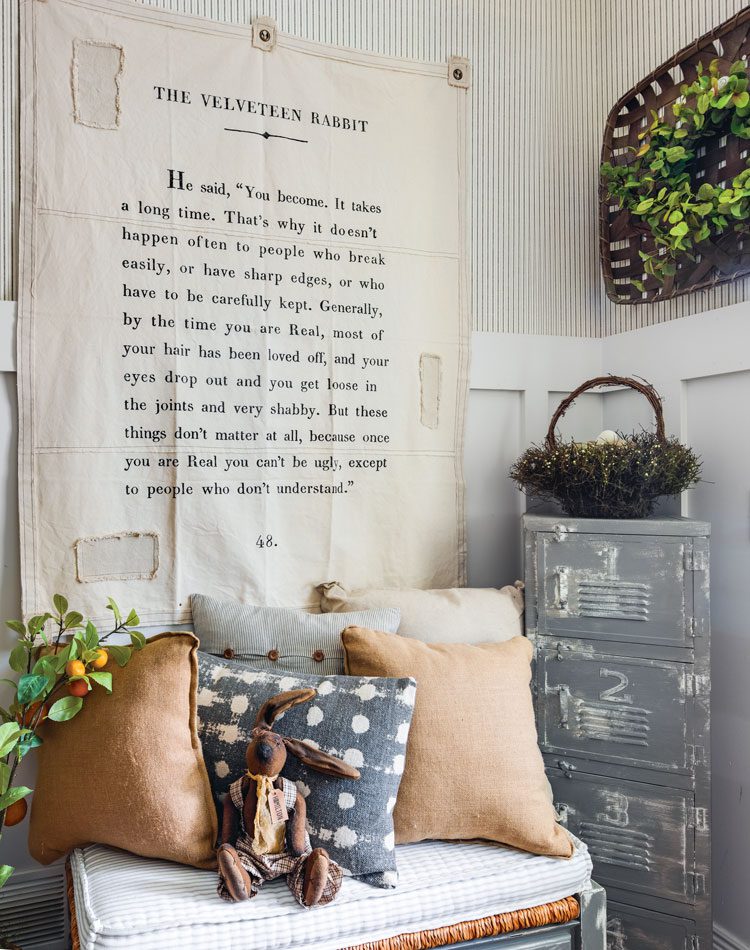 Farm to Table
In springtime, Jenny's signature green is particularly fitting. In the dining room, a wall of built-in cubbies features the shade and holds baskets for discreet storage and extra dishes. "We chose the green because we wanted to highlight the space as opposed to having it blend with the white walls," Jenny says. The green cubbies provide a stunning backdrop for the place where the family joins hands and breaks bread: a custom-built farm table with split benches on each side and distinct host chairs.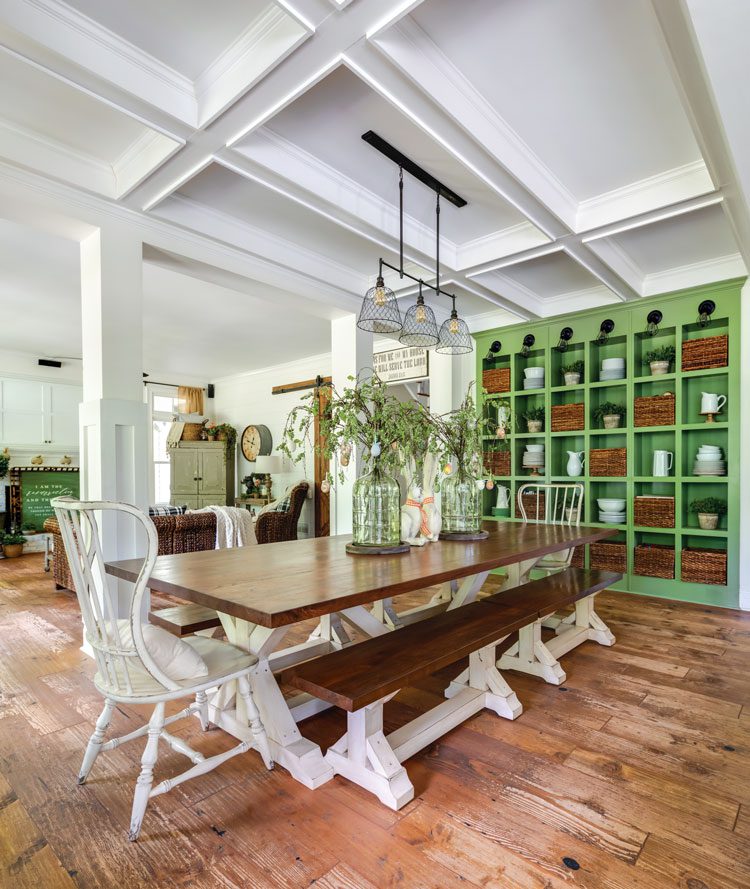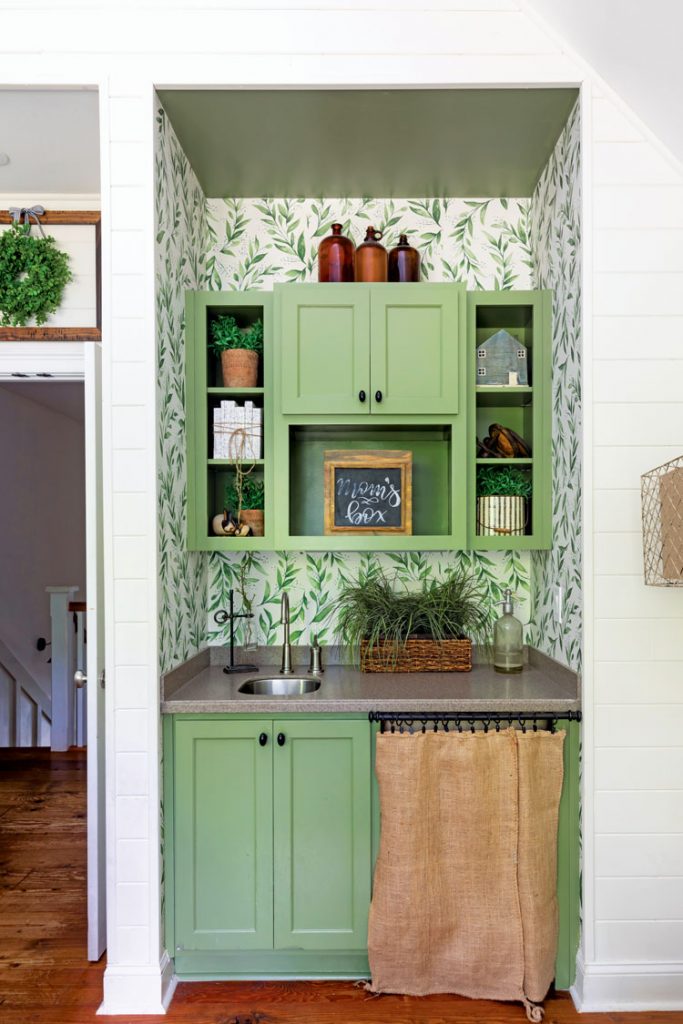 The dining area comfortably fits 16, which is important for the family's large brood. "The table is meant for the wear and tear that nine kids can bring," Jenny says. "All our furniture is huge, comfortable, durable and has a distressed finish." For spring, she styled a new centerpiece with large glass jars and added a wreath to their chalkboard sign. Everything is a family affair at the Georgia farmhouse, including home design, and Jenny's son hand-lettered the chalkboard sign with a seasonal sentiment.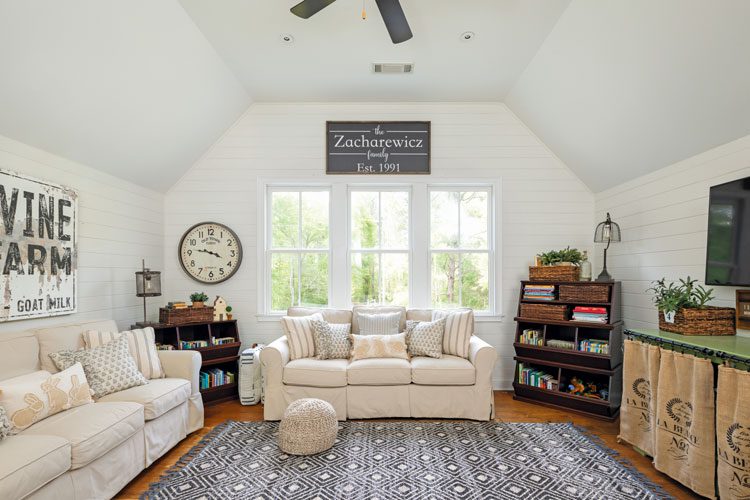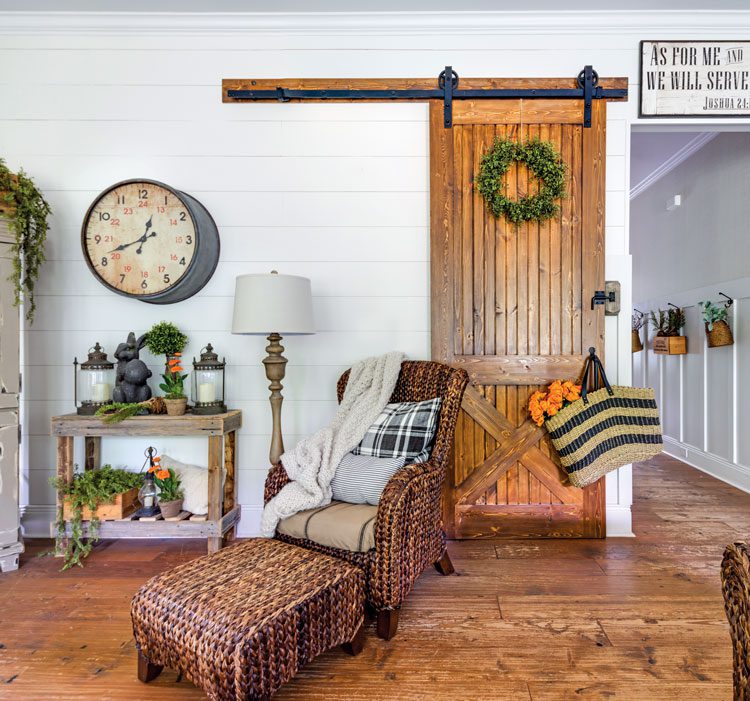 A Fashionable Farmhouse
A shiplap accent wall, whitewashed fireplace bricks and a sliding barn door transformed the living room, giving it a heartfelt Georgia farmhouse romance. Jenny chalk painted and distressed all the furniture herself and hung solid burlap curtains bound in twine over the long windows overlooking the property. "The burlap sheds like crazy," Jenny says, "but I love the look and texture that it adds to the space." She hung the curtains from a black curtain rod, saying that silver would feel too modern and that the black metal ties in with the other metallics found in the space. In lieu of a traditional fireplace screen, Jenny puts a huge tobacco basket on the hearth along with a sign. She switches the sign out depending on the season. "It's a quick and easy way to pay homage to the time of year," she says. For a finishing touch, she set a tray on the coffee table and filled it with an abundance of greenery, bunnies and, of course, carrots.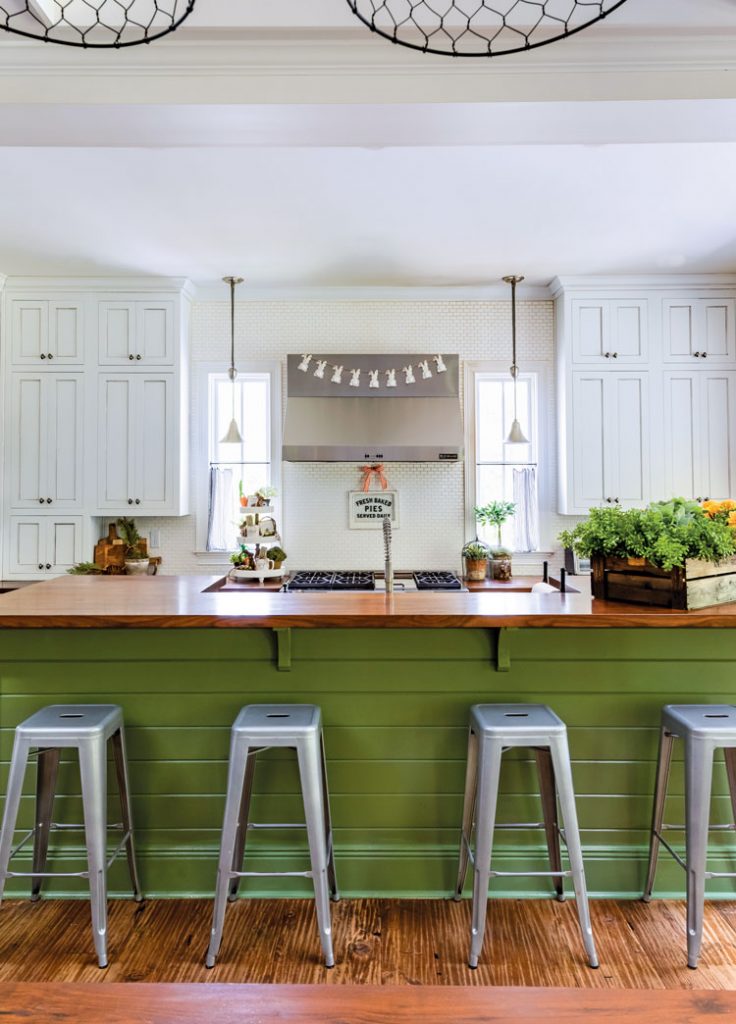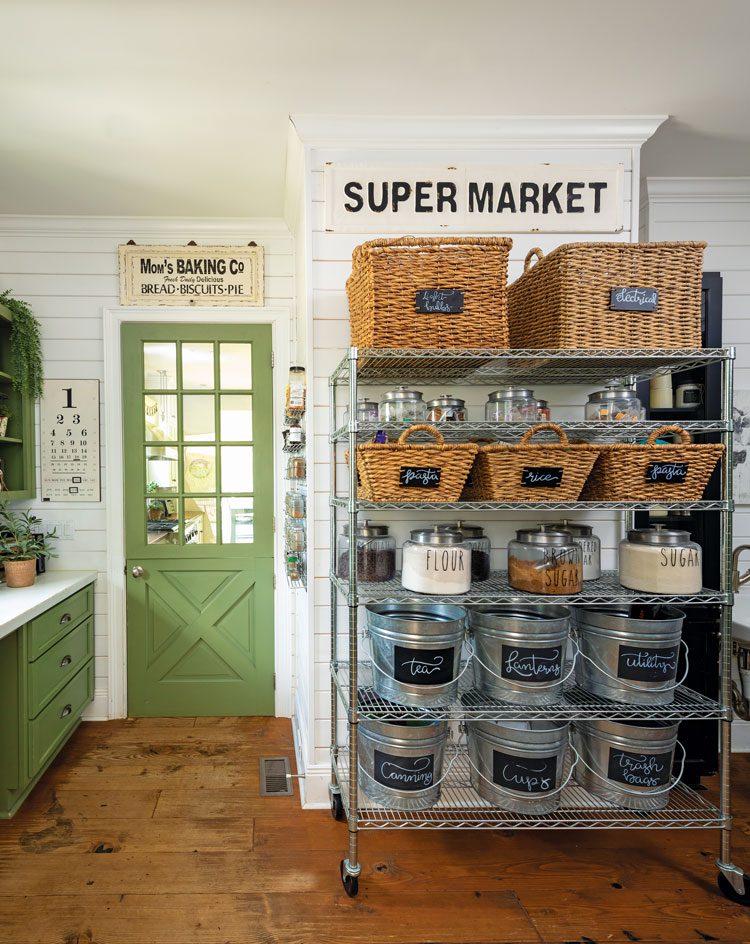 Magnificently Multipurpose
Most people try to keep their laundry room out of sight, but Jenny's Georgia farmhouse laundry bleeds into an office and pantry space, and has a following of its own on social media. "I started my account back in April 2008 without any plans for it to become so huge," she says. "However, it grew quickly and one of the most popular images was my green laundry room. It was unique and colorful amid the trend of all-white interiors."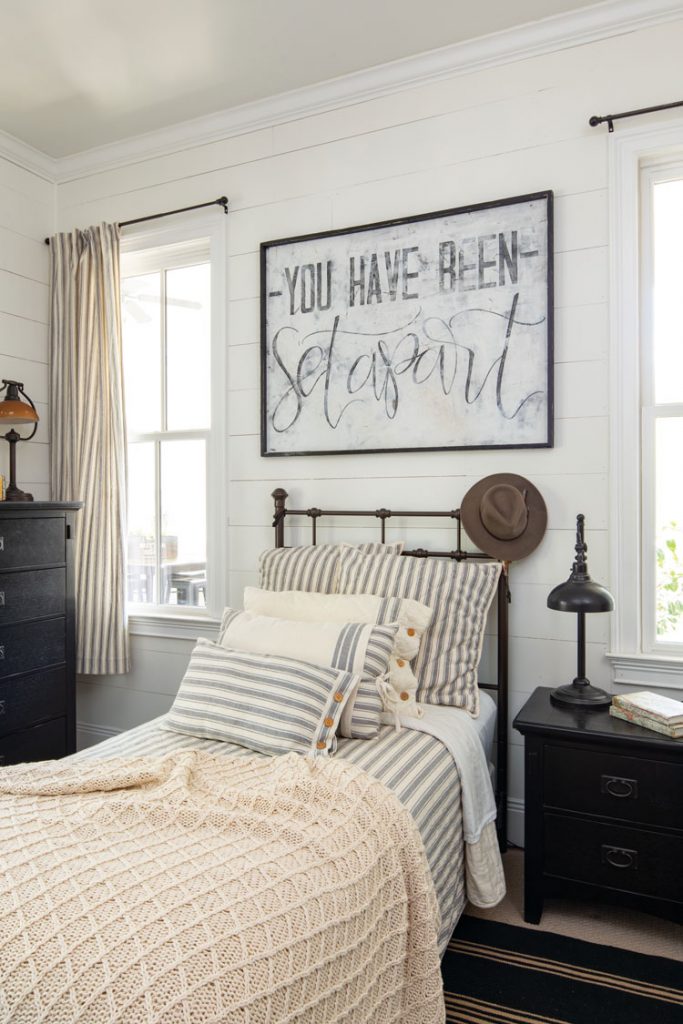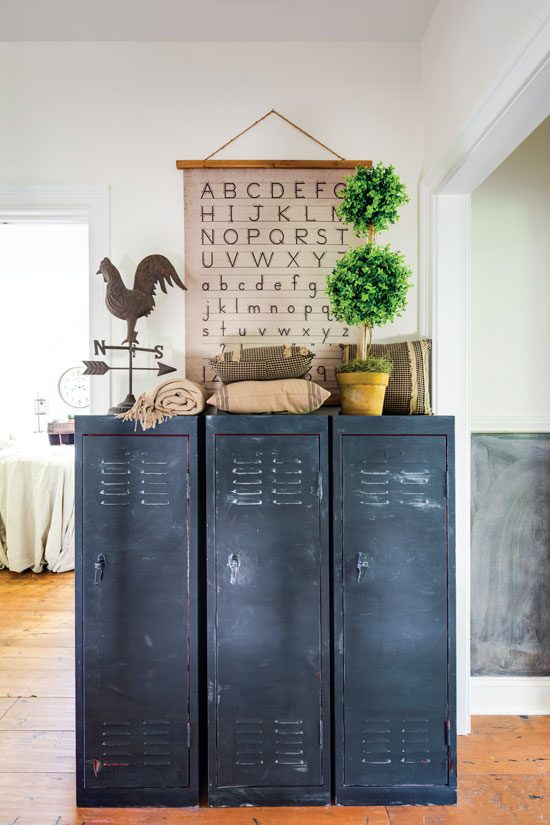 Pocket farm doors separate the laundry and the pantry, which is a functional fantasy for the large family, with a second oven, lots of cupboards, a counter for workspace, a laundry sink and a large rolling baker's rack. It's perfect for active life at the Georgia farmhouse. Buckets on the rolling rack hold practicalities like trash bags, flashlights and cups. For spring, Jenny does simple changes to the area that are artful and striking. "I switch out the hand towels, signs and greenery on the shelves," she says.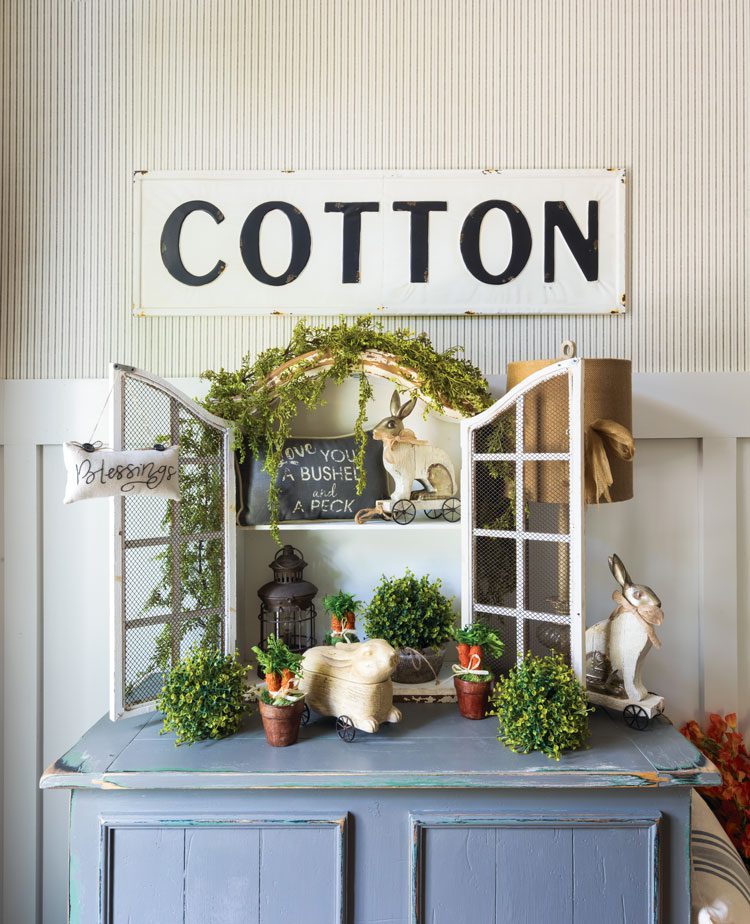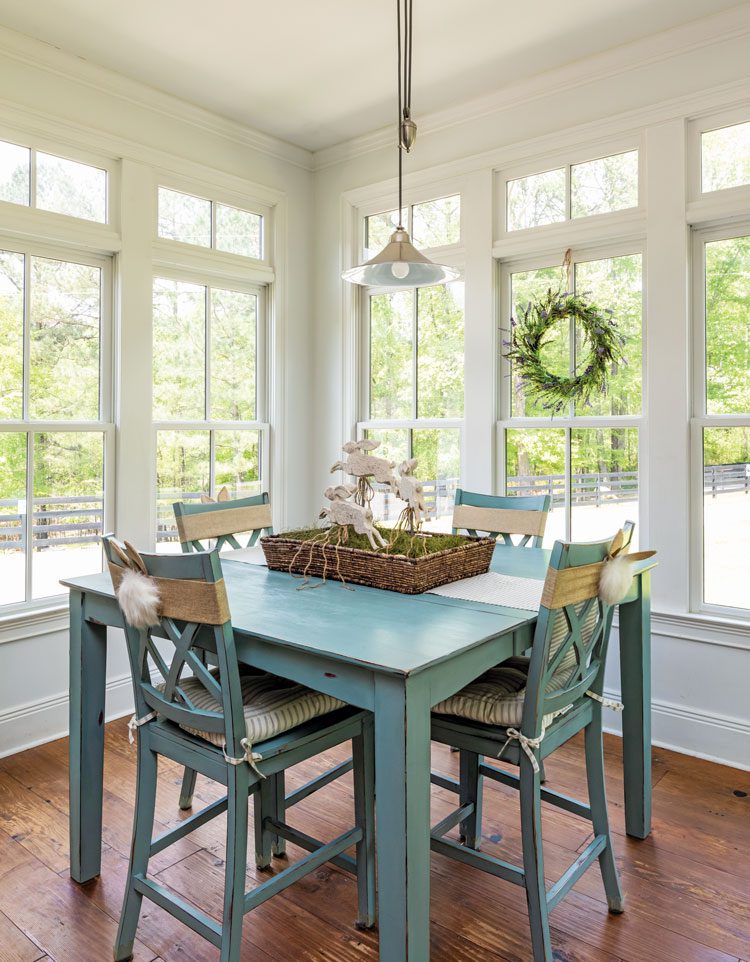 Spring descends on the farm, and Jenny is filled with reflective gratefulness for the new lives to come—baby chicks and goats—and for the lives that fill her Georgia farmhouse with laughter and love. As life brings its new chapters, her followers can be certain that her feed will be full of beauty, style and heart.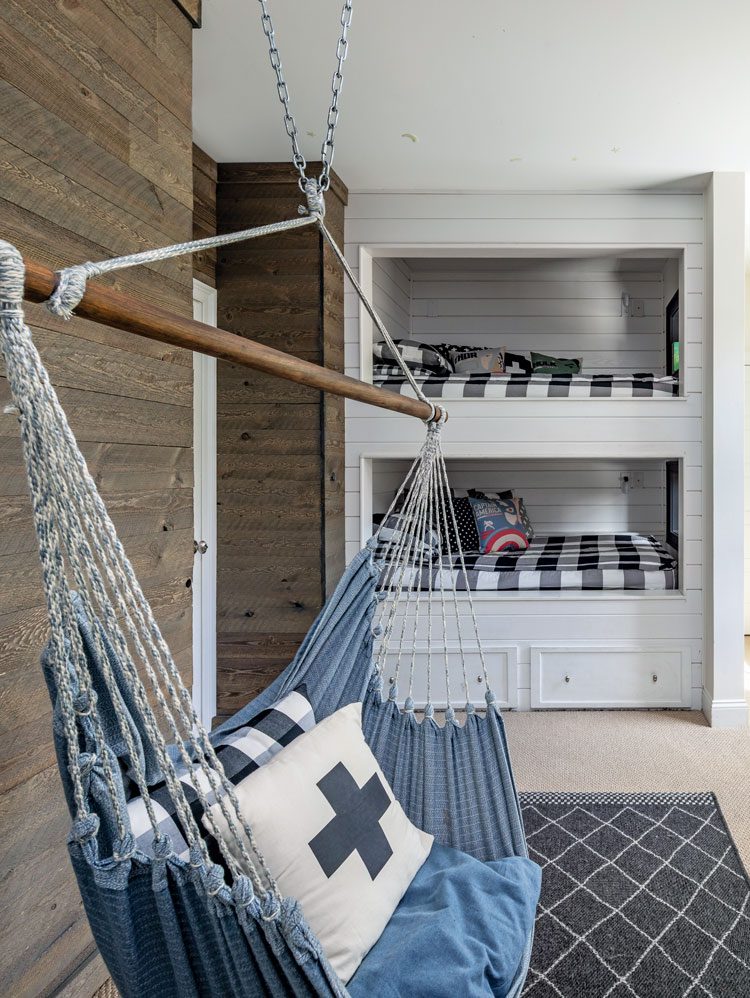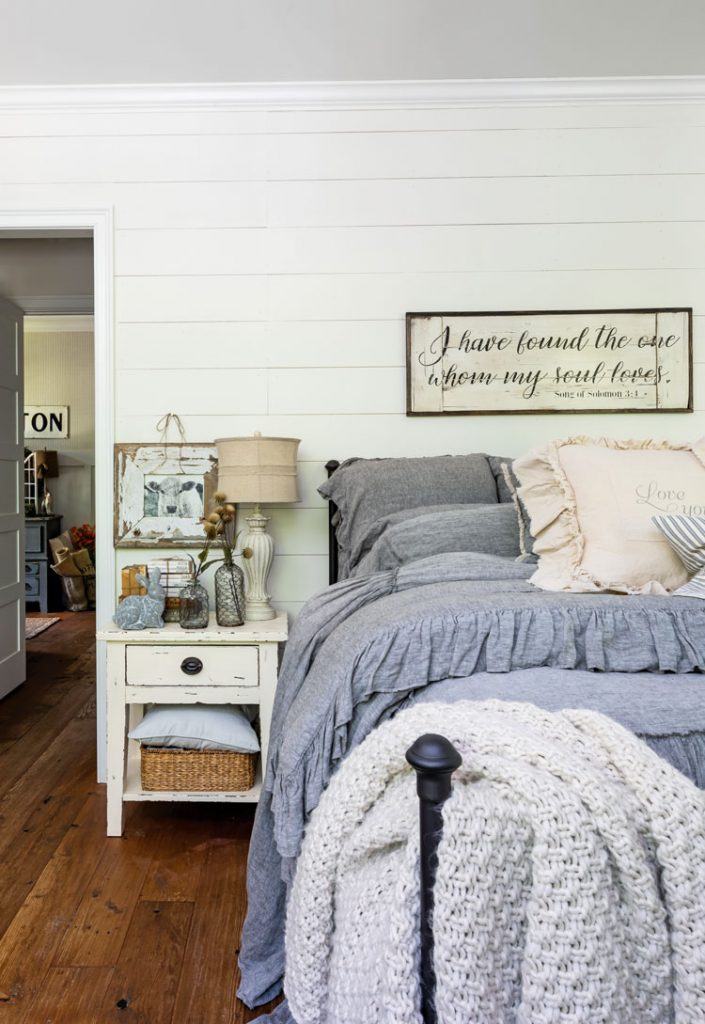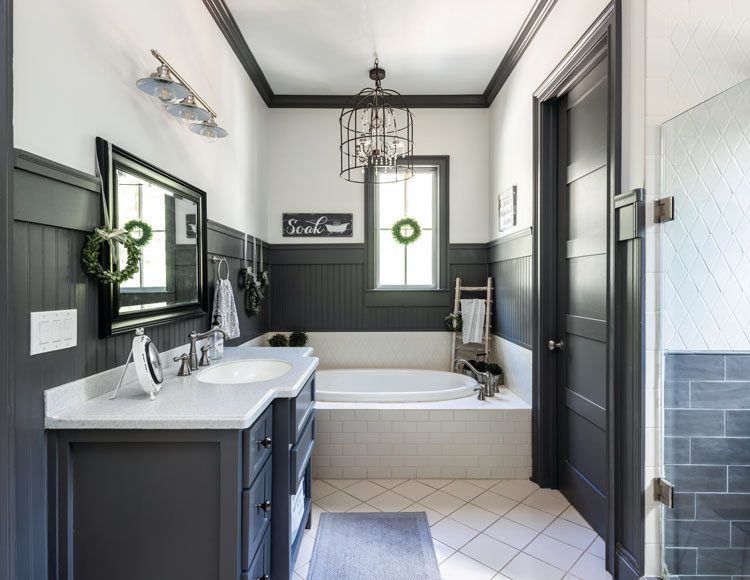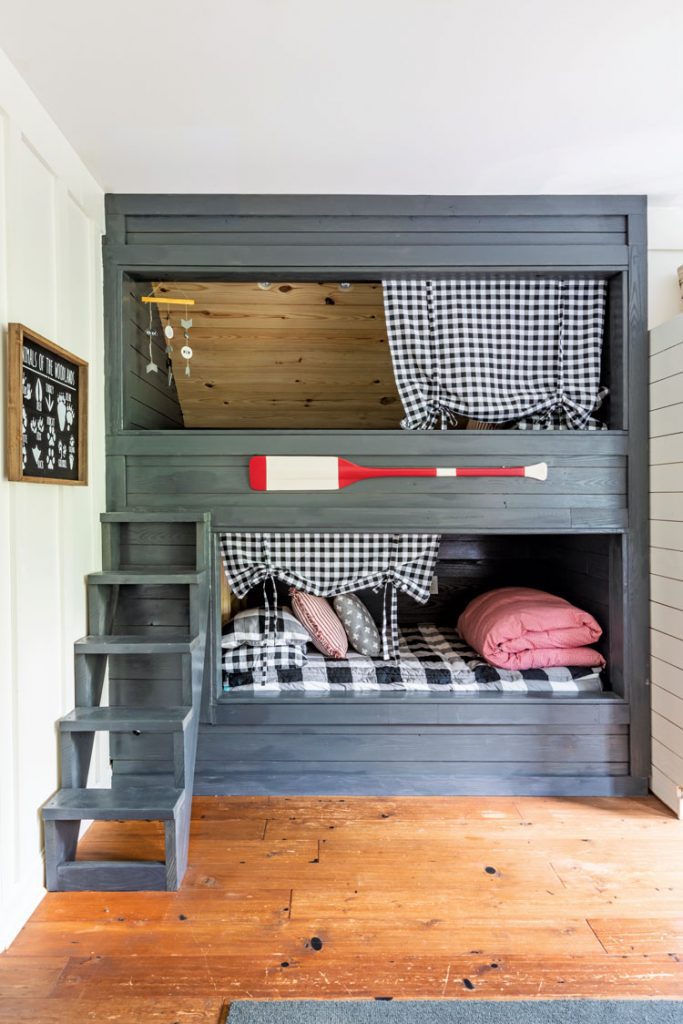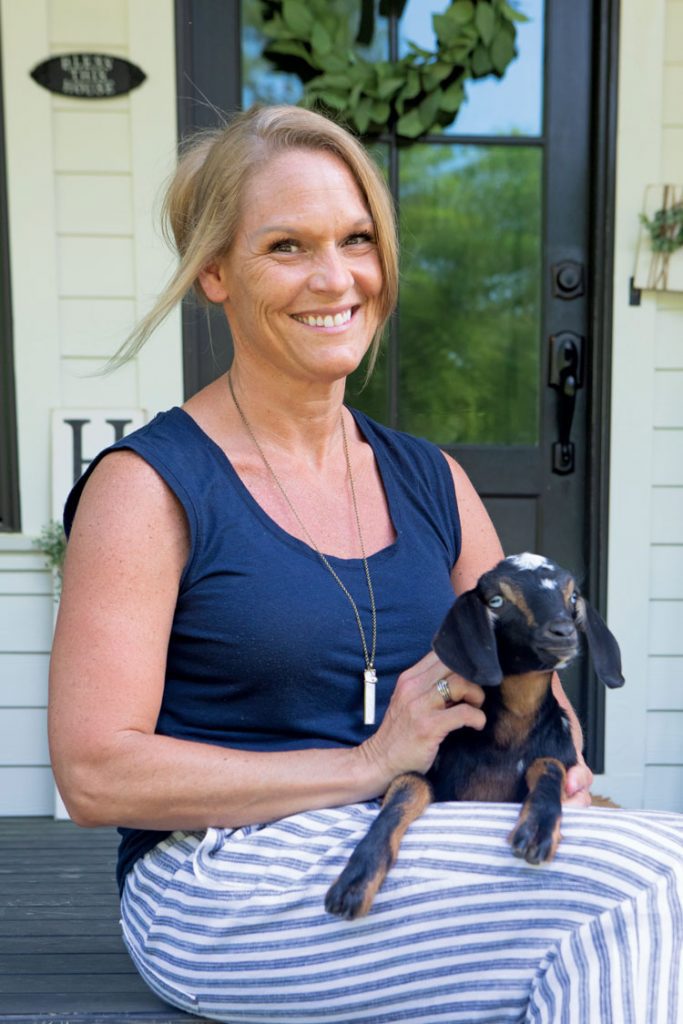 ---
Want to tour Jenny's outdoor porches? Head here! Follow her and her latest adventures at @biglittlefamilyfarmhouse. Of course, don't forget to follow us on Instagram, Facebook and Pinterest for your daily dose of farmhouse inspiration!