Repurposing an Upcycled Dresser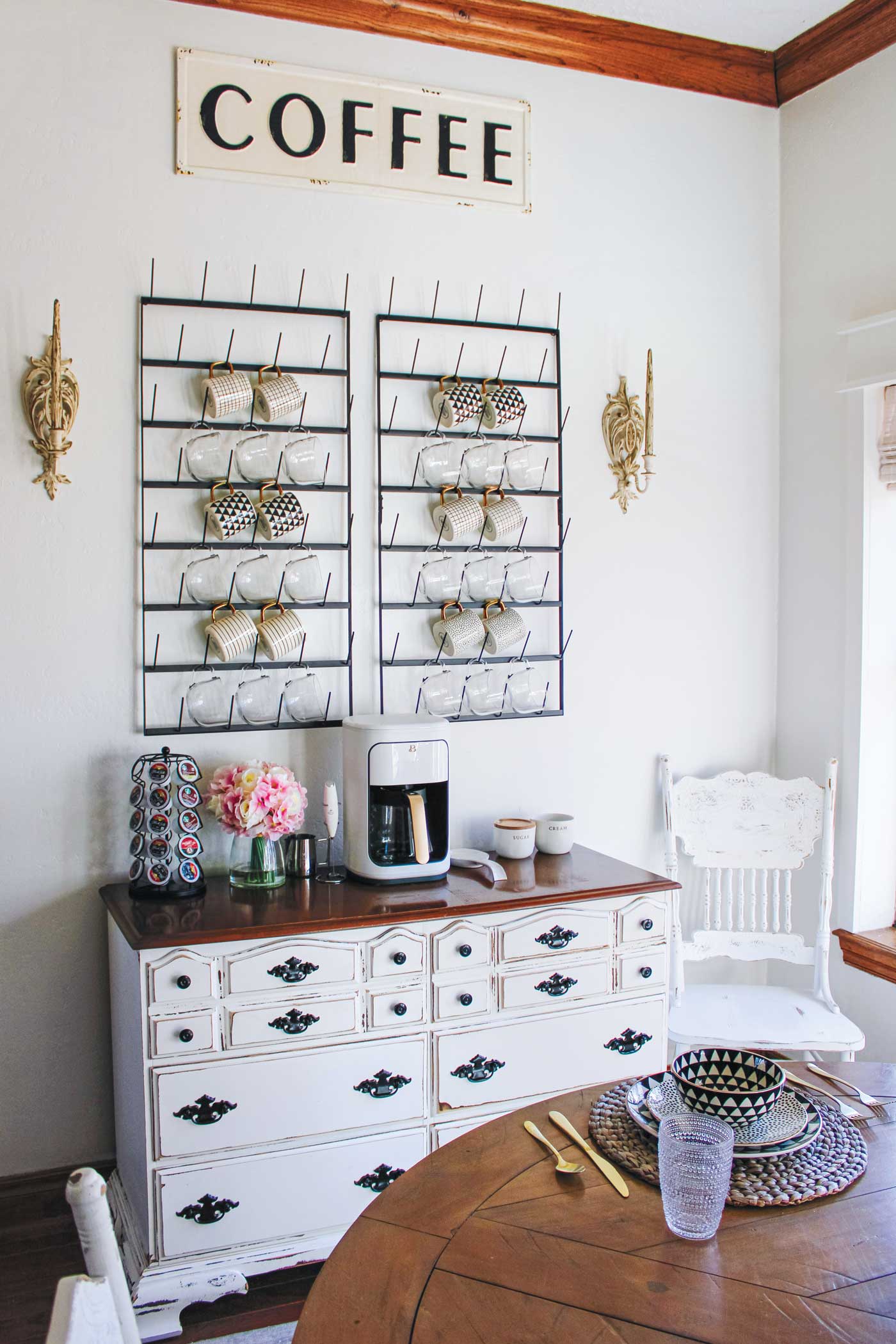 Make this easy swap to refresh a space and give new life to an old piece of furniture.
Editor's Note: Astra Spanbauer is an American Farmhouse Style Brand Ambassador! Today, she's sharing with us how to upcycle a dresser.
Sometimes a DIY project is as simple as repurposing a piece of furniture. Do you have an old dresser you need a new use for? They make perfect coffee bars. Here's how you can do it yourself.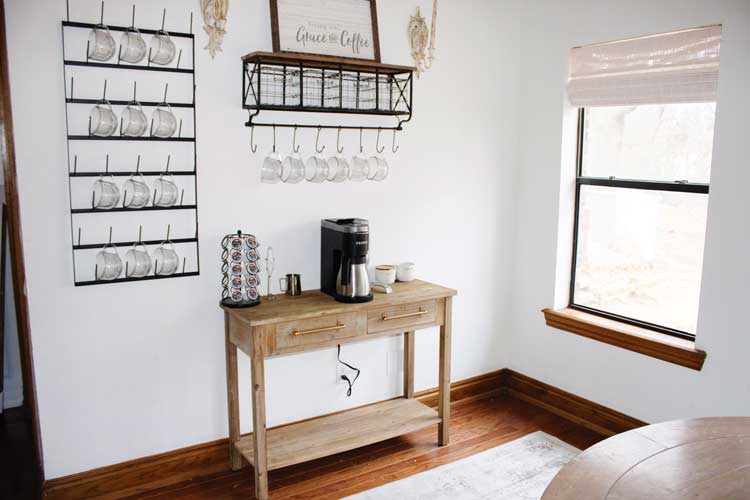 What You'll Need:
I was shopping one of my favorite local vintage shops in Oklahoma, Vintage Depot Shawnee, when this gorgeous vintage and upcycled dresser caught my attention. It had been painted, and perfectly matched my dining room hutch. I knew I needed it and had a pretty good idea what it's new purpose would be. This type of DIY doesn't require any building—just a vision for bringing new life to an old piece.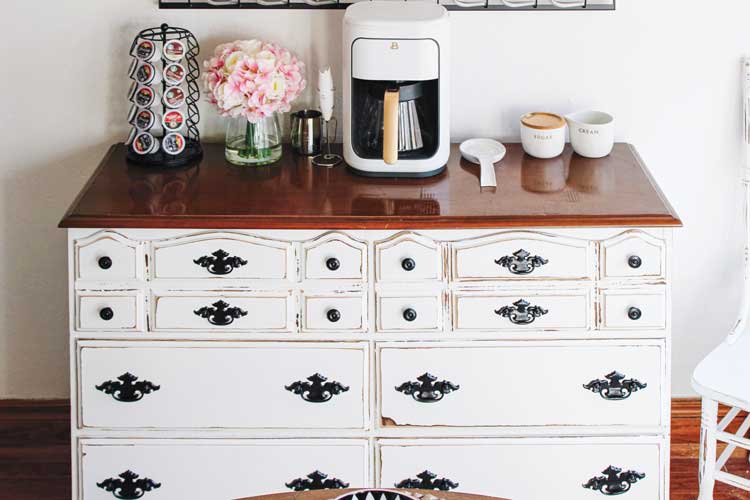 What You'll Do
If you already have a piece you want to use, give it a good clean and fill in any holes or repair damage. If you're painting your upcycled dresser, chalk paint works great on wood pieces. Do some research first to make sure you're using the best product for your piece. I decided to change my coffee bar setup a little, so I needed to remove the wall art that was currently hanging, fill in the holes and paint to prepare for the new dresser.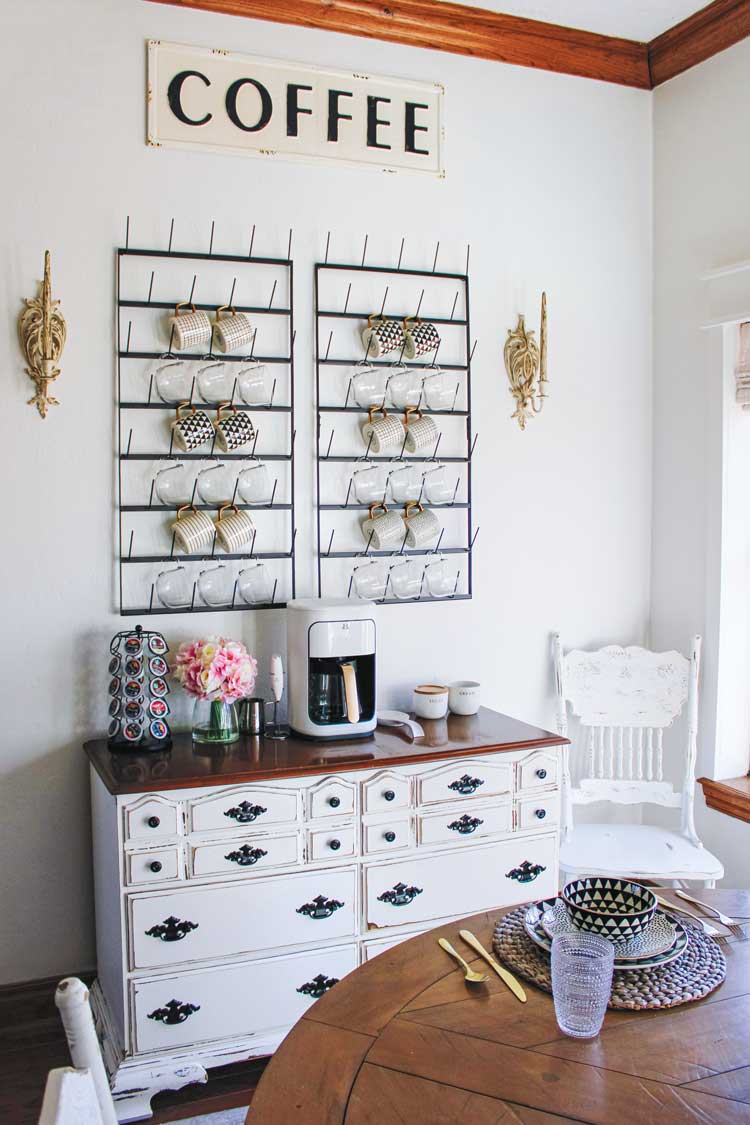 Finishing Touches
I doubled up on my "Cups for Days" metal racks from Décor Steals, and centered them above the coffee bar. I also added a mixture of clear glass cappuccino mugs and patterned mugs above the upcycled dresser. My vintage sconces went back on either side of the racks, as they were my grandmother's, and I love the charm they bring to this space. I love incorporating a little bit of old with a little bit of new. And there you have it: a beautiful, functional coffee bar.
---
Astra Spanbauer @AtHomewithAstra was our 2022 Brand Ambassador. See more of her home and inspiring DIY Projects such as this Upcycled Farmhouse Desk. Of course, don't forget to follow us on Instagram, Facebook and Pinterest for your daily dose of farmhouse inspiration!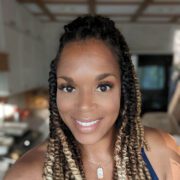 Astra Spanbauer
I am Astra, a mother of two and lover of DIY and interior design. I'm an Operations Manager, multi-state REALTOR® and DIY queen by day. I am also the 2022 Brand Ambassador for American Farmhouse Style magazine. I have found my passion in creating a home filled with love, one DIY at a time. Follow along with me at At Home With Astra.