Jadeite Dishware: A Collector's Guide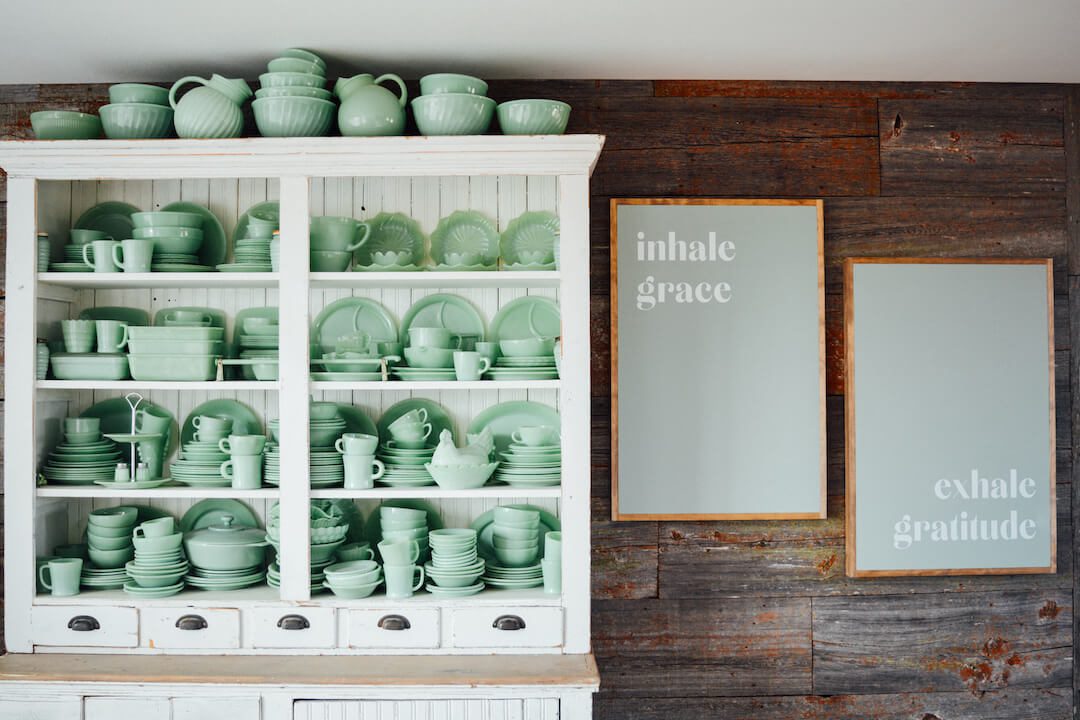 Jadeite dishware and serveware is a beautiful collectible that you can use to eat and serve, as well as display! Learn about where to find it and how to collect it.
I will never forget the first time I laid eyes on jadeite. The glorious green milk glass has grown to immense popularity in the last 30 years. I started collecting jadeite when I was 16 and I have never looked back! Let's dive into this fun collectible to learn more about it, where to find it and how to display it all.
What is Jadeite?
Jadeite was made by three different American companies at the height of its popularity, beginning in the Depression era. The McKee Glass Company was the first to release "jade glass" in 1930, and these pieces are easily distinguishable by their distinct "McK" on the bottom of their glassware.
Also Read: Collecting Marmalade Crocks
Shortly after this in 1932, McKee's rival company, the Jeannette Glass Company, began production of similar items such as mixing bowls, shakers, canisters, refrigerator dishes and juice reamers. Most Jeannette pieces are not marked, but are identifiable by the green glow they give off under a black light. McKee pieces also have this prominent green glow too, because they were made by adding uranium to the mixing process.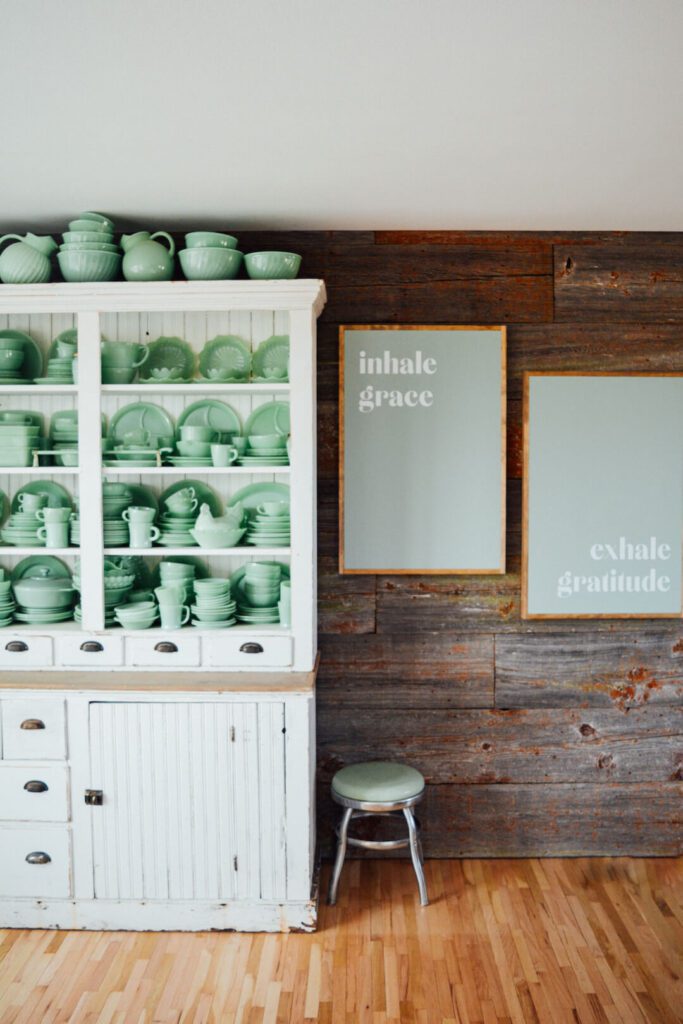 In 1945, jadeite dinnerware came onto the scene from the Anchor Hocking Fireking division. They produced dinnerware sets in several different lines. These patterns are known as Philbe, Alice, Jane Ray, Charm, and Restaurant Ware. Most Fireking jadeite is marked with a variation of the Fireking logo somewhere on each piece. Fireking jadeite does not glow green under a black light.
Today, reproduction jadeite is common, with home décor celebrities such as Joanna Gaines, Ree Drummonds and Martha Stewart all creating their own spin on jadeite. I personally love to collect these pieces as well, because they're inexpensive and perfect for everyday use!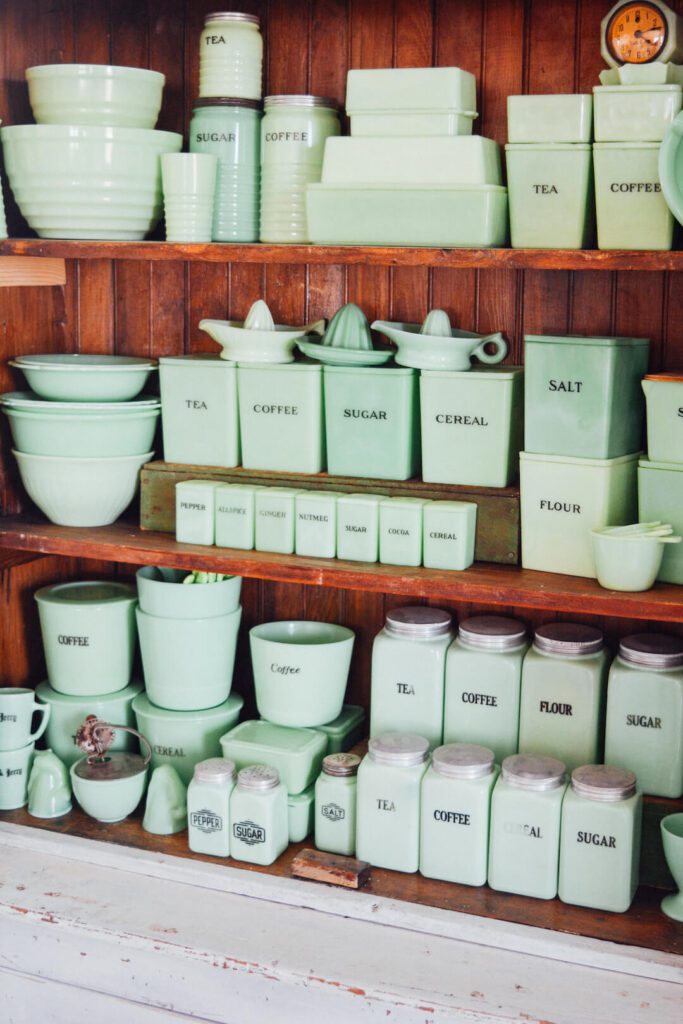 Where Can You Find Jadeite?
You can find jadeite everywhere, although it is becoming more and more rare because of its popularity. I've found pieces at garage sales, flea markets, antique shops, estate sales and auctions. Once I even found a few jadeite plates in a junk pile! Oftentimes eBay and Etsy are great sources for hard-to-find pieces. The value is affected by the quality of the piece—no chips, cracks or flea bites, but also the rarity of the item. Investing in a jadeite collectors' book such as Jadeite, An Identification & Price Guide by Joe Keller and David Ross, is a useful tool in identifying and valuing different pieces.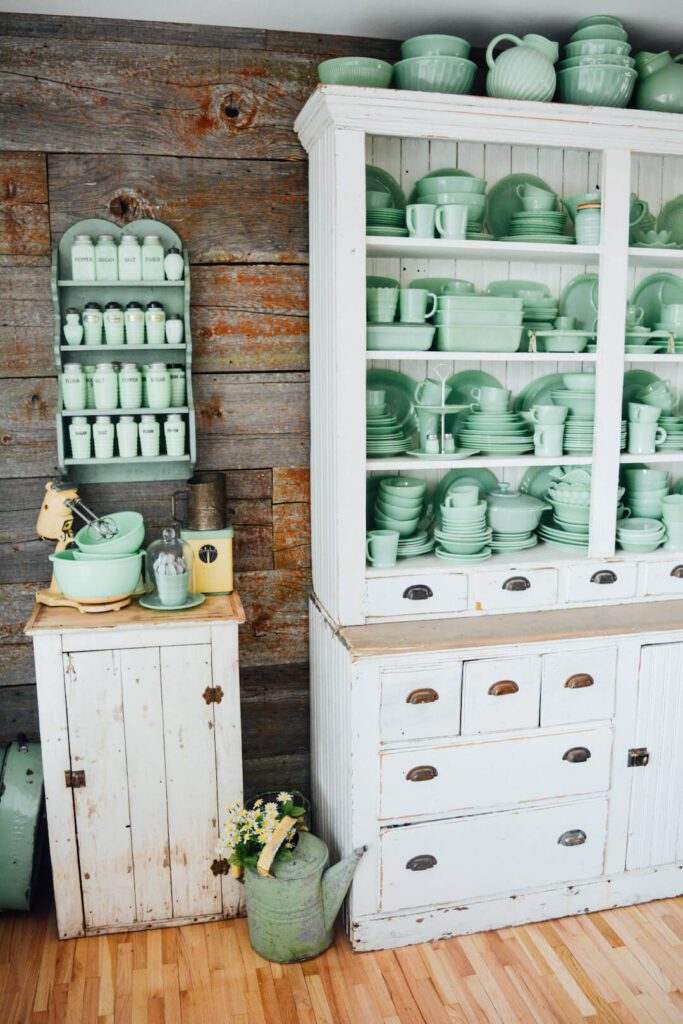 How Can You Use Jadeite?
Jadeite is truly the perfect glassware for every holiday. Halloween, Christmas, Valentine's Day, Easter—you name it! Many of my Depression-era pieces I use just for display, but my Fireking jadeite is often the centerpiece for our holiday meals. The next time you see that glowing, green hue, it may just be the start to a lifelong collection!
3 Tips For Displaying Jadeite In Your Home
By Victoria Van Vlear
Use it as decor. The mint color of jadeite is so fun, and can stand out as part of the room's focal point! Try to find other good decor pieces that will match with your dishware, like Courtney did here with signs from Joyfully Said Signs. Sign art is a great place to start when pairing art with other pieces you have in your home.
Let it stand out. Don't hide your collection away behind doors—even if they're the glass doors of a china hutch. Instead, display them in an open cabinet so they're front and center to the decor of the room.
Go neutral. If you want your green glass to really stand out, use neutral tones around the rest of the room. In Courtney's dining room, it's just the jadeite and Joyfully Said Signs that have color. The rest of the room is subtle to make those few pieces pop.
---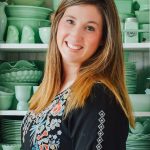 Courtney Vettel was the American Farmhouse Style 2021 Brand Ambassador, and the creator of The Vettel Farm, a vintage DIY, lifestyle, and home décor blog and Instagram. She is a proud wife, mom to three and high school counselor on the peaceful prairies of North Dakota. Vintage farmhouse is her expertise, where she shares all things creating, crafting, cooking, and collecting!
---
Love vintage and vintage-inspired collectibles? Don't miss Collecting Botanical Prints. Of course, don't forget to follow us on Instagram, Facebook and Pinterest for your daily dose of farmhouse inspiration!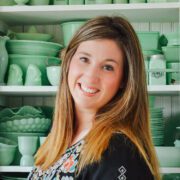 Courtney Vettel
Courtney Vettel is the creator of The Vettel Farm, a vintage, do-it-yourself, lifestyle and home décor blog. She is a proud wife, mother to three and high school counselor from the peaceful prairies of North Dakota. Vintage farmhouse is her expertise, where she shares all things creating, crafting, cooking, and collecting. She is well known for her many vintage collections, with her jadeite collection being the most extensive. She strives to create a home that gives new life to vintage treasures in unique ways. One of her greatest accomplishments has been the complete restoration of a historic 1880 Victorian home in Deadwood, South Dakota that they now operate as a bed & breakfast. Currently she is working on the restoration of a historic one-room school house that was moved to their farm. Follow along for more with Courtney at her blog at thevettelfarm.com. Instagram @thevettelfarm TikTok @thevettelfarm