Tour This Utah Historic Home in Spring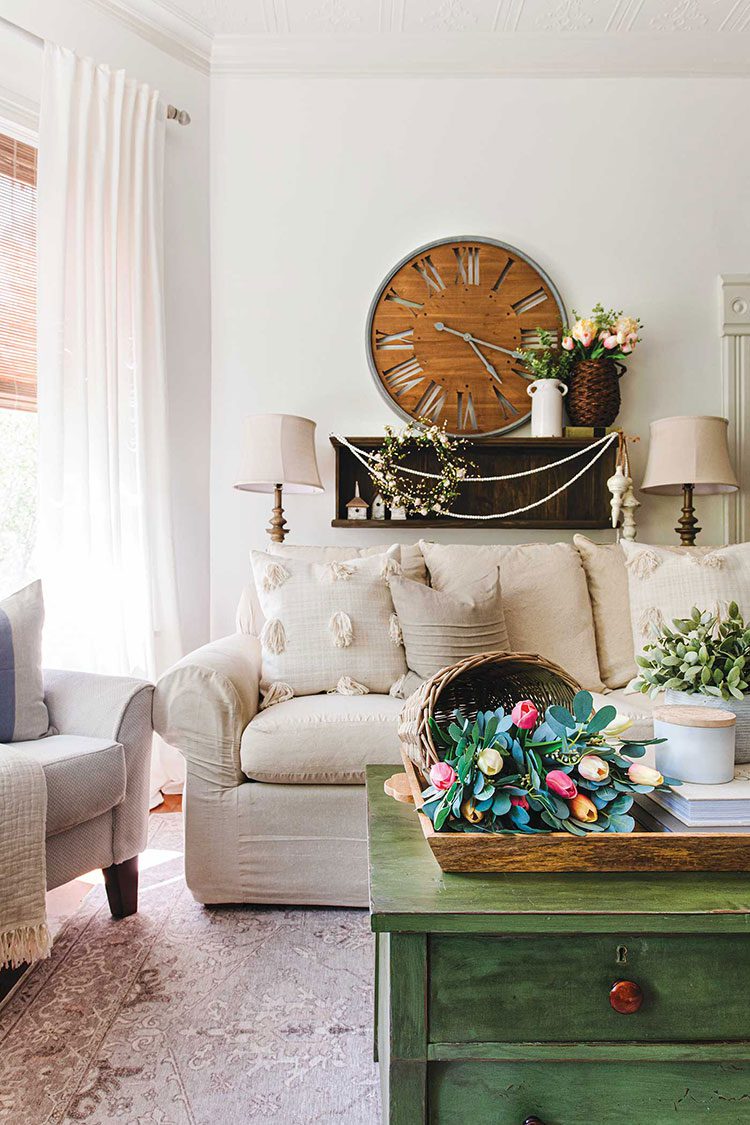 A mix of vintage and thrifted décor gives this historic Utah home a cozy and timeless feel alongside touches of springtime freshness.
Dreams can come true—and so can your dream home. That was the case for home décor enthusiast and Instagrammer Margy Richter of The Old House on Main. Her love of home décor started at an early age, and never left. "My dream was to get married and buy an old house and fix it up," she says.
Her beautiful 132-year-old home, which she purchased around its 100th birthday in 1990, is brimming with historic features and vintage charm. "I would say my style is vintage cottage farmhouse," she says. "I love vintage pieces paired with modern farmhouse, ruffles paired with clean lines, and traditional rugs paired with contemporary furniture, just to name a few favorite things."
Take a look at how these favorite things give fresh personality to her historic home in spring.
Home & History
The history of Margy's old house gives the home a character all its own. Frank Chase, a local to Salt Lake City in the late 1800s, built the house in 1890 on his father George Chase's property, a farm called Chase Park. "I believe that he was also at one time the Postmaster, which is ironic, because I retired from the Postal Service after 32 years," Margy says.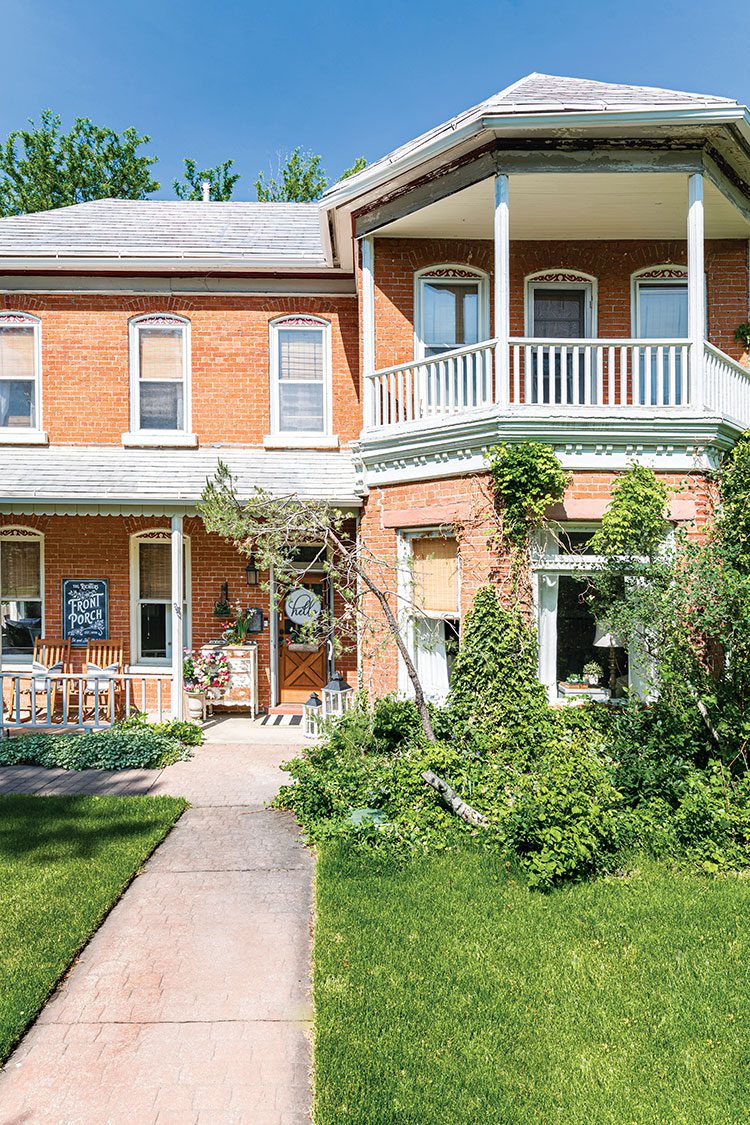 One of the charms of old homes is the quality of the materials used and the enduring nature of the construction. "Probably one of my favorite features about the house are the 12-inch-thick walls on the main floor," Margy says. "The walls on the second floor are much thinner, and therefore lighter weight, so the main floor can support the second floor."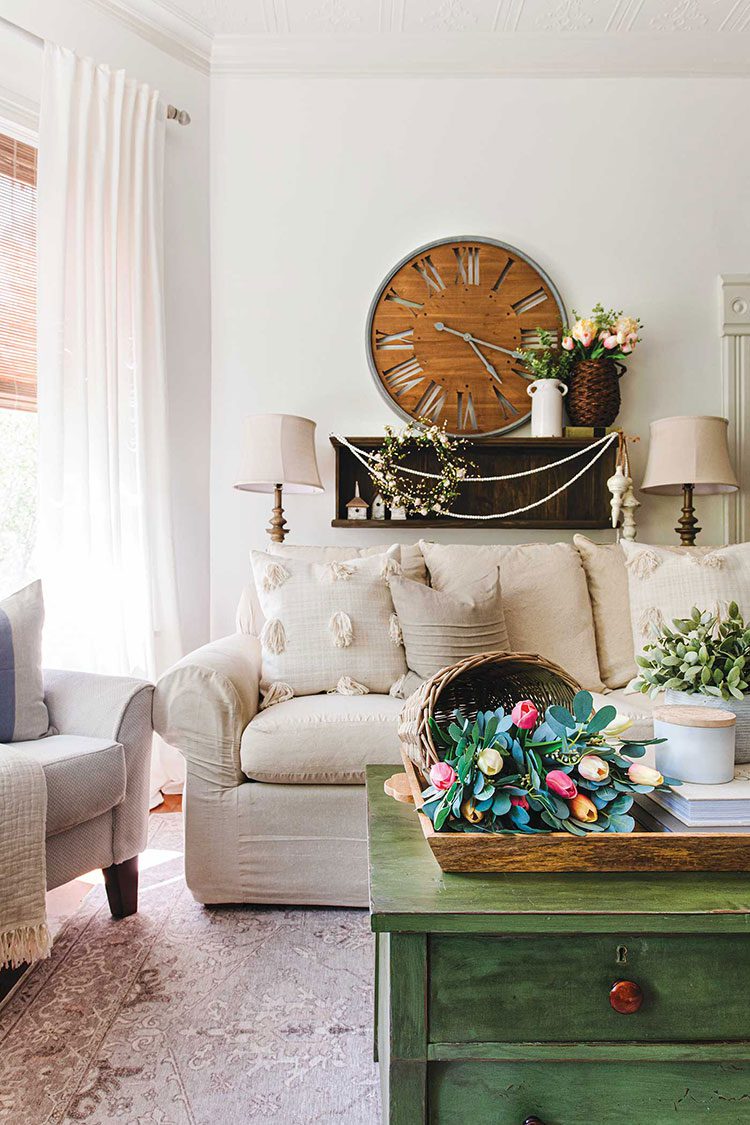 "One of the constants is the green coffee table, which is a vintage dresser I found," she says. "I cut off about 4 inches from the legs and painted it green." Layers of texture with baskets, pillows and blankets give the space a cozy feel. "The beaded garland and metal ornaments are from my Christmas décor," she says. "I simply took down the cedar garland, added a spring wreath and faux greenery."
"The fireplace had been redone in the '70s and was a huge eyesore, but it did have this wood burning stove as an insert," she says. "We tore out the fireplace, added the stone and pipe, mantel, and kept the stove." She added the wood detail to give the space more texture, and the table and dresser are secondhand finds she repainted. "The two chairs were leather upholstered dining chairs I deconstructed," she says. "The shelf on the wall by the table is actually an old rusty metal planter turned upside down, with some old wood flooring as the shelf."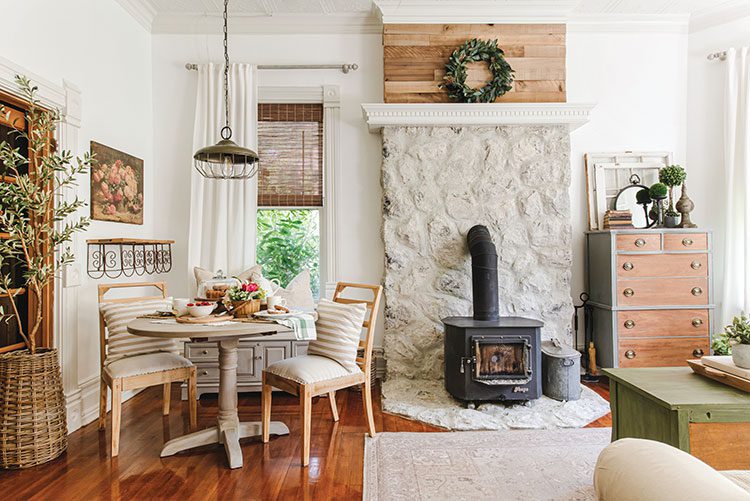 Another detail she admires is the molding. "I love all the creaks in the floors and stairs," she says. "You definitely have to love old houses to live in them."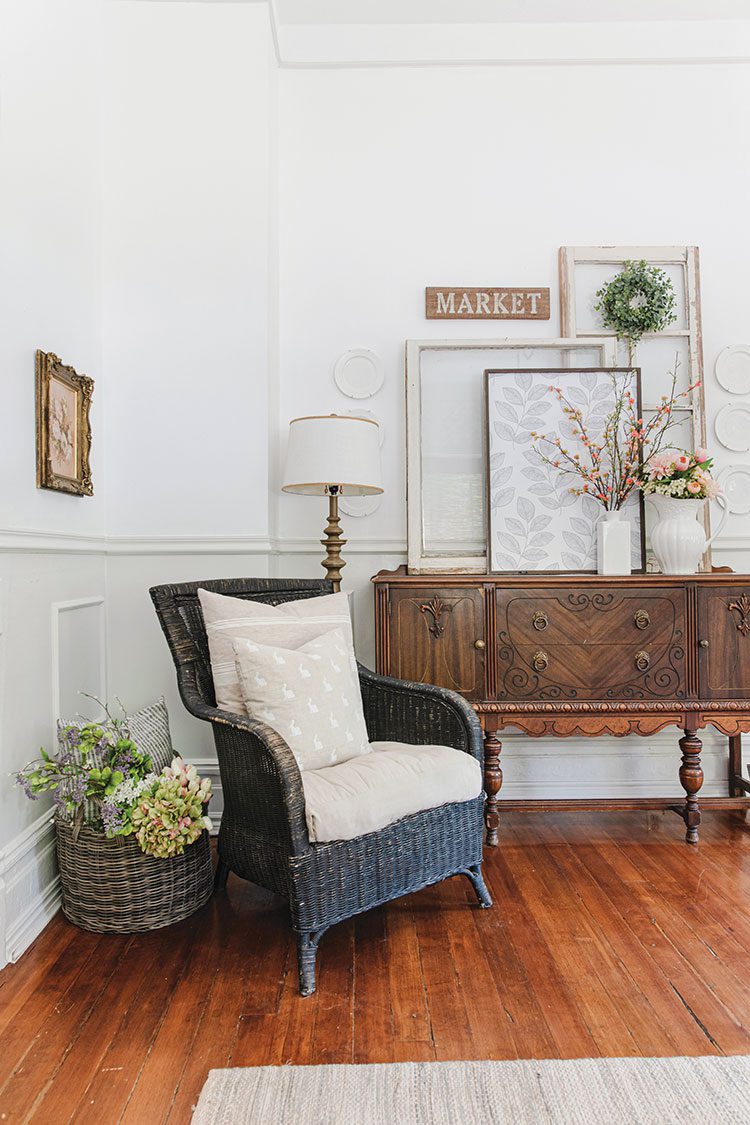 "The chair was a fun find from a local specialty store, and I didn't change a thing, except for the cushions," Margy says. "The buffet, or credenza, was a find from a secondhand store. It's a bit beat up, but I love its character." She layered old windows on top to continue the antique feel.
A historic home in spring, or any time of year, needs a brightening touch. Margy explains, "To lighten and brighten the space, I flipped the dark-colored letterboard around, and added the same peel and stick wallpaper that's on the wall on the opposite side of the room to the back," she says.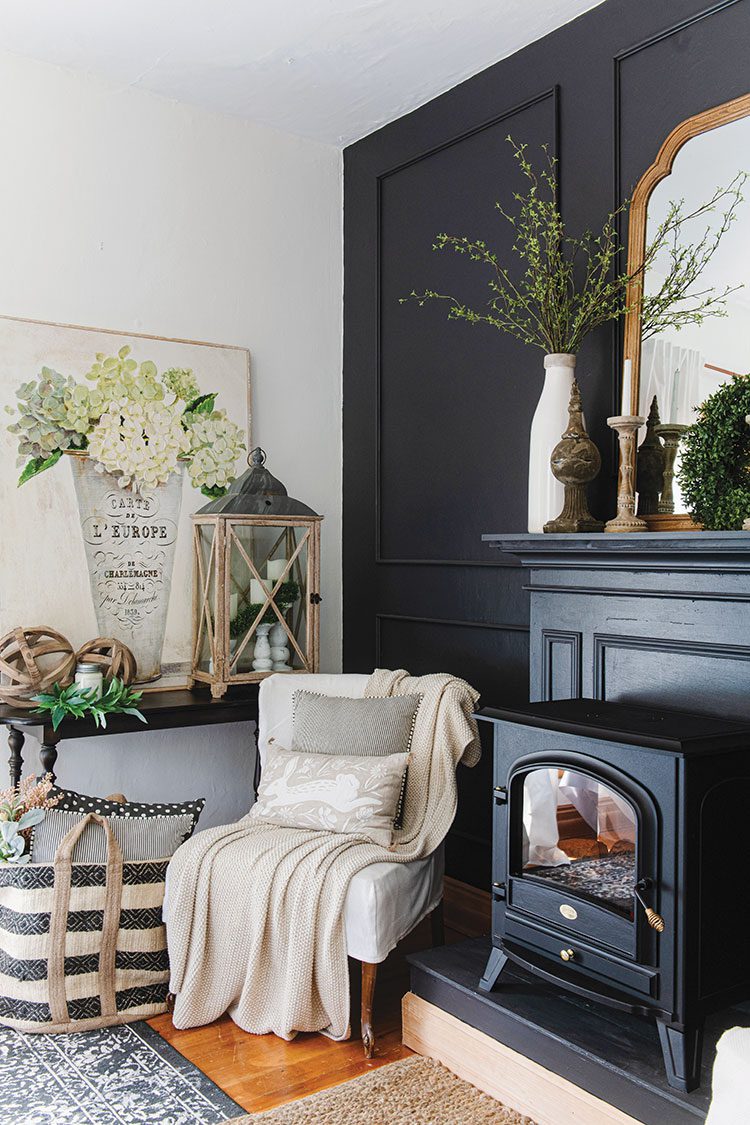 "I built the faux fireplace and mantel myself by repurposing an older headboard I had built just a couple years before," Margy says. "I wanted a change, and I wanted a mantel I could decorate. I already had the little electric heater, so I made the fireplace to house the heater. I think it looks cool, and the heater heats up the guest room nicely." She also added mouldings for more flair and texture.
A Historic Home in Spring with Old & New
With a history spanning over a century, the home has seen a lot of change. At 2,085 square feet, it retains its original, compartmentalized layout as well as a brick exterior, fir wood flooring, molding, interior doors and some of the windows and casings. "Really, the only things we've done to the home are updating plumbing and electrical, added French doors between the TV room and living room, and we gutted the bathroom," Margy says.
Her color palette brings a sense of connection throughout the home. "One of the constants in the whole house is the color green," she says. "Whether it's in the faux greenery, paintings on the wall or pillows, there's usually something green in every space." This means her historic home wears spring especially well.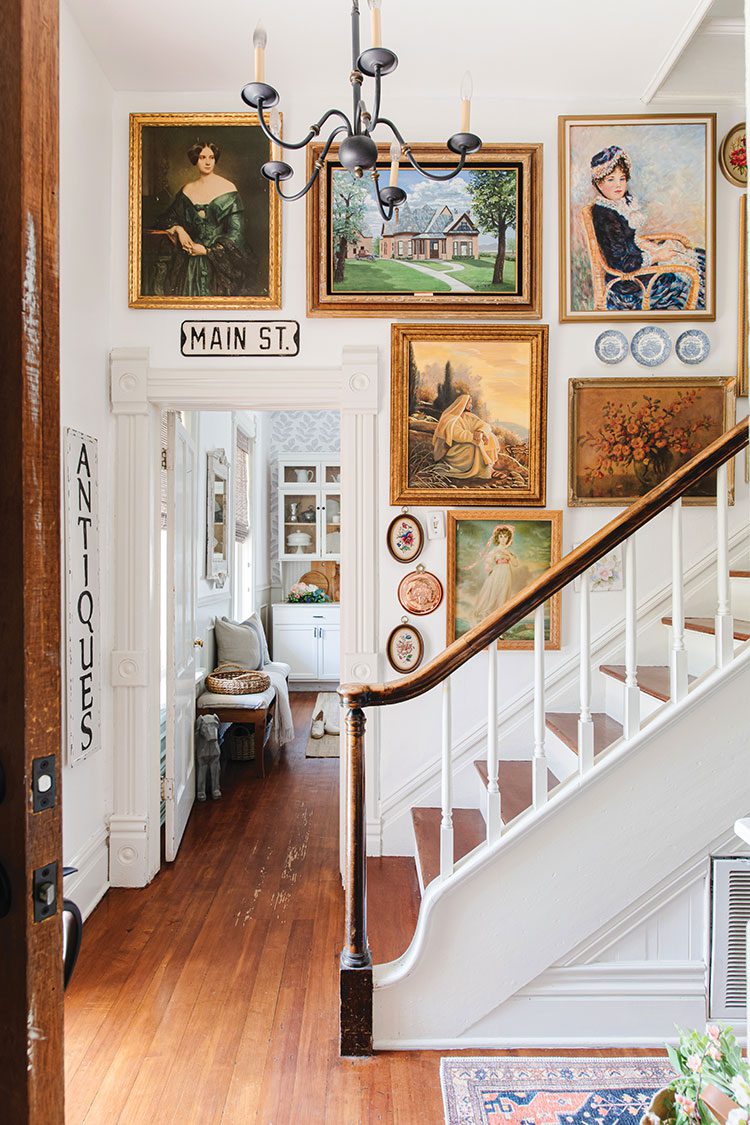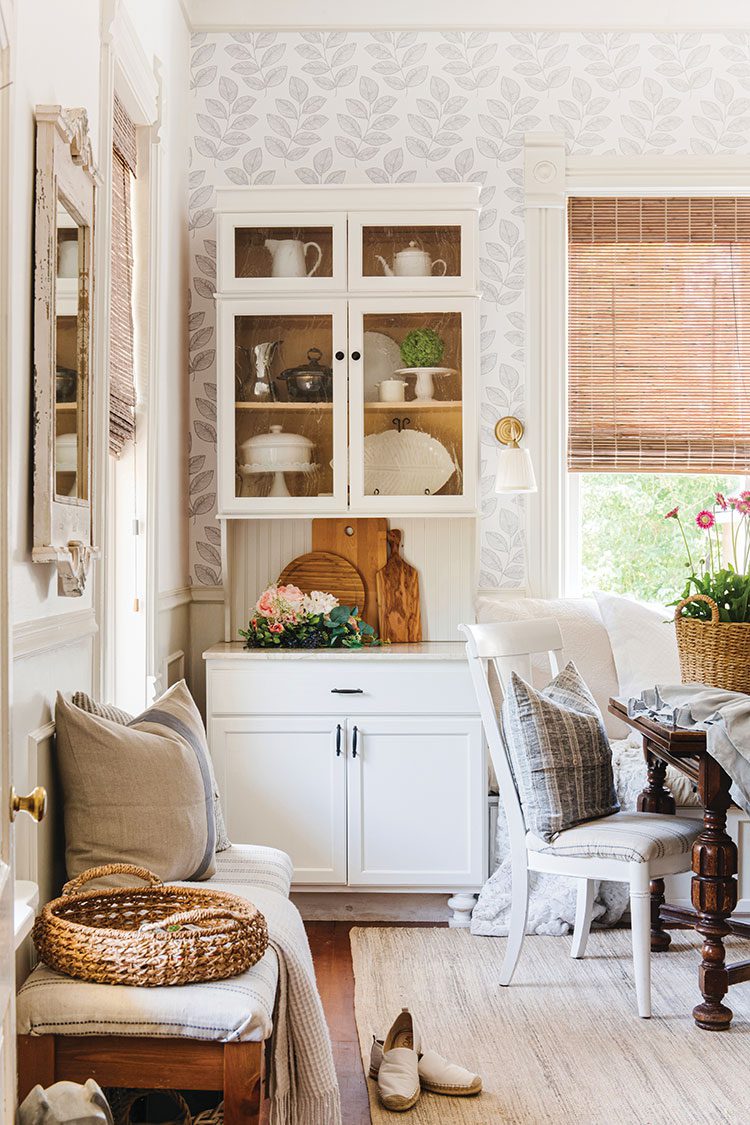 Decorating for spring doesn't present much of a challenge for Margy—she's skilled at using small but effective touches to give hints of the season throughout her décor. "My spring décor is pretty simple," she says. "I use a lot of faux tulips, which I buy online."
To add more texture and color to her historic home in spring, she layers in striped pillows, pastel faux flowers and more faux greenery. With a blooming garden in the front, the old home shines with farmhouse charm and the freshness of spring. "I guess I got my dream house on the very first try," Margy says.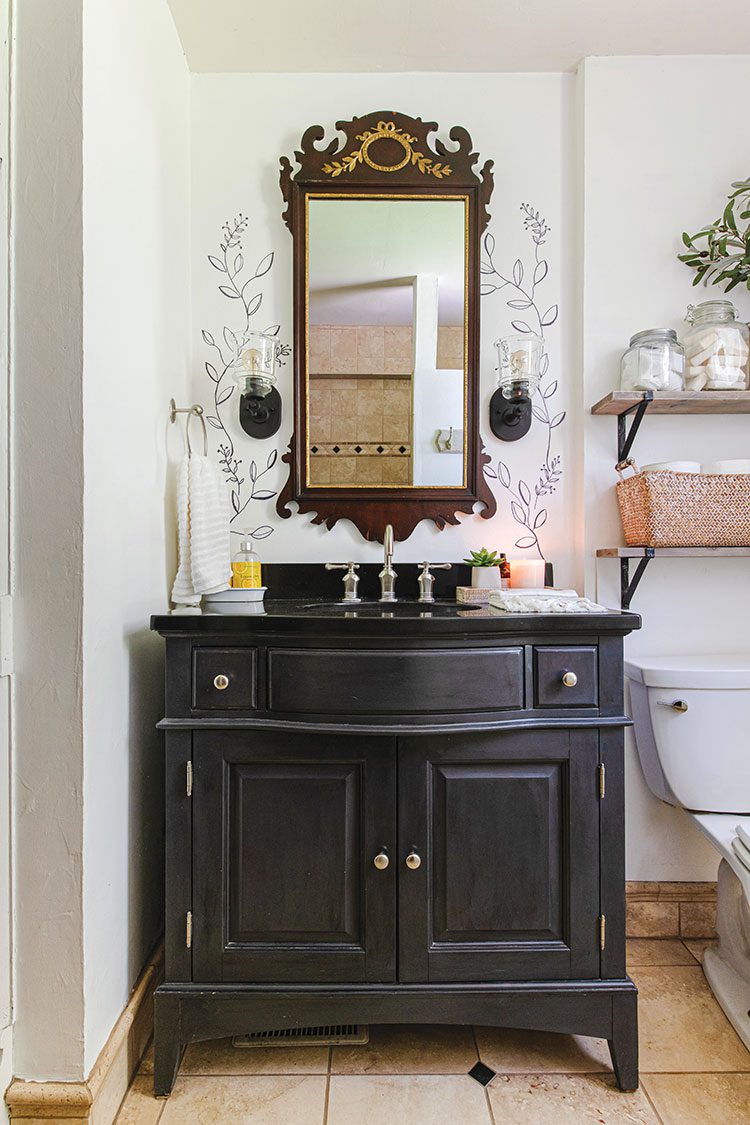 "We had to update the plumbing, so we decided just to update everything," Margy says. The mirror is the only piece that's vintage, while the freestanding sink Margy painted charcoal reflects the antique feel of the home. She drew the elegant design on the wall freehand with a sharpie. "It's something I wanted to try, and I liked it enough to keep it for a while," she says.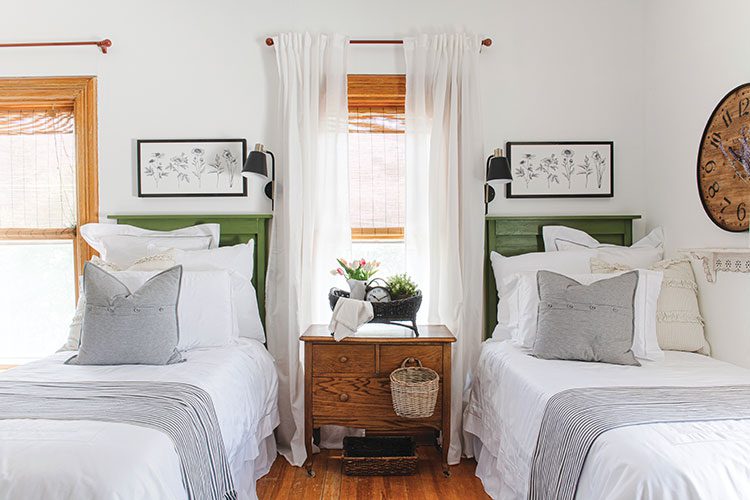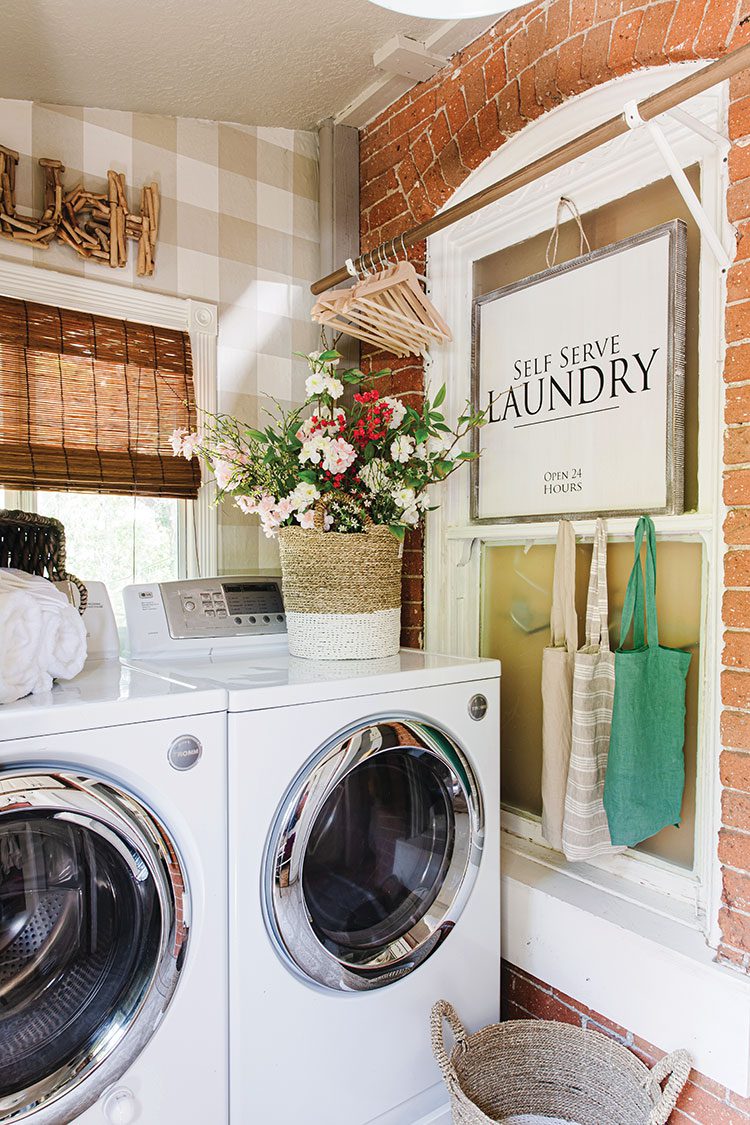 When it comes to the laundry room, "I wanted to see what was under the ugly sheetrock, and when I took a peek, I saw red brick and decided instantly to tear out the sheetrock," she says. "To my surprise, I found this window, fully intact, along with a transom above the doorway."
While she couldn't restore the window to its previous use due to her kitchen cabinets being on the other side, she decided to improvise with décor. "You can see all the ugly of the back of the cabinets through the window, so that's why there's a sign and market bags hanging there," she says.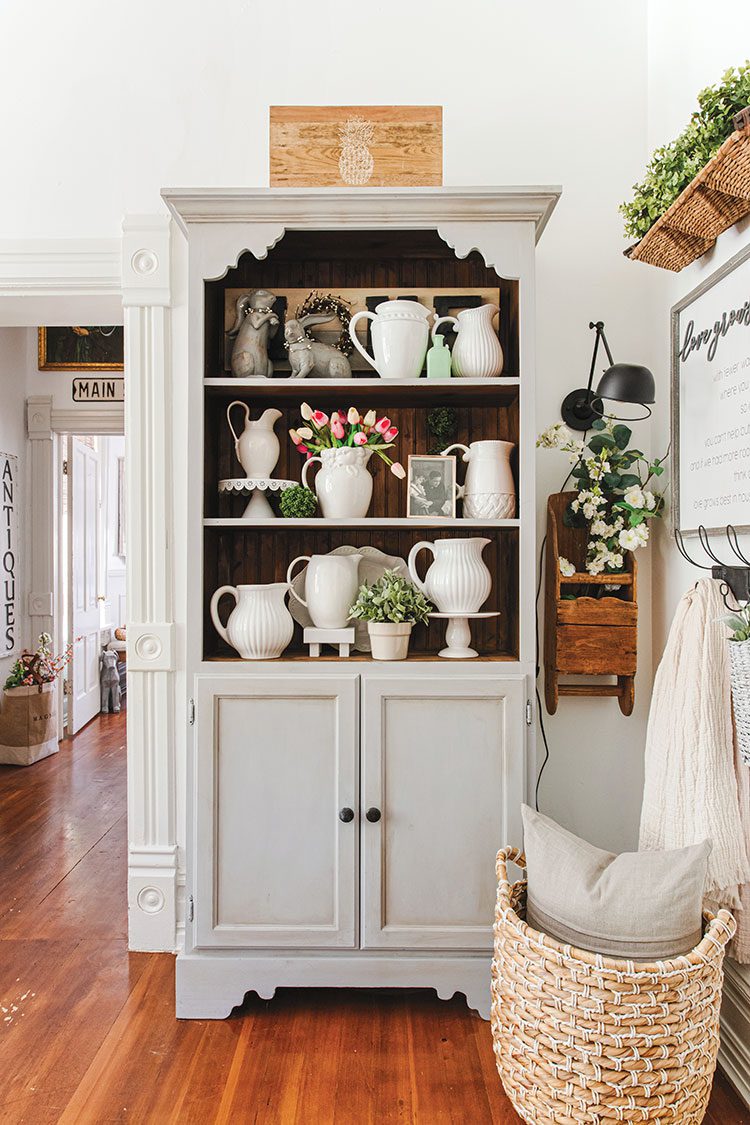 She now uses the hutch to display her pitcher collection. "I loved collecting white pitchers, because they are affordable, have character and are useful," she says. "Every time I would go shopping, whether it was thrifting, antiquing or just to a home decor place, I would look for white pitchers. I have so many now that I don't look for them anymore, but they sure are a fun thing to collect."
The hutch and pitcher collection is another base that makes her it easy to adapt her historic home in spring to celebrate the season.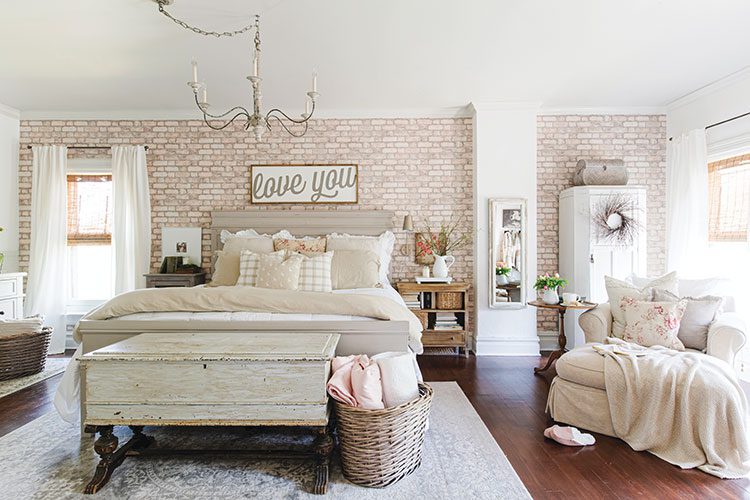 "I wanted the bedroom to be light and bright, and have more texture than color," Margy says. "Using a neutral palette, the brick wallpaper, light colored rug, white walls and light-colored textiles make it light and bright, and gives it a spa like feel, I think." The white hutch, table and chest are all vintage pieces. "The chest actually belonged to my grandmother," she says. "It's unique because it's on legs." Pastel pink blankets, faux tulips, a floral print and floral fabric pillows bring in subtle hints of spring.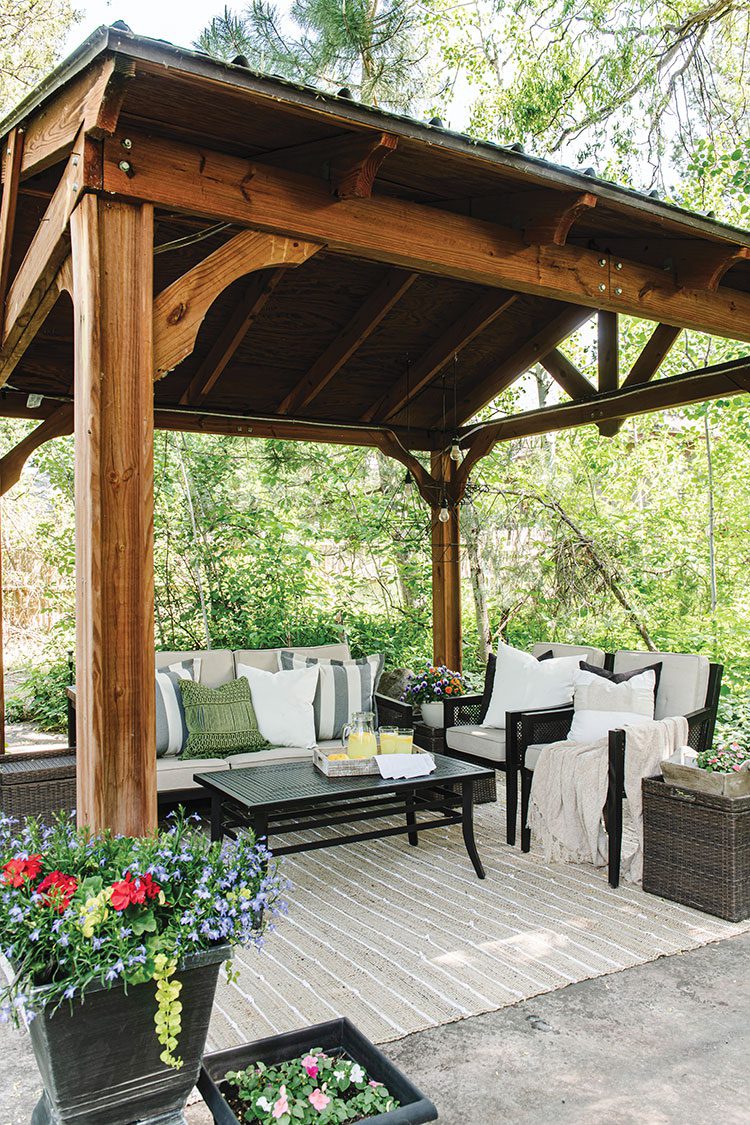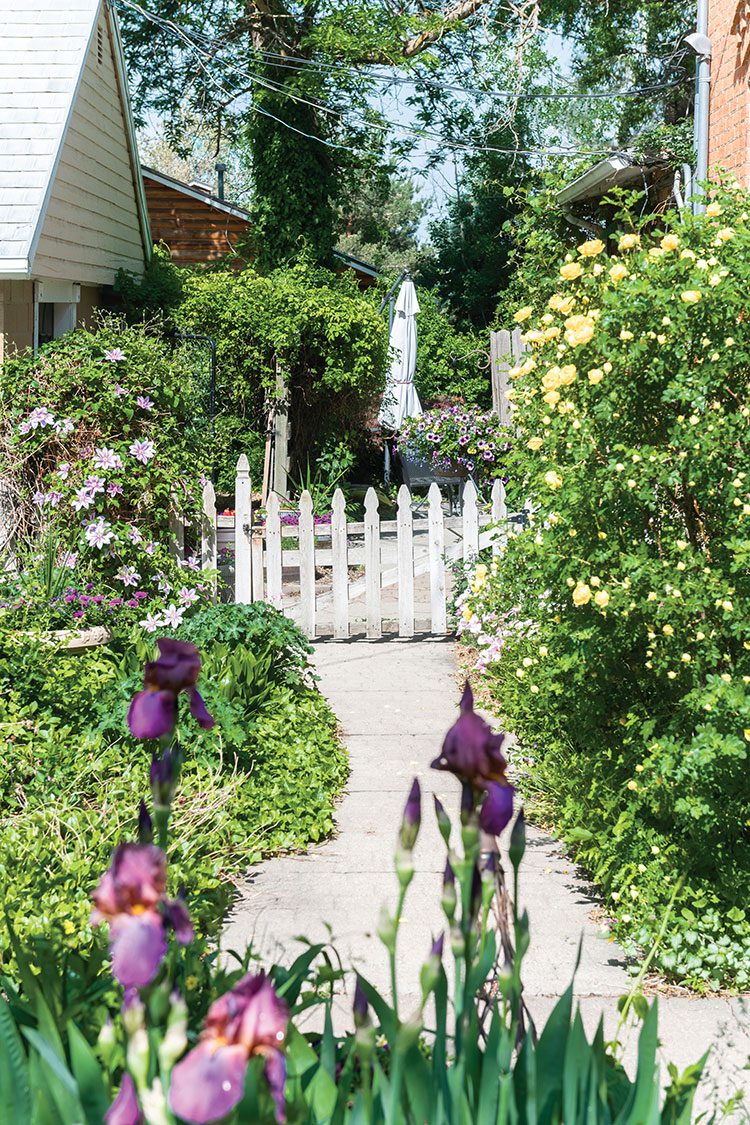 Margy and her husband added the sidewalk and stamped it to look like cobblestones. "I love the look of a cottage garden, kind of overflowing and overgrown, with pops of color," she says. "The wild roses have been there since we bought the home, and pretty much everything else we added over time."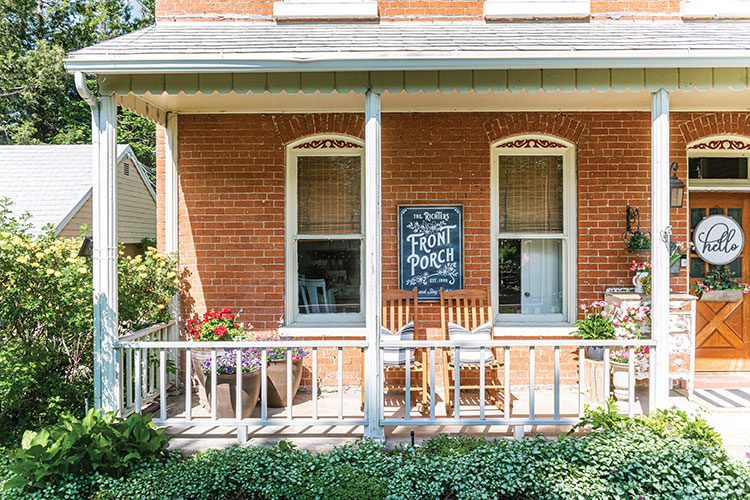 ---
Looking for more springtime inspiration? Read on to tour A Flower-Filled Spring Farmhouse. Of course, don't forget to follow us on Instagram, Facebook and Pinterest to get your daily dose of farmhouse inspiration!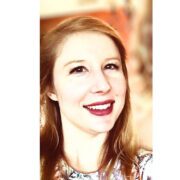 Laura Shimko
A lover of history, good stories and beautiful spaces, Laura finds that writing for American Farmhouse Style is a wonderful outlet. Residing in the rugged West, she enjoys watercolor sunsets and finding beauty in the unexpected. She is a wife to a wonderful husband and brand new boy mom. When not cuddling with baby or her two cats Tigger and Scout, she enjoys dabbling in fiction writing, attempting soap making, baking and DIY home projects.