How to Get Faux Marble Countertops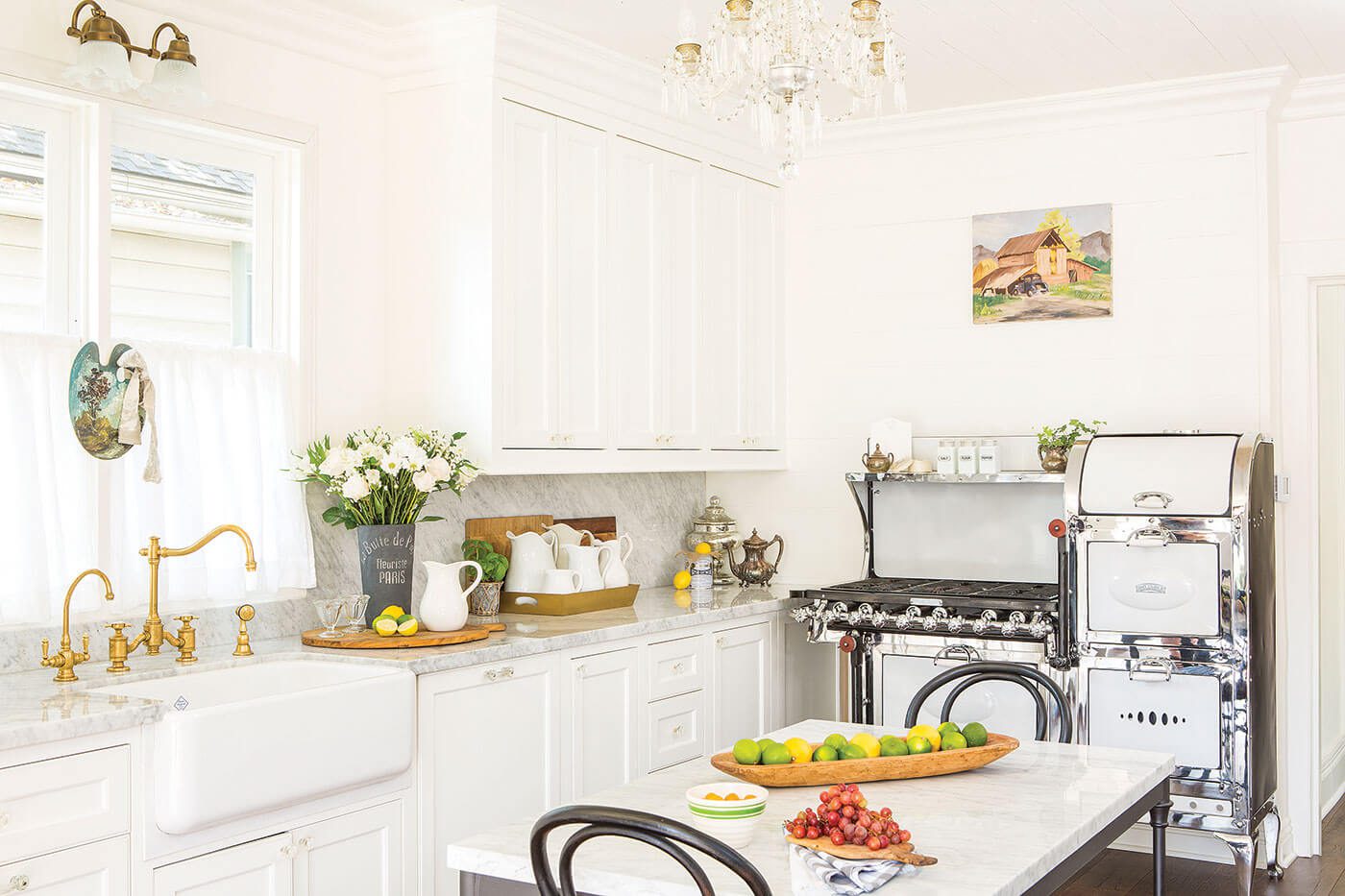 Photograph by Bret Gum; home of Kelly Wilkniss of My Soulful Home
If you're wanting to update your kitchen, you probably have new countertops in mind. Countertops are a major expense in any kitchen remodel. Even if you're able to paint your existing cabinets, updating your countertops on a tight budget isn't so easy. You can use inexpensive laminate countertops, but now the preference is often for a higher-end look. The solution? Faux marble countertops.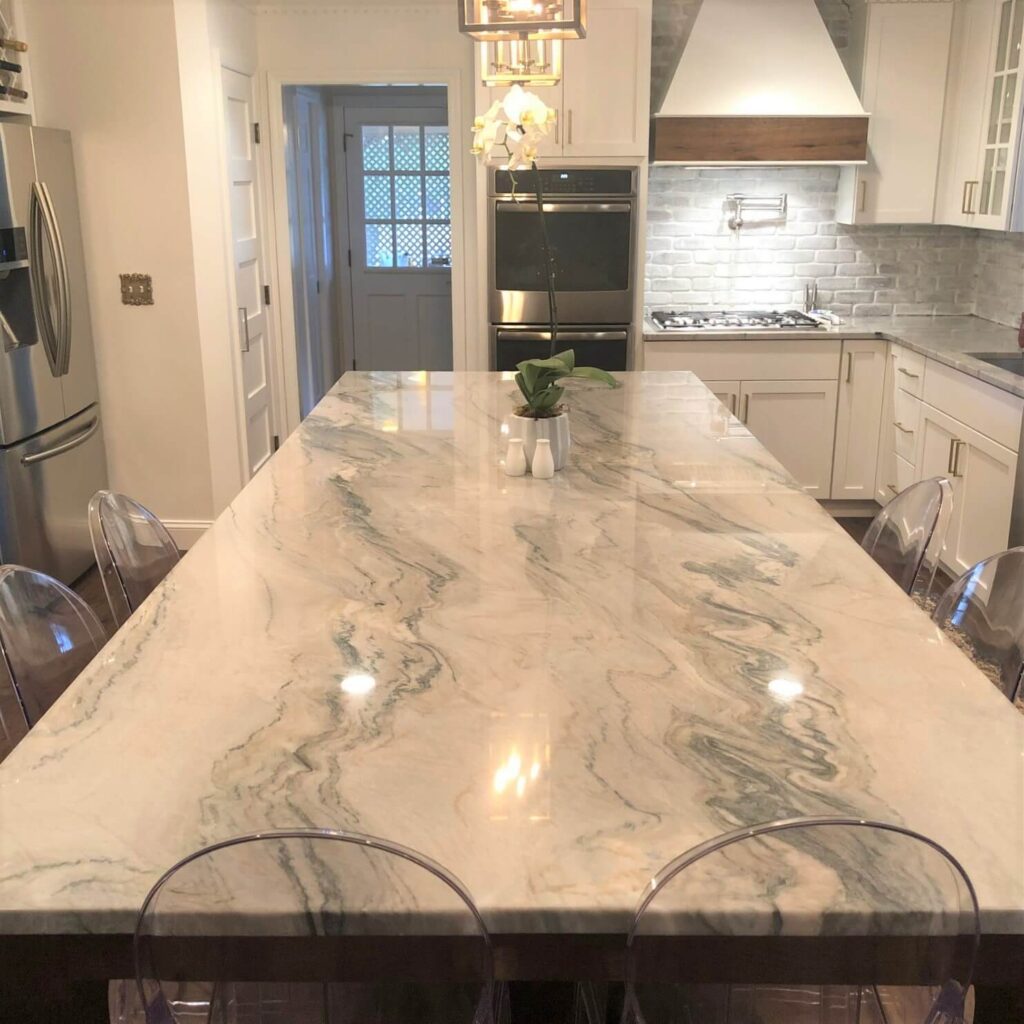 Also Read: Options for Budget Countertops
How to DIY Faux Marble Countertops
Granite countertops had their heyday for a long time. Then people started preferring a lighter look. Quartz countertops are all the rage now because of their versatility. They can look like any material, and often mimic marble. Marble itself is a popular choice too, but because of concerns about maintenance, people often choose quartz that looks like marble. Both quartz and marble slabs are pricey, but there are DIY options that can get you a similar look for faux marble countertops.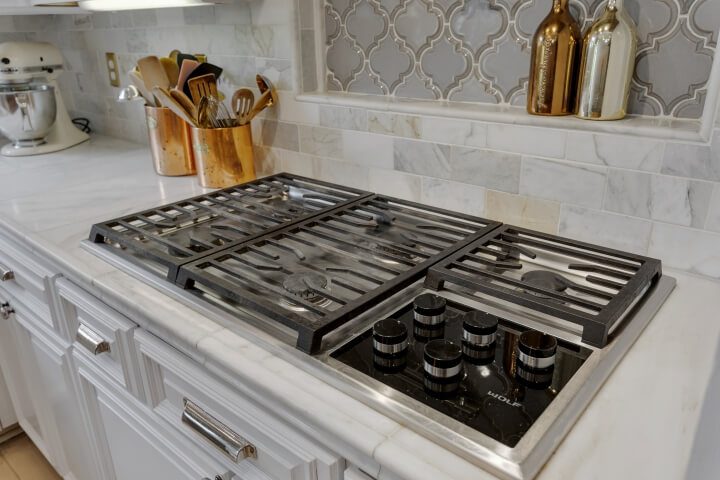 Also Read: Best Countertops for Farmhouse Style
Method 1: Marble Tiles
I was doing a DIY kitchen for myself a few years ago and wanted to try marble countertops. Because I'd heard horror stories about marble maintenance, I wanted to try them for myself and see if the rumors were true. Rather than invest in a slab, I found oversized marble tiles and created a real marble countertop on a small budget. If I loved my faux marble countertops, I could eventually invest in a slab. 
The standard depth of a kitchen countertop is 24 inches, so if you can get 24-inch tiles, you can minimize the number of seams. I found carrara marble tiles that were 12 x 24 inch, and absolutely beautiful. So I bought those. If you can find 24 x 24 inch tiles, you can get away with even fewer seams. I chose 12-inch tiles because they looked nicer than anything I found at 24 inches square.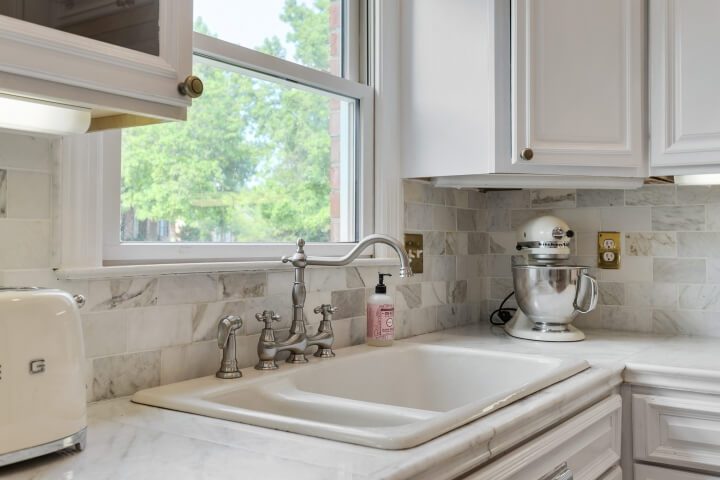 If you're using marble tiles, you'll need a finishing piece on the front. You'll also need a drop-in sink to disguise the sink cutout. Maintenance on the tiles is the same as on regular marble, which means you're likely to get some staining and etching overtime. If you're concerned about this, try a ceramic tile for your faux marble countertops instead. But real marble has a natural beauty you can't capture in even the best ceramics, so go with your gut.
I really enjoyed my marble tile countertop and used it for about five years before selling the house. The etching and staining wasn't a big deal, and it still looked good at the end.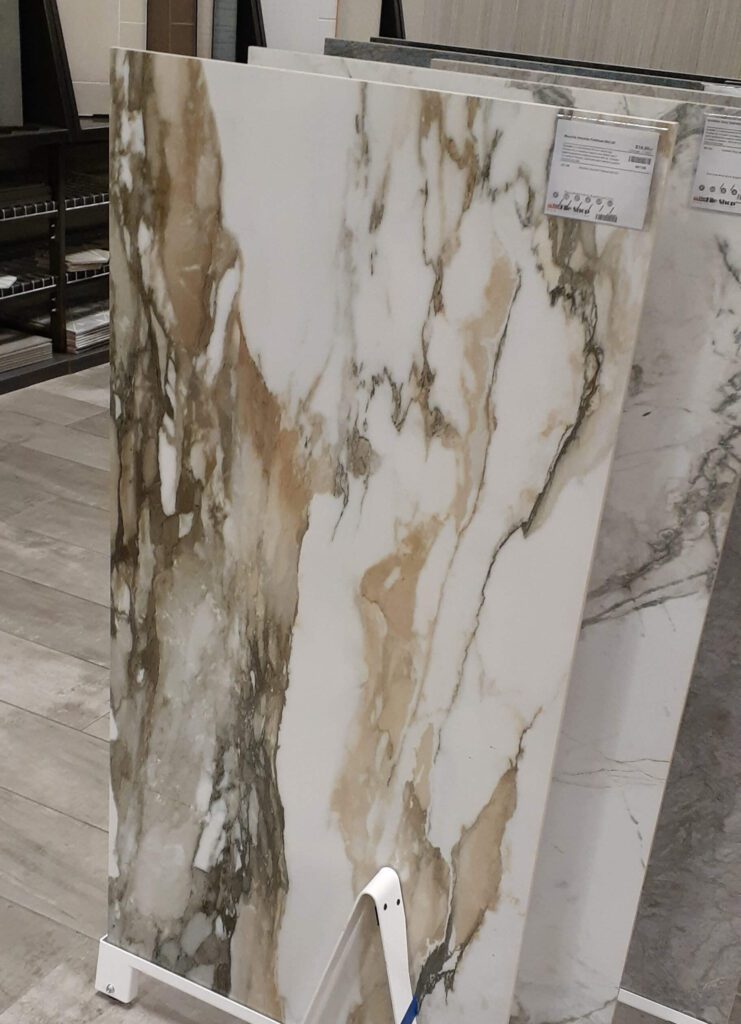 Method 2: Ceramic Tiles
If you're skittish about using real marble, don't worry. There are ceramic tiles that now mimic even exotic marble. They also come in huge sizes. This further reduces the number of seams and is ideal for countertops. These faux marble countertops are starting to do a great job at imitating really expensive marble slabs, and I can't wait to try them out.
For my current kitchen remodel in my little country house, I'm going to use the huge ceramic tiles that look like exotic marble. Just like before, my reasoning is that this will allow me to try out a "busy marble" without spending a fortune for a slab of the fancy stuff. I love the look of bold marble but also love to reserve the right to change the look of the kitchen if I get tired of it. 
This way, I'll get faux marble countertops but won't be locked into keeping them forever. On the flip side, if I decide the busy marble is the best look for the home, I'll either keep my DIY countertops, or I'll upgrade to a fancy slab one day.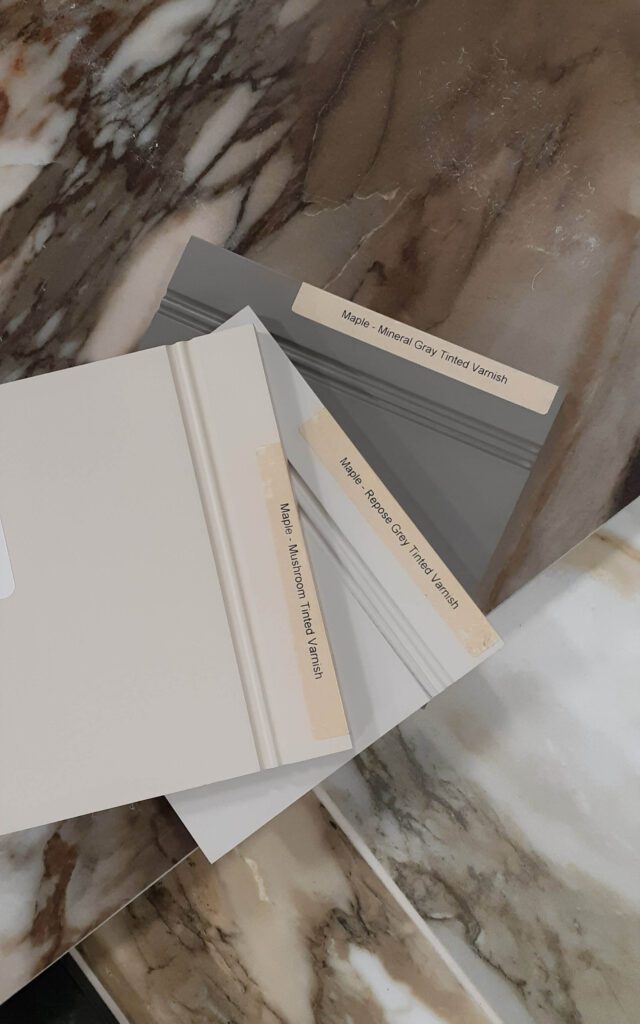 Design Tips for a Kitchen with Faux Marble Countertops
Start with selecting the tile rather than the cabinet color. There are zillions of paint colors, but only so many tiles for faux marble countertops. Choose your favorite marble look. Then, grab some paint swatches and find several colors that would look good with the marble. If your tile has a lot of colors, choose shades that already exist in the faux marble countertops. If you're still unsure what to choose, find out which tiles come in the largest sizes and start with those.
While a slab of your favorite stone is still the gold standard, there are a lot of options for getting a similar look on a budget. Faux marble countertops can help you tackle a kitchen renovation on a smaller budget. Or allow you to test out a design trend that would otherwise be out of reach. For finished pictures of my own faux marble countertops, check out the August 2022 issue of American Farmhouse Style to see our completed home!
---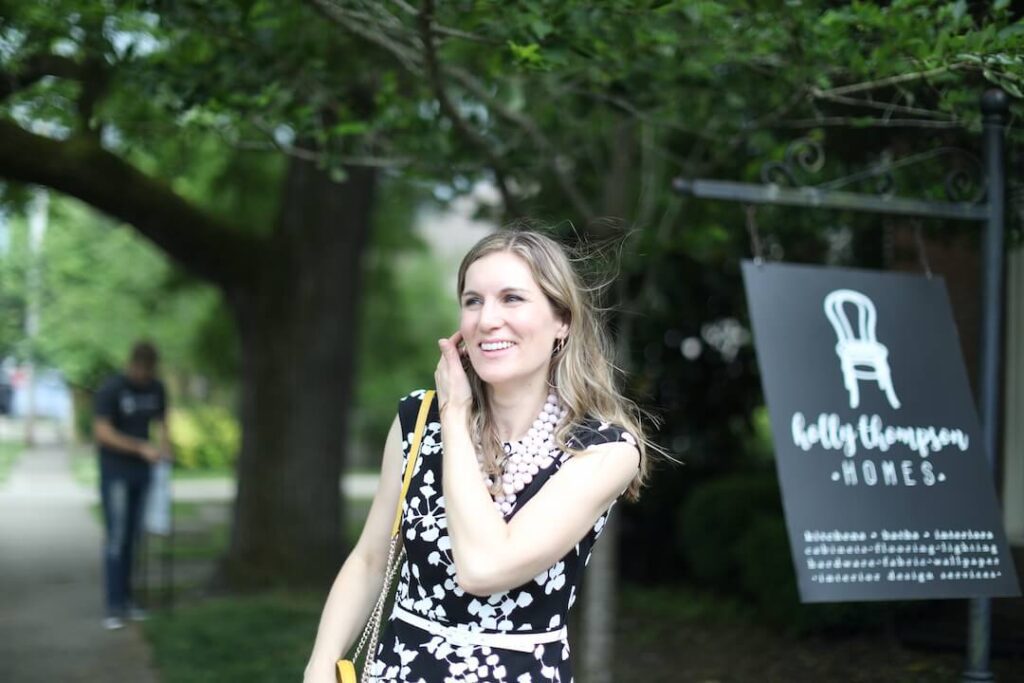 Holly Thompson is the lead interior designer at Holly Thompson Homes in Franklin, TN. She loves making houses the best version of themselves. She is married to Dave, who is a contractor, realtor, and often works as her project manager. They own a fixer upper in the country, plus three kids and three cats. In her free time, Holly is working on her master's degree in Interior Design and writes articles for American Farmhouse Style. In the rest of her free time, you'll find her antiquing at estate sales, flea markets, and shops. All of those times involve coffee, to which Holly attributes her success in staying awake.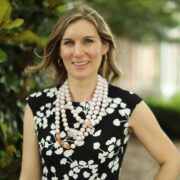 Holly Thompson
Holly Thompson is an interior designer in historic downtown Franklin, Tennessee. She specializes in high-end kitchens and thoughtfully-designed interiors, and holds a Master's degree in Interior Design from Savannah College of Art and Design (SCAD). She focuses on enjoyment and livability in her spaces, incorporating vintage and unique pieces to give them a sense of history and individuality. She is currently in the process of adding consulting services and affordable video content to her offerings for aspiring designers and DIYers. She works with her husband Dave, a contractor and realtor, on many of her projects. They are currently working on rehabilitating a small town in middle Tennessee, where Dave also serves as the mayor. They have three kids, three cats, and an adorable guinea pig named Scooter. In her free time, Holly loves to read design books about everything from historic architectural styles to biophilic design. She also frequents flea markets and antiques stores, buying antique transferware, midcentury modern chairs and vintage decorating magazines whenever possible. Follow along with Holly at hollythompsonhomes.com and on Facebook and Instagram.