Is it Really Possible to Cool Your Entire House?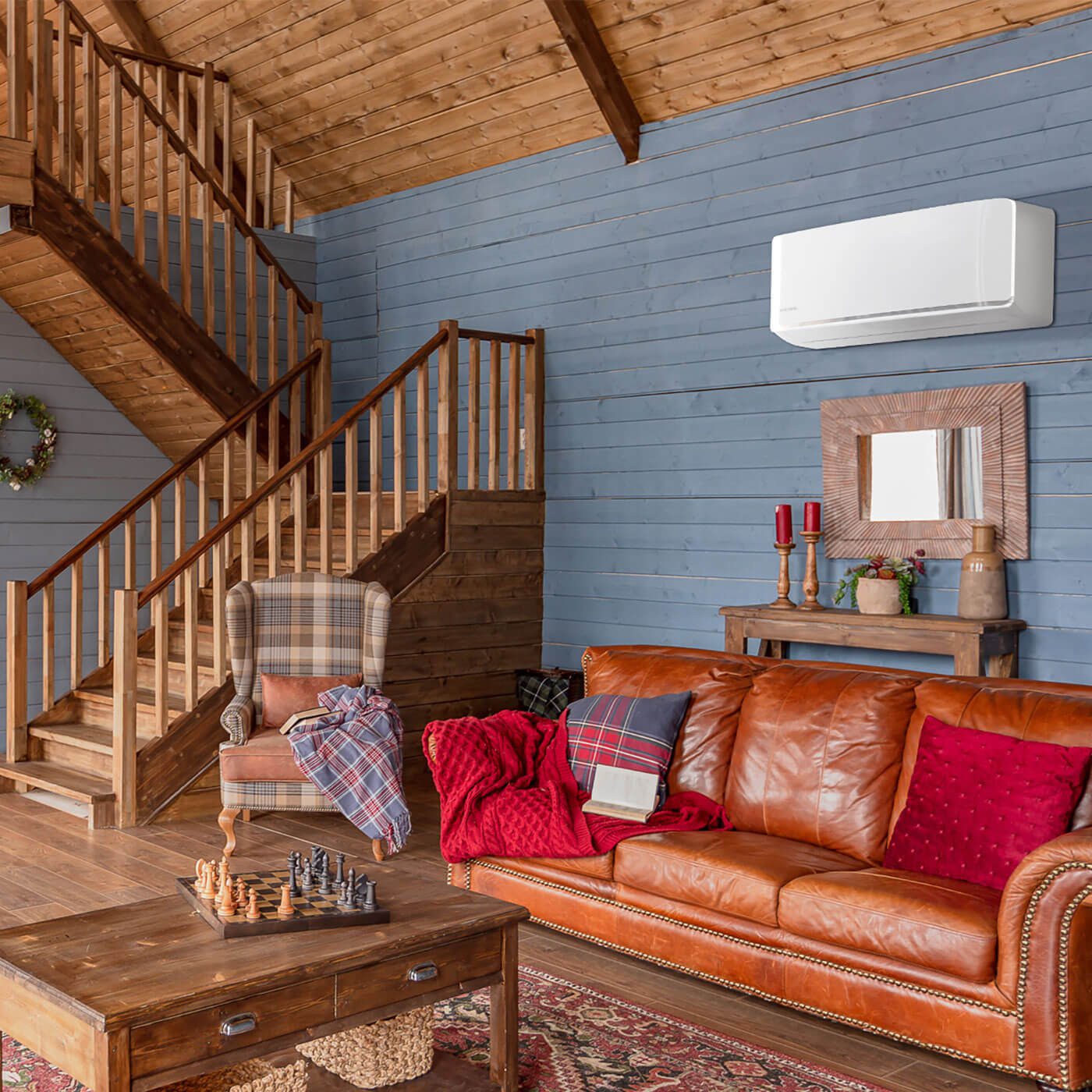 We all have that one room in our home that just can't get cool. Maybe it's the office on the third floor. Maybe it's the guest bedroom at the back of the house. Or maybe it's the kid's playroom that gets sun all day. Whichever room it is, we can relate.
Few things are more frustrating than walking from your nice and cool kitchen or den to another room that greets you with a burst of hot air. It's especially frustrating when you've tried almost everything to get and keep that room cool. You've even purchased what you thought was an efficient portable air conditioner, only to be disappointed by its clunky size, dated design and increased electricity bill.
So, is it really possible to cool or heat your entire house? The answer is yes! The ease and coolness of your gorgeous open floor plan should extend to that stuffy room two flights up. Now that temps are in the 70s, 80, and even 90s consistently, it's time to cool that room once and for all. We have the solution.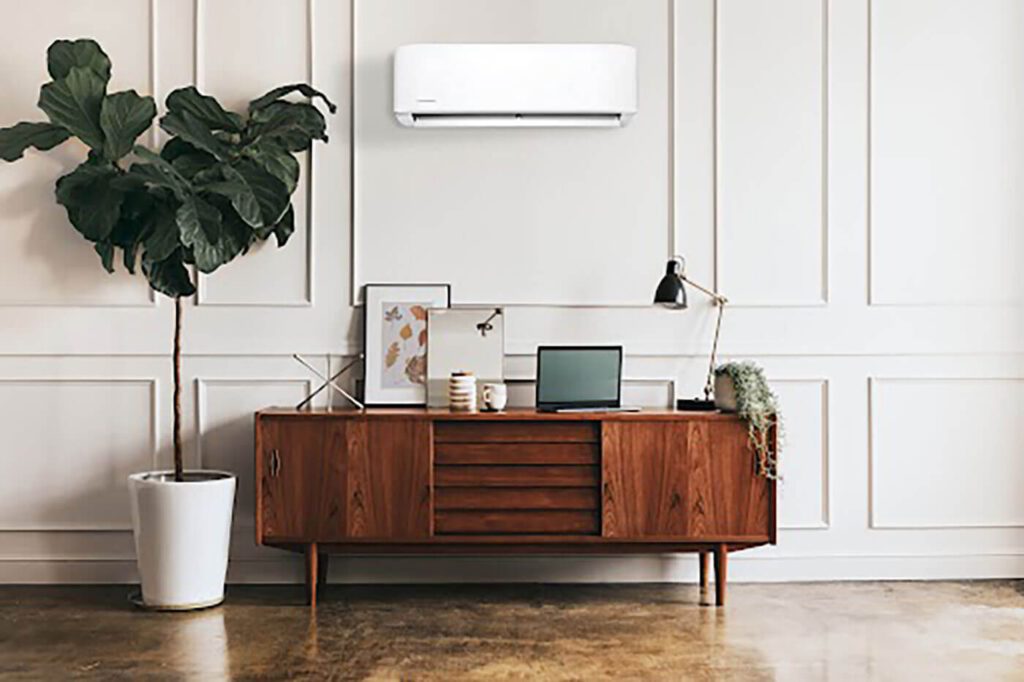 Top Efficient Air Conditioner for Your Farmhouse
Farmhouse style lovers, we'd like you to meet MRCOOL. MRCOOL creates innovative, state-of-the-art cooling and heating solutions. But it's not just their innovative technology that make them a great choice.
The sleek, minimal design of their efficient air conditioner blends in perfectly with any and all of your farmhouse décor! Whether you're a fan of boho farmhouse style or tend to go more industrial, MRCOOL's A/C options fit discretely into your aesthetic. While the unit itself is barely noticeable to your family or guests, the cooling and heating effects are powerful. In fact, in a small study of MRCOOL customers, 80% of participants reported that they noticed a "drastic increase in comfort over their window units."
In other words, homeowners have demanded more reliable cooling options that don't break the bank, and MRCOOL has responded. Gone are the days of window units with ugly designs that stick out like a sore thumb, loud whirring and clicking sounds, regular breakdown, and spotty air flow. A MRCOOL A/C unit won't destroy your farmhouse look. It's hard to spot easily, and provides cooling comfort that will make your family and guests take note. You'll actually want to use your "hot room" again.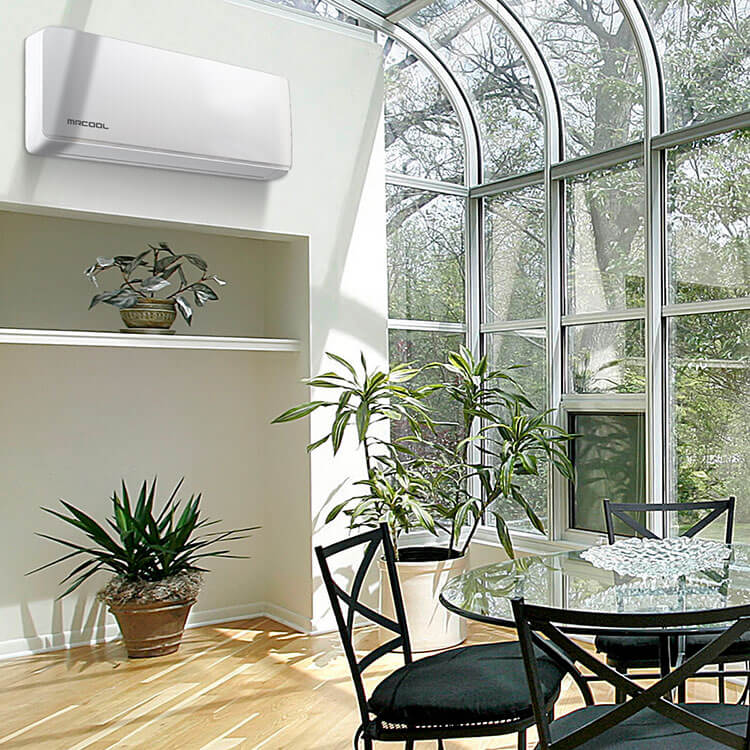 No More Trying—Get and Stay Cool for Good
You want to be comfortable in every part of your home. When you're crafting with your kids in the loft, the last thing you want to worry about is whether your A/C will become spotty with the air flow, make sudden noises, stop working altogether, and having to take the time to fix it.
MRCOOL understands that on a deep level. Their air cooling and heating options (yes, they do both) are designed to work with your lifestyle. Just as easily as they blend into your farmhouse decor, they also fit seamlessly into the goings on of your household.
Easy self-installation process. For the MRCOOL DIY ductless mini-split, no special training or equipment is needed. Just open the box, follow the short setup instructions, and let the unit do its thing.
Adjust temperature remotely with smartphone, Alexa, and Google Assistant compatibility. All you need is the MRCOOL SmartHVAC app, a smartphone or digital assistant, and internet access to control your unit from anywhere.
Peace of mind with auto restart. Power outage? On vacation? Rest assured that MRCOOL air conditioners respond to what's happening around them and restart automatically if needed. No need to worry or rush home to restart your unit.
To sum up, MRCOOL units adapt to how your household works, not the other way around. Once you get your unit up and running--remember, that's an easy process--you can get back to your life without missing a beat.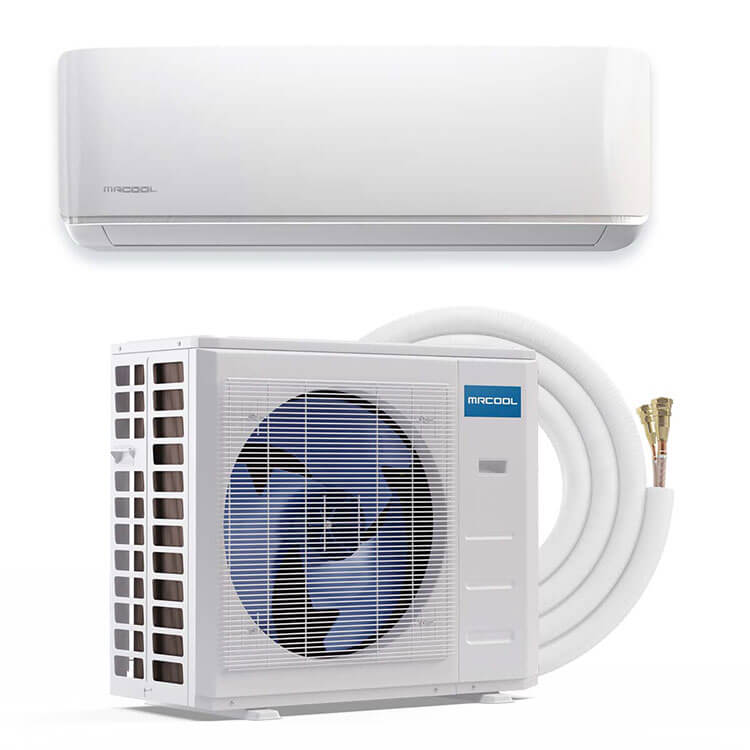 Watch Your Monthly Cooling and Heating Costs Drop
Does this sound familiar? You finally get the temperature in your hot room to go down, only to see your electricity bill go up. That's a common problem that MRCOOL wants to eliminate for people. With their efficient air conditioner options, you can actually save money. Here's how:
No Contractor Needed. MRCOOL's DIY units like 3rd Generation Energy Star, are easy to install yourself. No expensive contractor or specialized team needed.
Sleep Mode. Save money while you sleep. MRCOOL's smart technology knows when to provide your home with the coolest air and when to cut back a bit.
Leakage Detection. Avoid expensive compressor repairs or having to replace your entire unit. Your MRCOOL system will alert you when there's a problem, such as low coolant levels.
In short, MRCOOL air conditioners are a perfect choice for farmhouse style enthusiasts. Nothing demonstrates that better than the fact that the company is sponsoring American Farmhouse Style's Project House in Louisiana. Given that Louisiana is 87-91 degrees daily, a reliable system is much-needed to cool this farmhouse-inspired home.
A satisfied customer named Mark F. sums up his experience with MRCOOL well. Mark says, "I wish I would have installed one sooner! It's saving me money...very quiet, and easy to use. I would absolutely recommend it!"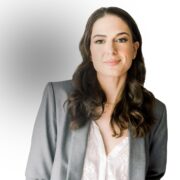 Sarah Greenberg
I'm a self-dubbed "extroverted writer." I love hunkering down to create high-converting copy. Just as equally, I love getting out in the world to help clients grow their businesses. That's why I've spent 10+ years in content marketing and continue to hone my skills–because it combines both of those things–creating valuable content and helping business owners and teams grow their brands. During my career, I've worked as a content strategist in a variety of settings–agencies, corporations, and small businesses–in a variety of industries–advertising, digital marketing, federal resume writing, science, insurance and health. I love adopting the voice of brands, identifying customer needs and goals and creating SEO-driven content pieces and strategies that move audiences to action. As the founder of small content marketing agency Hey Sarah, I provide content creation and strategy to support marketing teams in accomplishing their goals.