DIY Kitchen Ceiling Upgrade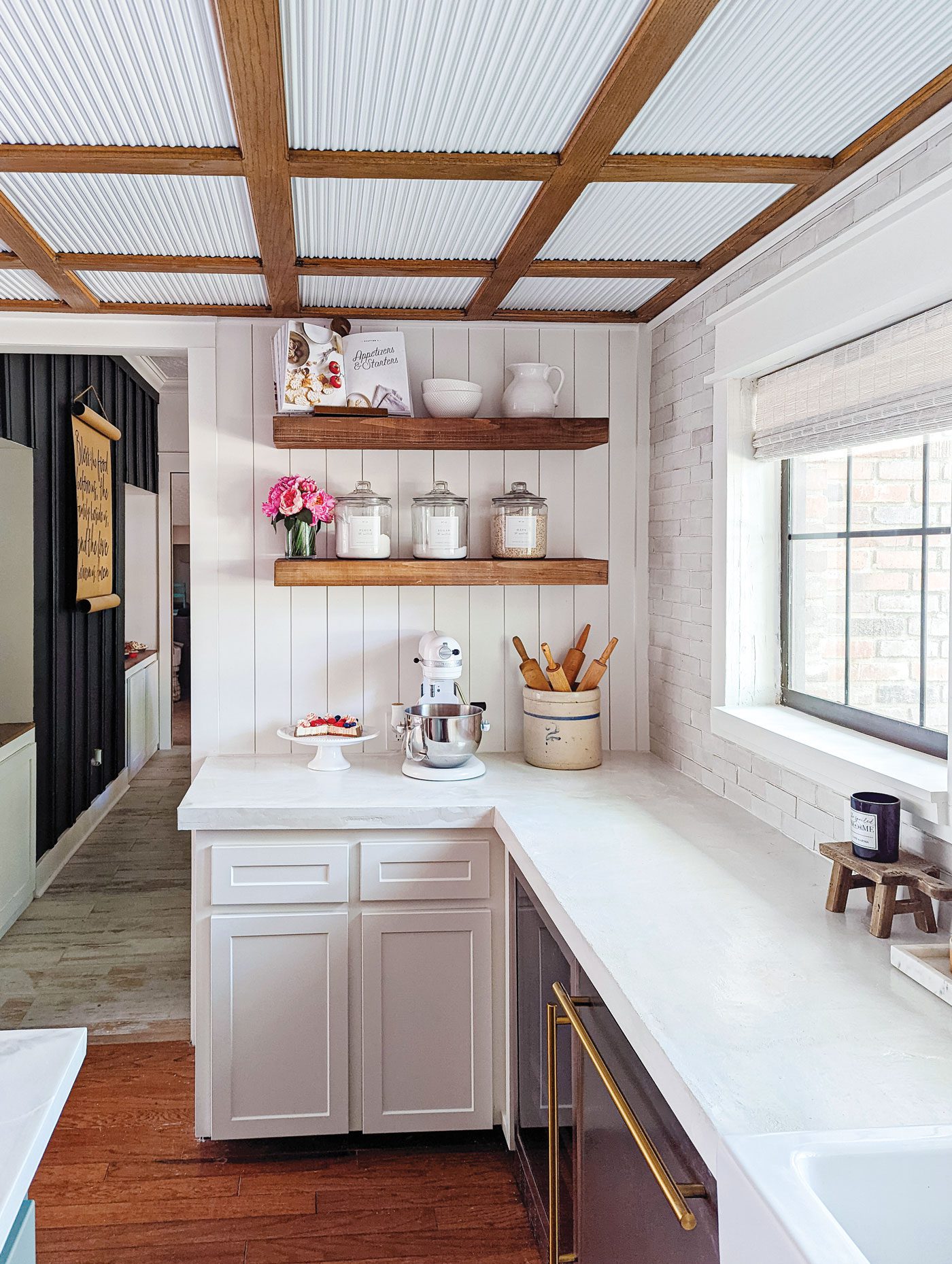 Upgrade an under-used part of your home with ceiling tile.
Editor's Note: Astra Spanbauer @AtHomewithAstra is our 2022 Brand Ambassador! Today, she's sharing with us an easy kitchen ceiling upgrade!
I love a DIY project that requires no tools but creates a huge impact. I've been renovating my kitchen and couldn't wait to get my hands on the ceiling. My home was built in 1980, and part of the original charm is a grid-style ceiling in the kitchen. Although many people have told me to paint it, I thought I'd try something different. Have you heard of Decorative Ceiling Tiles? They offer tiles to help take your ceiling from plain to beautiful easily and quickly.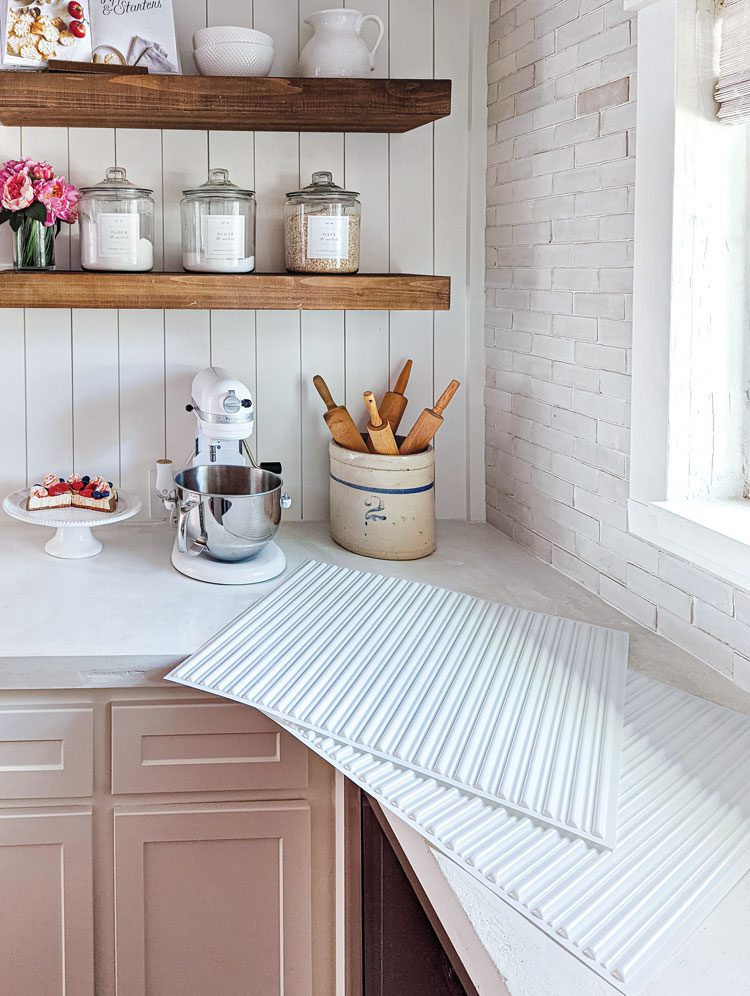 What You'll Need
Decorative Ceiling Tiles has something for everyone, including glue up, nail in and drop tiles. My kitchen requires drop tiles, and I didn't need any tools other that scissors and a box cutter.
The hardest part was deciding on a tile design. Luckily, they send samples. Having a hard time narrowing down my choices is definitely a good problem to have. I finally decided on the Modern Line Faux Tin ceiling tiles in matte white.
What You'll Do
There were no power tools necessary. I grabbed a ladder and just slid the ceiling tiles in on top the existing tiles. I used a marker to trace out the holes for my can lights and used a box cutter to cut the holes. I had all the tiles up in less than two hours.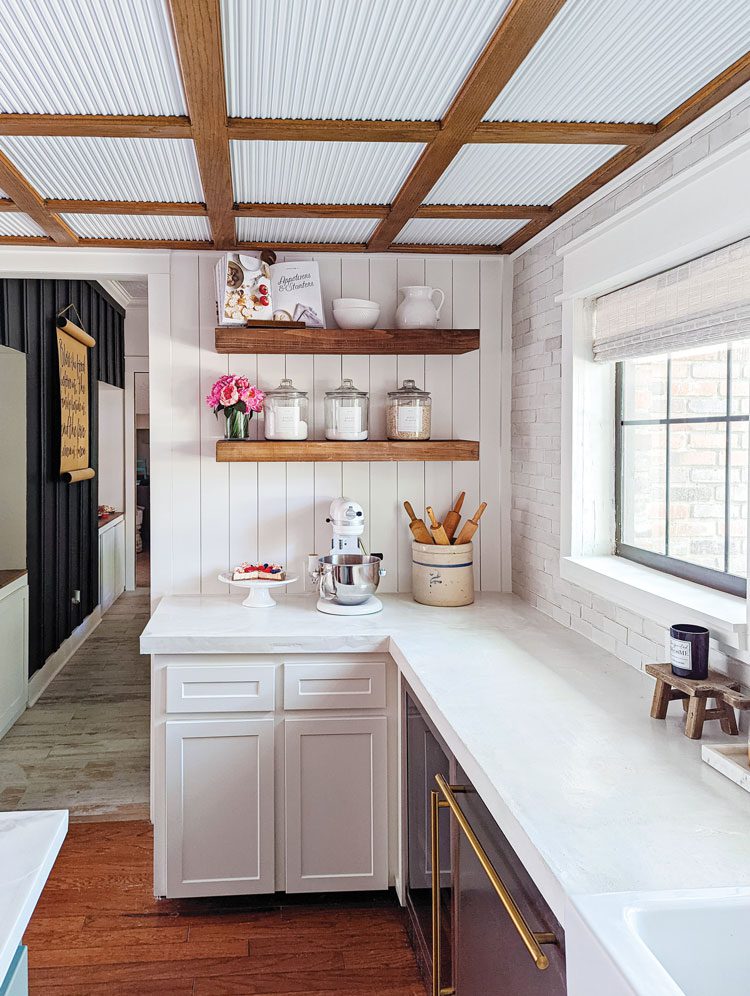 Finishing Touches
My kitchen renovation has included more than just the ceiling. I've added a vertical shiplap wall, all new tile, concrete countertops and gorgeous new cabinet doors and drawers. I also hung new floating shelves and decorated them with a few kitchen essentials. But the new ceiling tiles from Decorative Ceiling Tiles were the cherry on top of the cake! I love the way everything turned out and can't wait to take you along on my next project.
---
Astra Spanbauer @AtHomewithAstra was our 2022 Brand Ambassador. See more of her home and inspiring DIY Projects such as this Upcycled Farmhouse Desk and Repurposing an Upcycled Dresser.
Of course, don't forget to follow us on Instagram, Facebook and Pinterest for your daily dose of farmhouse inspiration!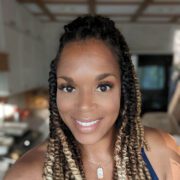 Astra Spanbauer
I am Astra, a mother of two and lover of DIY and interior design. I'm an Operations Manager, multi-state REALTOR® and DIY queen by day. I am also the 2022 Brand Ambassador for American Farmhouse Style magazine. I have found my passion in creating a home filled with love, one DIY at a time. Follow along with me at At Home With Astra.