A Tropical Farmhouse Kitchen Renovation
Hawaiian vibes in an Oklahoma farmhouse? Why not! Designer and contractor Valerie Helgeson, owner of Design Directions, helps homeowners in Oklahoma City achieve their dream homes. What started out as a leak in this home's ceiling inspired her client to redesign their entire kitchen. They turned to Valerie for help, and she designed their farmhouse kitchen renovation. The end result is a farmhouse-style kitchen with dazzling Hawaiian influences.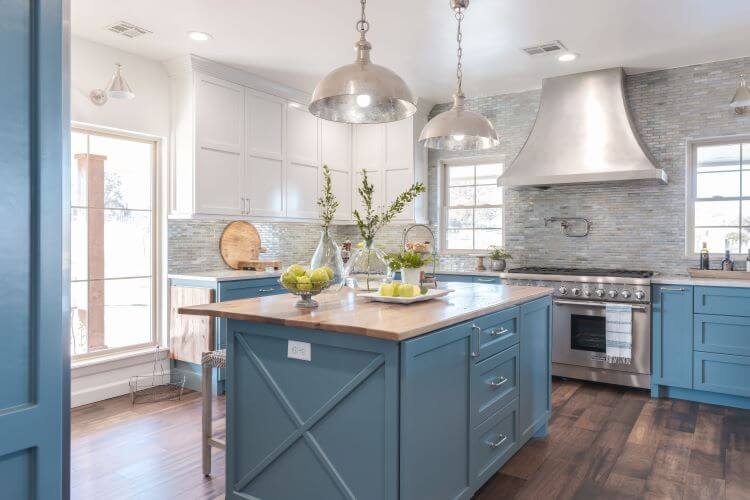 Hawaiian Heart
The home is located on a 10 acre farm outside Oklahoma City. And the owner had been thinking about redesigning the kitchen for several years. But the styles she had envisioned were on their way out. "As a designer, I guide customers in the direction they want," says Valerie. "But I help guide them to more current and up-to-date looks."
"Designers bring to the table ideas the owners hadn't considered before," she says. "I design for the client but help them find their true style—all the elements that are more them than somebody else's style." Valerie says customers often pull from magazines but are reluctant to share with her their ideas. "But looking at the magazine articles, I can glean their style and find common denominators in all the pictures," Valerie laughs.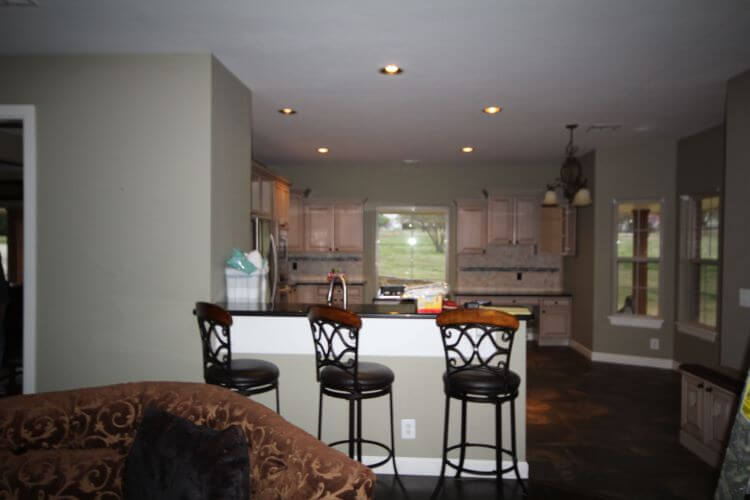 For this farmhouse kitchen renovation, the common denominator was the homeowner's love for the tropical islands. The iridescent backsplash tile, chromatic blue cabinets and pure white upper cabinets hint to island life. So do the woven bar stools, incorporating natural elements to help ground the kitchen. What the owner got was a sweet gesture to Hawaii on an Oklahoma farm.
Oklahoma Farmhouse
There are obvious nods to the traditional farmhouse, too. The farmhouse-style panels on the large kitchen islands and cabinet doors, the range hood over the stove, wood floors, reclaimed oak on the islands and exposed beam point to life on the farm. At first, the homeowner wanted a copper vent hood—copper is a traditional farmhouse material. Then, she and Valerie considered zinc to fit the color scheme. But wanting something sturdier, they eventually landed on stainless steel with a finish to look like zinc.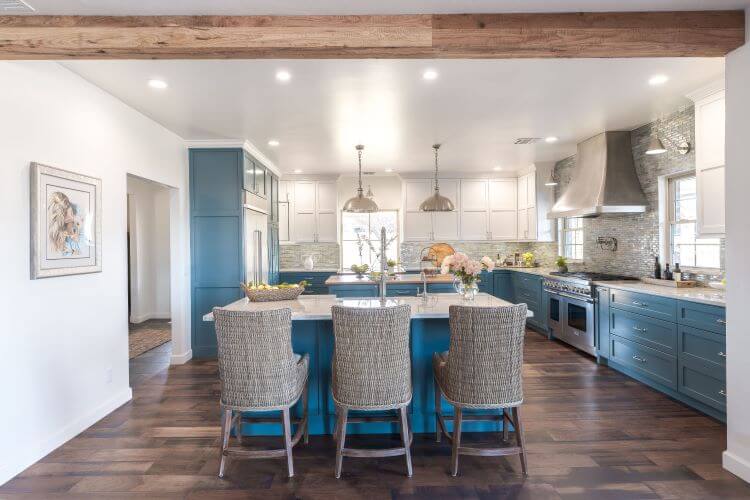 Modern Taste
Color is in for the 2020s. And so, Valerie encouraged her client to embrace more color in the kitchen. The cabinets' striking peacock blue is balanced with white. "If all the cabinets were blue," Valerie says, "that might have been too much." Less being more is always better. Plus, it's an element of modern farmhouse style!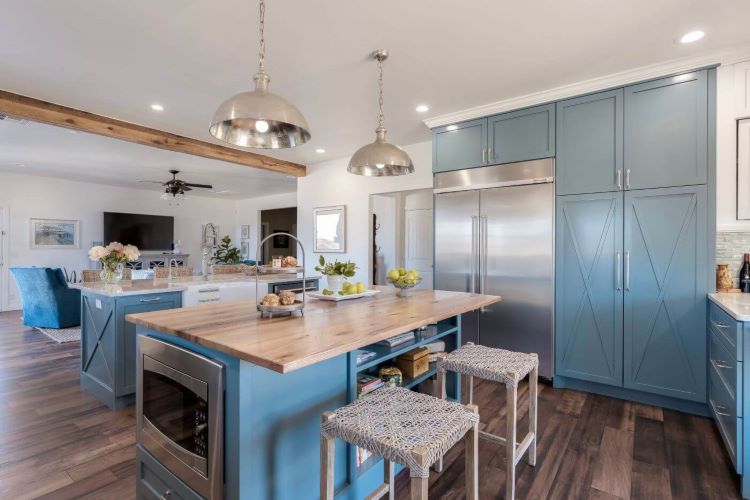 Originally the owner had wanted blue cabinets with brown glaze, but this farmhouse kitchen renovation wouldn't have ended up as crisp and saturated with bold color, Valerie says. Looking ahead to upcoming trends, Valerie suggests that combining colors is definitely on the rise. Perhaps we shouldn't be surprised to start seeing soft mustard yellows or bold emerald greens in the kitchen.
---
For more of Valerie's design projects, visit her on Instagram @DesignDirectionsOKC. Of course, don't forget to follow us on Instagram, Facebook and Pinterest to get your daily dose of farmhouse inspiration!