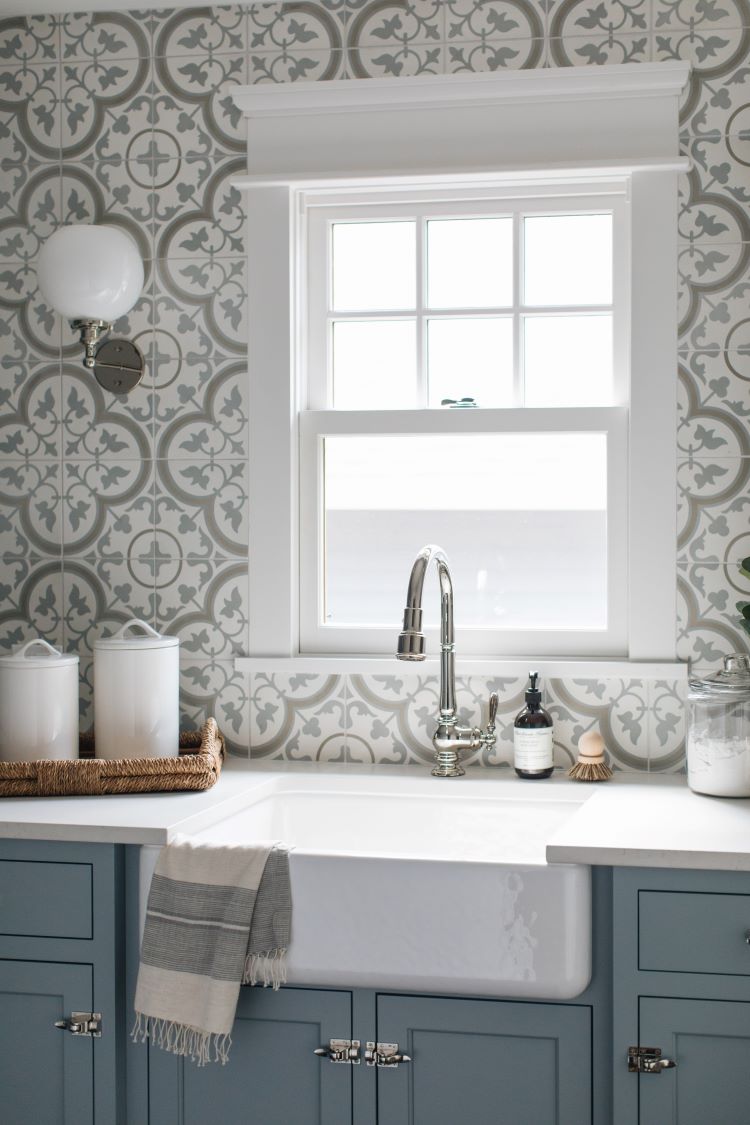 Laundry rooms are often out of sight yet are essential to a thriving home—plus, you'll spend a lot of time here doing not-so-fun chores. So it's important to have a space you love! Julie Howard, the in-house designer for Timber Trails Development Company, shows how a stylish and functional laundry enhances everyday life.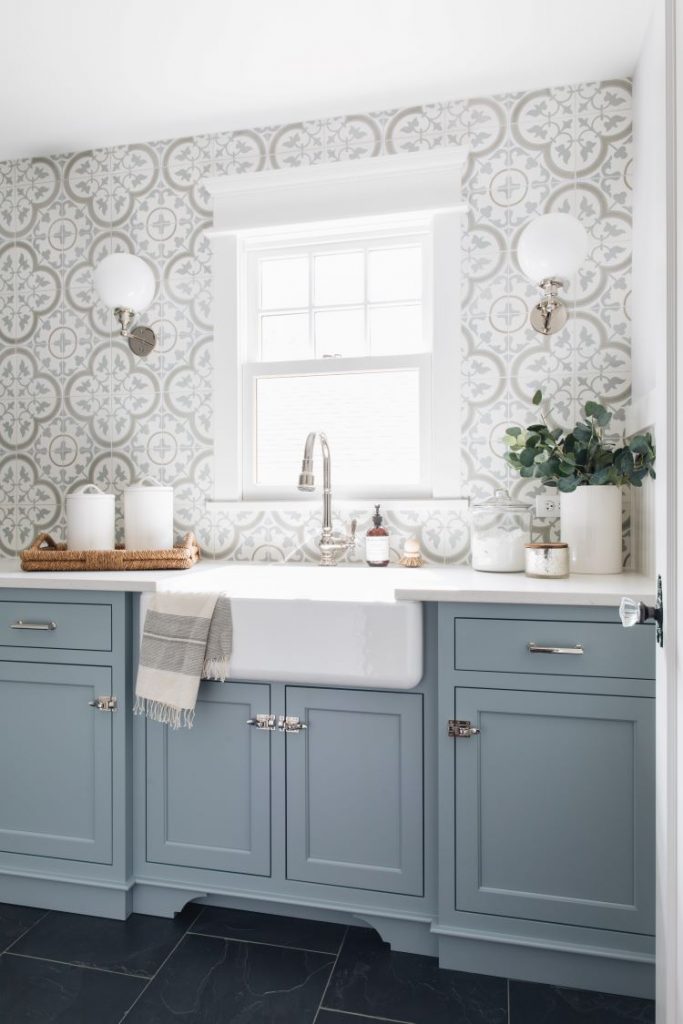 Laundry Room Design Basics
Julie designed this stunning laundry room for her home, which is a new build located in the historic district of Barrington, Illinois. (For the full tour, check out our October issue!) For convenience, she placed the laundry room on the second floor. A stunning tile from The Tile Shop sets the tone for the space. It creates a backsplash and covers the entire wall. "The tile was the inspiration for the room," Julie says.
"I selected the tile first and then color matched the paint for the custom cabinets. The cabinets are painted Cloudy Sky by Benjamin Moore." The color scheme gives the room a calming sense. Meanwhile, the sink and ample cabinets are practical and helpful. In order to free up space, Julie stacked her washer and dryer. She can easily switch laundry between the two without taking a single step!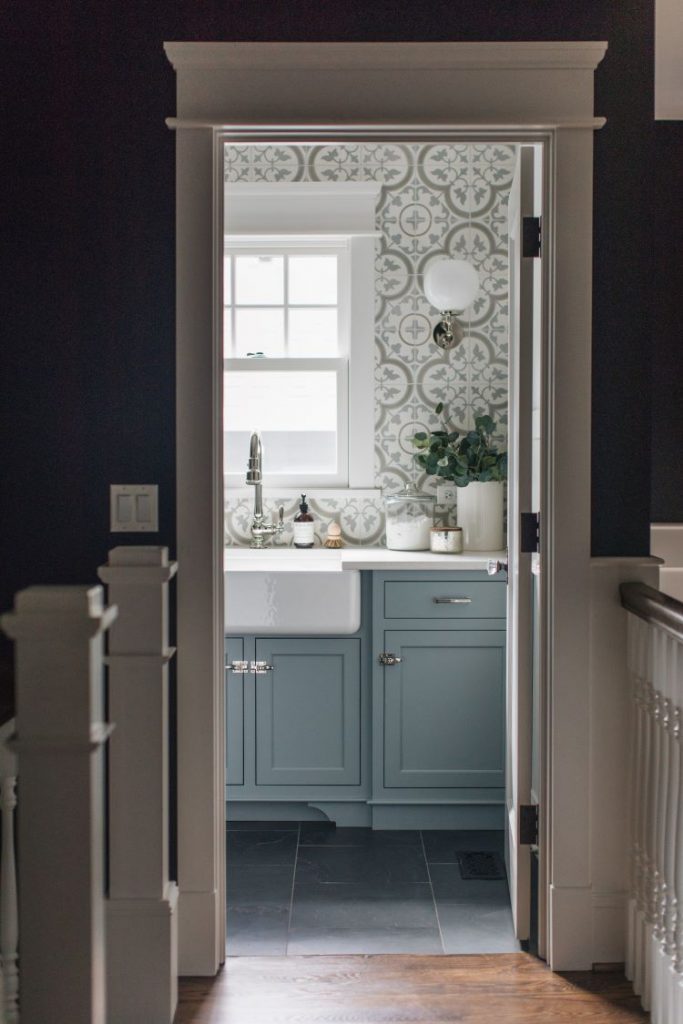 Charm in the Details
Other charming details include icebox latch hardware and light fixtures from Restoration Hardware. Elegantly minimalist accessories from Studio McGee include soap, a scrubber and sophisticated towel. By putting as much care into the style of the laundry room, Julie has made it a desirable and relaxing place to be. Since homeowners will be in this room during any given time, a beautiful laundry room reinvents a chore. Doing laundry becomes a pleasurable experience.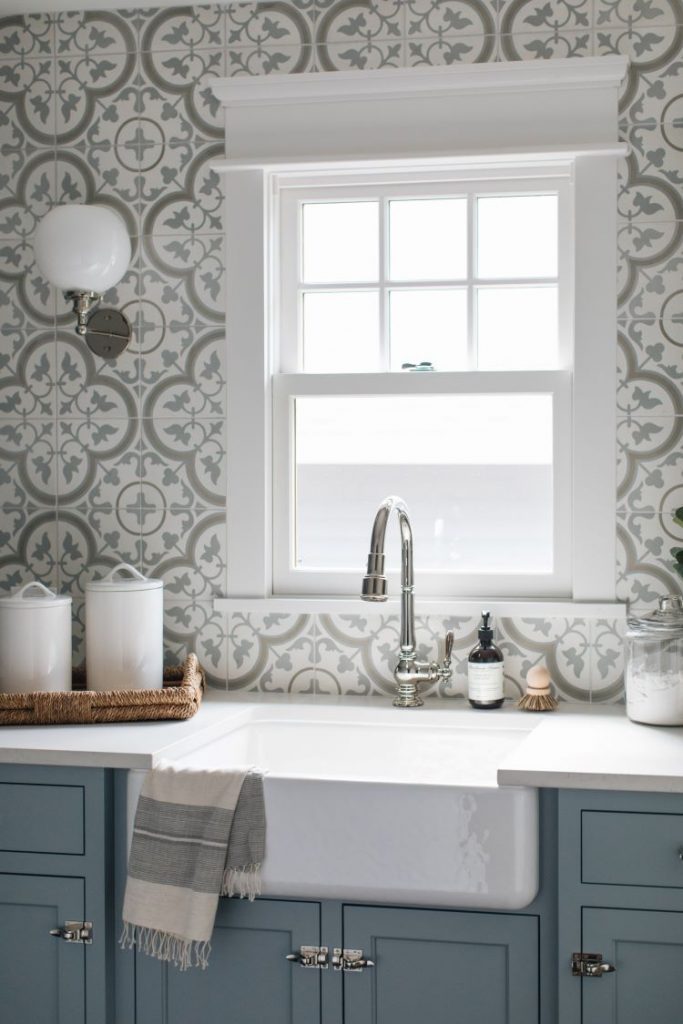 ---
Discover how this California home transformed into a farmhouse in the suburbs. And don't forget to follow us on Instagram, Facebook and Pinterest for your daily dose of farmhouse inspiration!