A Vintage Inspired Farmhouse in Chicago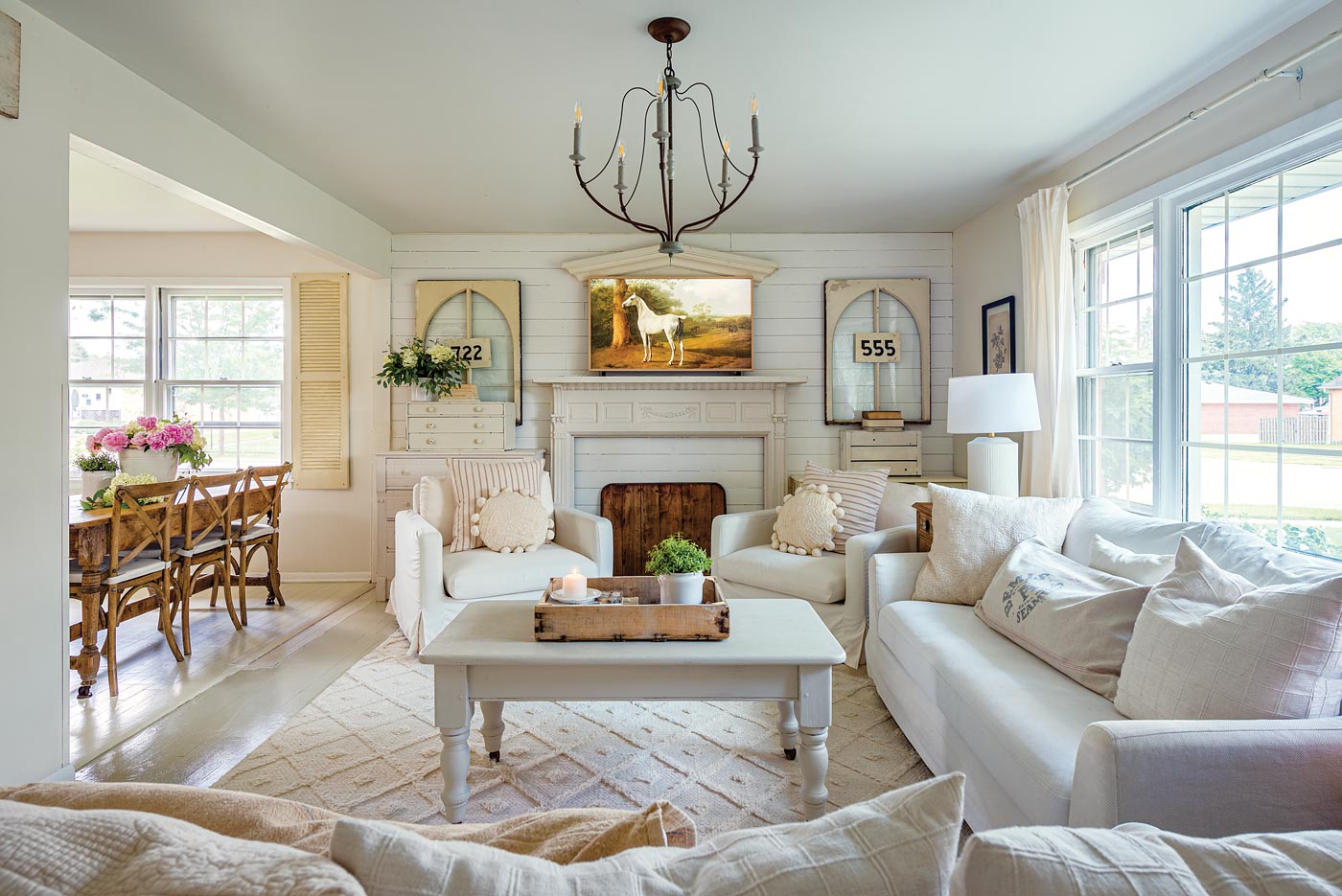 This 1970s home received updates with simple, economical ways to create a unique, vintage inspired farmhouse.
With its white and natural wood exterior, this bi-level home stands out among its brown-brick neighbors in the suburbs of Chicago. The inside of the home is no different, and boasts airy whites with pops of natural wood for a vintage inspired farmhouse vibe.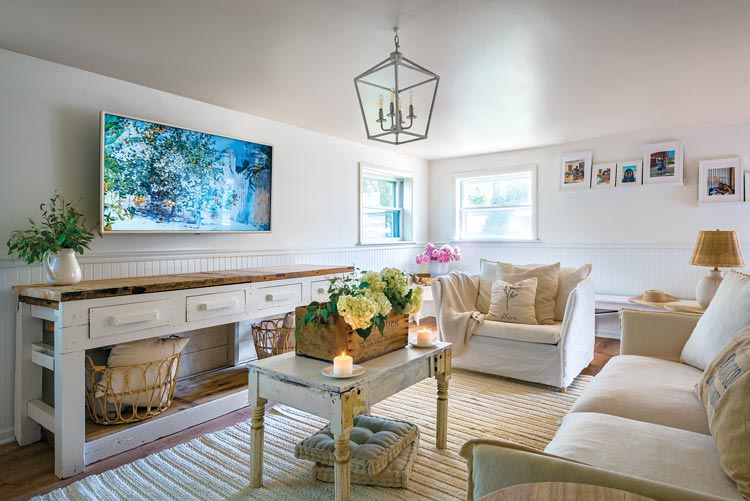 The home wasn't always this way—it has seen a lot of touch-ups since homeowner Cynthia and her husband bought it in 2017. As soon as they purchased the home, Cynthia began her journey of slowly refurbishing and updating the 1970s space to suit her style.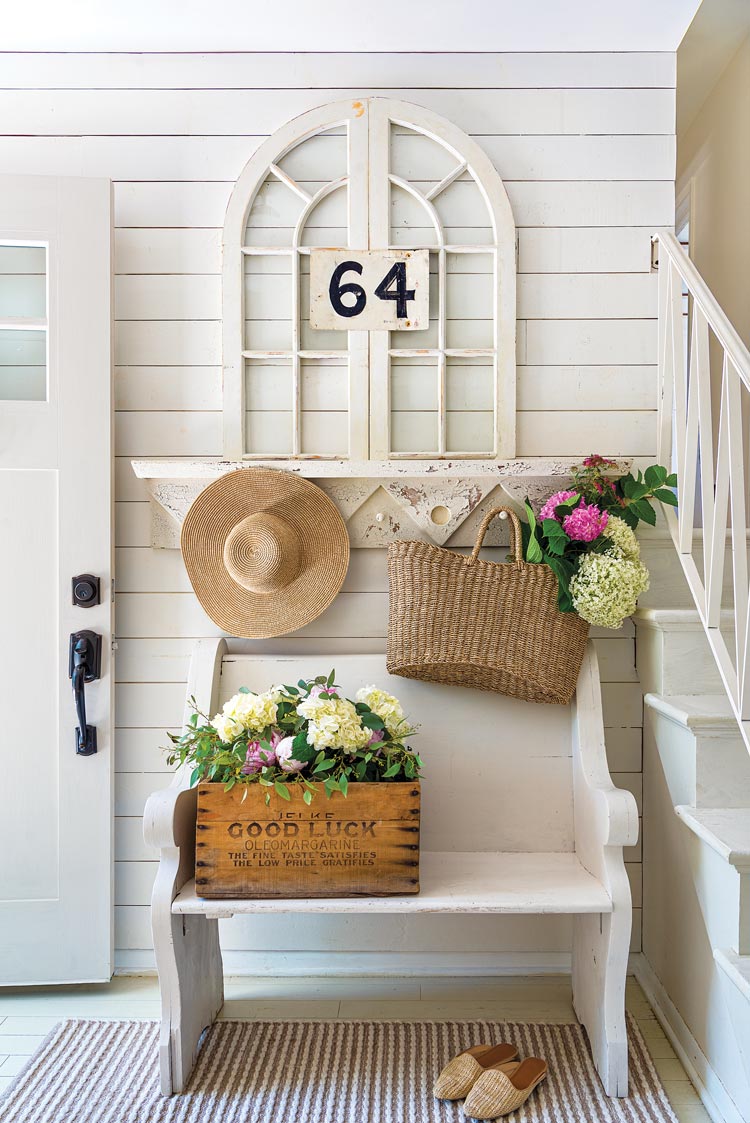 Cynthia documents her home décor journey on her blog, Vintage Grace and Living, where she writes about many of her DIY projects and reveals helpful tips and tricks for decorating on a budget. Driven by her desire to create the home of her dreams without breaking the bank, she found simple and creative ways to bring her vintage inspired farmhouse to life.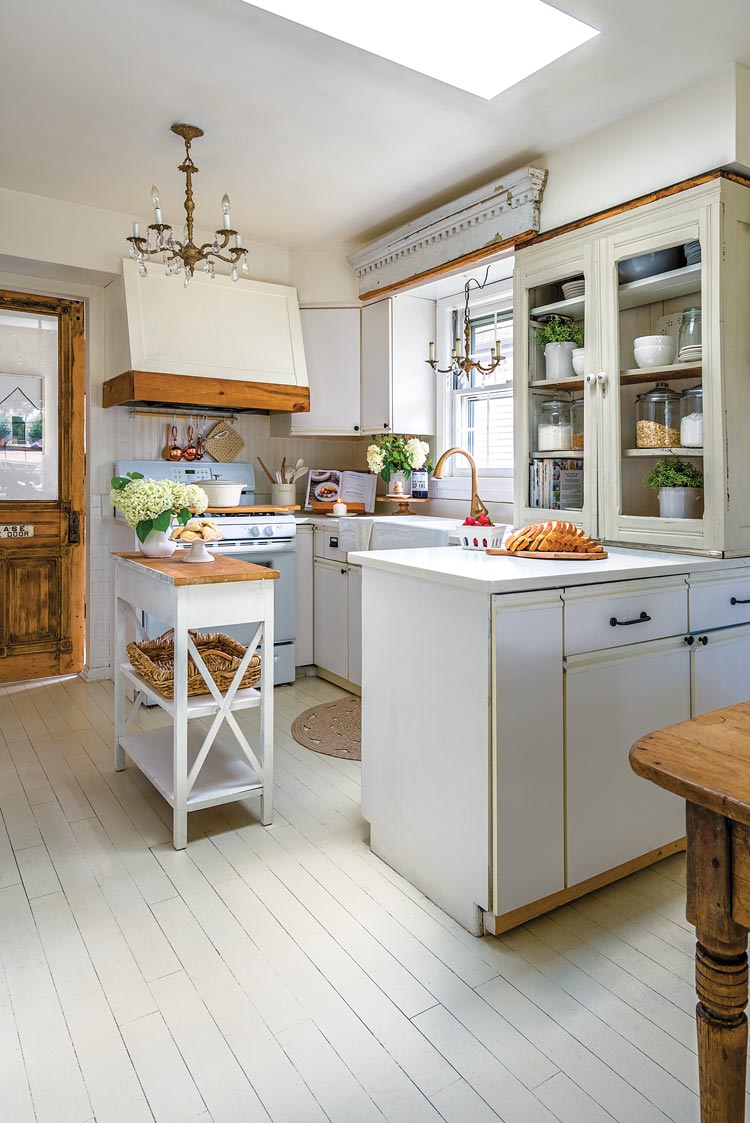 Going Neutral
Cynthia's style starts with a white or neutral palette, which gives her the freedom to build upon the base in any way she wants. "I wanted to have a blank canvas to work with," she says. This blank canvas is then filled with pops of color and textures that add character and warmth to each room.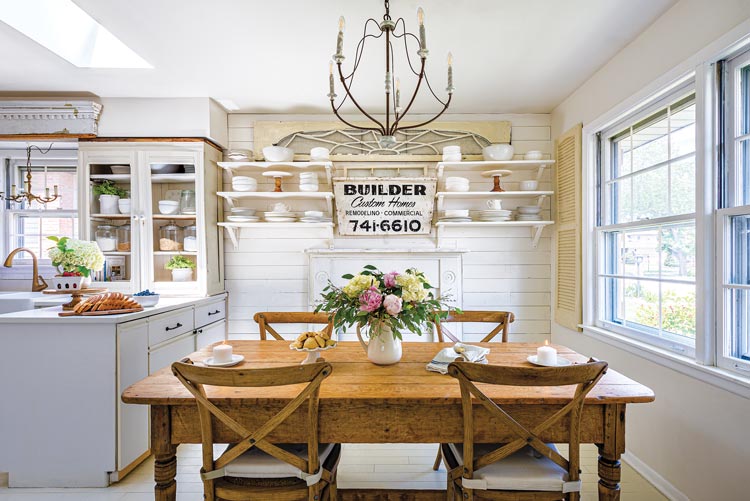 A common thread throughout the vintage inspired farmhouse includes natural wood accents—in furniture, such as vintage coffee tables or chairs, or in more subtle ways with a rustic basket or natural wood trim. No matter which piece she chooses, Cynthia has an expert eye for adding warm, rustic touches. "I love to use wood and golden hardware for my contrasts," she says.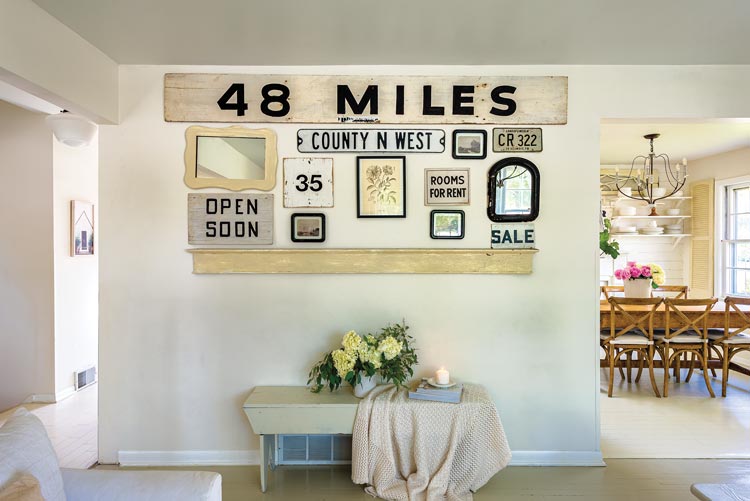 Vintage Touches
One of her favorite accent pieces includes vintage signs. "I like that they are not mass produced," she says. "They are a unique piece of art that most likely won't be found in someone else's home." Cynthia will often frequent local flea markets and antique shops for signs. She loves to hang them on walls, place them on mantels, and mount them to old architectural pieces for her vintage inspired farmhouse. "I like to showcase signs in ways that they weren't originally intended," Cynthia says.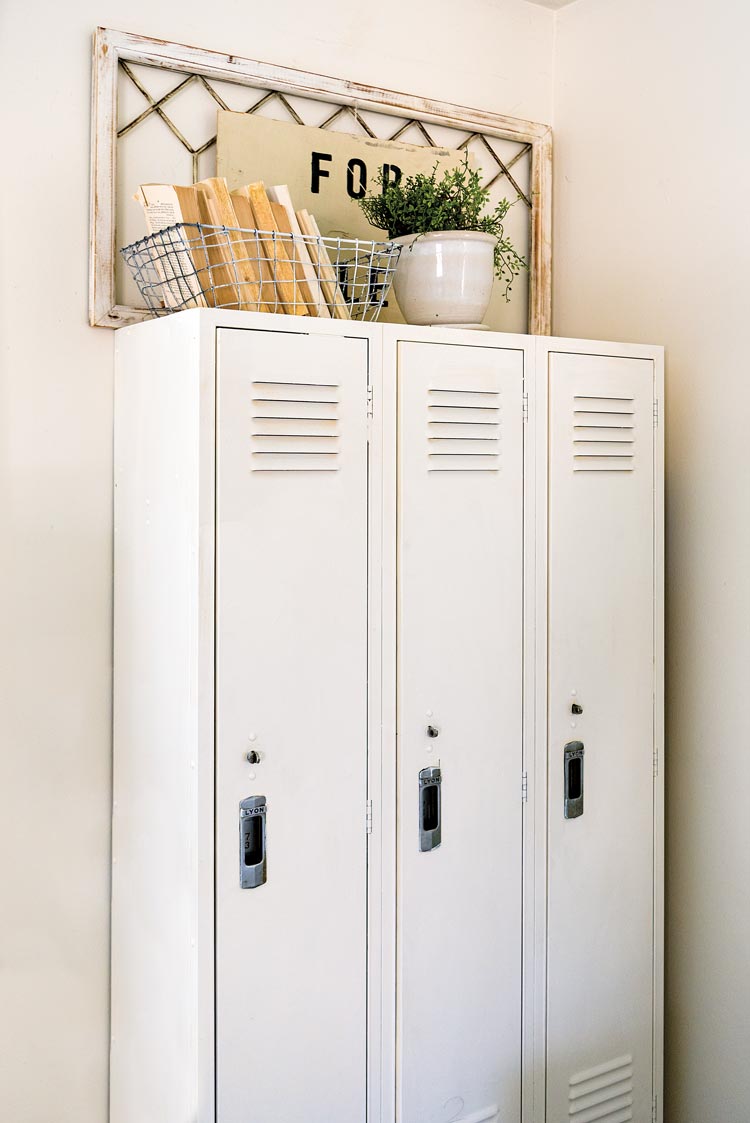 Her love of vintage signs adds a unique flair to her décor. You can find a variety of pieces in almost every room—including an antique sign gallery in the living room, which Cynthia likens to an art installment. "I like to showcase signs in ways that they weren't originally intended," she says.
Cynthia's neutral palette is the ideal foundation on which she builds her distinctive style.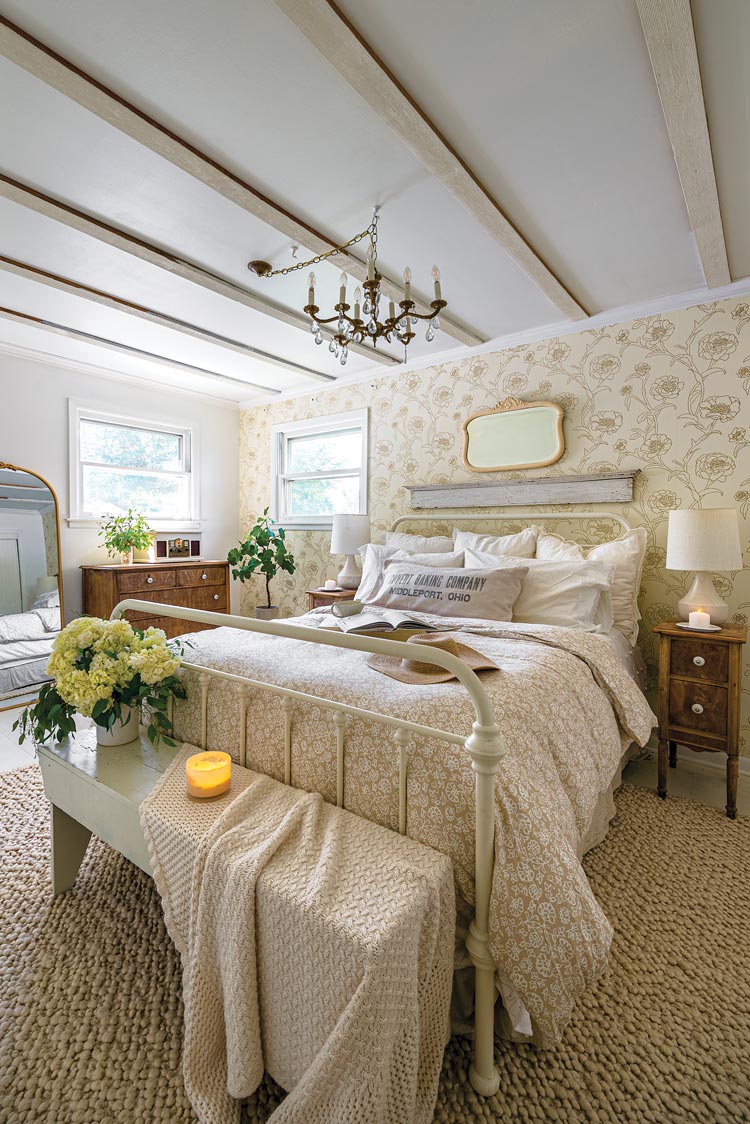 The home's vintage inspired farmhouse design strikes a perfect balance between stark white bases and warm, natural accents. Each room feels clean and airy, whereas Cynthia's artistic flair for vintage signs and architectural accents brings interest and character to every space.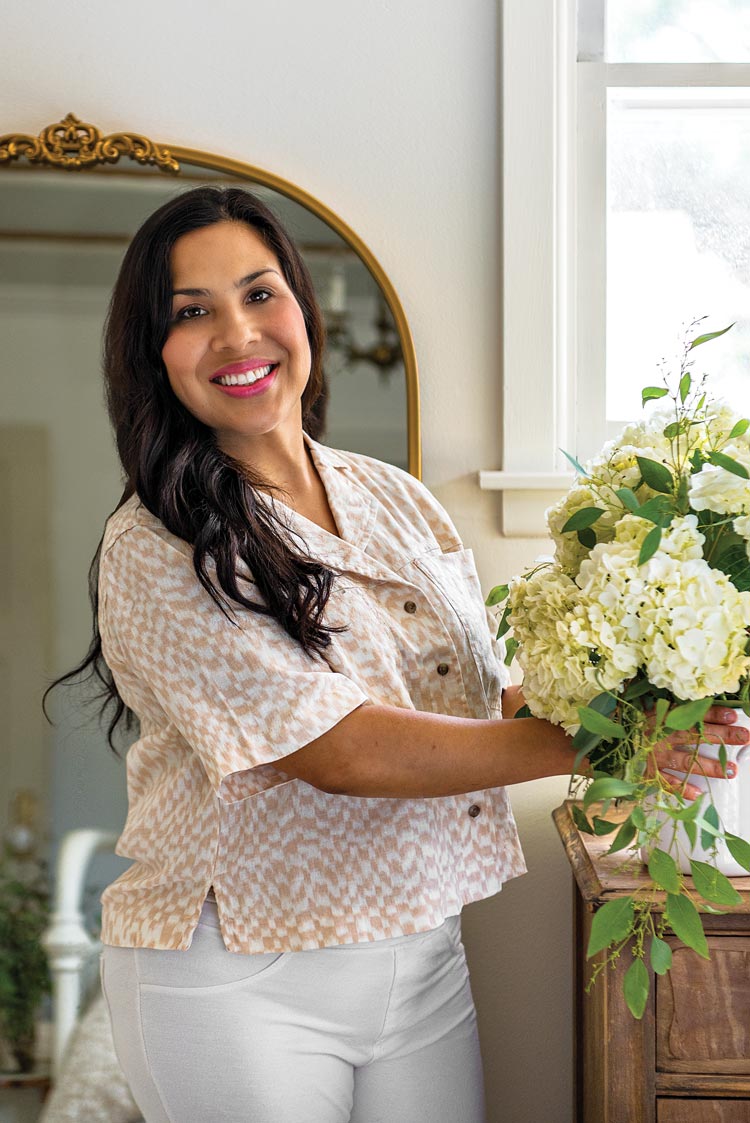 ---
Want more design ideas? We'd love to have you follow along with us! Head to on Instagram, Facebook and Pinterest and follow us for daily inspiration. And don't forget to sign up for our newsletter (right below this article) for inspiration right in your inbox!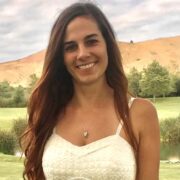 Jillian Chapman
Jillian is a freelance writer with years of experience writing and editing magazine articles, blog posts, social media content, and more. She has worked with media companies, social media accounts, local government and public libraries. Along with writing and editing, she also has experience in research, interviewing, SEO practices and marketing. Jillian began her writing career while working through college where she received her bachelor's degree in English Literature, Rhetoric and Cultural Studies from Chapman University. She has continued to follow that passion in the years since. Jillian thrives in combining her experience and education to craft insightful and engaging writing. She loves to research and collaborate with others in order to tell stories that bring value to readers' lives. Jillian's love of writing was initially born from her passion for reading. She enjoys all genres including fantasy, historical fiction, non-fiction, thriller and more. She believes one of the best ways to be a great writer is to be a great reader and tries to spend as much time as she can reading. When not reading or writing, Jillian enjoys punk rock concerts, swimming and spending time with family. Jillian lives in Orange County, California with her significant other, two children and their dog. Her work can be found through  Linkedin or personal website.