How to Get the Best Staircase Design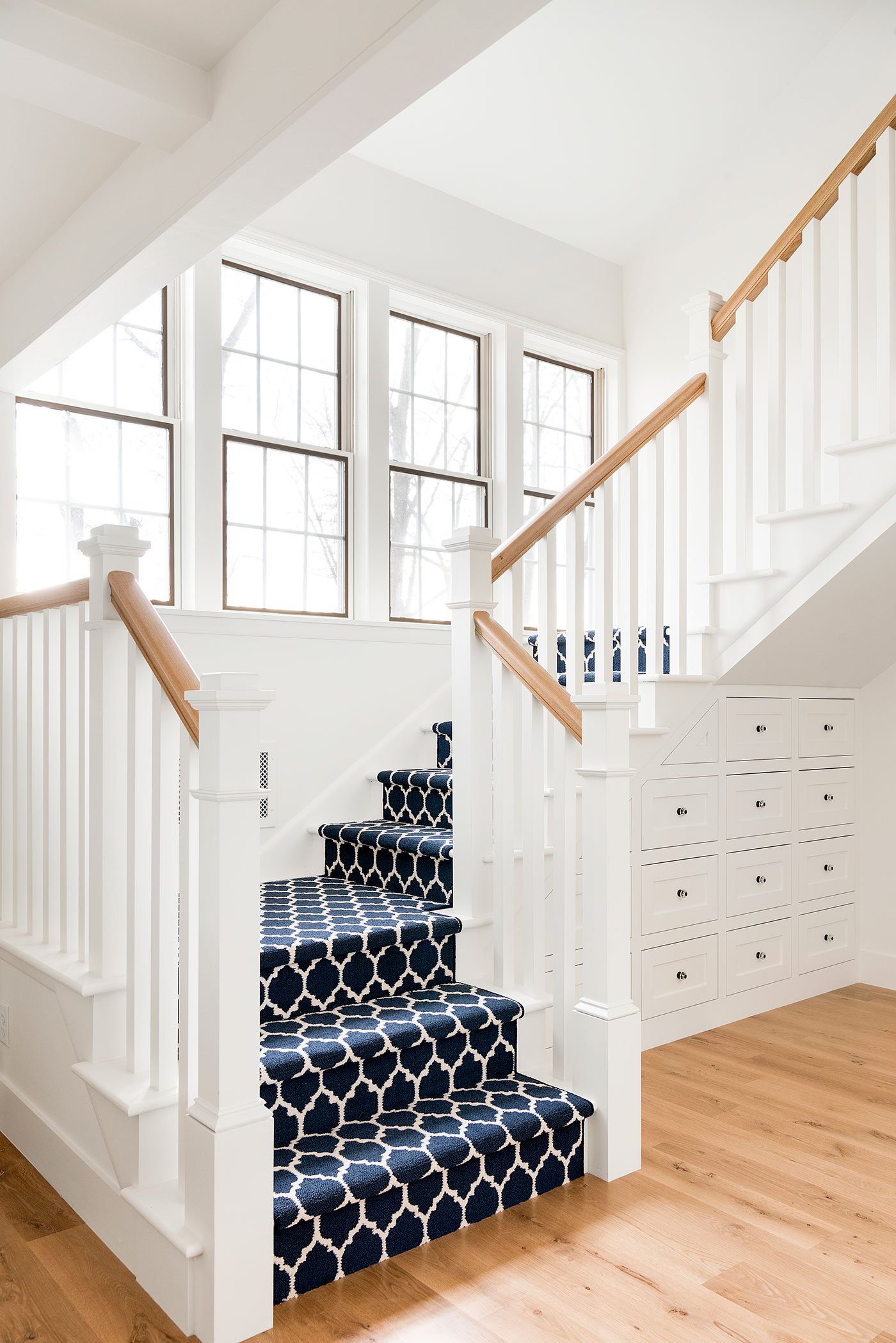 Wondering about the best staircase design for farmhouse style? We were too! So we reached out to Sarah Martin, lead designer and owner of Beautiful Chaos, to get the inside scoop.
Sarah recently designed and decorated the interior of a modern Minnesota farmhouse, and the results are absolutely breathtaking. For the full tour, check out our 2019 December issue!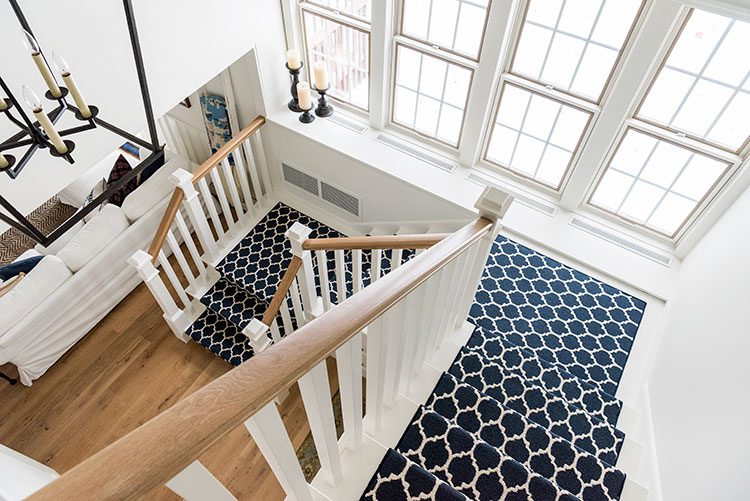 1. Choose a Railing Style
Stairs don't just lead to the second floor; the staircase design can lead the overarching style of your home. Since the right railing can transform your home, pick a style that looks like the home you want—whether that's primitive or modern style.
When you're ready to choose the style of your railing, follow Sarah's advice. "The lines tell everything. For example, railing systems that consist of straight lines, speak to a modern farmhouse vibe. Railing systems that consist of curved (more ornate) lines, speak more to a primitive farmhouse vibe," Sarah says. Take a gander around your house and determine which vibe your farmhouse falls under. "The rest of the millwork in your home should flow cohesively with the stair system," Sarah says.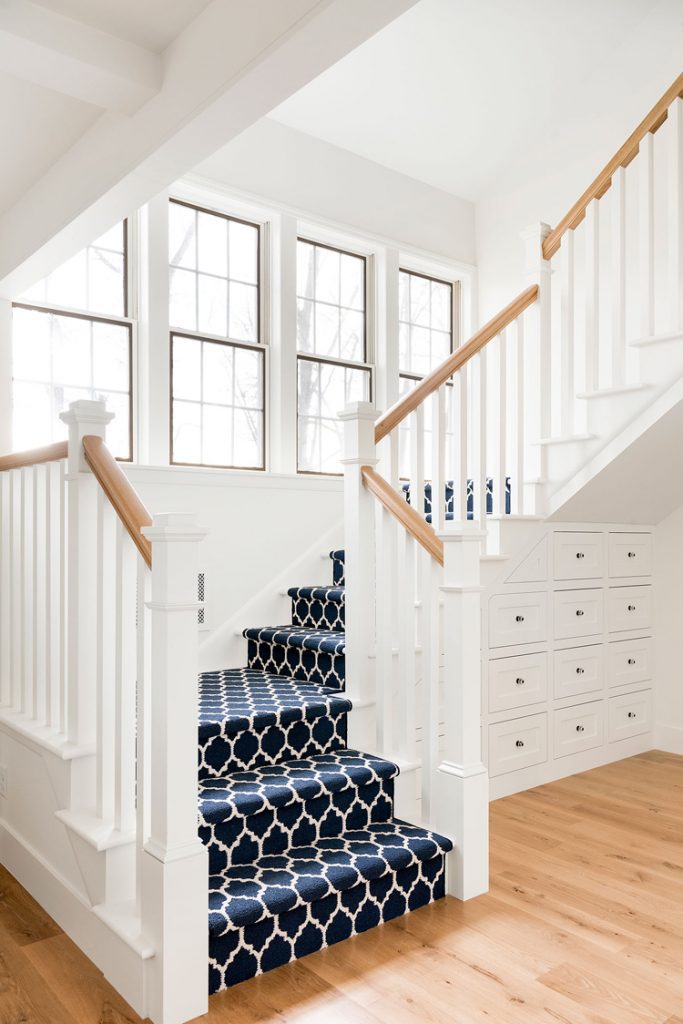 2. Choose Stair Treads
The treads offer the chance take your staircase design to the next level. You want to pick a style that's durable, yet eye-catching. "The material used for stair treads should heavily depend on your lifestyle," Sarah says. "Hardwood stair treads are beautiful, but they are not exactly practical for families with small children or pets. Patterned carpet runners are such a beautiful way to avoid slippery stairs and still expose some wood (stain or painted)." Play around with colors, patterns and styles. And keep in mind your primary accent color—this is the perfect opportunity to create a focal point.
3. Add Storage
If you're looking for a way to make storage cute—this is it. You can dress up stair storage with different kinds of drawers, doors and shapes. "Storage can be incorporated in the dead space of the stairwell with custom cabinetry. We love using drawers here for unlimited storage space and the addition of a charming aesthetic," Sarah says. The more storage you have, the better. You can store decor, blankets, cleaning supplies and more in cabinets custom-built to your taste. Take every opportunity you can to build storage space into the architecture of your home, including in your staircase design.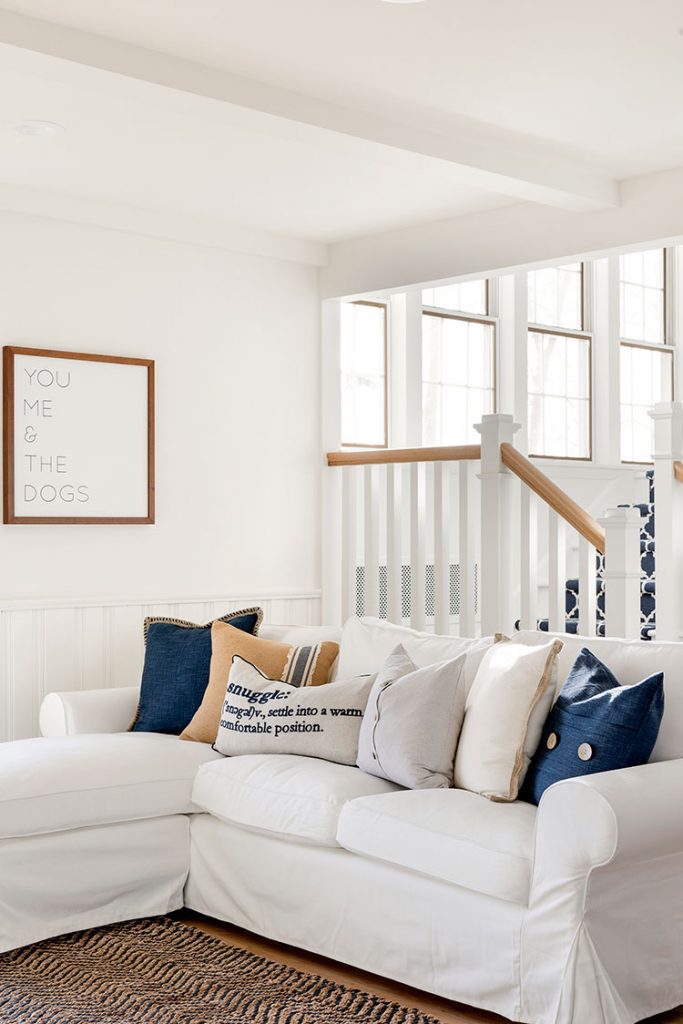 4. Use Your Wall Space
Just like the final head-to-toe check for your favorite outfit, your staircase gets one too. The design elements you can incorporate into your stairwell wall space depends on the architecture of the staircase itself. "Stairwells are the perfect spot for large windows! To create a stairwell with character, a window seat could also be added under the windows," Sarah says.
Natural light is the key ingredient to complete farmhouse style, so bring it into your home wherever you can, especially in your stairwell (if you have a split-entry stairway, you can still add windows beside and above your door). Then, if you have the space for it, add a window seat with plush pillows to complete your staircase design.
---
For more farmhouse renovation magic, click here to read about our special project house in New Hampshire. Of course, don't forget to follow us on Instagram, Facebook and Pinterest for more daily inspiration and farmhouse style!