How to Host a Simple Outdoor Fall Dinner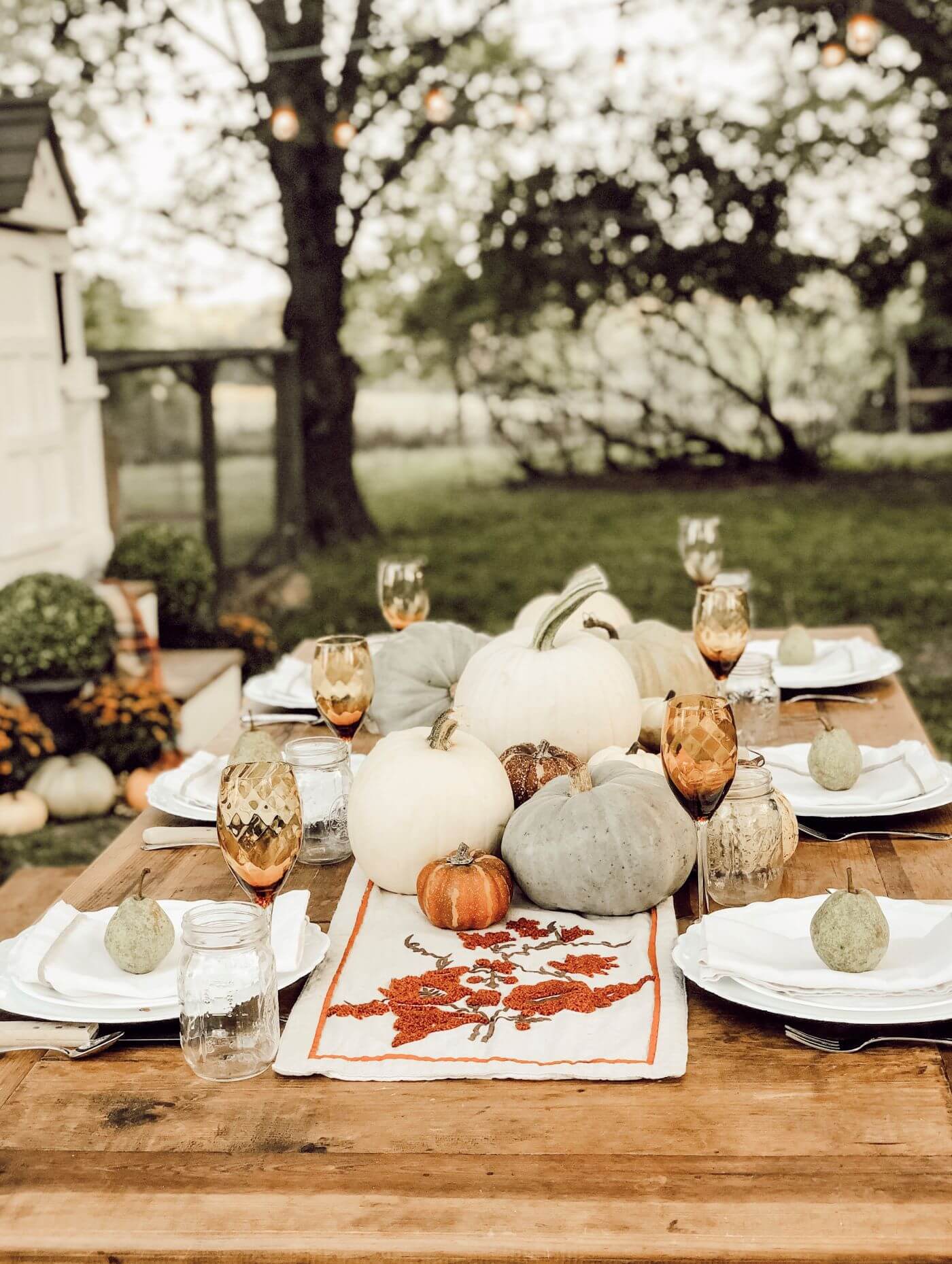 As the summer temperatures cool off and the leaves begin to change colors, gather your friends for an outdoor fall dinner party. There is something special about breaking bread outside with your favorite people during the harvest season.
Simplicity is the key to a beautiful outdoor dinner party. Keeping it simple allows you, the host, to actually engage in the conversation and enjoy your guests. Here are ten steps to a simple outdoor fall dinner.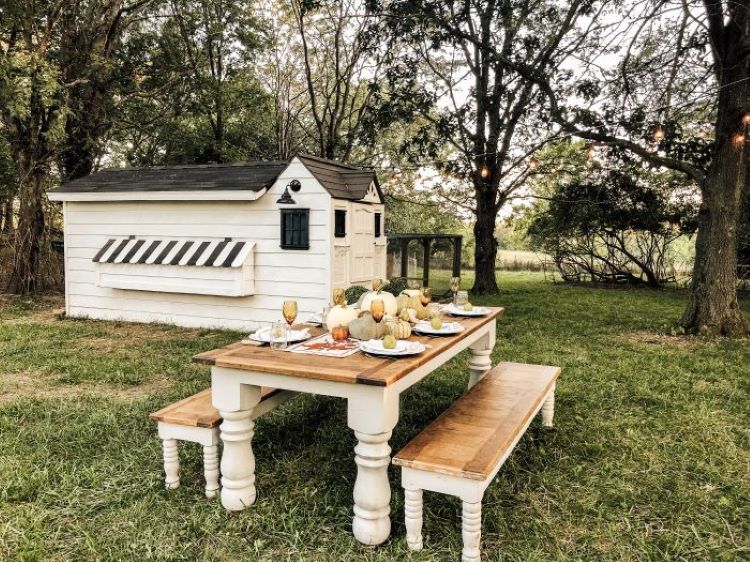 1. Location and Table
Experiment with the best location for your outdoor fall dinner. It can be in your backyard, on the front porch or behind your barn. Changing up the meal location will make it extra special. Use a sturdy table for the foundation of your dinner. We pulled out an old kitchen table with benches. Others have made a table out of saw horses and a sheet of plywood. A pallet with seating of pillows on the ground could add an extra cozy vibe to your night. We chose the chicken coop as a backdrop for our dinner. This allowed us to use the electrical outlets for lighting and music.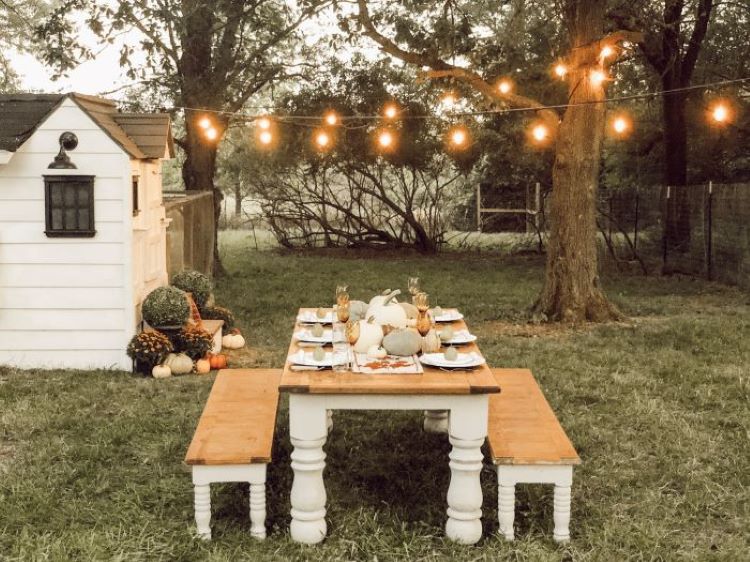 2. Lighting
Adding string overhead lights to your dinner space improves the atmosphere immediately, especially for an evening dinner party. You can secure your light strand to a corner of a barn or even wrap it around a tree branch. Plug in extension cords for the electricity. If you want to go full rustic, you can place votives all around your table for a candlelit experience.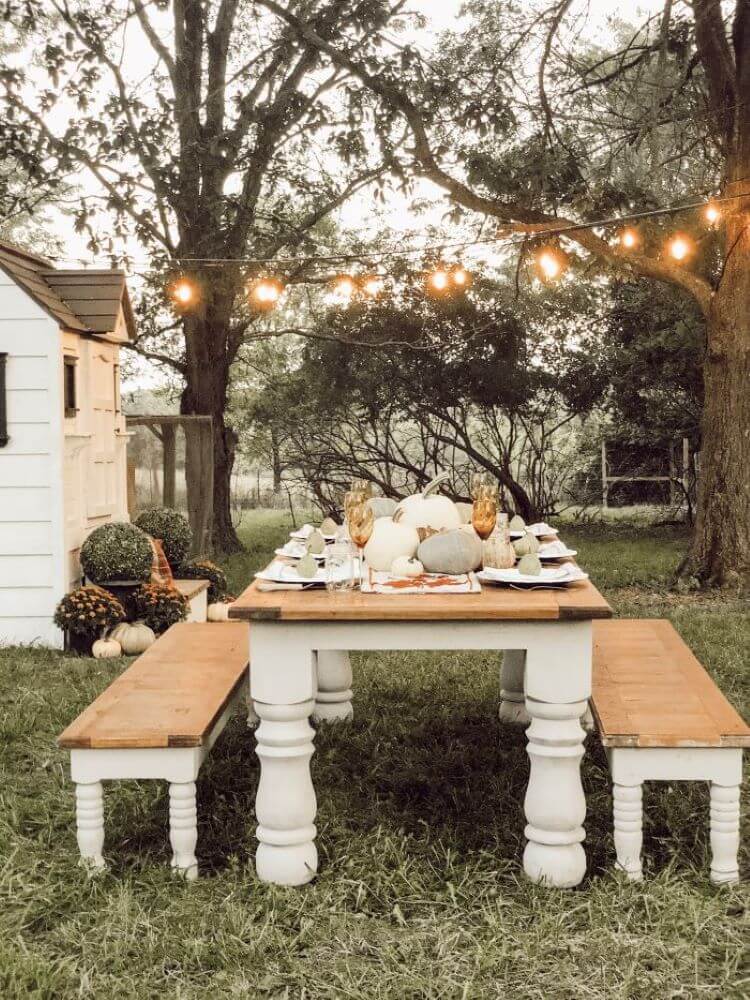 3. Guest List & Engagement
Decide how many you are inviting and reach out to them. Is this strictly friends coming or family as well? Think about seating and who you will want to seat next to each other. It can be fun to play cupid with your guests at a cozy outdoor fall dinner party. Fill your guests in on the plans and ask them to bring a local farm-to-table dish.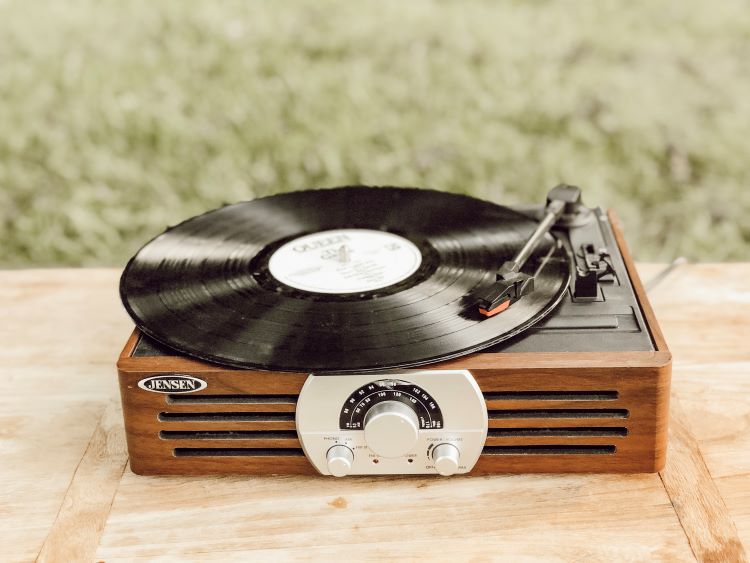 4. Table Setting and Music
Keep the décor and place settings simple, so you can focus on your guests and enjoying the evening yourself. For a harvest dinner, a few pumpkins or gourds on the table is all you need. The food is your main décor. Determine your music playlist and delivery system. You can bring out an old record player and albums, battery boom box with cassette tapes or listen to tunes straight from your phone playlist. Remember that music sets the tone and atmosphere for your evening.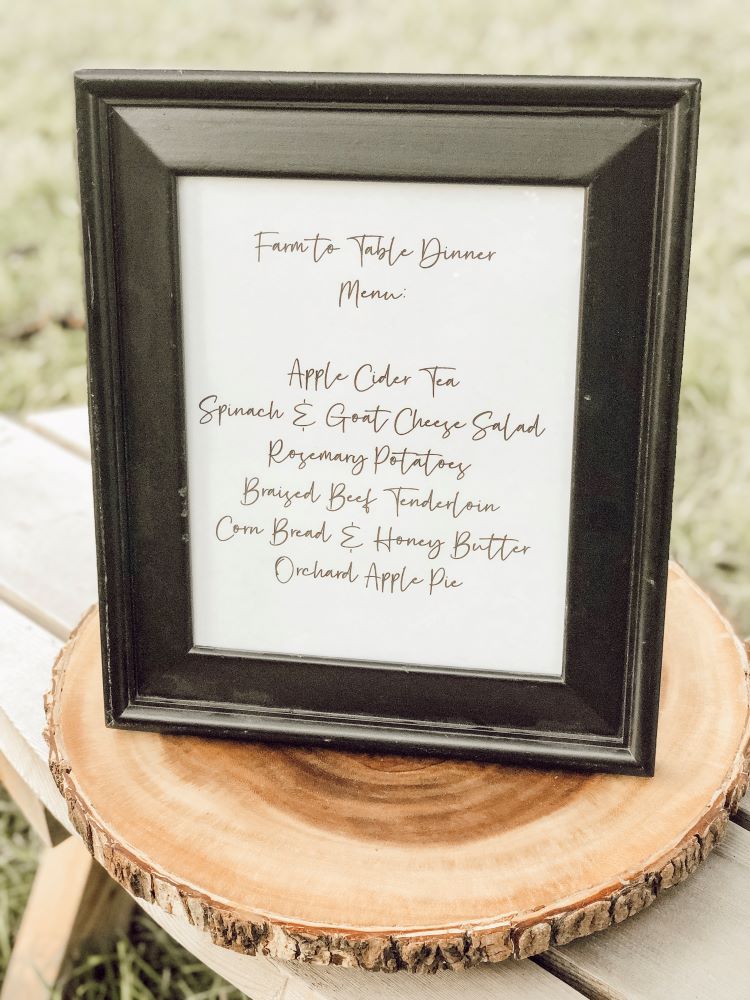 5. Menu
To keep the dinner plan simple, ask each of your guests to bring a farm-to-table dish. If they don't have a garden, they can go to the local farmers market or vegetable stand for their ingredients. Plan your menu and make suggestions to those attending, but leave it up to your guests to decide on the dish. You can say, "I'm cooking the main dish. Do you mind bringing a dessert? I hear the apple orchard near your home sells premade pies that are yummy, or you can bring something else if you would like." The joint effort is part of the fun, and you will be surprised at the wonderful dishes your guests bring.
Our latest farm-to-table menu:
Apple Cider Tea
Baby Spinach Salad with Goat Cheese
Rosemary Potatoes
Braised Beef Tenderloin
Honey Corn Bread with Local Honey Butter
Orchard Apple Pie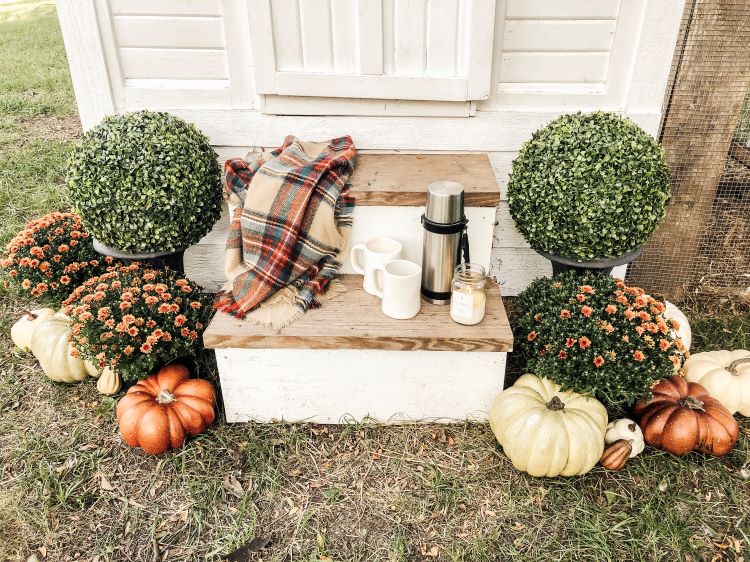 6. Drinks
It's a good idea to serve a seasonal signature drink and offer chilled water. Depending on the temperature, you could also offer an after-dinner coffee or hot chocolate. This will require some additional planning and thermos server, but it could help your guests linger and continue great conversation.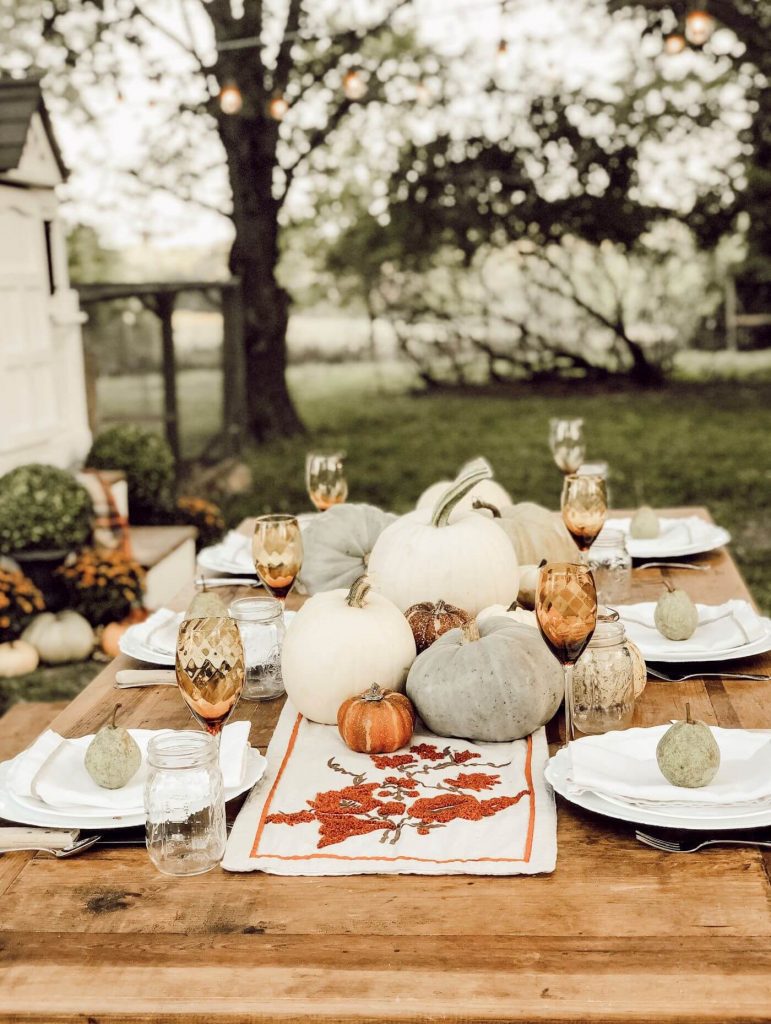 7. Food Prep and Serving
Most likely, you are preparing your dish somewhere else and bringing it to your outdoor fall dinner. Keep that in mind when you are planning. Do you have a large covered pan that can hold the main dish and vegetables? Do your dishes have lids, to keep them warm? The more you simplify the food, the more fun you will have as the host.
8. Give Guest Instructions
As your guests arrive, guide them. Decide if you want to serve them a drink or can they help themselves? Also, give them a job and get them involved. Tell your guests where you want their farm-to-table dish to go. Direct them to the cheese tray or other appetizer. Is it a special occasion? If so, ask your guests if they mind giving a toast before dessert. Delegating and communicating upfront keeps the evening more enjoyable.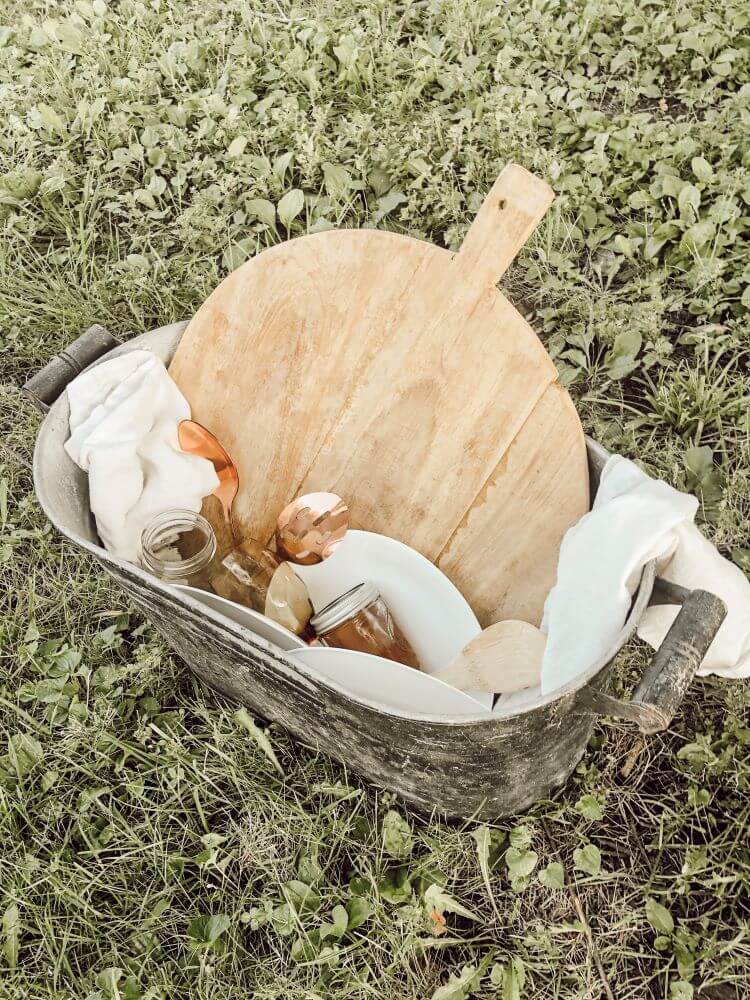 9. After Dinner Clean Up
Dinner parties are for enjoying, even if you are the host. Keep it simple, so the cleanup is minimal. If your guests are bringing a dish, they will be leaving with it as well. That will cut down on your clean up time. Have a large bin or wagon nearby to place your dirty dishes and linens in it at the end of the night. Make sure it gets back to the house, and it can wait on your attention until morning.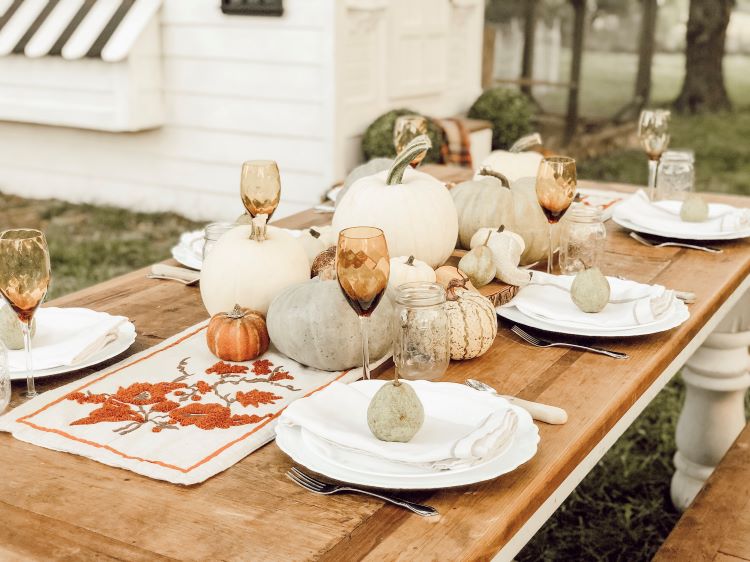 10. Eat Fresh
Eating fresh and local food prepared in your community adds an extra element of enjoyment to your outdoor fall dinner party. Your guests will be involved by bringing a dish, and the host can enjoy every minute of the evening. A cozy farm-to-table meal outside with your favorite people is a wonderful way to fully experience the fall season. Who knows? It may become a new tradition.
---
Love DIYs? Learn to make your own patterned tile. But don't forget to follow us on Instagram, Facebook and Pinterest for your daily dose of farmhouse inspiration!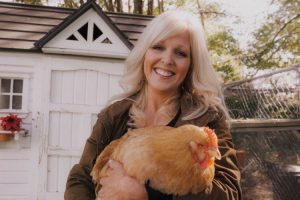 Lana lives with her husband and kids on a small farmstead in Kansas City, where they raise goats, chickens & bees. They are fixing up their 120 year old farmhouse one room at a time. Lana is a University Business Professor, and she enjoys local Kansas City BBQ any chance she gets. Learn more about Lana at LannaStenner.com.