Types of Farmhouse Lighting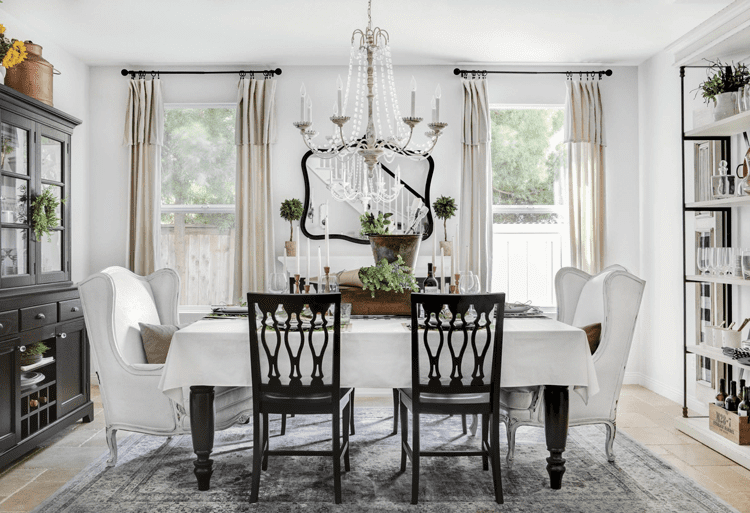 Photo by Chad Mellon
Lighting is essential to any home, and farmhouse lighting will add just the right country pizzazz to your style. But what kinds of lights should you use? Here are the best types of farmhouse lighting for your home.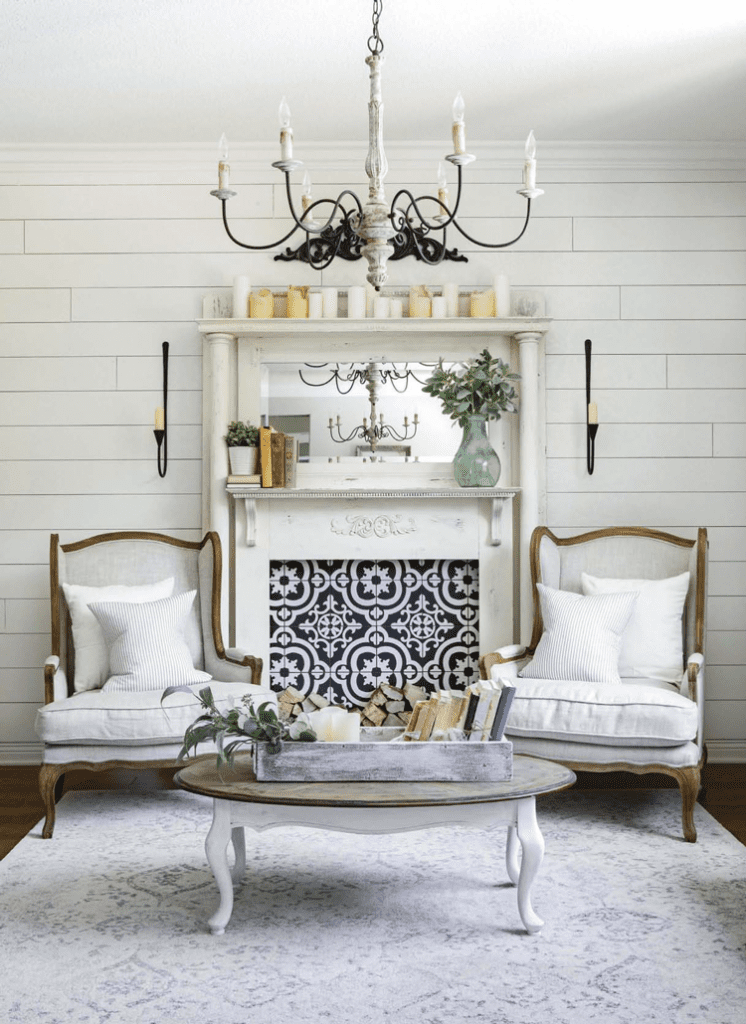 Chandeliers
Ah, the mighty chandelier. This will be your statement piece when it comes to farmhouse lighting, and you can use it in just about any room. A chandelier can be large or small to accommodate the space, and hangs down into the room not only to act as functional light, but also to draw the eye upward, especially in larger spaces such as your dining room. For a guide to sizing your chandelier, look here.
Pendant Lights
Pendant lights are similar to chandeliers in that they hang down from the ceiling. But whereas chandeliers have many bulbs that branch out from the single light, pendant lights have fewer bulbs—often just one. Depending on your space, they can work well individually or in a group (try three together), often in the kitchen above the island or sink area.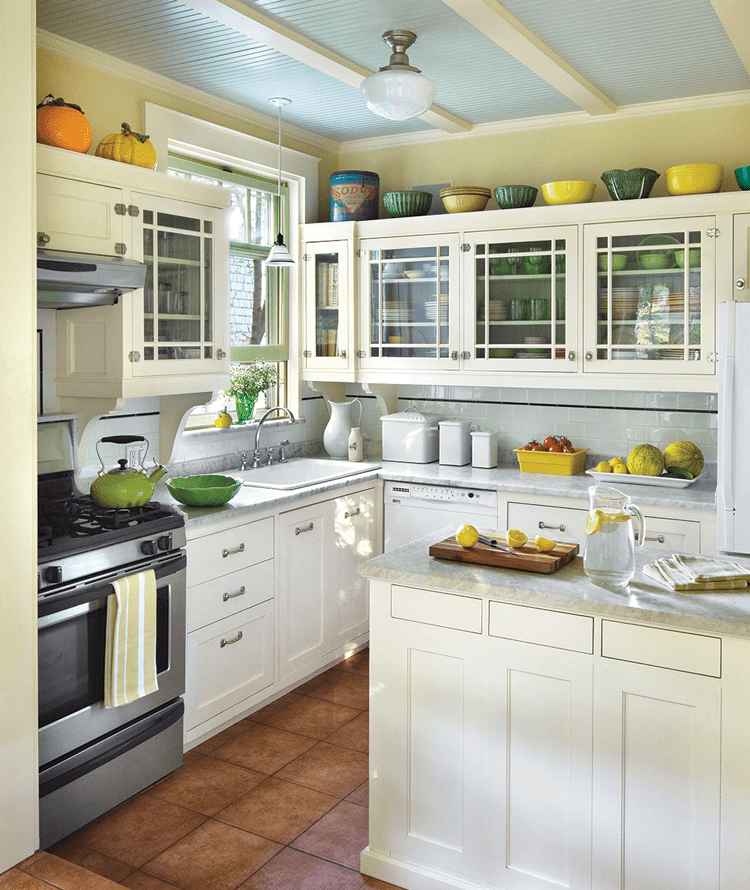 Flush Mounts
Flush mounts are lights that are fixed to the ceiling, but don't hang down far into the room like a chandelier or pendant light. Instead, they're closer to the ceiling ("flush" with the wall). Flush mounts are a type of ambient light, meaning they're a functional light to brighten the whole space. Flush mounts are great for small spaces where you only want one light switch to turn on, such as mudrooms, hallways and sometimes bedrooms.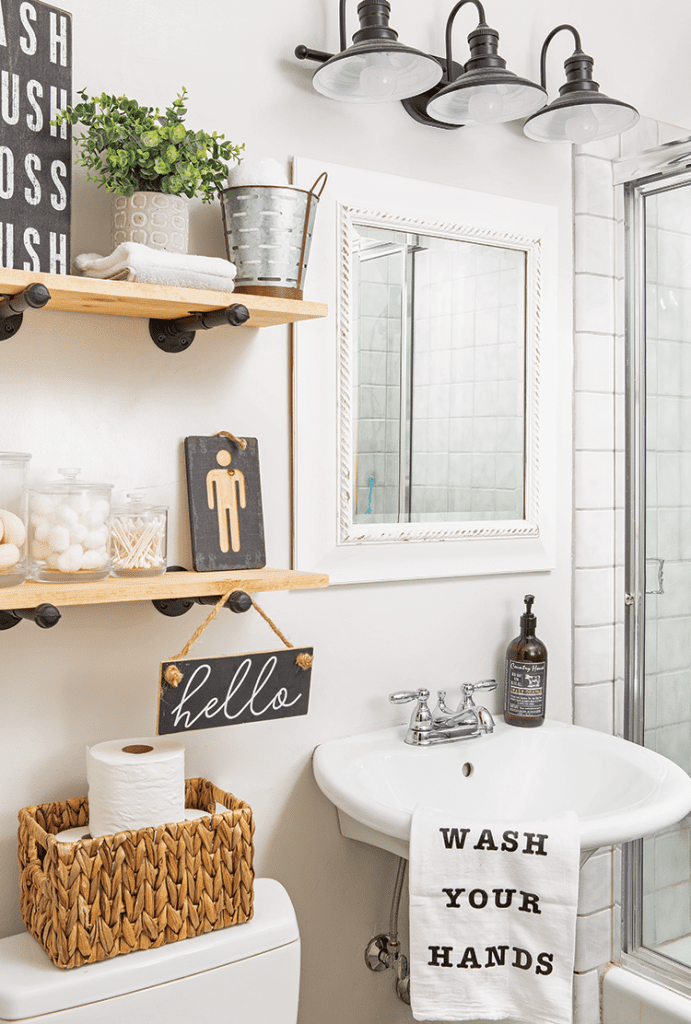 Wall Sconces
Wall sconces are lights that attach to the side wall instead of the ceiling. Sconces can be used in a variety of spaces, and are good for small spaces like bathrooms, hallways and window seats.
Vanity lighting is often listed on home decor shopping sites as separate from other wall sconces. The main difference? Usually traditional wall sconces have one light, whereas bathroom vanity lighting often has several bulbs coming from one fixture, as in the bathroom above. However, feel free to interchange them, depending on the needs of your spaces.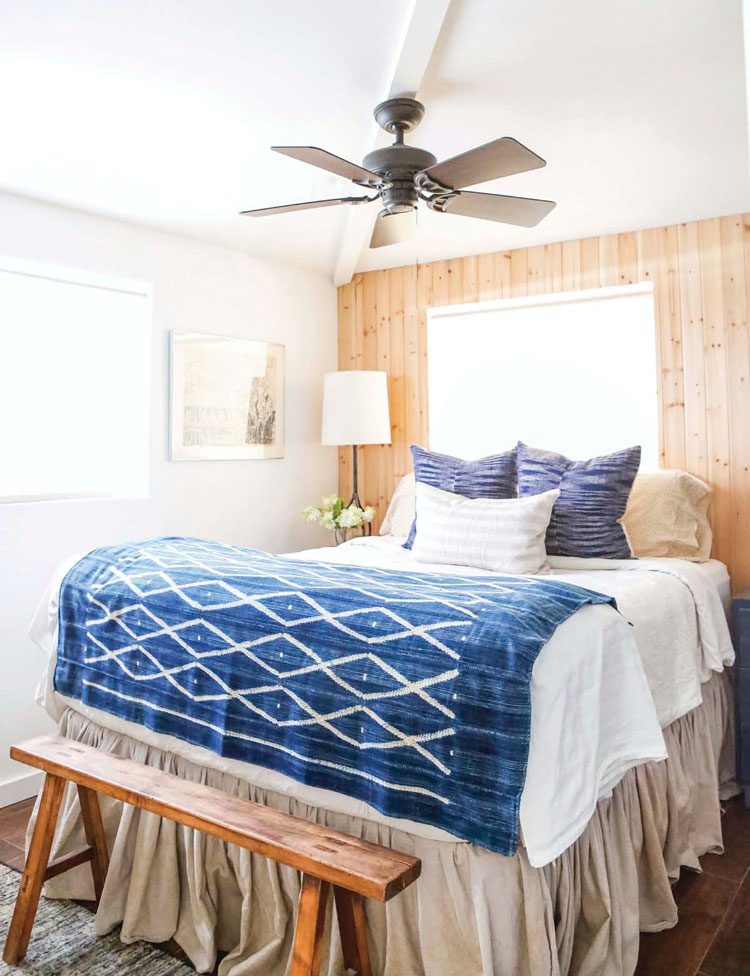 Fan Lights
Should you use a ceiling fan as your main lighting in a room? Well, maybe. While fan lights are fine, they're often not as bright as other types of ambient lighting, and will work best paired with other types of lighting, even in smaller spaces like bedrooms. You can certainly use your ceiling fan as part of your farmhouse lighting lineup, but use it alongside other lights too, such as lamps.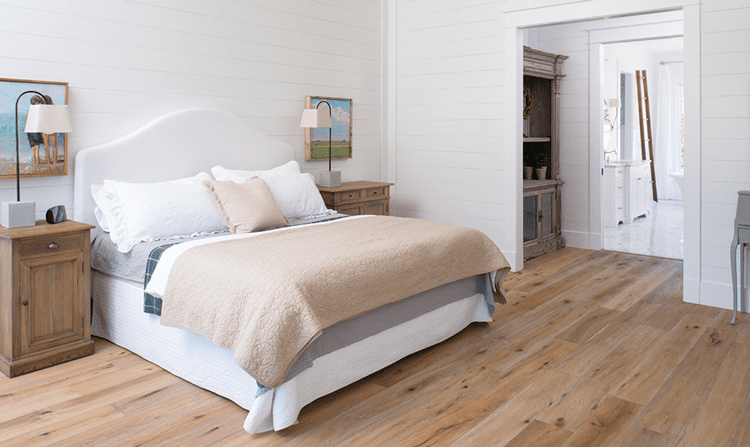 Table Lamps
Table lamps are one of the most versatile type of lighting because you can put them on almost any flat surface, from a side table to a nightstand or even on top of the piano. Use table lamps to fill in where your other lighting doesn't reach. To make your table lamps fit your farmhouse lighting style, try pieces with metal bases for an industrial feel.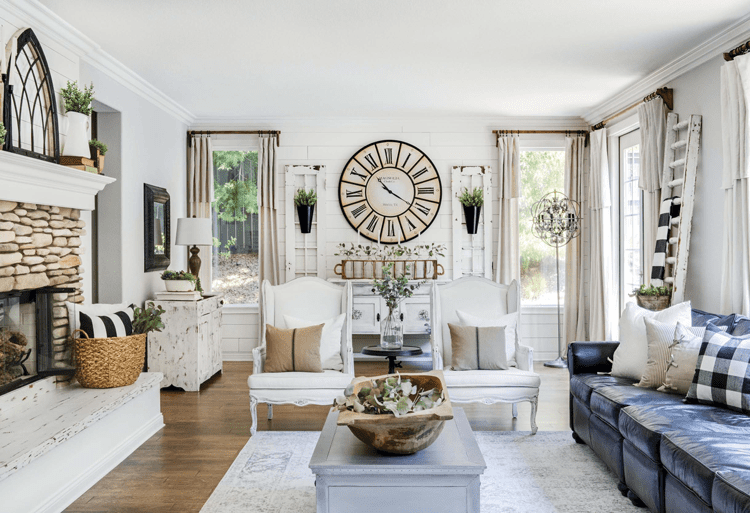 Floor Lamps
Like table lamps, floor lamps can go wherever you don't have other lights. They're useful for spaces where there's no electrical wiring for ceiling lights, and you don't want to rip out part of the ceiling to add some. Try lamps with wood or metal bases, plus a simple and neutral lamp shade.
---
Ready to learn more? Check out our chandelier size guide! Of course, don't forget to follow us on Instagram, Facebook and Pinterest to get your daily dose of farmhouse inspiration!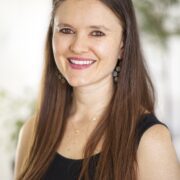 Victoria Van Vlear
Victoria is the editorial director of American Farmhouse Style. She shapes the editorial direction of the brand, both through the physical magazine and digitally on the brand's website and social media platforms. As a home décor enthusiast and DIYer herself, she knows what a little paint and patience can do for a room! Victoria is also a wife and mom to three little ones: two on earth and one in heaven. With any (not so spare) time, she devours book and dabbles in fiction writing. You can follow her on Instagram @victoriavanvlear