3 Keys to Farmhouse Kitchen Style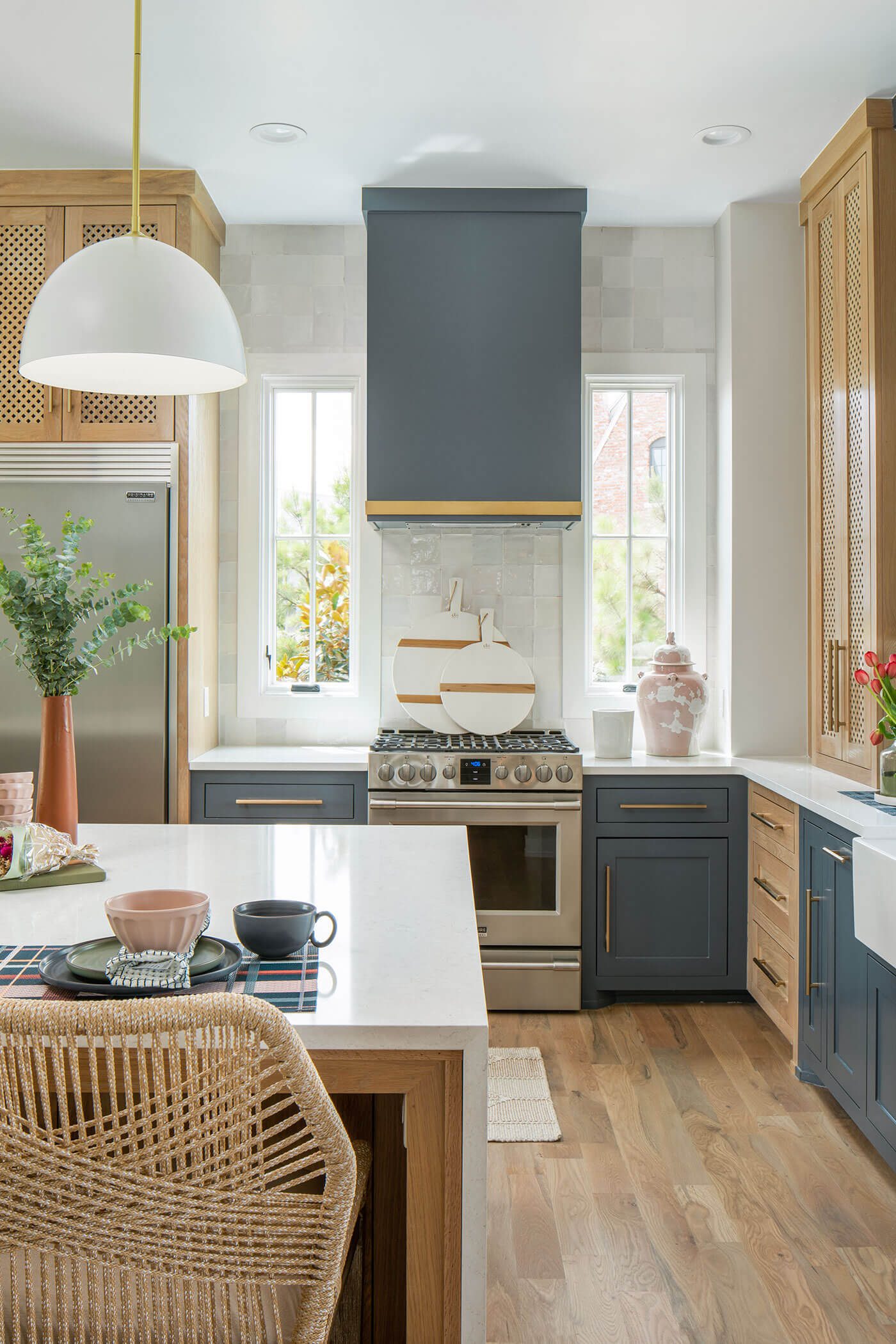 Image by Mel Willis
Farmhouse kitchens are trending, even for homes that aren't fully designed with farmhouse style, and what's not to love about their charming appeal? No two kitchens are alike, and there are many different versions for you to pull inspiration from. All you really need are a few key elements to create farmhouse kitchen style in the heart of your home.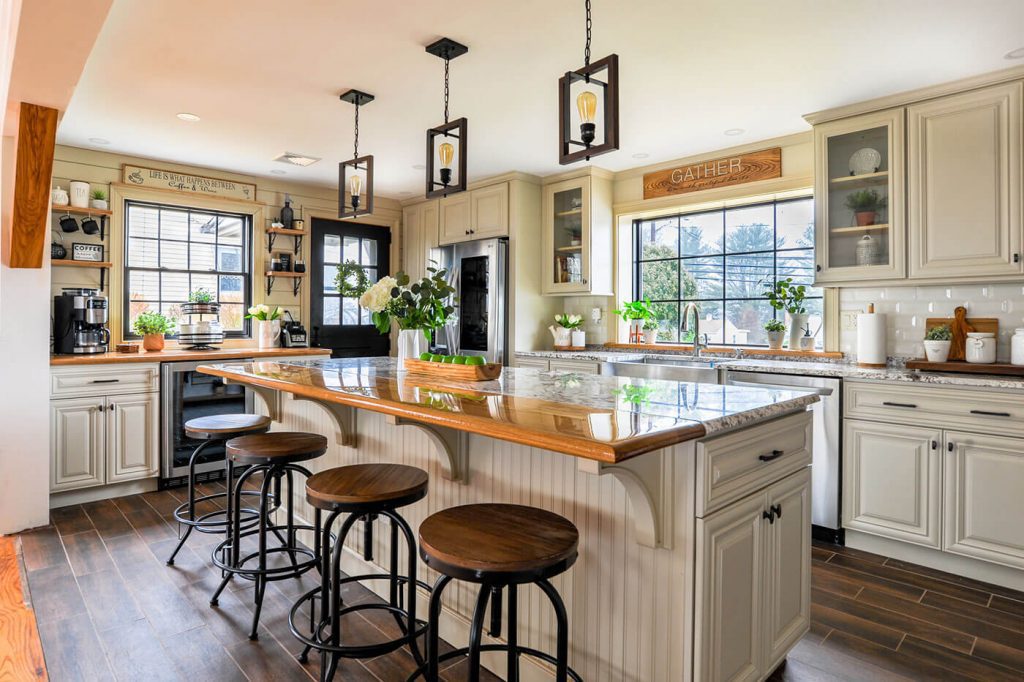 Farmhouse Fittings
Utilitarian fixtures like your sink, countertops and light fixtures are an opportunity to add farmhouse kitchen style, and there are so many looks and finishes to choose from! A farmhouse sink is almost ubiquitous for every farmhouse kitchen, but select the size, color and style that works the best for your space and everyday life.
Some kitchen countertops may not be large enough to allow for a deep farmhouse sink, so find what fits and sometimes that means a smaller-scale, apron-front sink that has a slight farmhouse feel.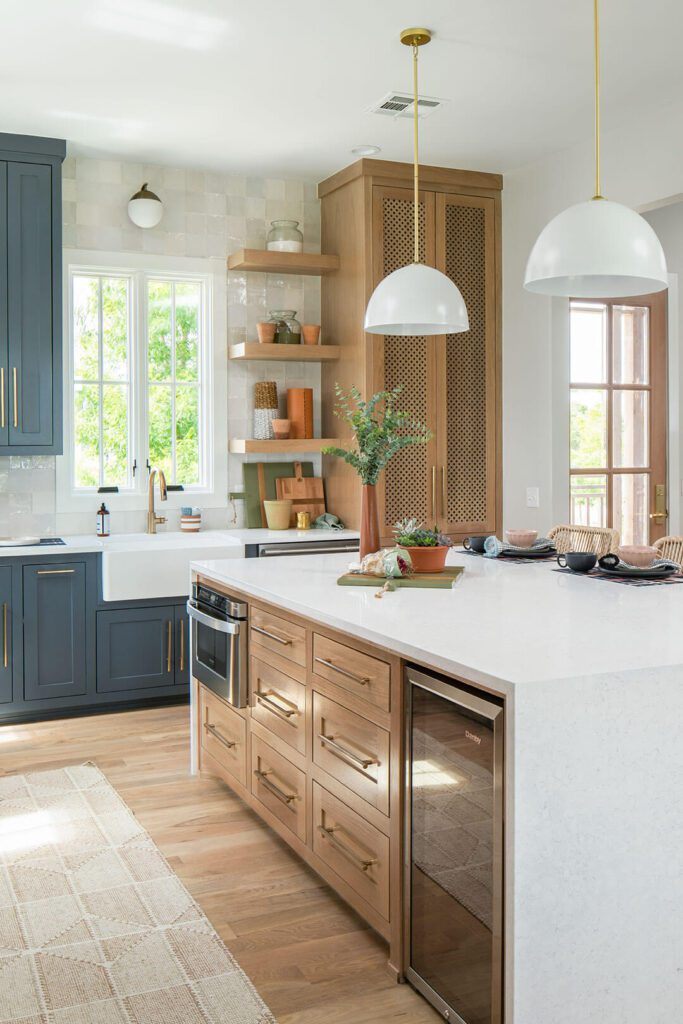 Consider Cabinetry
While cabinets are a kitchen staple, you have a options that will help your cabinets invoke farmhouse kitchen style. Clean and minimalist cabinets can easily complement a modern farmhouse look, while traditional cabinetry can blend perfectly with a more classic or industrial interpretation of farmhouse. You can even repaint your kitchen cabinets to give them the farmhouse feel you want without replacing them entirely.
Even with a more traditional style, you can push the envelope a bit. In our 2020 Project House, the design team came up with a creative solution for the kitchen cabinetry: a custom, pierced lattice detail on the cabinetry fronts that are charming and yet statement-making.
"We added a dimensional detail that's visually interesting but gives you privacy," says builder Lindsey Morris of Scissortail Homes. "That diamond pattern has a tight enough grid to where it [screens] your cabinets."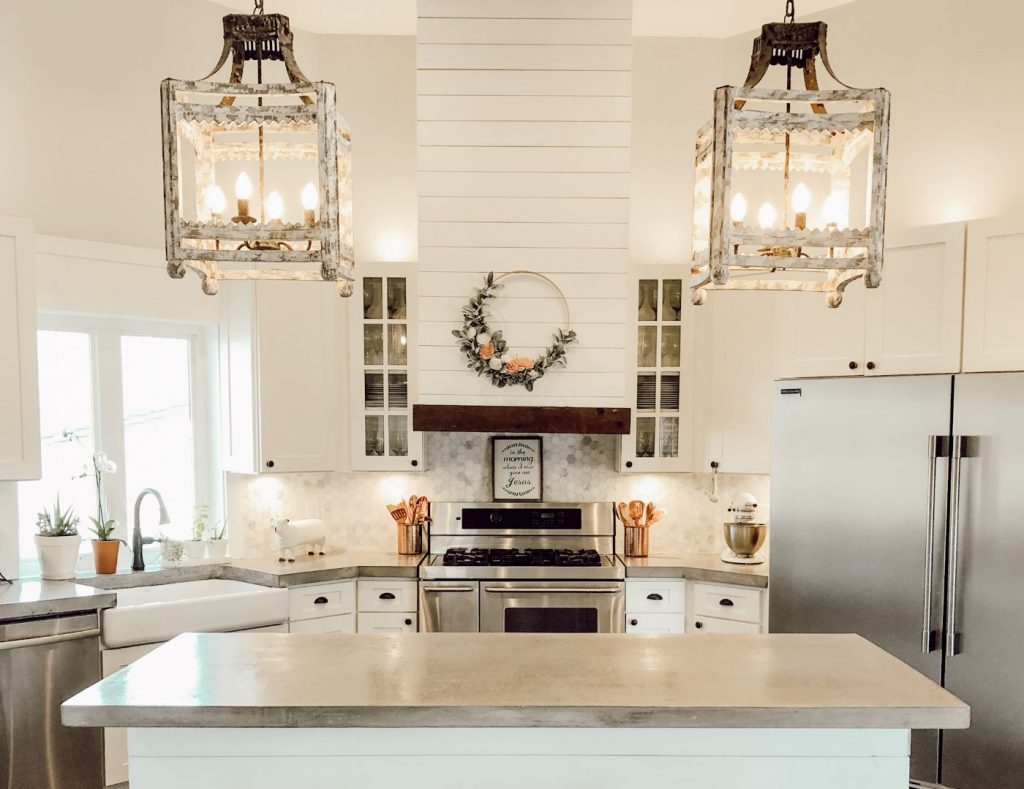 Combine Finishes
How you mix everything together, from your cabinetry and countertop finishes to your lighting can set the farmhouse kitchen style for your space.
Whether the goal is a modern farmhouse look, French farmhouse style or an industrial farmhouse vibe, your light fixtures can really play up the aesthetic. Select the styles and finishes for your kitchen lighting (i.e. sleek metals, brassy tones or timeworn looks) that will highlight the aesthetic.
As for the other design elements in your kitchen, go with what feels right for the space. Subway tile is a very popular look, but you can also opt for something a little different. Case in point: shimmery Zellige tile was chosen for our Project House to add extra dimension to the space, but still create a classic feel.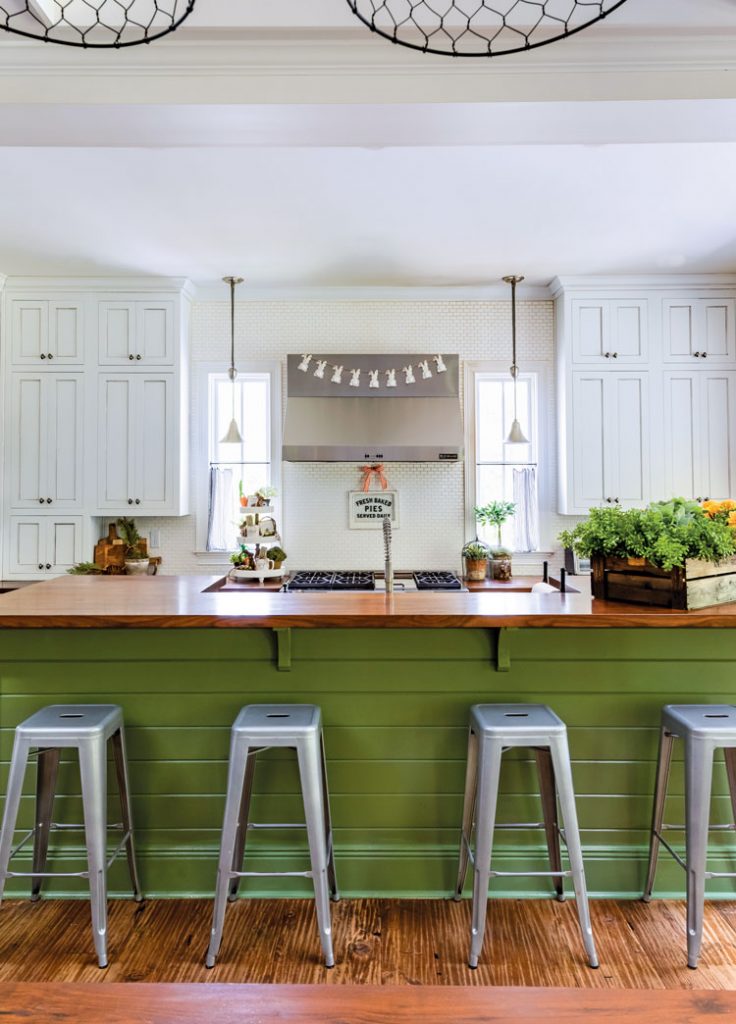 With cabinetry finishes, cozy paint colors or more natural wood tones work well too. "Natural wood feels very farmhouse," says Rachel Shingleton of Pencil Shavings Studio, designer on our 2020 Project House.
Rachel recommends homeowners create their own mood boards to see how all of the finishes and materials harmonize. "Have as many samples on hand, so you can see it, touch it, feel it, and lay it all out," she says. "There's enormous value in creating a real-life inspiration board with your paint samples, tile, hardware, etc."
---
Want more farmhouse kitchen tips? Learn how to add color! And of course, don't forget to follow us on Instagram and Facebook to get your daily dose of farmhouse inspiration!