Fall Farmhouse Style on a Budget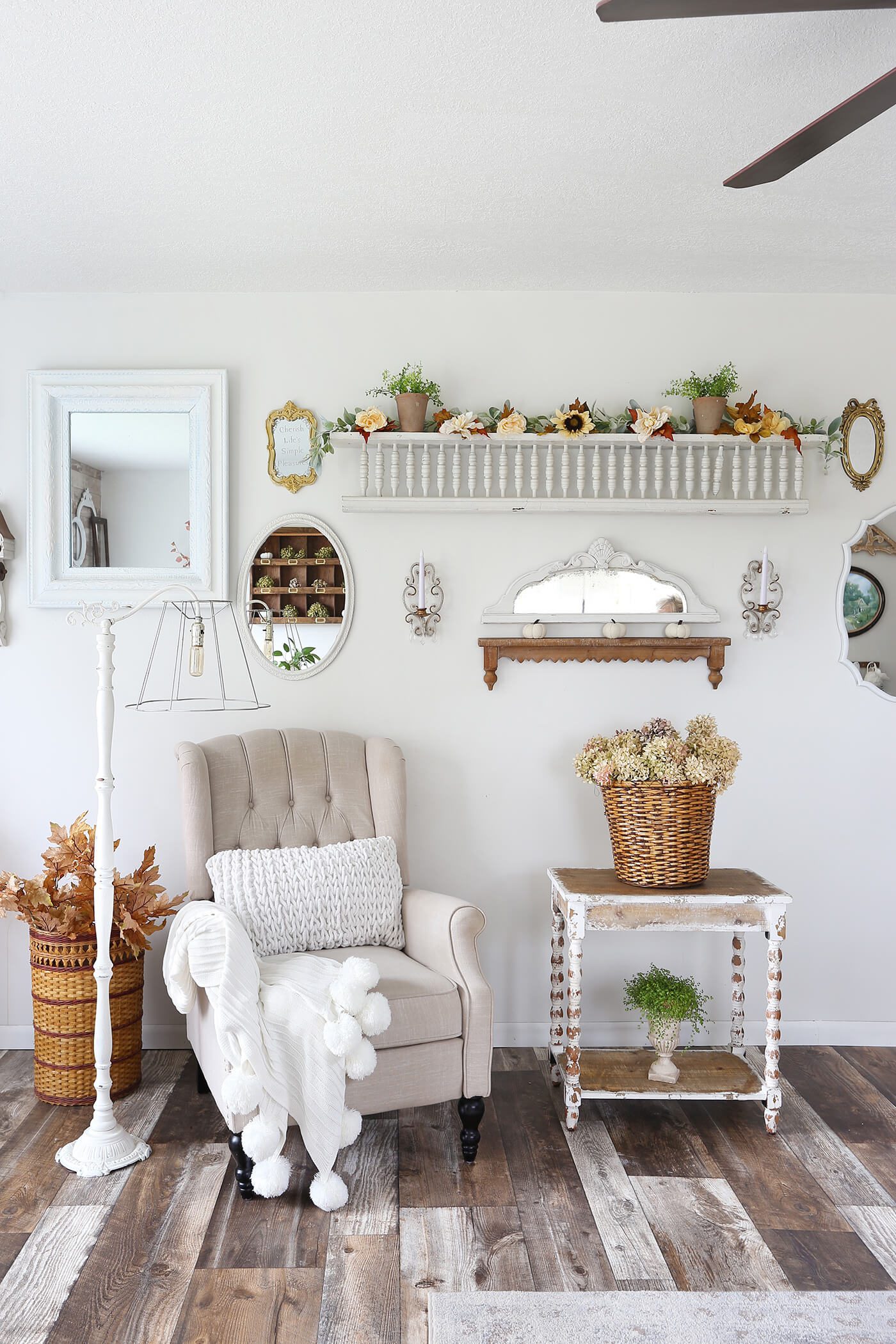 Photograph by David Sparks; home of Corine Mapes
Fall brings cooler weather and changing leaves, but it also means it's time to start thinking about decorating for the season. Fortunately, rustic-chic fall farmhouse style goes perfectly with autumn's warm, earthy hues and welcoming aesthetics.
You don't need to spend a fortune on seasonal decorations that will end up in storage after Thanksgiving. By sourcing local materials and channeling your inner-DIY expert, you can blend beautiful, budget-friendly fall looks with your existing style.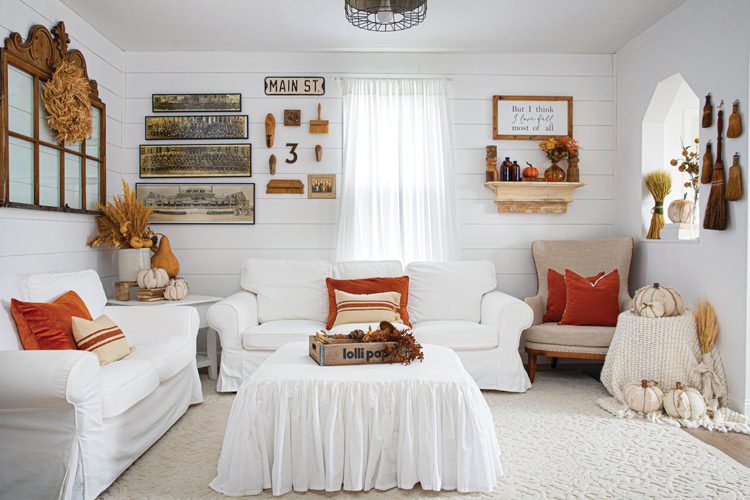 Sourcing Your Materials: Get More For Less
Here's a fun fall challenge: Collect all the materials you need without buying anything new. Big box stores are convenient, but their prices can quickly add up, especially when you're stocking up for fall farmhouse style.
Whether you prefer a sleek modern farmhouse or a timeless Colonial with a farmhouse twist, upcycle pre-loved items and gather inspiration from nature to be at the heart of your fall farmhouse style. This year, try hitting some garage sales, thrift stores, and even your own backyard to find everything you need to give your farmhouse a fall makeover.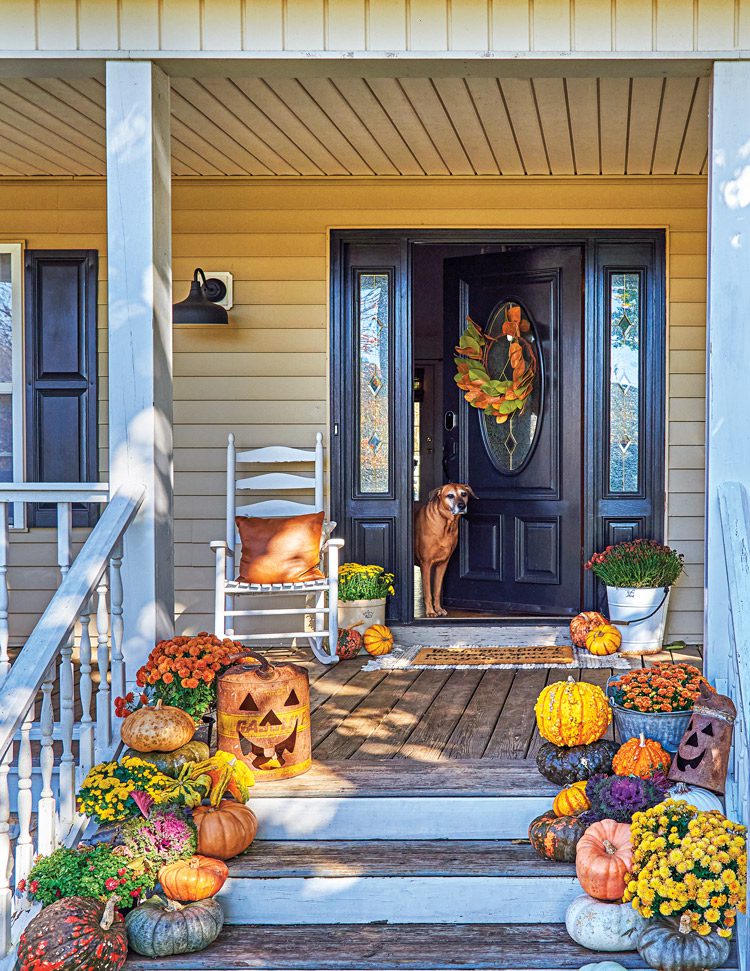 Fall Farmhouse Style at Garage Sales & Thrift Shops
One of the great things about shopping at garage sales and thrift shops is that you can find unique items for your home at a fraction of the price you would pay at a retail store. Who knows what hidden gems await!
An antique bowl set can be used to bring fall flair to your home-cooked meals, plaid quilts offer a stylish base for Thanksgiving tablescapes, and vintage vases are perfect for autumnal floral arrangements. With a bit of imagination, you can transform ordinary household items into spectacular fall decorations for your fall farmhouse style.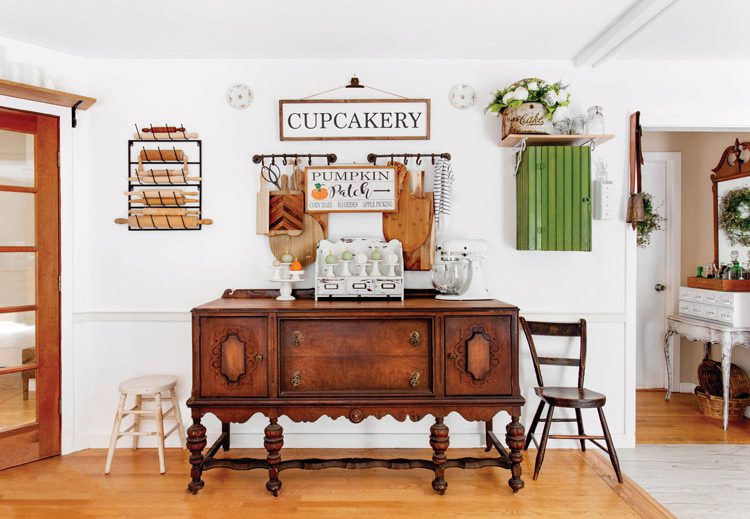 Fall Decorations in Nature
Fall colors are always inspiring, so take a nature walk and look for natural materials you think would go perfectly with your fall farmhouse style. Pinecones, acorns, and dried leaves are perfect for crafting DIY wreaths and garlands. Gourds and pumpkins can be used to create beautiful centerpieces. The wood from twigs and branches can be fashioned into rustic picture frames, photo holders, or even furniture.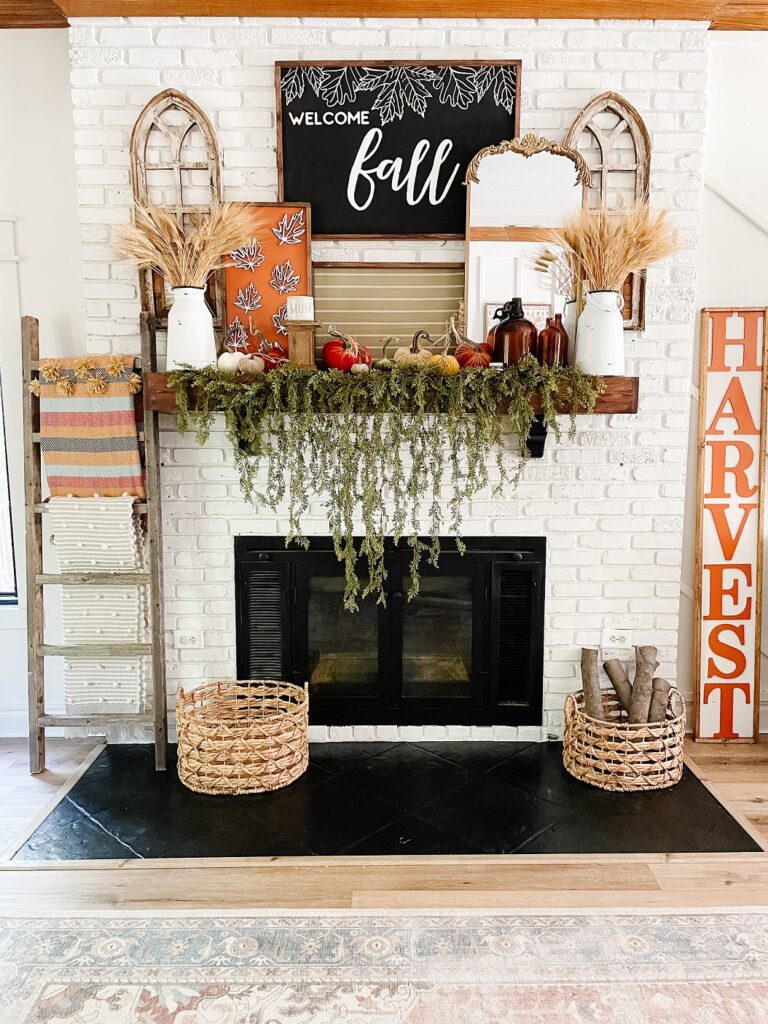 DIY Fall Decor: Cheap, Easy & Fun!
Now that you've gathered all the material for your fall decor, it's time to start crafting! If you're not the DIY type, don't worry. There are plenty of simple farmhouse-style projects that even the most novice crafter can handle.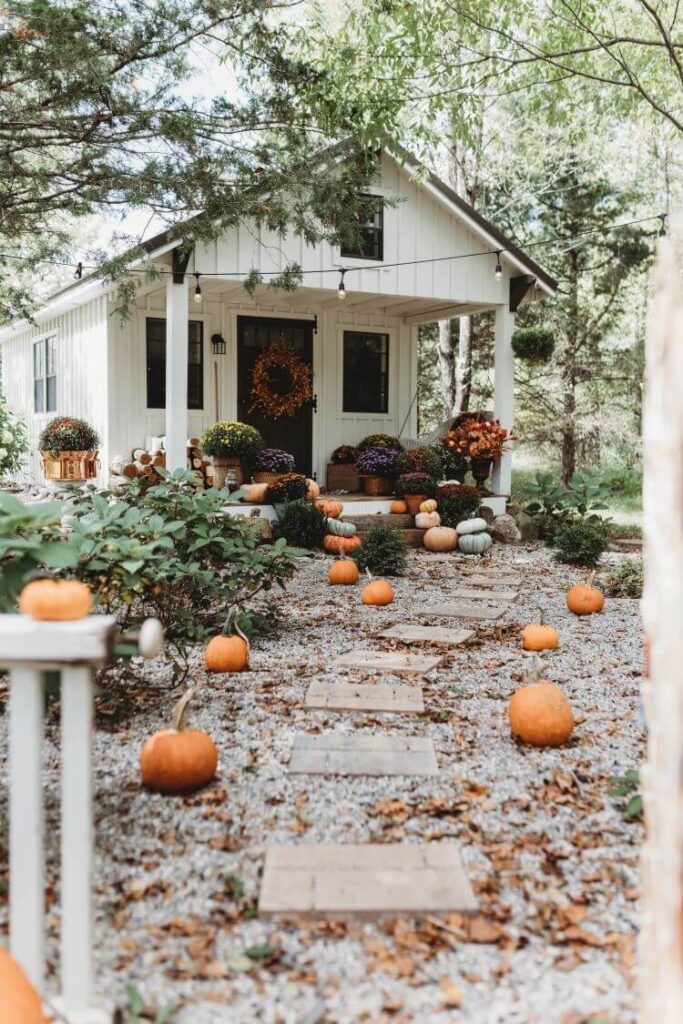 Idea 1: Build Your Own Fall Wreath
One of the easiest ways to add fall flair to your home is with a wreath. You can hang it on your front door, above your fireplace, or even on a bare wall as part of a gallery display. The great thing about DIY wreaths is that you can make them as simple or as elaborate as you want.
To start, you need a round base. You can make your own by shaping floral wire into a circle. More advanced crafters can fashion a circular base out of greenery, but it's usually more time-consuming. If you're short on time, you can purchase a wreath base from your local craft store.
Once you have your base, you can adorn it with any fall materials you like. Try adding pinecones, acorns, dried leaves, and berries. You can also incorporate fall-themed ribbon, fabric scraps, or burlap for a more rustic look.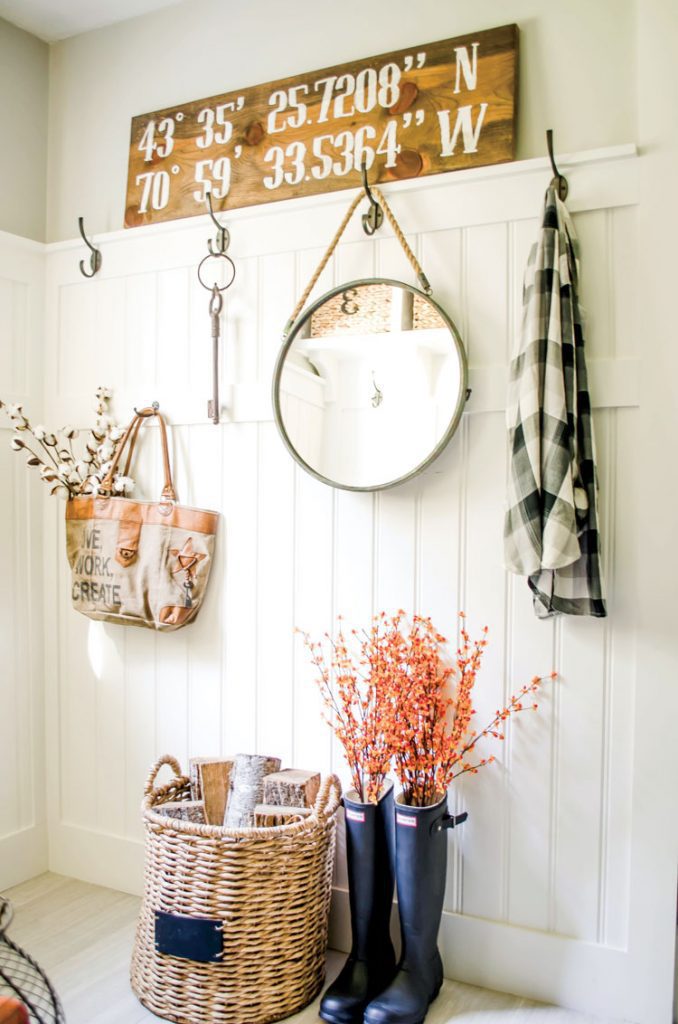 Idea 2: Decorate With Fall Leaves
Money might not grow on trees, but fall decor does! Raking the leaves might not be your favorite chore, but you can liven up the task by using it as a chance to source cost-free fall farmhouse style.
To preserve fall colors for year-round use, try coating a few leaves with transparent craft glue or clear acrylic sealer gloss. The final product will be glossy, colorful, and perfectly preserved. Place them in mason jars, work them into your wreath, or hang them on your fireplace mantel.
Pressing fall leaves is another classic craft that doesn't cost a dime. Start by selecting fresh, unblemished leaves. Gently rinse the leaves and pat them dry with a soft cloth. Lay the leaves between two sheets of absorbent paper and cover them with a pile of books for a week or two. Once the leaves are dry and flat, you can use them to decorate cards and scrapbooks, or frame them for artwork.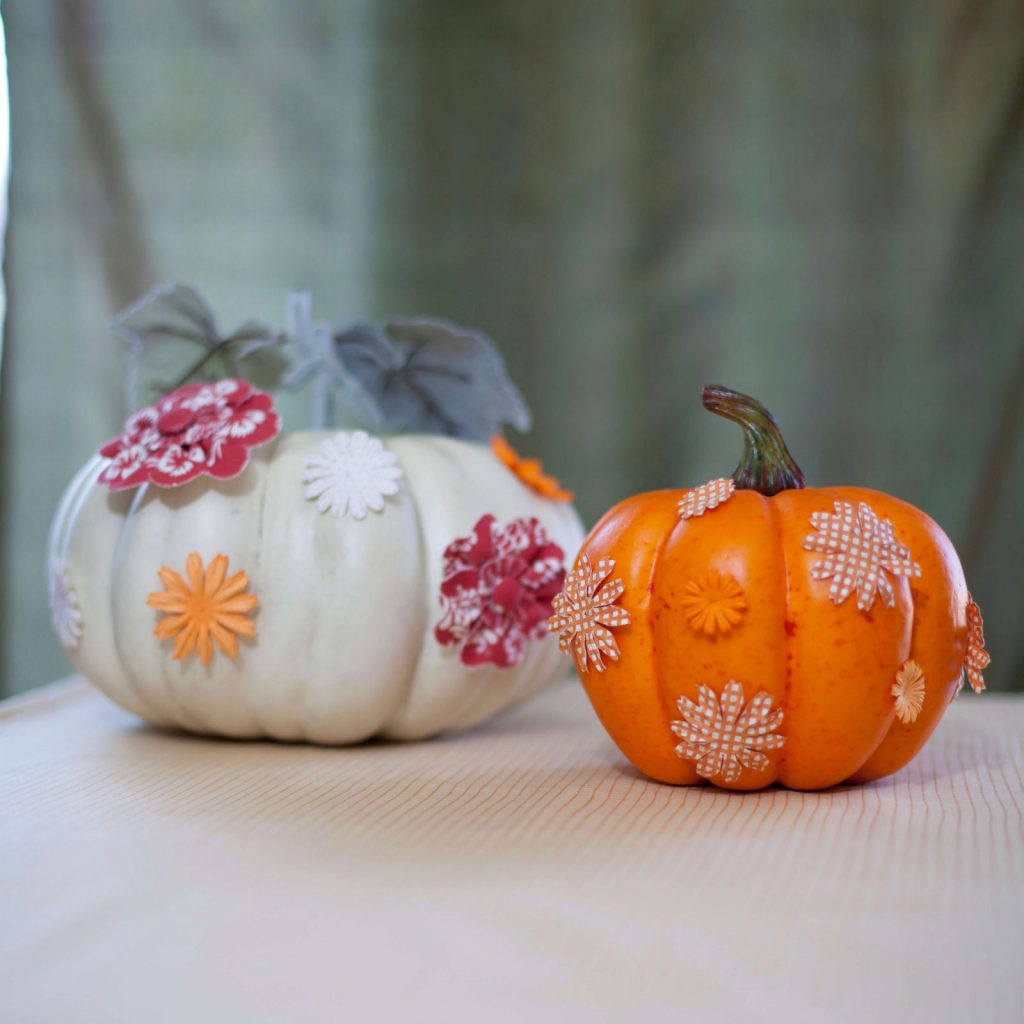 Get Creative With Pumpkins
Fall would never be complete without a trip to the local pumpkin patch! Without spending a fortune, you can find a few pumpkins of all shapes and sizes, then get creative. Everyone loves Jack-o-Lanterns at Halloween, but no-carve pumpkin decorations can be used all season long.
Smaller pumpkins can be subtly placed on bookshelves, coffee tables, and countertops to bring a pop of color to every corner. On the front porch, try making your own picture-worthy display by arranging larger pumpkins and gourds. To make a festive entrance for farmhouse Halloween parties, try working in hay bales, scarecrows, and a hand-painted sign made from reclaimed wood.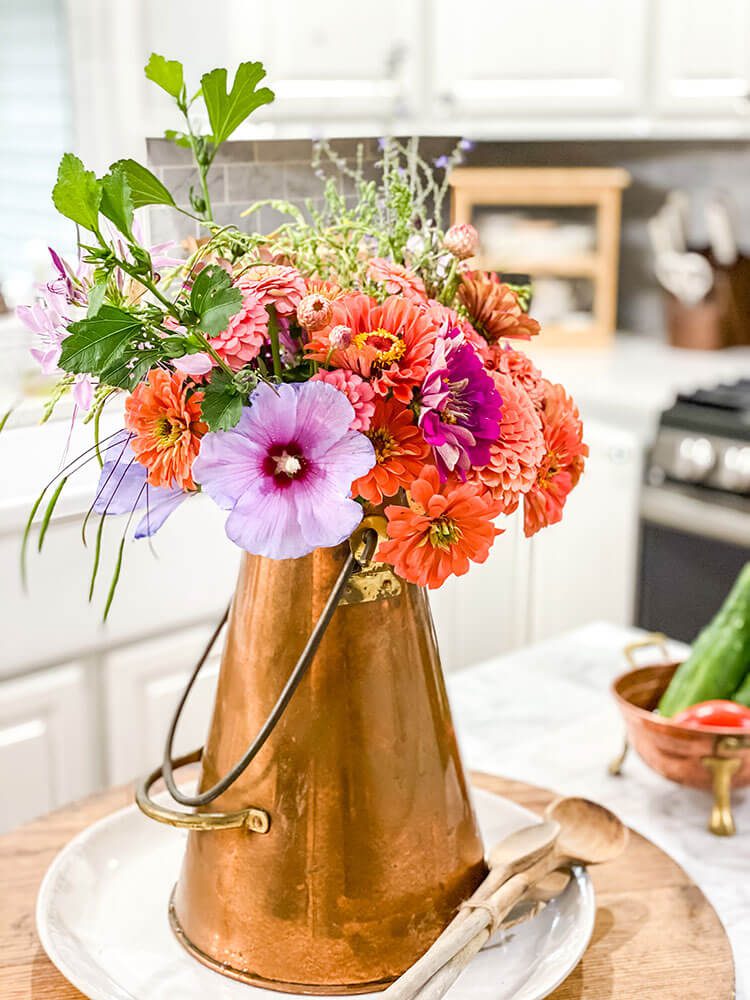 Bring Fall Flavors & Smells to the Kitchen
Pumpkin spice and everything nice! There's nothing quite like the smell of fresh-baked cookies or a warm bowl of soup to get you in the fall spirit.
Fall decor looks great in the kitchen. Try swapping out a few favorite recipes for tasty alternatives made with seasonal ingredients. Fall ingredients are a cost-effective way to use the season's colors.
For example, a bowl of apples can make be more than healthy snacks and flavorful ingredients; it also makes for a perfect fall centerpiece on your kitchen island! Try to get a mix of green and red to emulate the hues of the changing leaves.
Mason jars filled with cinnamon sticks, nutmeg, and allspice can also double as decor and potent fall aromatherapies. Place them on the countertop or group them together to make a unique vignette on your kitchen windowsill.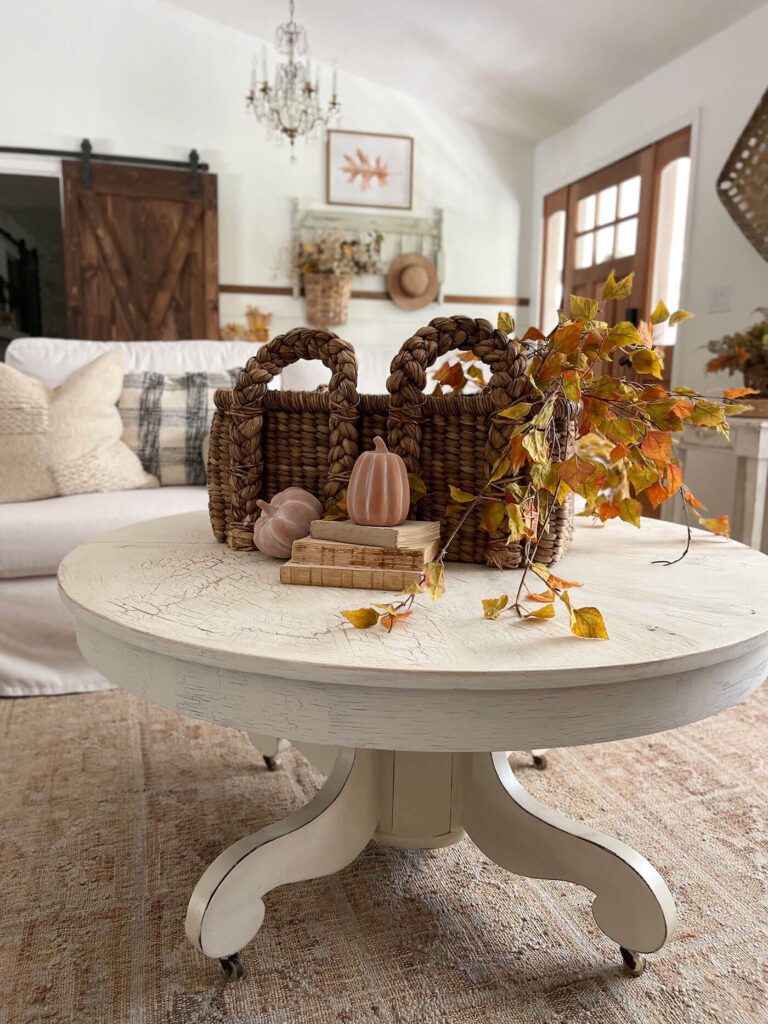 Your Farmhouse Fall Can Be Fun & Budget-Friendly
Fall is a great time to refresh your farmhouse decor, and there are many fun ways to do so on a budget. By looking for specific items at garage sales and thrift shops, as well as taking advantage of the natural beauty of autumn, you can create a cozy farmhouse style that will make you feel right at home this season. With just a little effort, you can have the perfect fall look in your home without breaking the bank.
---
Want to see some fun furniture makeovers? Check it out here! And of course, don't forget to follow us on Instagram, Facebook, and Pinterest to get your daily dose of farmhouse inspiration!