Before and After Kitchen: 1980s Drab to Farmhouse Fab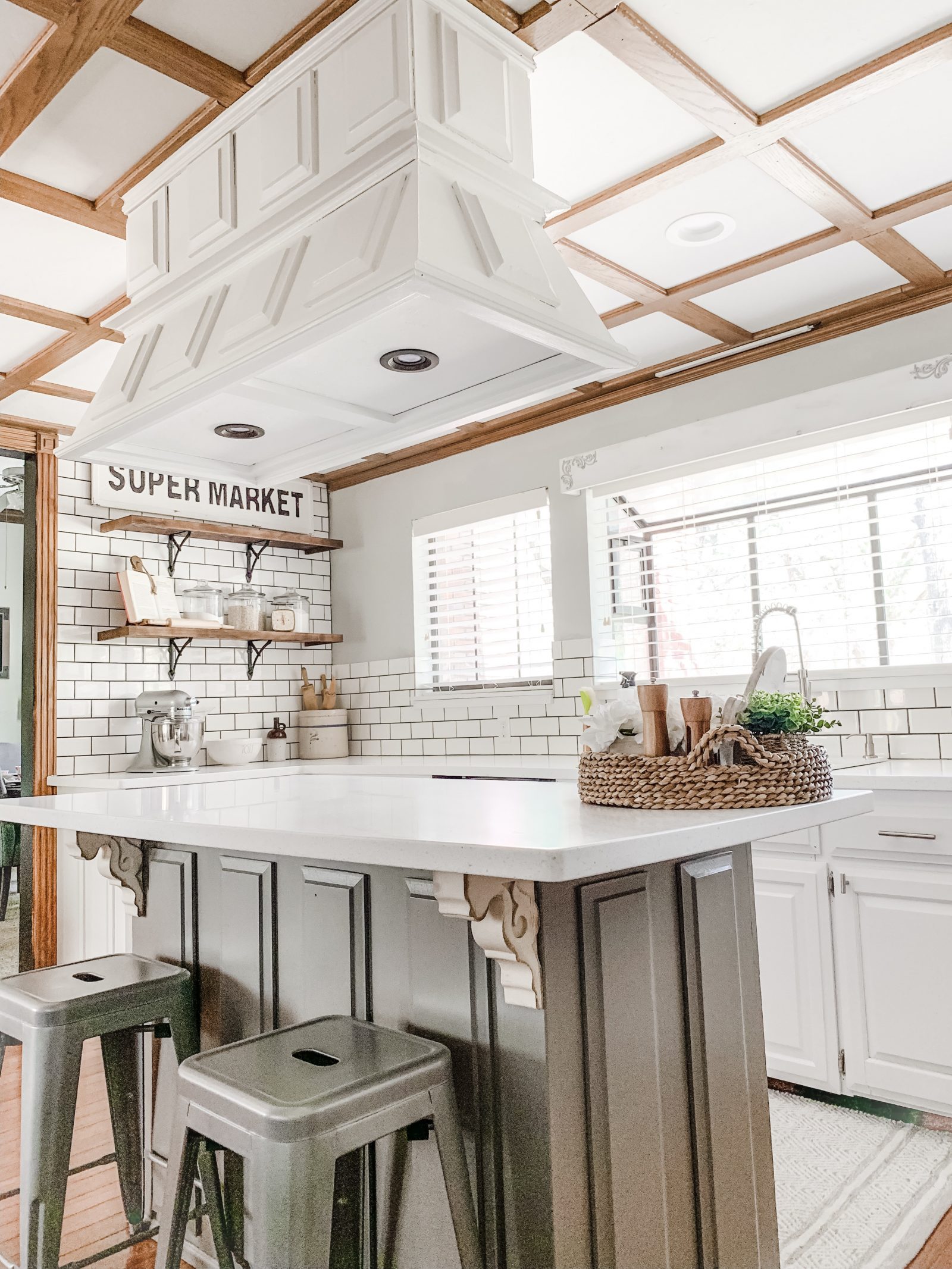 When you buy a new home, it's rare that all the spaces are perfect already. This was the case for Instagrammer Astra Spanbauer of Red Brick Faux Farmhouse. She and her husband Robert bought their 1979 Oklahoma home, which needed some serious TLC in the kitchen. They decided to take it on DIY style, and the results of this before and after kitchen are stunning.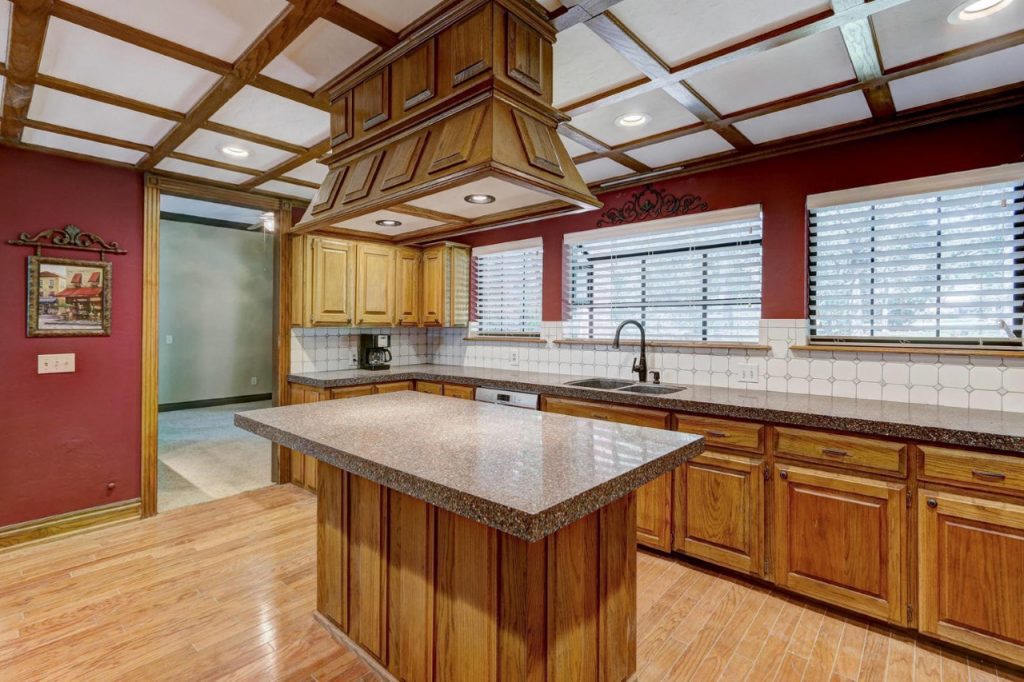 Before and After Kitchen: Renovation Basics
You don't need to spend a fortune to get an updated look. Astra used new color and materials to get the farmhouse look she wanted, starting with the countertops. "We replaced the old, dark granite countertops with a white solid surface by LG Hi Macs in the color Ice Queen," she says. "It has some gray fleck and a little bit of bling, which I absolutely love!"
The walls and kitchen cabinets got a new coat of paint, too. "We decided to change the wall color from red to a beautiful Repose Gray by Sherwin Williams," she says. "We also painted all of the cabinetry white and painted the island gray with Sherwin Williams Dovetail for a contrast and that really brightened up the space."
The hardware on the cabinets are new, as are the stainless steel hood vent, kitchen sink and appliances.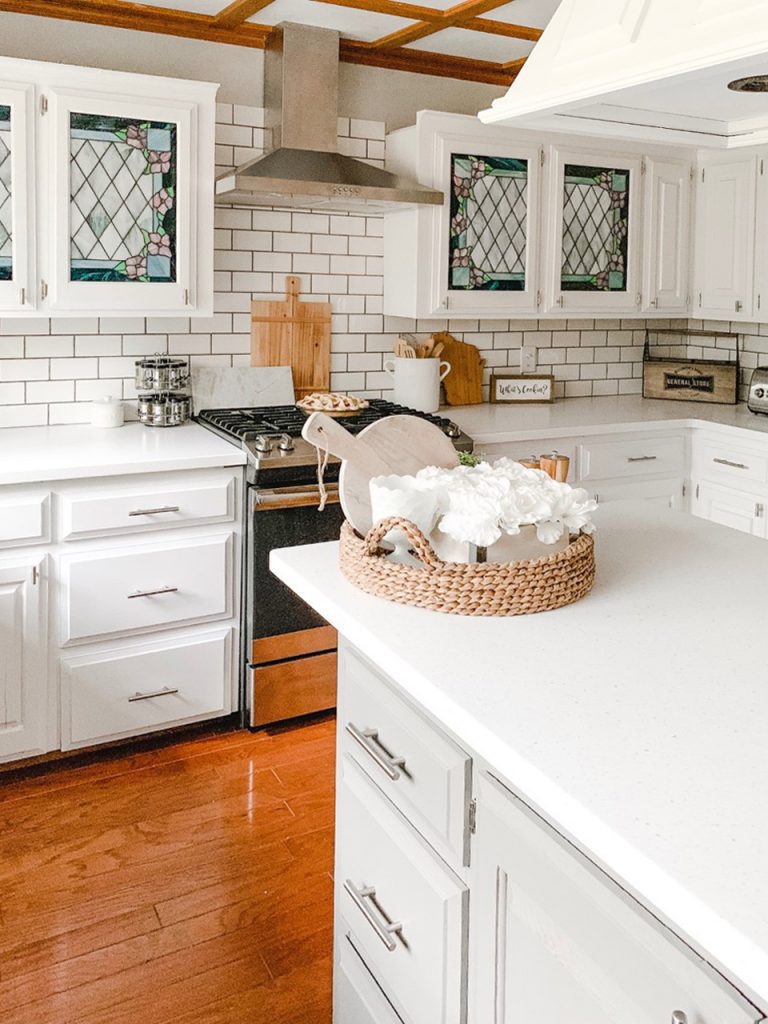 Saving Original Details
Part of renovating is deciding what you want to keep from the original design. Besides keeping the kitchen's footprint, the couple decided to keep two original details: the ceiling coffering and the stained glass cabinet doors. "When we purchased the house, I told my husband the original leaded stained glass would be the first thing to go," Astra says. "But he really wanted to hold on to it. Once we painted the cabinets white, I fell in love with the look of the stained glass. You just don't see details like that in very many homes these days."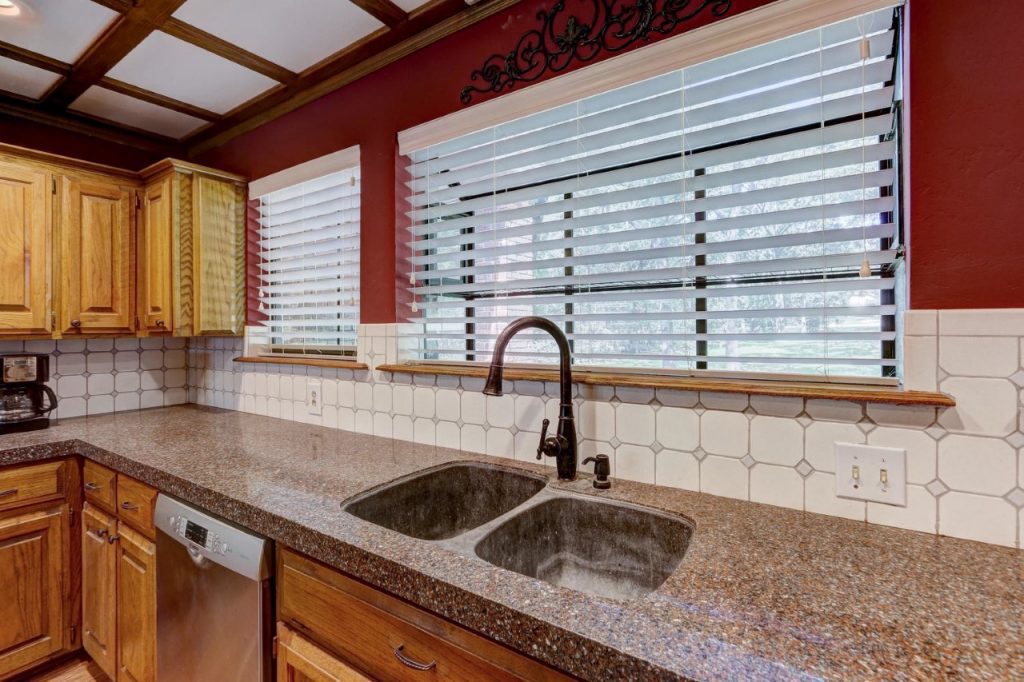 DIY Savvy
Doing such a large project themselves saved Astra and Robert on the overall cost, which came out to just $6,000. That said, they had to do all the work themselves, which can be difficult to fit in with daily life. "I travel for business about 90% of the time, so I would spray the cabinet doors on the weekends," Astra says. "Our kitchen was a wreck for at least two months, but it would have been completed a lot quicker if I were not traveling."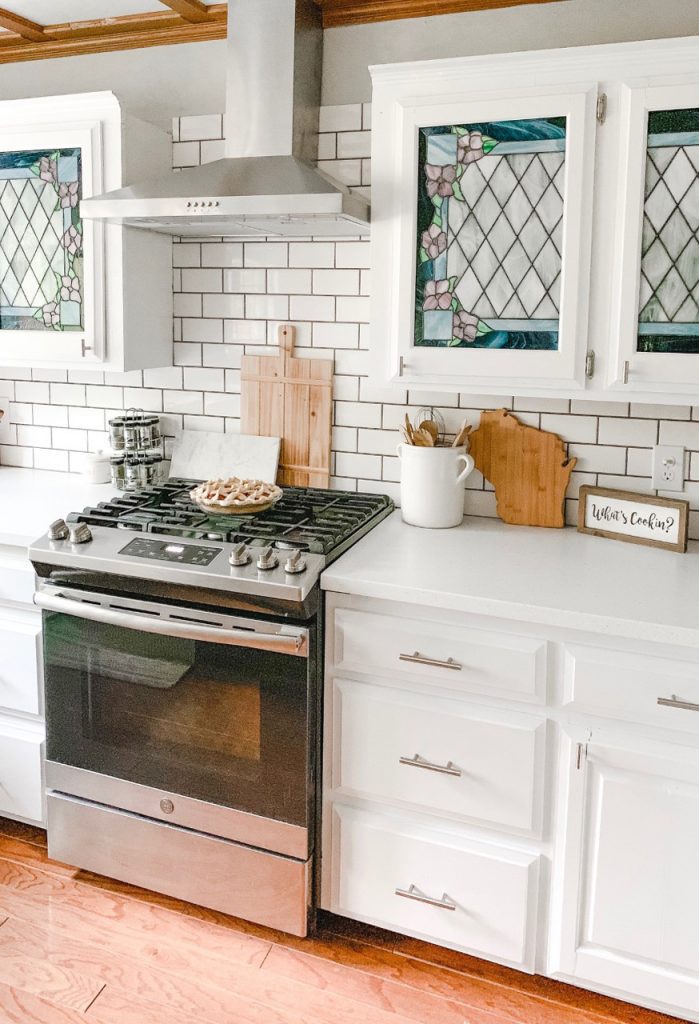 Astra and Robert divvied up the renovation tasks to help get more done. "Since my husband was doing all of the tiling and cabinet teardown, I wanted to take on painting the cabinets," she says. "I hand painted the upper and lower boxes and removed all of the doors to paint individually. Purchasing a paint sprayer was definitely my saving grace."
Before and After Kitchen: Enjoying the Renovated Space
Now that their kitchen renovation is done, the space better fits Astra's farmhouse style. "My absolute favorite part of the new kitchen is the back wall that is tiled from floor to ceiling with the open shelving that my husband built," she says. "Tearing down those cabinets really opened up the space and made such a large impact on the kitchen design."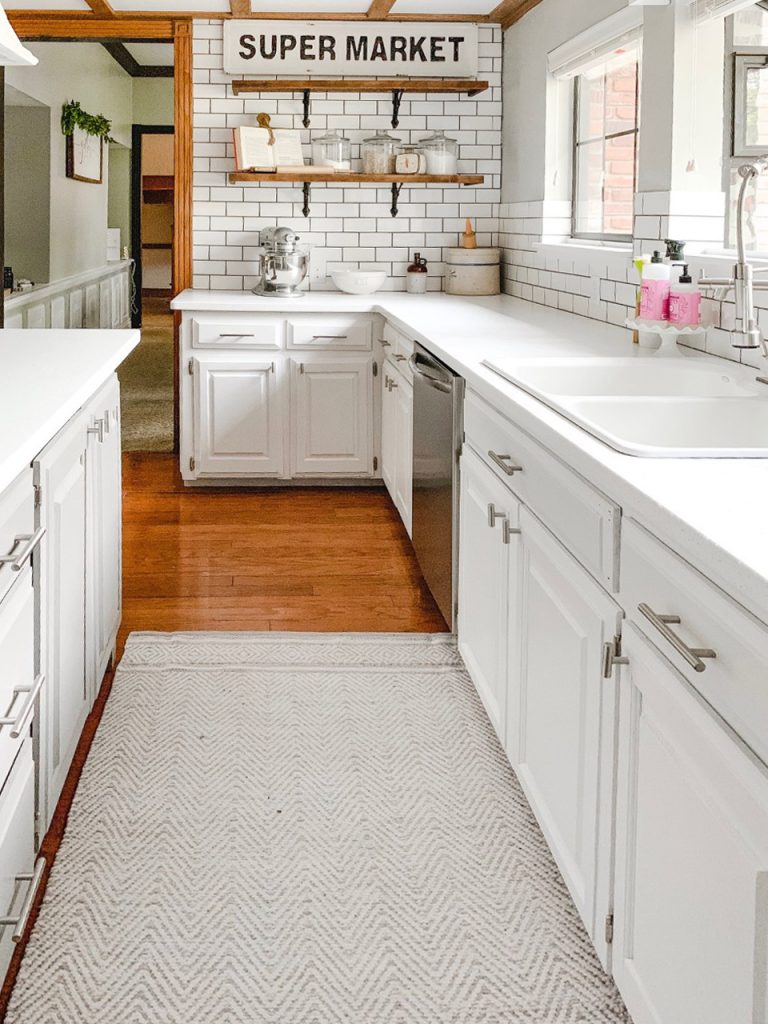 ---
For more on Astra, visit her on Instagram @RedBrickFauxFarmhouse and check out her Etsy shop, Ave and Ash Designs. Of course, don't forget to follow us on Instagram, Facebook and Pinterest to get your daily dose of farmhouse inspiration!