This Snowy Farmhouse Exterior Has All the Vibes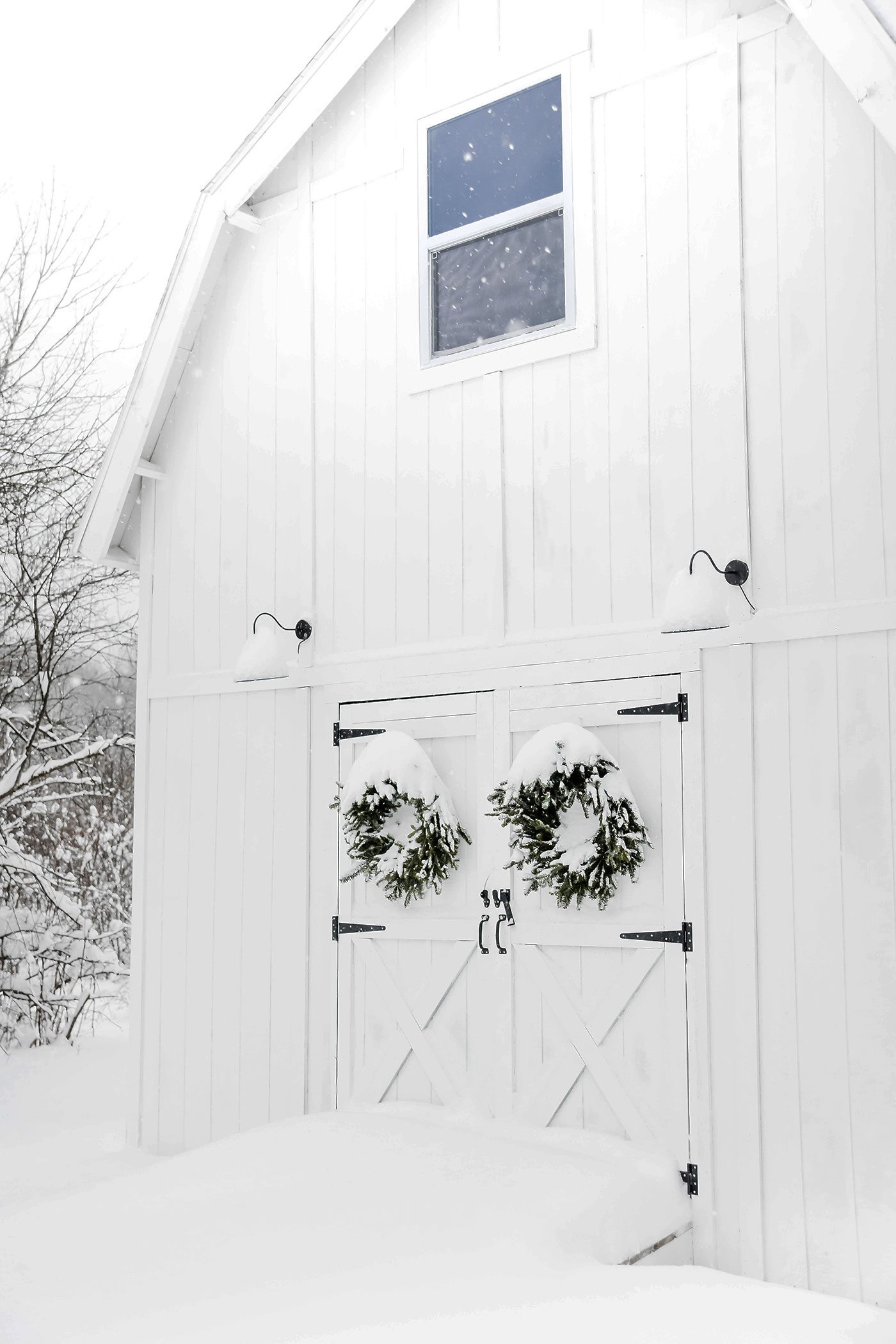 There's nothing quite like a snowy farmhouse exterior at Christmastime. This home in upstate New York is a custom new build that homeowner Kierste Wade and her husband designed themselves. Here are her tips and tricks for a gorgeous outdoor exterior at Christmas.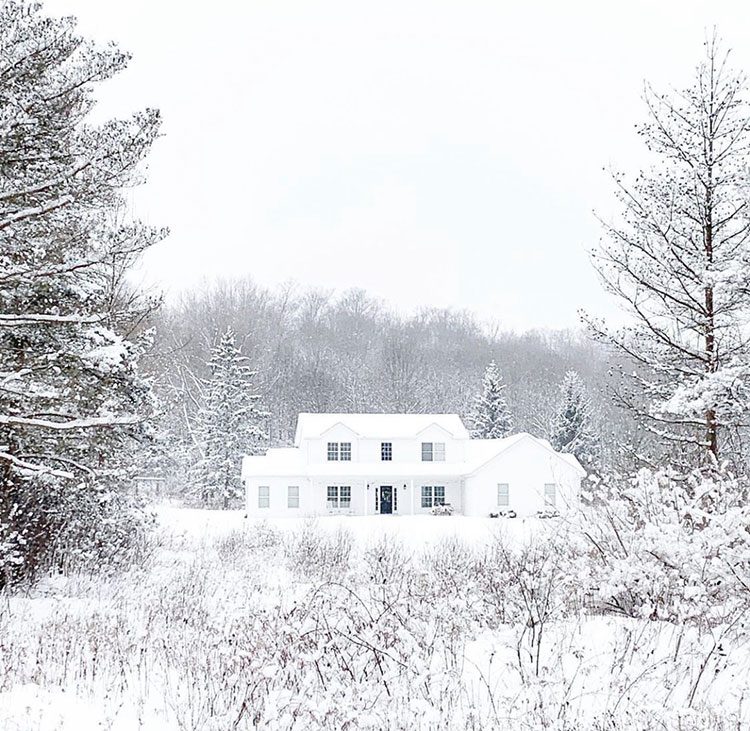 American Farmhouse Style: What do you do to decorate the exterior of your home for Christmas?
Kierste: Our home is white, and we get a lot of snow, so greenery is the perfect contrast. I love to use fresh pine from a local tree farm. Garlands are along the porch, and wreaths are on the front door and barn doors. It really pops against the white for a snowy farmhouse exterior, and I love the simplicity of it. Some years I add wreaths to my windows instead of the garland, but fresh greens are always a part of my exterior décor. I also love fresh mini pine trees on either side of my front door. When winter is over, we plant them somewhere on our property.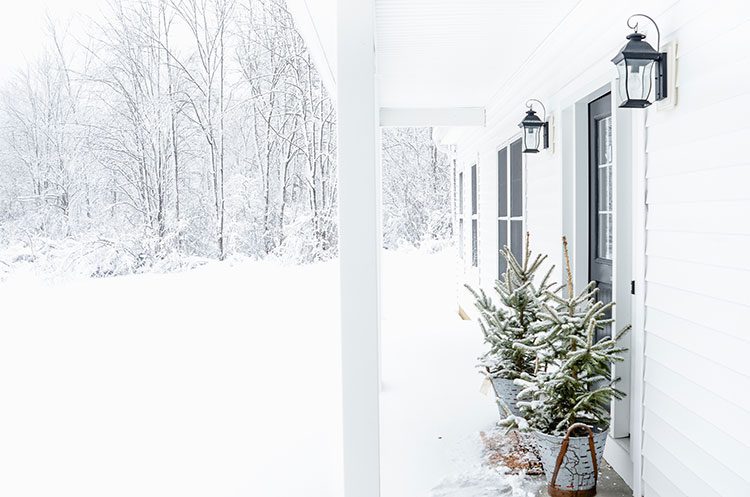 AFS: You get a lot of snow in your area. How does this factor into your exterior decorating?
Kierste: We do get a lot of snow! Our most recent snowfall was more than six feet, so it definitely needs to be a factor in my exterior decorating. Simplicity is the key, and adding natural greenery is my focus. With the cold, snowy and windy weather we have, I have to limit items on the front porch so they don't get blown away. The snow lends such a lovely wintery décor for a snowy farmhouse exterior, and combined with the pop of green, it's perfect!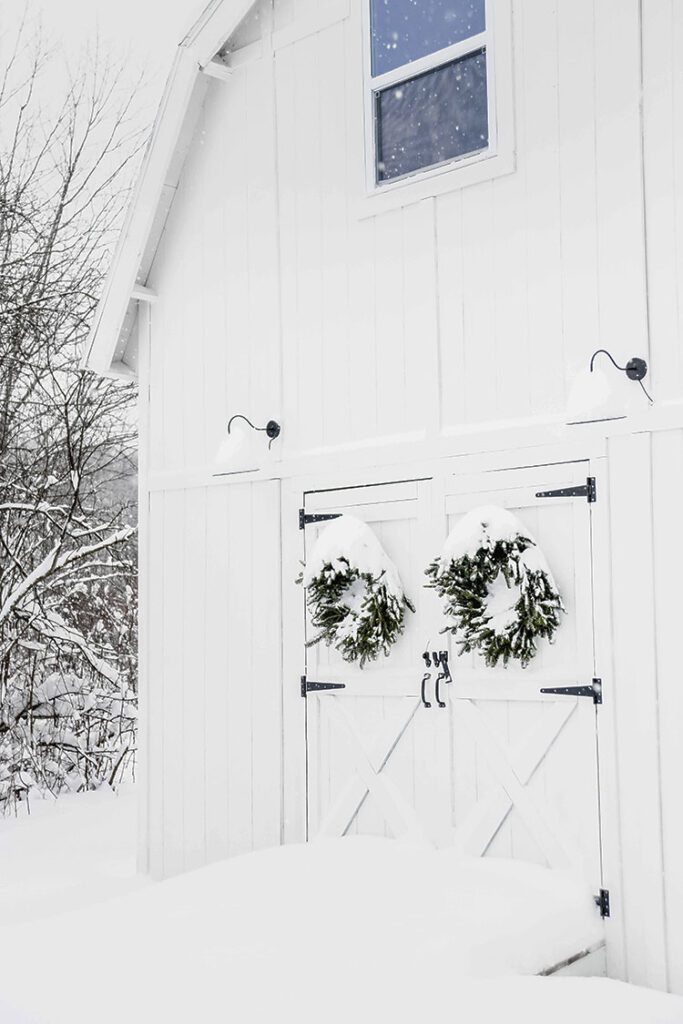 AFS: How long do your greens last outside?
Kierste: They last 6-8 weeks outside. We have a lot snowy weather and moisture in the air, which helps to extend their freshness. I typically put them up the week of Thanksgiving, and leave them up until mid to late January if I can. 
AFS: Any tips for our readers for doing their own exterior Christmas décor? 
Kierste: Embrace your own natural surroundings! If you live where there is snow and colder weather, using fresh pine is a lovely option that can extend past the holidays. For those living in warmer weather, investing in quality faux wreaths or garland (look for after-Christmas deals!) that you can use year after year can be key.
Greenery looks good with just about every house color, and it's an easy way to add a Christmas feel. Also consider the color of your home and front door, as you're adding additional décor. It may look best to pair greenery or other decorations with natural colors like cream, instead of a traditional red. A few key pieces is really all you need…simplicity is beauty in and of itself.
---
Want to get out collection of 2022 Christmas planning printables? Get them here. And of course, don't forget to follow us on Instagram, Facebook, and Pinterest to get your daily dose of farmhouse inspiration!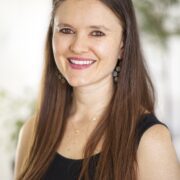 Victoria Van Vlear
Victoria is the editorial director of American Farmhouse Style. She shapes the editorial direction of the brand, both through the physical magazine and digitally on the brand's website and social media platforms. As a home décor enthusiast and DIYer herself, she knows what a little paint and patience can do for a room! Victoria is also a wife and mom to three little ones: two on earth and one in heaven. With any (not so spare) time, she devours book and dabbles in fiction writing. You can follow her on Instagram @victoriavanvlear