Holly Jolley Holiday Home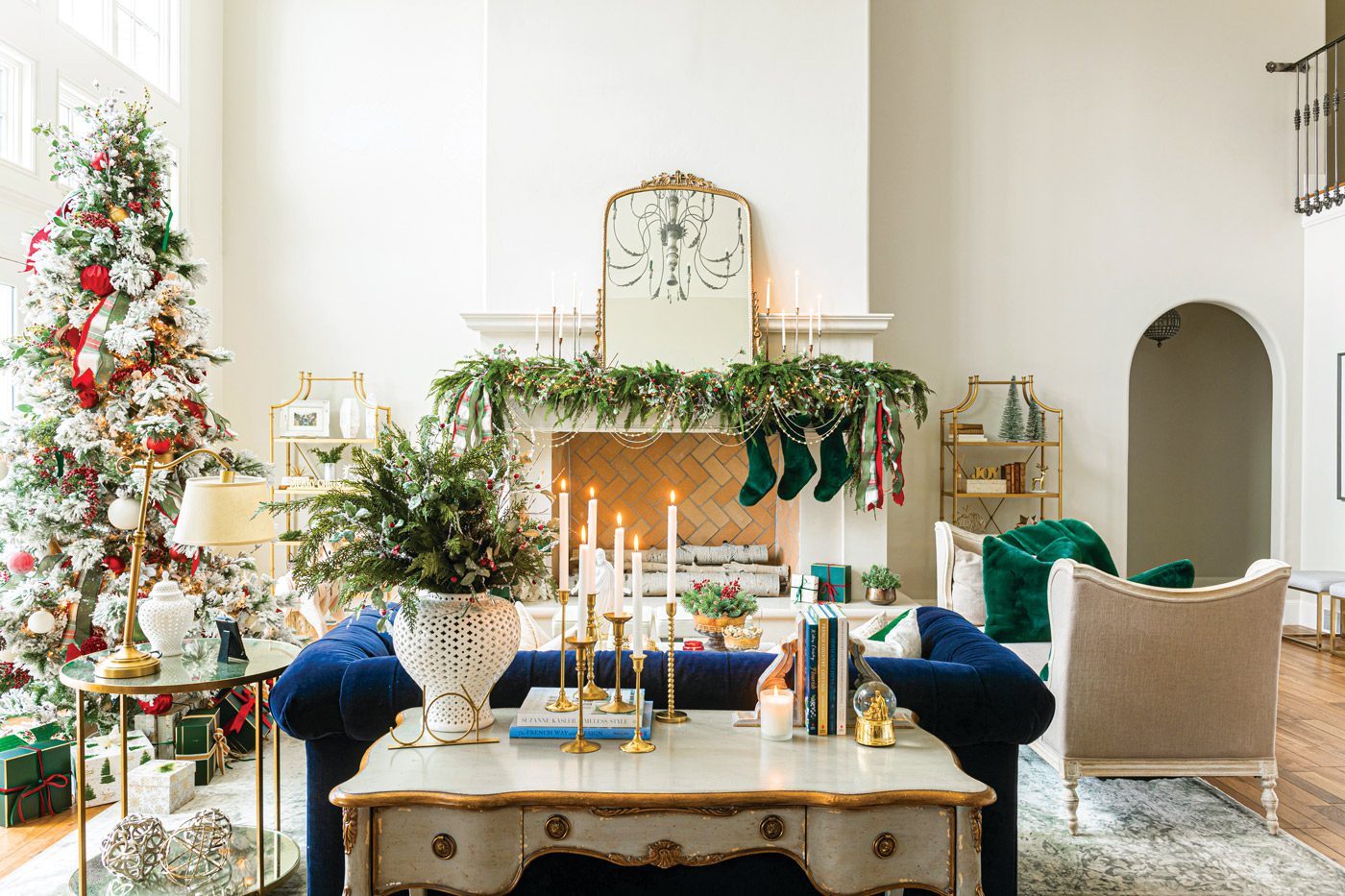 This elegant Highland, Utah, estate glitters with sophisticated and colorful Christmas cheer.
One of the most treasured aspects of farmhouse style is its down-to-earth simplicity. Mix in a bit of sophistication, and the result is a blend of functionality, coziness and elegance. For soccer coach-turned-blogger Holly Jolley of Home With Holly J, there's also a bit of Old World panache tossed in.
After coaching club soccer for 15 years and with four children grown up, Holly decided to explore her passion for design, décor and all things homemaking. "I've always loved design and interior decorating," she says. "I love that you can make a space feel warm and cozy by adding things in that are a reflection of you."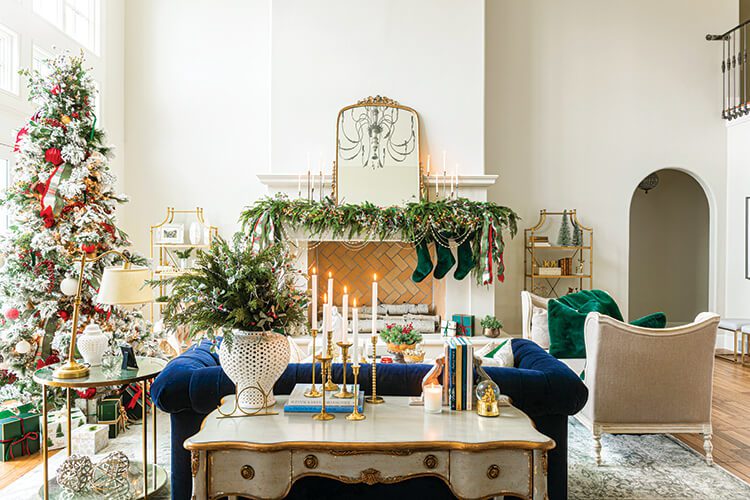 When it comes to the Christmas season, Holly works hard to create beautiful and inviting spaces in her two homes and family cabin. "Each home is very different from the others, and it's fun to decorate all the different rooms with different styles," she says. In her 11,000-square-foot Utah home, with its spacious rooms and high ceilings, this can prove to be quite the task. To get a holiday-infused, farmhouse feel, Holly uses textures, greenery and a traditional color palette to create an elegant Christmas look.
Deck the Halls
Sometimes it's the little details that can jumpstart an entire design. "I change up the color scheme every year and rotate all my ornaments around to different trees," Holly says. A set of red-and-green dishes serves as the inspiration for Holly's traditional red-and-green holiday décor. "It was the first year I added red into my décor at this house," she says. With dark emeralds, bright rubies and splashes of plaid, Holly used color to create festive vignettes and a cohesive look. To make her décor more organic, she made some changes to her usual layout. "My home has a lot of blue in it, so going with a traditional red-and-green palette was a little tricky, but I think it worked well for the most part."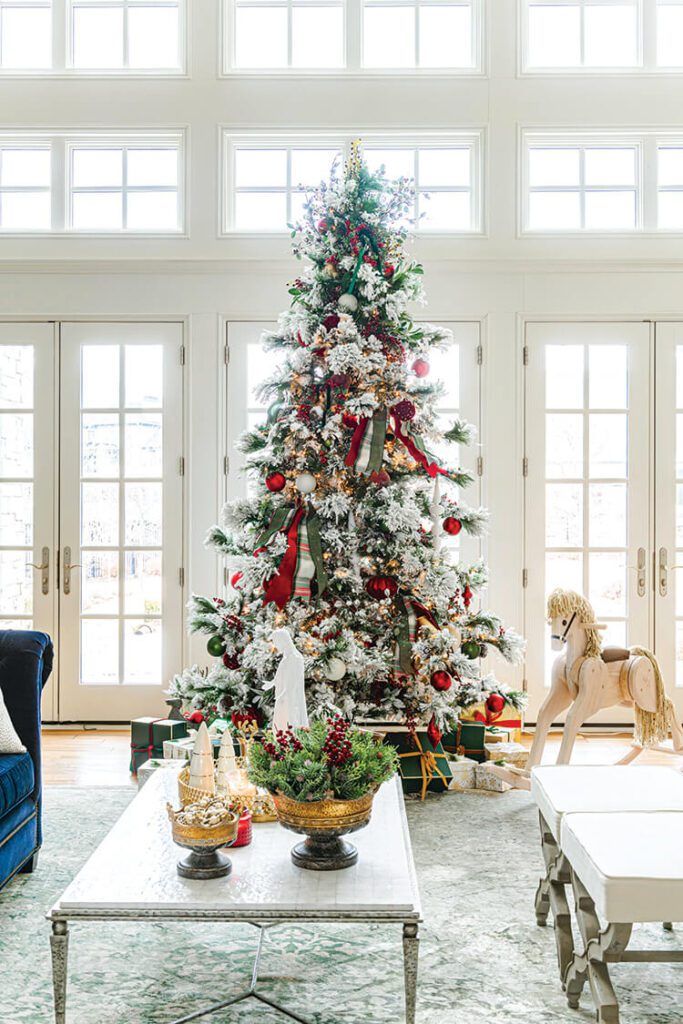 Holiday Home
Garlands and Greens
Florals and greenery play a large role in Holly's décor by enhancing the color theme as well as adding a simple, natural charm. All of her greenery is faux, due to Utah's intensely dry climate. "I have invested in high-quality ornaments and faux greenery that lasts for years and looks real," she says. Holly did many of the arrangements herself to perfectly match her theme and create a cohesive design in every space. "Since my main floor is very open and all the rooms are connected, I use the same colors throughout," she says.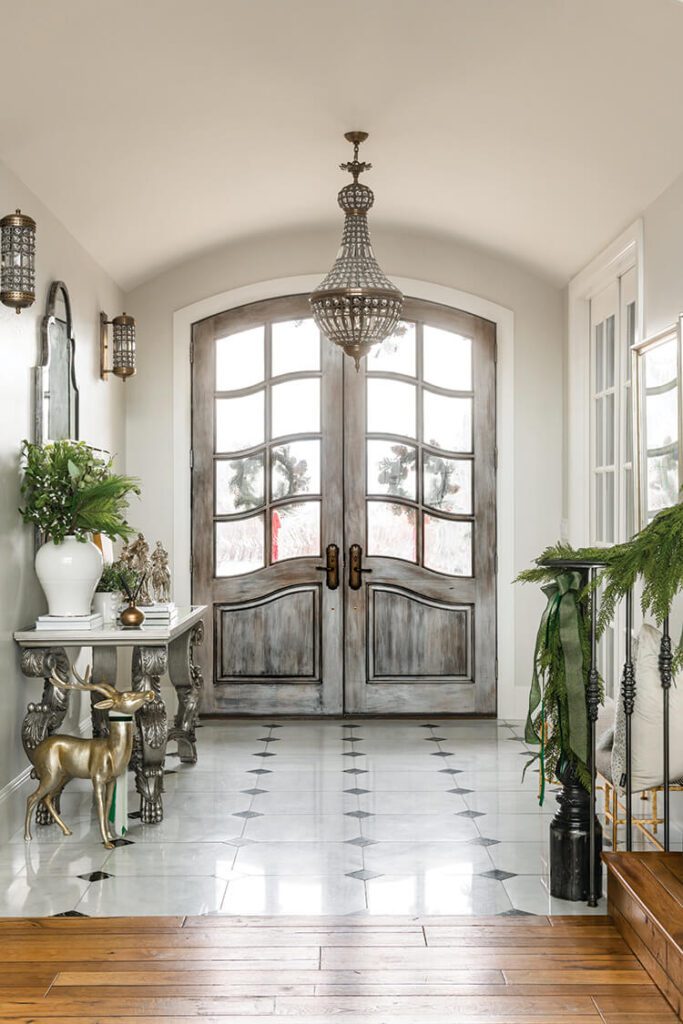 'Tis the Season to be Cozy
In addition to her use of red and green to adorn her farmhouse in festive cheer, Holly also uses a variety of textures to create a warm and welcoming feel. Soft velvet stockings, shimmering ribbons, fluffy pillows and fuzzy throws provide an inviting atmosphere. "I love adding different bedding and blankets to change up a room," she says. "Pillows, throw blankets, baskets, artwork, books, flowers, vases, ginger jars—these are all things on my go-to list." The result is a sense of coziness and comfort with touches of sophistication that truly makes this house feel like home for the holidays.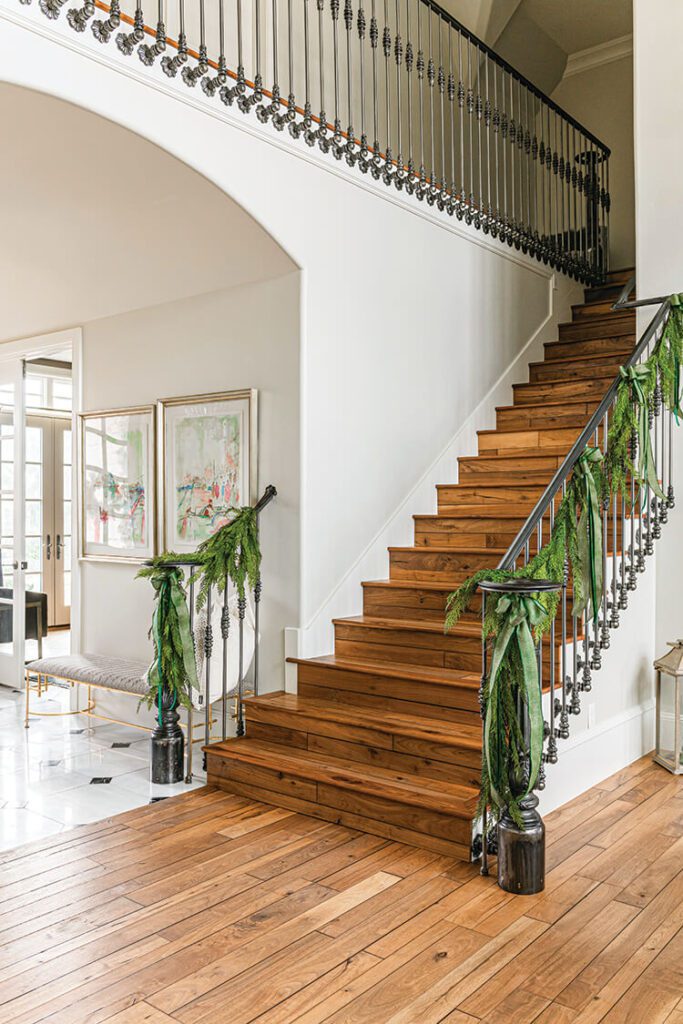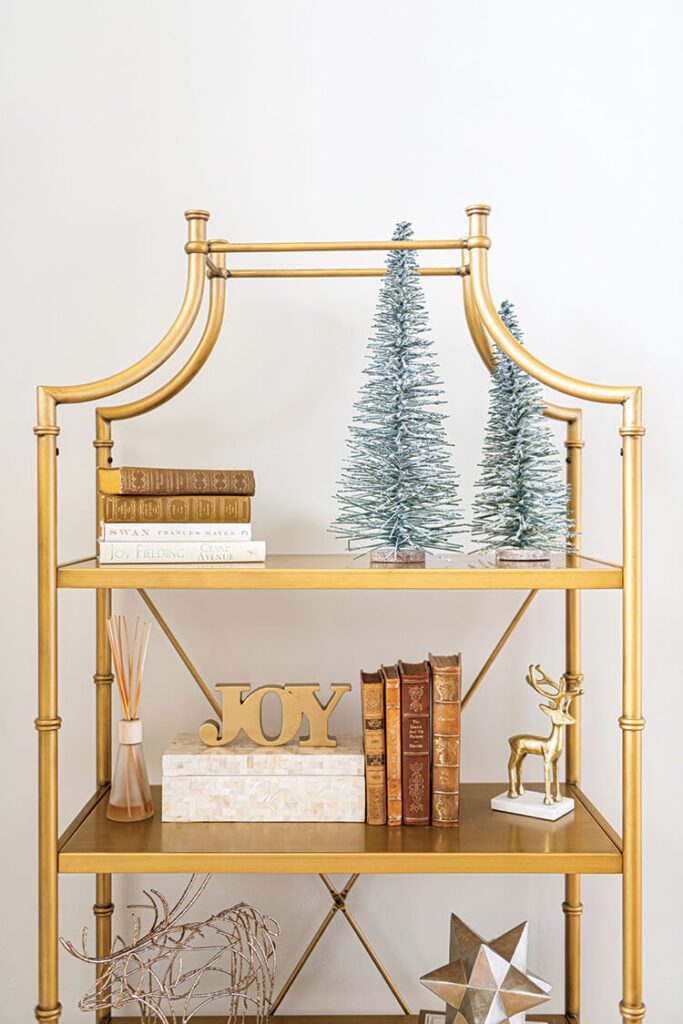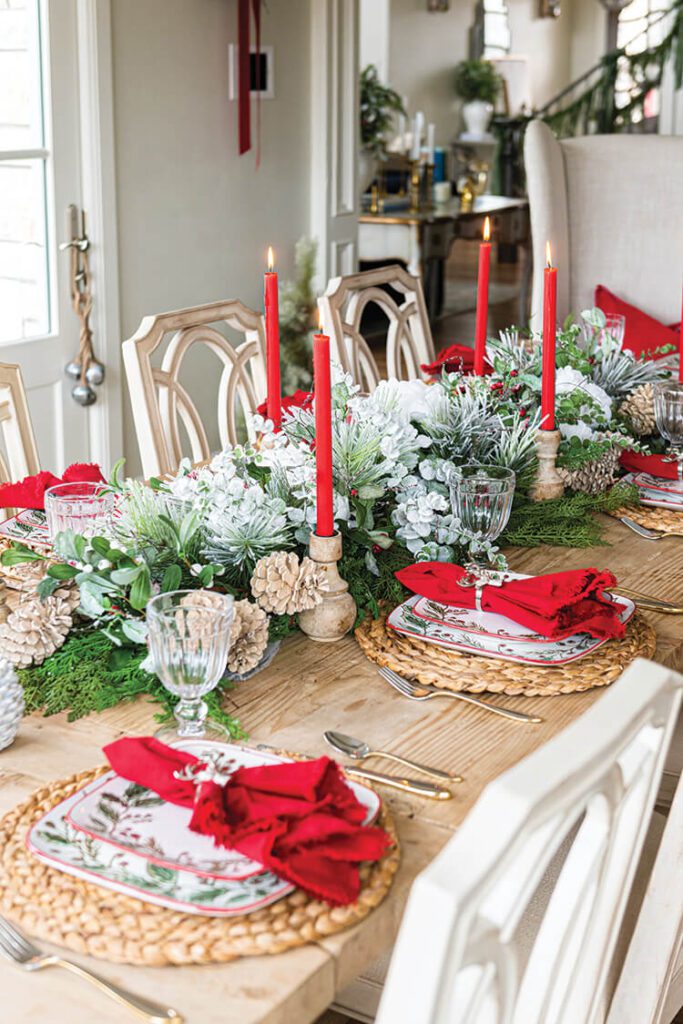 Christmas Colors in Holly Jolley Holiday Home
Shades of red and green are a great way to get a classic Christmas feel in your farmhouse. Holly provides these tips for crafting your own festive and elegant color scheme.
Go Green(ery). Incorporating natural elements into your holiday décor adds to the festive feel. Holly DIYed her own faux greenery with garlands, berries and flowers that bring out her red-and-green palette with a sophisticated feel. "I made a few faux floral arrangements with high-end frosted greenery and frosted peonies," she says.
All in the Details. Don't neglect the little details that will help you tie Christmas colors into every space in your home. "Each season, I pick a color and try to add touches of that color to each room and carry it throughout the house," Holly says. Find wall art or small pieces that work with your color palette, while also giving your style a refined feel. Go for soft-textured, simple pillows and throws that complement the palette.
Bringing It Together. Integrating your Christmas styling with your year-round décor is key to having a design that looks and feels elegant, cozy and inviting. "When I add in a color that's different from my regular color palette, I change up some of the décor to match the Christmas décor," Holly says.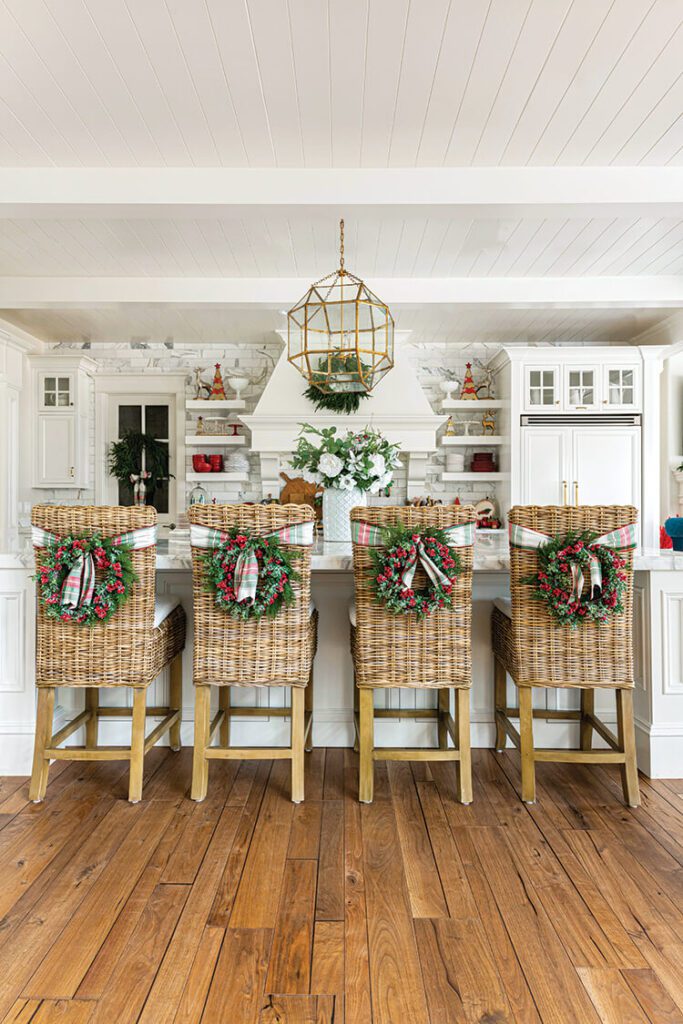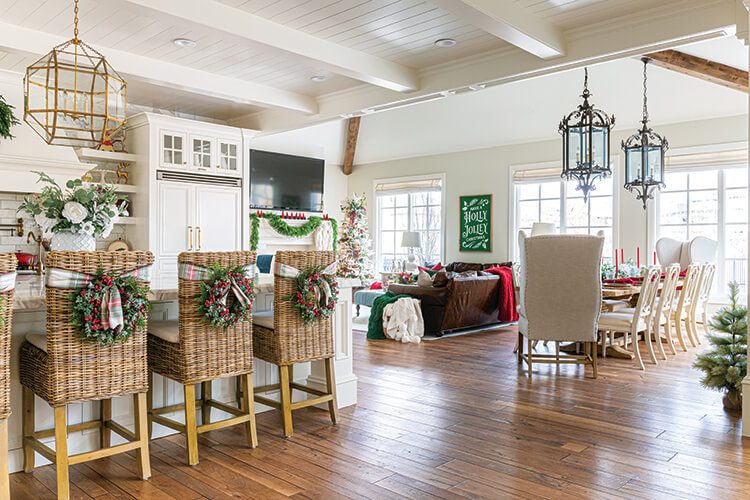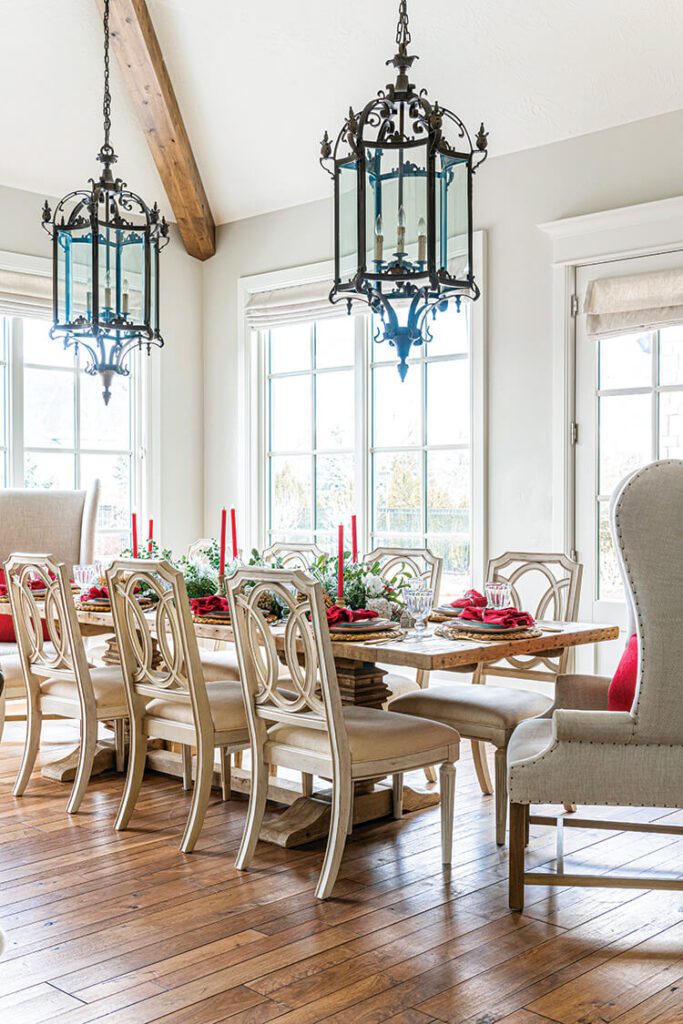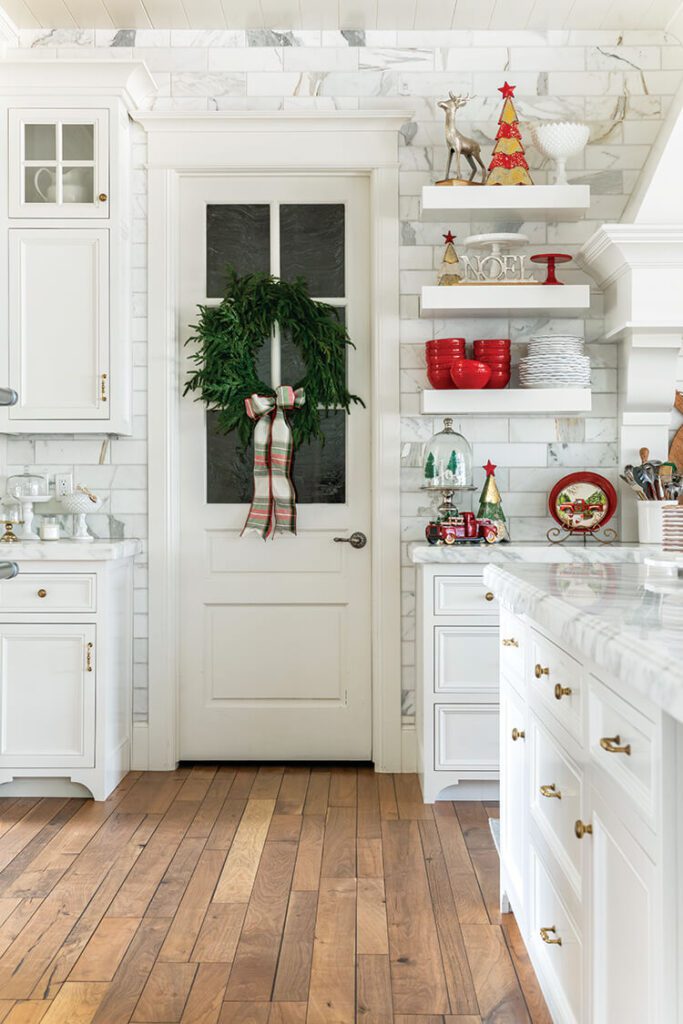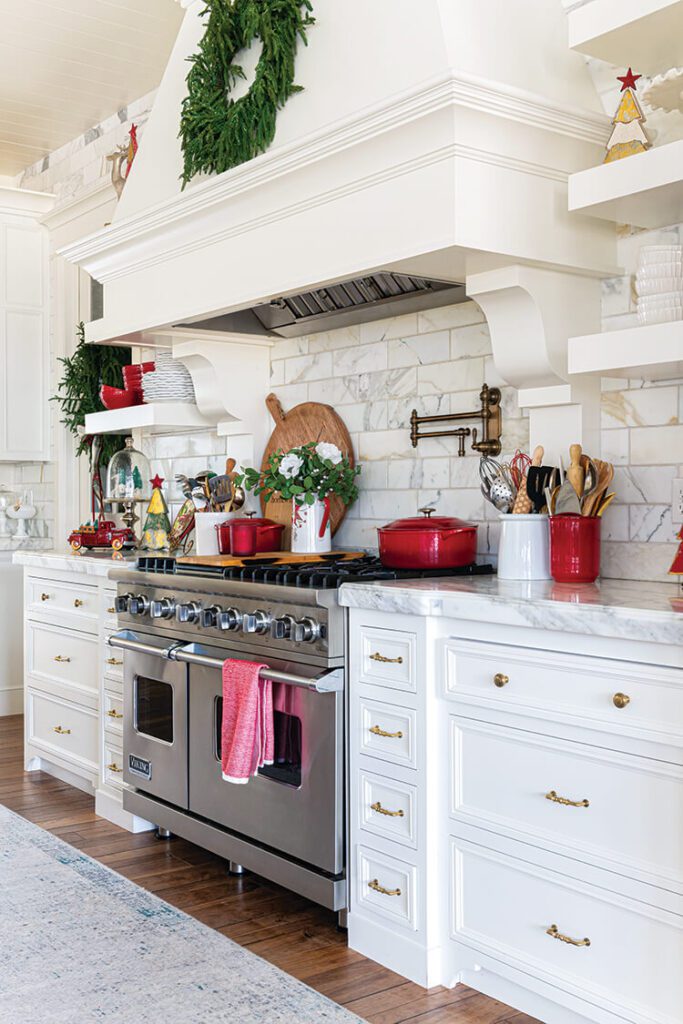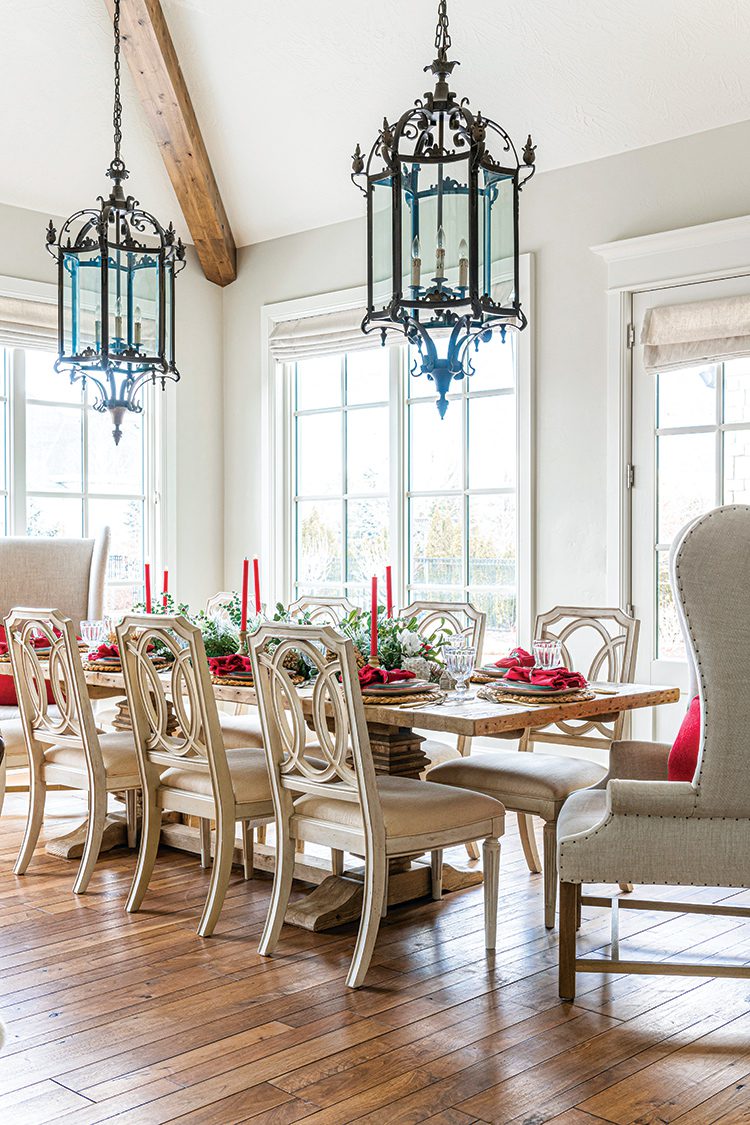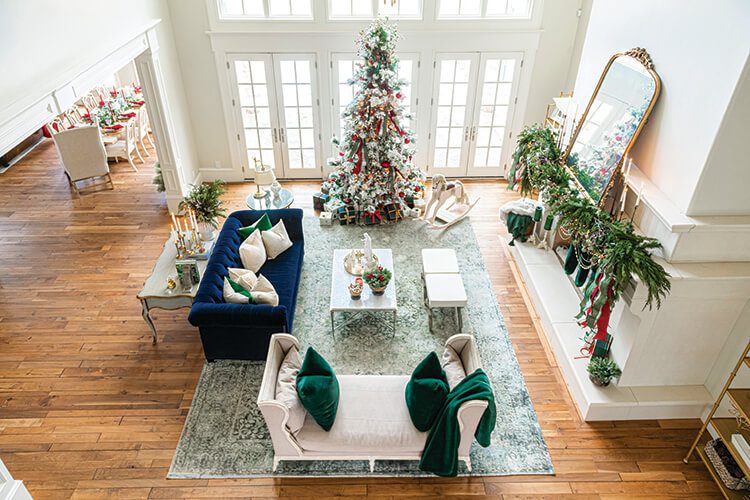 How to Decorate Large Spaces
It can be challenging to know where to start when decorating your home for the holidays.
This is especially true for spaces with lots of square footage or a large open floor plan. Here are Holly's top two tips for keeping your farmhouse feeling festive and cozy.
Create a focal point (or two). To avoid getting lost in big, open spaces, visually anchor the design with one or more pieces that draw the eye. These anchors will serve as the centerpieces on which you can build the rest of your décor. "I use a very large tree in the living room," Holly says. "We have a large wall of windows, and I make the tree the focal point of the room." In addition, she decorates her mantel to serve as another visual anchor in the space.
Create atmosphere with texture. Farmhouse style is all about comfort and simplicity. Find ways to include different kinds of materials in your décor to create an inviting space. "Lots of cozy throw blankets, pillows, flowers and winter greenery are another way to add warmth to your home," Holly says.
For more Christmas house tours, see A DIY Christmas Home. Of course, don't forget to follow us on Instagram, Facebook and Pinterest to get your daily dose of farmhouse inspiration!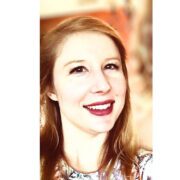 Laura Shimko
A lover of history, good stories and beautiful spaces, Laura finds that writing for American Farmhouse Style is a wonderful outlet. Residing in the rugged West, she enjoys watercolor sunsets and finding beauty in the unexpected. She is a wife to a wonderful husband and brand new boy mom. When not cuddling with baby or her two cats Tigger and Scout, she enjoys dabbling in fiction writing, attempting soap making, baking and DIY home projects.