A Small Town Farmhouse With Big Style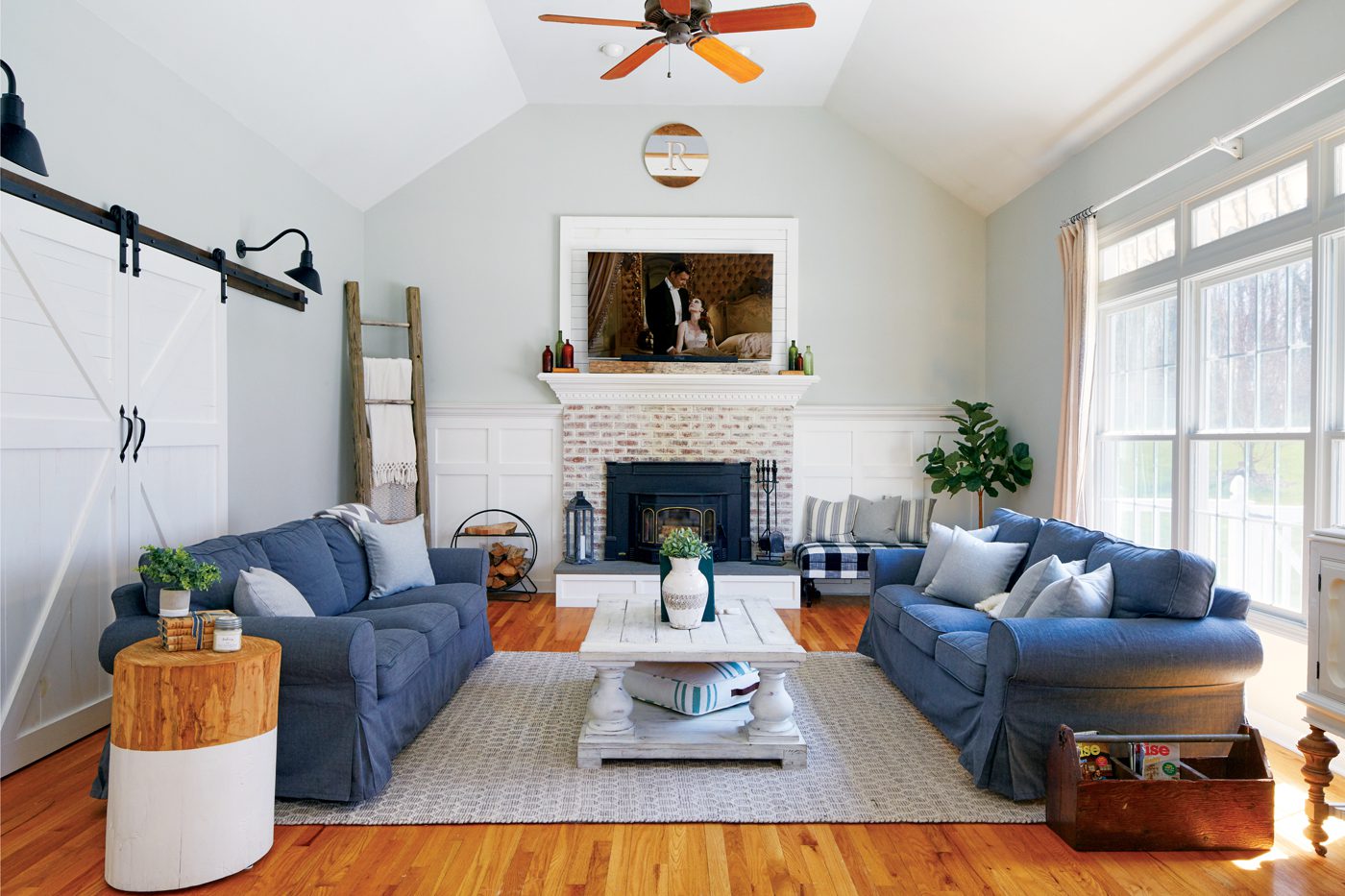 Deep roots bring a deep understanding of an area and oneself. That's the case for Stacey Rossetti, an RN and the face behind the Instagram account @farmhousechic4sure. Don't let this small town farmhouse in Shelton, Connecticut, fool you. The home has big farmhouse style!
When Stacey first toured the colonial-style home they would buy, she loved how its location embodied small-town life. "It's right across from an empty field, and there's a pumpkin and strawberry farm behind it," she says. But while the property was idyllic, the home wasn't. "It lacked any personal style or custom features, so we knew from the beginning that we'd need to change that," Stacey says. Over time, the self-taught designer transformed the basic colonial home into a custom farmhouse that's full of surprising DIYs and creative wall treatments. It reflects her fashionable sensibilities while accommodating her active family, composed of two kids and three dogs.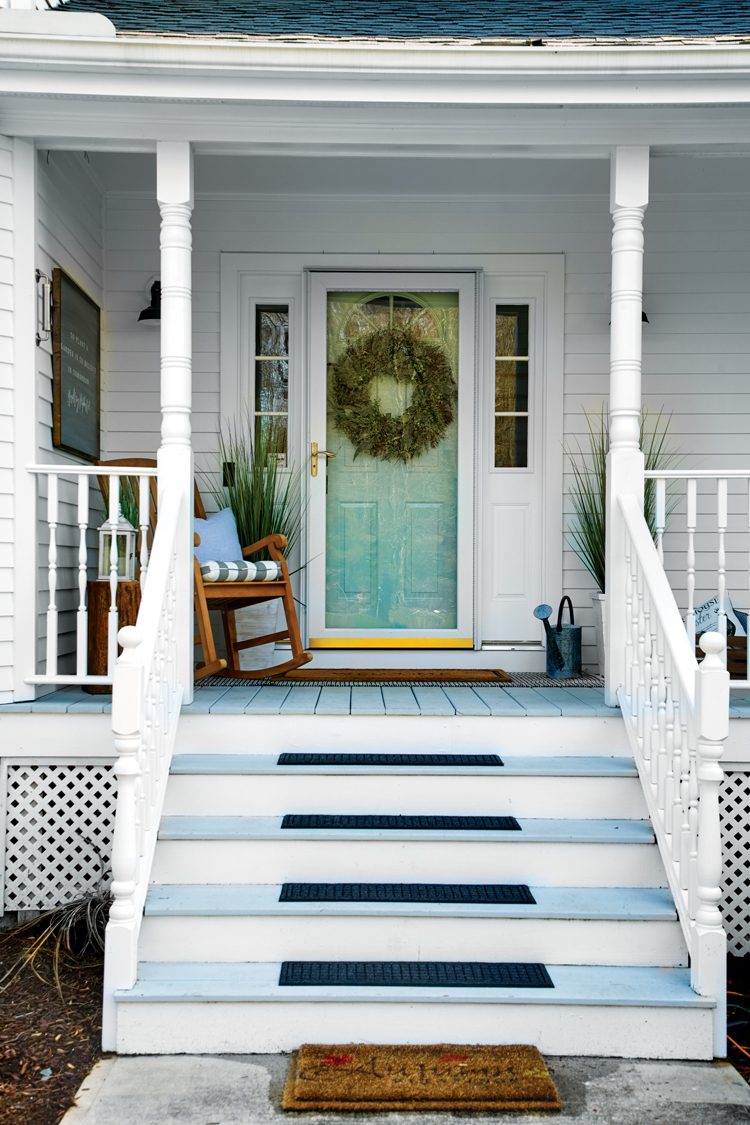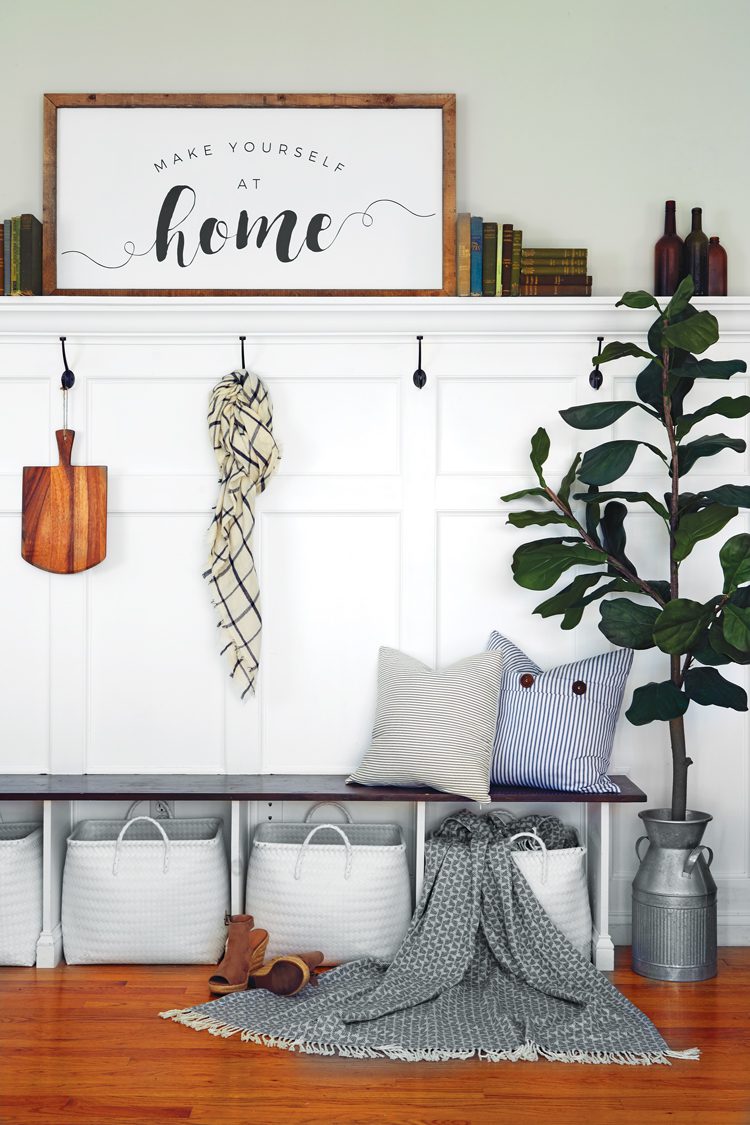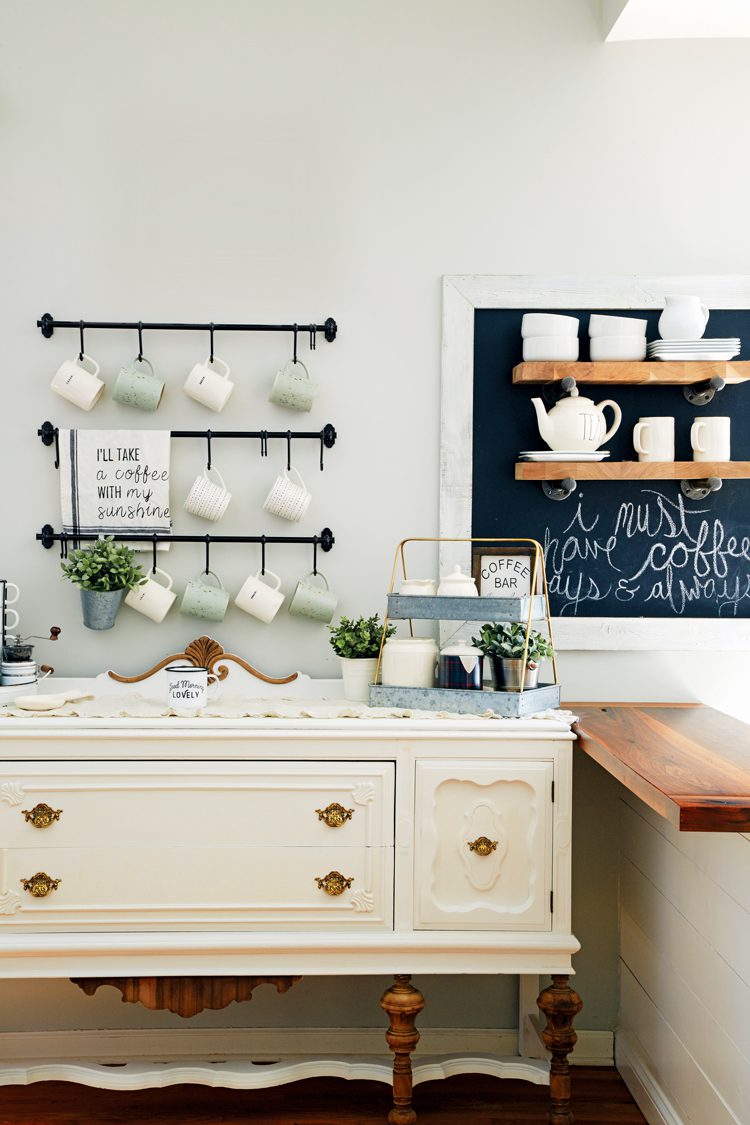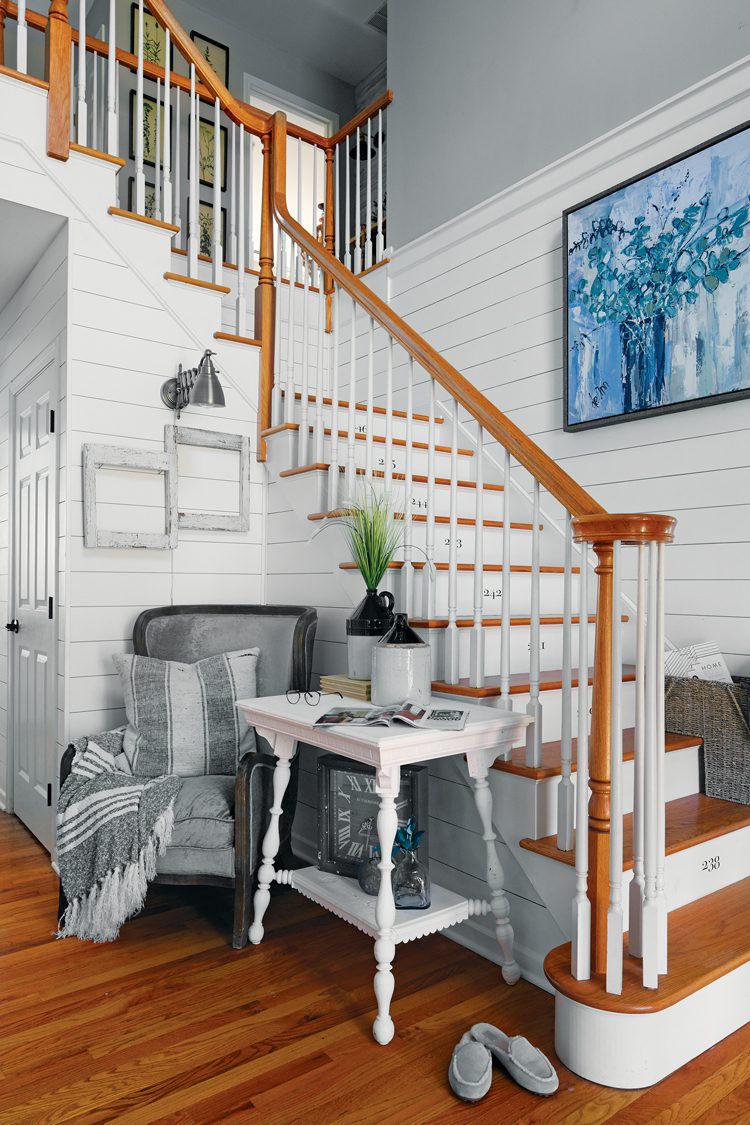 The Heart of the Home
Stacey calls the kitchen the heart of the home. "I don't mind that we splurged a little bit here to make it functional and our style," she says. Creative changes to the existing cabinets, molding and white paint took the kitchen from ho-hum to harmonious. While Stacey eventually wants open shelving, this stage of life wasn't quite right for it—she plans to do that when the children are older and it's easier to maintain organization. So for now, she extended the original cabinets for optimum storage and painted them white for a clean and modern take on small town farmhouse chic.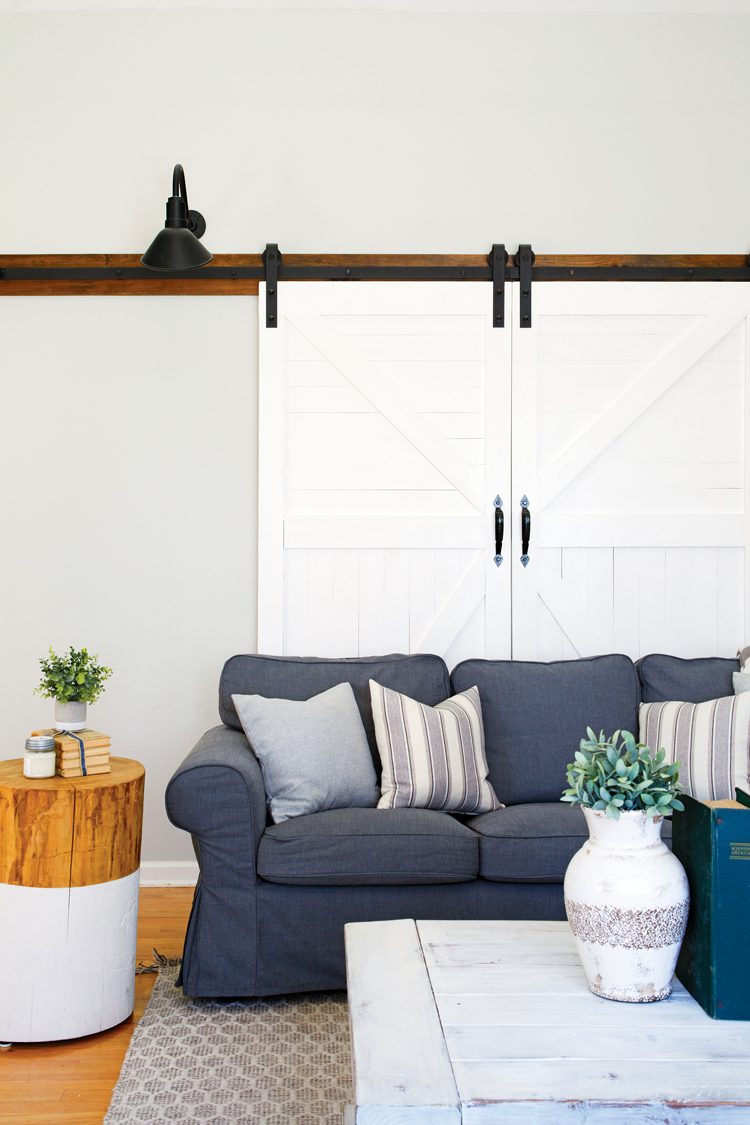 To avoid monochromatic overload, Stacey broke up the white in the kitchen with a unique DIY: a brick backsplash. "We took a chance on it," she says. She made the brick backsplash from BrickWeb, a thin brick on a mesh backing. "It's easy to apply and covers more square footage at once," she says. "My darling hubby did the grouting, and I applied a mortar wash to soften the look." The brick backsplash, along with the copper sink, are Stacey's favorite parts of the kitchen.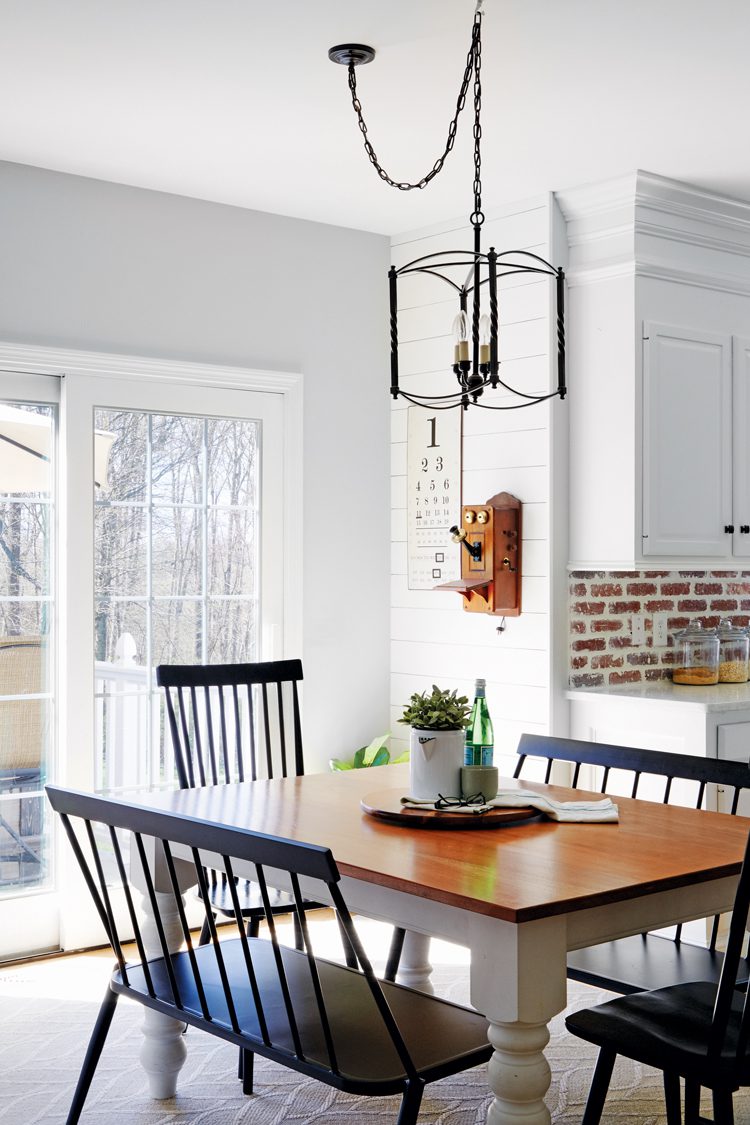 From Boring to Beautiful
Originally, the family room was a huge open blank space that felt cold and boring. Stacey filled it with textures and treatments to create a sense of intimacy. "I started with the shiplap above the TV; then I added board and batten on either side of the fireplace," she says. "When we purchased this house, shiplap was just becoming popular on shows like Fixer Upper and on Pinterest." To DIY the shiplap, Stacey created a frame to attach 1x4 boards that were cut to length and even got her husband involved. "When I first started doing DIY projects, he thought I was nuts," she says. "This was a good starting point because shiplap is a really great beginner's DIY. Now he helps me all the time!"
The fireplace bricks also received a farmhouse facelift. Stacey used the same mortar wash technique (often called German Schmear) that she used on the kitchen brick backsplash to soften the bright red fireplace brick. "These bricks were porous, so it created a much lighter color, which I love," Stacey says. The final notes of warmth come in with rugs, throw pillows and soft blankets that encourage coziness for the small town farmhouse.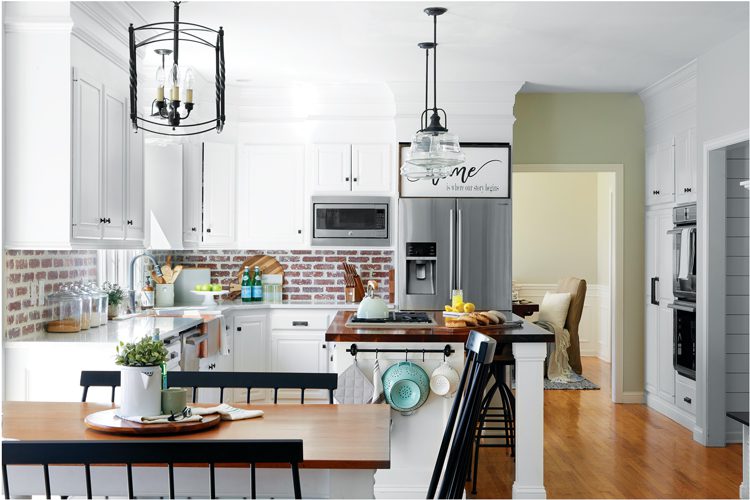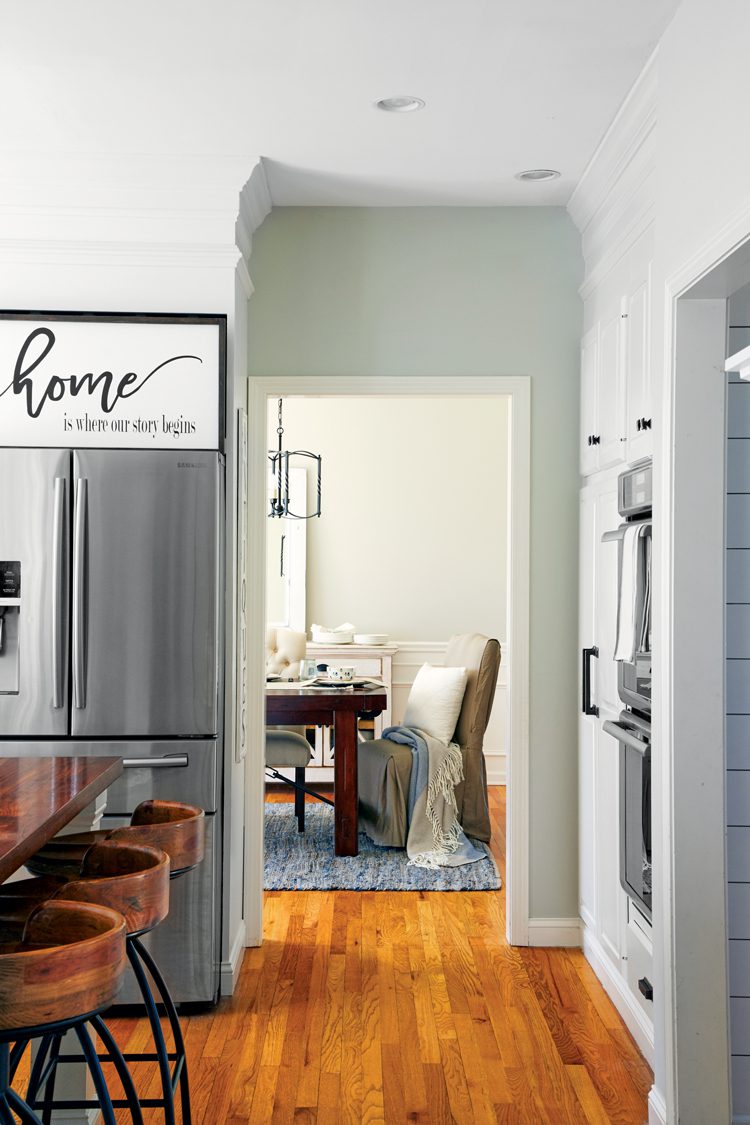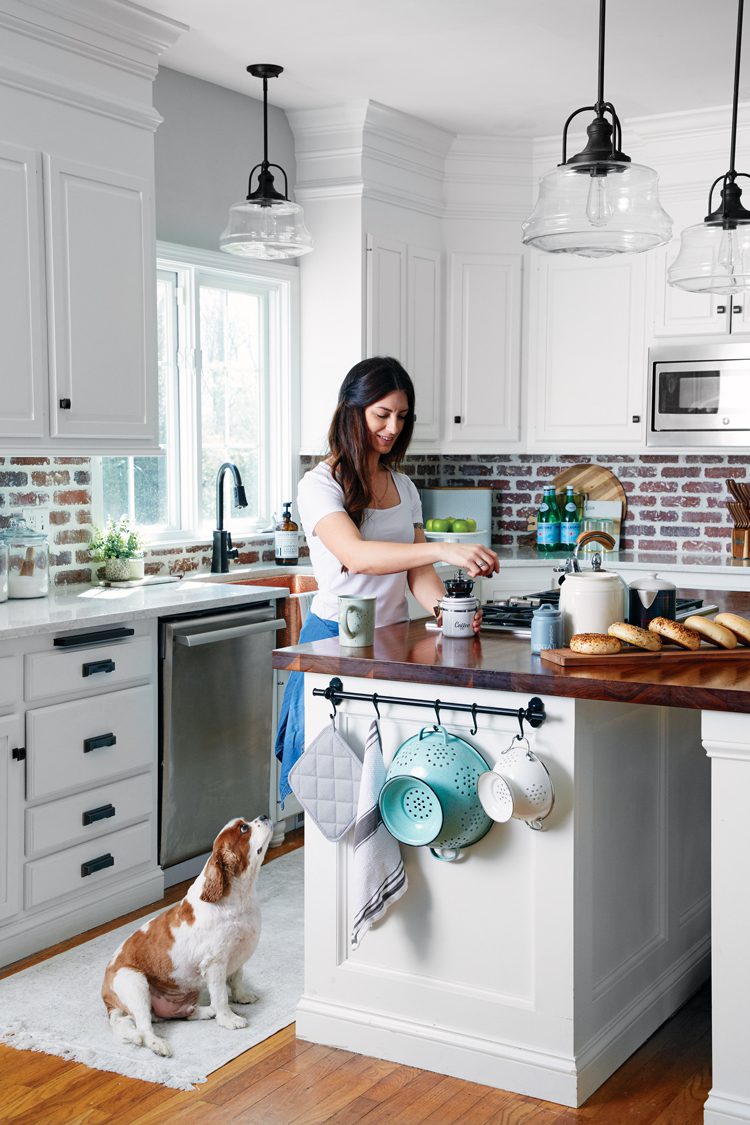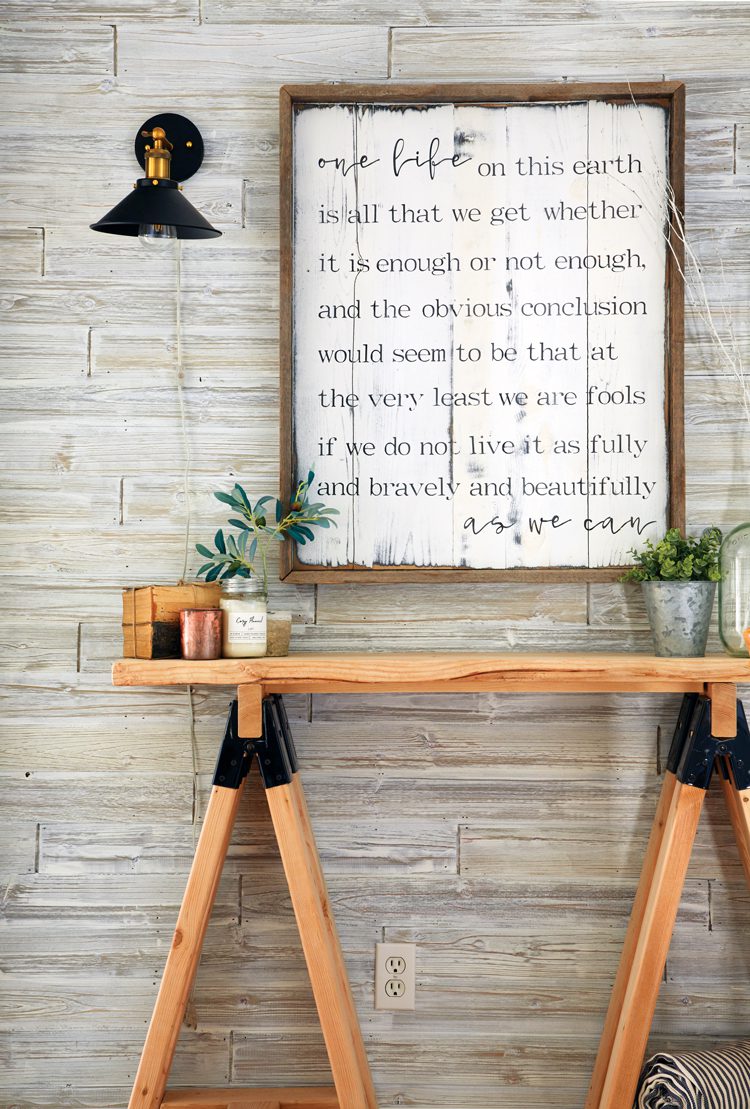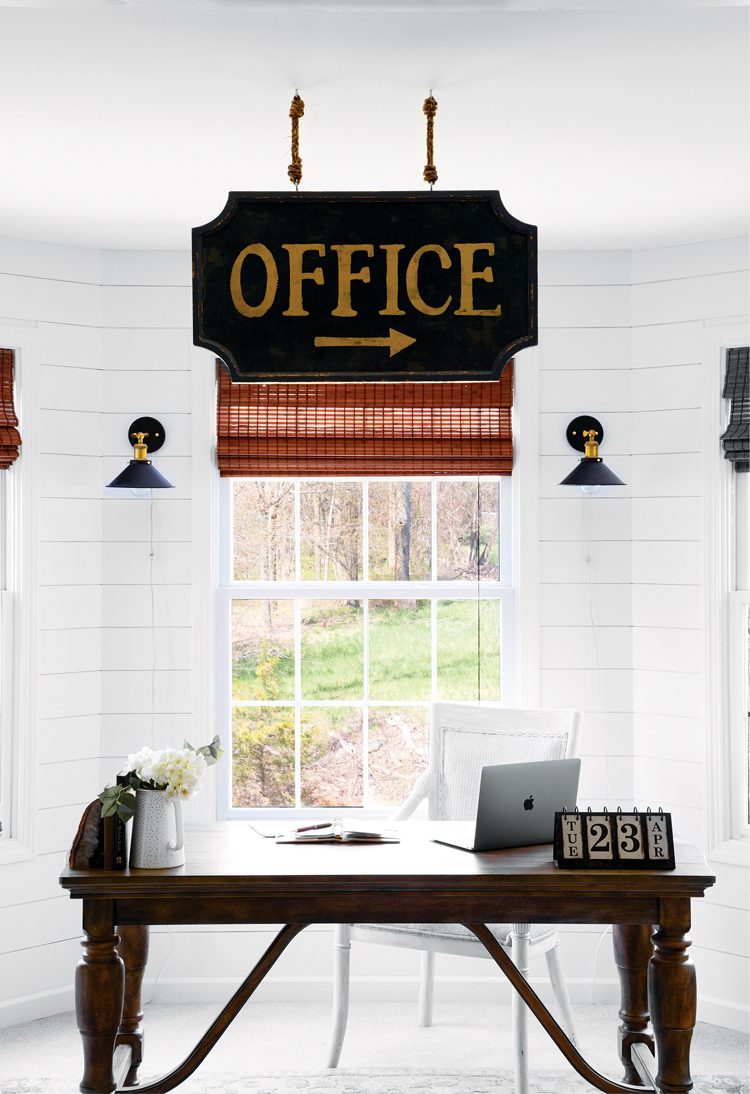 Ceiling Style
Looking up is easy to do in the master bedroom of this small town farmhouse, and not just because of the beautiful light fixture. It's because of a stunningly creative ceiling treatment that mixes weathered boards and shiplap. "The weathered wall boards are from Weaber Lumber," Stacey says. A whitewash finish gives the boards a rugged farmhouse-style look and is also a DIY. Stacey thinned some white paint and lightly brushed it onto certain spots, installed the boards vertically, and then used shiplap on the center part of the ceiling. "The shiplap gives more depth," she explains.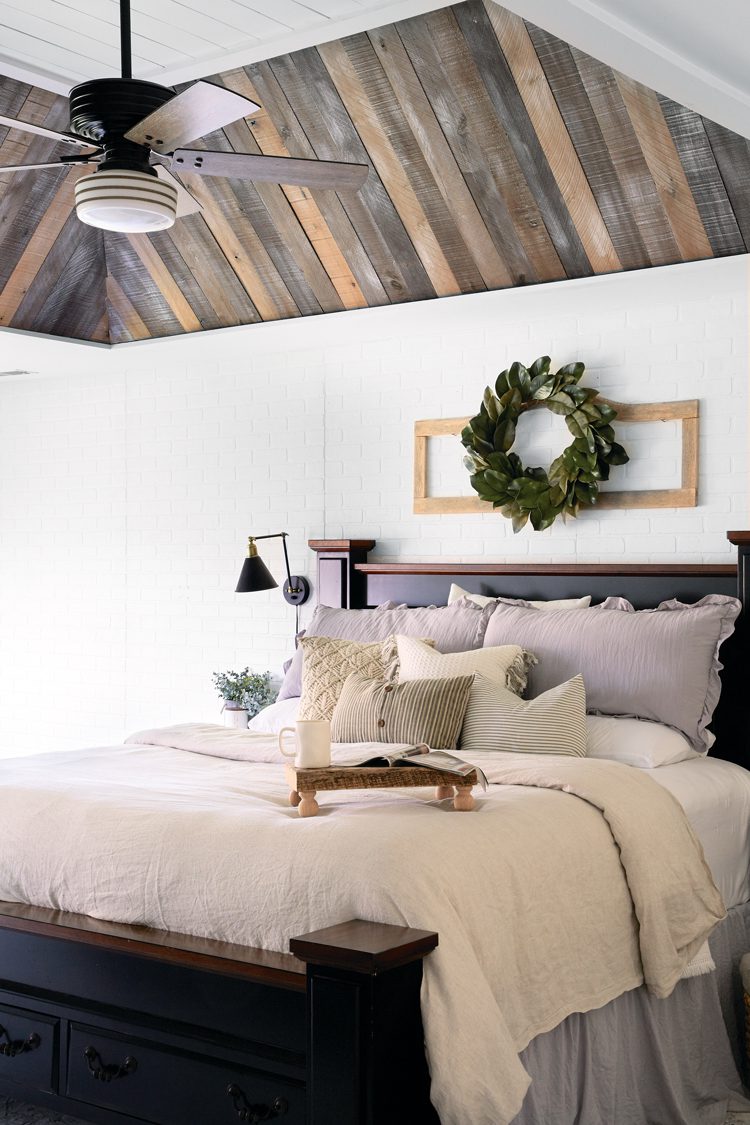 Stacy updated the rest of the room. This included a fresh paint and a faux brick wall that brings unexpected tactile beauty to the room. A light fixture with metallic details gives a sense of polish, while a dark green wreath feels like a rich neutral in the bedroom's color scheme. It's a bright and happy place to wake up and face a busy day with the kids or at work.
With her creative DIYs, Stacey's home is a warm and inviting version of the modern farmhouse aesthetic. It embodies both the closeness of small-town love and the elegance of modern style—and, most importantly, it embodies Stacey. "It's really important to love your home and make it really yours," she says. It's obvious that she's done just that in her small town farmhouse.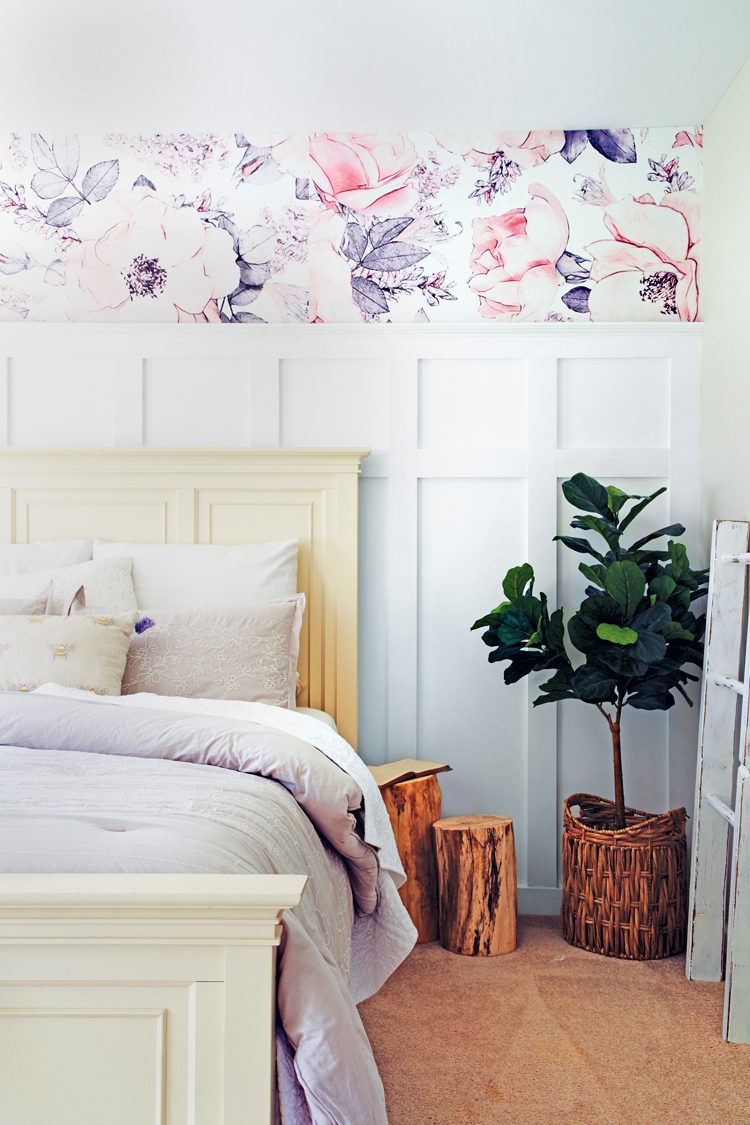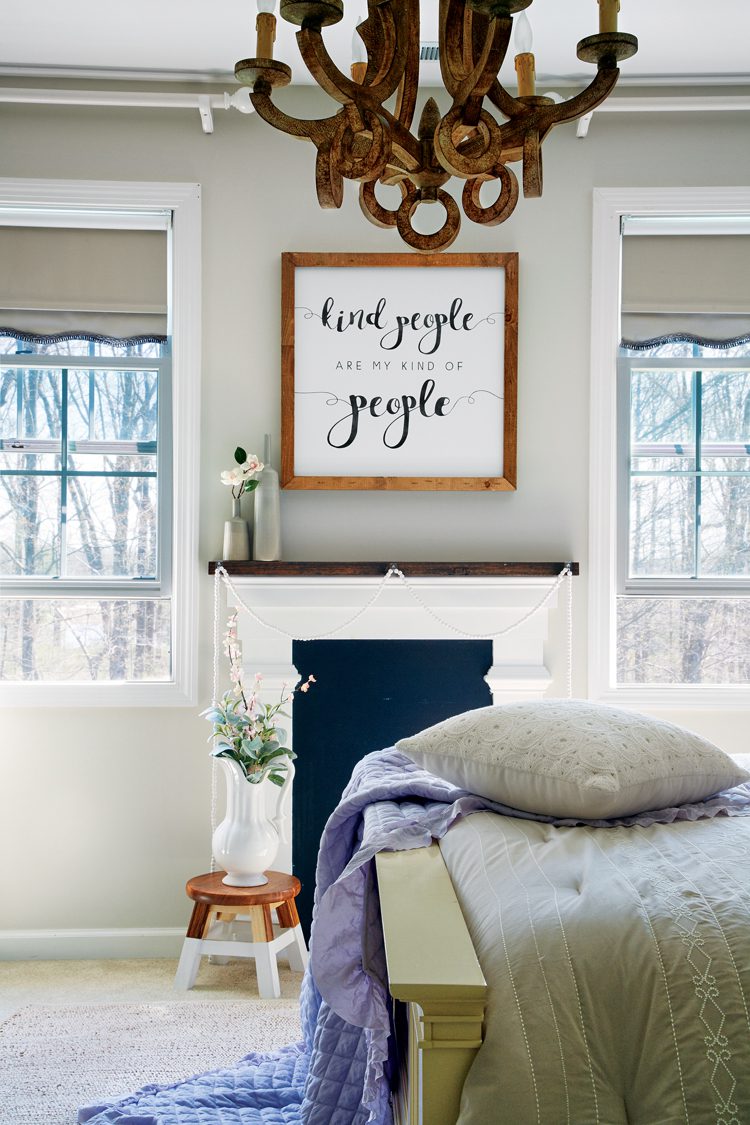 ---
Learn how to do German Schmear here! And don't forget to follow us on Instagram, Facebook and Pinterest for your daily dose of farmhouse inspiration!