A Masculine Guest Room With Style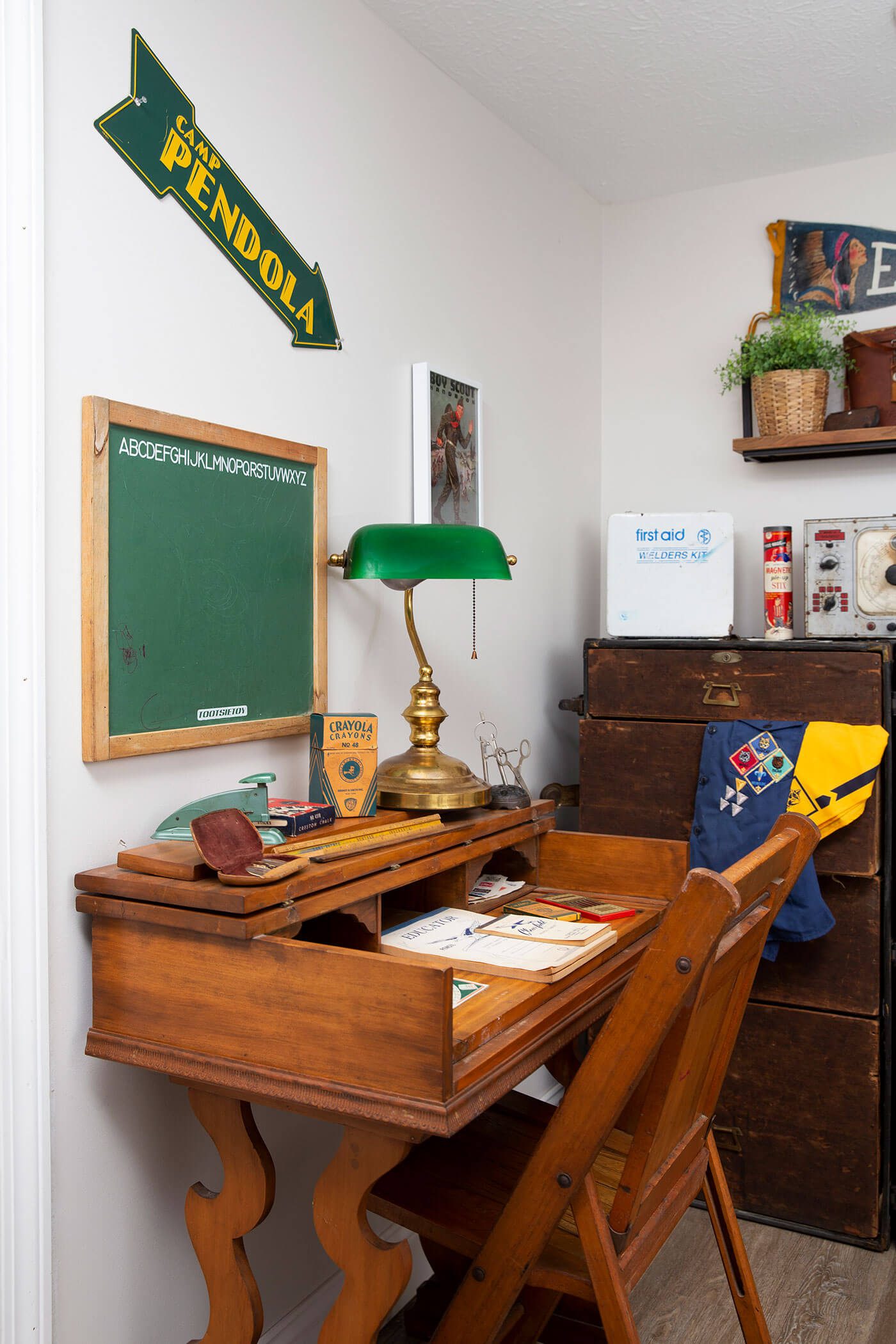 Finding a balance between style and function is essential, especially if you want your male guests to feel at home. Blogger and mom of three Wendy Zock of The Curated Farmhouse decided to tackle the challenge of creating a masculine guest room that everyone, both young and old, could enjoy. "Since I'm a boy mom, I wanted a space their friends could stay in but yet still gave off a vintage vibe," she says. Here's how she did it.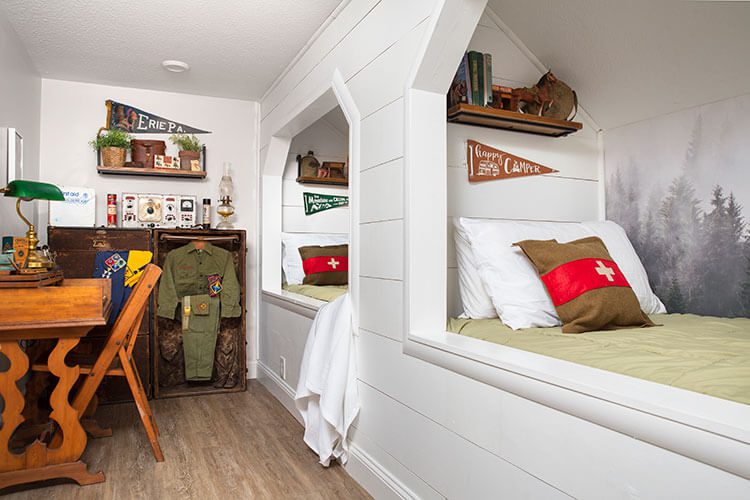 Creative Space for the Guests
The small space wouldn't fit a Queen size bed. So instead, Wendy opted to DIY her own built-in twin beds in the masculine guest room. "My kids call them the cove, and everything is quiet and so peaceful," she says.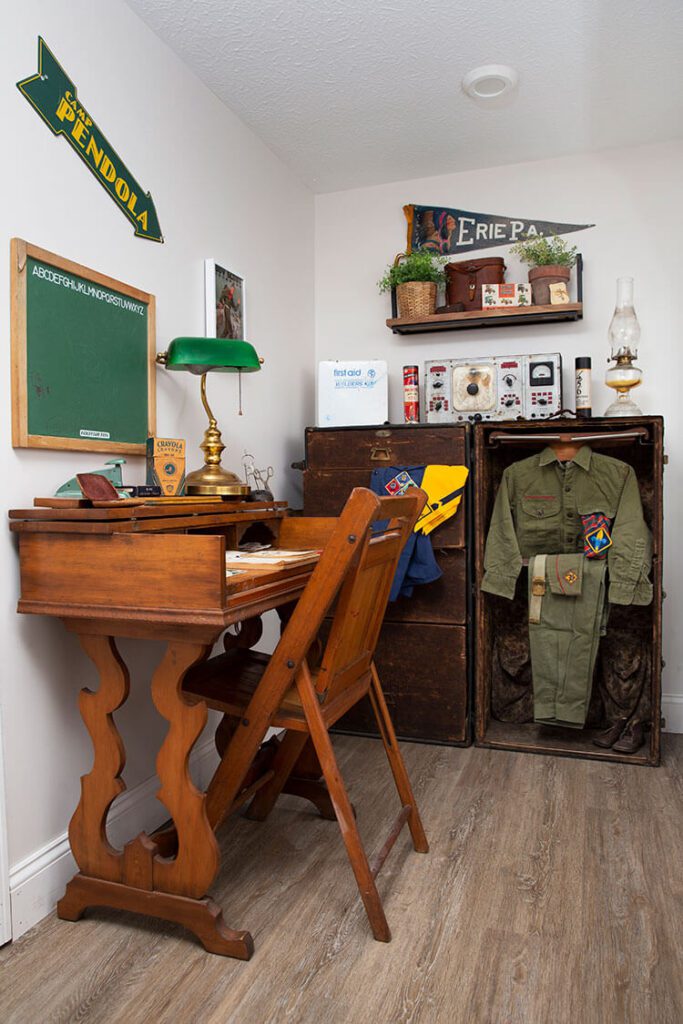 Wendy chose a boy scout theme that plays off of the vintage feel of the rest of the home. She enjoyed finding and collecting vintage décor for the space. "95% of the room minus the bedding and greenery is vintage," she says. The color palette she chose comes from the family's years spent in service to the military. This is a perfect fit for the masculine guest room. "I love the Army green and it really pops off the white of the beds and walls," she says.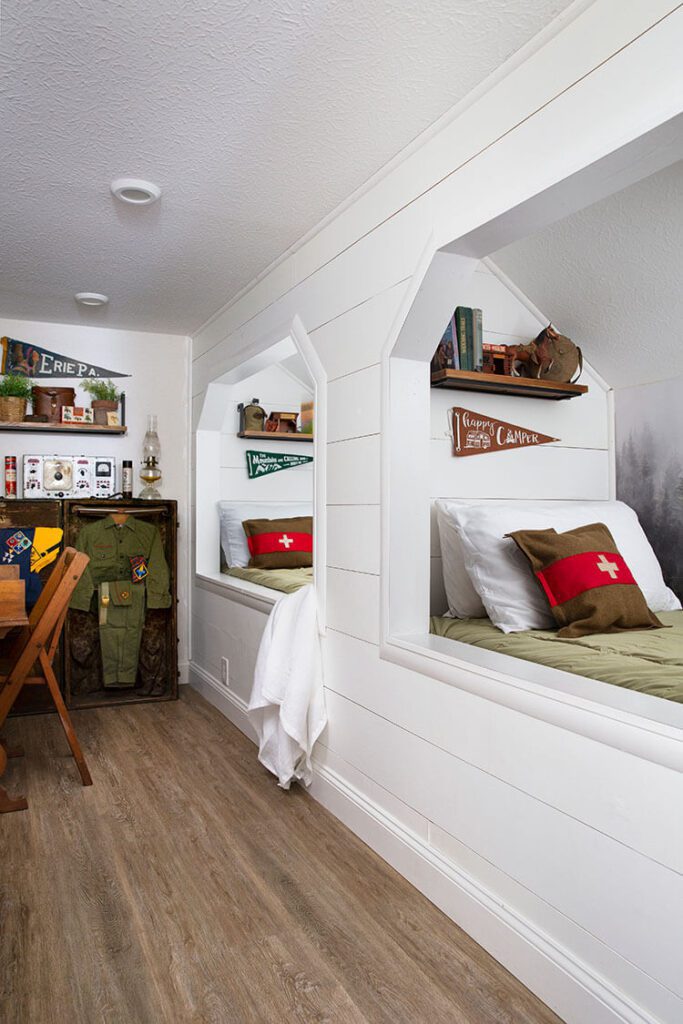 A Practical Guest Room
With an eye on practicality, Wendy chose weatherproof vinyl flooring for the masculine guest room. This helps with the wear and tear of boys. She included a vintage desk where they can do homework, and which can inspire their creativity. "You want a space that can grow with them," she says. "It can change to fit whatever age or stage of life they're in," she says. "You don't have to sacrifice style for your space to be functional."
The fun intersection of farmhouse style walls (hello, shiplap) plus the built-in beds and Boy Scout theme, creates a perfect masculine guest room. Wendy's sons won't be embarrassed to share this room when their friends come over.
---
Come tour another boys' room, this time for a younger kid! And don't forget to follow us on Instagram, Facebook and Pinterest for your daily dose of farmhouse inspiration!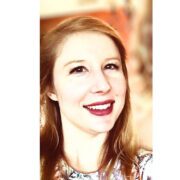 Laura Shimko
A lover of history, good stories and beautiful spaces, Laura finds that writing for American Farmhouse Style is a wonderful outlet. Residing in the rugged West, she enjoys watercolor sunsets and finding beauty in the unexpected. She is a wife to a wonderful husband and brand new boy mom. When not cuddling with baby or her two cats Tigger and Scout, she enjoys dabbling in fiction writing, attempting soap making, baking and DIY home projects.