Hunting Old and New Christmas Vintage Collections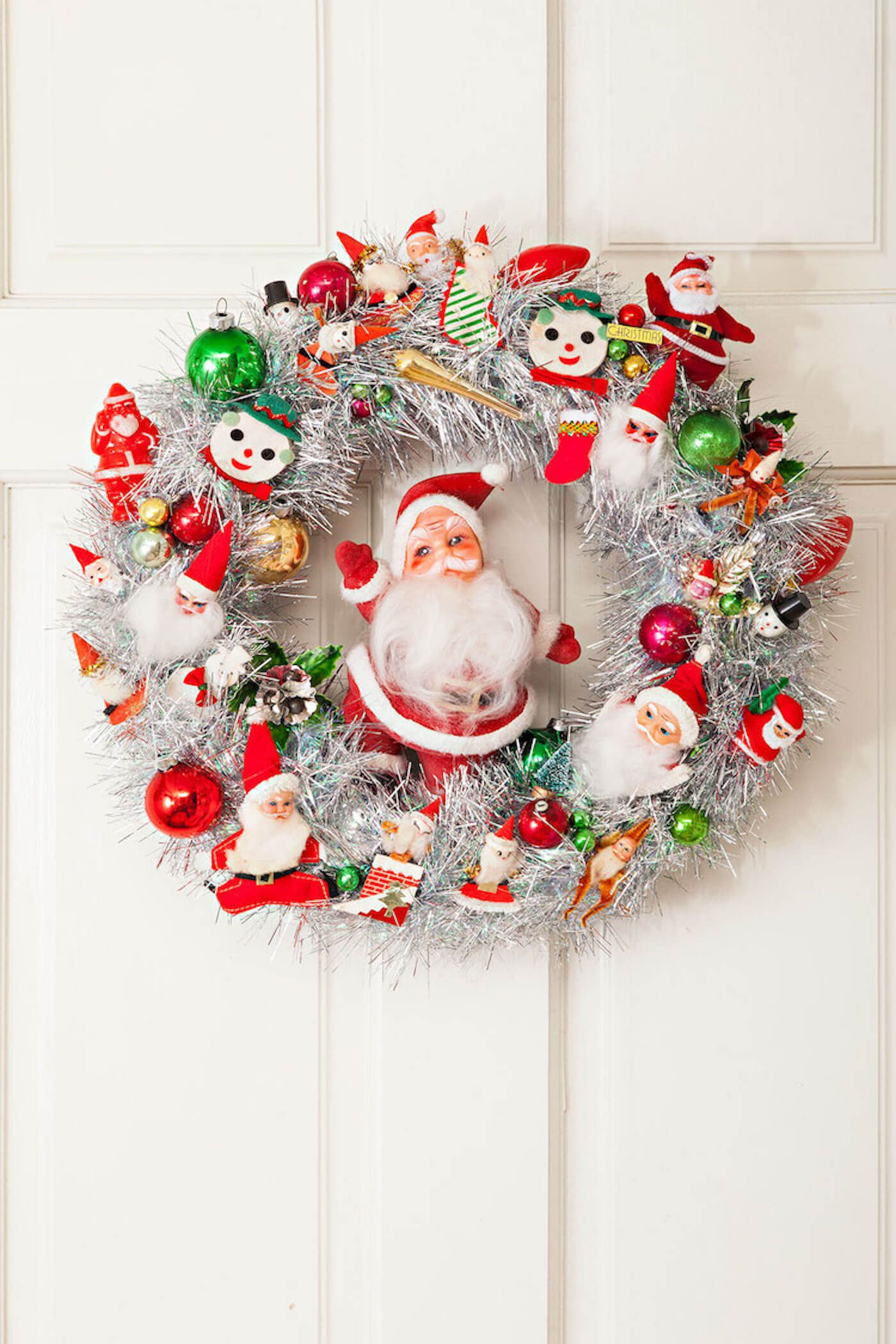 Photography by Bret Gum
At some point we all become tired of the same Christmas decor year after year. Trying to replace our Christmas vintage collections can be a budget buster, especially around gift-giving time.
Picking up a few new pieces to mix in with your old favorites is a great way to keep things interesting. Set a modest budget and let your creativity take over at your local holiday vintage flea market. Christmas inspiration abounds and will inspire you to style your home with fresh Christmas vintage collections.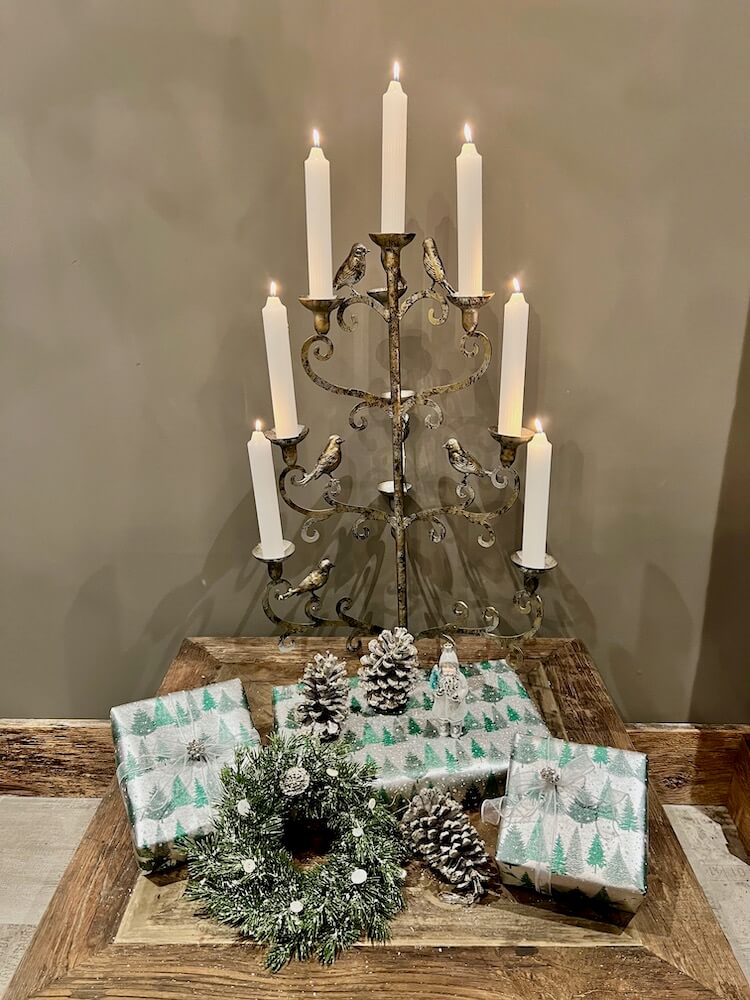 Christmas Vintage Collections Rule #1: Stop at the Dollar Table
Table tops filled with hundreds of items from A to Z are waiting for you. The dollar table is the perfect place to find meaningful pieces to dress up your Christmas vintage collections or even your gift wrap. Gifts wrapped in festive paper and bows are thoughtfully personalized by adding your creative touch.
A family member passionate in bird watching is thrilled with a vintage Audubon Society card adorning their gift. A dear friend with children delights in a tiny tin or vintage toy. A festive star earring adorns a tree filled crock destined for a new neighbor. Thoughtful finds create sentimental memories for your holiday gifts, as well as your Christmas vintage collections.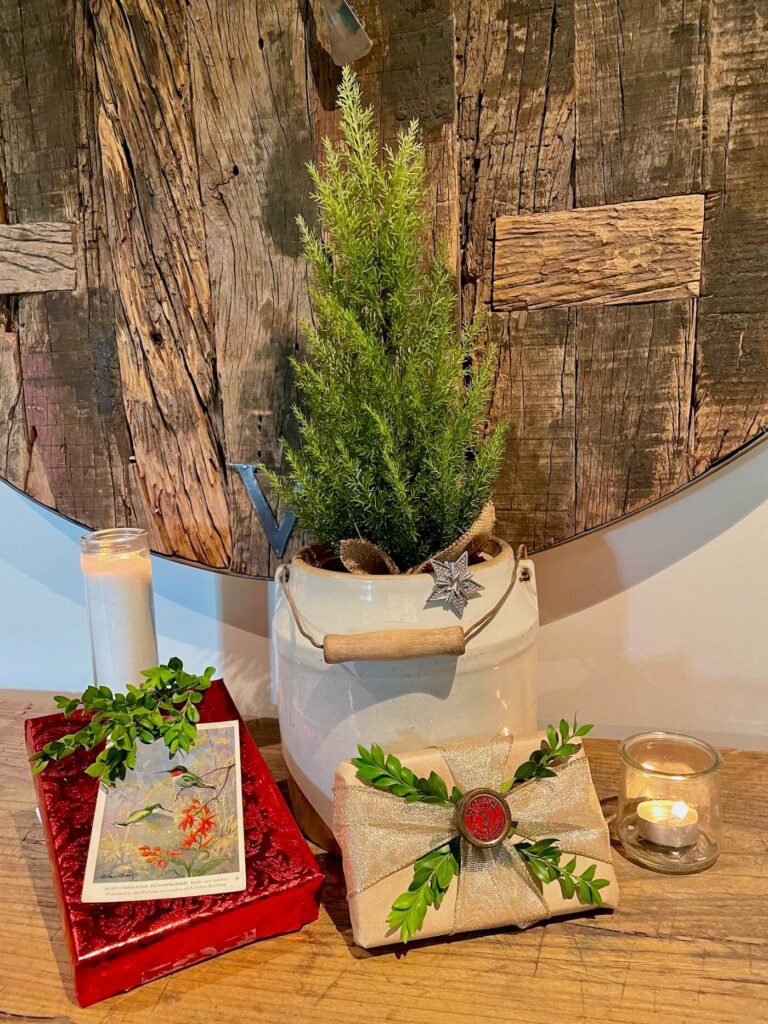 Christmas Vintage Collections Rule #2: Check Out the Unexpected
I happened into a booth of hundreds of old soda bottles. A red and white soldier caught my eye and suddenly my new collection began. In no time, three more winter-themed bottles were added to my purchase for a whooping $3 each. Stye them with holiday decor you already have and now you have a fresh look to enjoy throughout the Christmas season.
Think about different ways to use your Christmas vintage collections during this season. An old tablecloth could become Christmas wrapping paper, or you could add vintage ornaments to your front door wreath.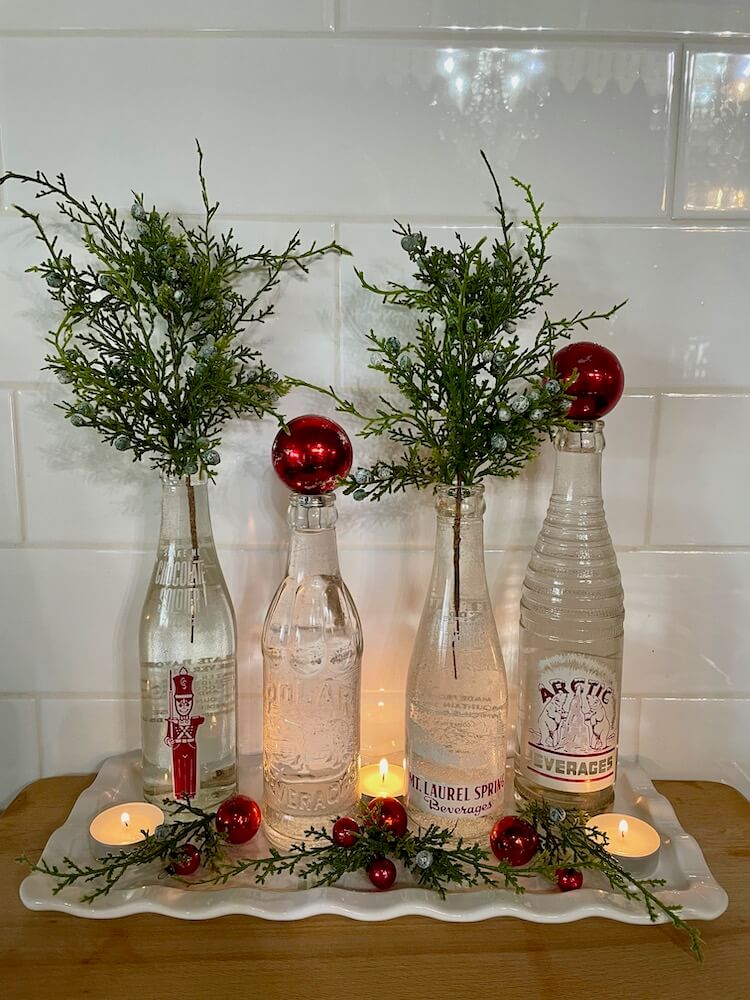 Christmas Vintage Collections Rule #3: Turn up your Holiday Creativity
The next stop scored leftover paper packaging from a factory long gone. $10 for 10 is well worth the spend. The vintage paper bags with red and black advertisements were the perfect Christmas purchase. Adding them to your holiday place settings is an easy way to dress up a candle lit tabletop. Or tuck fresh greenery or a sweet treat in them as a take home gift for your family and guests.
"Tis the Season" to create Christmas inspiration and lasting memories with your Holiday Happenstance Vintage finds.
For more vintage holiday inspiration, read on about Collecting Vintage Tablecloths at Christmas. Of course, don't forget to follow us on Instagram, Facebook and Pinterest to get your daily dose of farmhouse inspiration!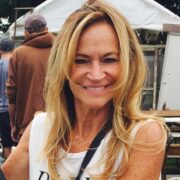 Dawn Hutta
Hello!!! My name is Dawn Hutta. I live in a charming community in central Ohio named Galena. I LOVE a good vintage flea market and enjoy the challenge of the hunt for unique decor to decorate our 1840s barn home. Yes, we moved 2 barns about 100 miles and transformed them into our home and pool cabana. The barns and their story are featured here. Living in Ohio, we cherish the limited time we have each year to enjoy flowers from our gardens. You may have room and the growing season to create a garden of your own or a kitchen countertop dressed with fresh flowers. I encourage you to check out styling ideas for your own home here. I flip houses for a living and try to incorporate the modern farmhouse theme in each of them. Take a look at  my article on creative ways to gain interest on your walls without breaking the bank. I truly enjoy seeing how innovative and decorative all of our contributors and readers can be.