Copper Pipe DIY Candle Holder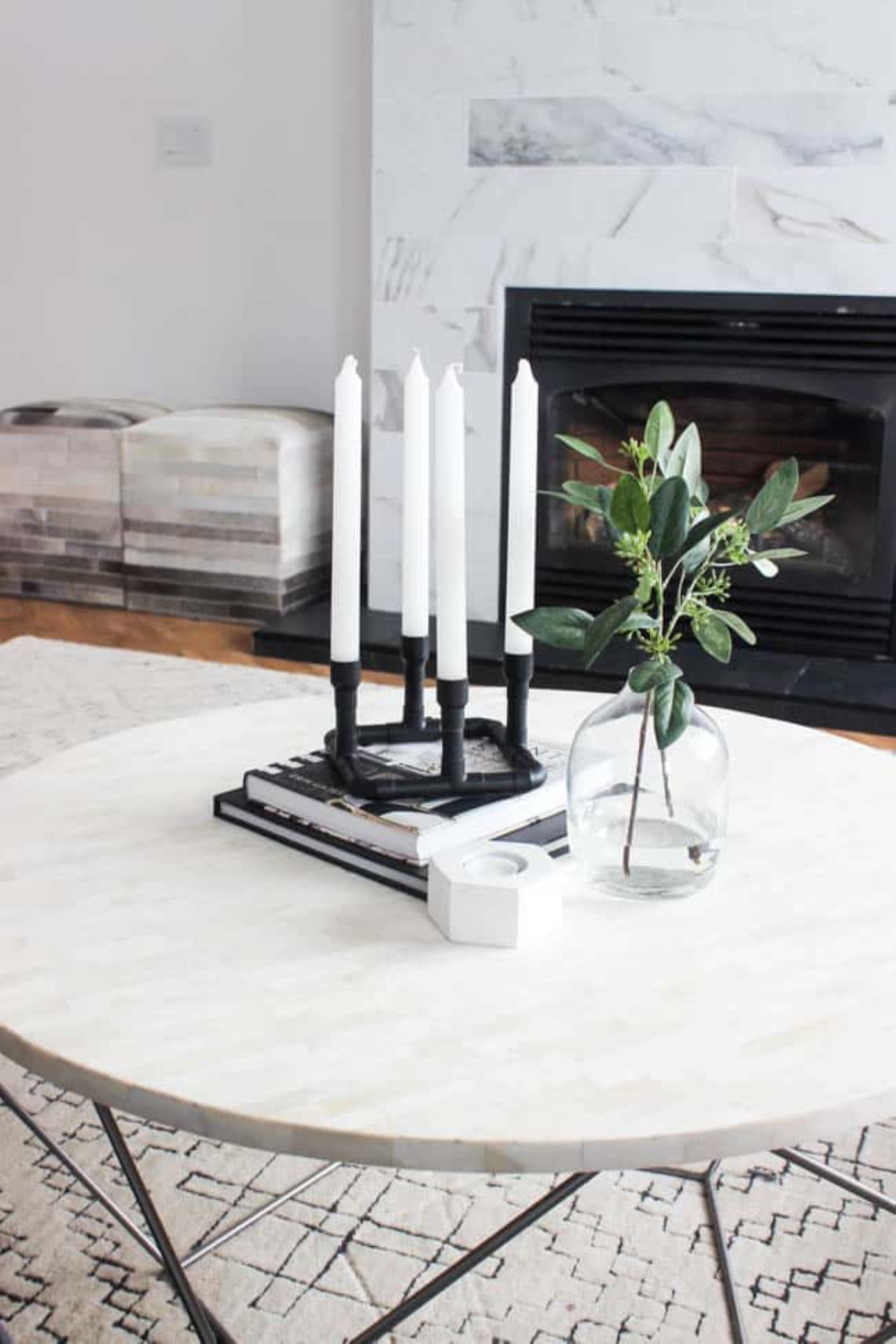 Image by Lindi Vandershaaf
What started out as a fairly mundane weekend plumbing project for Russel Vandershaaf became a burst of bright, shiny DIY inspiration for his wife, Lindi. "I looked at the pile of plumbing materials he'd brought home from Home Depot, and I thought, 'Wow, I can make something with that," Lindi told a group of Haven Conference attendees who'd gathered for the couple's "Create with Metal" workshop. The result is a copper pipe DIY.
Since then, the Vandershaafs have deployed copper pipe, copper tubing and copper fittings for numerous DIY home décor projects—many of which they've featured on their blog, Love Create Celebrate. They've made wreaths, wine racks, key chains, side tables, and more.
Here are just a few reasons the Vandershaafs love crafting with copper:
It's relatively inexpensive. Prices vary depending on the thickness and length, and you can get it at home improvement stores like Home Depot, Lowe's Home Improvement, or Ace Hardware. Expect to pay about $1 per foot for copper pipe and about 75 cents per foot for copper tubing.
It's got some structure, but it's also pliable and easy to work with. The Vandershaafs showed the class how to use a manual pipe cutter, which will set you back about $20. If your hands are small or not very strong, using a manual pipe cutter will be harder for you than folks who have a kung fu grip.
We also learned how to use a power pipe cutter, which will run about $120 if you decide copper pipe DIY is for you. Now that we've seen all the neat furniture and gifts we can make with copper, a power pipe cutter is looking like a better and better deal.
Copper is shiny, so it gives instant glam and sophistication. But it also can lend modern, masculine, or industrial chic to your farmhouse décor.
Copper's rosy glow works great with lots of color palettes. If all the blacks and whites in your farmhouse décor are starting to feel a little too stark for everyday living, some copper accents can warm it up instantly.
If you want to add more black to your décor, you can paint your copper piece very easily, as the Vandershaafs have done here. It can be any color, really, but is beautiful in its original luster.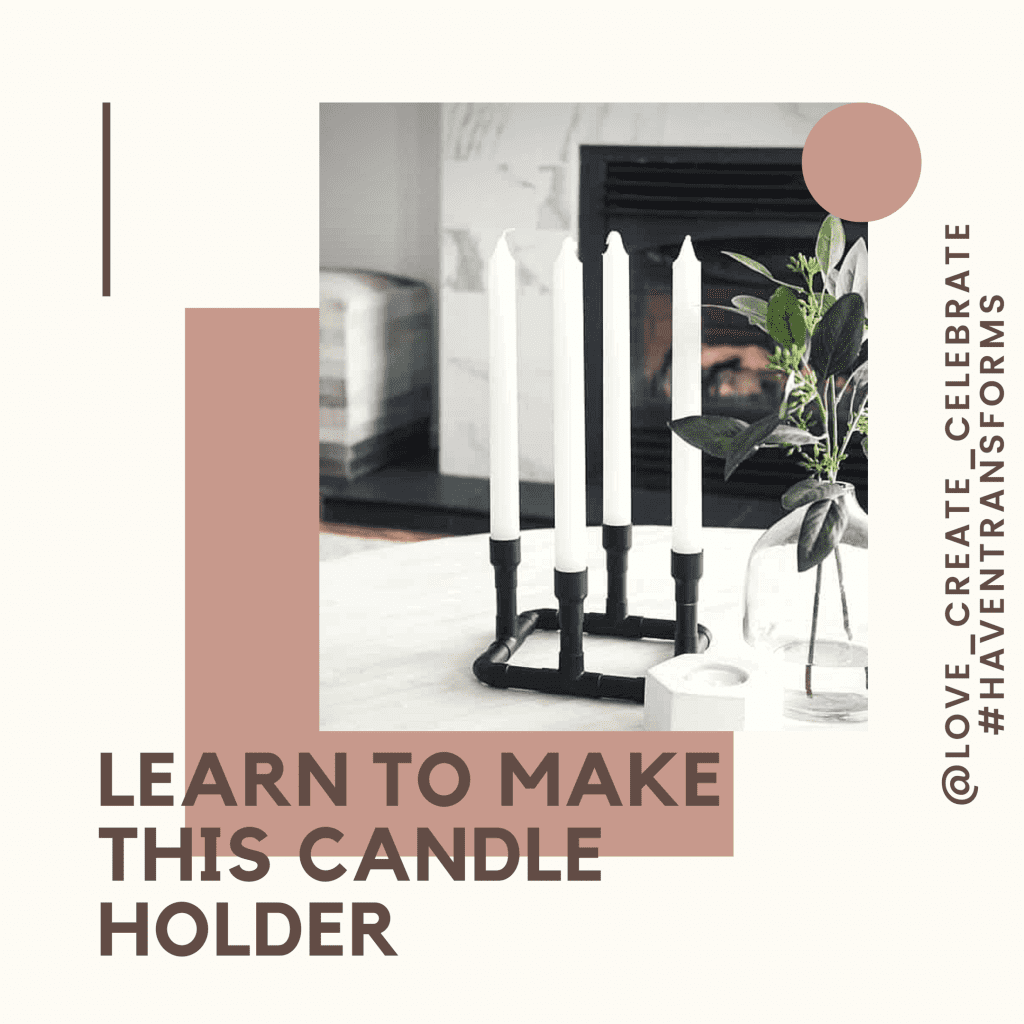 Copper Pipe DIY Candle Holder
What You'll Need:
Note: You'll need at least 24" inches of pipe to cut into 12 pieces that are each 2" long. We recommend that you get a little extra just in case you mess up a couple times as you're learning to use the pipe cutter for the first time.
1/2″ copper pipe
4 1/2″ copper tee fittings
4 1/2″ 90 degree elbow fittings
4 1/2″ to 3/4″ copper pipe reducers
Acetone
Sharpie or another permanent marker
2 part epoxy (glue)
Ratcheting pipe cutter
Sandpaper
Gloves
What You'll Do:
Remove all stickers from the fittings and pipe with acetone.
Lay out your copper elbows and tees to form the outlines of a square. You'll need to cut 2-inch pieces of straight copper pipe to complete the square.
Line up your long piece of copper pipe against a tape measure and use a Sharpie to mark out 2-inch pieces.
With your pipe cutter, cut 12 pieces of 2-inch pipe.
Glue together the pieces of your copper square with epoxy glue. Make the base first, and make the base of your "T's" face upwards. That's where you'll put the copper reducers that will hold the candles.
Glue the reducers into the Ts at the mid-point of each of the square's sides.
Place your candles in the holders, light them, and watch how the rosy reflections of the flickering candle brighten up any dining table or mantel.
---
Ready for another DIY idea? Try this fun barn quilt wall art! Of course, don't forget to follow us on Instagram, Facebook and Pinterest to get your daily dose of farmhouse inspiration!