Fun Wall Paneling Ideas to Try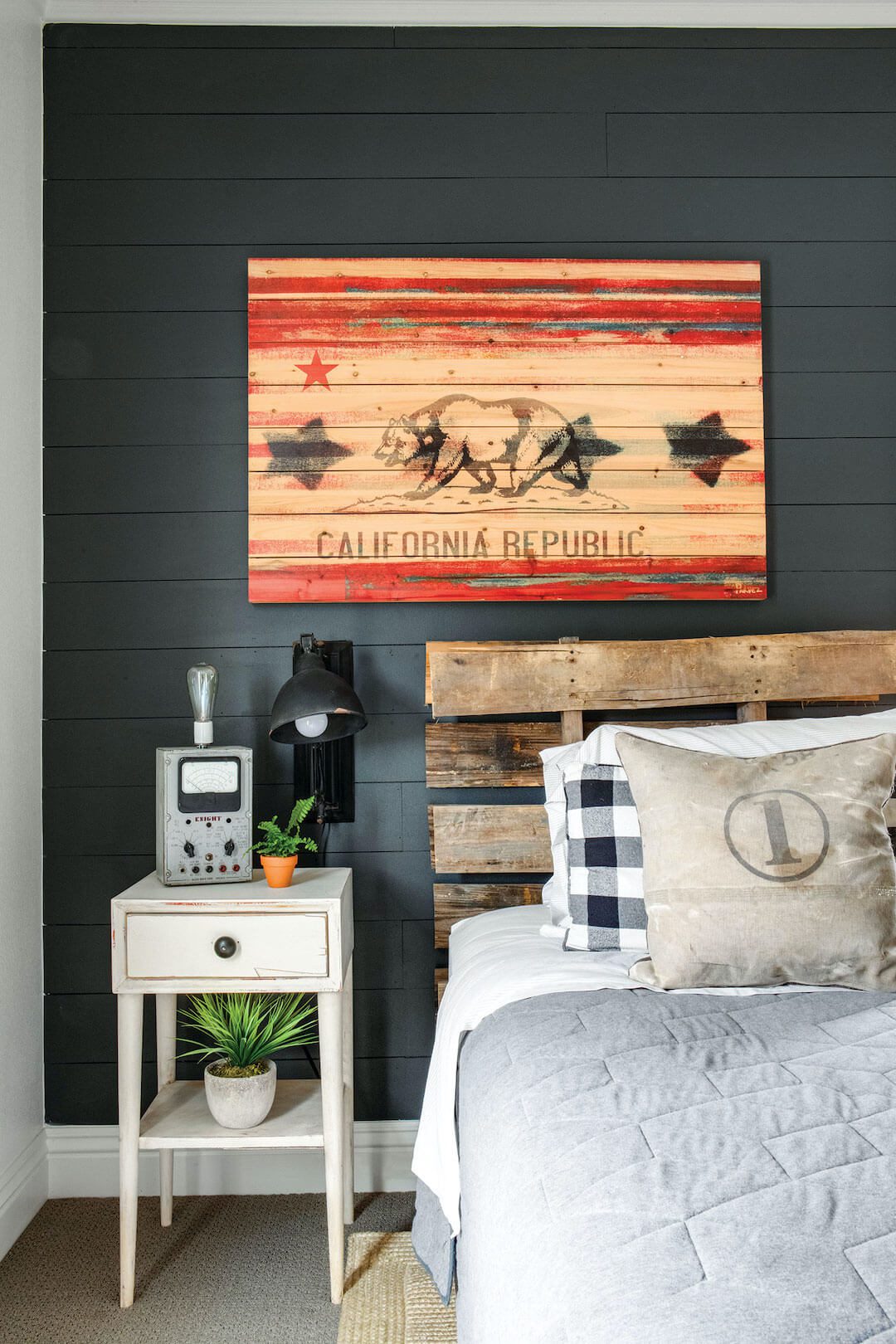 Image by Chad Mellon; home of Heather Tartaglia
Walls are such an important part of your home! Making them work with your farmhouse style is key to getting that dream home look you want. Shiplap is always classic for farmhouse style, but have you considered other wall paneling options for your home? Here are some fun ideas to get you started!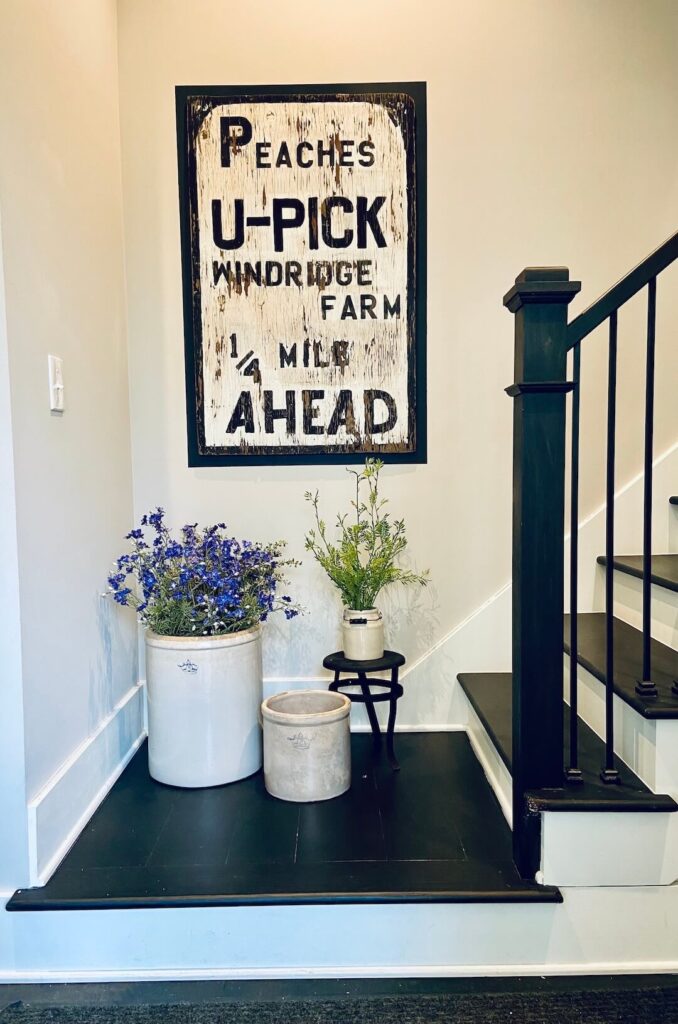 Add Large Art
Budget is often a factor with our enhancements. A modest amount of paint can create an updated spin on existing decor. In this case, a simple frame of black paint surrounding a worn fruit sign highlights the charming message.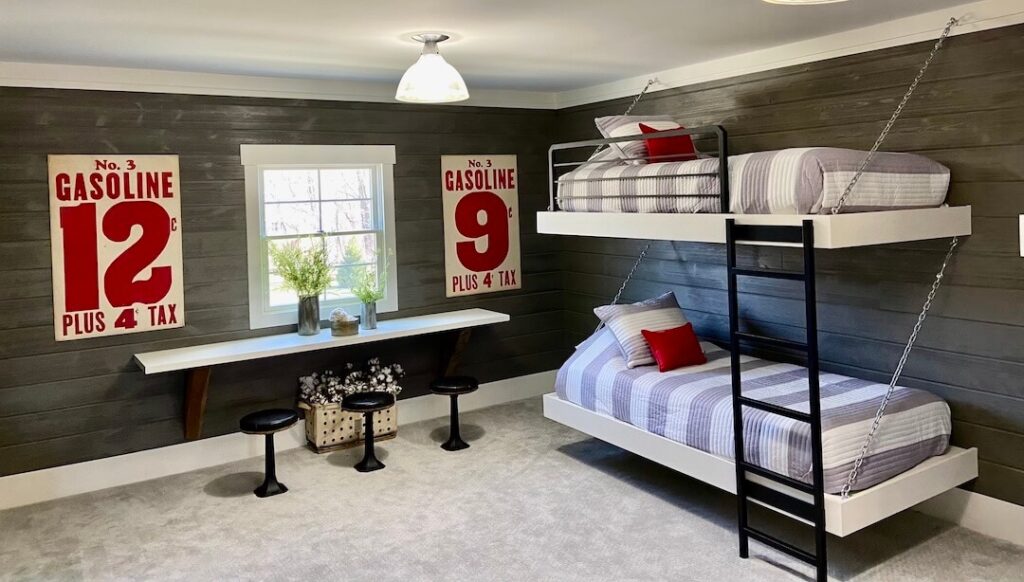 Wall Paneling Shiplap in a Different Color
Our love affair with white shiplap seems eternal. A gallon of paint can enrich our space without compromising our passion or budget. These shiplap walls painted Sherwin Williams Gauntlet Gray create a warmth that showcases the vintage 1930s gas station price signage in front of the wall paneling. The red pillows add the extra pop to finish the room.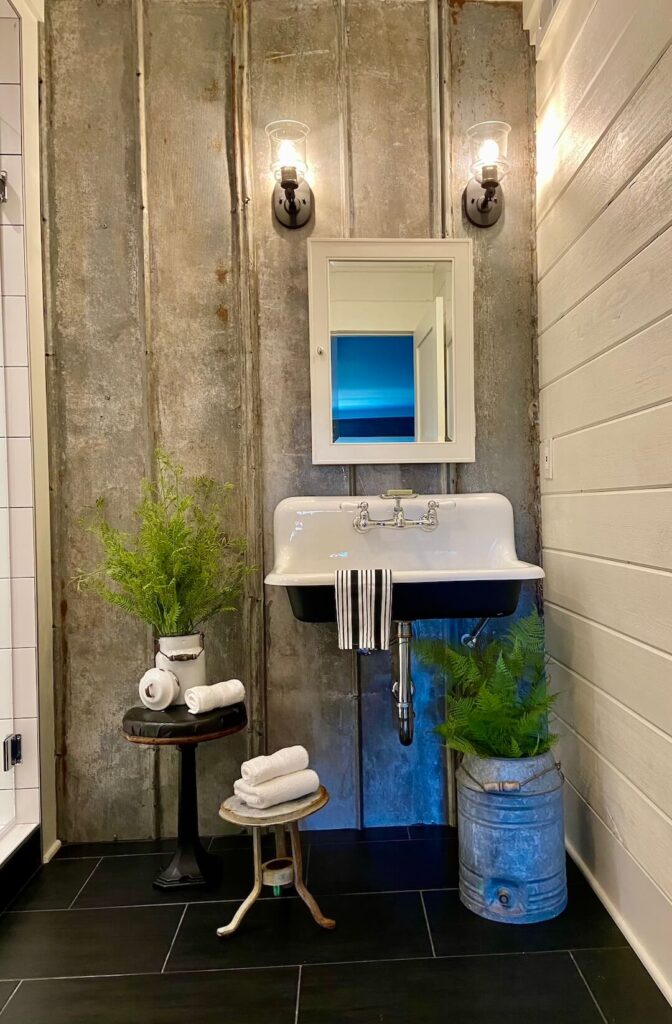 Metal Roof Wall Paneling
Tile backsplashes may not be in the budget when remodeling or adding a bathroom in a home. Yes, rusty metal roof panels can be an option! Often found at flea markets and salvage yards, metal roof panels provide an unexpected alternative to conventional wall paneling options. What was once overhead is now straight ahead. These panels create a surprising backdrop for the black and white wall mount sink.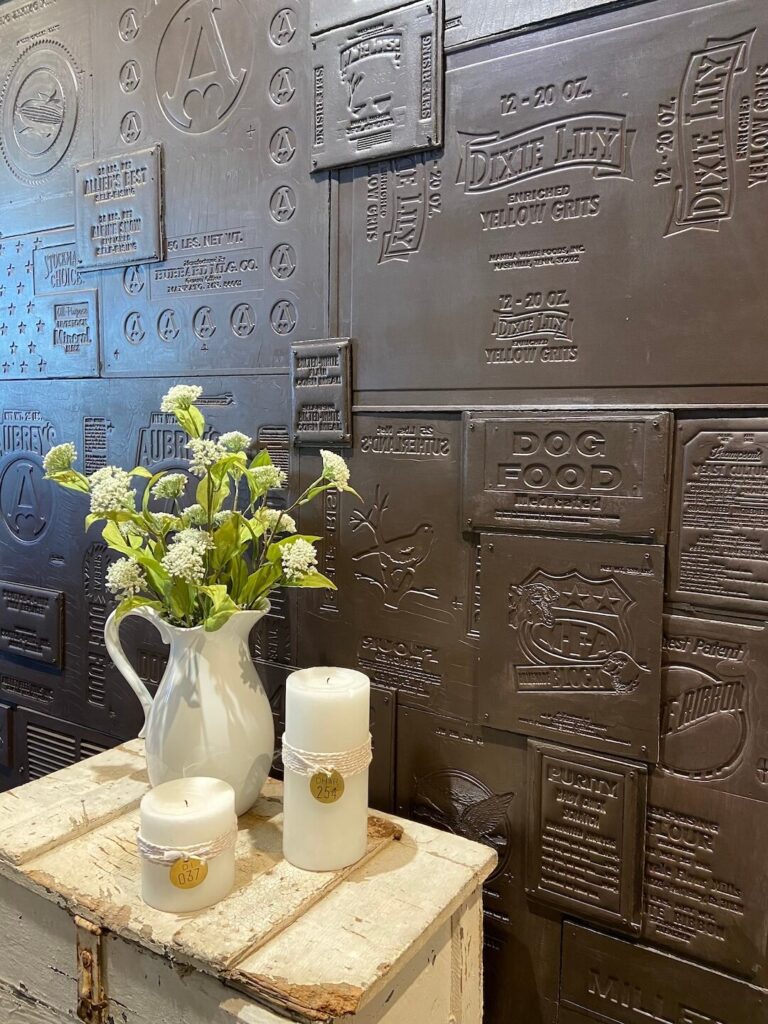 Stencil Savvy
What do you get when you add a box of vintage feed sack stencils and a boring hallway? A patchwork quilt of unique wall paneling, of course! This flea market find was dozens of old feed mill stencils that the farmer had used to identify feed sack contents. The quirky sizes and topics create a wall paneling collage that is stunning and unexpected. Simple wood screws anchor the stencils to the wall and each other. The distressed white trunk and white decor create a lovely contrast to the rich color of the advertisements.
Refresh the wall paneling in your home that reflects your personality and originality. You can easily create an eye catching effect that makes your home a warm and unique place to be!
---
Want to tour the outside of this home? Head here! And don't forget to follow us on Instagram, Facebook and Pinterest for your daily dose of farmhouse inspiration!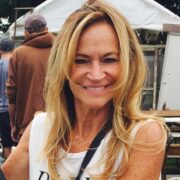 Dawn Hutta
Hello!!! My name is Dawn Hutta. I live in a charming community in central Ohio named Galena. I LOVE a good vintage flea market and enjoy the challenge of the hunt for unique decor to decorate our 1840s barn home. Yes, we moved 2 barns about 100 miles and transformed them into our home and pool cabana. The barns and their story are featured here. Living in Ohio, we cherish the limited time we have each year to enjoy flowers from our gardens. You may have room and the growing season to create a garden of your own or a kitchen countertop dressed with fresh flowers. I encourage you to check out styling ideas for your own home here. I flip houses for a living and try to incorporate the modern farmhouse theme in each of them. Take a look at  my article on creative ways to gain interest on your walls without breaking the bank. I truly enjoy seeing how innovative and decorative all of our contributors and readers can be.