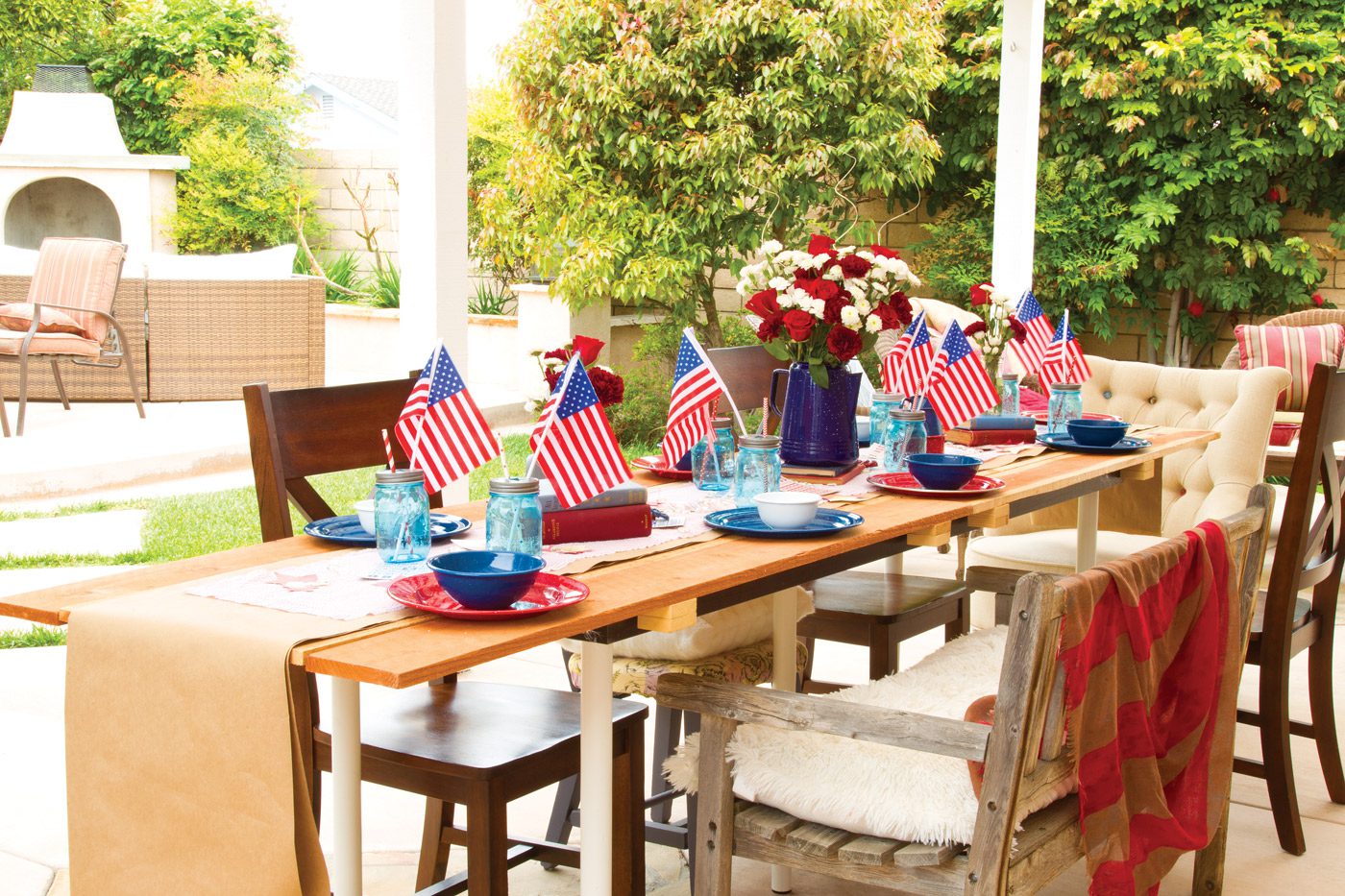 Celebrate Independence Day with an easy tablescape and all-American food.
The 4th of July is the perfect excuse to entertain. Whether you're celebrating with a picnic, a trip to the beach or a backyard barbeque, you'll want the setting to be festive and fun. But if you're traveling to a park or a campground, you probably won't want to drag along a full table setting with vintage china and plated silver. Here are some ways to throw an attractive and attainable celebration, wherever you're entertaining and celebrating this 4th of July.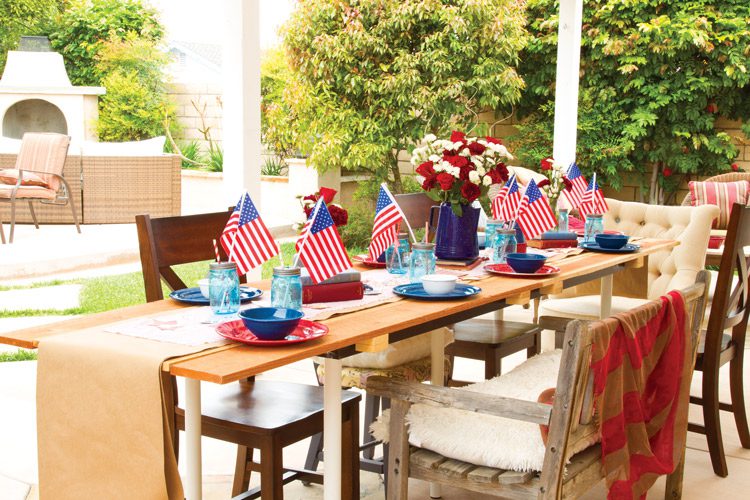 1. Use an Easy Tablecloth. If you're setting up on a picnic table, throw down a length of butcher or craft paper to use as a disposable table runner, then top it with some ticking stripe or seersucker fabric for that patriotic edge. If you have a fabric tablecloth, cover it with a clear plastic tablecloth to avoid stains.
2. Serve Food on Enamel Plates. If you and your family like to camp, you probably have some speckled enamel dishes in the garage. Use these as a patriotic alternative to breakable ceramic dishes. You could even repurpose your camping coffee jug as a vase for a festive bouquet of flowers.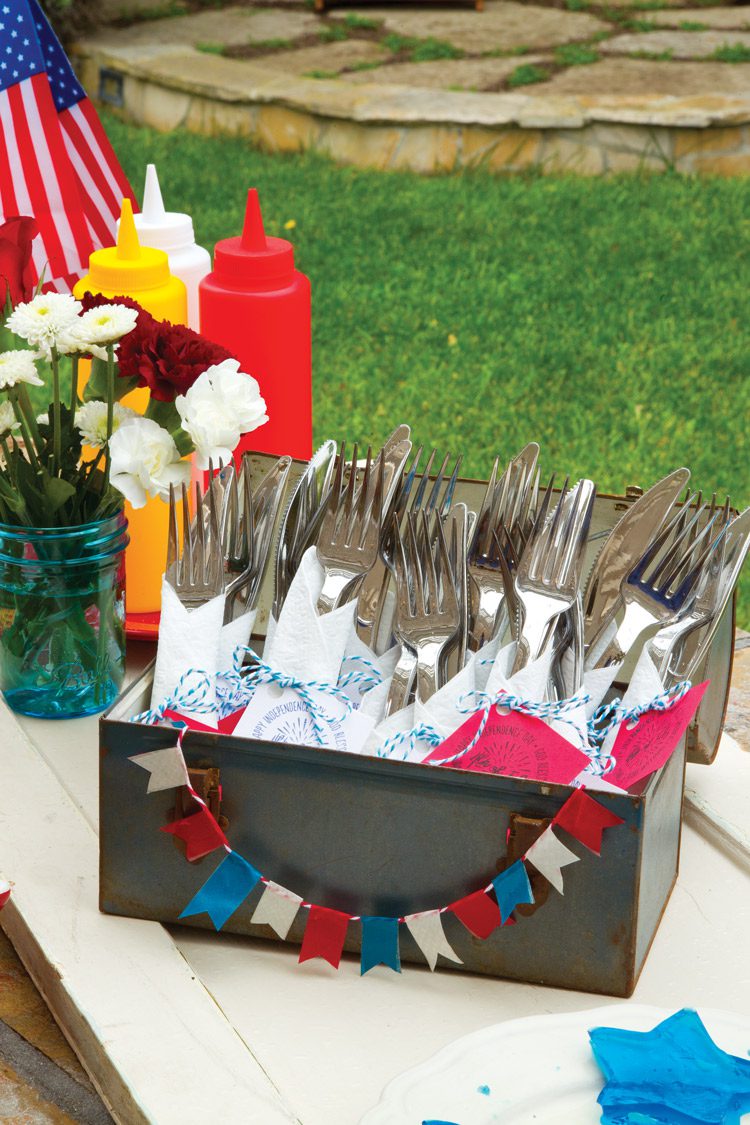 3. Jazz up the Basic Napkin and Silverware Set. For a campout or picnic, you'll probably want to use paper napkins and plastic cutlery. But disposable doesn't mean boring! Find silver plastic cutlery, wrap a paper napkin around each set and finish it off with a length of baker's twine and a tag decorated with a 4th of July stamp.
4. Serve Drinks in Jars. Mason jars are everywhere, and they make great farmhouse drinking glasses. Top them with star lids and insert colorful paper straws. As a bonus, tuck a small American flag into each jar as a party favor—the kids will have fun waving them around during the fireworks.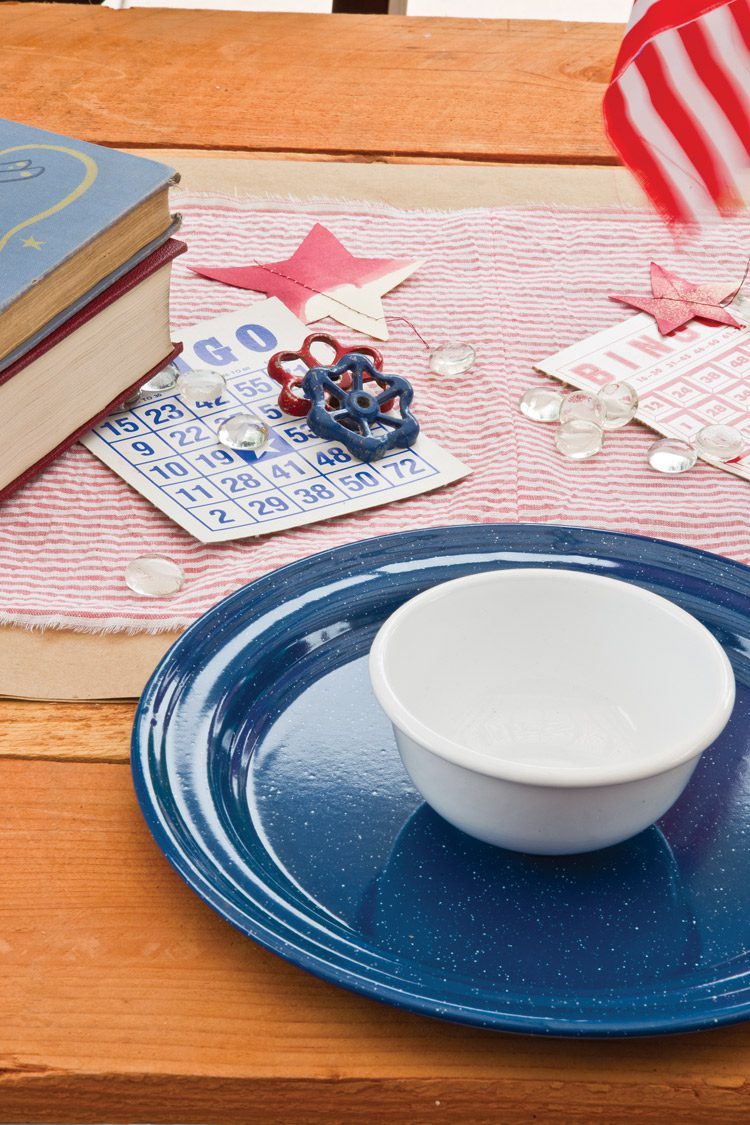 5. Add a Touch of Vintage. If you're celebrating in your own backyard, or have a little extra room in the car, add a few vintage touches to your table. Stack worn books with red and blue covers, or scatter small red and blue objects such as old water spigot handles around the table. These touches will add depth to the scene.
6. Create a Lemonade Stand. Summer celebrations call for lemonade stands. If you're in the backyard, turn your potting table into a drink area. Serve strawberry lemonade for the kids and raspberry mojitos for the adults to get that red hue.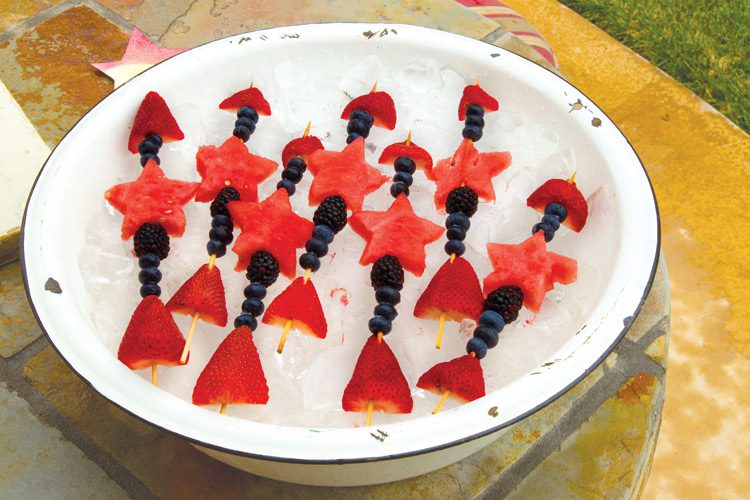 7. Serve Red, White and Blue Food. Get creative to add patriotism to the menu alongside your regular barbeque fare. Watermelon is a summer classic, so cut out pieces with a star-shaped cookie cutter and assemble red and blue fruit skewers. Use that same cookie cutter to make star Jell-O bites.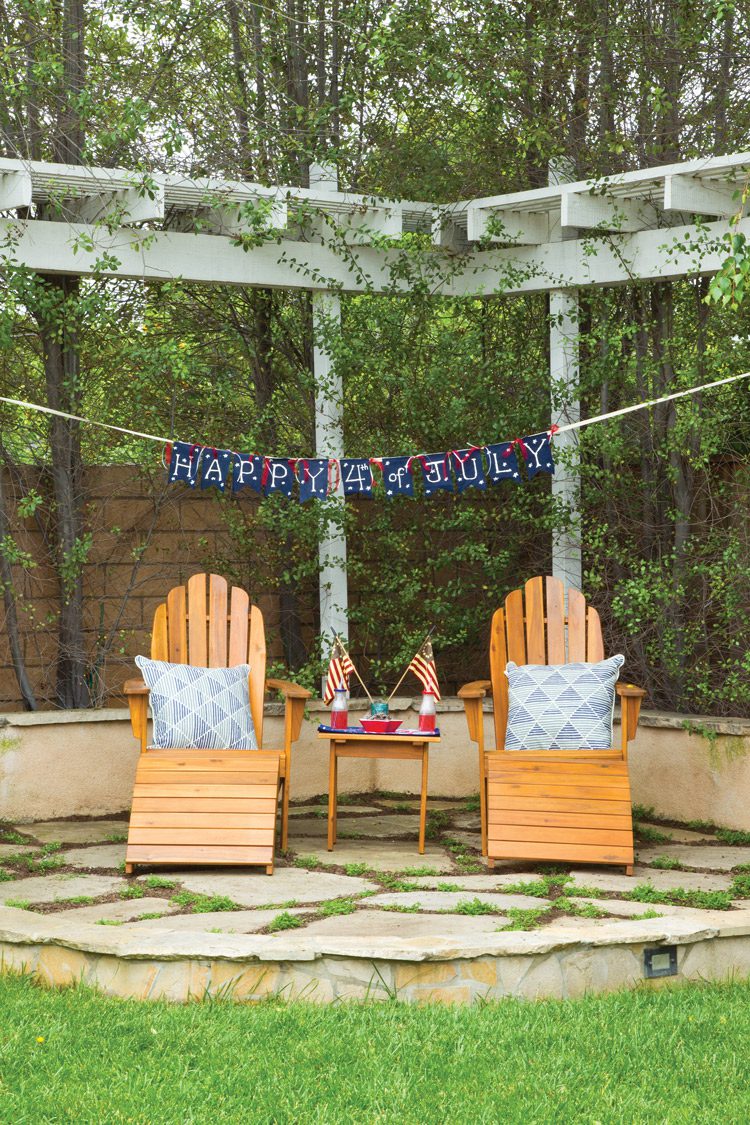 8. Make a Homemade Sign. You can create an easy, farmhouse-worthy sign that will look inviting wherever you celebrate. Cut one or two pairs of old jeans into banners (11 pieces will spell out Happy 4th of July), then write the letters of your message on each piece with a fabric pen. Sew or hot glue the banner pieces to a wide ribbon, then add additional ribbon for a finishing touch.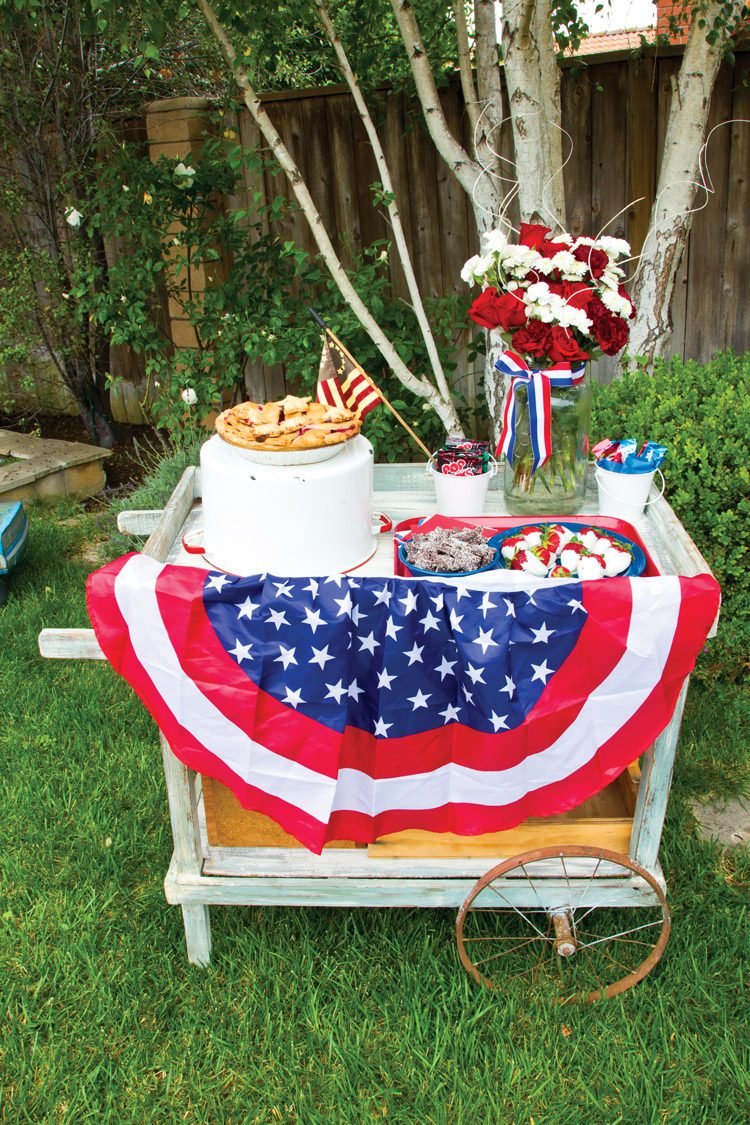 9. Load up a Cart with Desserts. Set your cherry pie, chocolate-dipped strawberries and other treats in one place so guests can easily serve themselves. If you're at home, use a vintage bar cart. If a park is your scene, lay your desserts on top of your rolling ice cooler or snag an extra picnic table. A piece of patriotic bunting will help set the look.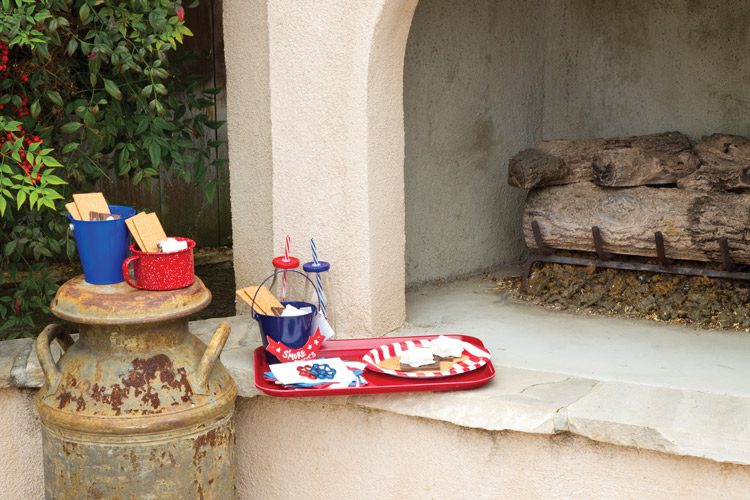 10. End the Night with S'mores. Whether you're at the beach, in a park or at a campground, s'mores mark the perfect end of the day as the fireworks go off. Create s'more kits for each person in small metal buckets with all the ingredients they need. This will also keep sticky little fingers from pawing the graham cracker package.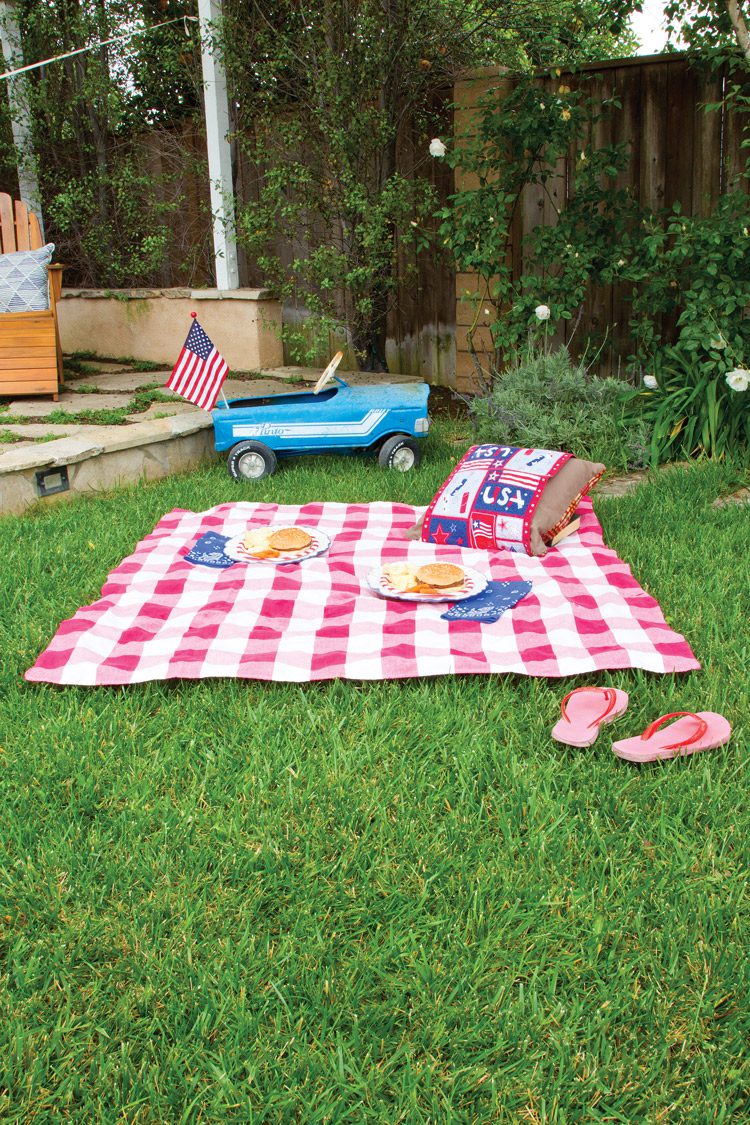 ---
For more 4th of July entertaining accoutrements, see 4th of July Party Essentials. Of course, don't forget to follow us on Instagram, Facebook and Pinterest to get your daily dose of farmhouse inspiration!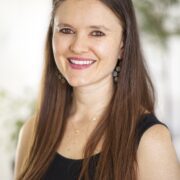 Victoria Van Vlear
Victoria is the editorial director of American Farmhouse Style. She shapes the editorial direction of the brand, both through the physical magazine and digitally on the brand's website and social media platforms. As a home décor enthusiast and DIYer herself, she knows what a little paint and patience can do for a room! Victoria is also a wife and mom to three little ones: two on earth and one in heaven. With any (not so spare) time, she devours book and dabbles in fiction writing. You can follow her on Instagram @victoriavanvlear