How to Collect Vintage Art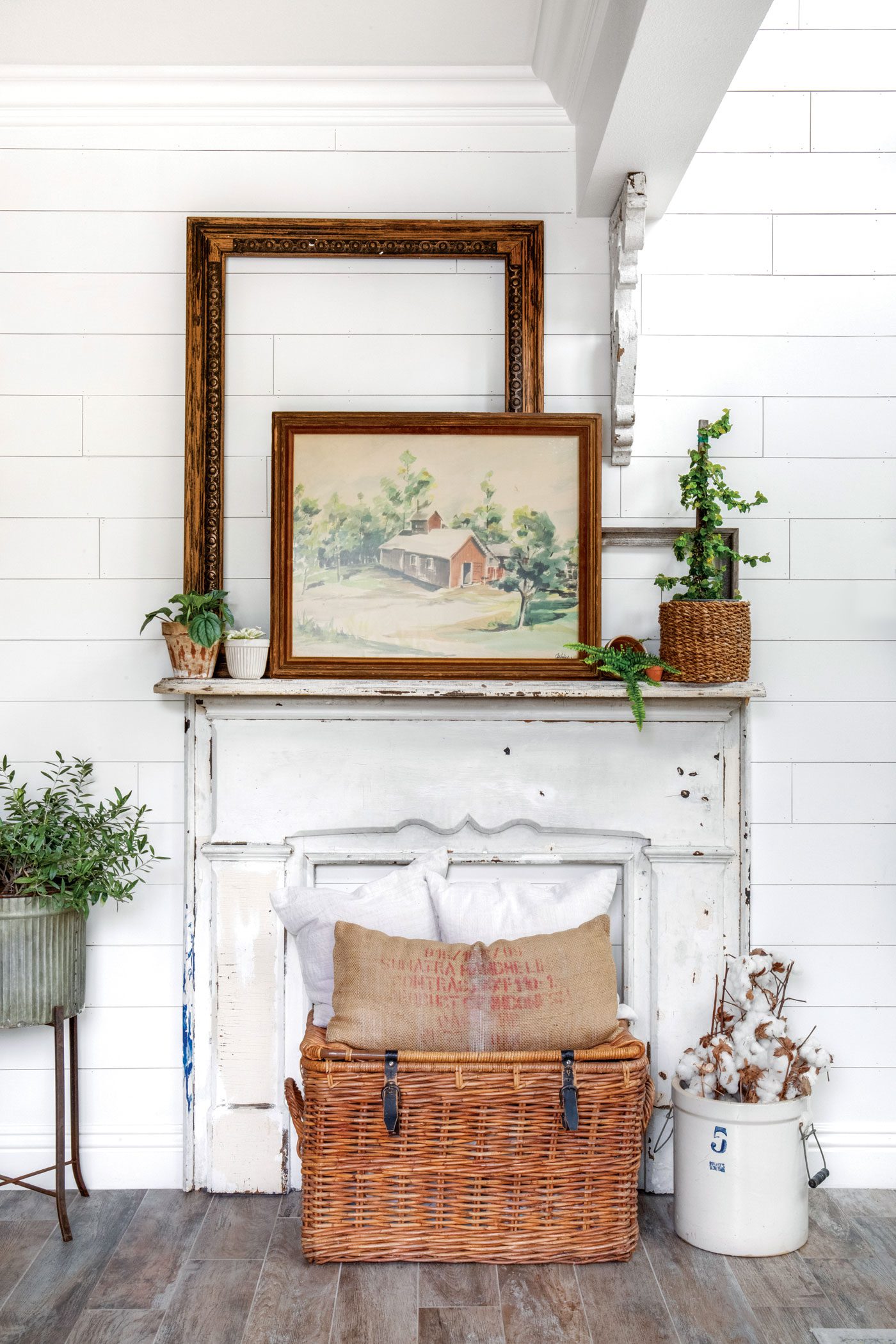 Chad Mellon
There's nothing like art to elevate a space. Whether in a studio apartment or a stately manor, art instantly adds a sense of culture, creativity and personality wherever it's displayed. When you choose to decorate with vintage art specifically, you have the added benefits of history and character to enhance the atmosphere.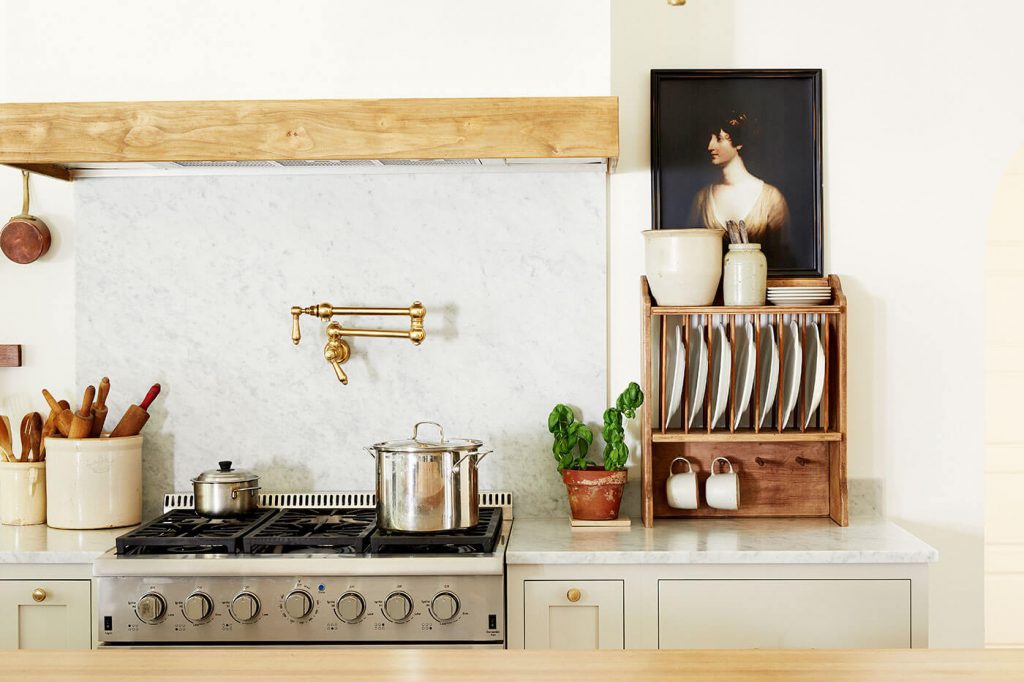 How to Choose the Right Art for Your Home
Art can also be intimidating, even for the pros! The topic immediately leads multi-million dollar price tags, high-profile forgeries, and everybody's favorite question, "what is art anyway?" Honestly, sometimes it feels safer to stop by the local HomeGoods for something blandly reliable than a local flea market for who knows what.
As an art student, vintage lover and art hoarder collector, I consider it my personal responsibility to guide you out of the wall decor comfort zone so you can confidently bring home unique pieces that you'll truly love to look at. None of the works in my collection will to earn me a spot on Antiques Roadshow, but I have found a few gems at great prices.
I'll go ahead and spoil my top tip right now for you: Buy what you love. It doesn't matter if your favorite piece comes from Christie's or the bargain bin at your local thrift store. Hang it proudly! Now, here are the rest of tips for buying original vintage art with confidence.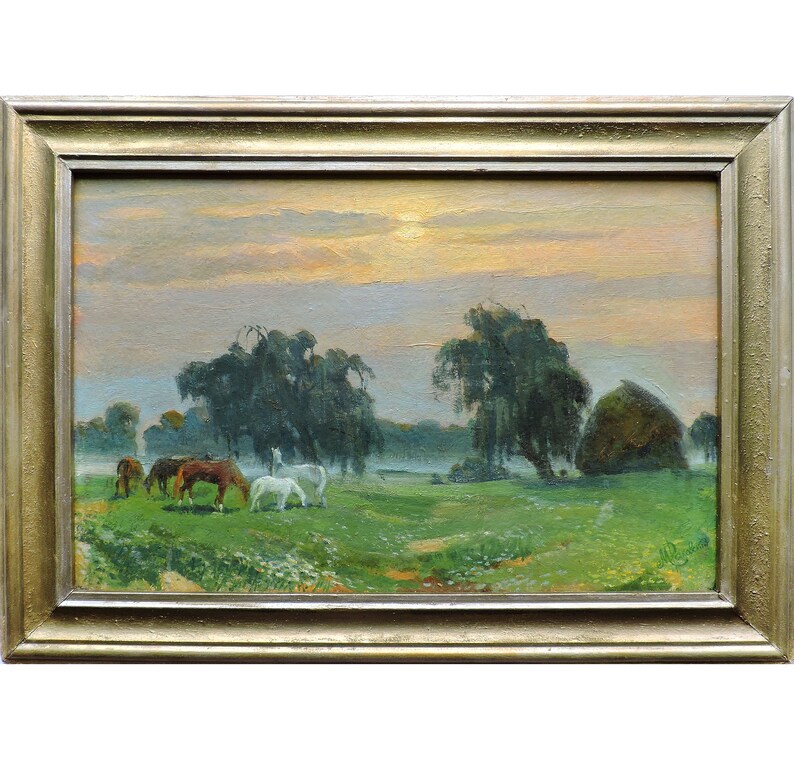 Before You Buy
1. Size Up Your Space
Take inventory of available wall space and consider if you would like one larger statement piece, two or three coordinated works or a gallery wall display. Measure the area and keep these dimensions with you while you shop for both art and frames.
You'll also want to note how the light works in the space. Harsh sunlight will fade watercolors and may require UV protective glass, but acrylics are practically impervious to the sun's rays. Lighting will also influence how the work's colors appear. Details of a dark painting will disappear in a dark room, and yellow incandescent lighting will alter the entire color palette.
2. Consider the Subject
Consider the subject matter of artwork you're already drawn to. Do you love a good landscape or floral still life? Vintage portraits are also very on trend right now. Your walls are the perfect place to express your personality in your space. If you've already painted the walls white and invested in a neutral sofa, artwork is where you can feel bold to explore the room's themes and color palette.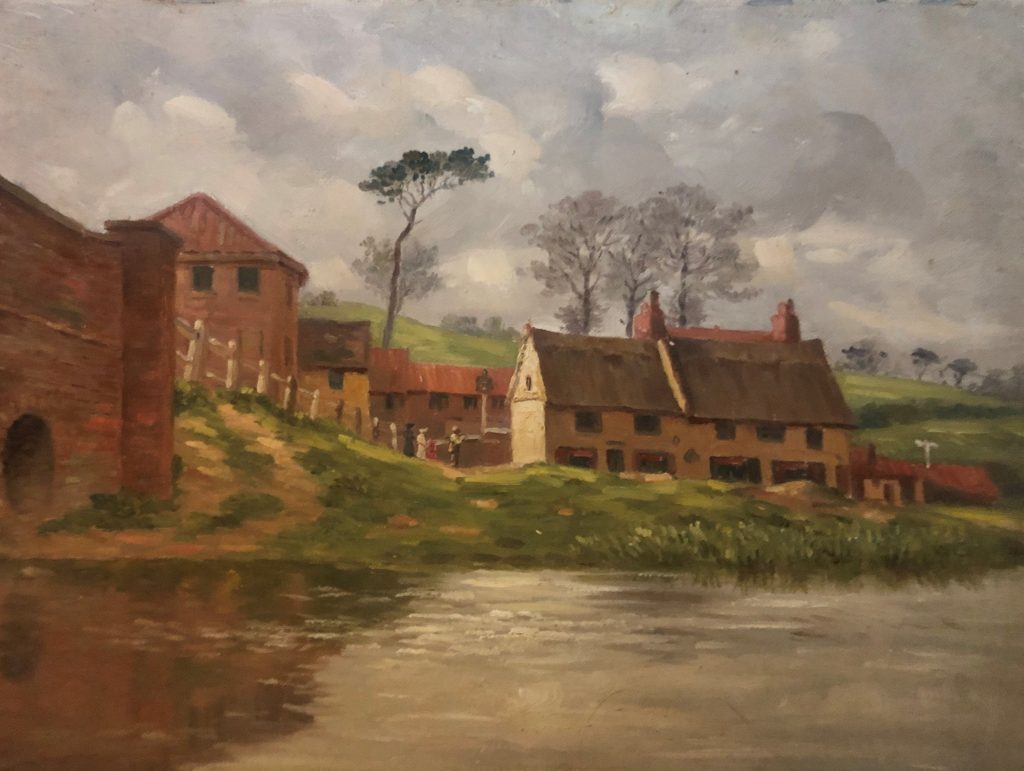 On The Hunt
3. Learn Where to Look
Unique art is easy to find, if you know where to look. Here are my favorite spots:
Flea Markets
Curated Vintage Markets
Antiques Shops
Estate Sales
Thrift Shops
I have found a few worthwhile pieces at thrift shops, but more often than not, thrift store art is likely to be ugly, damaged, or the discarded souvenir from a paint and sip party. I love it when I find a fabulous exception, and maybe you will too!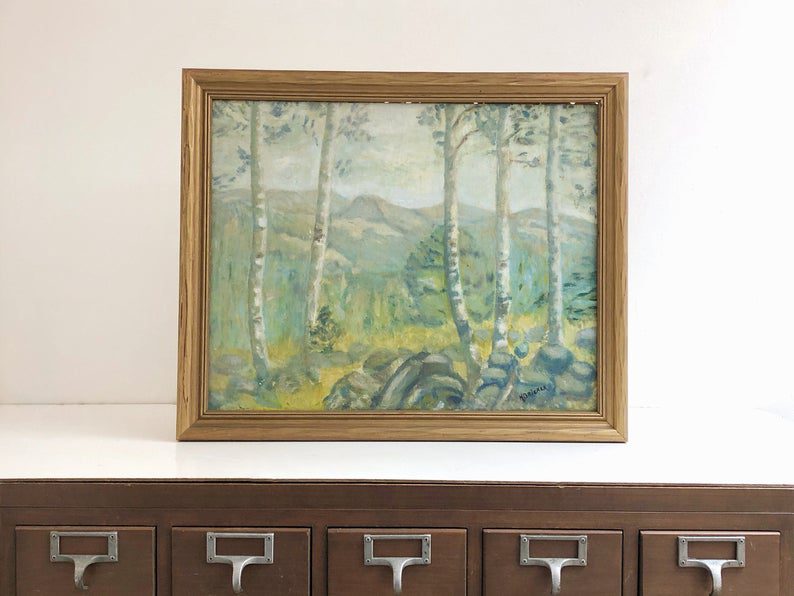 4. Understanding Value
Art value doesn't play by strict rules. There are so many 'ifs' that can alter a piece's price point. The most common factors are listed below:
Artist. Chances are slim that you discovered a lost Renoir or Picasso, but maybe that painting you're considering is signed by a listed artist! Look out for signatures to see if you can match the artist's name to auction records. If the artist is listed, you may be able to compare the price of the piece you're holding with past records and get an idea of the value.
Condition. Tears, scratches, gouges, stains, discoloration, and flaking paint are all red flags that should influence the selling price. Consider, are you comfortable displaying the piece in as-is condition, or is it worthwhile to invest in restoration?
Medium. Oil paintings are typically the most valued, followed by other varieties of paintings like acrylic and watercolor or gouache. Fine art prints like lithographs and etchings have their own value system. Sketches in graphite, charcoal, and ink are usually the most affordable.
Skill Level. The work of a studied professional is typically more valuable than art created by obvious amateurs.
Size. In this instance, it does matter. A larger painting of the same subject is likely to be more valuable than a smaller one.
Attractiveness. This one is a bit tricky, because the idea of good art is so subjective. and trends constantly change. When you're choosing art for yourself, it's easiest to feel it out. Do you think this particular piece is beautiful? Why or Why not? There's art theory and art history behind those answers, but you should buy what you love.
The Seller's Mood. I'm serious! The seller's own opinion and attitude has the largest impact on any given piece's selling price. His nostalgic connection to it, her desire to clear inventory, the bad weather or Mercury in retrograde can make the difference in asking price. Negotiation doesn't work everywhere, but it often helps to ask nicely if prices are firm.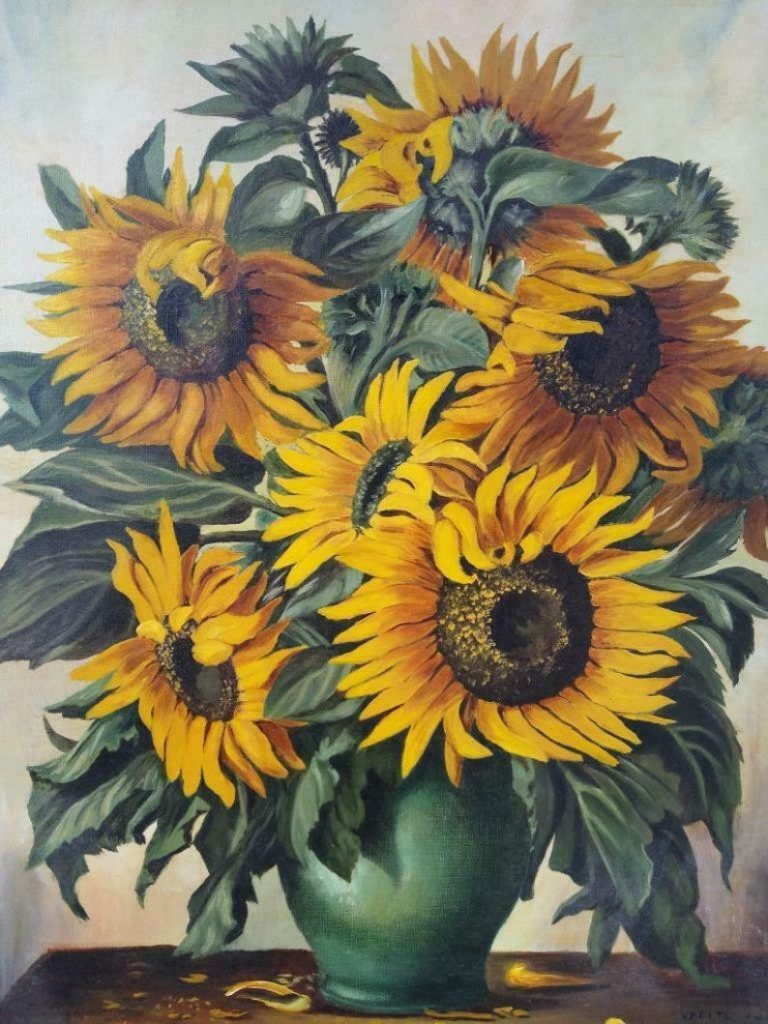 Bring it Home
5. Clean
With your new-to-you vintage artwork, it's possible that some dust and grime came with it. There's little that can be DIYed by amateurs for soiled works on paper like watercolor paintings and ink drawings. I recommend calling in a professional in those instances, and would do the same if there is age-related discoloration to an oil or acrylic art work.
There are, however, a few steps you can do to clean up an oil or acrylic painting that might help before you hang it. Using a a fluffy, clean, dry makeup brush (or similar), gently sweep over the surface to remove loose dust. Avoid areas where the paint looks cracked, or has already flaked off.
Once the dust has been removed, gather up your cotton swabs! You never, ever want to use conventional cleaning supplies on your art, so keep those wet wipes away! What you do want is a bit mind-bending in an "omg, isn't that kind of gross?" sort of way: spit.
That's right, spit. Your saliva contains the enzyme amylase, which is strong enough to break down grime and gentle enough to not break down the paint or varnish. It's also a free, renewable resource with decades of professional application backing it as safe and effective. Do not try this method on prints, watercolors or other works that are absorbent.
Moisten a cotton swab and start in a corner to test how the surface reacts with your fancy cleaning agent. If everything seems fine, continue moving in the path of the brushstrokes (if they're visible) to clean the piece. Obviously, don't double dip.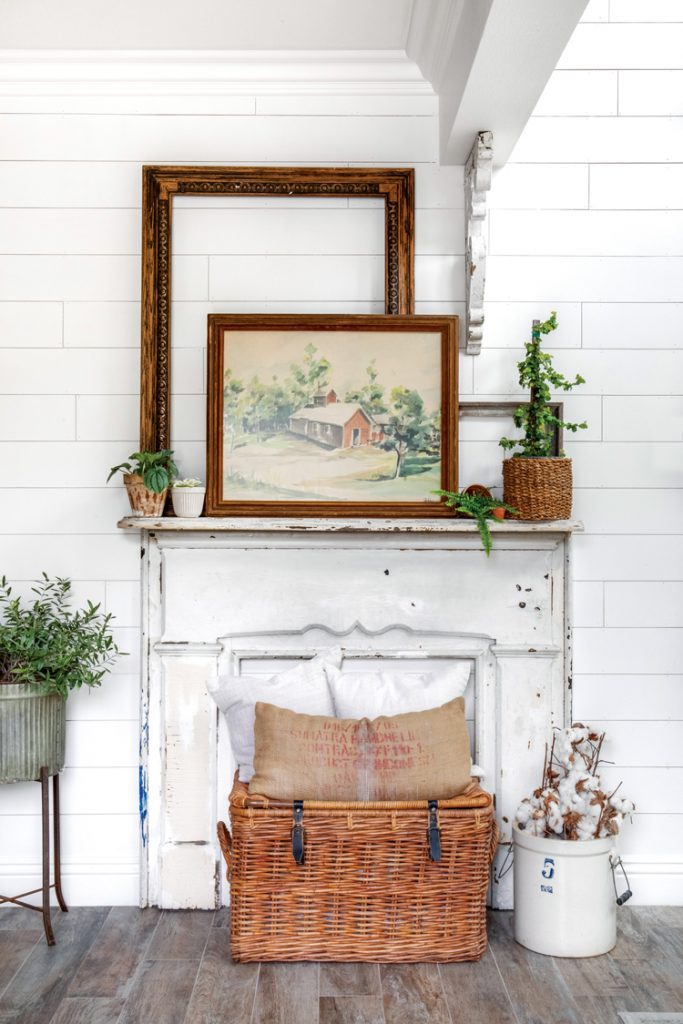 6. Frame
There are many great resources to help you choose the right frame for your work, but the best rule is to always coordinate the frame with the art itself before you start coordinating with anything that will go around it. If you go to a professional framer, you'll have the added benefit of consulting with someone who has experience. You'll save money by going the DIY route, but in both cases you'll benefit by taking photos of your space with you in case you need to consider other wood tones in the room and the right shade of color for the mats.
7. Display
We've come full circle! Now that you're ready to hang, it's time to consider again how your new art and your space will work together. If you get stuck at this point and don't know where to start, inspiration for displaying art is easy to find. Personally, I love Studio McGee's post on how to correctly hang art, and Emily Henderson is my favorite resource for a well-curated gallery wall.
Bonus tip: Everything, art included, looks better in natural light. Try changing out your light bulbs for a natural, soft white that mimics the sun. For more vintage inspiration, check out this Flea Market Farmhouse tour. Of course, don't forget to follow us on Instagram, Facebook and Pinterest for more daily inspiration and farmhouse style!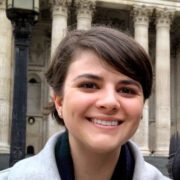 Kris Christensen
Kris is the senior digital brand manager for American Farmhouse Style. If she's not typing away furiously at her laptop, you can usually find her at a flea market or deep in a renovation project on her 100 year old home.