10 DIYs to Upcycle Aprons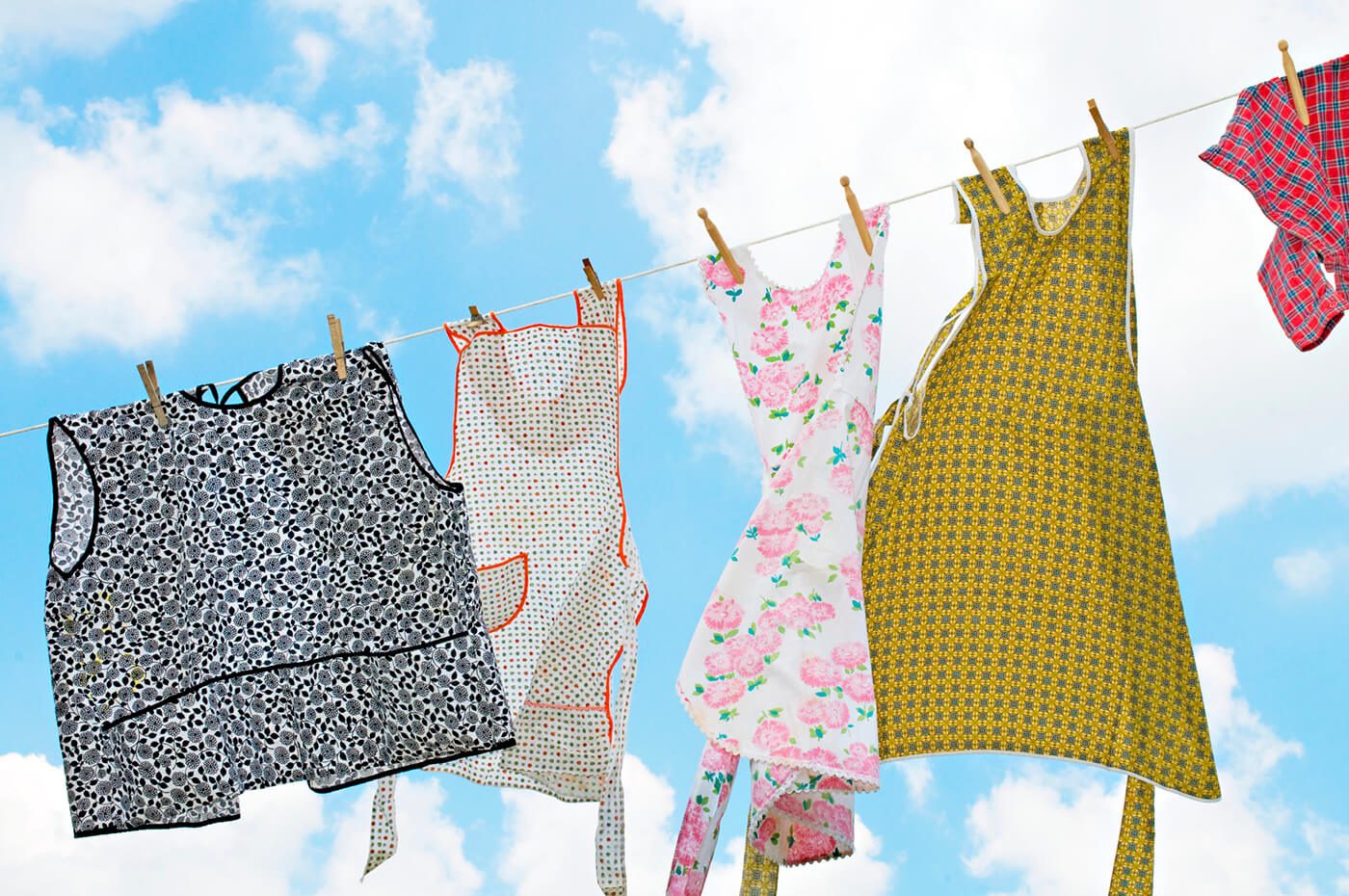 Image via iStock
Have old aprons that are torn, moth eaten or stained? No need to throw them away. There are plenty of options to upcycle aprons, some with no sewing experience required.
Chrissie Stacy and Jamie Long of Brick Lane Home have a goal to make design accessible and inexpensive, and strive to incorporate old items with new. "I want to make Grandma's couch cool again," said Stacy. "Making that piece work in a modern room is doable."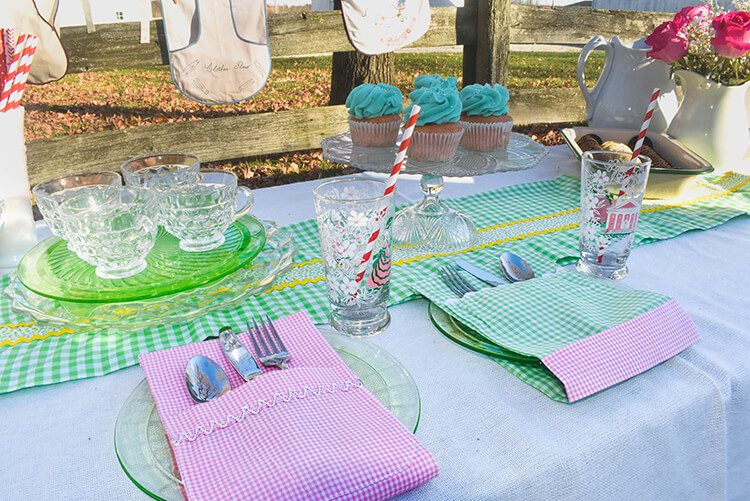 Their projects to upcycle aprons range from reusing pieces of heirlooms falling apart to repurposing those in good shape. While most ideas require cutting the aprons, if you want to truly preserve a heirloom apron, Stacy suggests hanging it in a glassless frame or on a wall.
"I would emphasize I would not cut up vintage linens unless they are not usable," Stacy says. Aprons can be found at antique stores, flea markets, or perhaps even in your attic.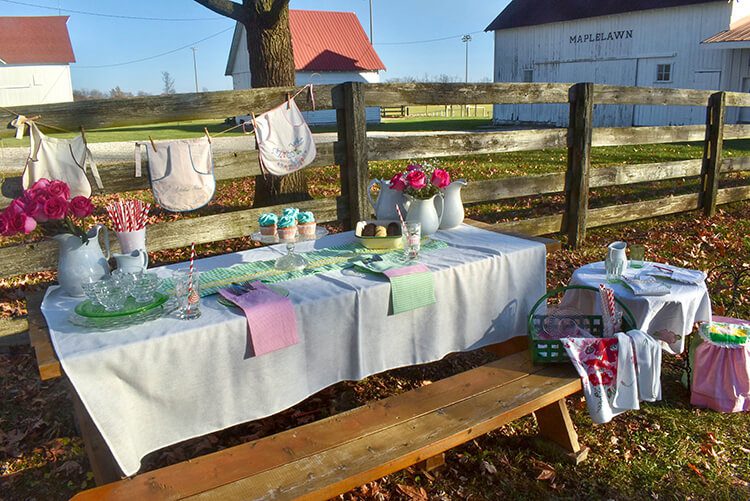 1. Party Decorations
String a group of clothespin aprons together as a garland. Transform the skirt of a long apron into a table runner, and convert aprons with pockets into napkins that include a handy holder for utensils.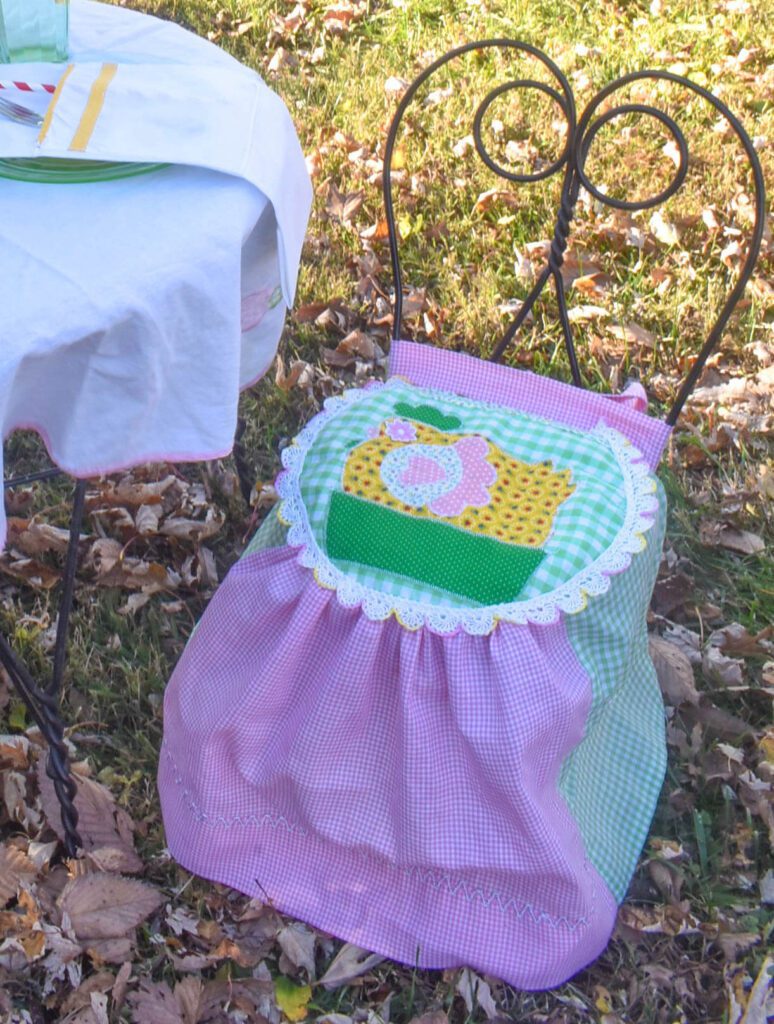 2. Upcycle Aprons Chair Cover
Pieces from three aprons come together to form a cute cover for a child's chair. The top is from the bib portion of an apron. The skirt was added with an additional coordinating apron. Hand crocheted lace trims the edge, rescued from a third apron in poor condition.
3. Recipe Holder
Place the backing from a picture frame behind an apron with a pocket. Use fabric glue or staples to attach it to the backing, then insert it into the frame. Here, the sewer reused the apron's trim to create the ruffle at the top. No sewing necessary!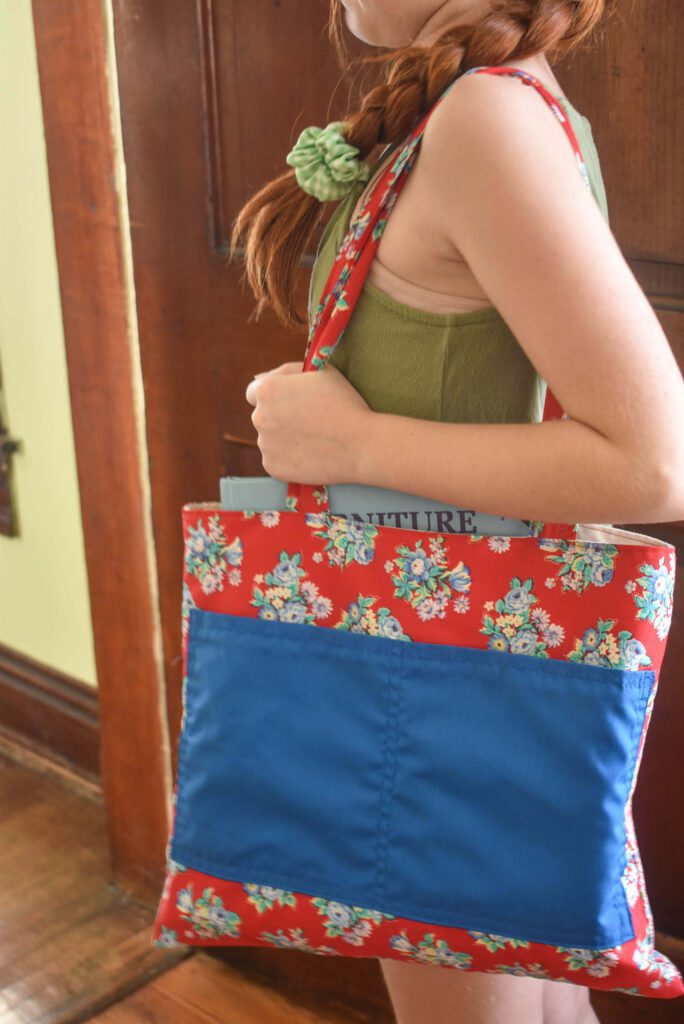 4. Book Bag
Two upcycle aprons form the front and back of a bag, which the sewer lined with muslin. The pockets, perfect for a library card or phone, were original to the apron, and made this a relatively simple sewing project.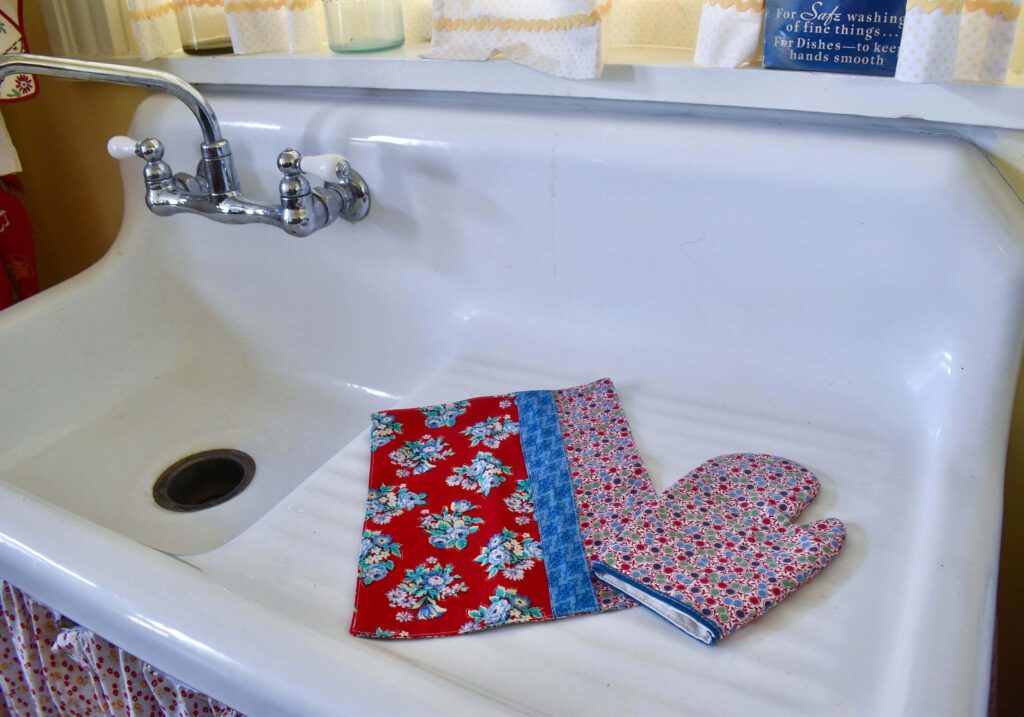 5. Kids' Toys
You can repurpose apron scraps into a child's play oven mitt and placemat, perfect additions to a play kitchen.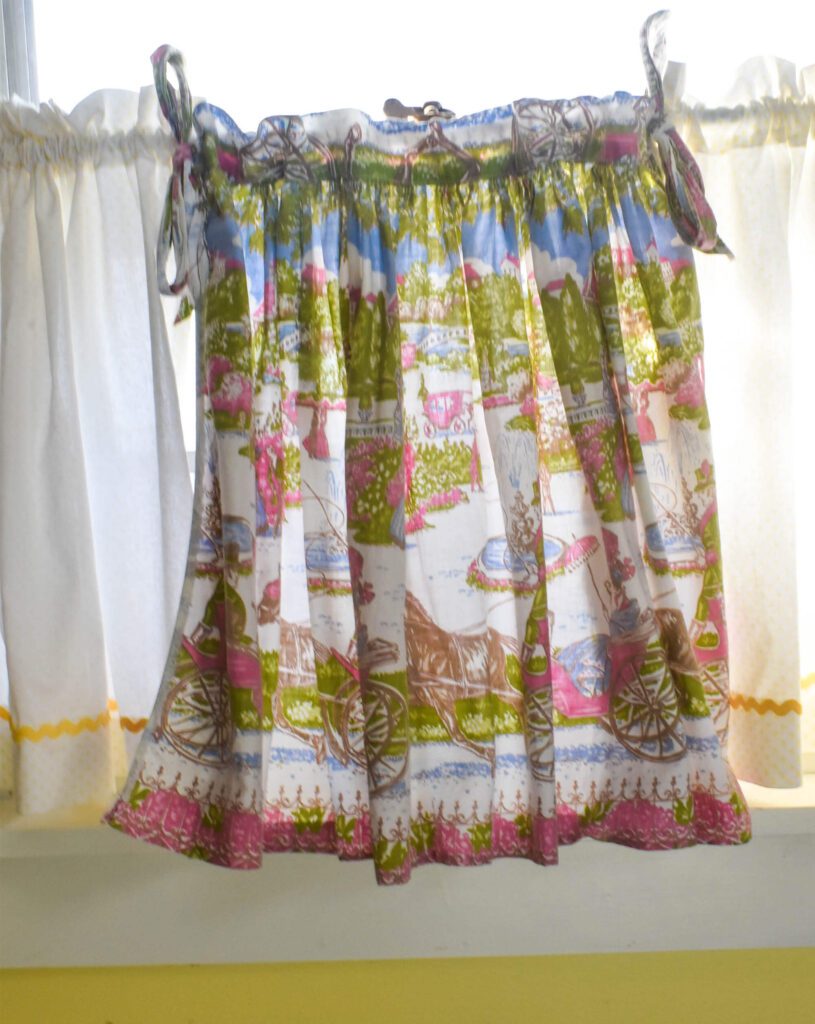 6. Upcycle Aprons Curtains
Waist aprons in good condition become a centerpiece window treatment. Insert a patterned apron between solid curtains to make the vintage piece the focal point. Attach the apron to the rod with a simple whip stitch, which keeps the apron intact.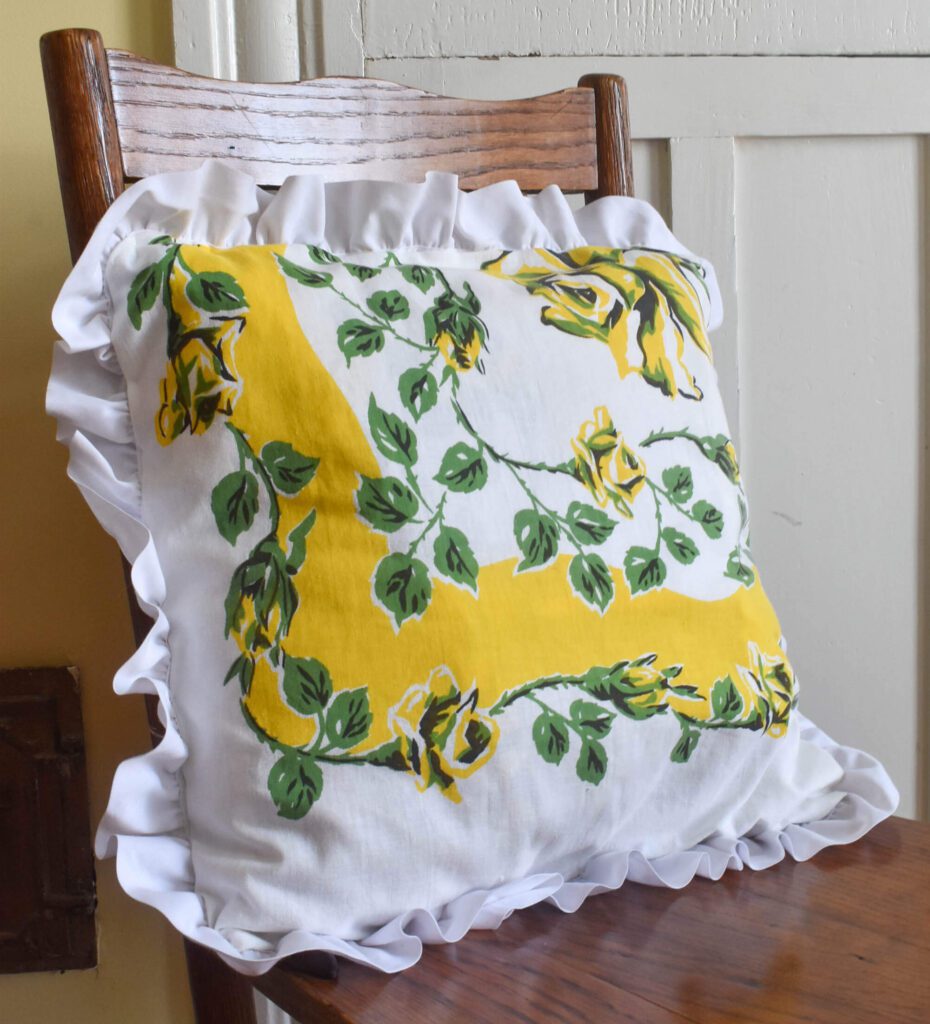 7. Pillow
Upcycle aprons into cheery pattern for a decorative pillow. Use ruffled straps as pillow trim.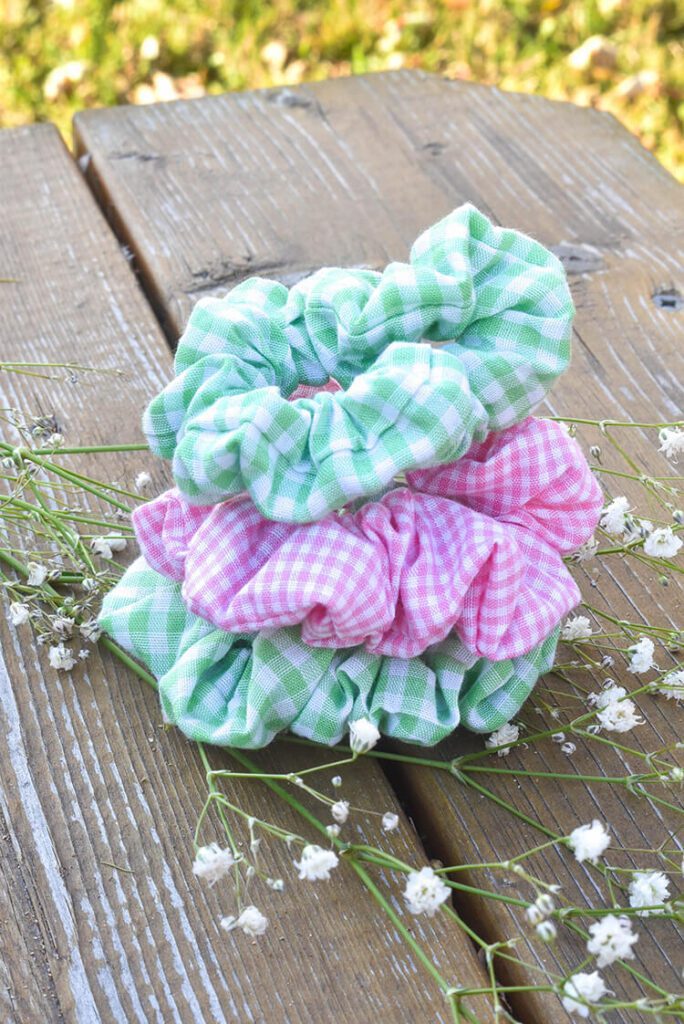 8. Upcycle Aprons Scrunchies
Salvaged pieces of an apron can easily transform into hair scrunchies, something Long said is simple for any sewer to create.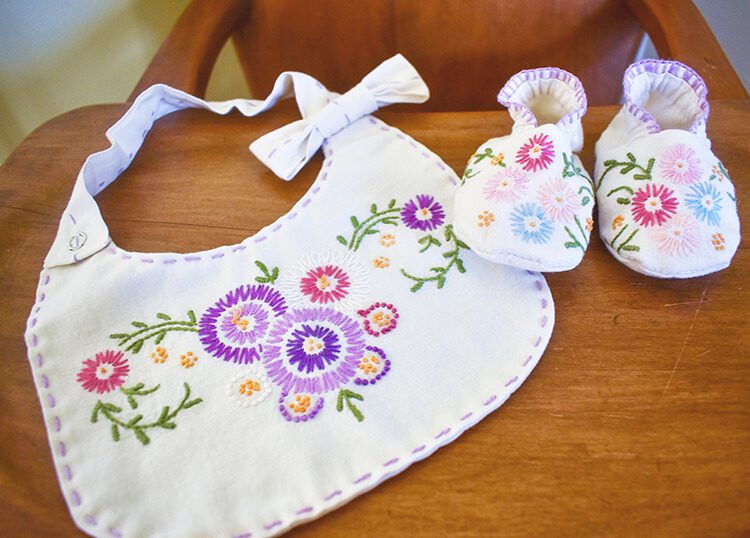 9 & 10. Booties and a Bib
Repurposing an apron's embroidery for the next generation is a wonderful way to upcycle aprons. This one was badly stained; fortunately, the embroidery was in excellent condition and now it's been given a new life.
---
Photos were taken at Maplelawn Farmstead, a Depression-era property on the National Register of Historic Places. The Farmstead's motto is "Use it up, wear it out, make it do or do without," paraphrased from Calvin Coolidge's quote during the Great Depression. It's a philosophy that Stacy and Long bring to their decorating, trying to use what exists in a home and repurpose items before starting with something new.
---
Love reusing and recycling? Try some of these fun furniture makeovers! And of course, don't forget to follow us on Instagram, Facebook, and Pinterest to get your daily dose of farmhouse inspiration!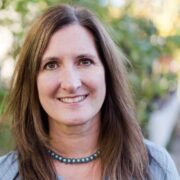 Heather Lusk
Heather Lusk is a journalist and freelance writer who loves old houses, travel and history. She's a contributor to multiple websites and publications, as well as the author of Hidden History of Boone County. She and her husband have remodeled and redesigned two historic homes in central Indiana. Follow her at TheQuillHeather.net.