A Wintergreen Christmas Dinner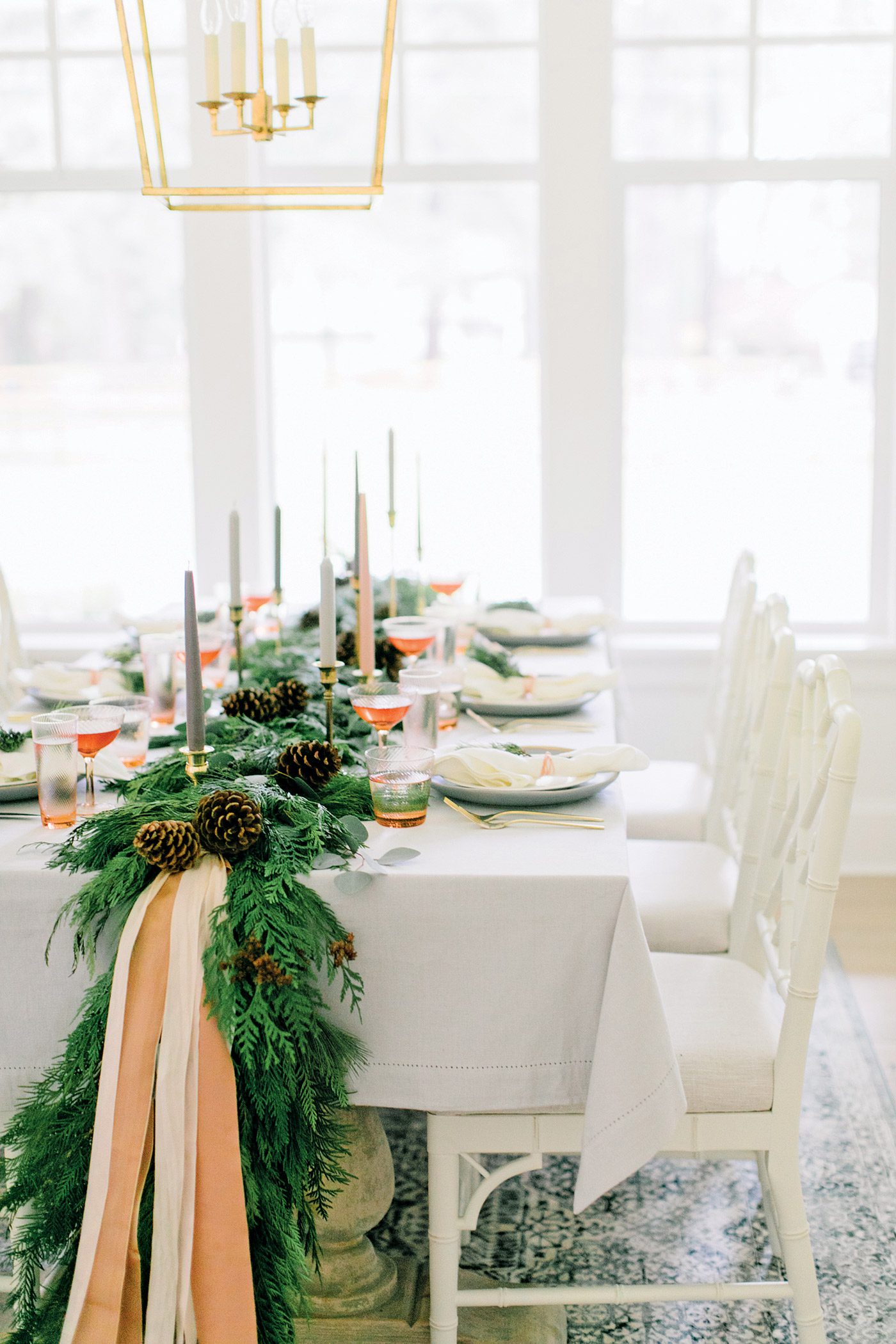 Christmas is a season of gathering friends and family to celebrate the love and joy in our lives. What better way to indulge in the gift-giving of the holidays than to host an elegant Christmas dinner? Add some farmhouse freshness and simplicity with lovely natural elements for a relaxed yet classic feel. Designer and lifestyle blogger Monika Hibbs shares some of her tips on how to create a beautiful and memorable holiday dining experience.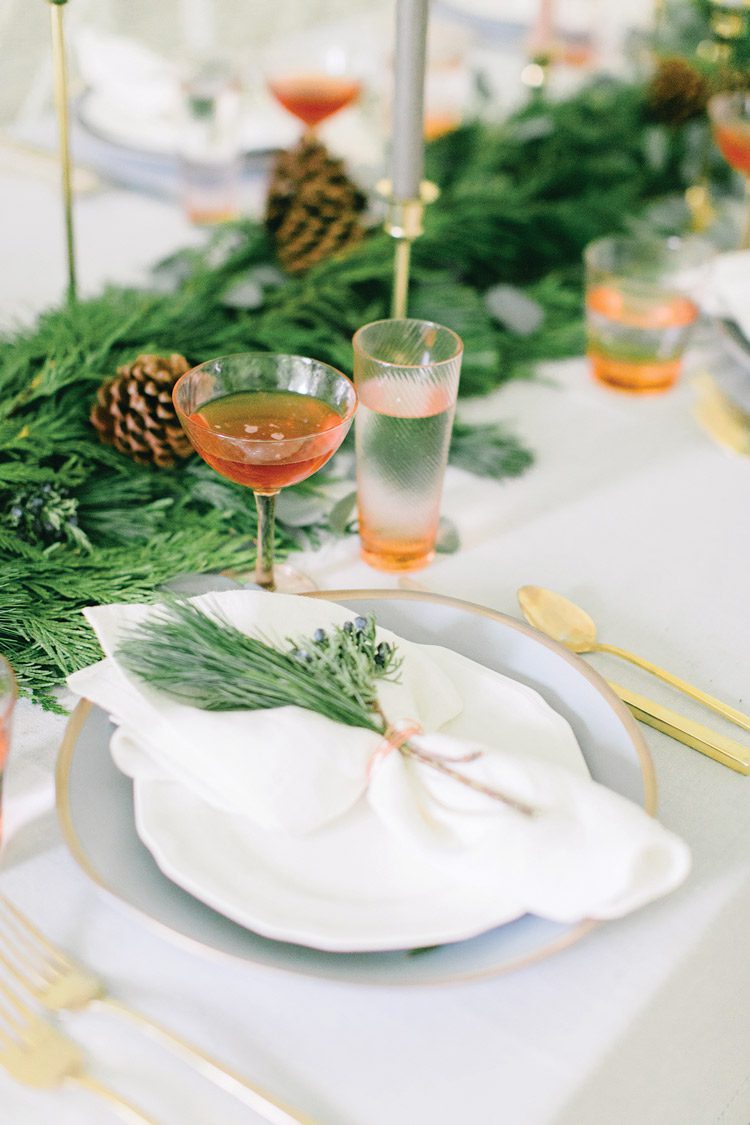 The Centerpiece
Planning your evergreen holiday tablescape must begin with deciding on your centerpiece—in this case, a garland. Monika chose a classic Christmas wintergreen look but also wanted it to feel relaxed and homey. To achieve this, she chose cypress and juniper cuttings, which are greenery staples for garlands, but layered in small branches of eucalyptus silver dollar for a more muted green tone. She finished off the garland with a mix of satin and velvet pink ribbons to soften the look.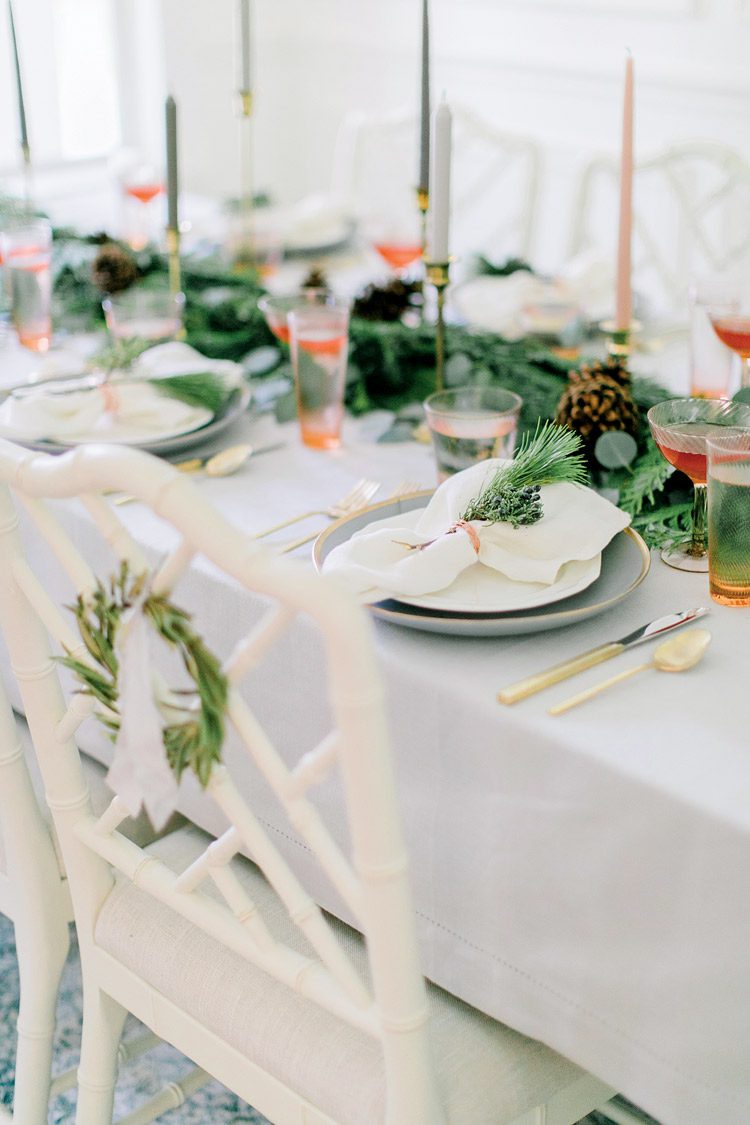 Accents
Once the overall theme and centerpiece is in place, it's time for accent colors, napkins and dishware. Monika used pink ribbon, brass candlesticks and gold silverware as accent colors that continue her theme of classic simplicity. To accomplish a more eclectic farmhouse look, use variety when decorating your holiday table. Monika used varied lengths of ribbon, as well as her brass candlesticks. "There was variation in the candles' colors and heights too, so it added extra detail to the tablescape," she says.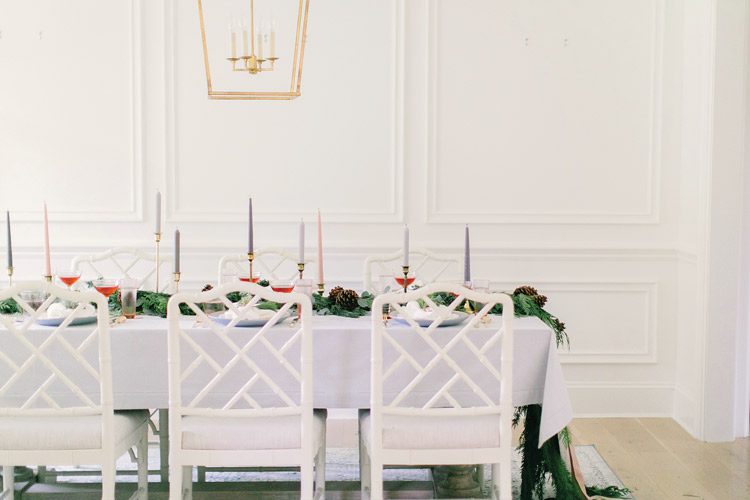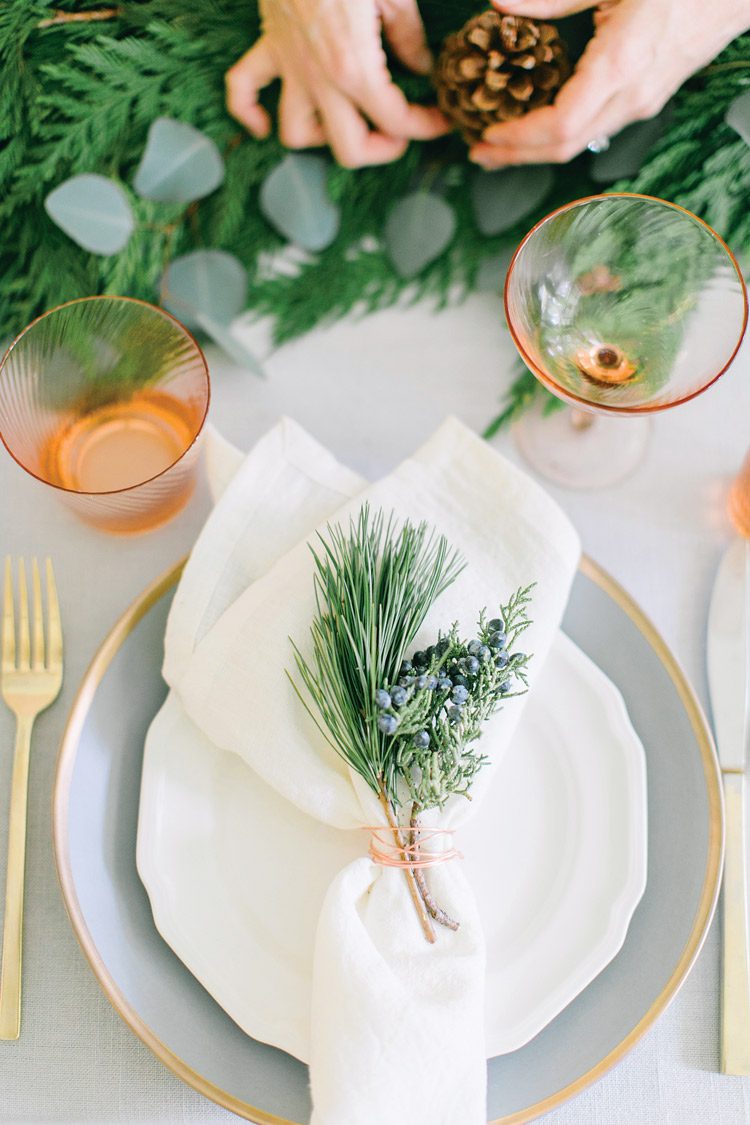 Finishing Touches
To wrap up your Christmas dining design, add little pieces to complete the look. Monika used extra clippings from her centerpiece to create sweet and simple bouquets for each place setting, bringing a touch of greenery to the otherwise white dishware. She also added hanging olive branch wreaths to the back of each chair for a fresh farmhouse touch.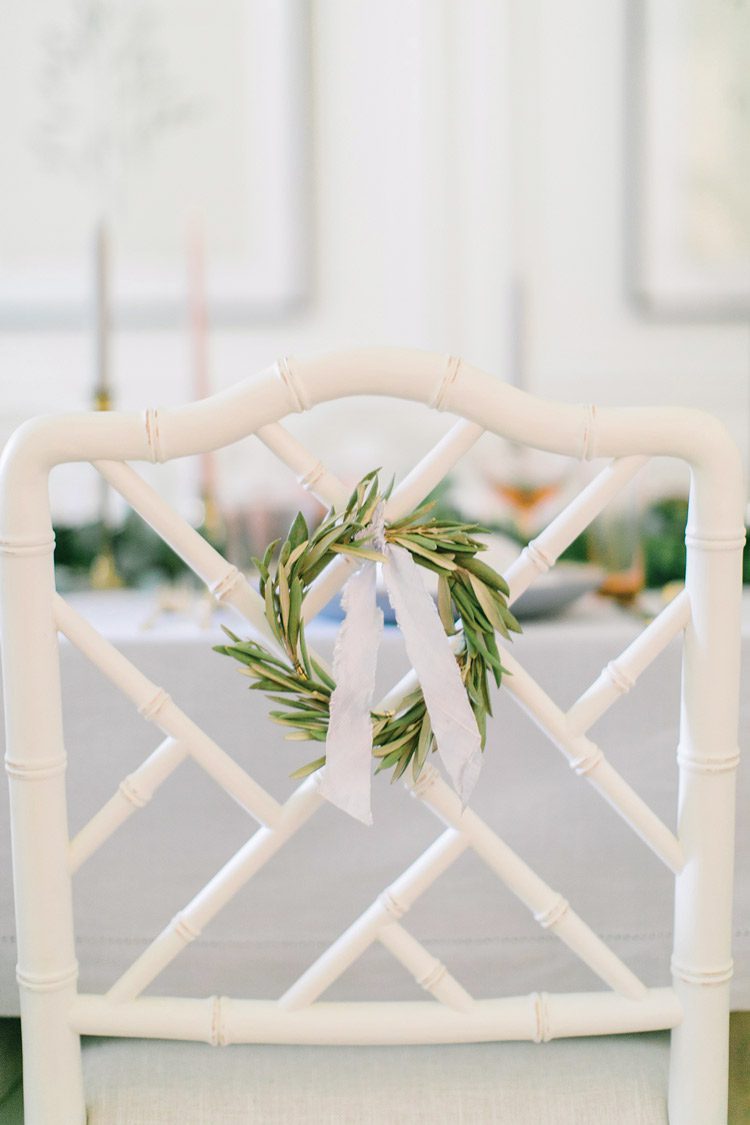 As for food and drink, Monika says she enjoys anything from plated dinners to family style, depending on the occasion. "It's always a fun idea to have a signature cocktail for a party," she says. Most of all, she recommends prepping as much in advance as possible to allow for most of your time to be spent around the table with family and friends. And you can also enjoy the beautiful simplicity of your evergreen elegance this holiday season.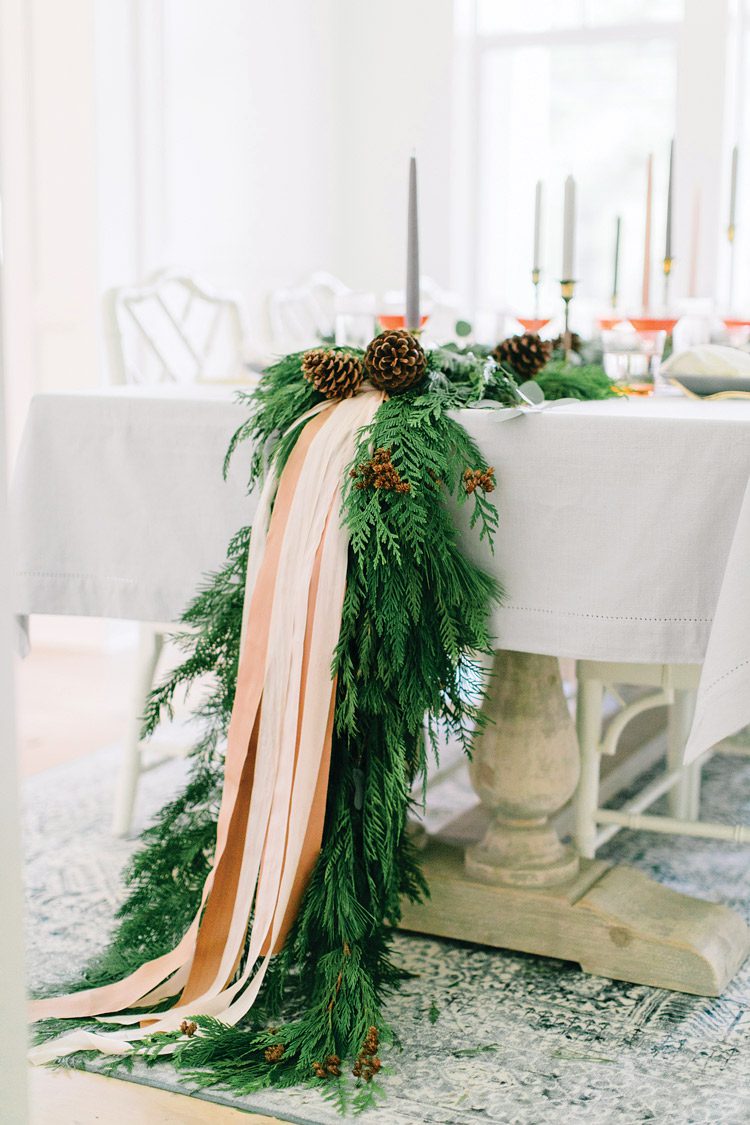 ---
Now that your Christmas dinner table is decked out with evergreen inspiration, how about moving on to Christmas mantel decorating? Of course, don't forget to follow us on Instagram, Facebook and Pinterest to get your daily dose of farmhouse inspiration!