Dress Up Your Stoop This Season with Simpson Door Company
Photography courtesy of Simpson Door Company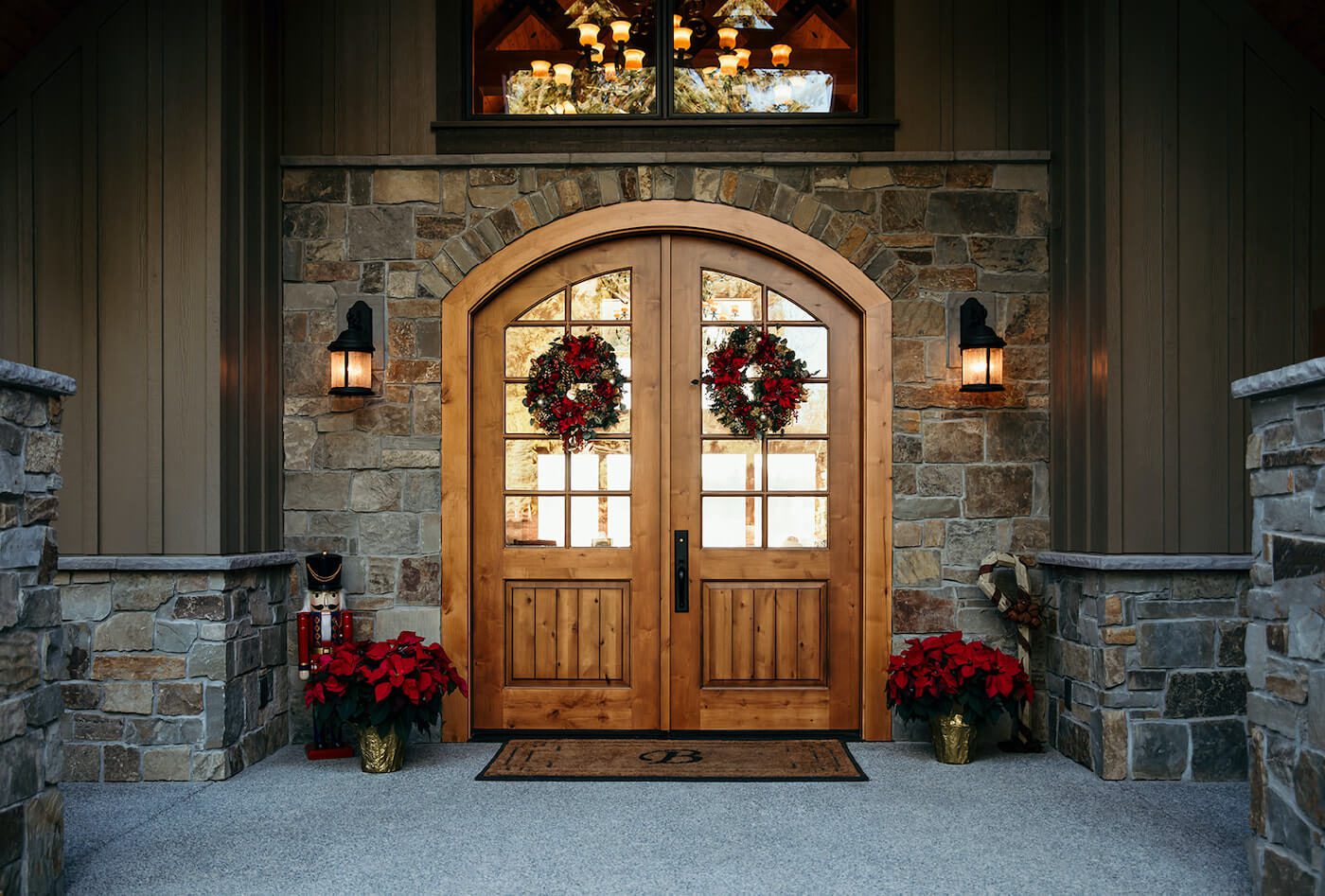 Written by Anya Murphy
Photography courtesy of Simpson Door Company
Simpson Door Company will provide the perfect home for your holiday décor. When decorating for the holidays, welcome your guests into your home with a door that's just as beautiful as your décor.
There's no better way to welcome family, friends, and loved ones into your home during the holiday season than with a stunning front porch design.
No front porch is complete without a beautiful front door. The subtle beauty of a custom wood Simpson Door Company door is the perfect canvas for your holiday décor (and the rest of the year). Having a simple and elegant front door is the key to making your home's aesthetic shine.
Here are our 3 tips for how to pair a beautiful front door with great Christmas décor.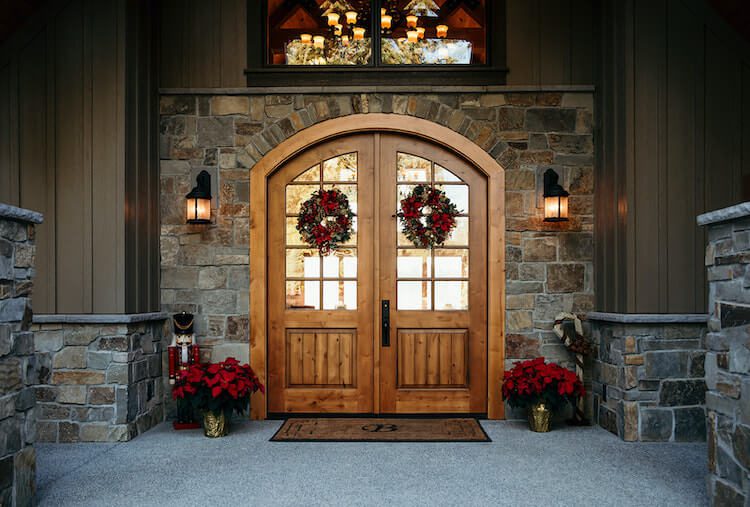 1. Full Holiday Glam
We see you, October decorators. We know some of y'all have had decorations up since the first fall leaf fell. We're rooting for you! Between lighting, wall décor, welcome mats, greenery and other accessories, you've got tons of room to play with your front porch.
First, start with a set of beautiful double doors, like these custom, knotty Alder doors from Simpson Door Company. Use symmetry for double doors, like this homeowner did with two potted Poinsettias, a wreath on each door and matching wall sconces that will look great year-round. A long welcome mat makes the grand entrance all the more welcoming.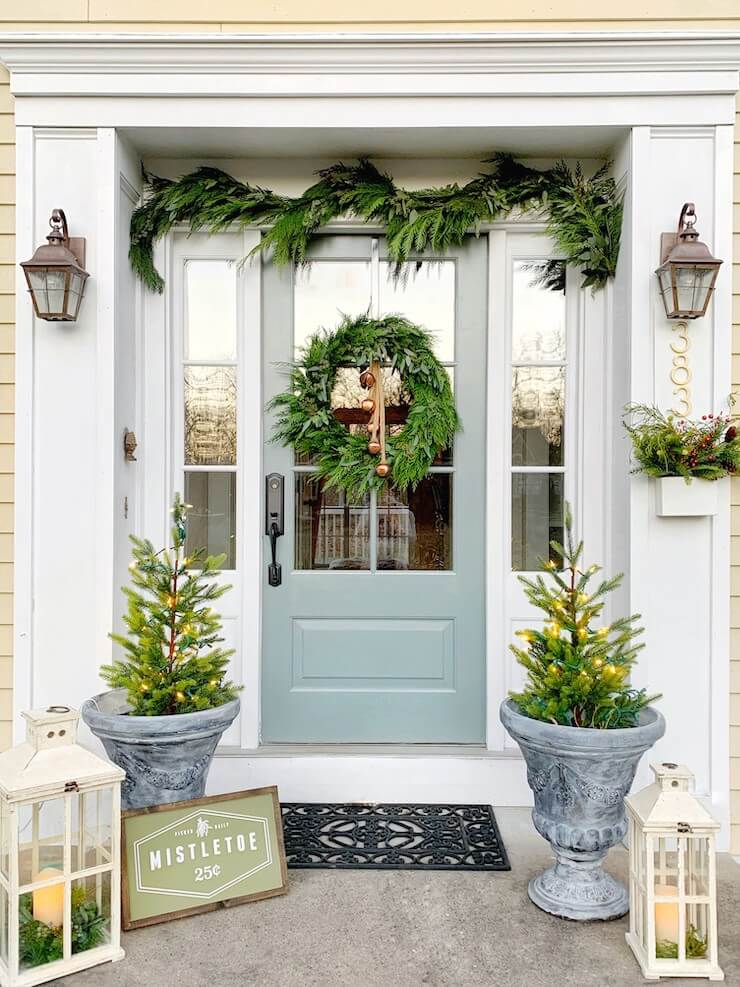 2. Small and Sweet
If you don't have a lot of space to work with, never fear. Don't ever think that committing to a summer color scheme can't work year-round. Take this French and Sash Simpson Door Company door as a wonderful example. Even on this little porch, the background of the painted door (in Benjamin Moore Sea Pine blue) is adorable for lots of greenery and bronze accents.
Hanging garland up high draws the eye up, increasing the vertical appearance and framing the door. This front porch continues the symmetrical theme with blue-gray planters to bring in cool neutrals that complement the paint. Glass lanterns finish off this little stoop and make it feel like it has all the space in the world.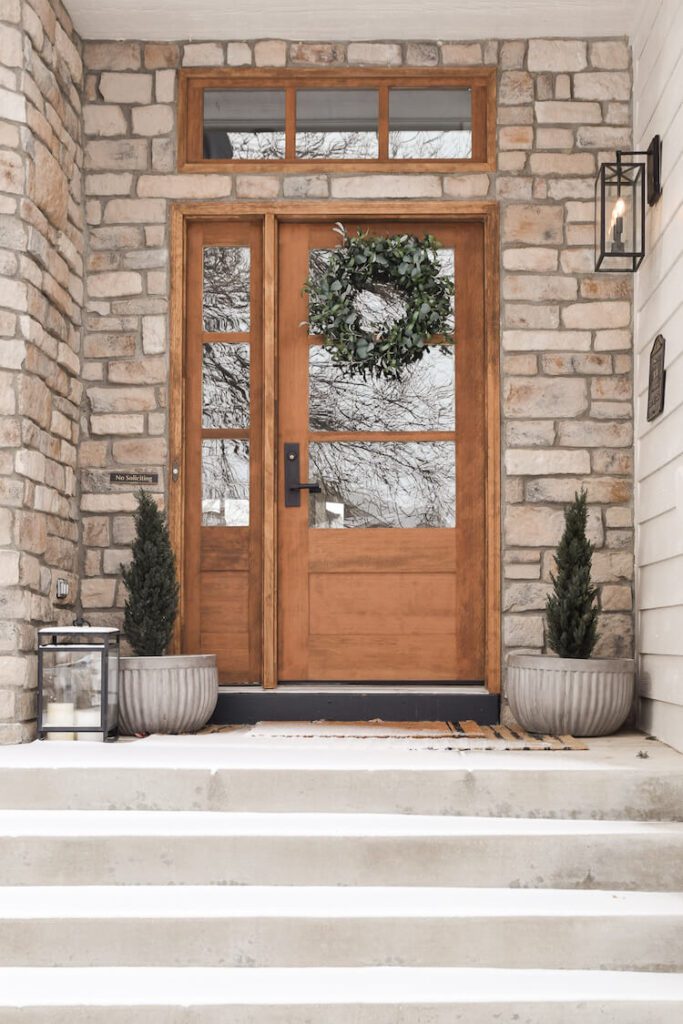 3. Simple and Rustic
Handling exterior decorating for the colder months can be a challenge. If keeping your holiday theme low-key will decrease your stress, go for it. Plus, there's a lot to be said about subtle décor that speaks volumes. With a beautiful front door you love, you can keep décor simple and let your home shine all on its own.
That's the case with this Simpson door, which is the focal point of the whole porch. The wood brings out the warm tones in the stone, and the simple greenery keeps your attention focused. add natural light into the interior entryway and provide asymmetrical charm.
As an added bonus, layering welcome mats is a great low-effort design strategy to bring some cohesion and warmth to a small space, especially when you're working with concrete. Warm-toned lighting helps get the job done, as well.
Simpson Door Company: Trusted Source for Wood Doors
Simpson Door Company doors are just as functional as they are aesthetically pleasing. With their fully customizable designs, you'll make every entrance to your home as warm and welcoming as you are. The front door is more than just the entrance to your home. It's the first in a series of design and décor choices that set your home apart. To make that impact all the more powerful, seize this opportunity for limitless personalization and customization with Simpson Door Company.
With more than a century of experience crafting stunning products and creating industry-leading designs, Simpson sets that standard for custom wood doors. Each piece is uniquely crafted from individual pieces of wood to ensure quality construction and prove the lasting beauty of wood in varying climates and weather conditions.
A Simpson door is just as much a piece of art as anything you hang on your wall. For more information, or to envision your ideas in a virtual test drive, visit simpsondoor.com.