Natural Fall Farmhouse Decorating
Growing up in a farming community taught me early on to appreciate fall and the harvest season. It's a beautiful time of year in which hardworking farmers see the fruit of their labor from their care for the soil plants and environment. Many are up before dawn and out in the fields until well after dark. Leaves begin to crisp and the days get shorter. Change fills the air as leaves change colors and fall to the ground, which means it's time for our natural fall farmhouse decorating.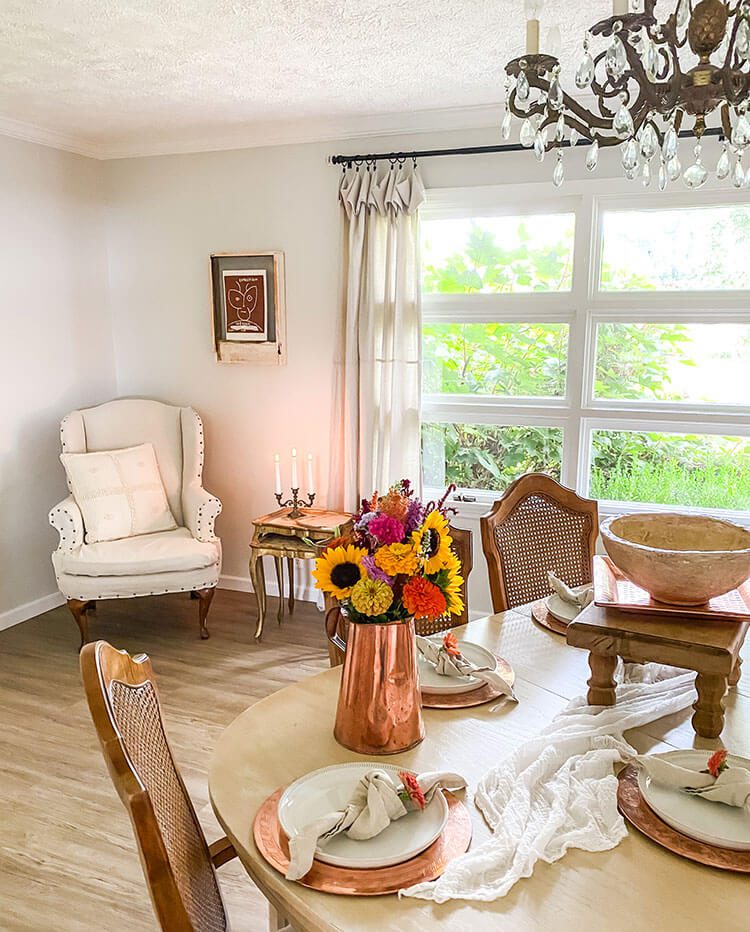 Transitioning from summer to fall decor comes naturally to me. To complement the colors of the season, I love to incorporate copper to add warmth and patina. For the first time, I also grew my own zinnias this year and have enjoyed creating my own bouquets!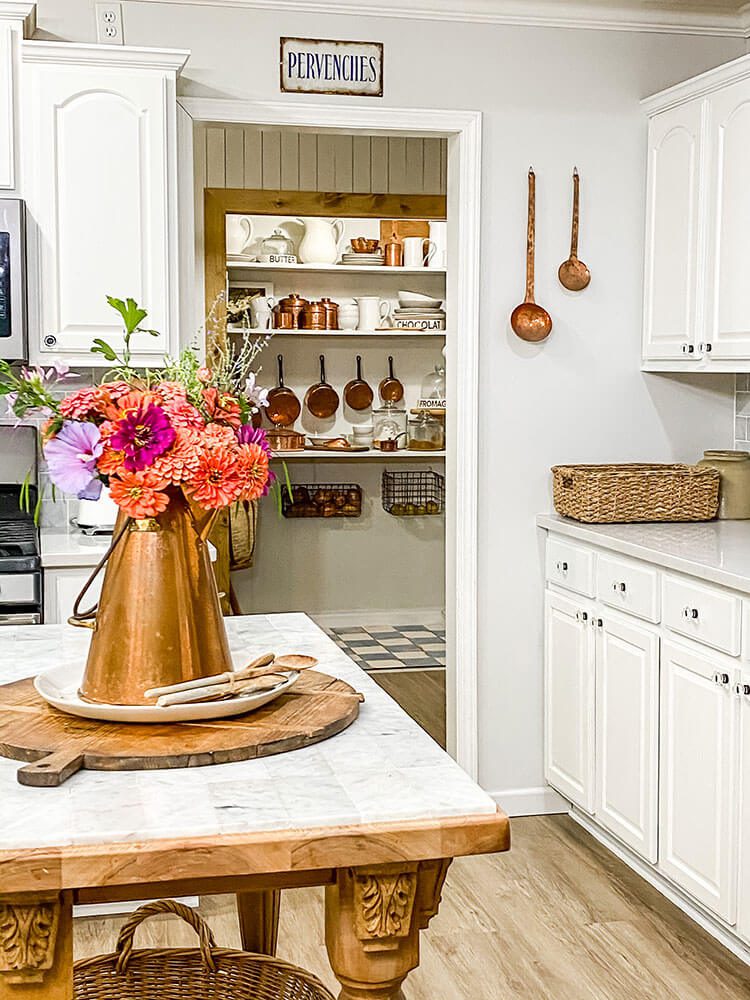 Natural Fall Farmhouse Decorating
Are you entertaining this fall? Consider bringing the outdoors in to create your own natural fall farmhouse decorating. Grab your market basket and visit a local farmer's market. You will typically find farm-to-table vegetables, fresh bouquets, honey, pumpkins and more! Visiting farmers' markets is one of my favorite fall pastimes. Our family also loves visiting local pumpkin patches this time of year!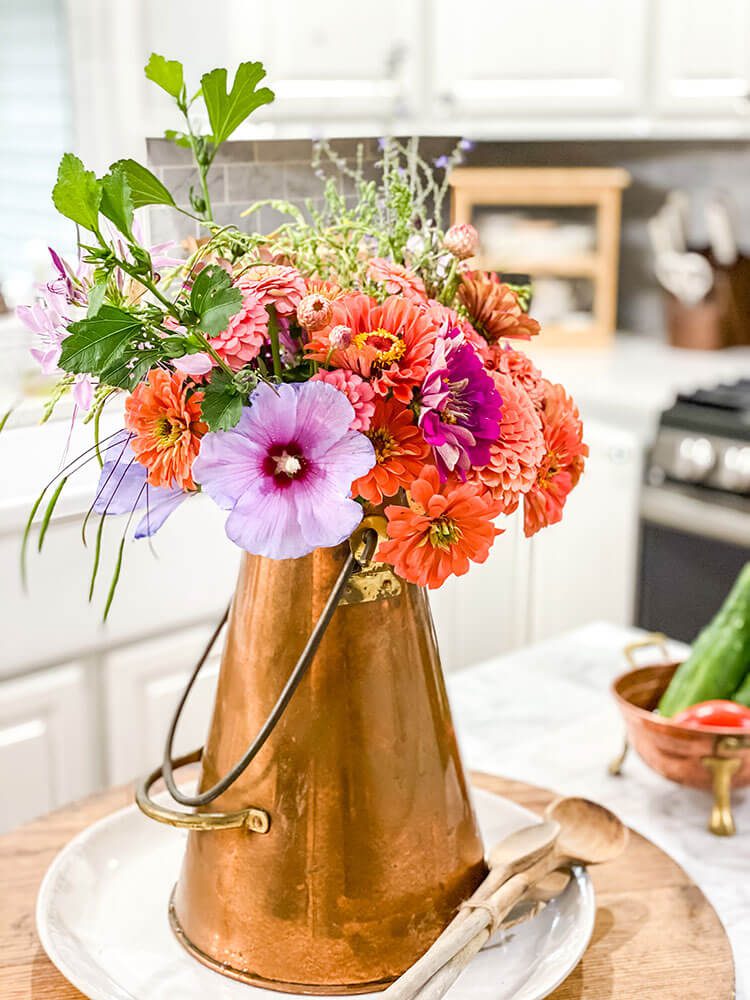 Much like how our wardrobe changes and becomes more cozy, I like to incorporate those vibes into our home. For a take on natural fall farmhouse decorating, keep it simple. Bring out your cozy decor items like blankets, fall scented candles and warm colored pillows. You can also display fresh flower bouquets or pumpkins.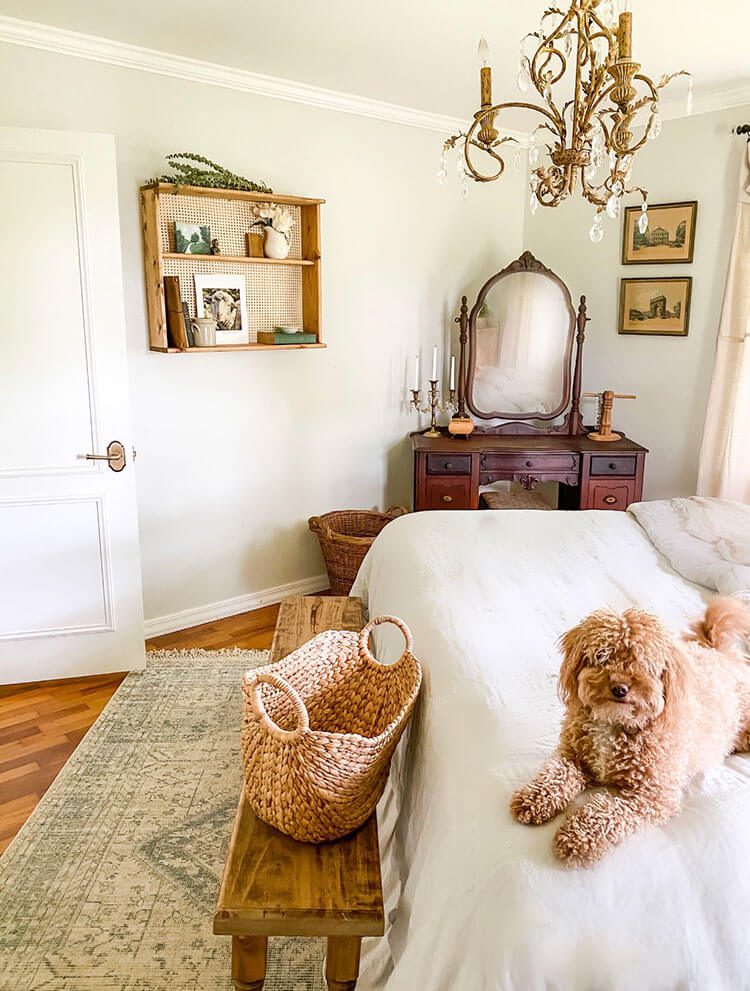 For a true "au naturel" look, I recommend keeping the store-bought decor to a minimum. You can achieve a beautiful and effortless look by just clipping a few fall branches or flowers from outside. It is definitely a balance finding the right amount of warmth without cluttering a space. Less is always more. My best tip is to create a balance between beauty and a lived-in look.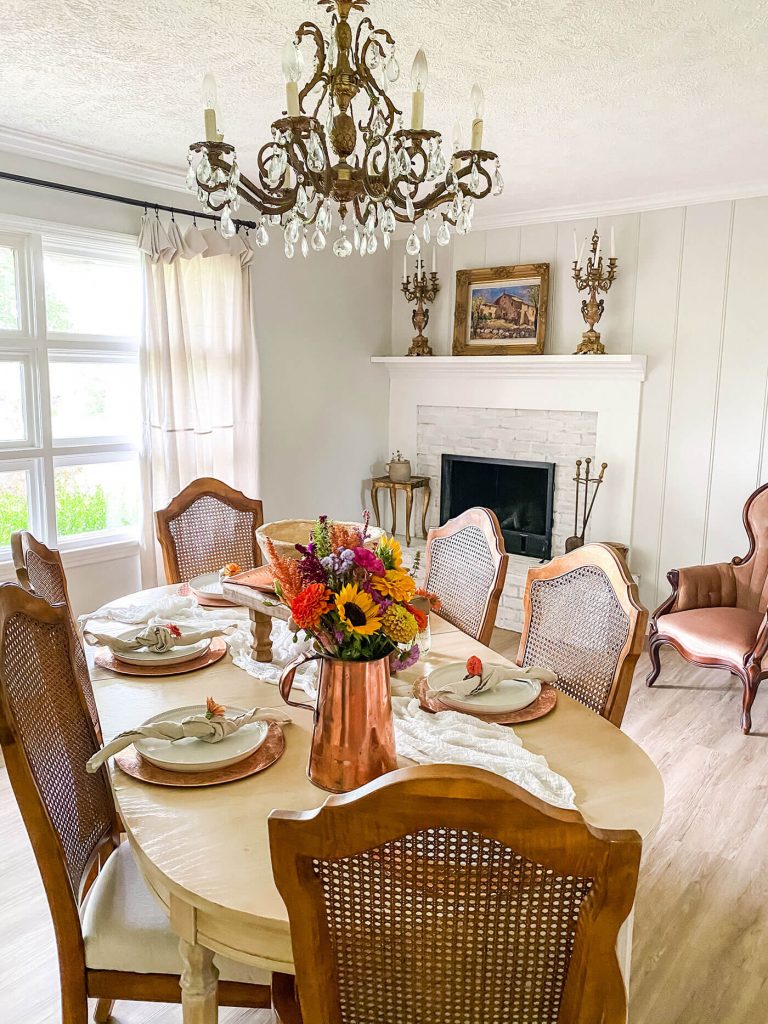 Homegrown Florals
If you are a gardener, consider grow zinnias, sunflowers or pumpkins for your fall vignettes. Our homegrown zinnias add an instant pop of color to celebrate the season. Many flower farms also offer fall flowers for purchase. We are blessed to have an amazing farm locally, Flower Ridge Farm, which delivers fresh flowers to many surrounding small towns each week.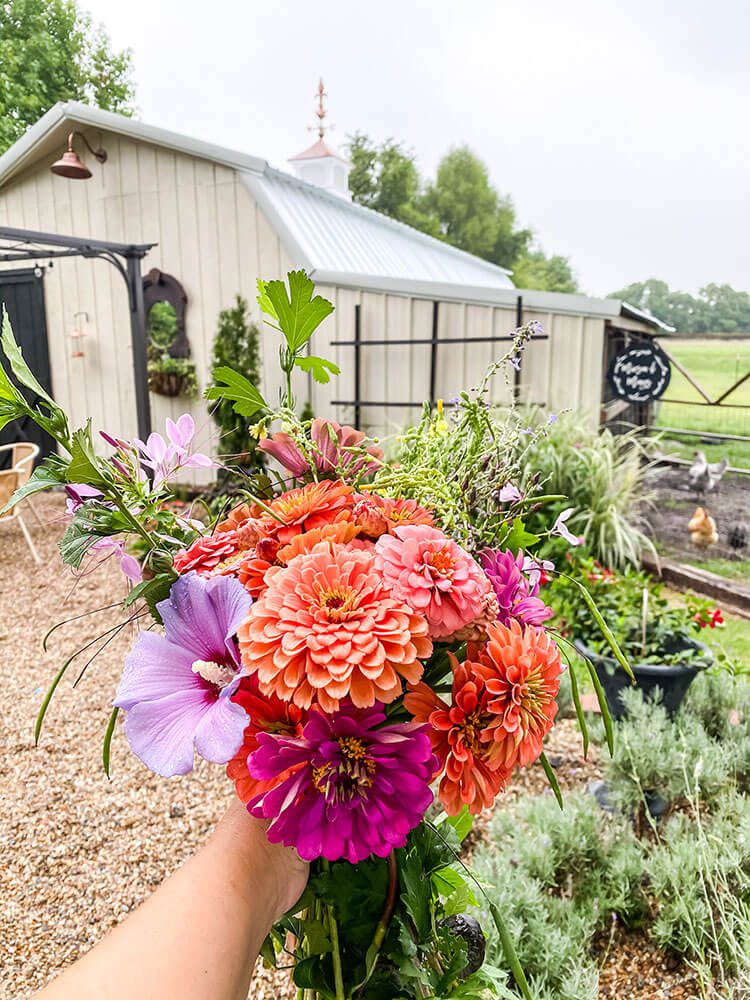 A copper pitcher or warm-colored vase makes for the perfect vessel for your natural fall farmhouse decorations. You can display in your kitchen or dining room for a fresh look. In our dining room, I clipped a few small zinnias and added them to each place setting to complement the large bouquet from our local flower farm.
Copper Accents
Copper has been "on trend" lately, but as an avid collector, I can tell you—it is here to stay! Copper is both timeless and practical and I love using it and displaying it in our home. We recently gave our walk-in closet a DIY makeover and my copper collection makes quite the statement. It is one of my most-liked photos on Instagram and Pinterest. Not only are copper pots and pans attractive in the kitchen, but copper is an excellent conductor of heat and very good for cooking.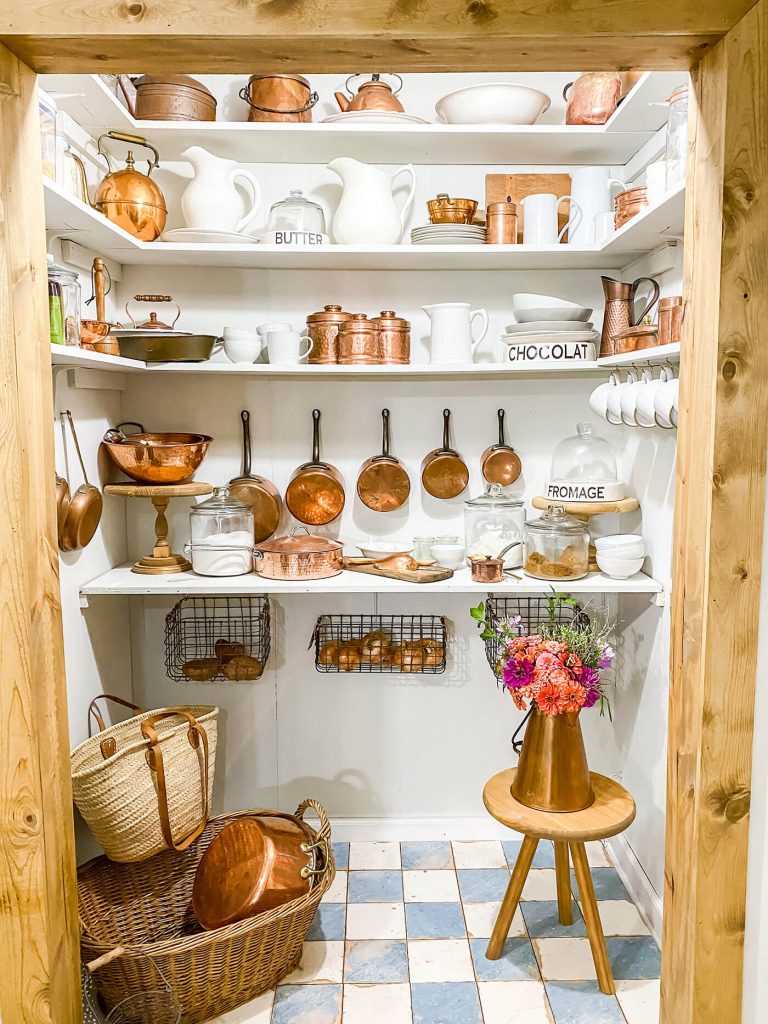 For a fresh look for fall, I added some French baskets to our pantry for warmth and texture. Do you have any vintage copper pieces? I have found Facebook Marketplace, Etsy and local antiques stores to be excellent resources for shopping vintage. All of my new copper pieces are from Sertodo Copper.
Fall is a time to practice gratitude and be thankful. Whether you are harvesting, decorating, or enjoying a pumpkin spice latte, get out there and enjoy the best season of the year!
---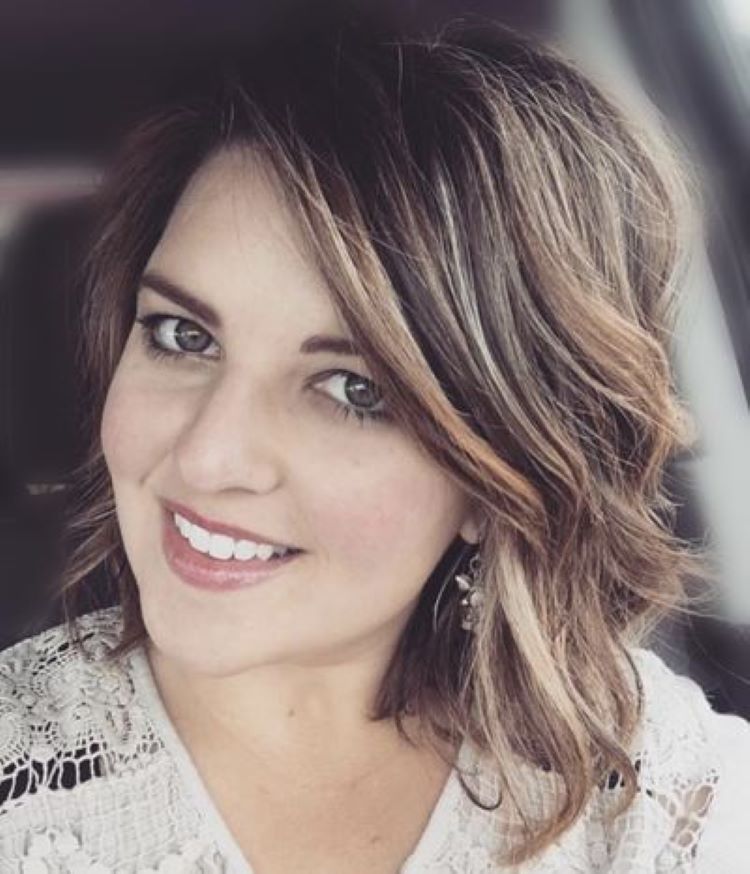 Amy Mings, an entrepreneur and former accounting professional, is the creator of Maison de Mings, a DIY & lifestyle brand. Inspired by the timeless elegance of Provence, Mings continually strives to bring a bit of France to her rural country life.