A Large Family Kitchen with Country Style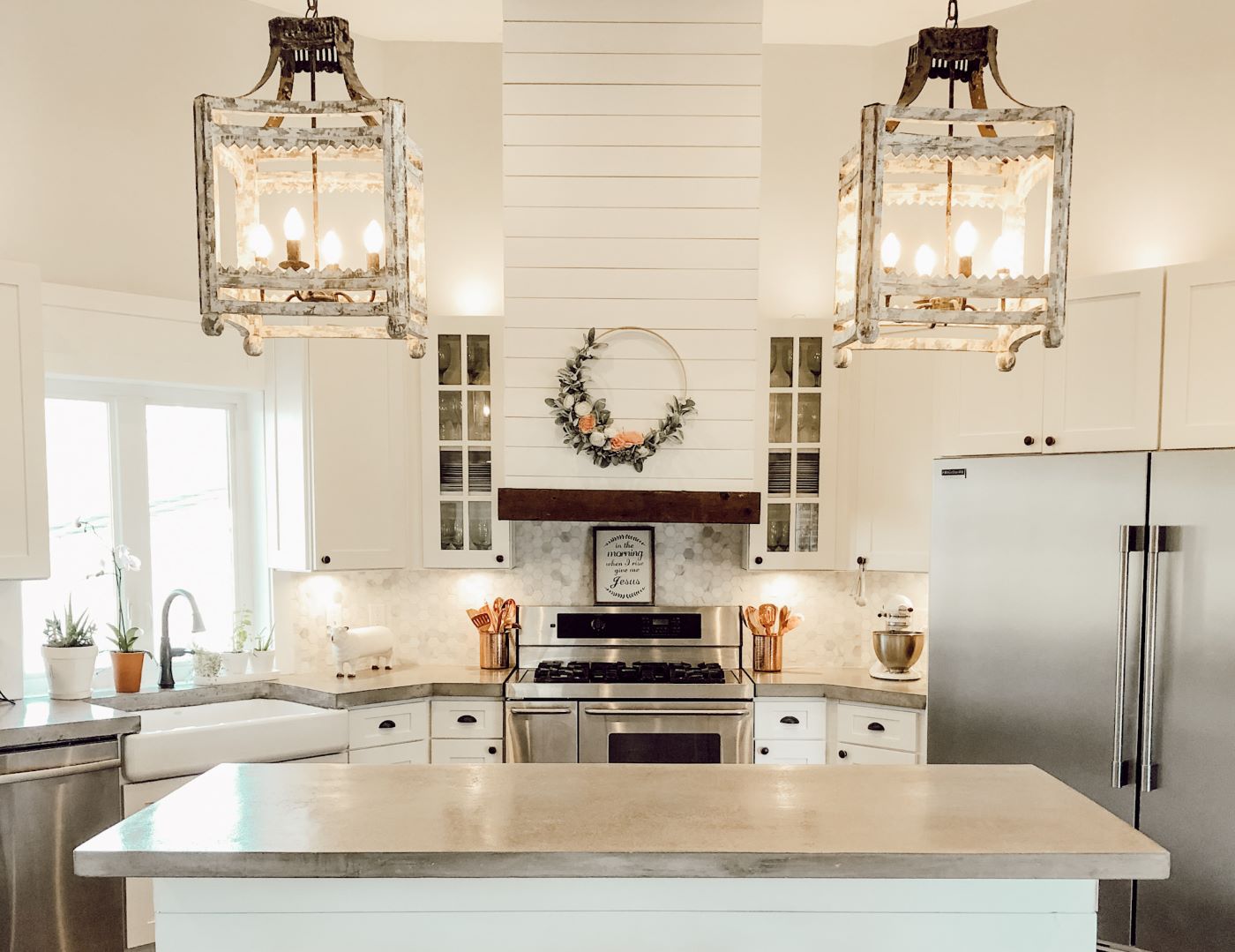 Living in a 120-year-old home has its perks. Its vintage charm is one of the reasons farmhouse style is so alluring. Individuals seeking the simple life enjoy the mindset and décor of an old farmhouse. But the drawback to our farmhouse has always been the tiny kitchen. But not anymore! Come take a tour of our large family kitchen.
Cozy Kitchen
Raising four kids in a cozy farmhouse kitchen had its challenges. Our large extended family was packed in tight for holiday gatherings. We all dreamed of an addition that would connect our home to the detached garage. A large family kitchen addition would allow us the room to spread out and actually enjoy each other.
Our main goal with the new kitchen addition was keeping the heritage and vintage charm of our old home. We wanted a modern kitchen that didn't appear to be new. There were a few areas we decided to focus our efforts on.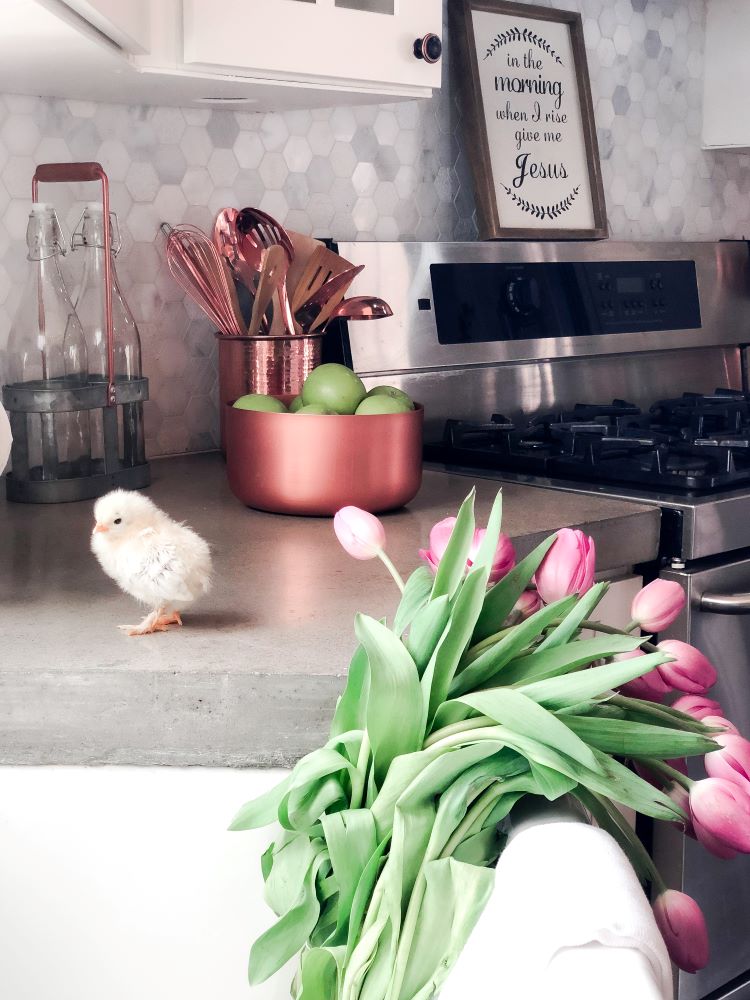 Lighting
First we focused on farmhouse lighting. We found two pendant lights at a local décor boutique months before the construction began. We wanted these to be the focal point of the room, located above the island. They were simple and yet stylish. Most importantly, they fit with the style of the rest of our old farmhouse.
Concrete Counters
Another update was the large family kitchen countertops. Pouring your own concrete counters can be messy, but rewarding. We agreed to spend our money elsewhere, so we decided on concrete for our countertops. The imperfections and different textures of an old house add to the vintage vibe of the space. And we knew the concrete surface would fit right in. We poured the countertops in place, although others pour them in the garage and carry them in. If you are a perfectionist and don't like discolorations or texture variances, these may not be for you. We love the concrete counters, and you can't beat the price and durability. They are great options for budget countertops.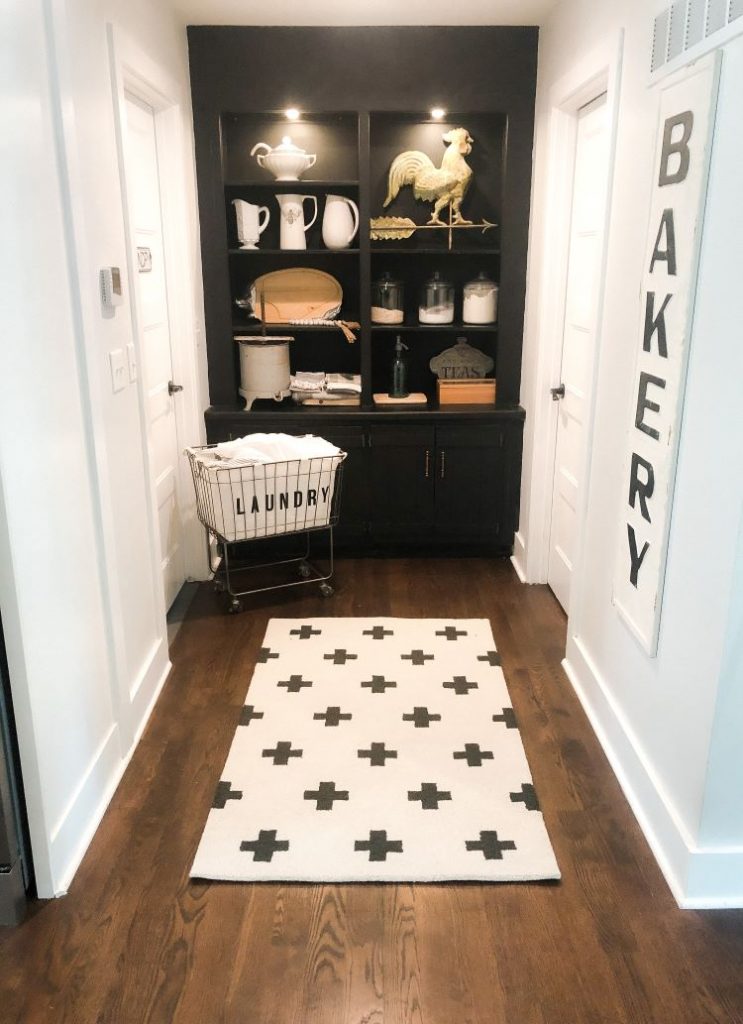 Butler's Pantry
Next, a butler's pantry. A butler's pantry does not need to be large or fancy. It's simply an additional prep area off the main large family kitchen. We added this workspace between the laundry room and standard pantry. Although it has upper shelving for décor and dishes, it also adds a tremendous amount of true cabinet storage down below.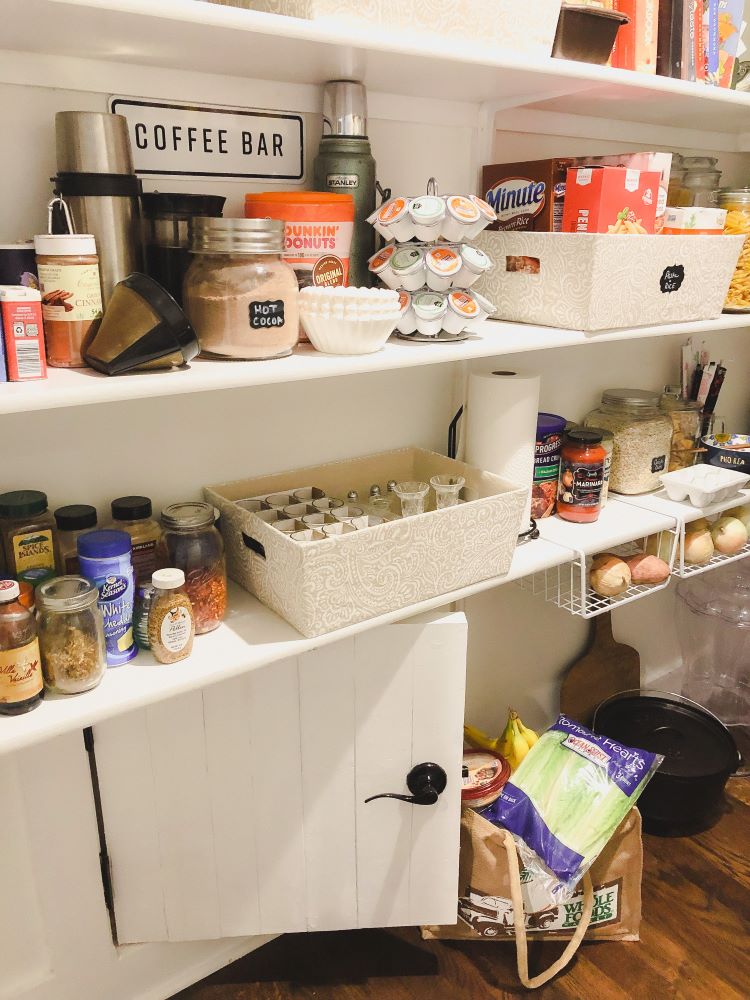 Garage Pass Through Door
Bringing in groceries can be a pain, especially when shopping for a large family. This is why we added a pass-through grocery door from the garage. We built it from scrap lumber, and it simplifies the grocery restocking process, once you are home.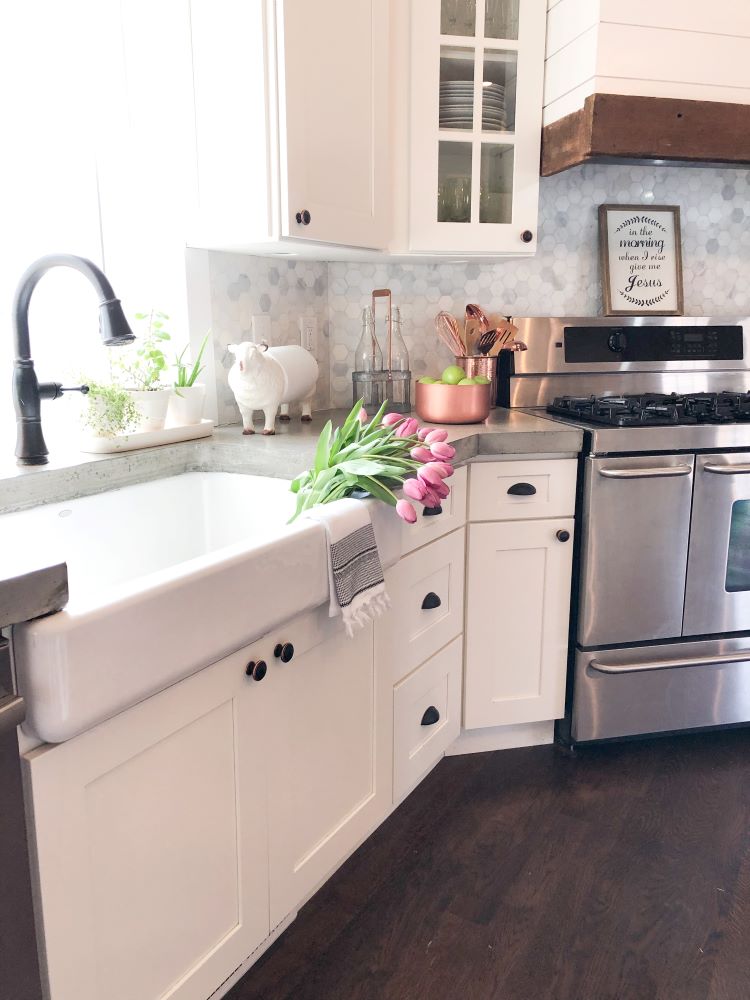 Farmhouse Sink
We all love the size of the farmhouse sinks. They are great for meal prep and bathing babies, and you may find a pet goat in there every once in a while. We chose the single large bowl, but there are many other configurations to choose from.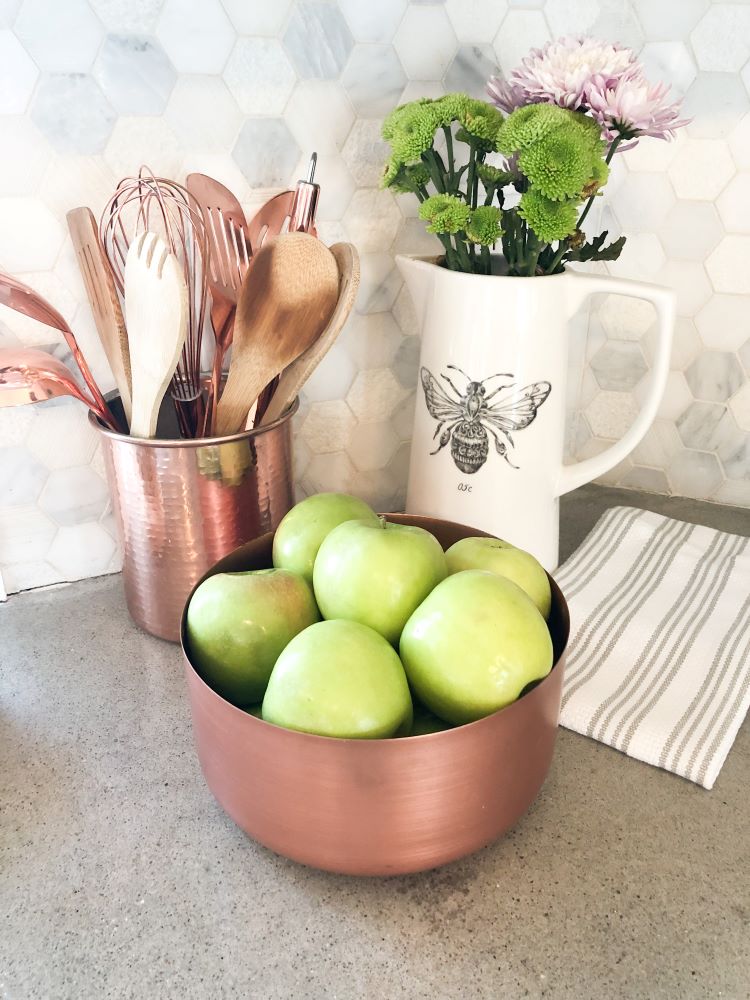 Mixed Metals
Although I love the new trendy gold hardware, it just didn't fit in with our century old home. Keeping the integrity of our style intact, we chose to continue with the black hardware for the faucet, knobs and pulls. This was such a hard decision, but we wanted to keep the rest of the home in mind. We have stainless appliances, so different metal finishes are already in our large family kitchen. To get my complete mixed metals fix, we added in copper accents throughout the room for a more trendy look.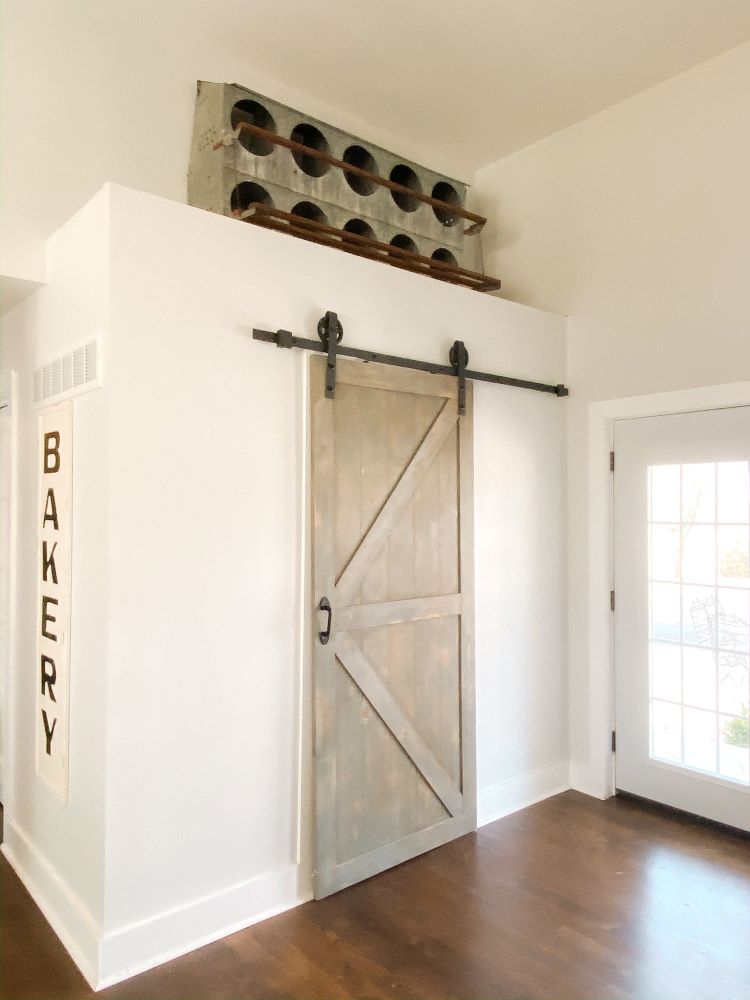 Barn Door
Everything old is new again, and that also goes for barn doors. We continued with the black sliding hardware and stained the door grey. Adding an old chicken coop to the ledge above the door enhanced the vintage feel. Of course, the coop received a good power washing before we brought it in. We love the ease of a sliding barn door in a busy large family kitchen.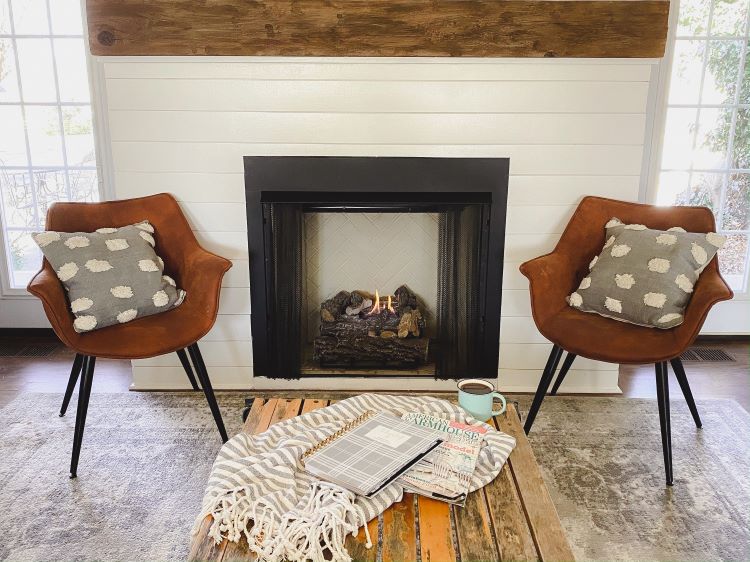 Hearth
There is nothing better than sipping your morning coffee in front of the cozy fireplace. It has become a peaceful start to our day. We do have a wood burning stove in the family room, and decided on a gas insert for the new kitchen addition. This minimizes the mess and ease of lighting a fire in the mornings. Our fireplace has a herringbone pattern on the fire bricks and a horizontal shiplap on the surround. Of course, an old beam mantle is always a good idea in a farmhouse. The hearth area is a wonderful place to sit and read your favorite magazine, American Farmhouse Style.
You can have all the modern conveniences of a new kitchen in your farmhouse. Keeping it simple will help the room blend into the vintage charm of the rest of your home.
---
Get ready for a spring remodel or refresh. First start with refreshing a room. Of course, don't forget to follow us on Instagram, Facebook and Pinterest to get your daily dose of farmhouse inspiration!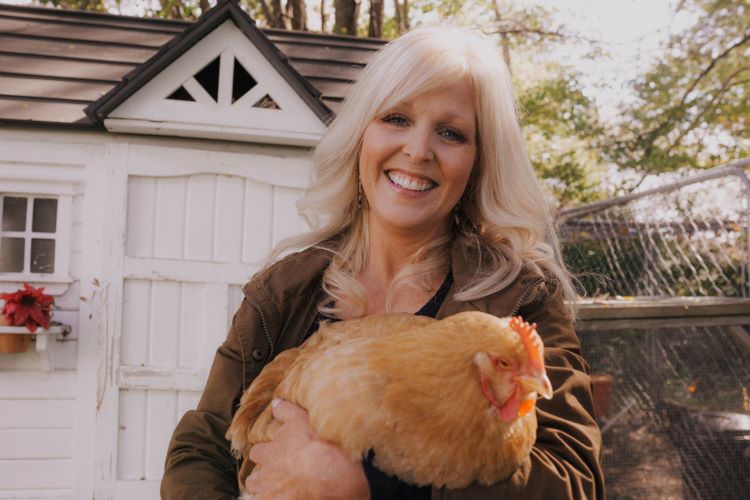 Lana lives with her husband and kids on a small farmstead in Kansas City, where they raise goats, chickens & bees. They are fixing up their 120 year old farmhouse one room at a time. Lana is a University Business Professor, and she enjoys local Kansas City BBQ any chance she gets. Learn more about Lana at LanaStenner.com.