Lamb Roast Recipe for Spring
Photography and recipe from California Cooking and Southern Style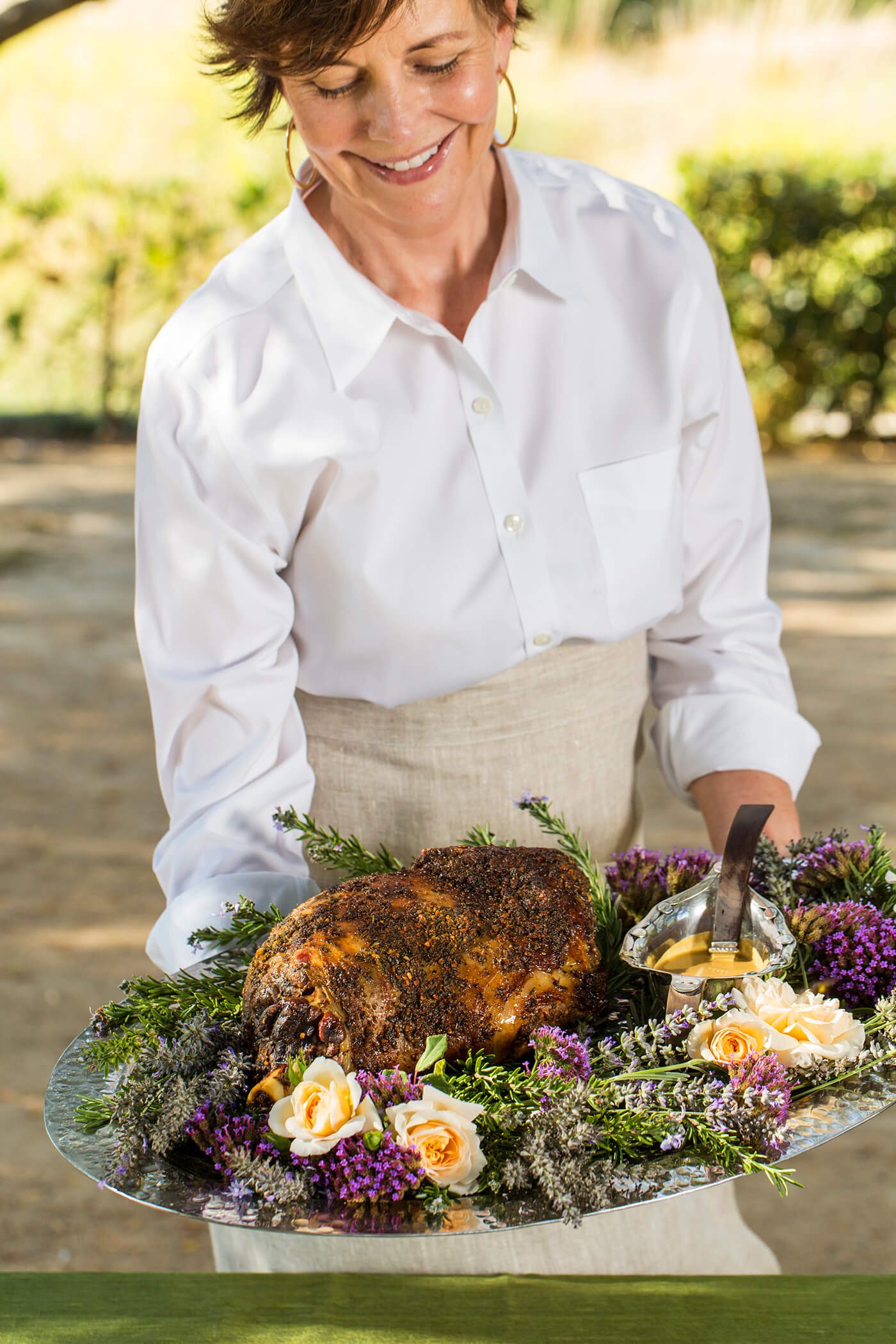 Photography and recipe from California Cooking and Southern Style
For spring, and especially Easter, lamb is a traditional and delectable dish for the table! Follow these step-by-step instructions and make a slow roasted leg of lamb for the ultimate party centerpiece. It is slow roasted with mint and mustard sauces, mixing California and Southern flavors! This recipe serves between 6 and 8 people.
As an Amazon Associate, American Farmhouse Style earns from qualifying purchases.
Lamb Roast Ingredients
3 pounds boneless leg of lamb
¼ cup olive oil
6 cloves garlic, minced
2 tablespoons smoked paprika
1½ tablespoons salt
1 tablespoon chopped fresh rosemary
1 teaspoon pepper
1 teaspoon sugar
2–4 cups white wine (or combination wine and water)
½ cup Dijon mustard, for the sauce
Cooking Prep
Marinate the lamb at least 3 hours before cooking. If you want to serve a bone-in leg, allow a bit of extra cooking time. This marinade is also good for chicken, fish, and shrimp. If your roast is larger than 3 pounds, roast 20 minutes per pound, or to internal temperature of 135°F for medium-rare.
Directions
Tie the leg of lamb with butcher's twine and place in a shallow dish. Stir together the olive oil, garlic, smoked paprika, salt, rosemary, pepper, and sugar, and rub over the lamb (if you have a nice, fatty leg of lamb, trim the fat to ¼-inch and score the fat at 1-inch intervals to allow the rub to penetrate). Refrigerate for 3 hours or longer, and remove from the refrigerator 1 hour before cooking.
Preheat the oven to 425°F.
Place the lamb on a rack in a small roasting pan and place in the bottom third of the oven for 15 minutes. Pour enough wine into the roasting pan to be about ¼-inch deep. Reduce heat to 300°F and roast for 60 to 80 minutes, or until the lamb reaches an internal temperature of 135°F for medium-rare. Add more water or wine as needed to maintain the ¼-inch depth of liquid. Remove the lamb from the oven and from the pan, loosely cover with foil, and allow to rest for at least 30 minutes before slicing.
While the lamb is resting make the mustard sauce: Pour all the juices into a small saucepan, scraping up the bits from the bottom of the pan. You should have about 1 cup. Whisk in the Dijon mustard and warm to serve.
Mint Sauce Ingredients
2 cups mint leaves
2 tablespoons sugar
½ teaspoon salt
1 jalapeño pepper, roasted, seeded, and chopped (optional)
¼ cup balsamic or red wine vinegar
Directions
Chop the mint leaves with the sugar, salt, and chopped pepper (if using) until very fine, place in a bowl, and stir in the vinegar. Adjust the seasoning to taste.
Get this recipe and more from California Cooking and Southern Style.
---
Spring is a great time to entertain outdoors. Check out how to throw an outdoor dinner party. Of course, don't forget to follow us on Instagram, Facebook and Pinterest to get your daily dose of farmhouse inspiration!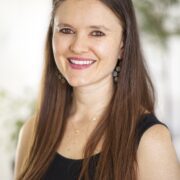 Victoria Van Vlear
Victoria is the editorial director of American Farmhouse Style. She shapes the editorial direction of the brand, both through the physical magazine and digitally on the brand's website and social media platforms. As a home décor enthusiast and DIYer herself, she knows what a little paint and patience can do for a room! Victoria is also a wife and mom to three little ones: two on earth and one in heaven. With any (not so spare) time, she devours book and dabbles in fiction writing. You can follow her on Instagram @victoriavanvlear