How to Get A More Colorful Farmhouse
Editor's note: Today we have guest blogger April of Barn Home Living sharing her tips on how to get a colorful farmhouse! She has great tips (and a fun unique style in her home too).
Whitewash and gray have had their moments. Now color is coming into style! Here are some easy ways to get a colorful farmhouse.
You can layer all these options onto your neutral base, be that shiplap or barnwood. These also don't require major commitments or money. You can keep your white cabinets and walls, while trying simple steps to make your home more custom and special. You might just find your style in the process!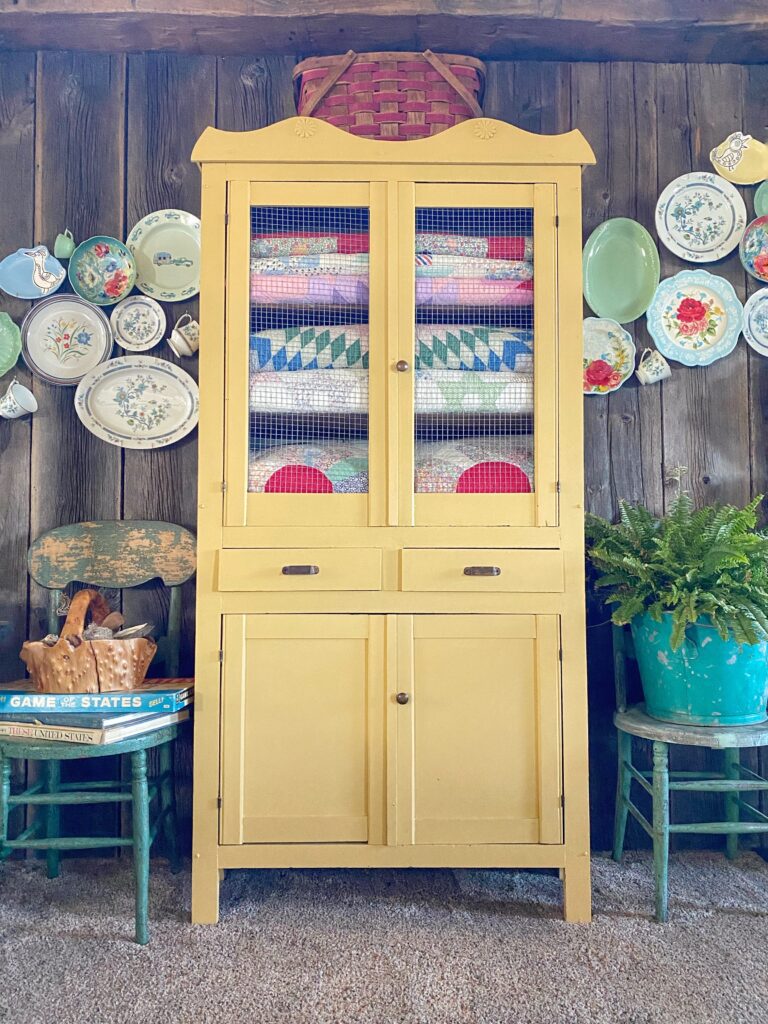 1. Paint a Piece of Furniture
With chalk paint, it's easier than ever to paint furniture for your colorful farmhouse. Solid wood furniture is affordable and easy to acquire on places like Facebook Marketplace. Furniture painting is an easy beginner DIY and very rewarding because the results can be grand.
If you have an open-concept home, pick a few keys colors and repeat them throughout. The yellow I used on my quilt hutch in the above picture is the same in the barn star artwork by Katie Baker.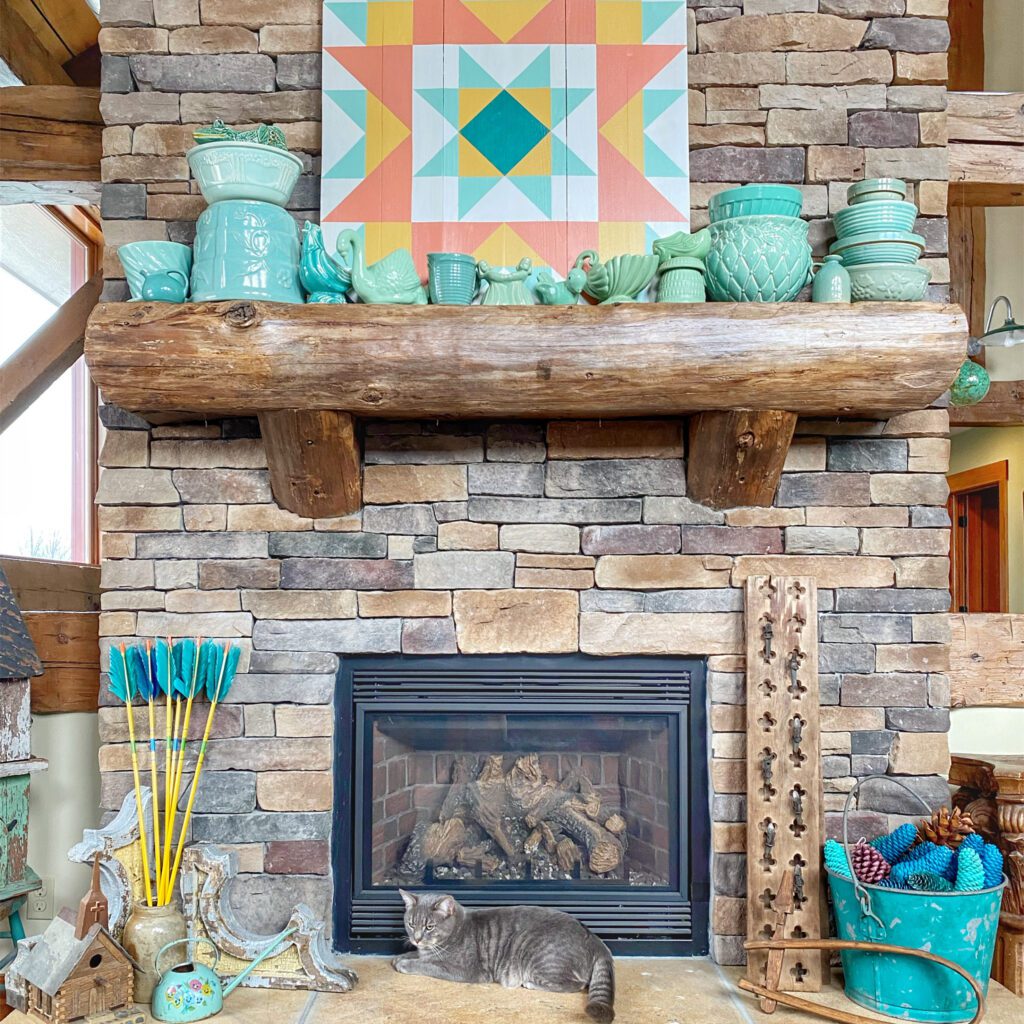 2. Artwork and Accessories
The barn star has some of my favorite colors: yellow and aqua. The aqua shows up again in the vintage pottery collection and throughout my entire barn home. Any collection en masse becomes even more impressive when it's all the same color. Try it with books, jars, paintings, pottery, or even cookware for a more colorful farmhouse.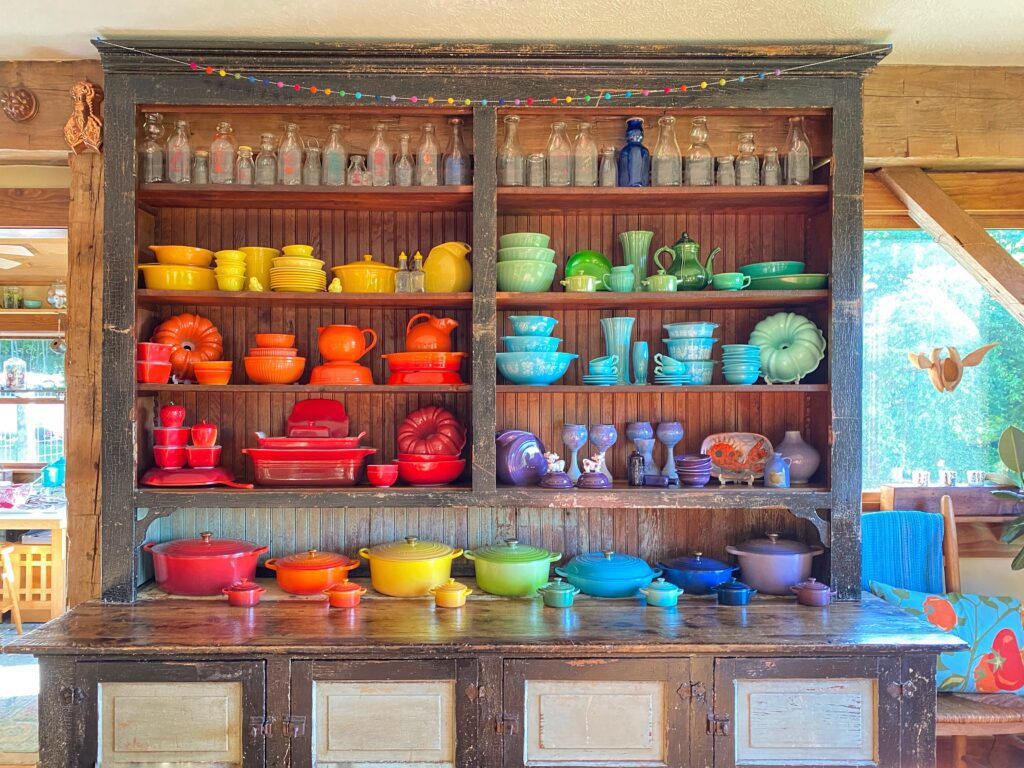 3. Dishes and Cookware
Cookware comes in so many colors that you can find it to match your taste, or mix them all if you can't decide! There's a reason iconic pieces like KitchenAid Mixers and LeCreuset Dutch Ovens come in so many colors. You should find one that speaks to you and use it as an accent for your kitchen and dining room. Dishes, both vintage (like Pyrex and Jadeite), and new (like Pioneer Woman), or both (like Fiestaware), are another fun and functional way to get a more colorful kitchen!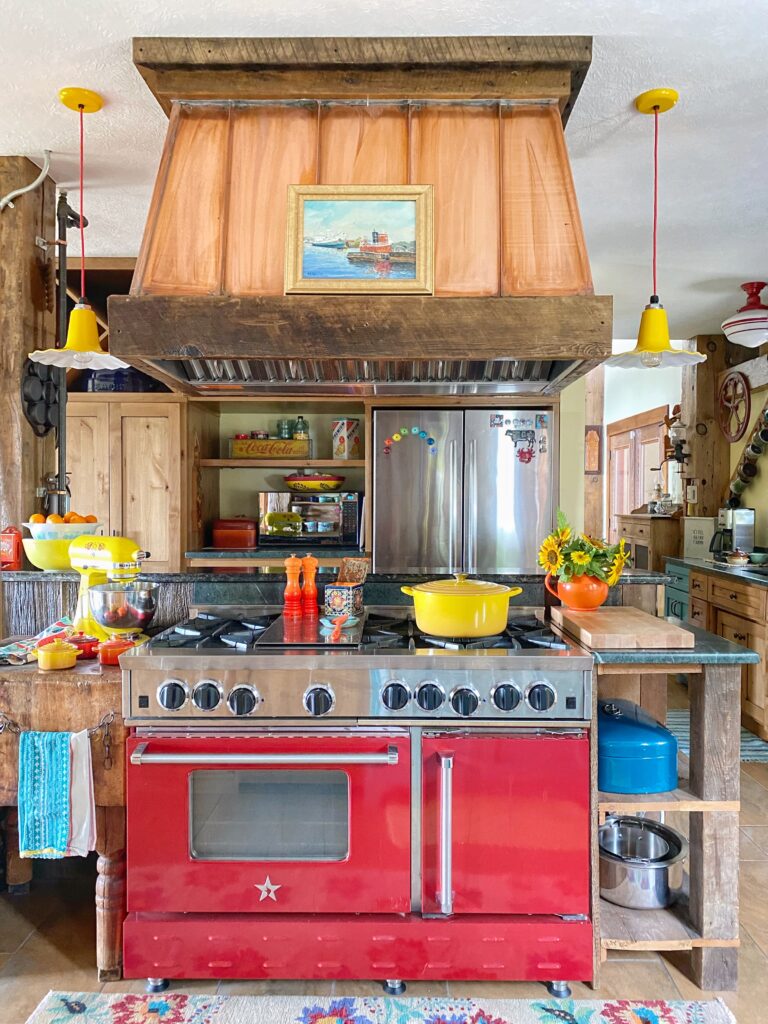 4. Light Fixtures and Appliances
If you're remodeling, or even just updating a countertop, consider a colorful appliance. They don't show dirt and finger prints, and if you have to have them, they might as well be pretty! Some are modern, while others are retro. The options are endless for your colorful farmhouse. The BlueStar range was a splurge, for me but you can find smaller pieces such as a colorful coffee pot and toaster.
I also opted for pops of color in the light fixtures, but picked classic designs. You can update basic light fixtures with spray paint, or find brands that create them in any hue. The yellow light fixtures above my range match the mixer and several kitchen accent items and dishes.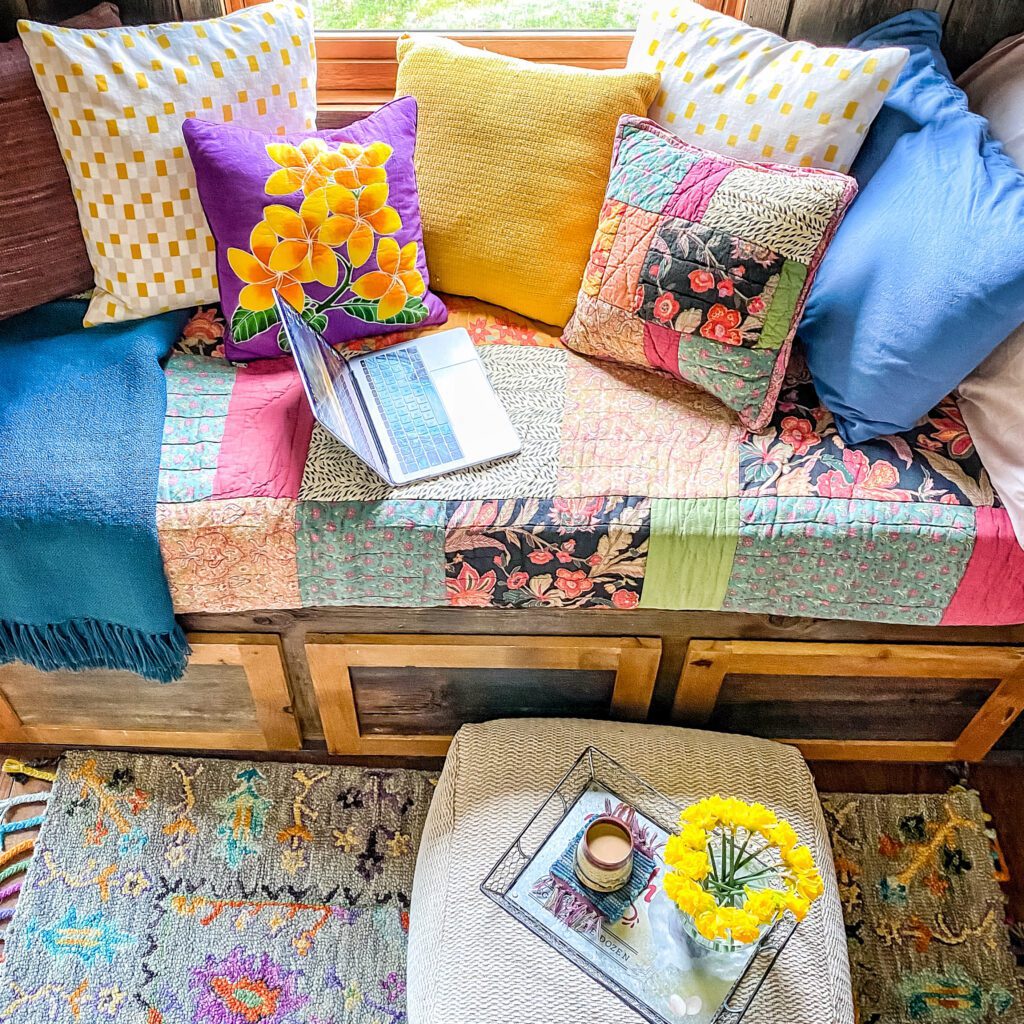 5. Textiles
The easiest way to add color is with textiles! Pillows, throw blankets, quilts, slip covers, duvets, and rugs can all be layered in an array of colors to make your colorful home unique and inviting.
My favorite way to layer blankets is to use kantha quilts that I purchase in mixed lots from places like Amazon, and then throw over couches and chairs. Textiles are also simple to swap for the seasons; think Christmas pillows as inserts and bedspreads turned into slip covers! Vintage rugs have fabulous colors and patterns and are a great way to make your colorful farmhouse feel unique and high end.
---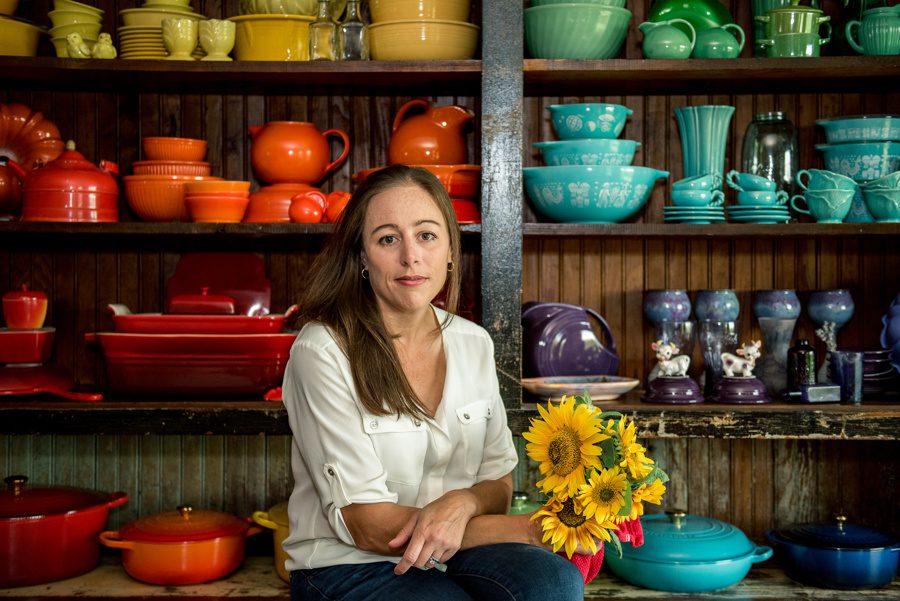 April Hershberger and her husband, Andy, relocated a 150-year-old barn frame from Ontario, Canada to Pennsylvania. April has generated a successful Instagram following at @BarnHomeLiving, sharing her unique and colorful style with followers. Andy and April are raising their two boys on their mountain property and restoring vintage Airstreams in what spare time they can find.
---
Can't get enough of color? Find more colorful inspiration and tips in Vintage Organization Charm. Of course, don't forget to follow us on Instagram, Facebook and Pinterest to get your daily dose of farmhouse inspiration!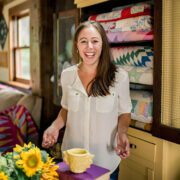 April Hershberger
April Hershberger and lives in the mountains of PA with her husband Andy and two boys. They relocated a 150-year-old barn frame from Canada to their property, where they turned it into a unique home. April incorporated fun features like an old drinking fountain and a dog jail, as well as practical things like a dog shower. Her prized feature is an antique hutch from a local hotel they built into the dining room and where she showcases her dish collection. Follow along on social media @BarnHomeLiving and subscribe to her blog at AprilHershberger.com to share in the adventure. April has an affinity for color and vintage, enjoys fiber arts like quilting & embroidery, and is also a wedding planner. She and Andy collect vintage airstreams and vehicles and love antiquing and traveling. She hopes to inspire others to decorate their home with items that hold sentimental and inspirational value to them and avoid trends.