A Homey Fall Farmhouse in Alabama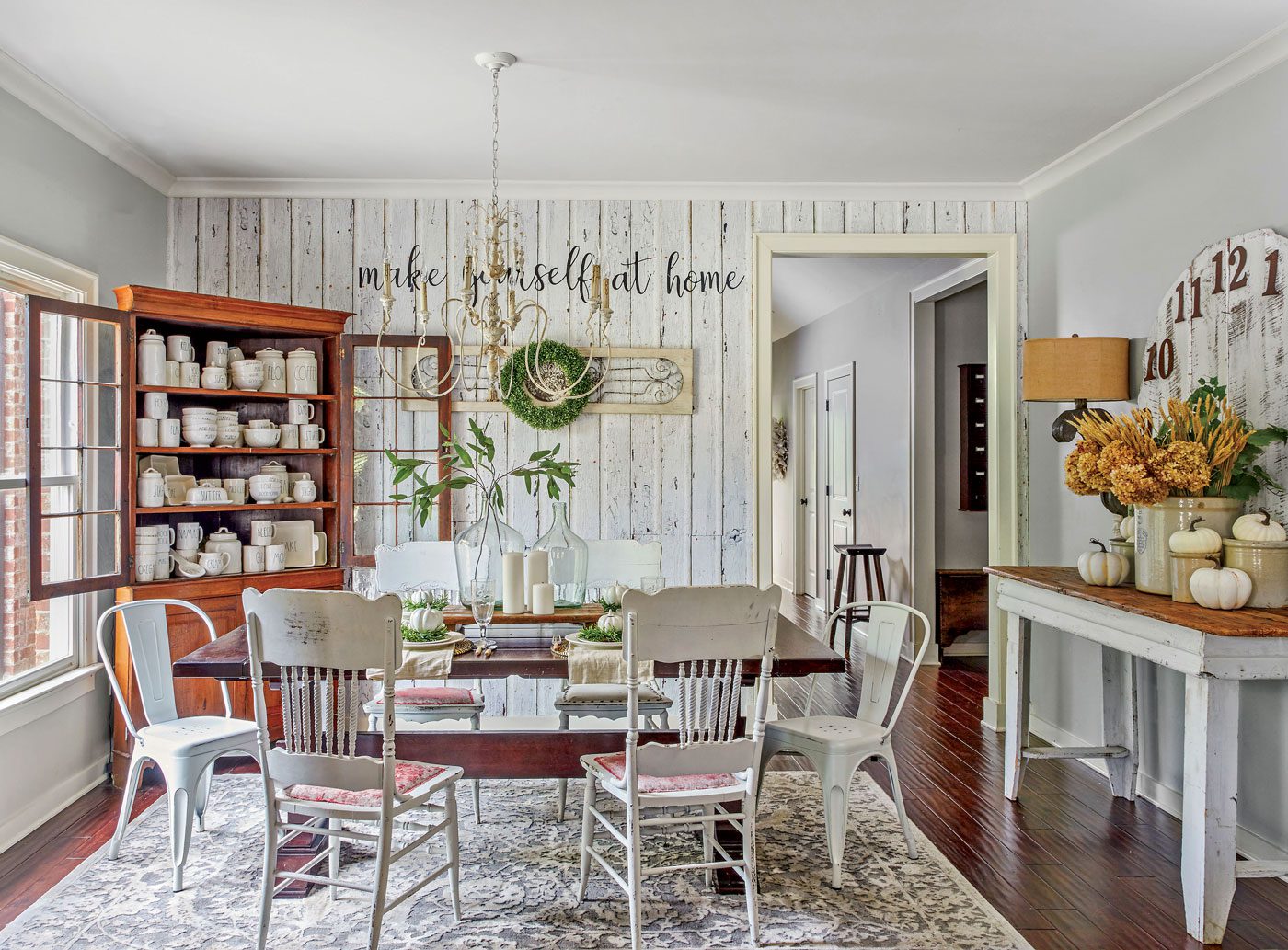 Today's family farmhouses aren't always occupied by farmers, but they remain bustling homes that pulse with energy and warmth. This is certainly the case for this Alabama abode, where blogger Brendt Blanks of She Gave it a Go resides in her fall farmhouse with her husband and their four children.
"While style is something I love and it's important," she says, "with a family of six we need spaces to function well for our family's day-to-day needs."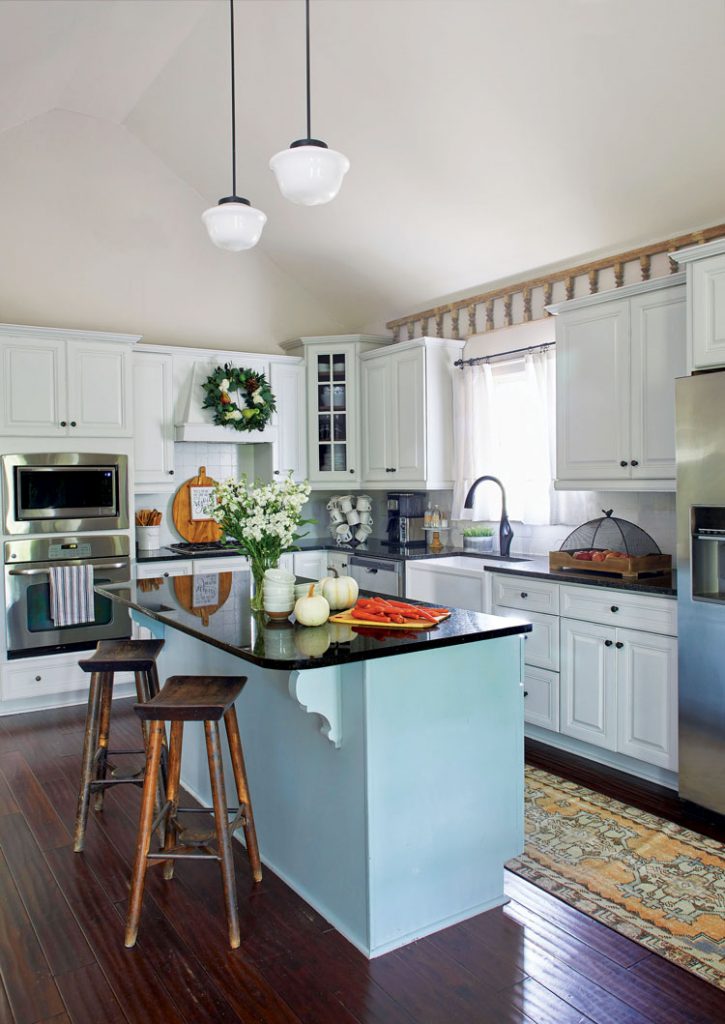 Growing With The Kids
In a family that's raising children, change is inevitable. And that goes for the home itself, too. "[Our] needs are constantly evolving as our children grow," Brendt says, "and I always want to create spaces that encourage our family to gather together, even if that means just having a sitting area (like in our kitchen) where our teenagers could do homework instead of in their rooms."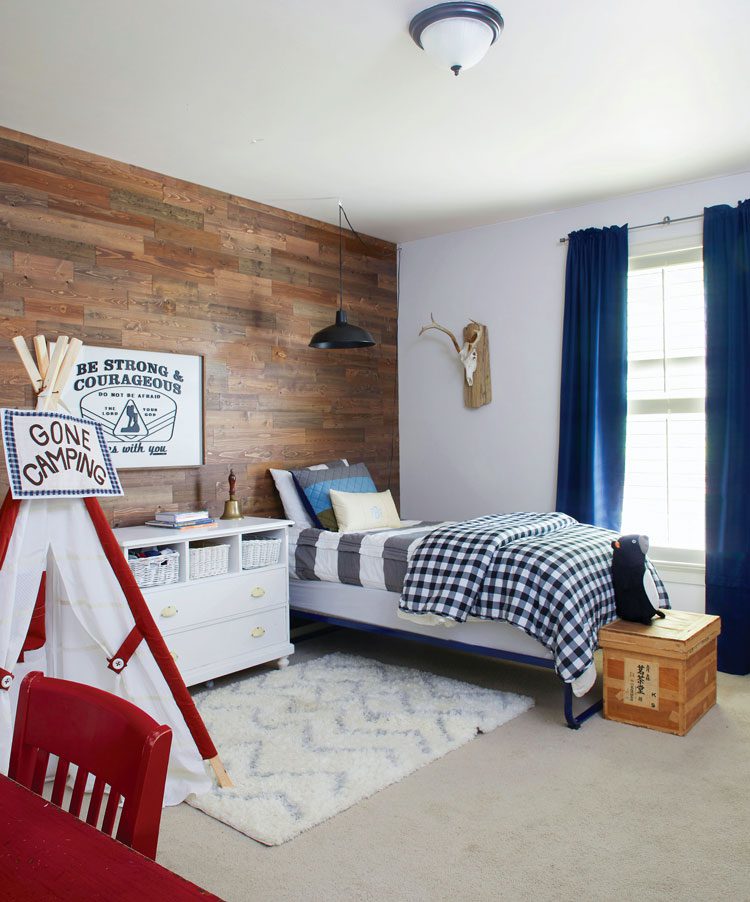 In the fall farmhouse, Brendt also cultivates a family environment with well-placed touches of masculinity, accommodating the gentlemen in the home. "For my son's room," Brendt says, "I focused on implementing the dark wood wall. You won't see that anywhere else in our home. [I also] added outdoor-themed elements as well as the deer antlers."
Likewise, for the master bedroom, Brendt "steer[s] away from pinks, purples (and any other feminine colors) as well as blooming florals." Instead, she favors greenery and includes pieces like eucalyptus stems. To round off the space, she features neutral colors that work for husband and wife alike.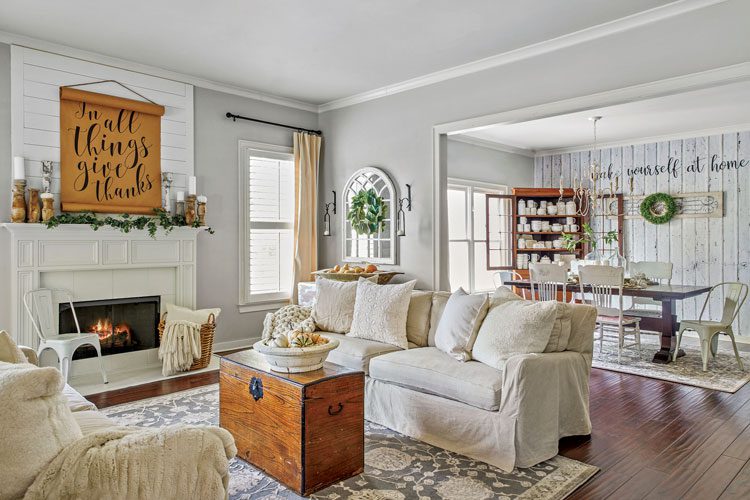 Natural in Neutrals
In addition to cultivating a family-friendly environment, Brendt also keeps the farmhouse versatile and timely year-round. "I love swapping out seasonal decor in all of our main living areas, including the living room, dining room and kitchen as well as our master bedroom and porch," Brendt says.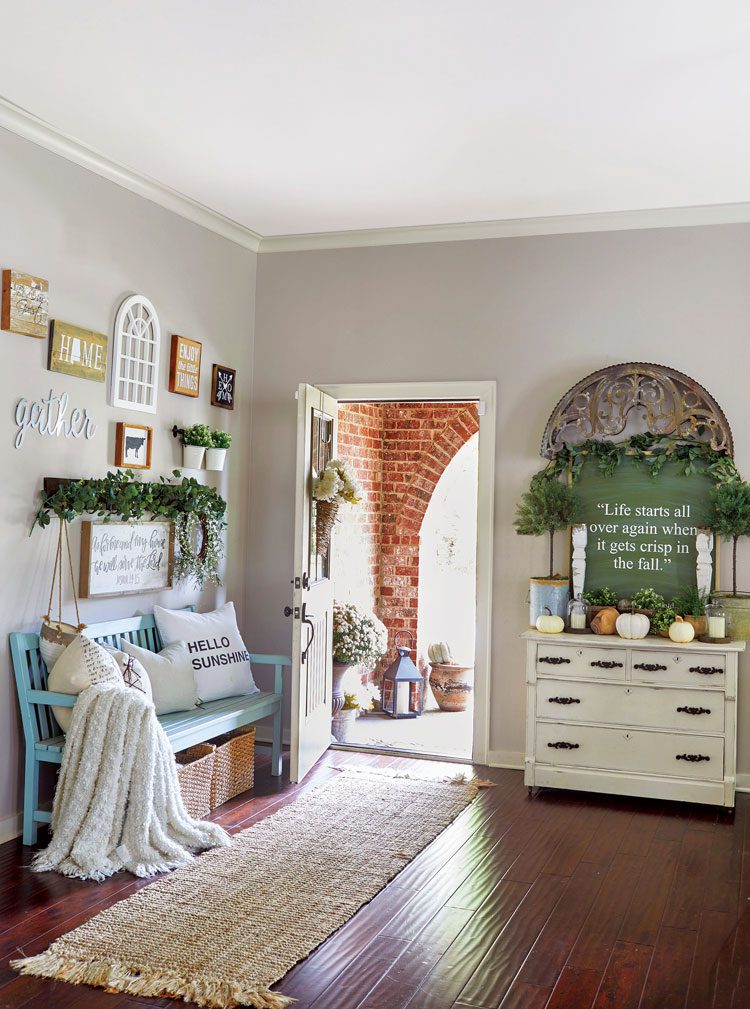 To make this work, she chooses subtle tones for her statement pieces. "I always encourage people to buy their larger, foundational pieces in neutrals," Brendt says. "It provides a great base to adapt to the various seasons. Neutrals allow you to not feel tied to any certain color scheme, but rather open the door to have various color options."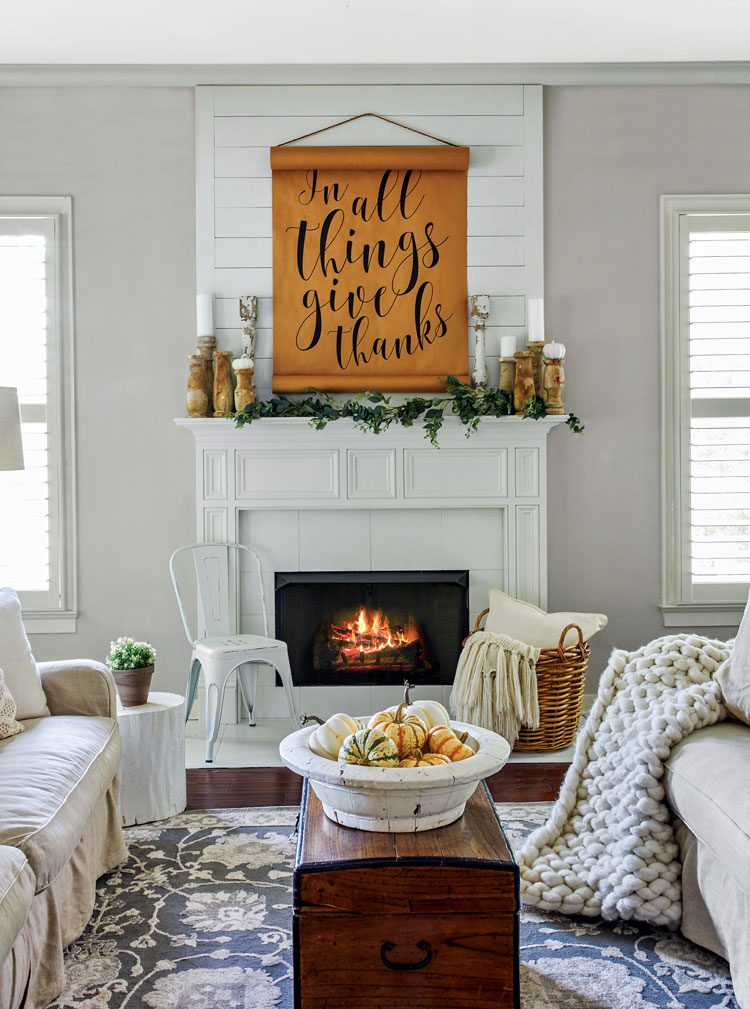 Focusing In On the Fall Farmhouse
When it comes to decorating for autumn, Brendt follows three basic principles in her fall farmhouse. First, she incorporates greenery into her décor, alongside blacks, whites and grays. "I do consider greenery a neutral," she says.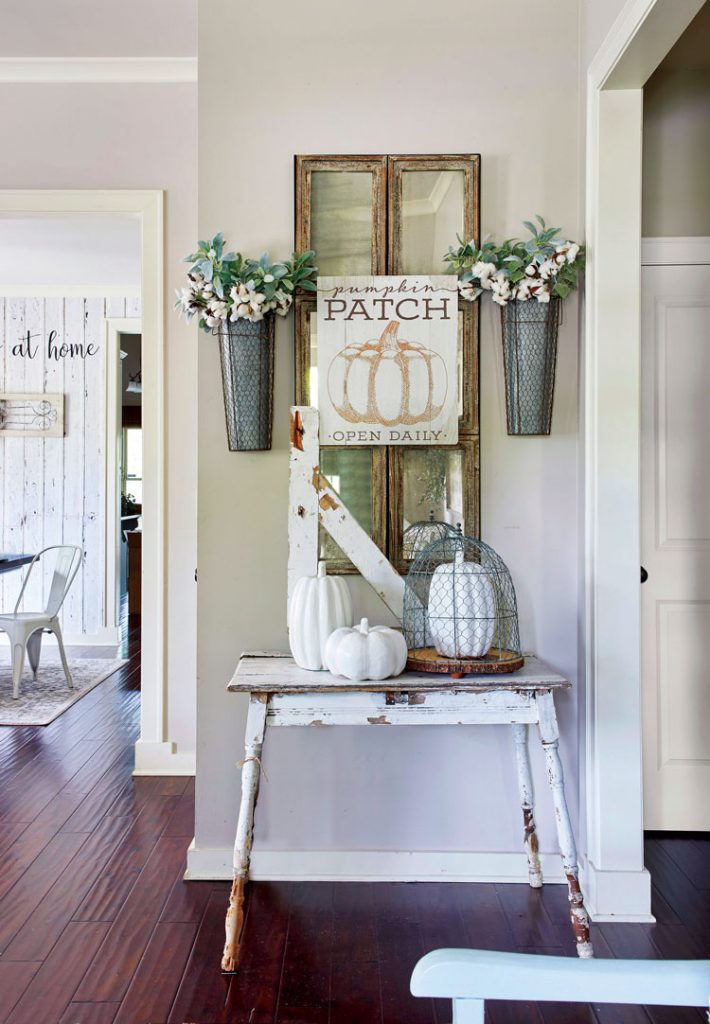 Second, she combines varied materials for greater impact. "One of the best ways to create depth and interest when decorating with neutrals is to have several different textures in the space," Brendt says. "I use a variety of textures...in these spaces, including faux greenery, chippy wood, galvanized containers and painted pumpkins."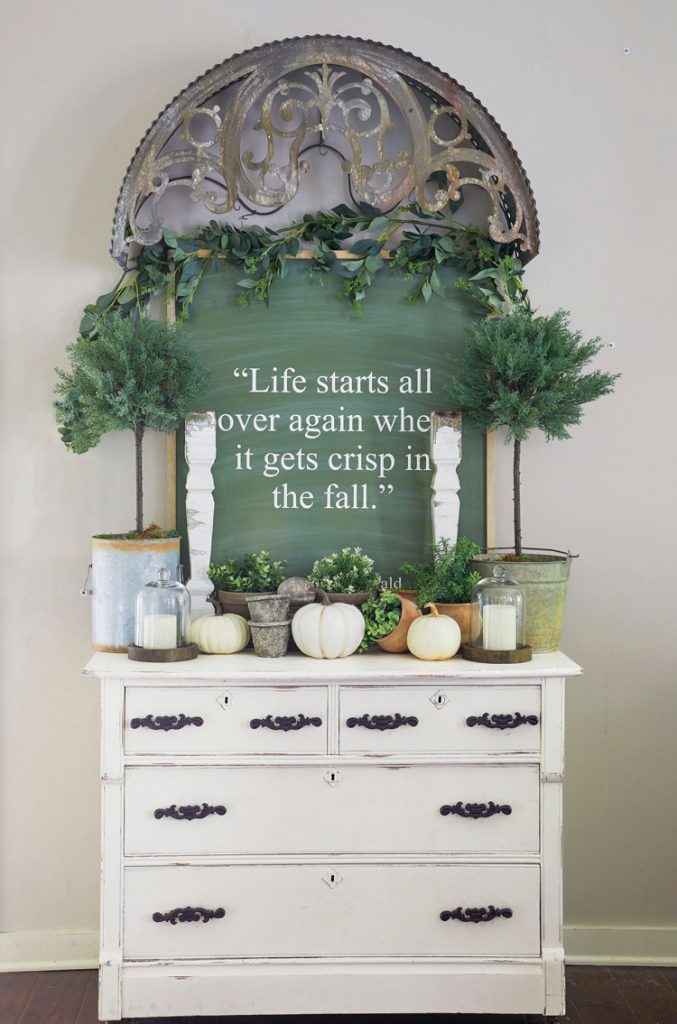 Finally, Brendt takes her decorating cues from her personal fashion sense. "[Layering] is one of my favorite ways to decorate, especially in the cooler months when we all want to add layers of clothing," Brendt says.
"Think of it in that way; whether you layer wood beads on top of a glass jug, faux garland around wooden signs, or stack galvanized pots with clay pots, it adds a wonderful dimension to your home." She recommends "varying heights, sizes and materials and avoiding being too matchy!"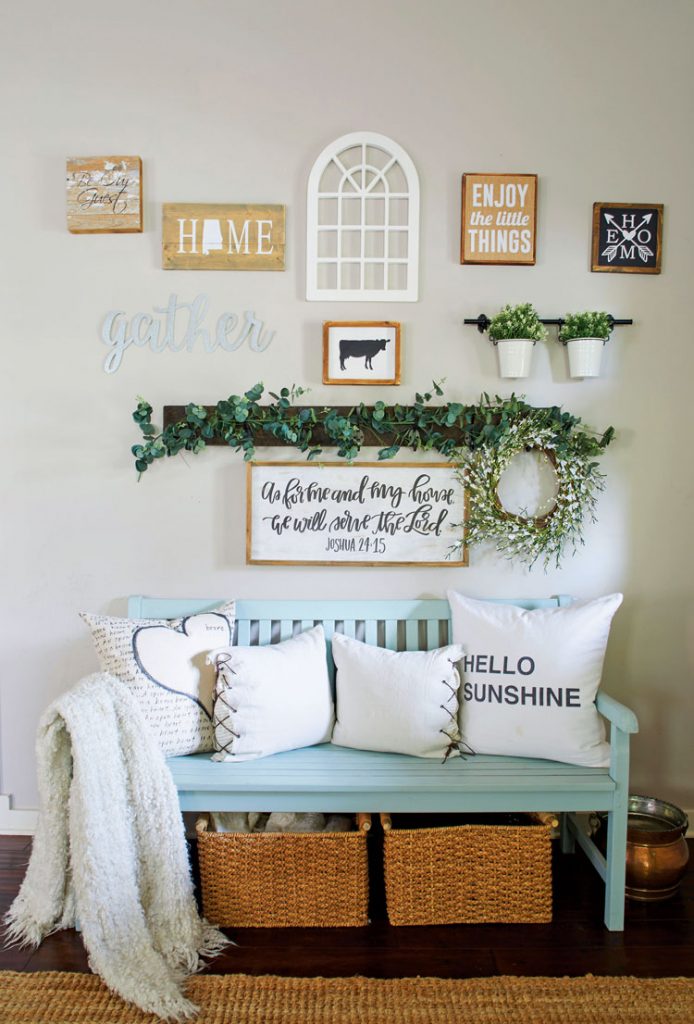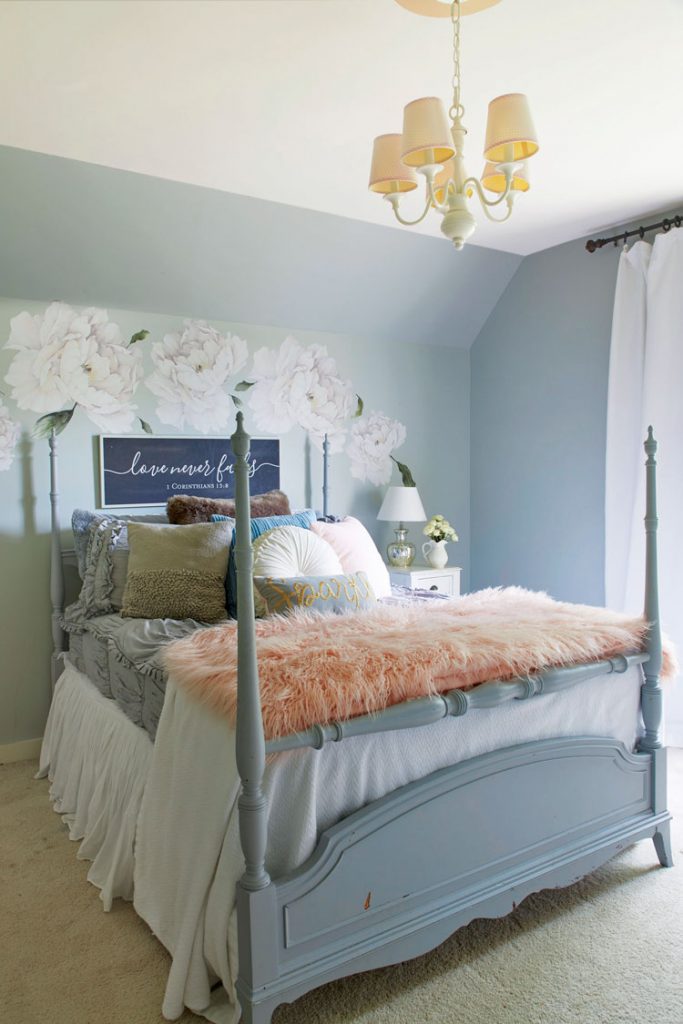 ---
For another beautiful fall house tour, check out this Mid Century farmhouse in Tenessee! Of course, don't forget to follow us on Instagram, Facebook and Pinterest to get your daily dose of farmhouse inspiration!