Historic Folk Victorian Home Revival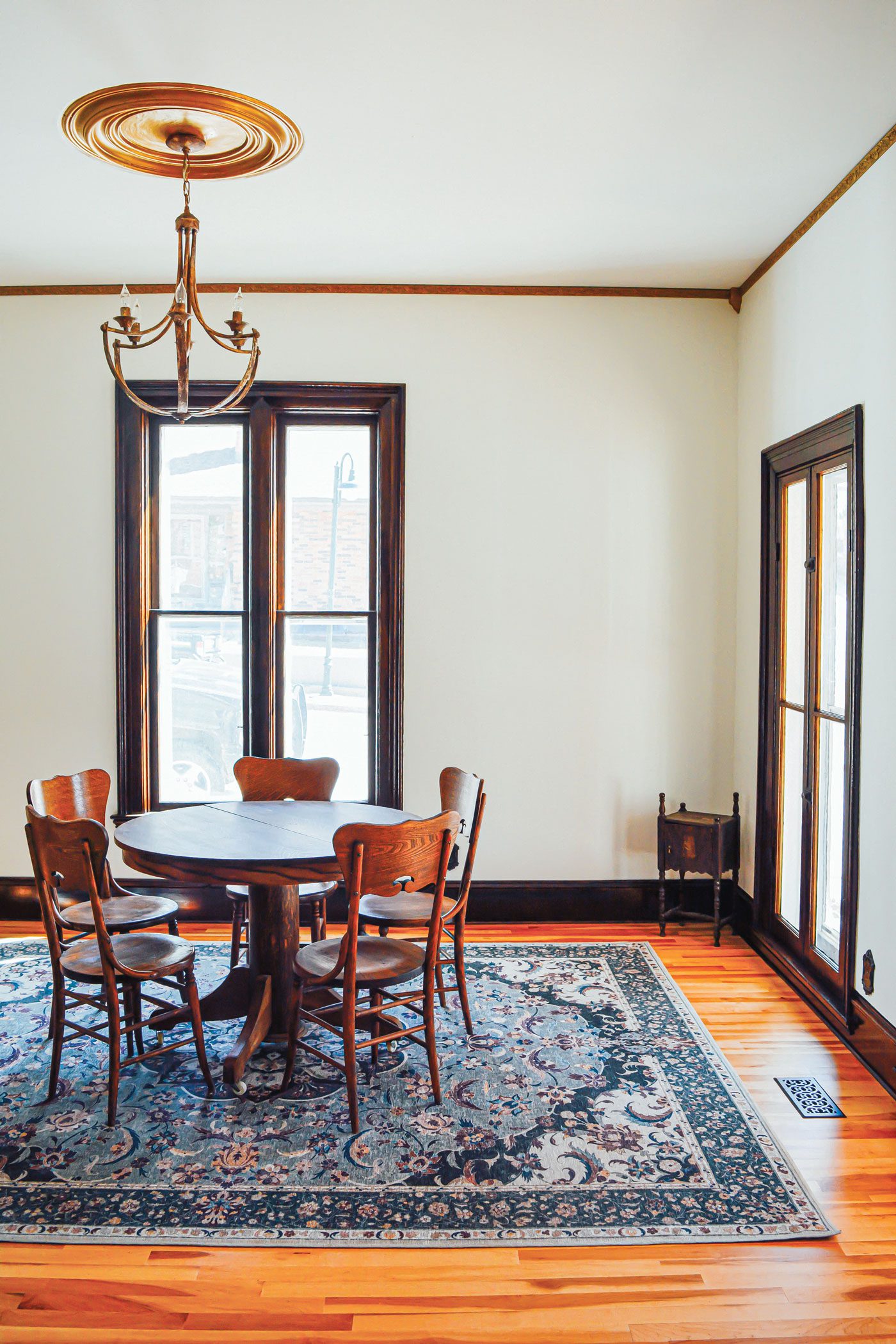 Our 2021 Brand Ambassador, Courtney Vettel, shares about the historic Folk Victorian home renovation she's doing in South Dakota.
For many years I have dreamt of restoring a historic home, and this year we struck gold when we found a historic 1885 Folk Victorian house in the heart of Deadwood, South Dakota. It was the home we had been searching for—one with history, good bones and the charming characteristics that make old houses so captivating.
[caption id="attachment_13684" align="alignnone" width="750"]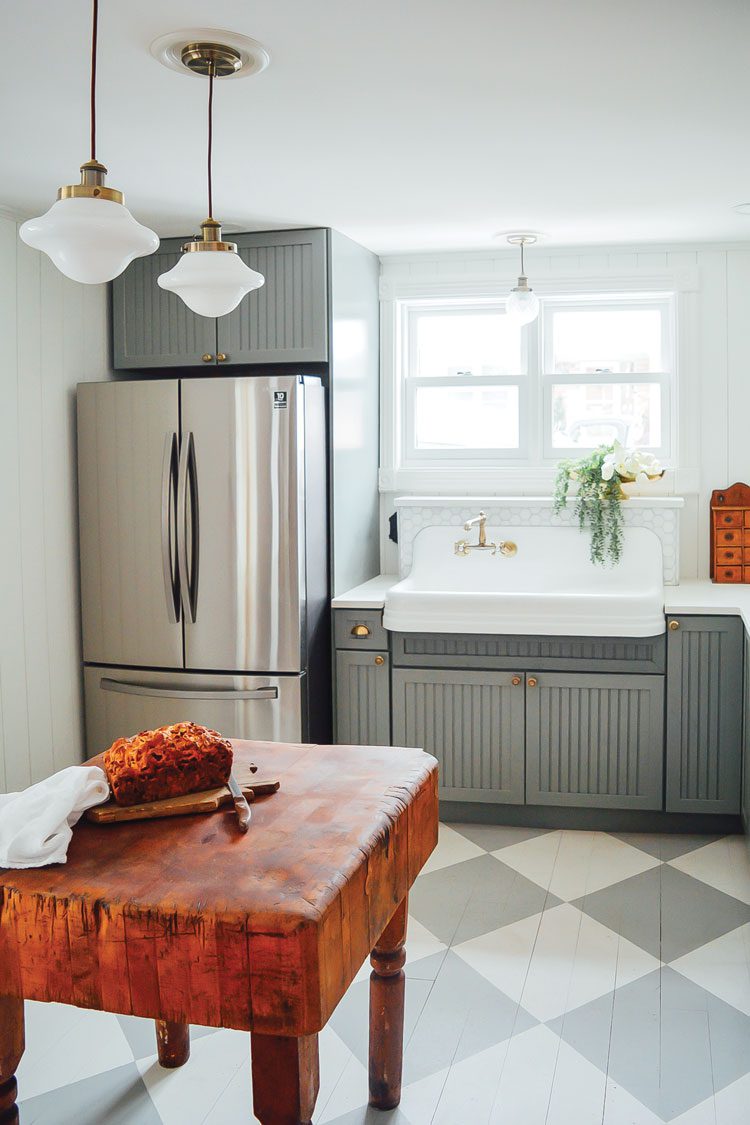 In the renovation of the kitchen we wanted to have a rustic feel, so we incorporated painted wood flooring, beadboard cabinets and the original farmhouse sink.[/caption]
Interior
In the renovation of this historic Folk Victorian beauty, we held onto its historic gems while also updating amenities. Miraculously, the home had original hardware, maple flooring, trim and fretwork. The kitchen and bathrooms needed full renovations, but we incorporated the original claw-foot tub and marble sinks we uncovered in the attic. For lighting, we used a mix of vintage-style fixtures from Golden Lighting, as well as authentic antique fixtures. The Golden Lighting fixtures add some of my signature farmhouse style while working well with the historic architecture.
Exterior
The exterior of the home was in rough shape. We removed all the old siding and discovered original clapboard from the 1890s, which had intricate fish scale patterns. We mimicked this with new siding, which was the best choice for longevity and durability in our area. The new siding is a lovely shade of jadeite green.
Decor
Incorporating antique elements into the home was important to honor its colorful history. Eastlake furniture, deep emerald greens and rich wood tones are a few of the elements we used throughout. Deadwood, South Dakota, is known for its gold, and this was a feature we were able to highlight in fixtures, trim, mirrors and décor.
Ed Sykes once said, "To be successful in life sometimes you need to go through the mud to get to the gold." Restoring this historic folk Victorian home has been just that—a massive project. But it's been so rewarding in the end.
We lovingly call this room the parlor room. It has an original gold wood trim that adorns the ceiling. The Golden Lighting chandelier accentuates the trim and the original medallion.
---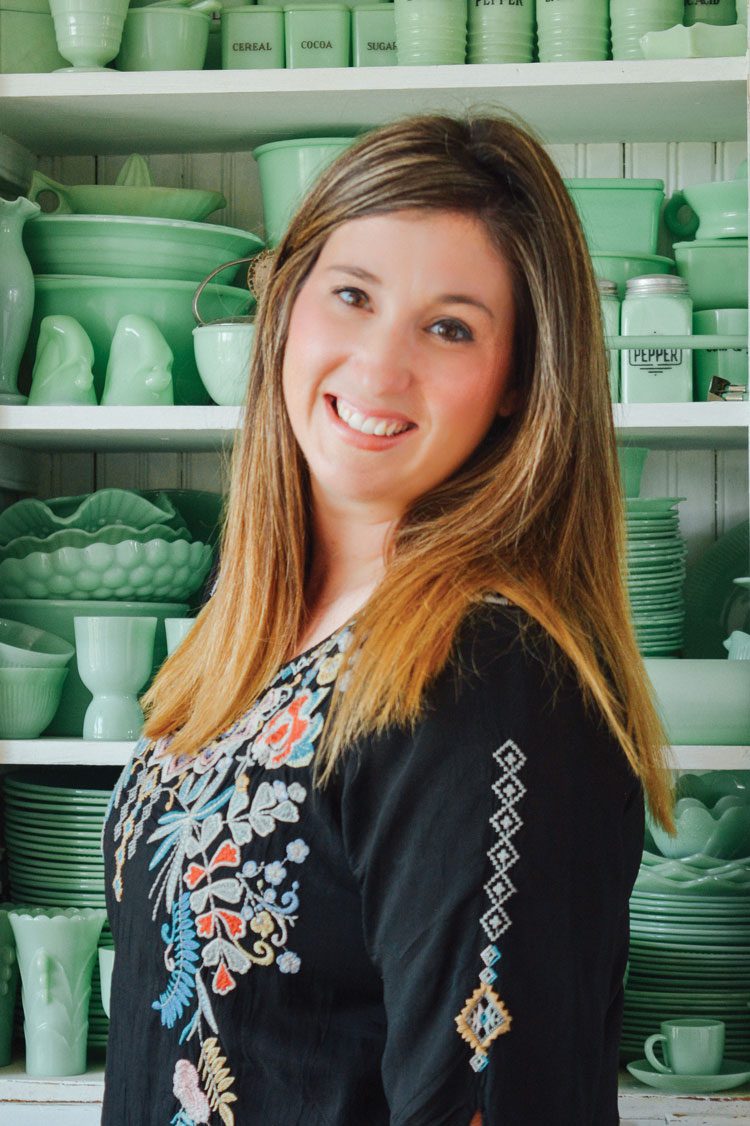 Courtney Vettel is our 2021 Brand Ambassador, and the voice behind The Vettel Farm. Courtney is a wife and mom, and lives in North Dakota with her family. Follow along with her online as well:
Website: thevettelfarm.com
Instagram: @thevettelfarm
Facebook: @thevettelfarm
Pinterest: @thevettelfarm
---
Learn more about Courtney and her role as Brand Ambassador here. Of course, don't forget to follow us on Instagram, Facebook and Pinterest to get your daily dose of farmhouse inspiration!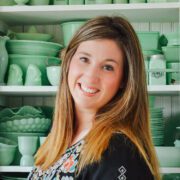 Courtney Vettel
Courtney Vettel is the creator of The Vettel Farm, a vintage, do-it-yourself, lifestyle and home décor blog. She is a proud wife, mother to three and high school counselor from the peaceful prairies of North Dakota. Vintage farmhouse is her expertise, where she shares all things creating, crafting, cooking, and collecting. She is well known for her many vintage collections, with her jadeite collection being the most extensive. She strives to create a home that gives new life to vintage treasures in unique ways. One of her greatest accomplishments has been the complete restoration of a historic 1880 Victorian home in Deadwood, South Dakota that they now operate as a bed & breakfast. Currently she is working on the restoration of a historic one-room school house that was moved to their farm. Follow along for more with Courtney at her blog at thevettelfarm.com. Instagram @thevettelfarm TikTok @thevettelfarm