Outdoor Living on This Georgia Porch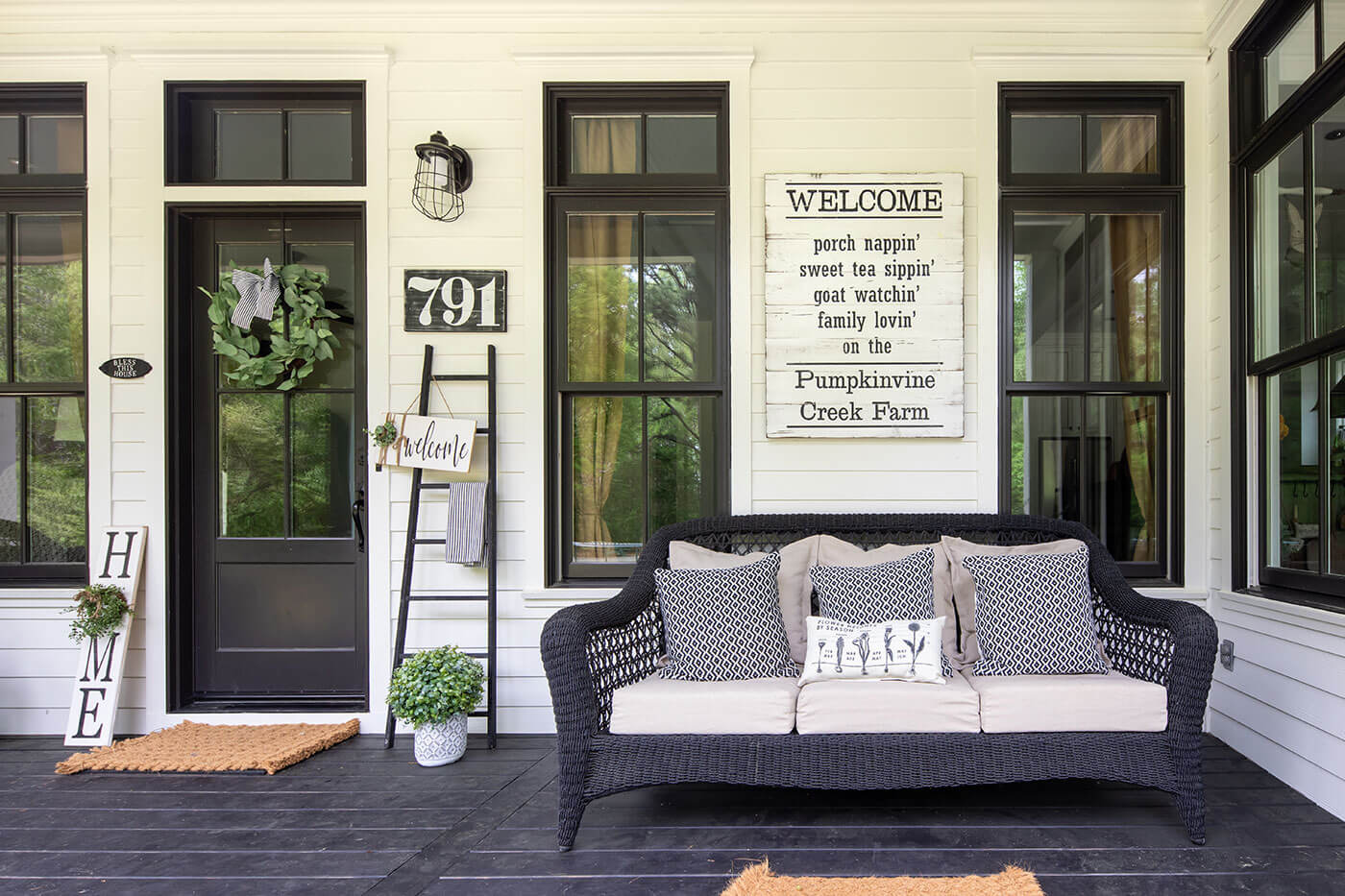 No farmhouse is complete without a good porch for relaxing. That's the case for blogger Jenny Zacharewicz and her family of 11 in their Southern farmhouse. Their outdoor Georgia porch is both protected and airy, which is the perfect combination for an indoor-outdoor space. (For a full tour of her home, head here!)
Jenny's porch is the perfect place to enjoy the outdoors while moderating the elements. "The house already had the front and back wraparound porches, but we have added lots of our own touches," Jenny says.
Here are a few of the key elements Jenny has used to make her front and back porches both stylish and functional so she and her family can enjoy the outdoors without leaving the front step.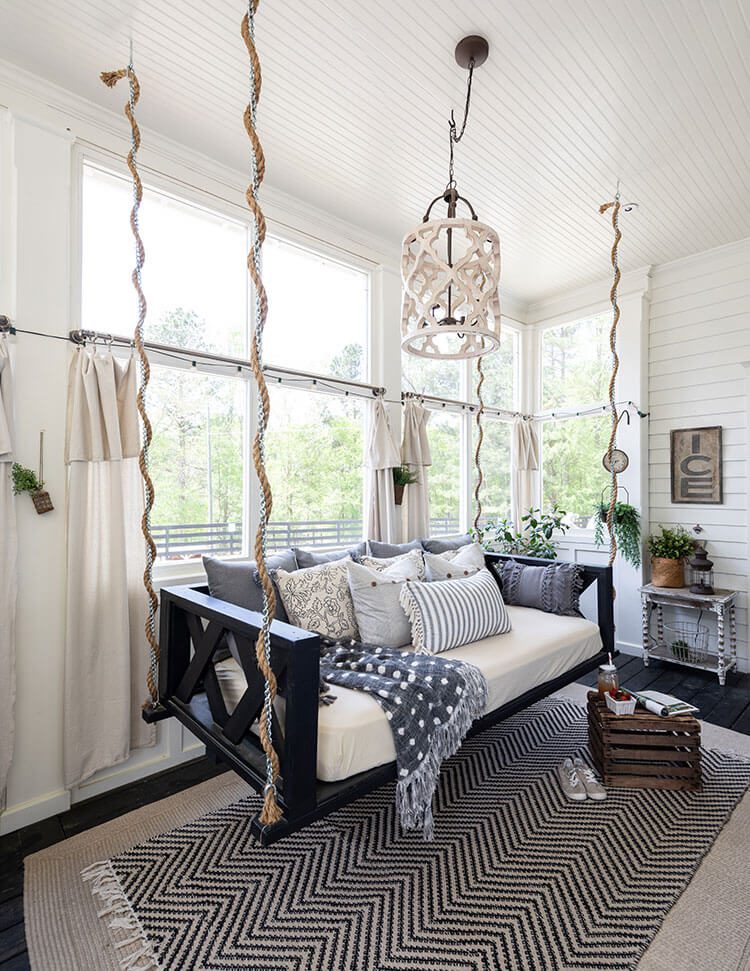 Swing Low
A porch swing is a classic and nostalgic way to add charm to this Georgia porch. Jenny created a variation on the traditional swing with a custom bed swing. The swing has plenty of pillows to it's a relaxing place to hang out, but it also looks farmhouse friendly with rope twisted around the sturdy cables that hold it from the ceiling. If you like this look but don't have room for a swing on your porch, opt for rocking chairs in an eye-popping color.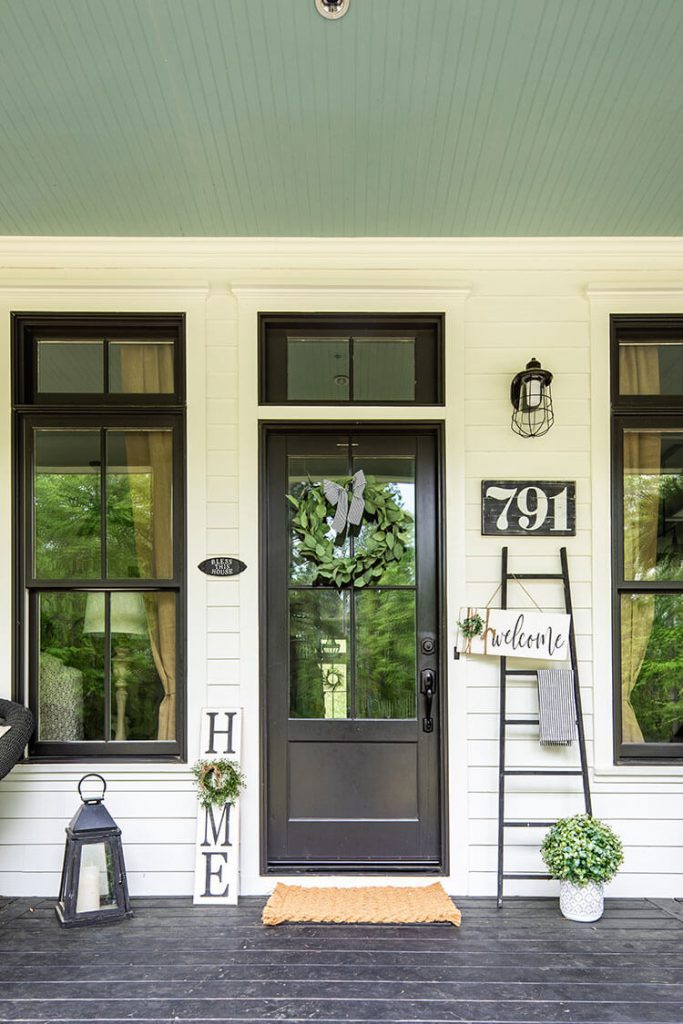 It's a Sign
Sign art is a farmhouse style classic, and custom signage will help tell your family's story, as it does on Jenny's Georgia porch. "Our sign says Pumpkinvine Creek Farm," she says. "But you can also do your last name." Jenny's farm is named after the street they live on.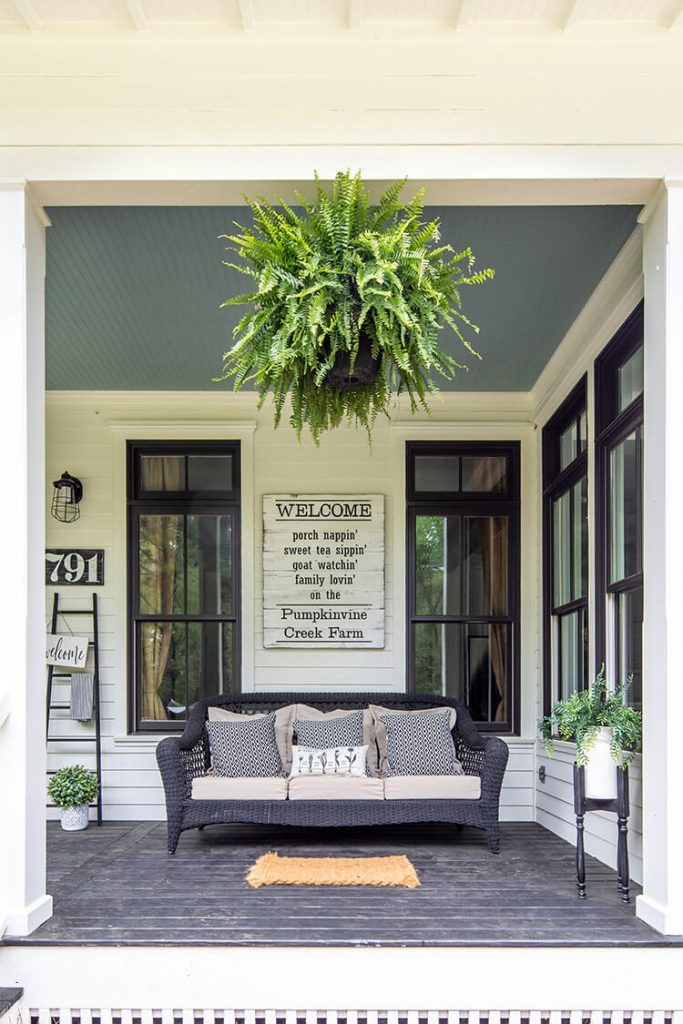 Have a Seat
Any good porch worth its salt will have seating. "I enjoy making our porches comfortable for entertaining," Jenny says. She adds lots of seating and tables so visitors can spread out and have places to put their beverages.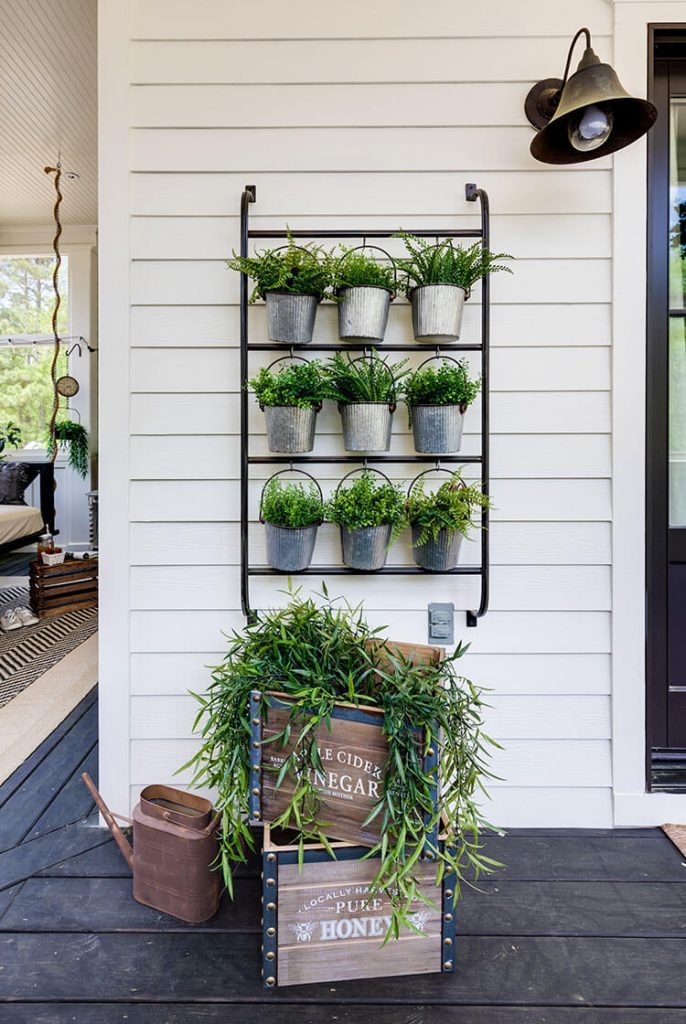 DIY Hanging Herb Garden
Love Jenny's Georgia porch? Try your hand at this easy DIY for a hanging herb garden for your own home.
1. Frame It. Start with a hanging wall rack or planter. "I found mine online," Jenny says. You can fix it to the wall or let it be freestanding.
See Also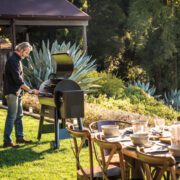 2. Bucketful. These buckets came with the rack but you can get any style of vessel that you like. Galvanized tin buckets or glass jars hanging from twine will all give you that rustic farmhouse look.
3. Go Herbal. Jenny's herbs are all faux! While you can plant real ones, faux allows you to switch out the contents of the bucket for the seasons. Jenny says, "It keeps things simple."
4. Label Life. For a sweet touch, you can also add sticky labels to the buckets that say what herb they hold.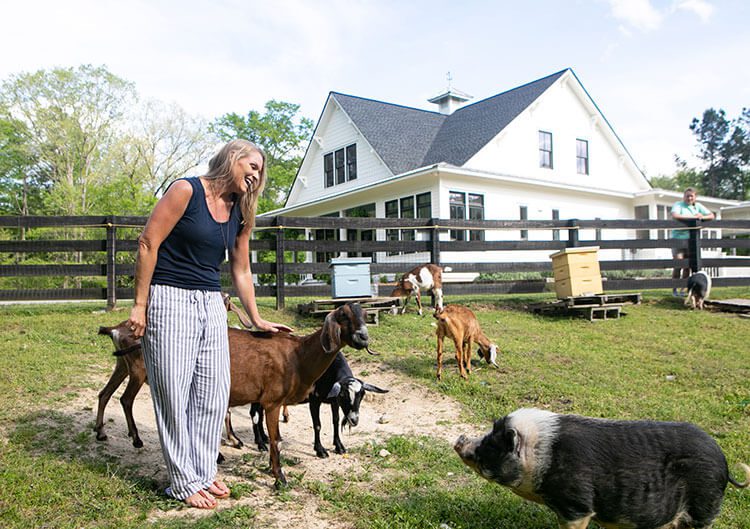 ---
If you want to see the full tour of Jenny's home, head here! Of course, don't forget to follow us on Instagram, Facebook and Pinterest for your daily dose of farmhouse inspiration!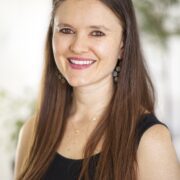 Victoria Van Vlear
Victoria is the brand leader and editor of American Farmhouse Style. She shapes the editorial direction of the brand, both through the physical magazine and digitally on the brand's website and social media platforms. As a home décor enthusiast and DIYer herself, she knows what a little paint and patience can do for a room! Victoria is also a wife and mom to two little ones: one on earth and one in heaven. With any (not so spare) time, she devours book and dabbles in fiction writing. You can follow her on Instagram @victoriavanvlear